There is a special sale that isn't for us directly, but can be very interesting to combine with a deal to Europe you might have already bought (or one currently available from a few cities).
This 5€ deal is good, because it includes many dates and routes (100,000 seats in total), even though most are being snapped up really quickly (like all deals).
But just to be very clear: it's a great price but it's not that exceptional, even if it's a Black Friday sale. It's not rare.
Flights in Europe are always super cheap if you're even just slightly flexible (we explained the importance of flexibility and speed in our very popular Tips To Be Prepared To Get A Flight Deal this weekend, part 1 of our What To Do Now To Travel More In 2020 special series to help you achieve your travel dreams).
(our list of 11 things you can get in travel by saving just $100 this Holiday season will surprise you)
I've bought sub-$10 flights in Europe (and 8 flights for $200 total on our Eurotrip last year), and sometimes there are flights for less than one dollar (rare, but still).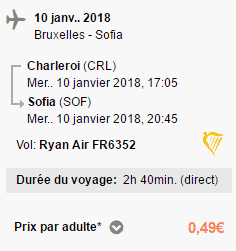 And yes, of course, those prices include all mandatory taxes and fees, like all flights always do.
In short, flying in Europe is very affordable.
This why we love Ultra Low-Cost Carriers (ULCCs) and low airport taxes. A lot cheaper to travel. Even in the US, there are US$14 flights, like in almost all countries with ULCCs except Canada.
The 5€ Deal
We unfortunately can't give you easy-to-use turnkey links with date combinations for the 5€ flights like we do for all deals, because there are so many dates, from so many cities. But the airline's website allows you to see a full month of prices at once.
The airline is called Volotea, but don't remember the name (see why below).
Here's the link to see the 5€ flights.

They mostly fly in Western Europe (the list is below). But on other airlines, you can find flights that are very cheap to Eastern Europe (where the cost of living is so much cheaper) and even to Morocco and the Middle East in some cases.
Why don't we want you to remember the name? Normally, we don't really want to share a list of the cheapest airlines (AKA ultra low-cost carriers) because so many people will read too quickly and then make a very common and costly mistake: assuming that a ULCC will ALWAYS be the cheapest or that any airline will ALWAYS be the cheapest. It always depends on your dates.
In other words: you shouldn't need to know the cheapest airlines' names because you should always compare prices on metasearch engines, every single time. Unless you like paying more.
Here are the routes on sale for 5€ flights. Please tell us if you would like for us to share these great Europe sales next time too, in addition to the great flight deals we spot every day from 12 cities.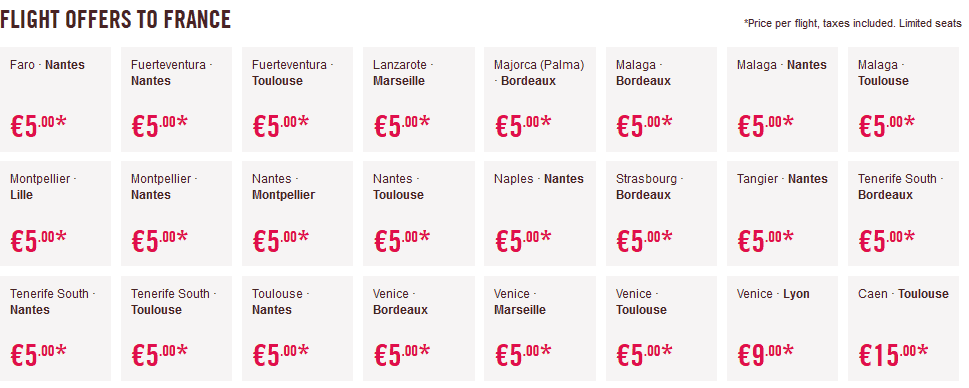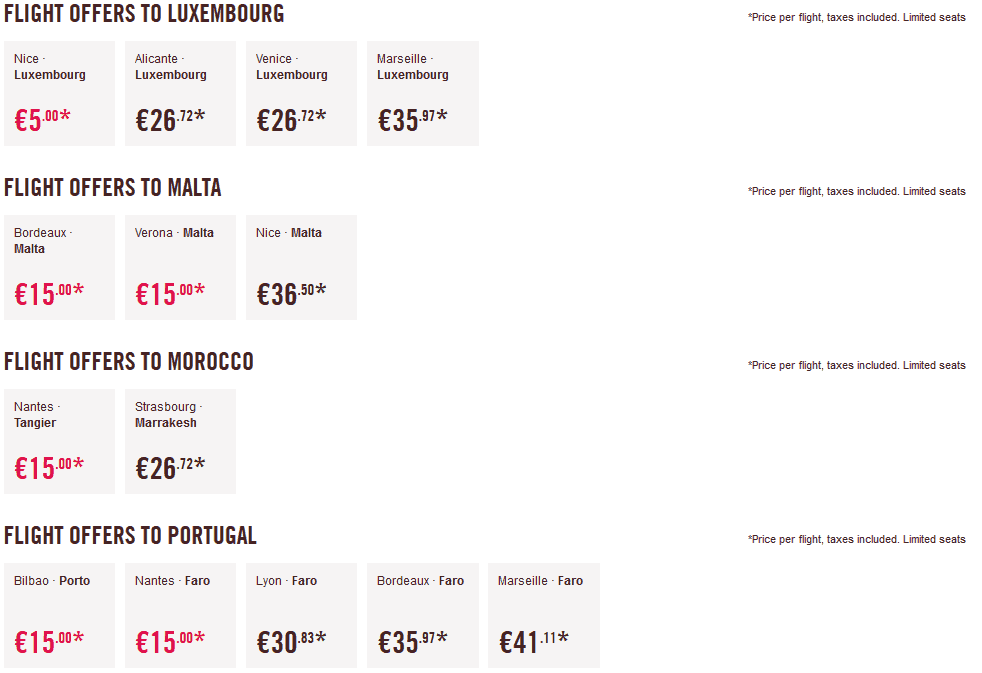 Don't miss our pro tips on how to go to Europe for cheap:
Summary
Really cheap deal.
Have any questions about ULCCs? Let us know in the comments!
Want to see our current discounted plane tickets?
Click here to see our flight deals
Want more travel tips and inspiration?
Click here to see the blog homepage
Help us spread the word about our flight deals and travel tips by sharing this article and, most importantly, bookmark Flytrippers so we can help you navigate the world of low-cost travel!
Featured image: Bordeaux (Photo Credit: Juan Di Nella)

Advertiser Disclosure: Flytrippers receives a commission on links featured in this blog post. We appreciate it if you use them, especially given it never costs you anything more to do so, and we thank you for supporting the site and making it possible for us to keep finding the best travel deals and content for you. In the interest of transparency, know that we will NEVER recommend a product or service we do not believe in or that we do not use ourselves, as our reputation and credibility is worth far more than any commission. This principle is an essential and non-negotiable part of all our partnerships: we will never give any third-party any control whatsoever on our content. For more information on our advertiser disclosure, click here.
Share this post to help us help more people travel more for less: