If you've always wanted to learn how to surf and you're due for a trip to a beautiful country (and one of the 53 countries that don't even require a COVID-19 test to enter if you're vaccinated), this exclusive Flytrippers deal at just US$249 for 7 days is for you! Go discover the famous Free Spirit Hostel, a unique Canadian-owned hostel on the Pacific Ocean in Ecuador!
Here are the details of this deal.
Ecuador deal
You can get a 7-day "Learn to surf" package for only US$249 (≈ C$309), a US$50 discount.
You have to use the promo code FLYTRIPPERS on the Free Spirit Hostel Ecuador website. You only have to make a 30% deposit; the rest can be paid on arrival.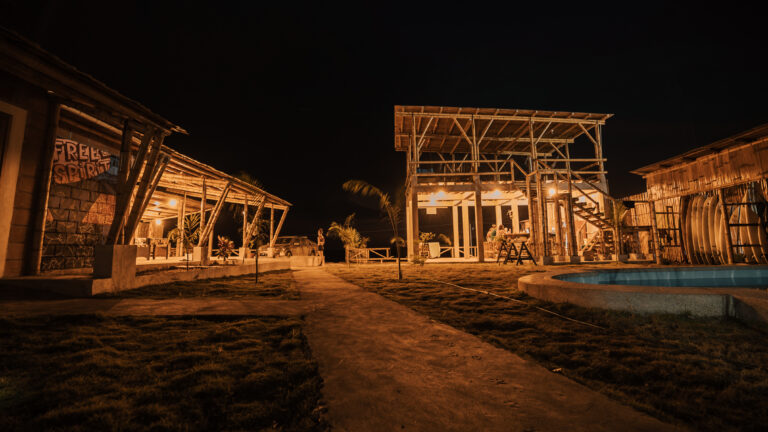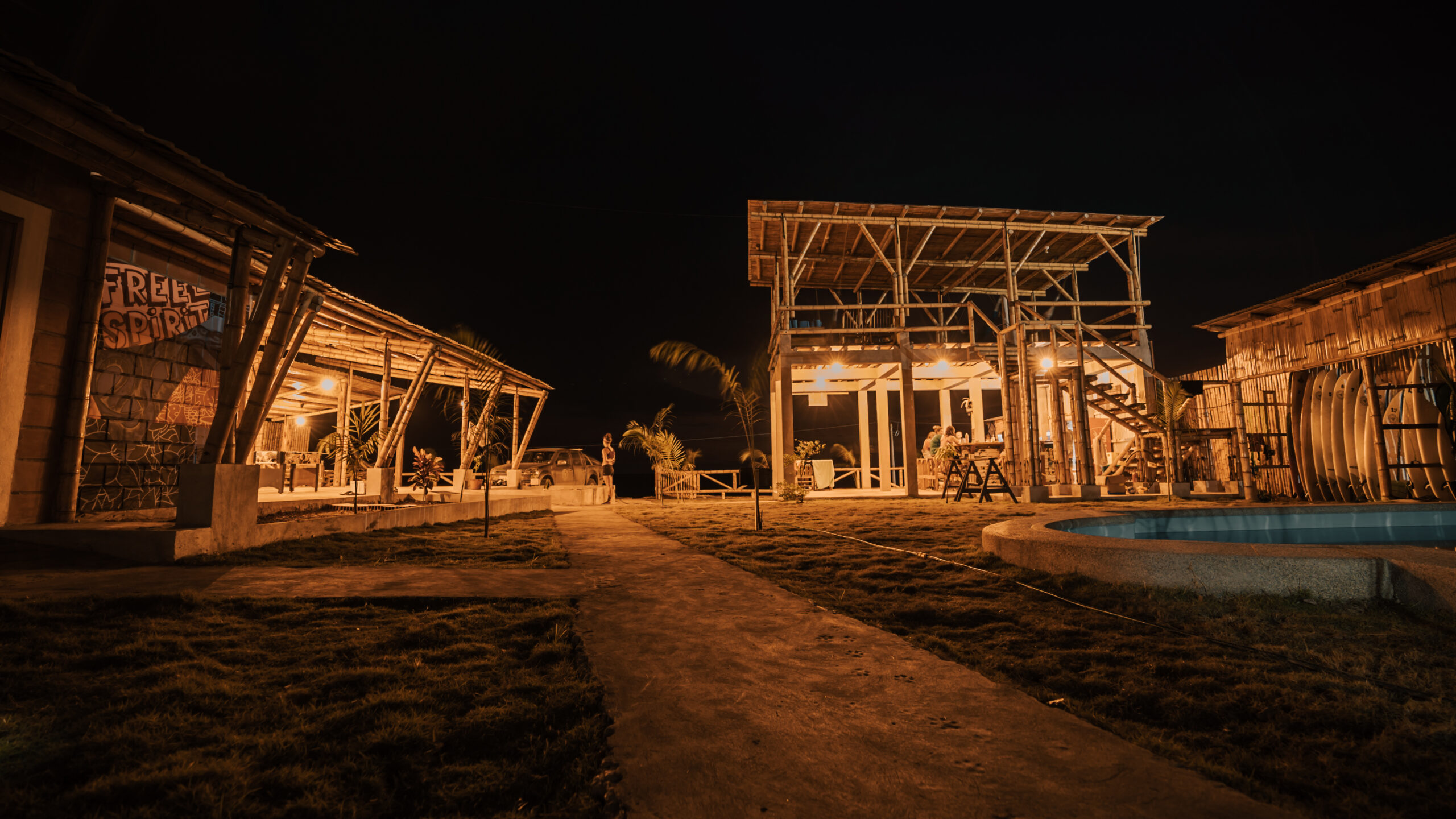 More pictures are provided below, but in short, it includes:
6 nights of accommodation
6 breakfasts
6 dinners
7 days of surfboard rental
4 surf lessons
6 yoga classes
Recent dorms with only 4 beds
Private rooms available for an additional fee
There are only 100 promo codes available so even if you have to book quickly, at least you can travel until the end of 2022. November to June are the best months to visit this area!
If you've ever checked out Flytrippers' ultimate guide to pandemic travel, you know that it's highly recommended to only book trips that have flexible change policies.
That's the case with this deal: If travel restrictions are added for either the entry into Ecuador or the entry into Canada upon return, you will be able to change the dates of your reservation by giving at least 48 hours' notice.
The Free Spirit Hostel is located in a quiet area away from the crowds. For your information, masks are not required anywhere but physical distancing is encouraged.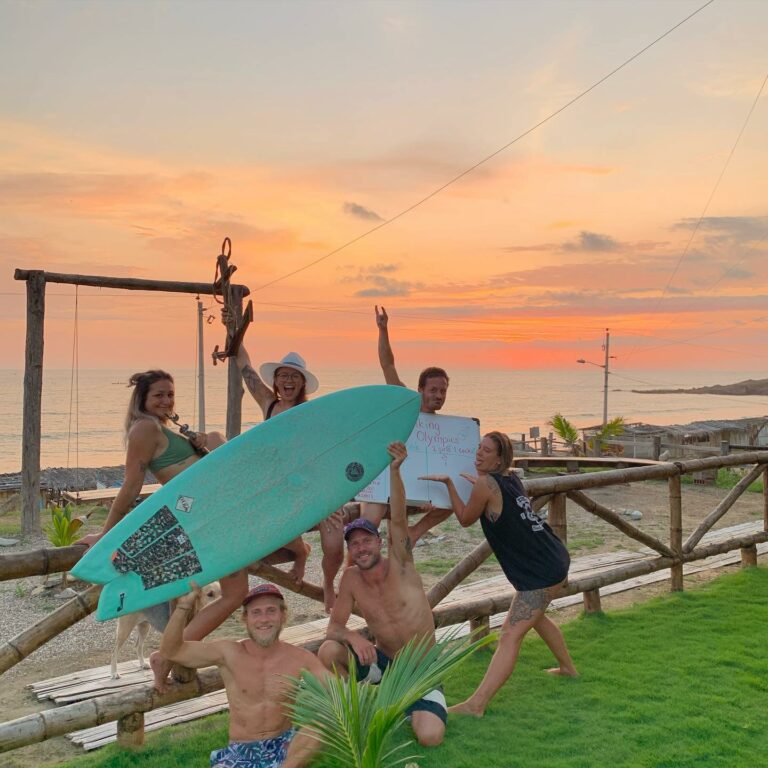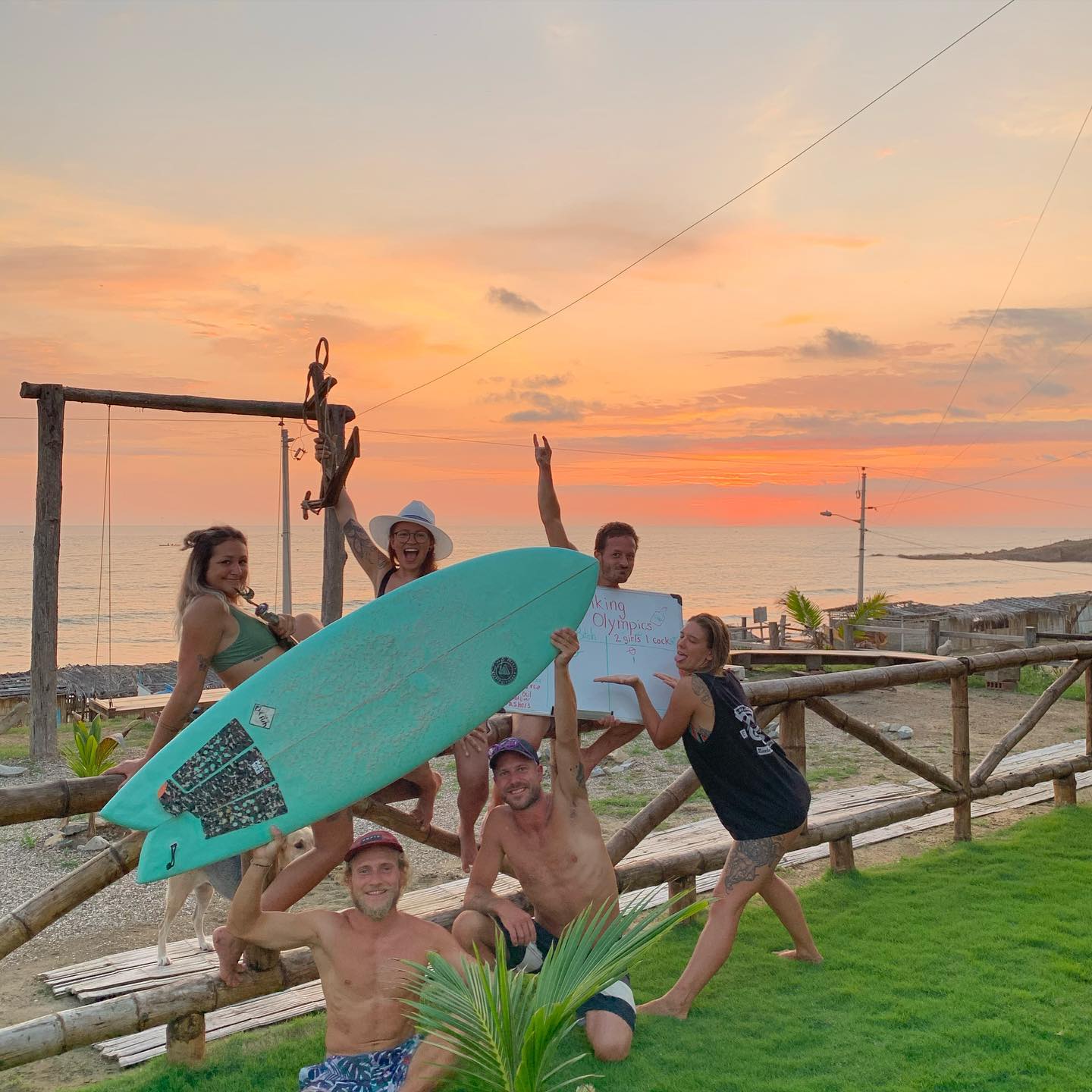 Current travel rules
At the moment, there are only 2 steps to travel (to any destination):
Check the entry rules for the places you are going to and follow them
Check the entry rules for your return to Canada and follow them
So first of all, Ecuador requires absolutely nothing for vaccinated travelers: No test is needed (just a form to fill out; forms are now required in almost all 160+ countries open to Canadians but it only takes a few minutes).
However, as you will see in the airfare section below, the cheapest flights to Ecuador often go through the United States. They require a test, but at least they accept the rapid antigen tests, available for as little as $40 in some provinces.
Yes, you have to have a test even just to transit the US, which is not the case for all countries of course: Each country has its own rules and they are all different, that's the most important thing to understand about travel rules as you've been told many times.
(That's because the US is one of the few countries in the world where transits just don't exist: When you transit, you actually enter the country exactly like those who visit the country.)
And second, Canada's rules are very simple for vaccinated travelers: You just need a pre-entry PCR test.
They are available for only US$45 (≈ C$57) at the closest village near the Free Spirit Hostel (in Playas, reachable for US$1 by bus) and results are guaranteed within 24 hours, so no stress. The hostel also offers them for US$90 on-location if you prefer the simple and practical aspect which, as we always tell you, necessarily costs a lot more for everything related to the world of travel.
Finally, as of October 30th, a new requirement will be added to the equation: A requirement to board any flight in Canada (as we've been telling you since August, it's for ANY flight, not just domestic flights contrary to what many seem to think). It's not too complex to understand as a requirement: You just need to be vaccinated.
For non-vaccinated travelers, it will still be possible to board a flight during a one-month grace period, by showing a negative PCR test (you need it anyway to enter Ecuador if you are not vaccinated). You will no longer be able to transit in the US starting November 8 though. And as of November 30, however, all indications are that you will be stuck in Canada (IF the government really goes ahead with this). And of course, the 14-day quarantine upon return to Canada remains in effect for unvaccinated Canadians.
The Free Spirit Hostel Ecuador
You may have already heard of the famous original Free Spirit Hostel in Nicaragua, a favorite destination for many Canadian travelers. Their second and newest location is in the Playa Puerto Engabao area of Ecuador, in South America.
It is very close to Guayaquil, the largest metropolitan area in the country.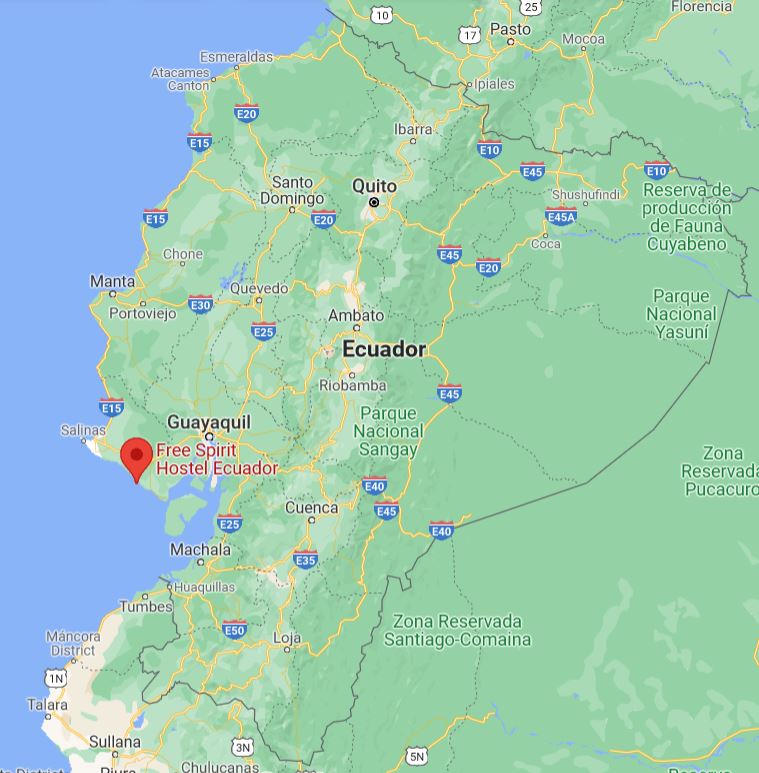 It's obviously right on the Pacific Ocean to facilitate the surfing experience.
It makes me want to go and perfect the surfing skills I acquired in Sri Lanka in 2019.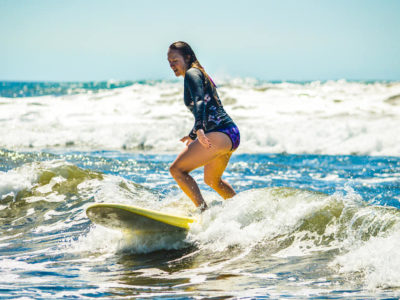 Apparently, the sunsets there are really pretty too.
Let's just say after the last year and a half, maybe you long for some yoga by the water.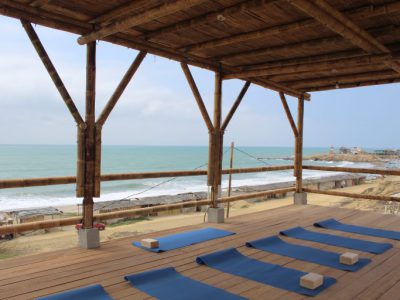 Or maybe you just want a relaxing retreat just steps from the beach in a small authentic fishing village.
This seems like a great spot to discover the local culture.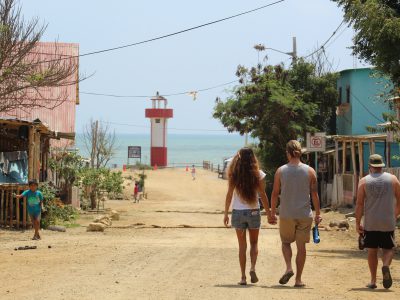 There Free Spirit Hostel also has a swimming pool.
The meals included are vegetarian, except for one night a week when there is freshly caught fish. Like any good hostel, there is of course a communal kitchen if you want to make your own food.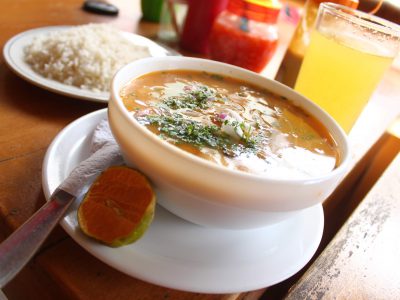 And if not, your lunches won't cost you much in the little village since it's not a place full of restaurants for tourists: As always, living like the locals as much as possible is both more authentic and more affordable. Talk about win-win!
Even the other co-founder of Flytrippers, Andrew, who is not necessarily a fan of beaches and vacation-type travel, is almost tempted to go there.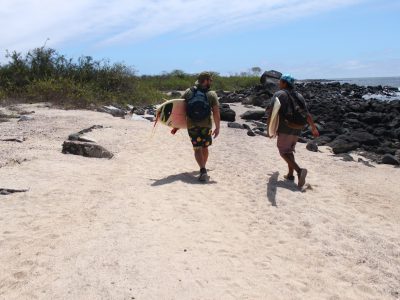 The Free Spirit Hostel offers board games, musical instruments, a ping-pong table, a slackline, and beach games like volleyball and washer toss. You can take an organized trip to the nearest town to discover another area, or you can go by yourself for less than US$1 by bus (about 30 minutes). You could go fishing or horseback riding for example.
If you want to become a digital nomad or are already one like me, the Free Spirit Hostel offers free Wi-Fi to stay connected. They even have long-term rates if you're interested.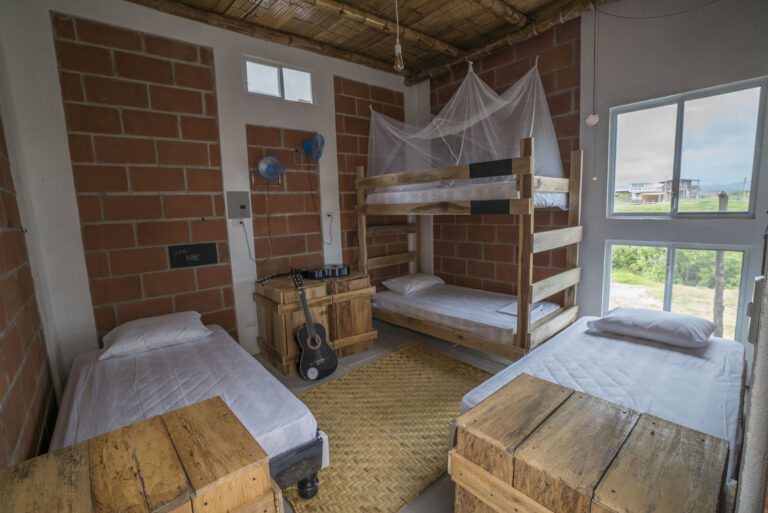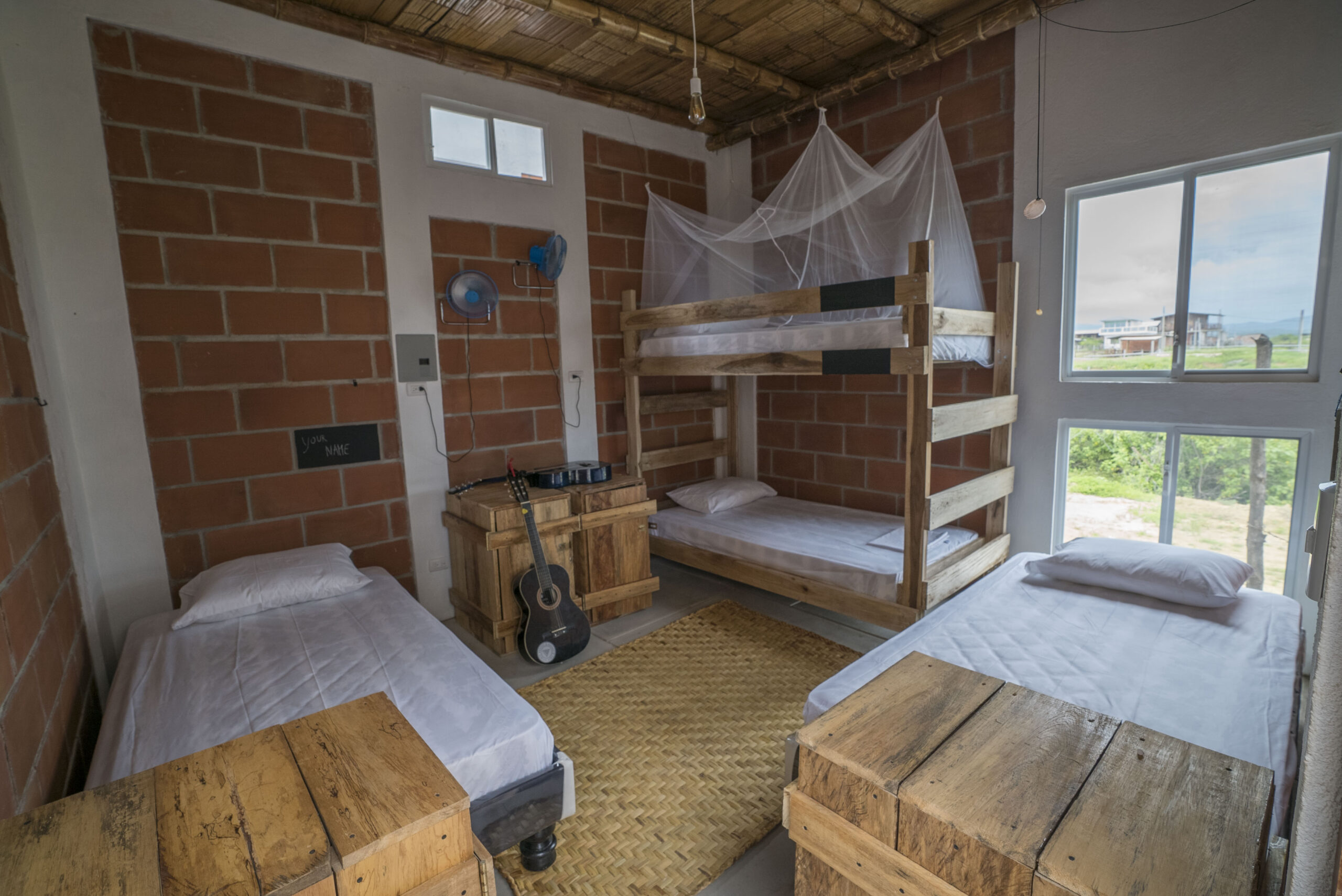 If you want to extend your stay, I highly encourage you to explore this beautiful country. I spent 2 weeks in Ecuador in 2017 and loved it.
You can even go visit the famous Galapagos Islands from Guayaquil, and it's not that expensive since you're already almost there.
How to get to Ecuador for cheap
It's true that currently, flights to Ecuador seem a bit more expensive than usual.
(As you can see on our cheap flight deals page, this is not true for all destinations… but the government's response to the pandemic has reduced the volume of flights offered and for some places, this affects prices more than for others.)
The good thing with the Free Spirit Hostel package is that you can change your dates without any issue depending on the price of flights (depending on the hostel's availability and with prior notice).
We already told you, one of the most common basic mistakes is to book your lodging first.
By doing this, you are almost guaranteed to pay too much for the plane ticket, because you don't have any flexibility… and flexibility is the key to get cheap flights, it's not complicated (not necessarily easy, but it's not a complicated rule)! Even a single-day difference can save you hundreds of dollars!
Anyway, from Toronto (YYZ), there are still flights in the $400s roundtrip… just not many dates available today (obviously airfares change every day).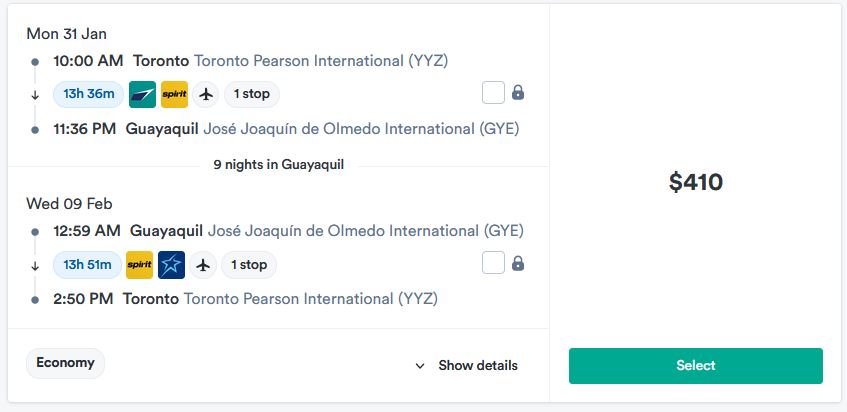 So if you want, you can wait for the next deal to Guayaquil (GYE) in the $400s, as we sometimes spot. It's not very frequent, but there are some! You can also look at Quito (UIO) if it's cheaper. It really depends on your departure city, as always.
In any case, by using our flight search tools and being a bit flexible, you will be able to find good prices on flights to take advantage of the package!
You can read how to find the best price for a specific destination but don't miss our ultimate guide on how to find cheap flights soon (subscribe to our free newsletter so you get it first).
Once you land in Guayaquil it's not too expensive to get to Puerto Engabao where the Free Spirit Hostel Ecuador is located. The bus leaves from the "Terrestre" bus terminal just across the street from the airport and takes you to Playas for a few dollars. And from Playas, there are other buses to Puerto Engabao (or a cab for US$7 for that last leg).
Buses in Latin America are another typical local experience that you really must try!
Again, if you want travel to be simpler and more convenient rather than travel to be cheaper, it is always possible. The Free Spirit Hostel Ecuador can arrange a cab directly from the airport for US$70 (a few hundred percent more).
Flights around $500. A few dollars for the bus. Package at ≈ C$309. Lunches for $5. That's it.
As you can see, it's not very complicated to plan an independent (and affordable) trip… even if you prefer a vacation-type trip where you can relax 🙂
Want to get more content to discover awesome destinations?
Summary
A surf, yoga, and beach package at the Free Spirit Hostel in Ecuador for only US$249 is a pretty good deal!
What would you like to know about this deal? Tell us in the comments below.
See the deals we spot: Cheap flights
Explore awesome destinations: Travel inspiration
Learn pro tricks: Travel tips
Discover free travel: Travel rewards
Featured image: Yoga platform facing the Pacific (photo credit: Free Spirit Hostel Ecuador)
Advertiser Disclosure: In the interest of transparency, Flytrippers may receive a commission on links featured in this post, at no cost to you. Thank you for using our links to support us for free, we appreciate it! You allow us to keep finding the best travel deals for free and to keep offering interesting content for free. Since we care deeply about our mission to help travelers and our reputation and credibility prevail over everything, we will NEVER recommend a product or service that we do not believe in or that we do not use ourselves, and we will never give any third-party any control whatsoever on our content. For more information on our advertiser disclosure, click here.
Share this post to help us help more people travel more for less: