While Tim Hortons is a beloved Canadian institution, many are surprised to learn that there are in fact Timmies locations in 15 other countries around the globe, from Latin America to Southeast Asia, from Europe to the Middle East, and from Texas to Pakistan.
We thought you might want to know where you can come across one on your next trip!
Here's our map that shows the number of Tim Hortons locations in each country.
Tim Hortons countries map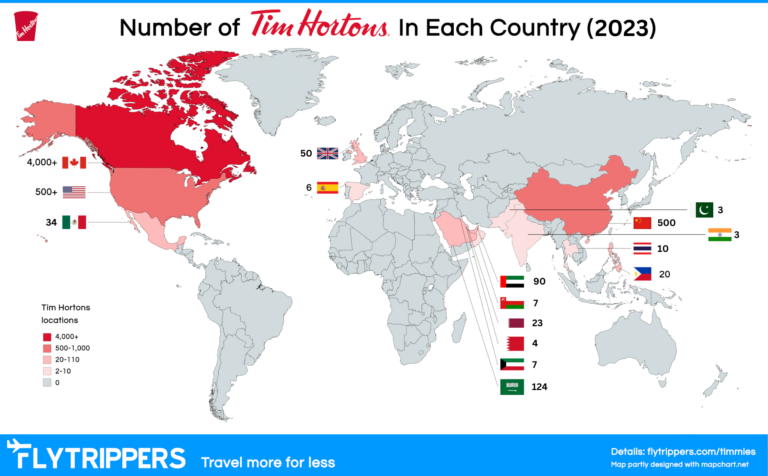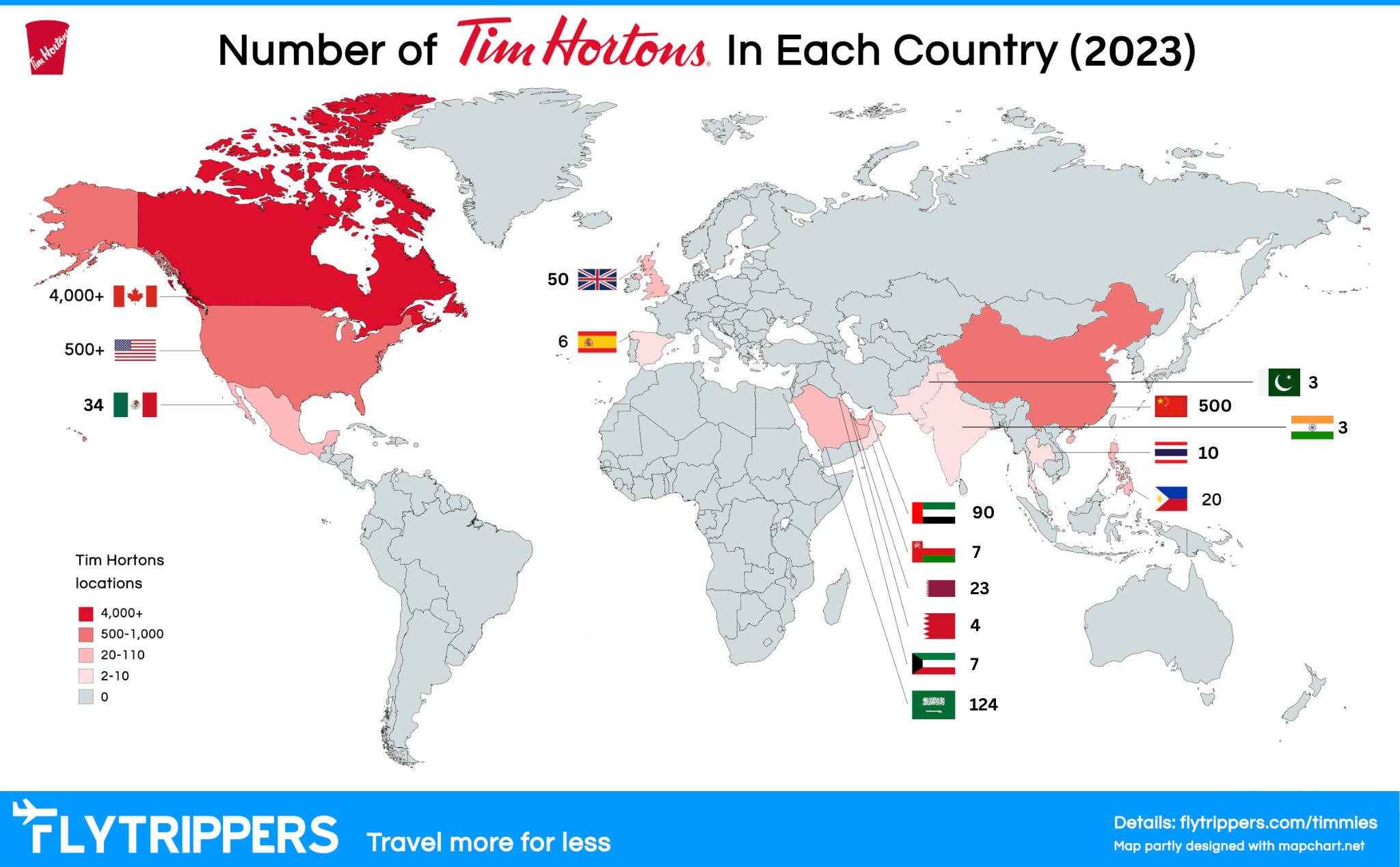 There are just over 5,000 Tim Hortons locations around the world.
Unsurprisingly, the majority of them are in Canada (over 4,000). But through master franchising agreements, the iconic Canadian brand has grown internationally in recent years.
And while it would make sense for Tim's overseas expansion to take place in countries that are most similar to ours, Tim Hortons locations are not to be found in Nordic European countries with cold climates like ours.
No, outside of Canada and the US, the region with the most Tim Hortons is actually the Middle East, which might seem somewhat surprising given how different the overall culture is over there compared to here in Canada.
Flytrippers' experience with international Tim Hortons
Despite the distance, Flytrippers' other co-founder Kevin can personally attest to the fact that the coffee and iced cappuccinos taste the same in the United Arab Emirates, as he was able to get his Tim Hortons fix in Dubai just before the pandemic.
It was the month of Ramadan, so they had curtains and panels to hide the food offerings.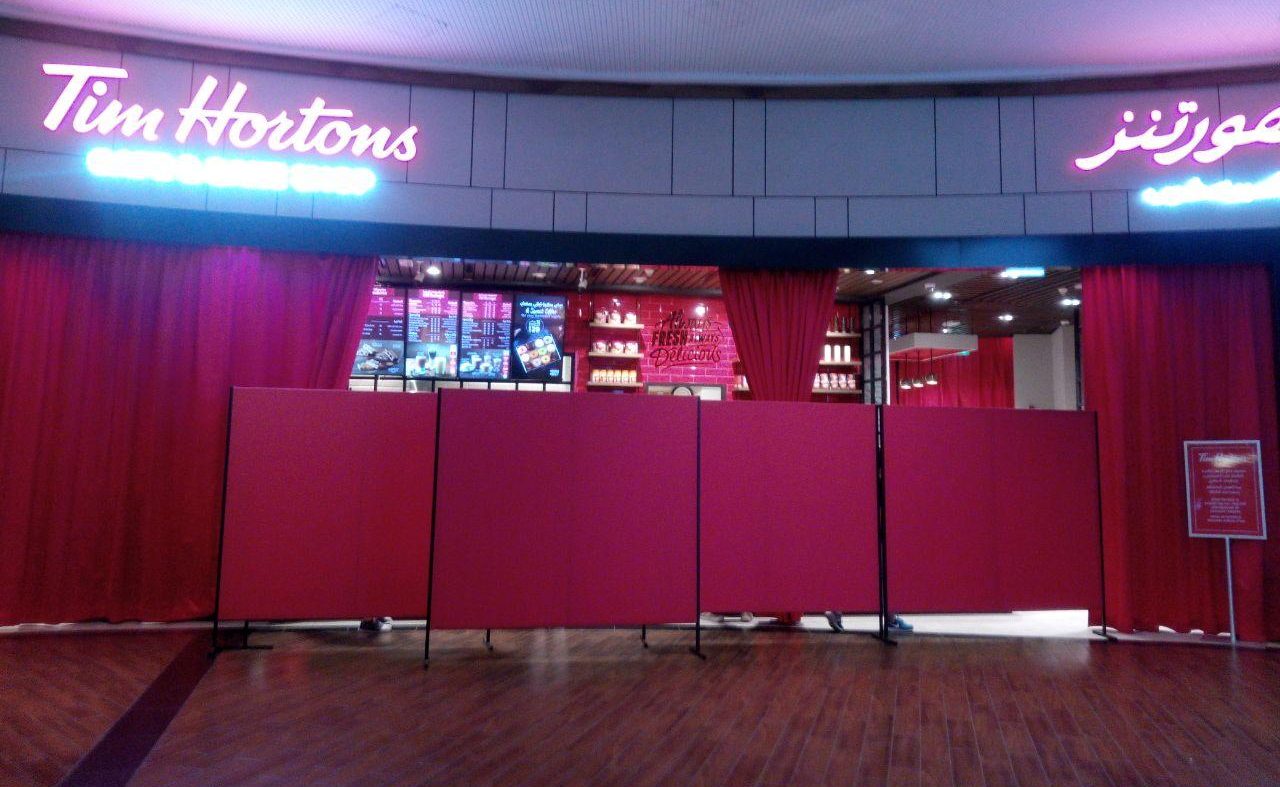 As I said; quite different… yet on every other aspect, it's pretty much the same Tim Hortons as here. And that probably goes for Tim Hortons in the 5 other Persian Gulf countries as well.
I didn't go to Tim Hortons on my trip to Bahrain and Oman, but at least I feel a lot better from an ethical standpoint knowing that the many weapons the Canadian government sells to Saudi Arabia aren't our only contribution to the country: they now have a lot of Canadian doughnuts too!
I walked past the Tim Hortons in central Madrid on my trip to Spain (to take advantage of the 17 free hotel nights deal), but I'm probably the only Canadian who doesn't like Tim Hortons so I didn't even go inside.
(In my defense, in terms of dessert, Madrid does have plenty of churro stalls, so Timmies can't compete…)
Anyway, the only Tim Hortons you'll find in Europe are there and in the United Kingdom (though there doesn't seem to be any in London).
Finally, in Asia, our national restaurant has opened up in 5 countries, including 2 budget-traveler favorites: Thailand and the Philippines.
For example, the franchise partner in China expects to open a whopping 1,500 Tim Hortons in the world's most populous country. And it's not just the recipes being used: they very much flaunt the Canadianism and try to bring the spirit of Canada to China with the decor as well, including door handles made with hockey sticks (of course).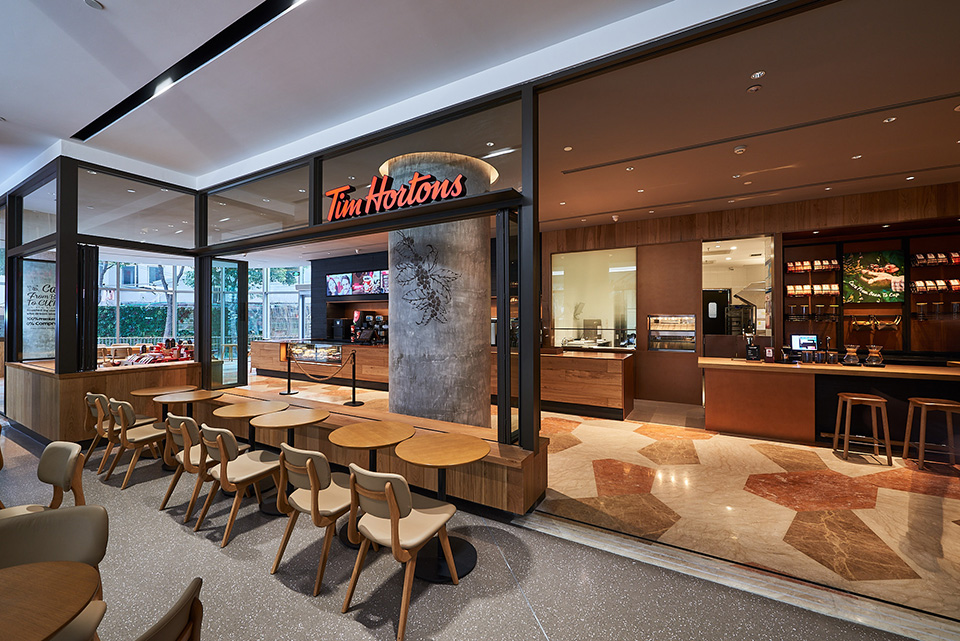 More recently, in South Asia, India and Pakistan just got their first Tim Hortons locations too.
Closer to home, there are many Tims in the USA. When I was visiting Houston this summer, it was opening day for the first Tim Hortons in Texas. So they are no longer only found in states that neighbor Canada. Not too surprising since there are a few in Mexico too.
So next time you're in one of these countries and want a taste of home, use Google Maps to find a Tim Hortons location.
(Well, except in China—Google products are unavailable there without a VPN!)
List of countries with Tim Hortons
Here is the full list (restaurant numbers in some countries are older figures; the most recent available):
| Country | Locations |
| --- | --- |
| Canada | 4000 |
| USA | 500 |
| Saudi Arabia | 124 |
| United Arab Emirates | 90 |
| China | 50 |
| United Kingdom | 50 |
| Qatar | 23 |
| Philippines | 20 |
| Mexico | 20 |
| Thailand | 10 |
| Oman | 6 |
| Spain | 6 |
| Kuwait | 2 |
| Bahrain | 4 |
| India | 3 |
| Pakistan | 3 |
Want to get more content for Canadian travelers?
Summary
There are Tim Hortons in a total of 16 countries around the world, and this map shows you where you might be able to get your taste of Canada on an upcoming international trip!
What would you like to know about the countries with Tim Hortons locations? Tell us in the comments below.
See the deals we spot: Cheap flights
Explore awesome destinations: Travel inspiration
Learn pro tricks: Travel tips
Discover free travel: Travel rewards
Featured image: Map of Tim Hortons by country (image credit: Flytrippers)
Share this post to help us help more people travel more for less: