We often talk about how Türkiye is one of our favorite countries in the world. Having visited the country 5 times, I know I love the less-visited and less-touristy part, the southeast, the most. Unfortunately, a terrible earthquake hit the region last week.
This region of the country formerly known as Turkey is suffering the most after that powerful earthquake. Its epicenter was near Gaziantep, or Antep as the locals call it, but the cities of Adana, Şanlıurfa, and Diyarbakır were also very affected.
In recent years, I've been to this region twice and visited all these cities. And I loved it, especially Gaziantep which was a surprise highlight for me, as I had mentioned on my Instagram back then!
I wanted to share my experiences so that as life in this region starts to return to normal, you might consider stepping off the beaten path to discover the magic for yourself (and help the locals) on your next visit to Türkiye, a welcoming, beautiful, and incredibly affordable country.
Gaziantep
Sitting close to the border with Syria, my first trip to Gaziantep in 2020 was unforgettable. I'd never been this far in the southeast of the country, so I wasn't sure what to expect.
However, Gaziantep proved to be really amazing and is now one of my favorite places in Türkiye. The food was excellent, the history and culture were incredible, and the people were so welcoming.
One example is during my trip to the local market when I just got to Antep.
I was on the hunt for a sweater to help me look less like a foreigner, and because I'd totally underestimated how cold it was there at that time of year (that cold is currently affecting survivors too).
While paying, I started talking to the shop owner, who insisted I stay for coffee! He told me a bit about the city's history and how there are now more than 500,000 Syrian refugees who call the city home; that's close to 1/4 of their population!
Once I had finished my coffee (and put on my new sweater), I started exploring.
There is so much to see and do. One of the most incredible ancient sights in Gaziantep is the castle the Romans and Byzantines used to defend the city from invasion, built about in the 2nd century. It's a real symbol of both power and history.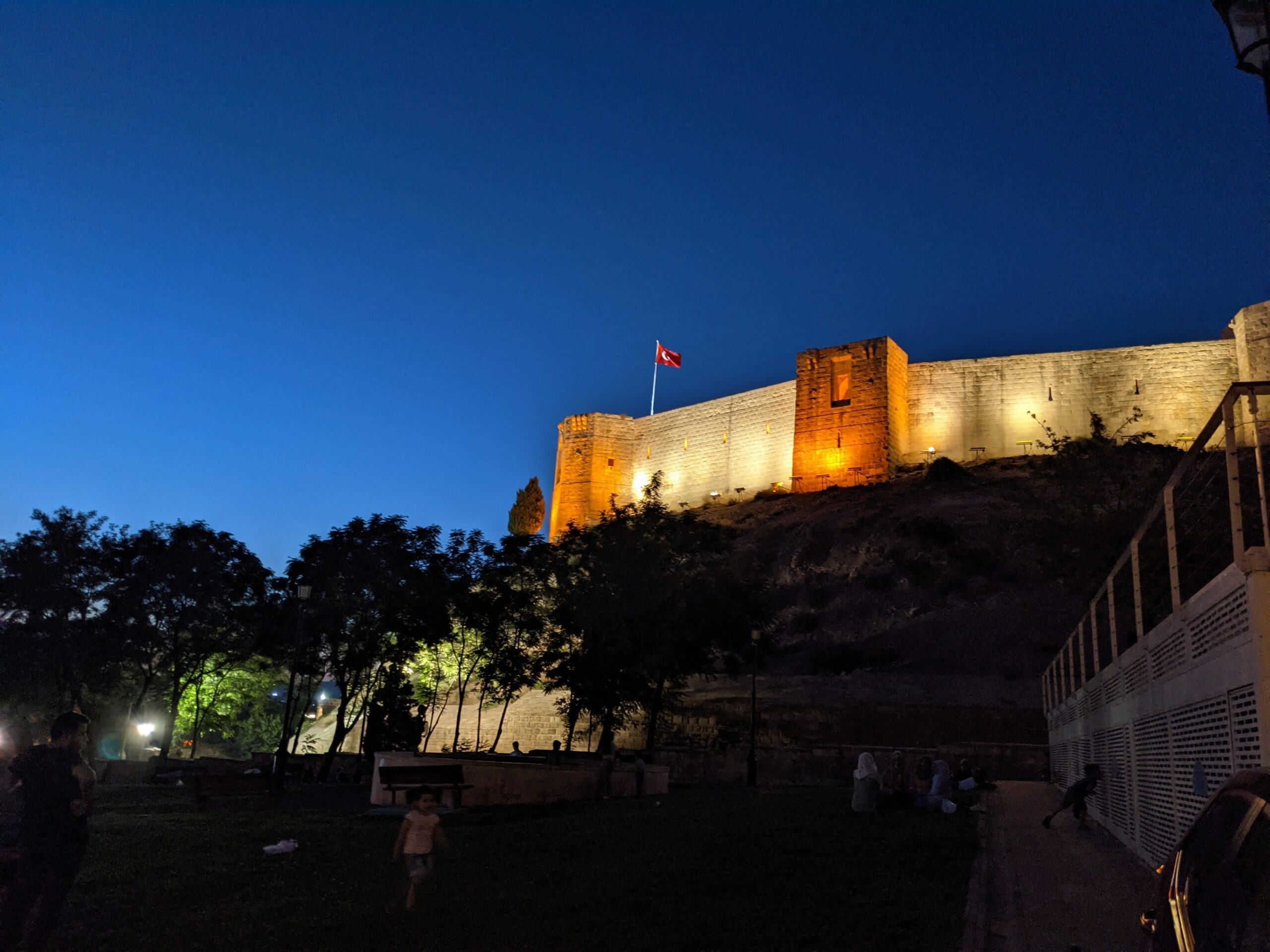 I managed to see it lit up at night, shining over the city. Unfortunately, the walls were damaged by the earthquake, so access will likely be restricted as they rebuild. Luckily, the damage isn't too bad, and the protective castle still watches over the city.
Right next to the castle was an amazing food place serving traditional dishes. I meat I ordered came with a variety of smaller dishes. Can you believe I got all this, and the other plate not shown here for only C$7!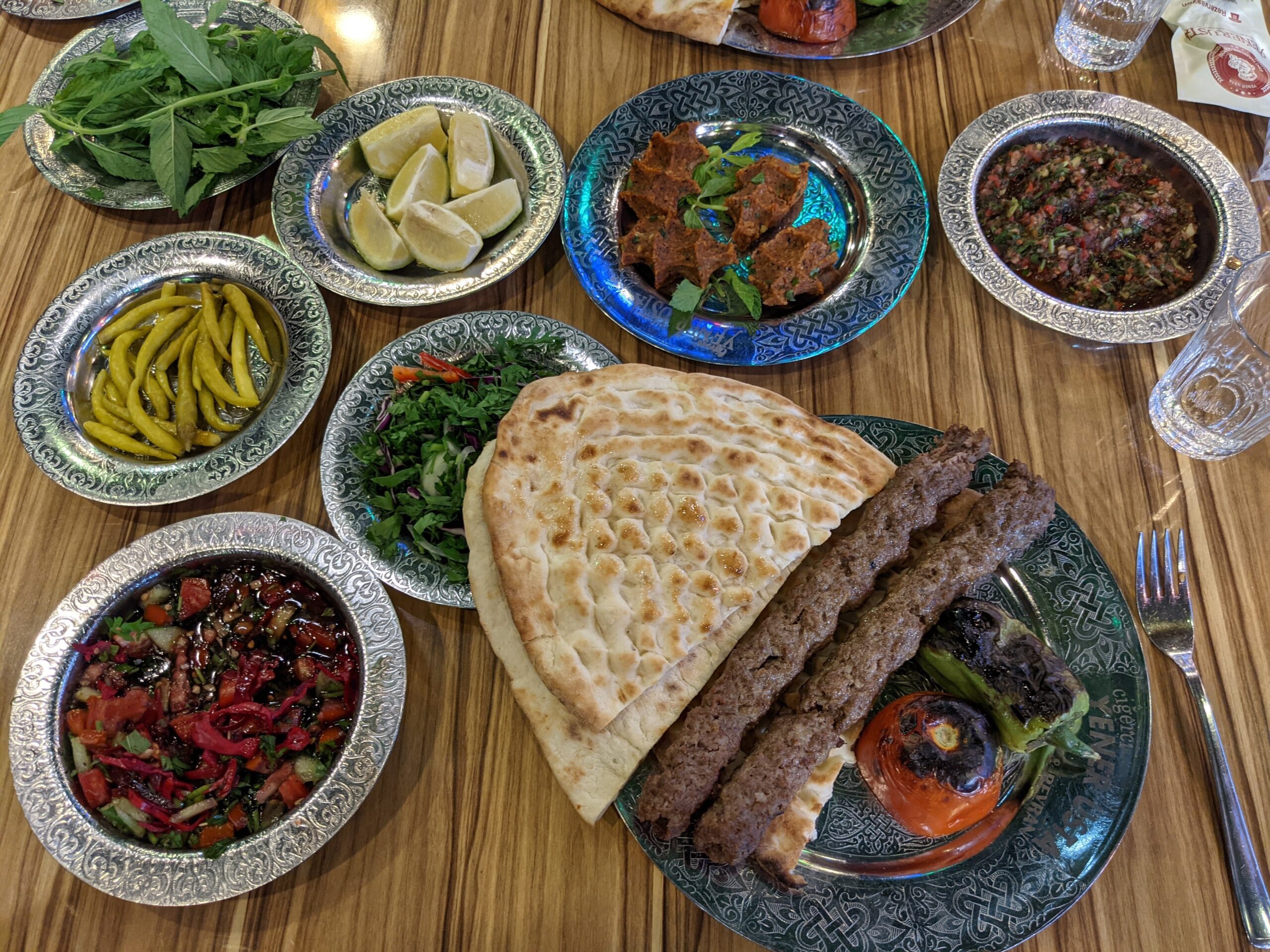 I shouldn't have been surprised as Gaziantep is known as the culinary capital of Türkiye. All the food in the city was super affordable, and it's clear all the ingredients are fresh and locally produced. It's a food lover's dream!
In particular, the locals are proud of having the "best Baklava in Türkiye." Having given it a taste, they were really good.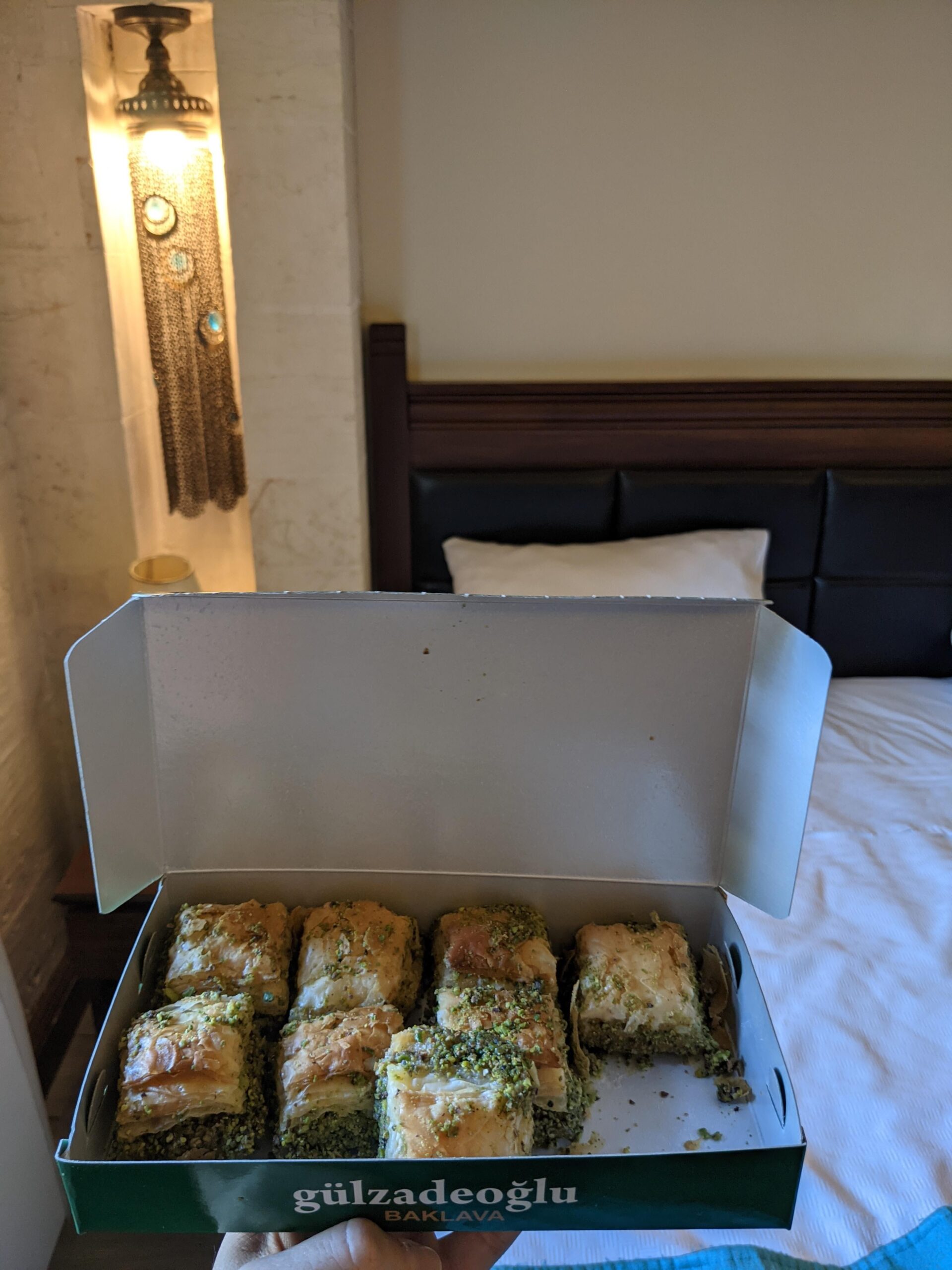 Downtown, the main bazaar has everything you could ever need. All the shopkeepers were super friendly, and it was nice to see the city so full of life with locals going about their business.
Because I visited outside the main summer season the first time, it was less busy, so I really got to live like a local and take the time to look around. The second time was in the summer and these streets were packed!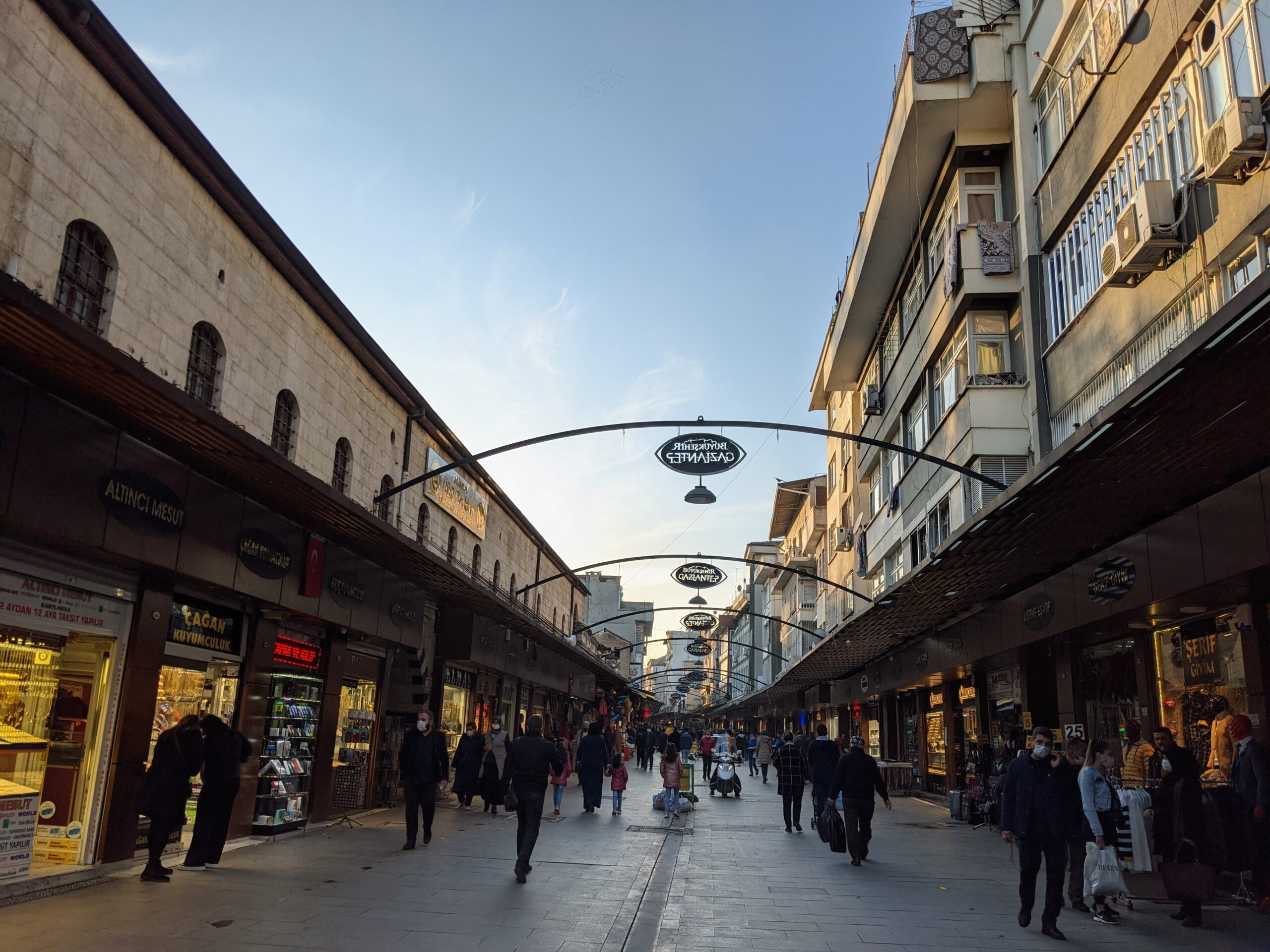 I enjoyed being in Gaziantep so much that I went back in 2021, and it's a place I could go back to time and time again.
Hopefully, when the city starts to recover, more people will travel to Gaziantep and help support the friendly locals as they rebuild, instead of going to places where overtourism is an issue and where locals don't want to welcome you nearly as much.
Adana
Next up on my list of places to visit in southeast Türkiye was Adana. It's just to the west of Gaziantep and is more densely populated. Like Gaziantep, it's got a long history dating back over 8,000 years.
In fact, I flew into Adana before taking the bus to Gaziantep both times. Flights were cheaper and buses in Türkiye are really cheap. And they always seem to leave to where you're going right when you get to the station.
(Intermodal itineraries are one of the best ways to save money, as mentioned in our free ebook with 100+ travel tips!)
Adana has the second largest mosque in Türkiye, the Sabancı Merkez Mosque.
It's awe-inspiring, with 6 huge minarets and a giant dome. Sitting right on the river banks, it looks even more spectacular at night when it's lit up, and the lights reflect on the water.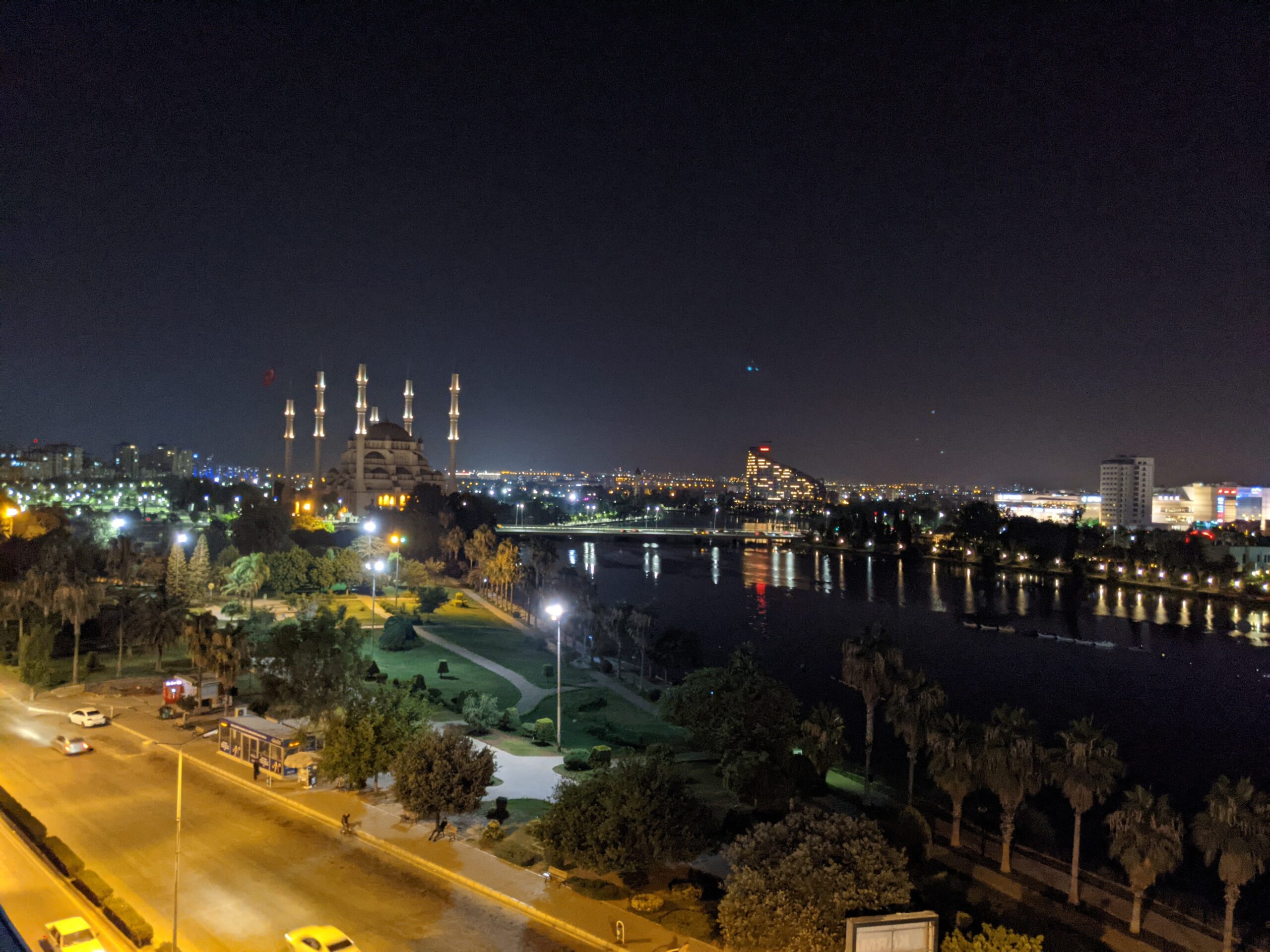 Another highlight for me was this beautiful old stone bridge. It's still in use today, and you'd never know it was built over 1800 years ago!
As a structural engineer, I'm impressed. You can walk across it, and it also gives fantastic views back over the mosque.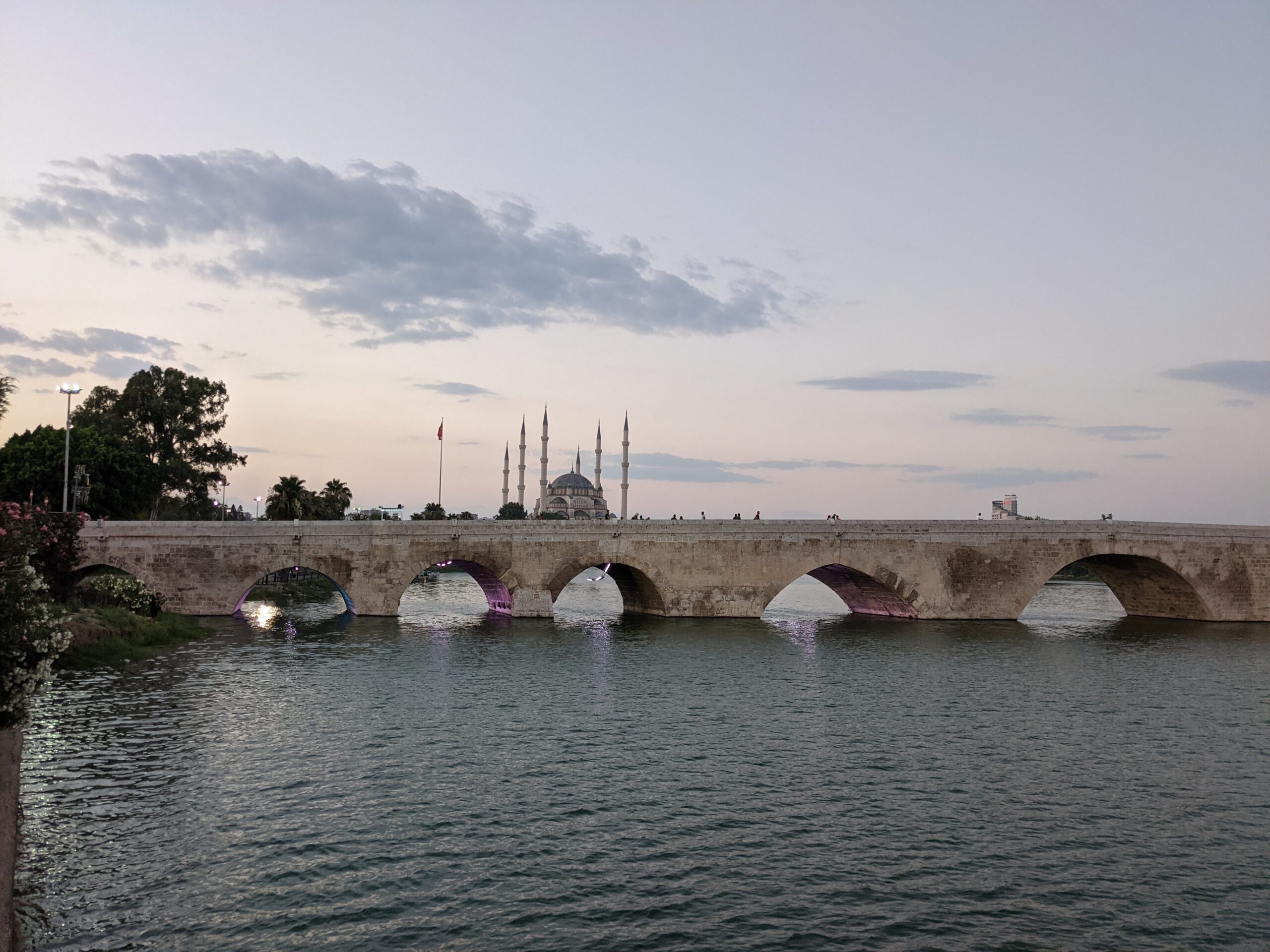 So many of the historical sights are still being used or are very much a part of the modern city, even if they aren't all from the 2nd century like that bridge. You need to keep your eyes peeled everywhere you go to ensure you don't miss anything.
For example, the 19th-century clock tower in the market. It was renovated in the 1930s and still looks great next to the crumbling stone walls of the marketplace.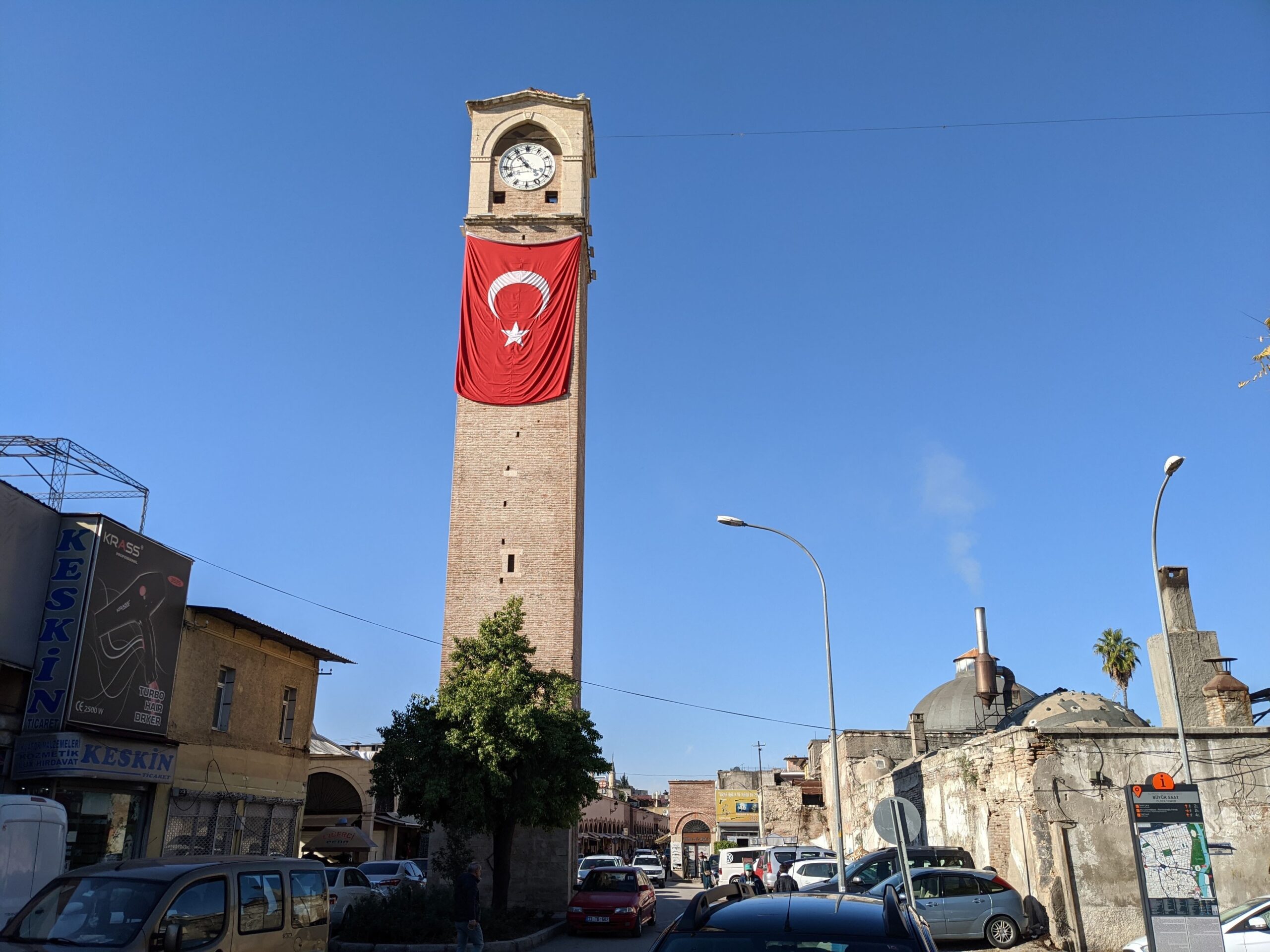 It was another really friendly place where the locals were super welcoming. Just as in Gaziantep, the food was amazing, the scenery and landscape were so beautiful, and everything was very affordable.
Şanlıurfa
The next destination in this region I really loved was Şanlıurfa, or Urfa as the locals call it. Situated to the east of Gaziantep, it is also one of the cities I suggest visiting in the southeast of Türkiye.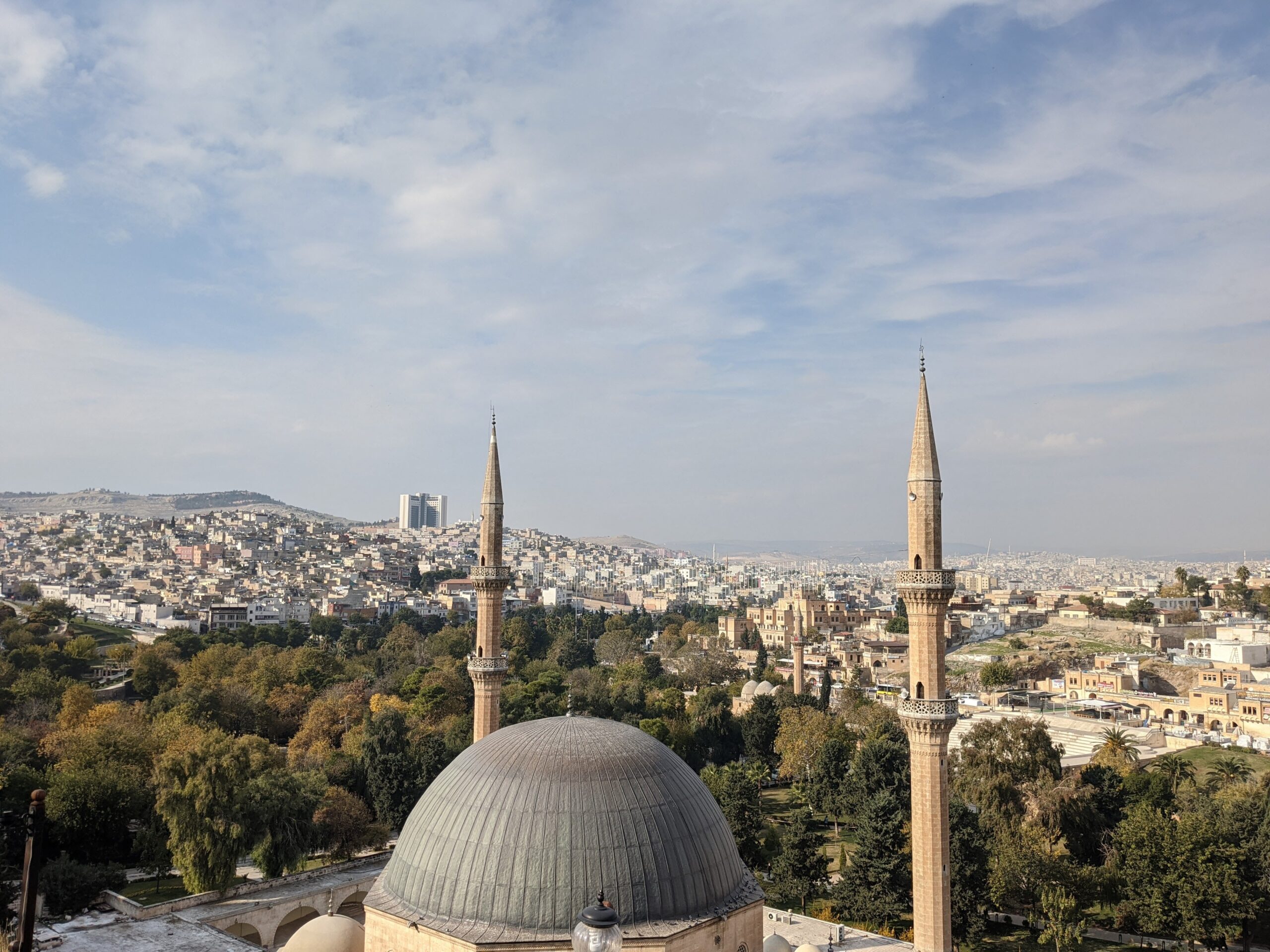 The hospitality here was also excellent! The hotel I stayed in, the Şark Çırağan Konak Boutique Hotel, was authentic, with traditional decorations and delicious food.
The price was also very cheap (≈ C$20/night) for such a great place to stay in a downtown location. Flytrippers' other co-founder Andrew also tried the Hilton Garden Inn Şanlıurfa for less than 5,000 Hilton points per night and enjoyed it!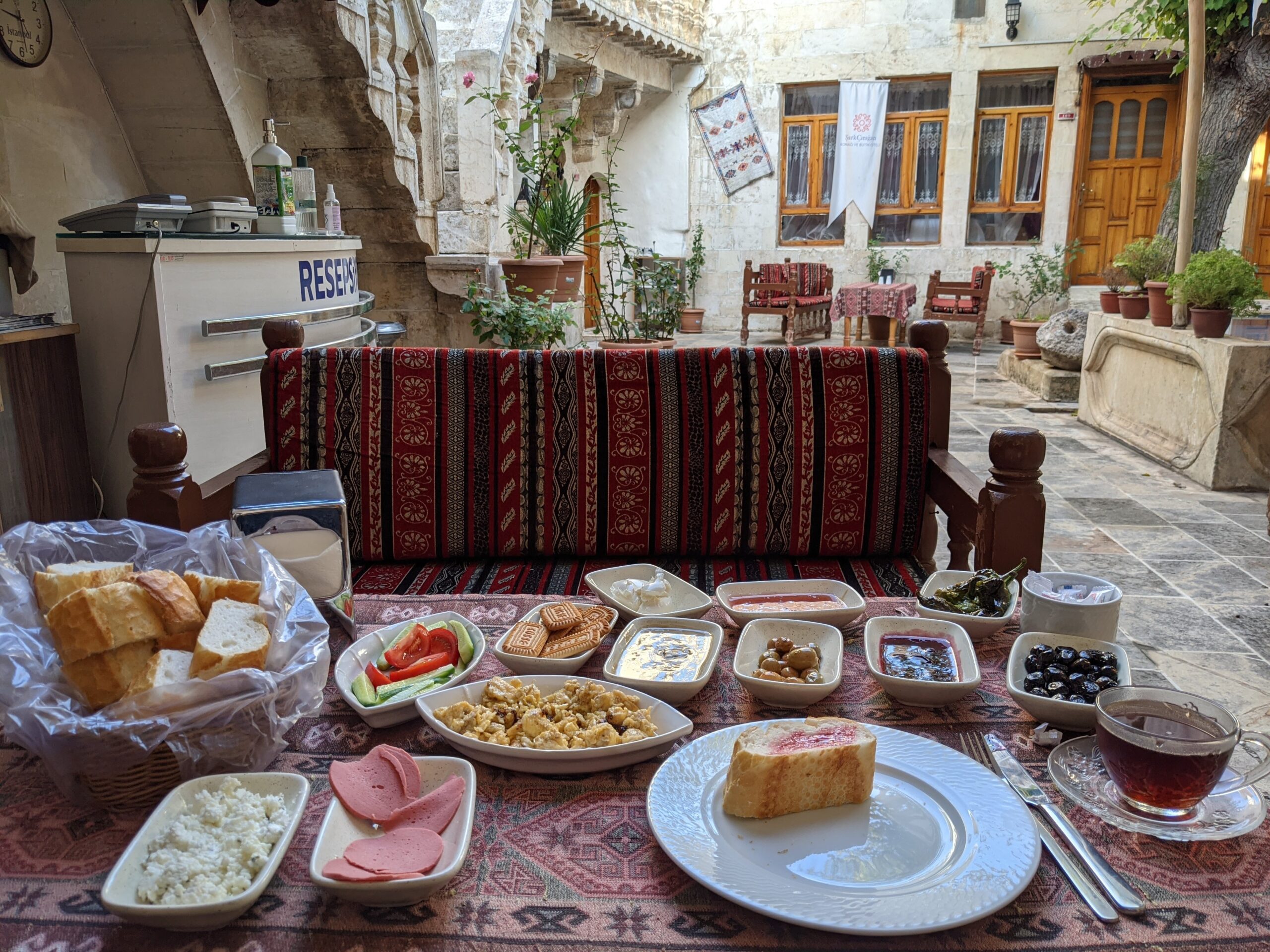 The number one attraction in Şanlıurfa is the important religious site where Abraham fell into the waters after being thrown into the fire.
It attracts loads of visitors of people in the Abrahamic religions who find the city extremely important.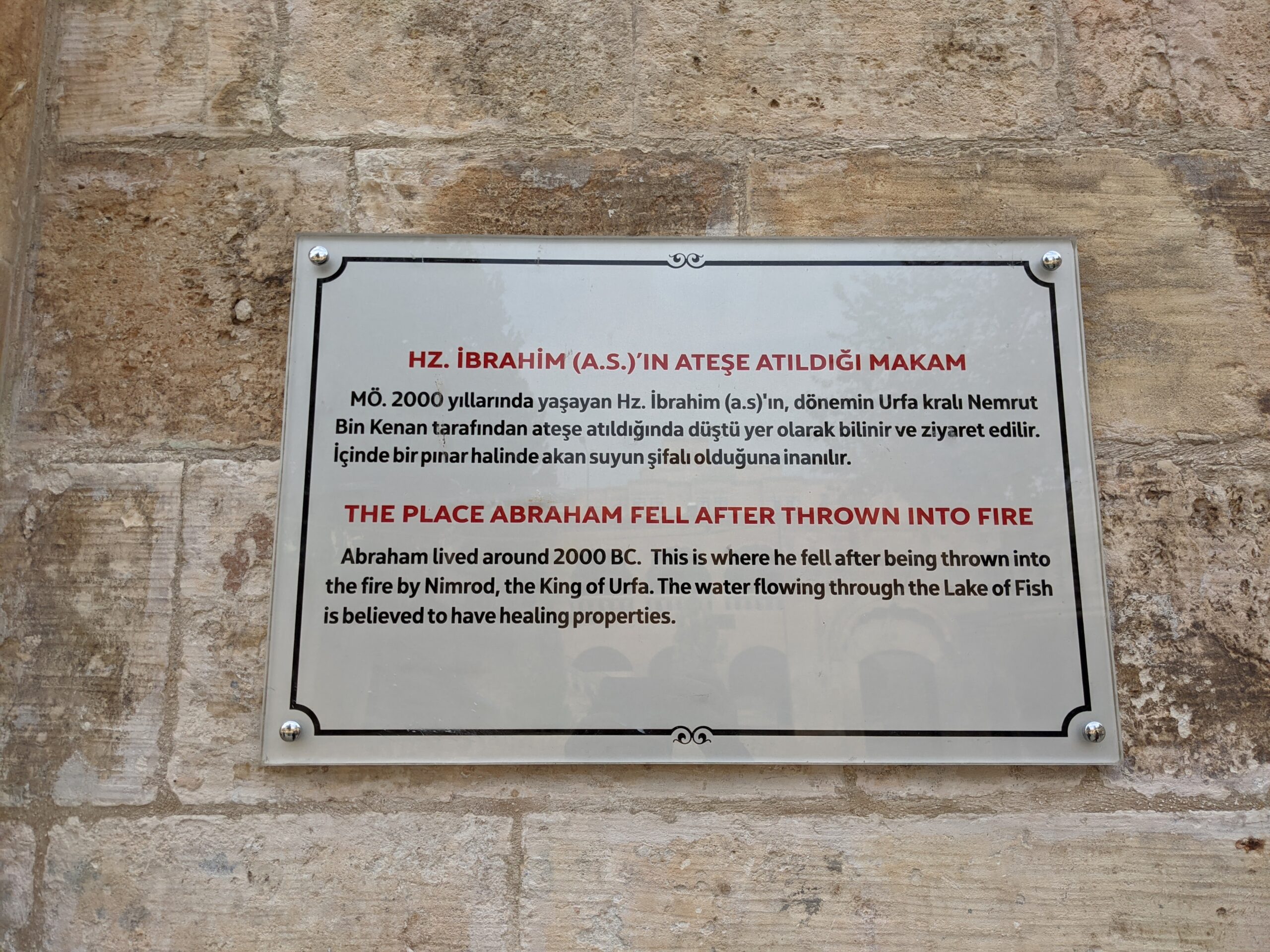 And aside from the religious significance of the water, it's just a beautiful place to embrace the city and culture and find some peace and quiet.
The city is also supposed to be one of the oldest inhabited places on earth, the birthplace of agriculture, and has some of the most beautiful mosques in Türkiye.
It's well worth visiting, and I can confirm that it is very beautiful.
Diyarbakır
Last but not least, I also spent some time in Diyarbakır. Diyarbakır is the largest Kurdish-majority city in Türkiye and is the administrative center of the region, so it's busy, lively, and a really fun city to visit.
You can definitely feel that it gets fewer visitors than other places in Türkiye. Most people look local and there aren't many travelers.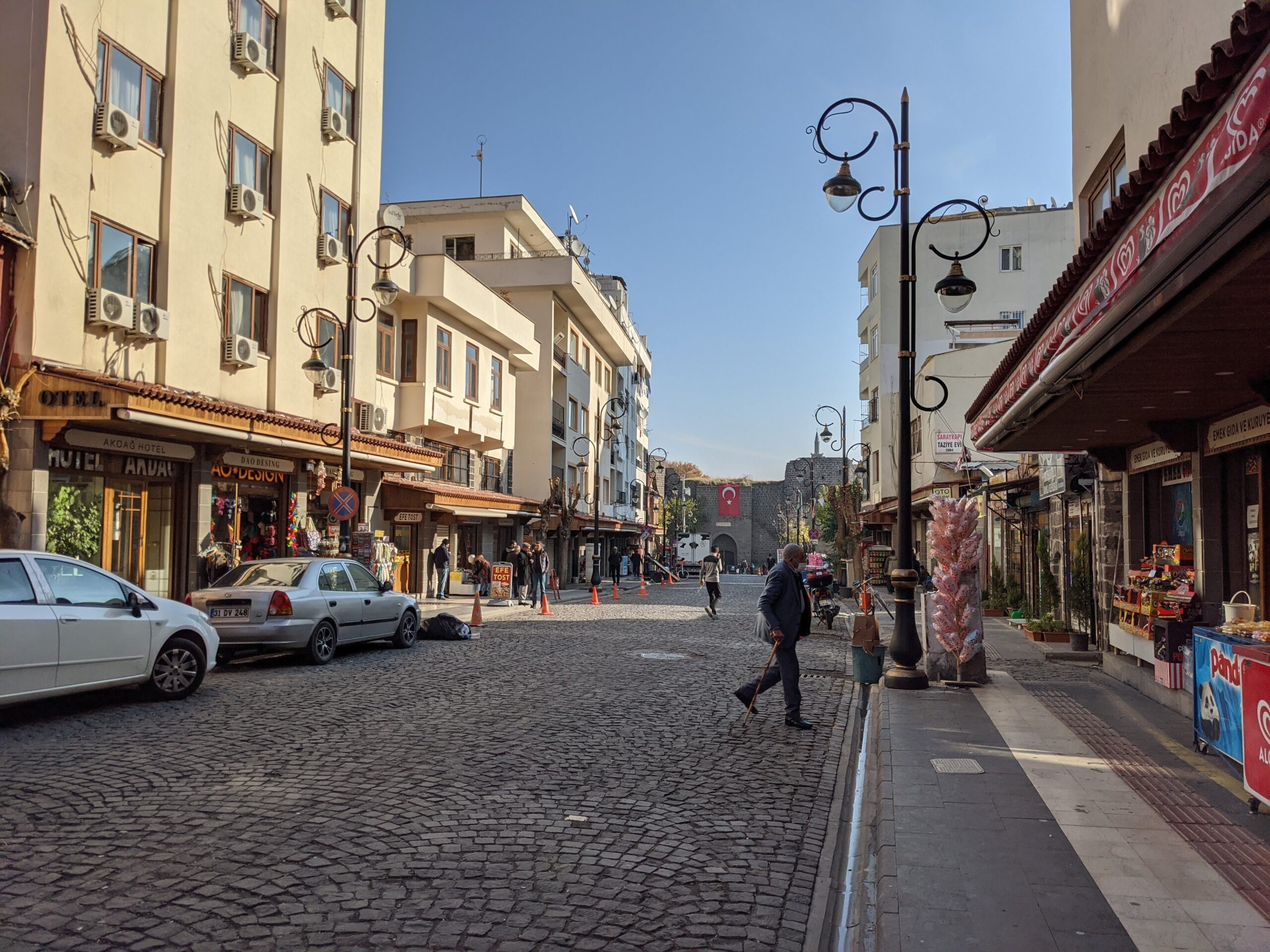 Despite being so important for modern Türkiye, there is still plenty of history.
The old town is worth a visit. I particularly recommend having tea with the locals at Hasan Paşa Hanı, a 16th-century inn and historical landmark with great cafes, and food places.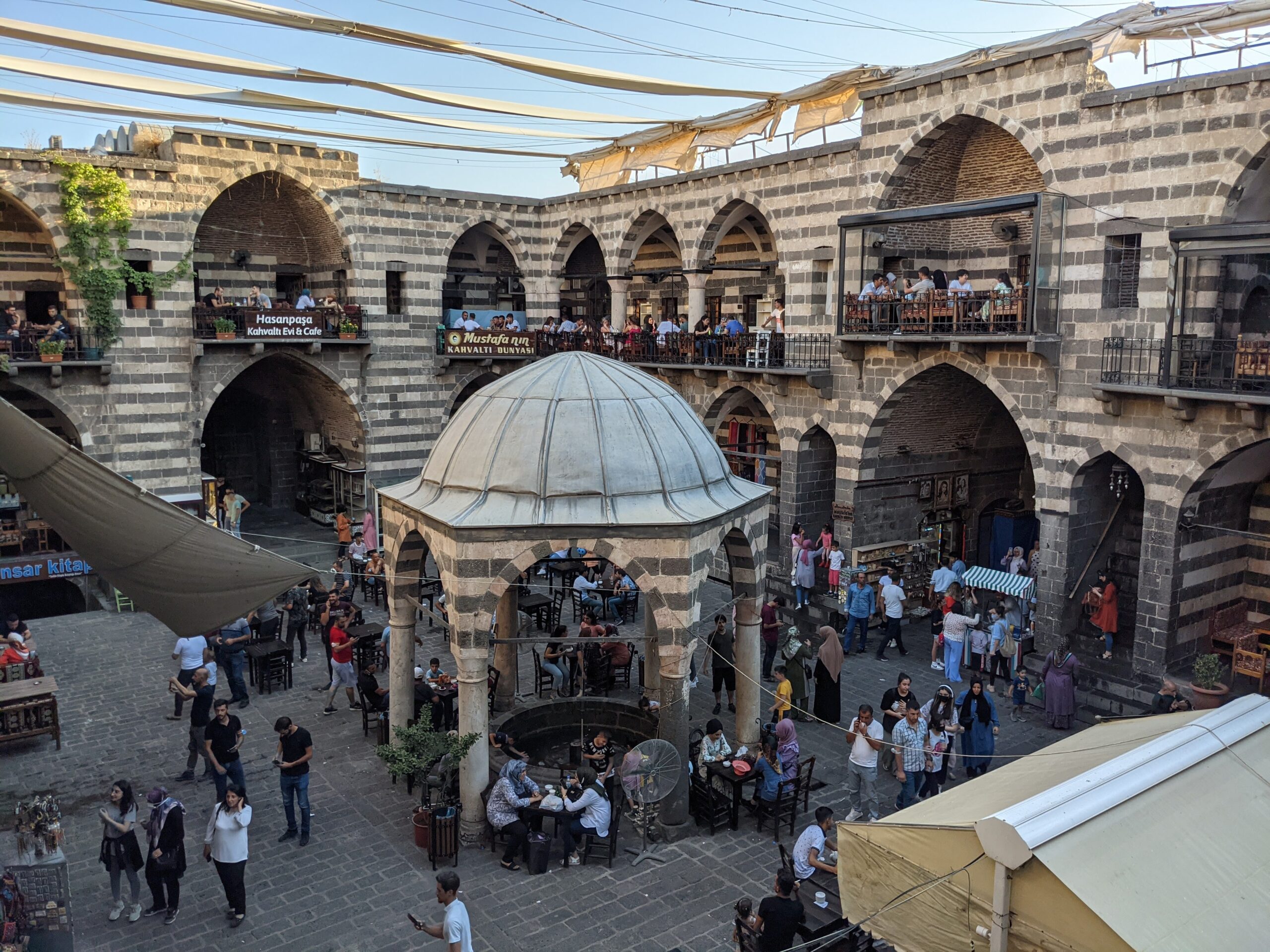 Diyarbakır proudly holds the title of having the longest continuous fortified wall anywhere outside of China. It's a UNESCO World Heritage Site.
You can climb up onto the walls for an amazing view over the city and out over the surrounding countryside.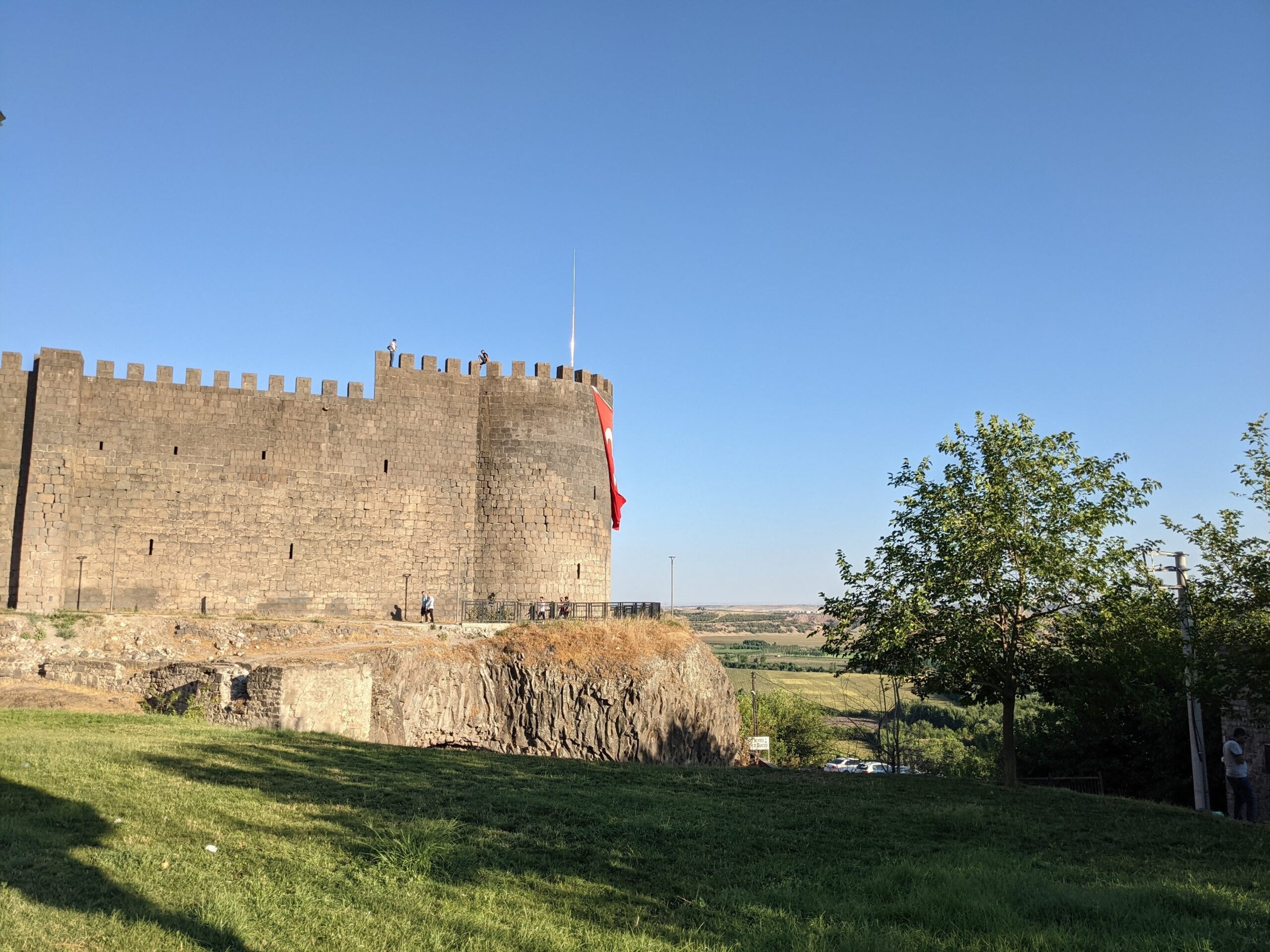 If you do visit Diyarbakır, the main mosque is a must-see. It's a very different style from most mosques in the area, so visiting it is unique.
It's not the same architecture, so it made a really great contrast to the other mosques I visited on my trip.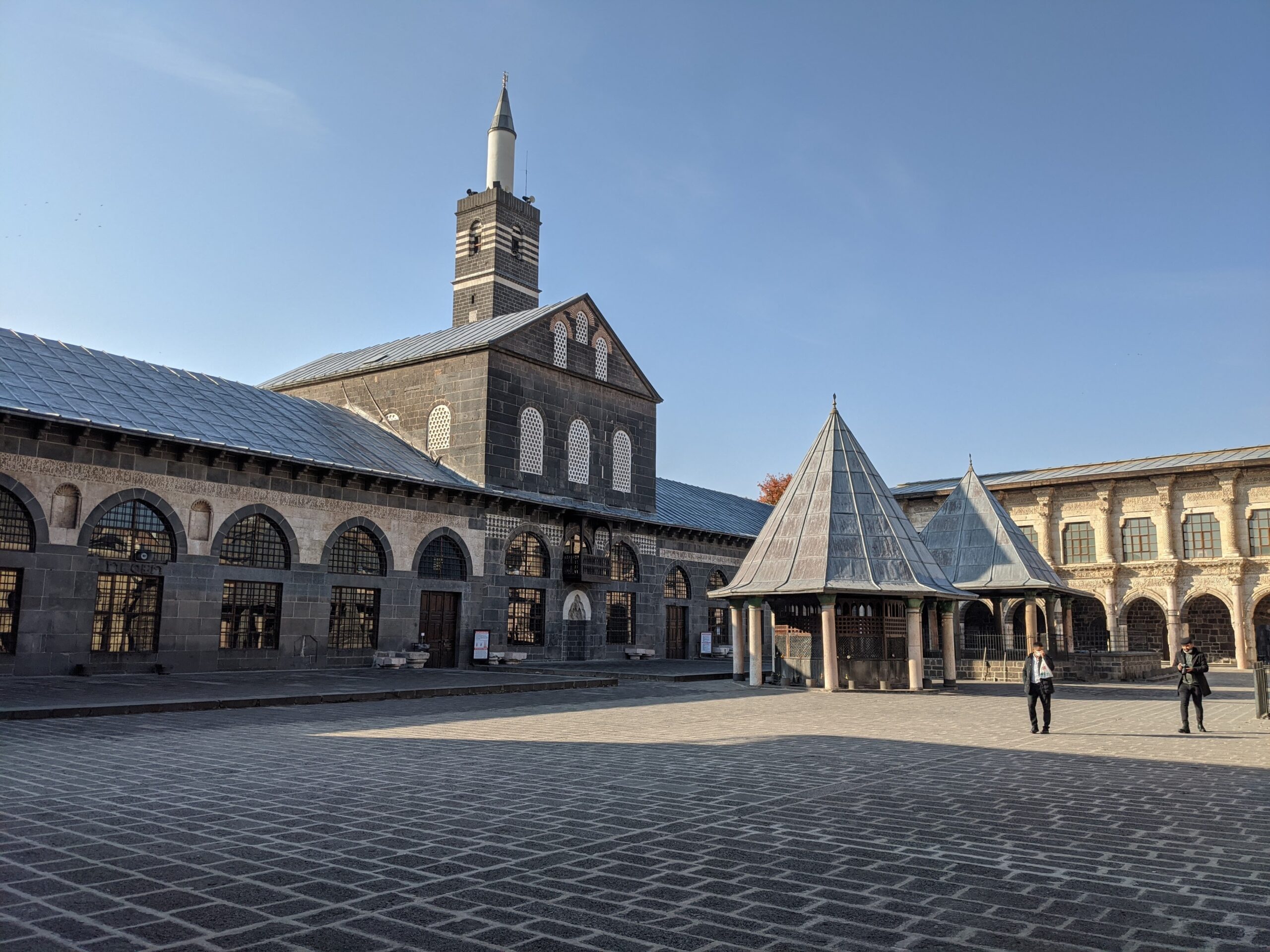 The difference between Diyarbakır and the nearby towns and cities made for great variety on my trip. There is so much to see and do; I would definitely go back.
Visiting Türkiye after the earthquake
Like many people, I was shocked to hear about the impact of the earthquake on this region I love so much. There are already 35,000 deaths confirmed.
Travel to the area is still not recommended right now, but when it will be time to go back to southeast Türkiye, I know so many of us will be ready and waiting.
I loved every city I visited, and I still love this entire region.
Want more destination inspiration?
Summary
The region of Türkiye that was hardest hit by the massive earthquake is probably my favorite part of that country that I love. With so many places hit by over-tourism, choosing to instead go to areas where they need the financial support that your trip will bring is a great way to travel more authentically and discover some hidden gems.
What would you like to know about Gaziantep and southeastern Türkiye? Tell us in the comments below.
See the deals we spot: Cheap flights
Explore awesome destinations: Travel inspiration
Learn pro tricks: Travel tips
Discover free travel: Travel rewards
Featured image: Gaziantep (photo credit: Kevin Gagnon/Flytrippers)
Share this post to help us help more people travel more for less: