Greece has obviously always been an amazing travel destination, but this year it is especially appealing as one of the safest countries Canadians can travel to with no entry restrictions. Here are our first impressions of what it's like to travel to Greece during the pandemic now that we've completed the Greek portion of our trip.
We want to give you right away a first taste of what it is like to travel to Greece (and travel during the pandemic) with this pretty thorough guide. We have other content on the hub page for our Greece and Turkey trip.
This post is entirely about the coronavirus situation, we'll have others to show off the destinations themselves (in the meantime, you can see a few pictures of Greece and our planned itinerary).
Overall impressions
One word: wow.
This might sound too bold but: Greece definitely felt like one of the best places in the world to be during the pandemic.
Seriously, after having been there, it's just so incredible to us that so many people thought…
that it was too risky to travel to Greece when we left
that the experience would be anything short of amazing
that the experience would be that much different than before
that no one was traveling in Europe
We certainly don't want to encourage everyone to travel… only if it makes sense based on your situation and if you consider every factor thoroughly. And only if choosing the destination carefully.
But Greece really made it hard for us to not sound too positive.
Greece had been one of the countries least affected by the coronavirus in Europe (only about 8,000 total cases, about 4 times less per capita than Canada) and we did expect it to be safe and fun… yet our expectations were still exceeded.
The country has been open to travelers for weeks now, and at least in the islands we visited, it almost felt like there was no pandemic… everything was open and there were many travelers there.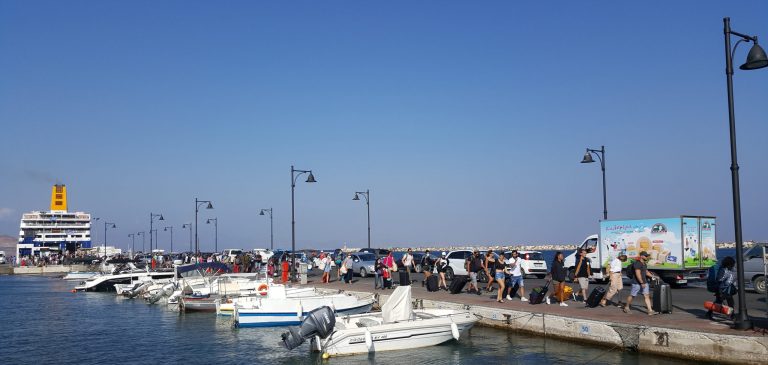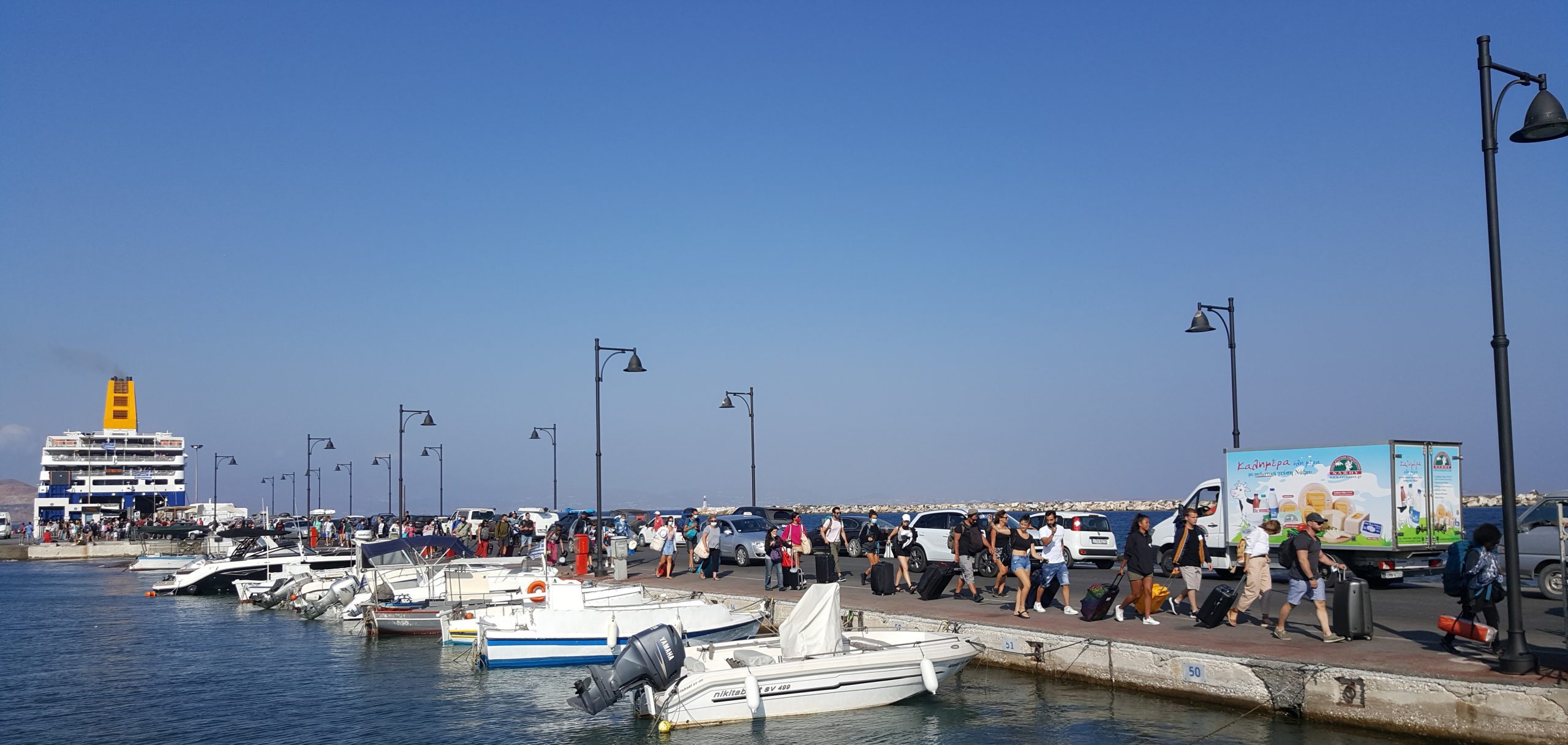 On the other hand… we told you we'd not just talk about the positive and that we'd be honest about every aspect of this trip. So it's worth mentioning that Greece's coronavirus curve is actually spiking as we speak, with the worst daily numbers they've had since the beginning of the pandemic.
That said, for example, out of the 262 new cases the day we left, apparently, only 22 were travelers. And most importantly, only 3 were in the entire Cyclades group of islands where we were (the vast majority of the cases were in Athens and Thessaloniki, the country's two largest cities, on the mainland).
On the ground, we really didn't notice anything about that spike at all, which can be either positive or negative depending on your outlook.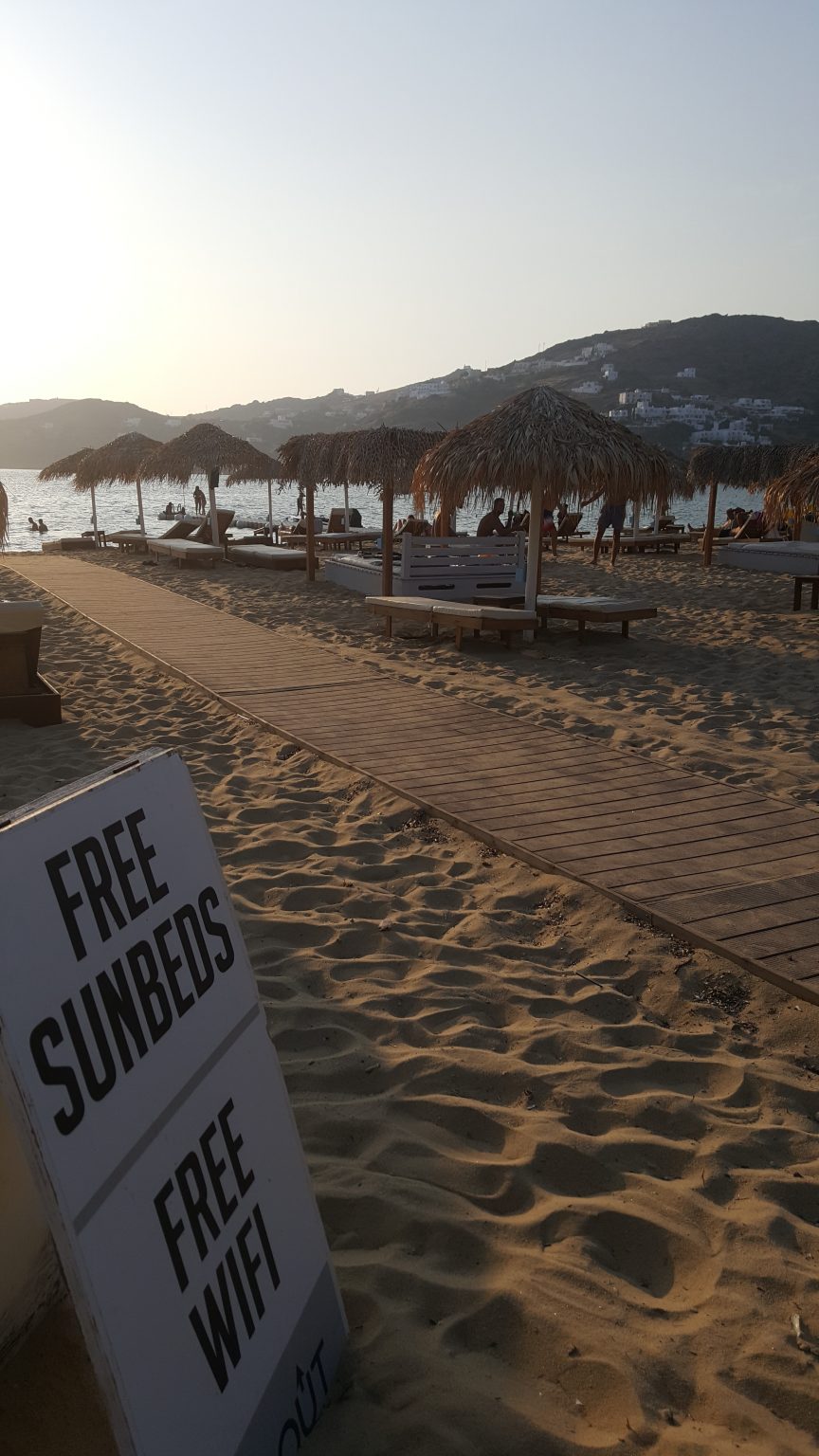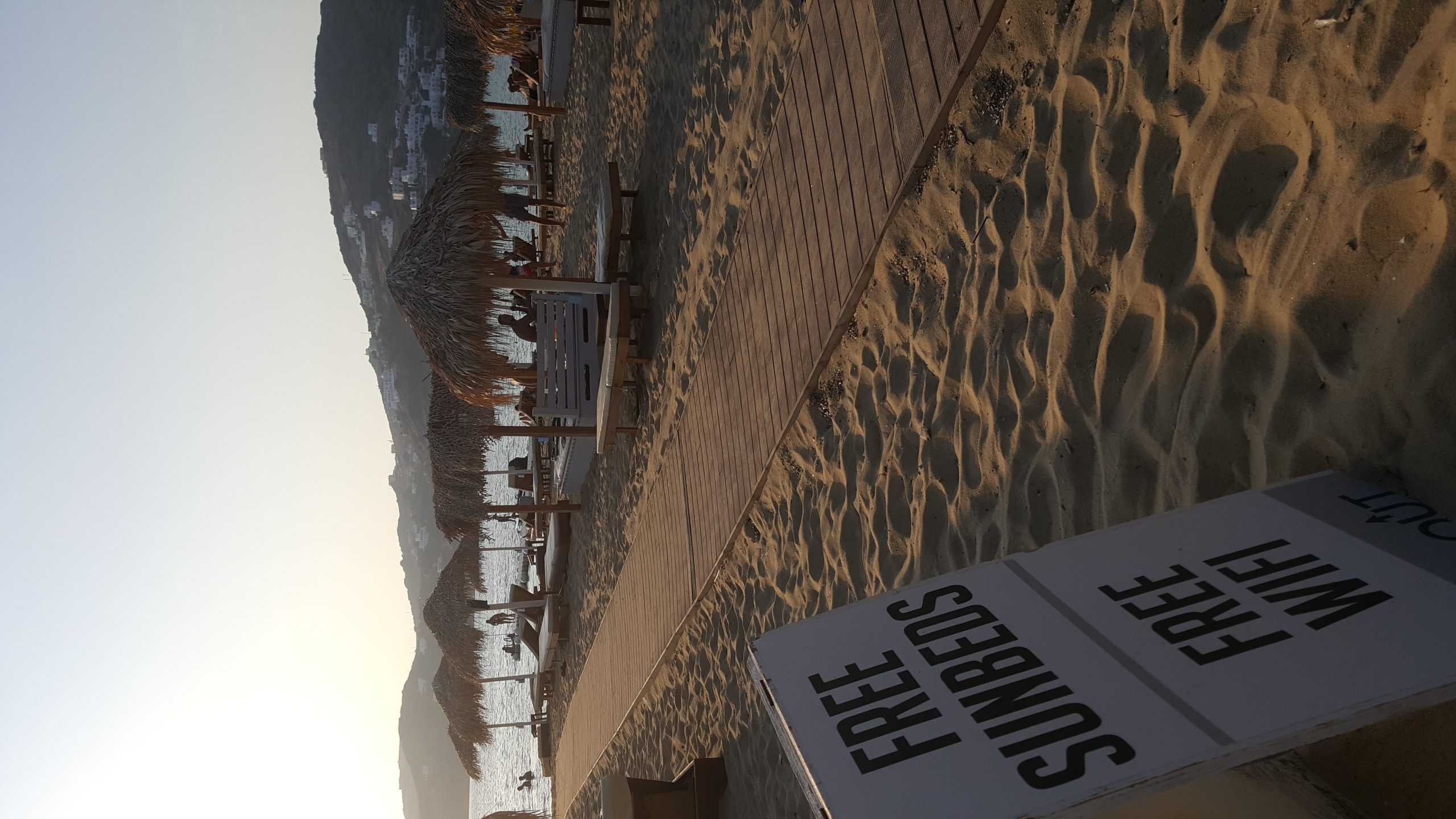 So while it was an amazing trip, that's a big issue for those who are easily stressed-out or aren't comfortable with change and uncertainty in general: it's hard to predict how a situation will evolve.
That's really the main caveat for all travel during the pandemic… things change quickly. What is true today might not be true next week, much less next month.
In all cases, choosing your destination is crucial. Even if I'm absolutely not someone who is very worried, I would definitely not go to most islands in the Caribbean right now for example, and not just because that region does not appeal to me: if I were to get stuck, I'd rather be in a developed country that I can trust like in Europe, personally… and most importantly not isolated from the entire world.
A complete closure of all borders like in March is unlikely (though not impossible). But since there are dozens and dozens of transatlantic flights (many of which didn't even stop in March), Greece is a very good choice in our opinion.
We'll have more about that, but let's go over the situation we experienced in Greece.
Every aspect of travel to Greece
Each of these topics will be covered in an in-depth article in addition to being updated here.
What is different than usual
Honestly, much like the experience on airplanes and the experience in airports… we were very very surprised to realize that not much has changed compared to traveling before.
That's the reality.
Wearing masks and following distancing rules were basically the main differences on the ground, that's it. Planning a trip has changed a bit more, but the trip itself… not really.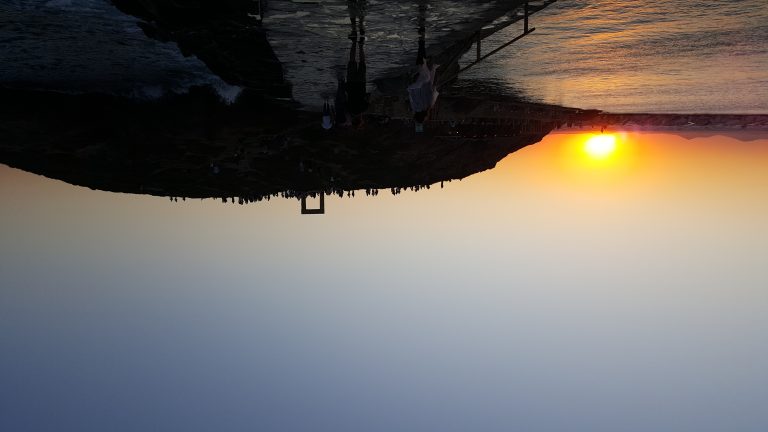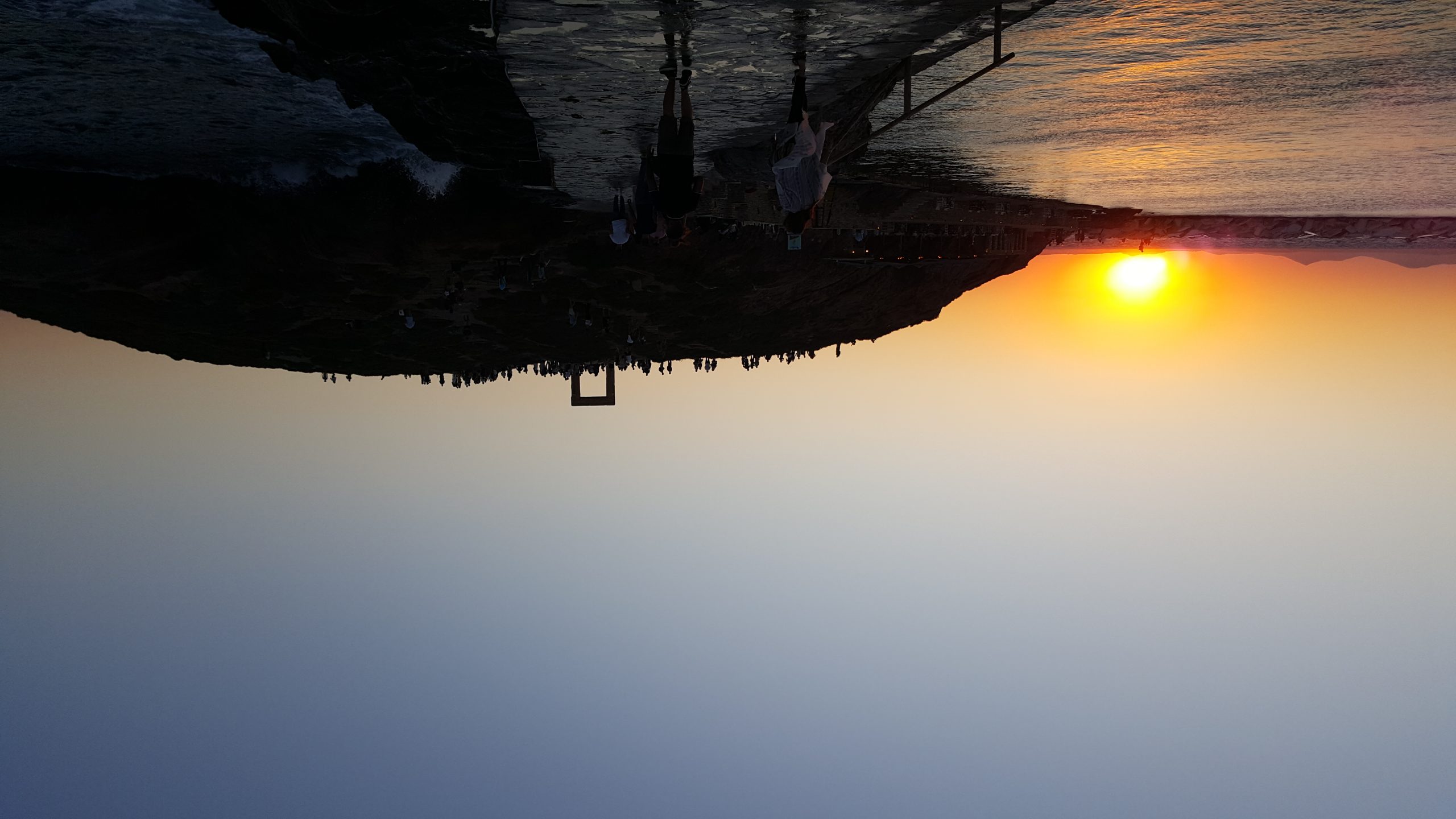 I just can't see how someone who has traveled to the Greek islands while we were there could say that the travel experience itself is a reason for travelers to want to avoid traveling. It's definitely not unpleasant or even that different from before.
Is it 100% as great as before? No, but it is not any worse than it is at home at all. And it's definitely better than not traveling, that's 100% sure.
What is open in Greece
Let's start with the thing that so many people seemed to be worried about. I was 99% sure that this was not even a factor to worry about (and told you as much in our guide on deciding whether or not to travel) but now I can say with certainty: you can stop worrying about whether things will be open.
At least if you are going to a country where the coronavirus is under control (which is what we'd obviously recommend). If things are going well enough for them to reopen to travelers, things are most likely going well enough for everything (activities, attractions, etc.) to be reopened. Makes sense.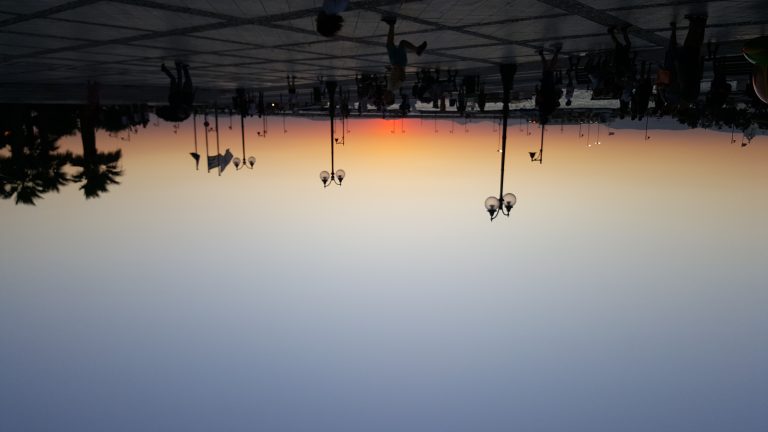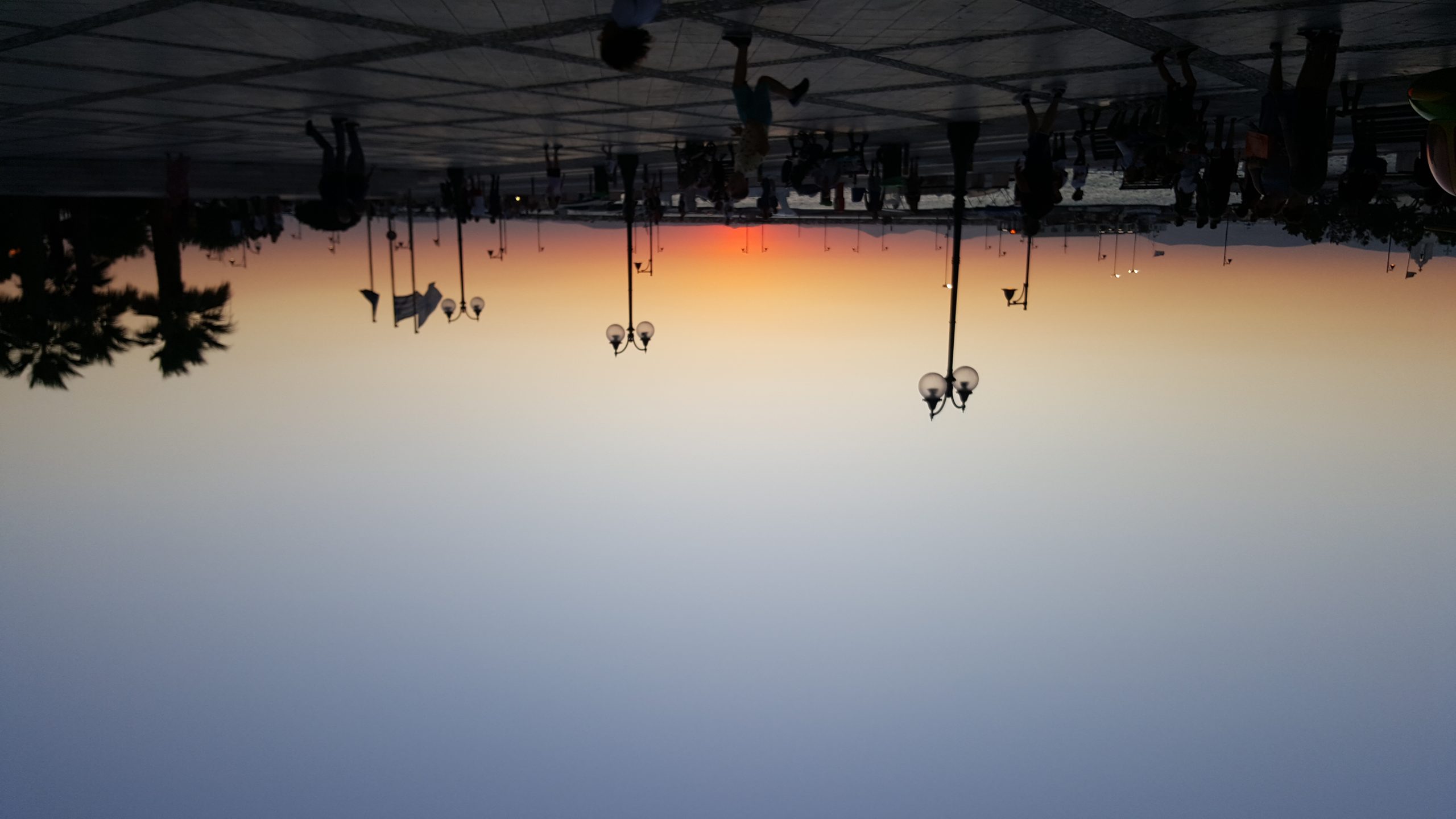 Of course, you should always do your research for a specific country (the choice of a destination is really the key if you're going to travel soon).
For Greece specifically, it's a quick answer: absolutely everything was open. Activities, attractions, restaurants, stores, pools, beaches, ferries, buses, trains, airport lounges… we did not see anything that was not open.
Well, the only thing that we were not quite sure about was the rules for nightclubs. It seemed to be changing when we were there, and it also seemed to change depending on which island. We didn't really care about this though. Bars were open as long as everyone is seated and adhering to physical distancing, although some islands also have curfews.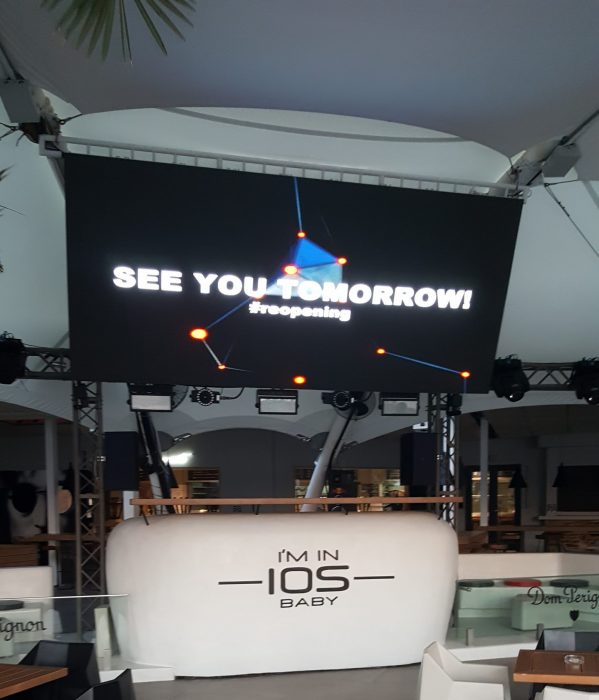 Oh and the smoking room at Athens Airport was closed, maybe that was coronavirus-related, maybe not… but since tobacco kills a lot of people each year, in this newfound spirit of promoting healthiness, maybe that should stay closed forever.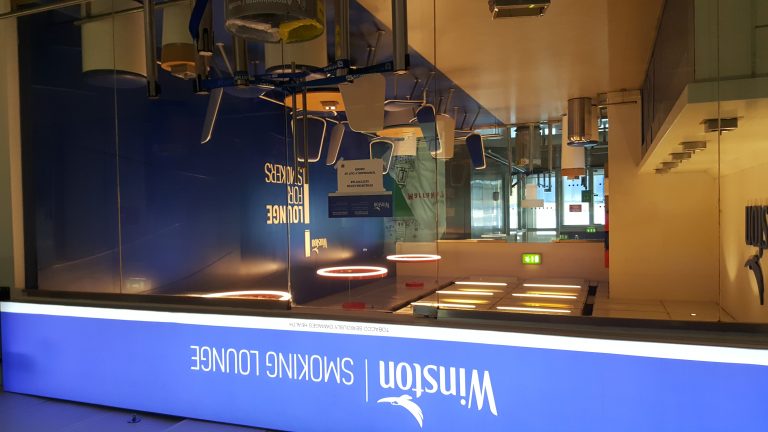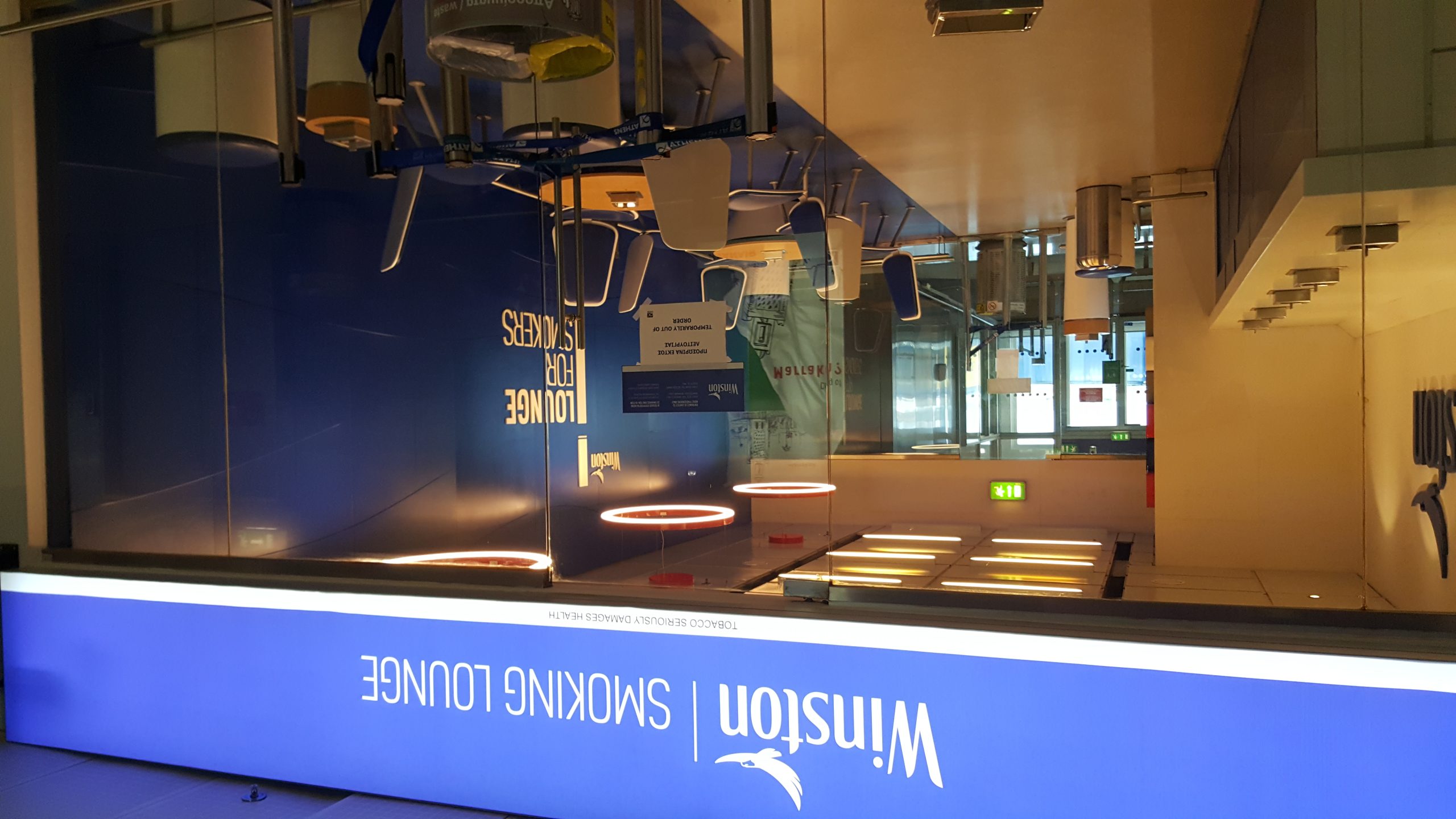 So for all those worried that things would be closed, that is certainly not the case in Greece. Like for almost every industry in Canada, everyone has taken measures and adapted to the new reality to reopen as safely as possible.
How welcoming the locals are
If anything, the locals were more welcoming than ever before. This is another thing that I didn't think would be an issue, and indeed, it really wasn't.
First of all, since our government has some of the most restrictive rules in the world right now, that means not many Canadians are traveling. So a lot of you are again looking at the situation from the perspective of the situation here… but objectively, in Europe, international travel has restarted a long time ago (Greece has been open to travelers for many weeks).
In short, if you think we were alone in the pretty narrow alleys of the whitewashed Cyclades towns with people looking at us like aliens for traveling right now, you are way off!
There were a lot of travelers from many countries in Europe. A lot. It's really not like no one was traveling.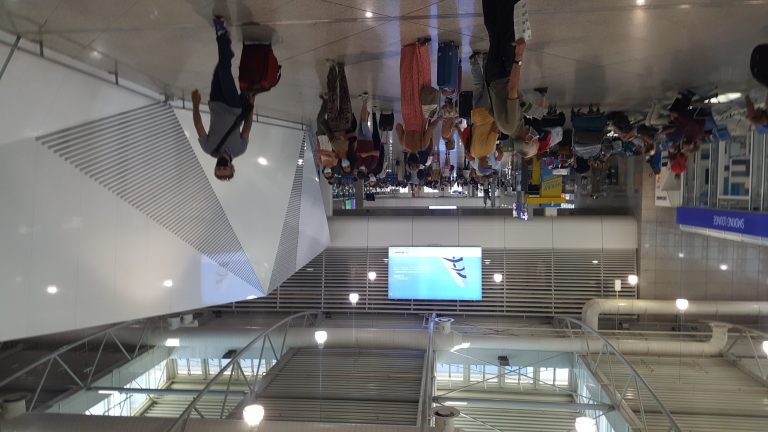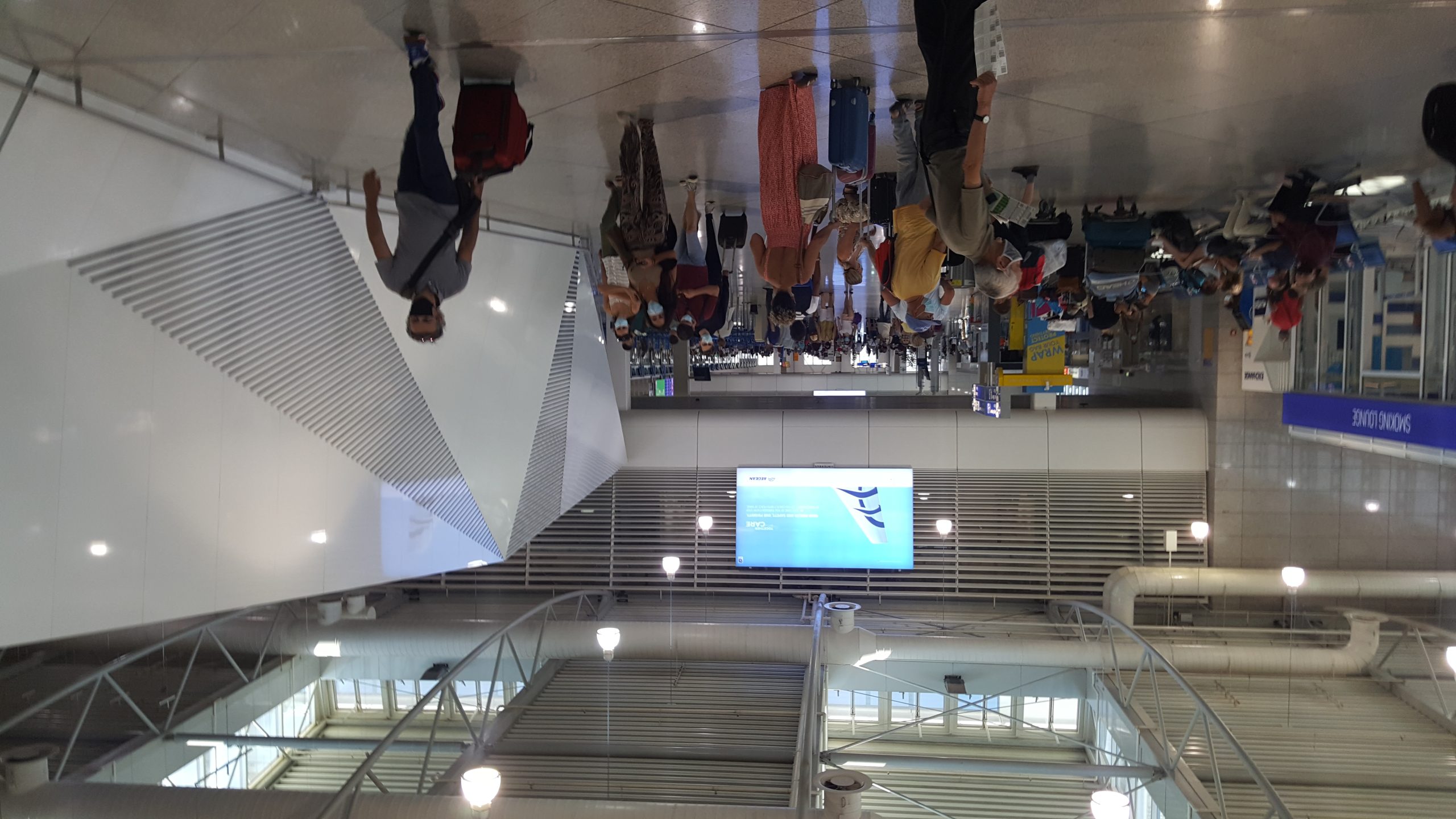 Every single local we spoke to was very glad to see Canadians, as they're used to having a lot more of us. Every single local was glad that travel had restarted, as their livelihood depends on it.
Although in all cases, when traveling, it's always good to try and not look like a complete tourist either. But absolutely no one was unwelcoming to travelers, quite the contrary. Travel was shut down long enough, the locals we met seemed very happy that it is back in a safe and responsible way, like every other industry.
It's not that different from what they are at home.
First, physical distancing is required and encouraged, although the rule is 1.5 meters instead of 2 meters in Canada. Overall, in the Greek islands, physical distancing was maintained pretty much everywhere, both outdoors and indoors.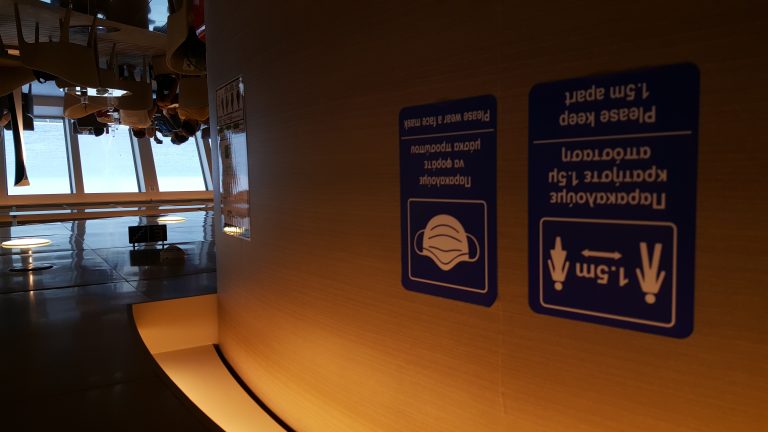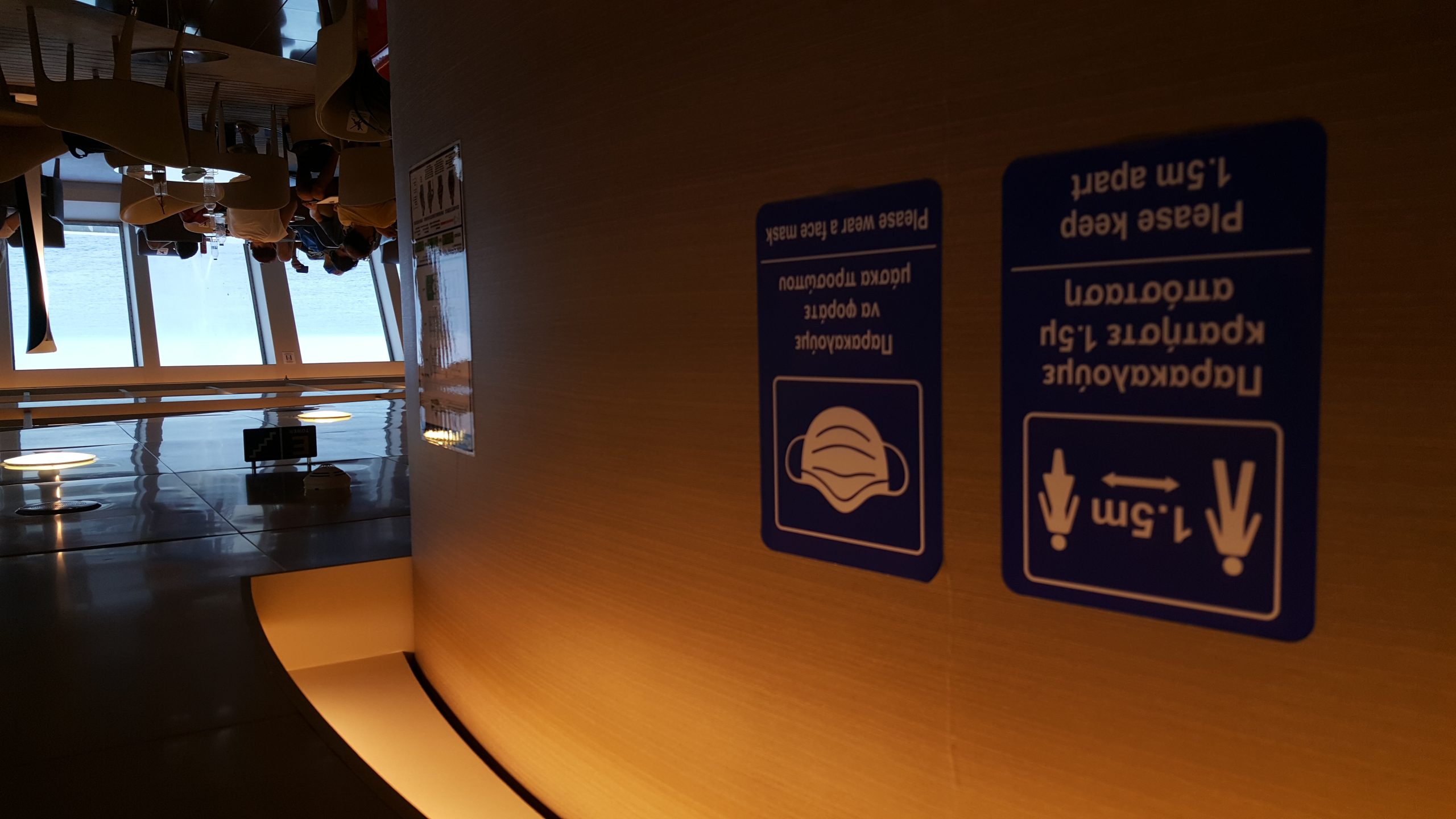 We didn't spend much time indoors, but it felt just as safe as going indoors in Canada. Everyone was wearing their masks indoors, with no exceptions. They're mandatory indoors, but not outdoors… so we didn't see many people wearing masks outside at all. Again though: rules can change (and probably will, either way).
The good thing is that on the islands, you spend almost all your time outdoors. And there is plenty of space since there are obviously fewer visitors than normal even though we were far from being alone. On the islands, it seemed to be overall taken more seriously, for example, every single business had a bottle of hand sanitizer.
In the little time we spent in an urban environment in Athens on the mainland, I'd say we got the impression people were maybe a bit less careful about distancing, but overall still virtually everyone seemed to be taking precautions. It's just that compared with the islands where it was almost perfect, I'd subjectively say that it seemed just very slightly different.
But even when it looks like there are crowds like in this video, it's a bit of an illusion because of the distance: in reality people were mostly keeping their 1.5-meter distance.
So honestly, it's pretty much business as usual. For example, restaurants almost always only outdoor (covered) seating, so masks aren't mandatory there, but employees always had them on anyway. Tables are spread out a little bit more than usual. That's pretty much it.
What it's like to enter Greece
We've read many comments in the past months from many travelers who are confused about entry restrictions and border restrictions.
The one thing to understand is that the entry restrictions imposed by other countries are the only thing actually keeping you from traveling and that these rules are different in every single country. Just because Canada has some of the strictest rules doesn't mean other countries have the same rules.
It's very simple: there are absolutely no entry restrictions for Canadians who visit Greece (as is the case in many other countries). There is no quarantine. There are no conditions. No proof of a negative COVID-19 test is required. COVID-19 test is not performed at-large on arrival.
But they do test a minority of passengers randomly.
If you are selected, the test is free and quick, done at the airport directly. You are asked to isolate at your destination until you get the results (within one day). If you test positive, you then must do a 14-day quarantine, but the lodging costs are supposedly covered by Greece.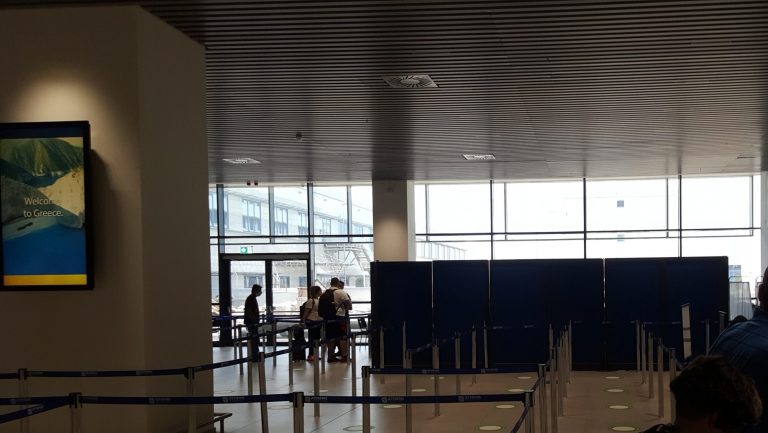 Neither of us was chosen for the random tests, so it took less than 5 minutes from the moment we stepped off the plane to the moment we stepped outside (we timed it). The customs agent didn't even ask us to remove our masks (didn't ask us anything in fact) and we were on our way. As easy as before.
That said, there is one extra step. The day before entering Greece, you simply have to fill a quick online form (the PLF—Passenger Locator Form) with information about where you're staying, where you are arriving from, etc. On the day of your flight, you'll receive a QR code by email that you need to show to the customs agent at the airport (you actually show it to a separate agent at the entrance of the customs hall, not to the agent stamping your passport).
That's it. Of course, as I just mentioned… those are the rules today. They can change. Many people seem to think that once a rule is implemented by a country, it will be like that forever. That's not the case sadly. So you have to be flexible and easygoing.
What it's like to fly to Greece
We flew from Montreal (YUL) to Athens (ATH) nonstop on Air Canada, and are returning on the Athens to Toronto (YYZ) flight.
This is the first topic we covered: you can read our detailed review of what it was like to fly, but in short, it is surprisingly normal.
And we are definitely comfortable flying since the air quality on planes is better than in buildings on the ground, and since many measures have been implemented to make flying safe.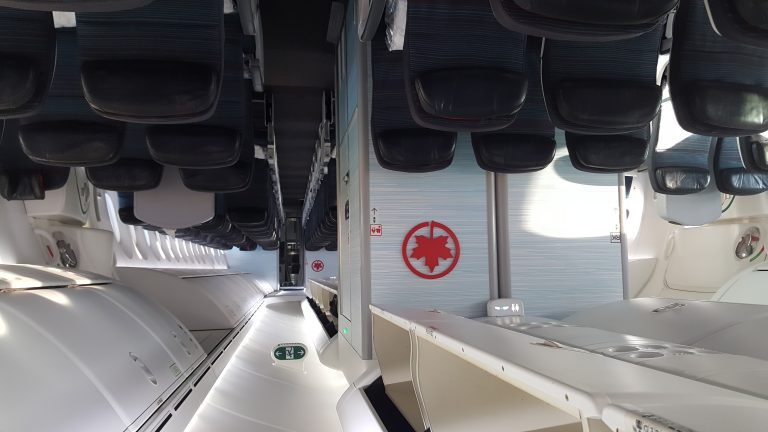 In terms of the airport experience specifically, it's also definitely not the end of the world. Not unpleasant at all, unlike what many seem to fear. This is true both in Canada and in Greece; apart from wearing a mask, not much has changed.
You can read our experience in airports in Canada with the 5 things that have changed.
What it was like in terms of budget
It's hard to compare with a regular Greek trip since I'd never been to Greece before and Kevin went over 6 years ago, but again, if anything… prices are lower than they were before, given the situation with fewer travelers.
In general, obviously Greece is not a budget-travel destination. We'll share our detailed budget later, but as you can expect from a relatively expensive touristy European country, it's not affordable like the places we love to go that cost us less than C$30 a day in total.
But we did manage to keep to a pretty low budget even in the popular Cyclades islands, even if it was still obviously a lot more expensive than in Turkey where we are now.
For example, the food is pretty cheap… if you want it to be cheap. Admittedly I am not the biggest foodie and I hate spending money on restaurants when that money can instead fund my 12 international trips per year, so I was very satisfied with the €2.50–€3.00 gyros everywhere.
Not as cheap as döners in Turkey, but they might taste even better.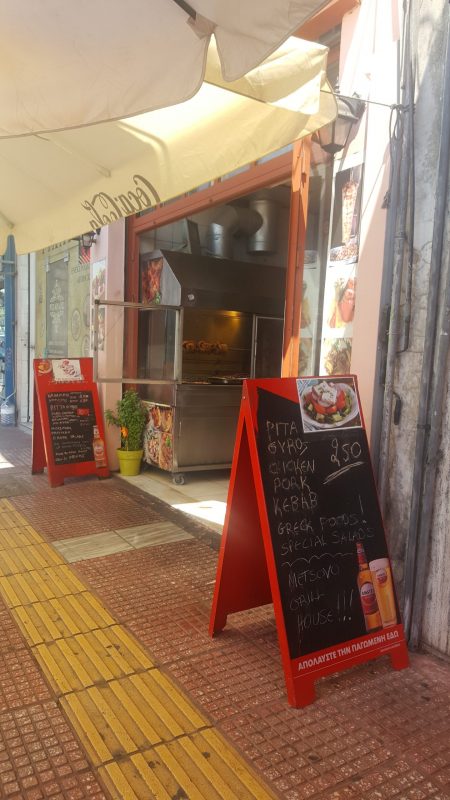 We also wanted to share the current travel experience of both a "regular" trip and a "budget-traveler" / "backpacker" trip… so we stayed both in hotels and hostels, which lowered the cost as well obviously.
In the islands, we got away with C$30 a night per person for a pretty cool beachfront hostel, which isn't that bad… but again, that's the price just for lodging instead of the total budget for a day in Turkey.
In Athens, it was C$20 a night for a well-located hostel with an incredible rooftop terrace.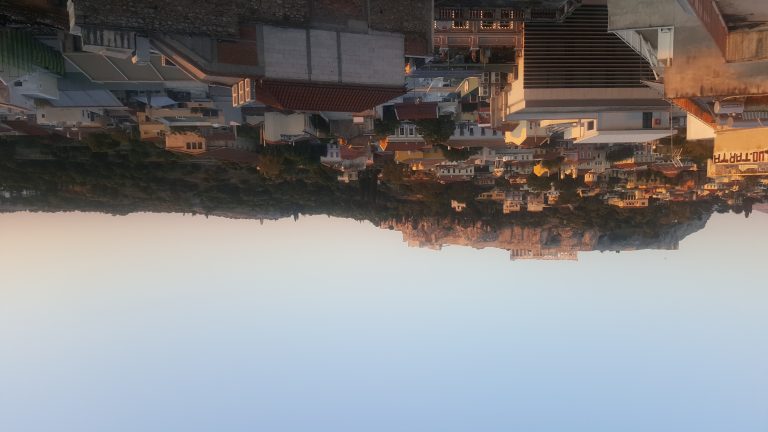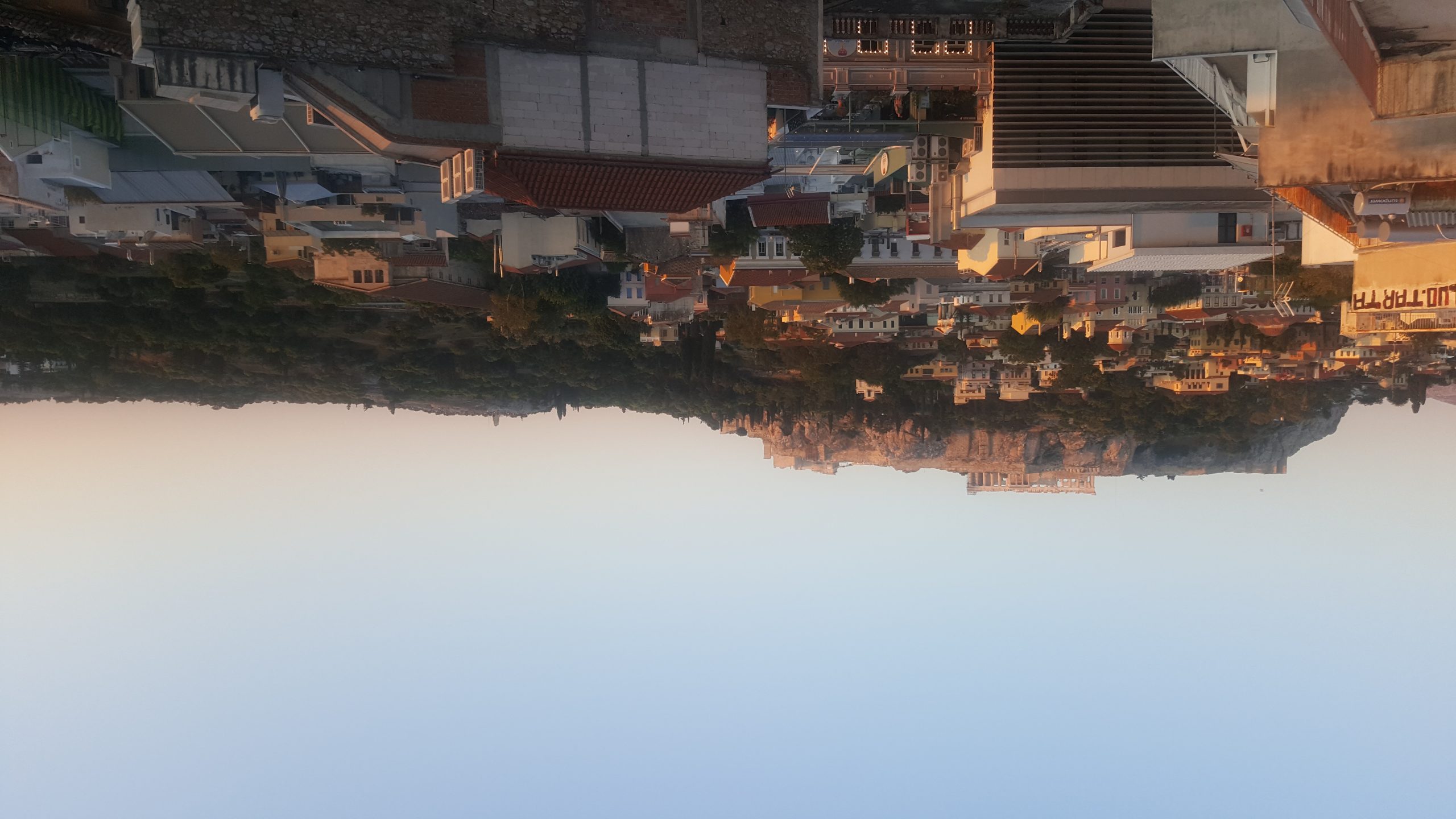 Our hotel in Naxos, with a central location in the town, cost us $C70 ($C35 per person). Our Airbnb in Paros, with a beautiful view of the sunset over the sea, cost us C$37 per person.
Ferries were somewhat expensive, especially the longest ones ($C65), but these were the regular prices—no change. Taking the bus on the island of Ios was C$2.40 while the prices for buses in Athens were similar. The train from the airport to the port of Piraes was around C$15.
In all cases, in terms of budgeting, in the worst-case scenario, there is probably no difference overall compared to a normal summer of island-hopping in Greece… or it's even cheaper than usual.
But if you want a country with a low cost of living, it goes without saying that neighboring Turkey is infinitely better on this front. The Hilton hotel we are staying in right now could've been free with points, but at C$17 per night per person (a C$34 room)… it's better to pay cash obviously!
What it was like in hotels/Airbnbs/hostels
In Greece, we stayed in those 2 very different hostels as well as in one small local hotel and one Airbnb that I just mentioned. The next part of our trip had another type of hostel as well as a Marriott hotel and many many nearly-free Hilton hotels.
It will be better to cover the experience in all these types of lodging in a detailed article, but let's just say that while the experience has once again not changed dramatically, there are a lot of differences compared to before.
While hotel chains have downsides (definitely less locally-inspired), the fact that they are standardized can absolutely be an advantage in this pandemic. Our experiences in a small independent hotel and in an Airbnb were great, but it can be hard to know whether the one you choose will be taking all the precautions since by their very nature there are no "standards" or guarantees.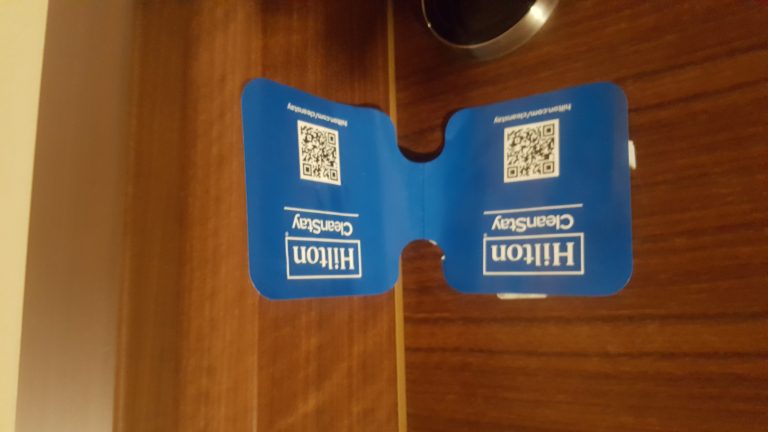 With all major hotel chains having implemented worldwide cleaning and hygiene processes, I have to be honest and say that it sure felt more reassuring since these are huge corporations that have the means to make sure every hotel is following its protocols.
Hotels have probably never been cleaner than they are now. Our Marriott and Hilton experiences were perfect up to now.
There happens to be plenty of great hotel promos right now for those of you who are traveling (even just domestically), stay tuned for that post (you can sign up for our free newsletter too).
And of course, if you don't have it yet, the best hotel deal is the Marriott Bonvoy Card that gives you 8 free nights in certain countries. And if you spend $500/month, the AMEX Cobalt Card can give you 11 more of those free Marriott nights… or a whopping 15 free nights in Hilton hotels. But Hilton works only in very specific hotels (much more limited than Marriott), like where we are in Turkey (that's why we're here—detailed post to come).
Now, for those of you who want to spend less or love hostels… the best part of staying in a hostel is the social aspect, as you get to meet travelers from all over the world. Thankfully this didn't really change, except for the distancing of course.
Common areas were open and lively.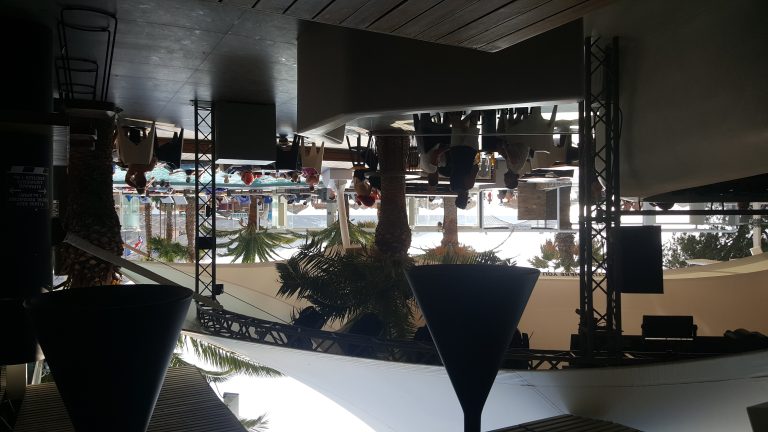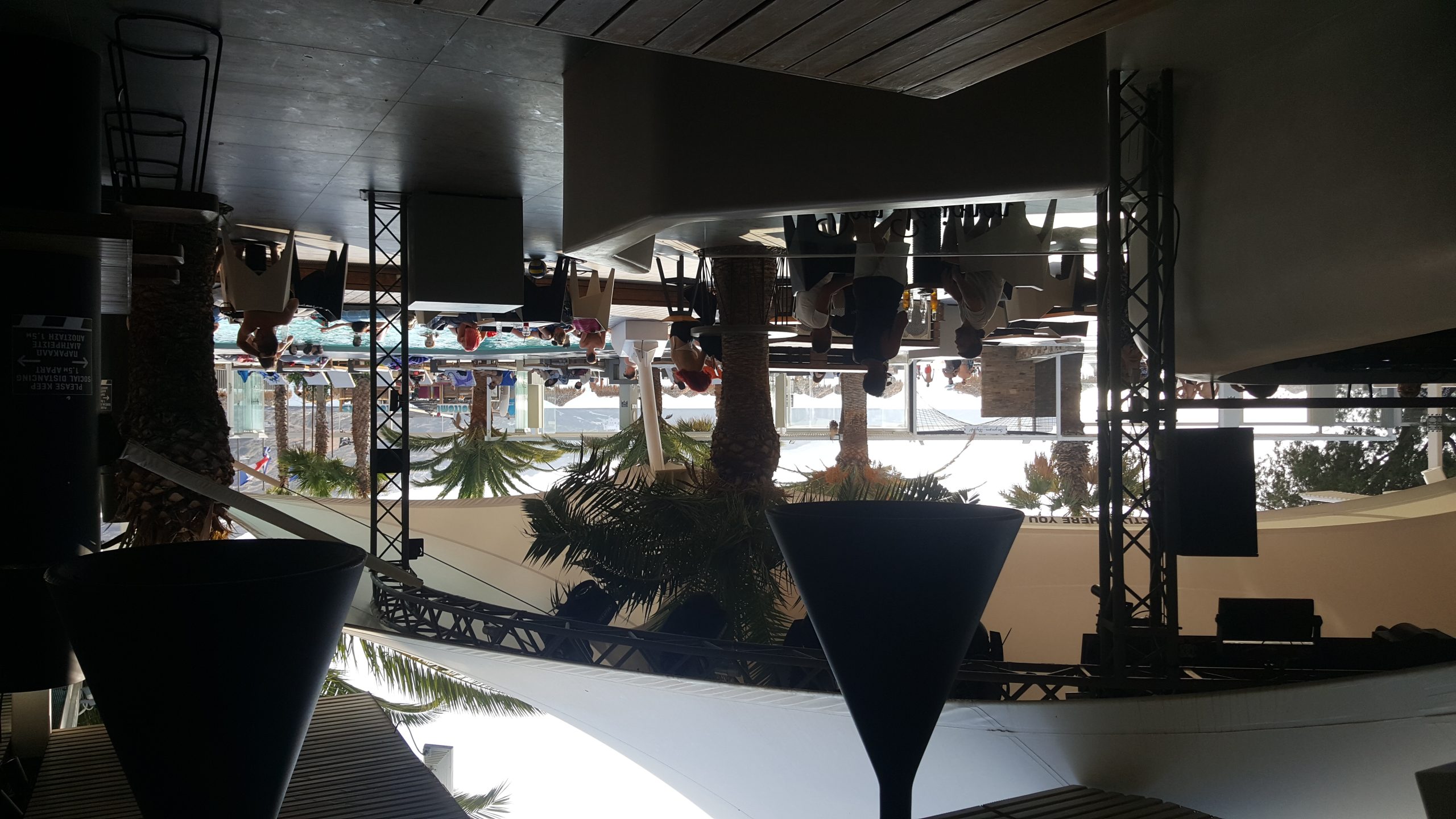 I honestly wasn't too sure about the shared restrooms in hostels, but in reality, I am taking precautions and washing my hands all the time and never touching my face, so I didn't feel like the fact that bathrooms were shared really added any risk.
When we travel solo, we usually sleep in shared dorms, but we didn't experience these this time (private rooms were actually cheaper)… but just know that while some hostels around the world are limiting the number of guests per room, others aren't… so doing your research will be important if you care about more distancing.
What it was like in ferries/buses/trains/subways
Greek island-hopping means spending time on ferries. All domestic ferries are operating as usual, but international ferries are limited (for example, we hoped to take the ferry across to Turkey, but those are all suspended until at least September).
Some ferries had temperature checks and all of them required filling out a quick health questionnaire with a few basic questions.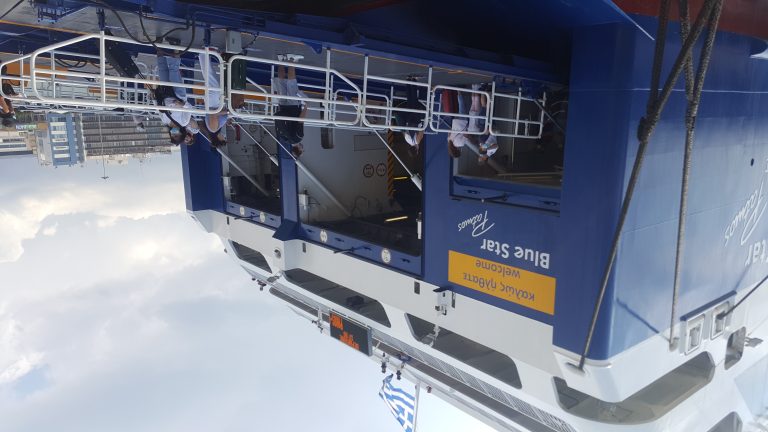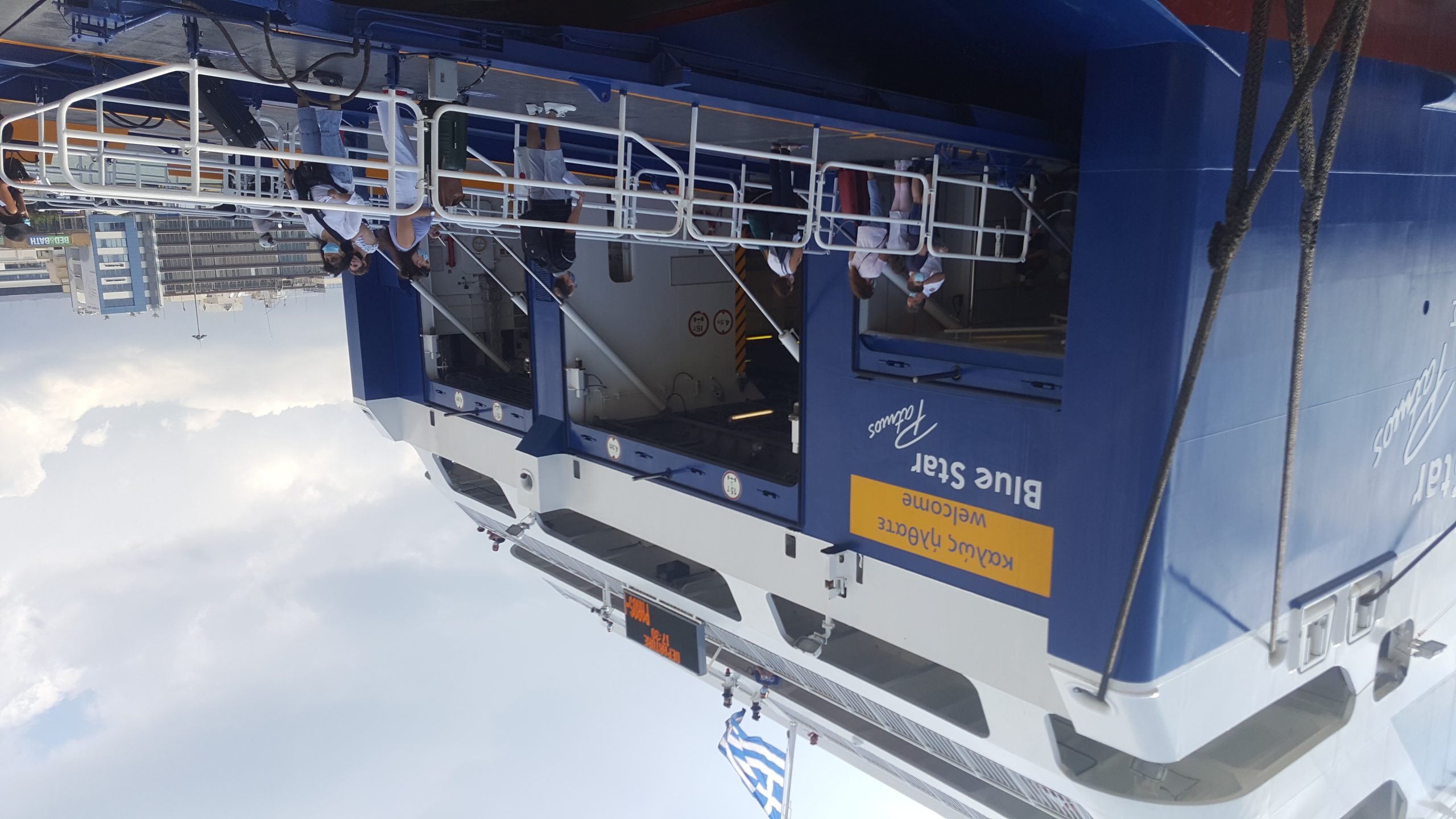 We also took trains in Athens and buses in both Athens and Ios island. Onboard, it was just like with planes: everyone had to wear a mask and that's pretty much the extent of how different it was compared to before.
In some instances, seats were even blocked to increase distancing, but that was the exception more than the rule.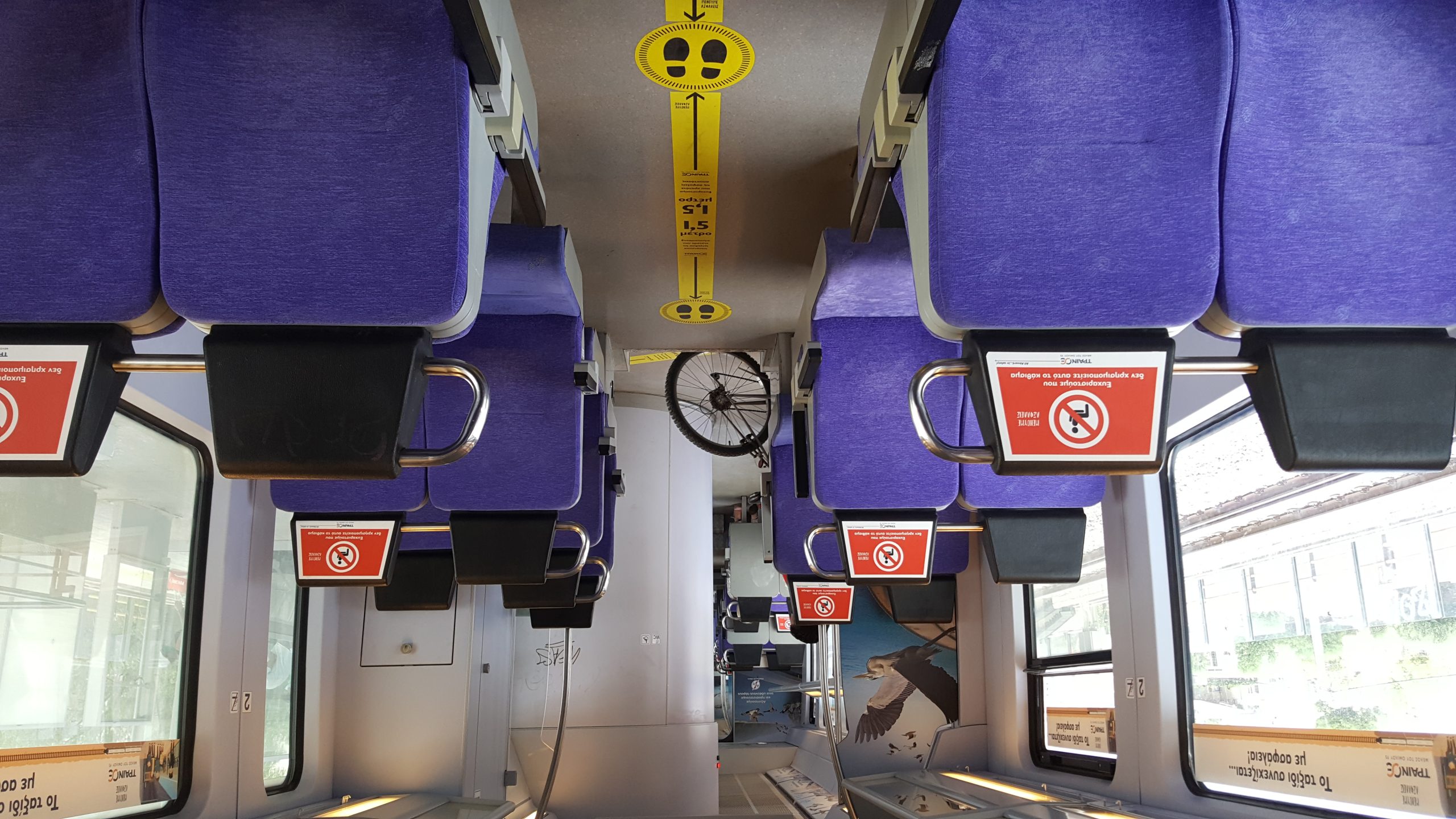 In Turkey, we also experienced subways, trams, taxis, rental cars, and long-distance buses and trains to share that experience, so stay tuned.
What it was like to book and plan a trip
Finally, this is a very important topic that will also require a thorough separate part to come soon, because it's really what has changed the most about traveling during the pandemic, given how unchanged the travel experience itself is.
This is where there were basically the only negative aspects of this trip for us…
Want to get all our content about how to restart traveling?
Summary
Our first impressions of our trip to Greece are very positive. The experience in the country was nothing short of amazing and most importantly, it wasn't that different than the travel experience before the coronavirus.
What would you like to know about traveling now? Tell us in the comments below!
Explore awesome destinations: travel inspiration
Learn pro tricks: travel tips
Discover free travel: travel rewards
Featured image: Ios, Greece (photo credit: Andrew, Flytrippers co-founder)
Advertiser Disclosure: In the interest of transparency, Flytrippers may receive a commission on links featured in this post, at no cost to you. Thank you for using our links to support us for free, we appreciate it! You allow us to keep finding the best travel deals for free and to keep offering interesting content for free. Since we care deeply about our mission to help travelers and our reputation and credibility prevail over everything, we will NEVER recommend a product or service that we do not believe in or that we do not use ourselves, and we will never give any third-party any control whatsoever on our content. For more information on our advertiser disclosure, click here.
Share this post to help us help more people travel more for less: