Since our mission at Flytrippers is to help you travel more for less, we've been trying very hard for over a year to explain the basics of pandemic travel rules. Because they're going to remain for a while and so it's important knowledge if you like to travel.
These 2 recent real-life examples might help illustrate the most important thing about travel rules, so let's take a look at them while waiting for our FAQ to come very soon.
Transiting in the United States after being in Europe
Canada's direct flight ban to Morocco was announced recently, a rare measure (India is the only other country Canada has a special rule like this one for).
As explained previously, that doesn't change who can enter Canada and that doesn't change the fact that Canadians in Morocco can enter Canada.
They simply have to return via another country (and take the pre-entry test required by Canada in that country).
But being allowed to enter Canada just means that you can enter Canada: It doesn't mean you can transit wherever you want. Every country makes its own entry rules: Some apply them to transit, while others don't. Every country is different.
As a result of this measure, some Canadians have had their direct flight canceled and must find a new itinerary. The daughter of one of our readers is in this situation, and she asked us if it was possible for her to do Morocco-Paris-Boston-Montreal.
No, it is not allowed!
Despite the fact that Canadians can fly to the United States without any problem (we did it ourselves, as thousands of people do every day).
As mentioned in our guide on how Canadians can travel to the United States, the US has only one entry restriction by air, and it's not even based on nationality and passport: It's based on where you've been in the previous 14 days.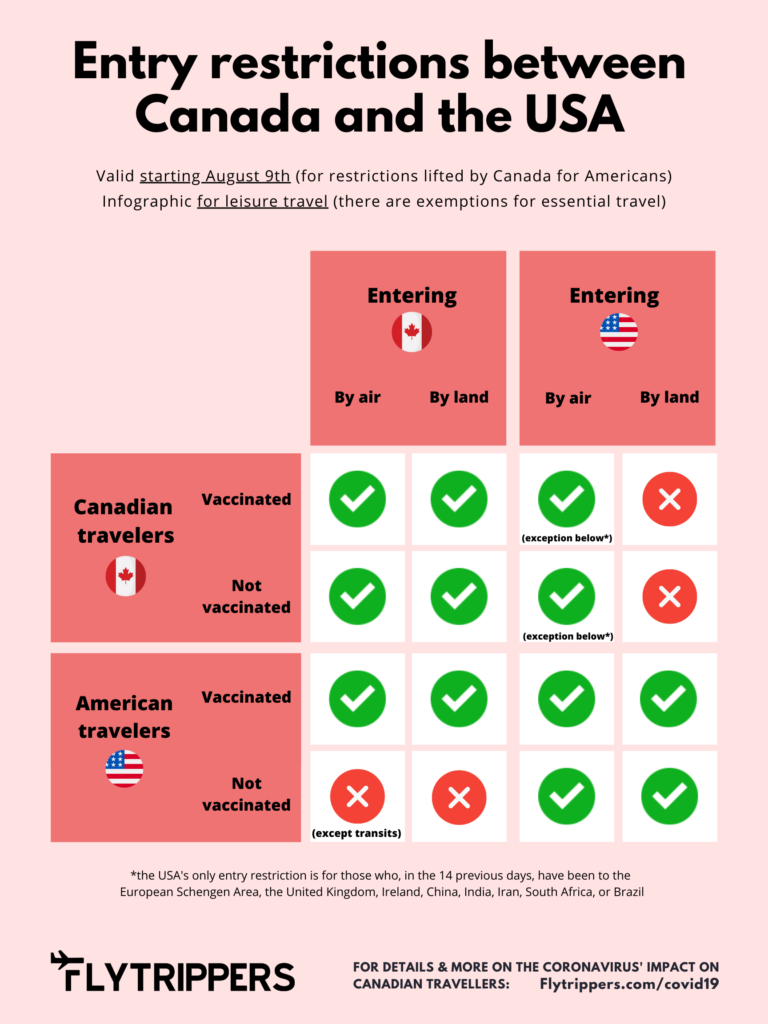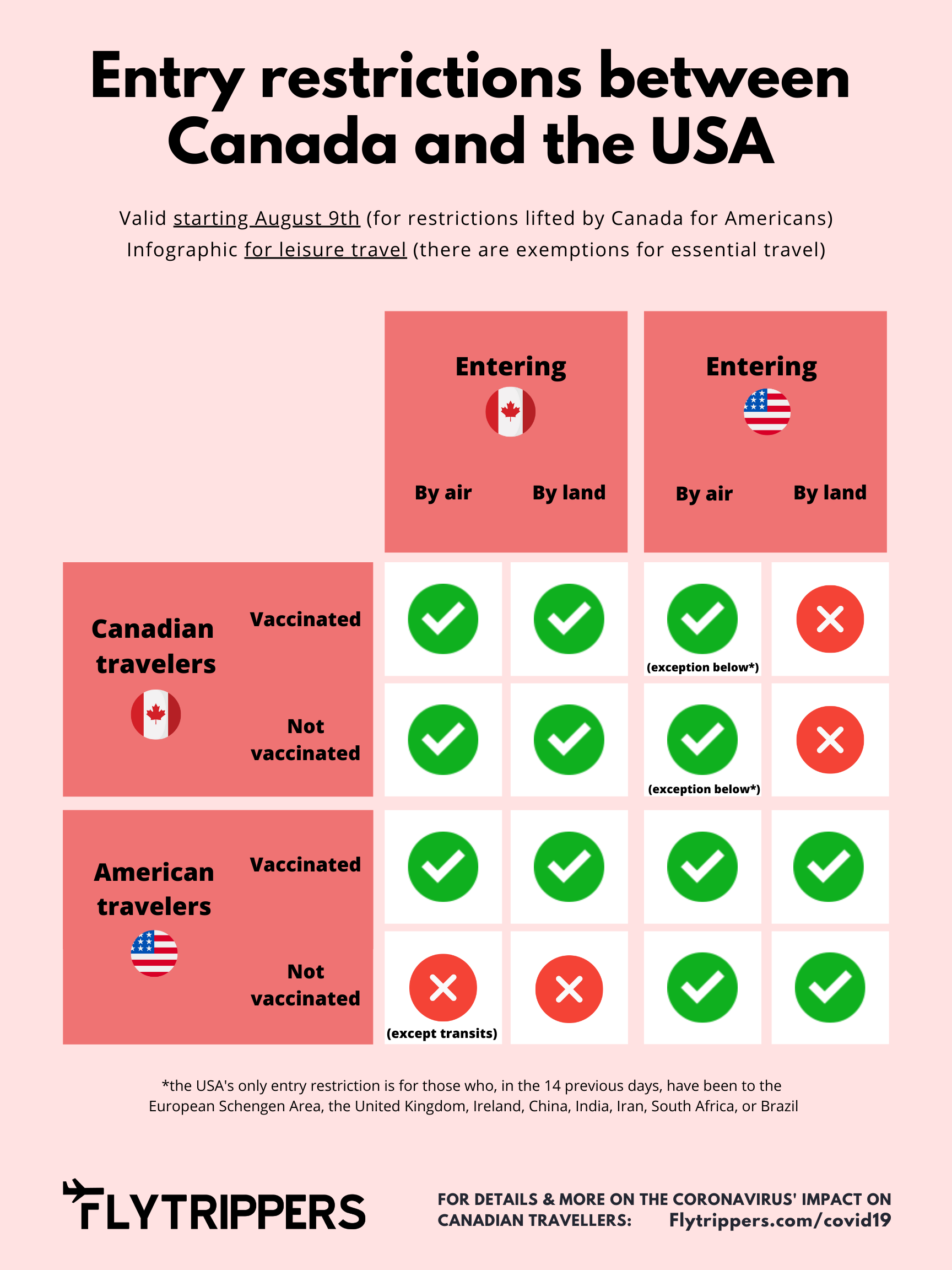 Anyone who has been in any of the countries in question cannot enter the United States (unless of course they are American; Americans are always allowed to enter the United States, just like Canadians are always allowed to enter Canada).
And almost all of Europe is on that list. It's actually the entire European Schengen area (which is most of the European Union) as well as the UK and Ireland.
So no, you can't transit through the US if you've been to most of Europe in the previous 14 days. And yes, even just a transit in Europe counts. If you want to enter the US, you cannot have been in those countries at all, it's as simple as that.
That's why we explained that the most important thing about traveling right now is to understand that each country has rules that can be very different and to read the details carefully.
It's not that complicated: In theory, you won't visit 18 countries during your trip. Carefully read the rules of the country where you want to go and also the rules of the countries where you want to transit if your flights have transits. And not just 2 months in advance, of course: It can change very quickly.
By the way, a brief aside for those who would be caught in Morocco (it's a good choice of destination: You can easily get 10 completely free nights in great hotels with a travel companion—by the way, we're doing our first-ever free webinar on travel rewards if you want to earn free travel).
So you can either come back via Europe without going through the US, or you can go through Turkey or the Gulf countries if you want to transit in the US. When I came back from Central Asia last May, I went through Turkey and the US without any problem: The US has just one restriction, and I hadn't been in the countries in question in the past 14 days.
Quarantine removed in the UK
On Monday, the United Kingdom finally removed Canada from its list of countries from which arrivals must undergo mandatory quarantine.
(Serious countries help their citizens with risk level lists, but some also modulate the requirements according to the risk level—now that is actual science, unlike Canada's absurd 1-day hotel quarantine that you could leave even if you tested positive… at least that is all over.)
We happen to often spot flights to London at ≈ $530 roundtrip from many Canadian cities. Including last week.
This was tempting at first glance for many of you who look at the deals we spot every day directly on our cheap flight deals page.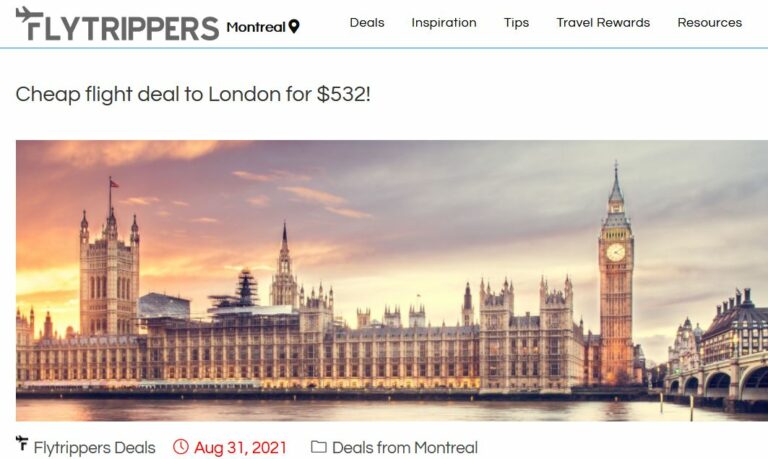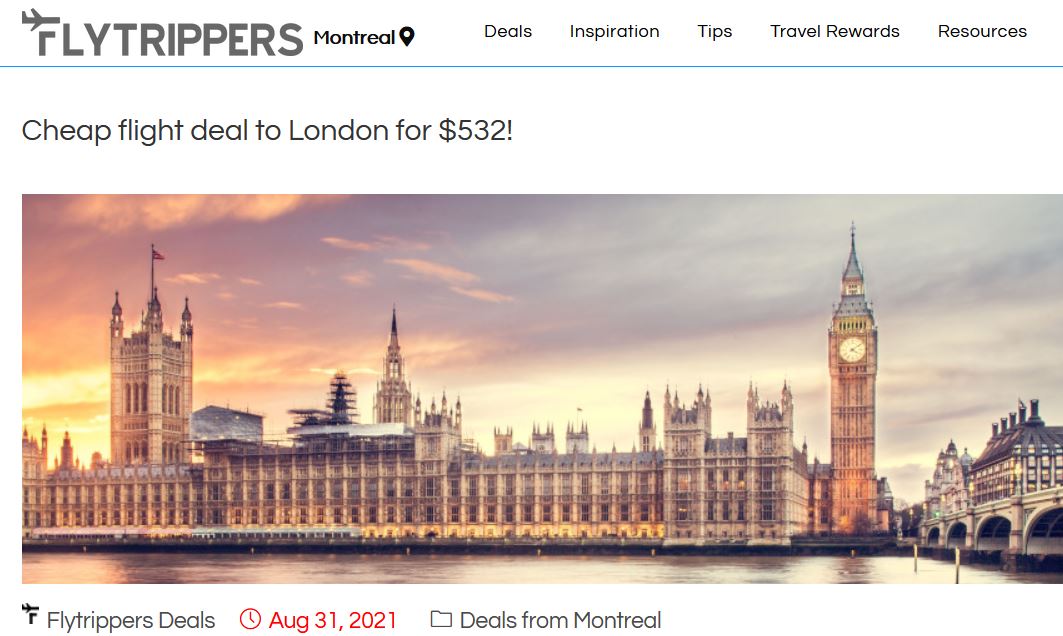 But as I just said in the previous example, every country is different and you have to read the rules carefully.
It's also worth mentioning that the United Kingdom is a country but it is composed of 4 "constituent countries", so each one has slightly different rules than those in England, where London is located.
READ ALSO: United Kingdom vs. England vs. Great Britain vs. British Isles
You see, the issue is that those cheap flights to London had a stopover in Lisbon, Portugal.
Portugal is not on the UK's green list. Only those who arrive from green list countries can avoid quarantine.
So because of the stopover in Portugal, even Canadians would have to do a quarantine when arriving in the UK. Even if Canada is on the green list, Portugal is not. And you're going through Portugal.
So I'll say it again, because it's very important: Traveling right now is easy, you just have to read the rules carefully. That's it.
You can check out our ultimate guide to pandemic travel to help you with all the details.
Want to get more content to discover awesome destinations?
Summary
Each country's entry rules are different, so just read them carefully.
What do you want to know about these rules? Tell us in the comments below.
See the deals we spot: Cheap flights
Explore awesome destinations: Travel inspiration
Learn pro tricks: Travel tips
Discover free travel: Travel rewards
Featured image: London (photo credit: Heidi Fin)

Advertiser Disclosure: In the interest of transparency, Flytrippers may receive a commission on links featured in this post, at no cost to you. Thank you for using our links to support us for free, we appreciate it! You allow us to keep finding the best travel deals for free and to keep offering interesting content for free. Since we care deeply about our mission to help travelers and our reputation and credibility prevail over everything, we will NEVER recommend a product or service that we do not believe in or that we do not use ourselves, and we will never give any third-party any control whatsoever on our content. For more information on our advertiser disclosure, click here.
Share this post to help us help more people travel more for less: