It's been almost a year since I did my first free COVID-19 test in the USA and there are still plenty of people who think it doesn't work and sadly pay hundreds of dollars (but hey, we're used to people always being too worried or seeing scams everywhere). Anyway, I just did it again for the 6th time — and the 4th time at Walgreens specifically — on February 12, 2022. AKA yesterday.
So today, I just want to recap the tip for free COVID-19 tests tip in the USA in a different way and most importantly reconfirm to you that it's still easy by telling the story of my most recent experiences, for those who are wondering.
I'll also talk about using the Walgreens test without a car in the next post this week. And compare it with another option.
Because in December, after an absolutely wonderful mask-free week in Miami, I had also tried another free testing service that may be even better depending on your circumstances, I'll talk about that separately in another article soon.
If you're still not one of the 80,000+ Canadians subscribed to our free newsletter who receive all our content first, sign up now so you don't miss anything (including our tips on how to find tests around the world and here in Canada).
Canada might announce the lifting of its test requirement next week, but the rumor is that it will instead be replaced by a rapid antigen test requirement (more details in tomorrow morning's post), so this Walgreens tip would remain the best option for travel to the United States.
Reminder and simplified summary of USA tests
You can skip directly to the story of my update if you already know all about the free tests in the USA.
Our guide to free COVID-19 tests in the USA has all the info, including a video presentation for those who prefer that format (and you can read my interview on CBC in case you trust them more).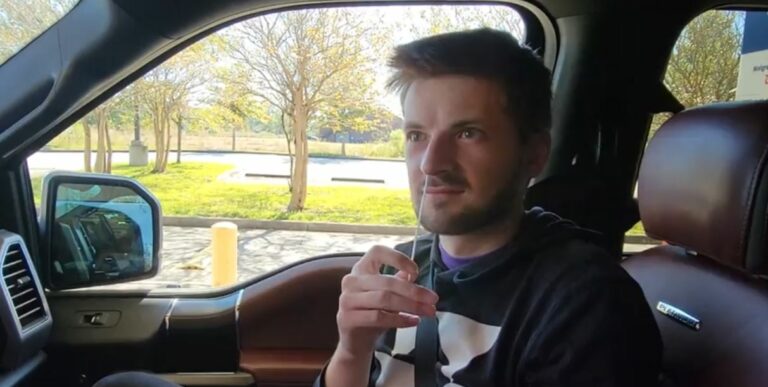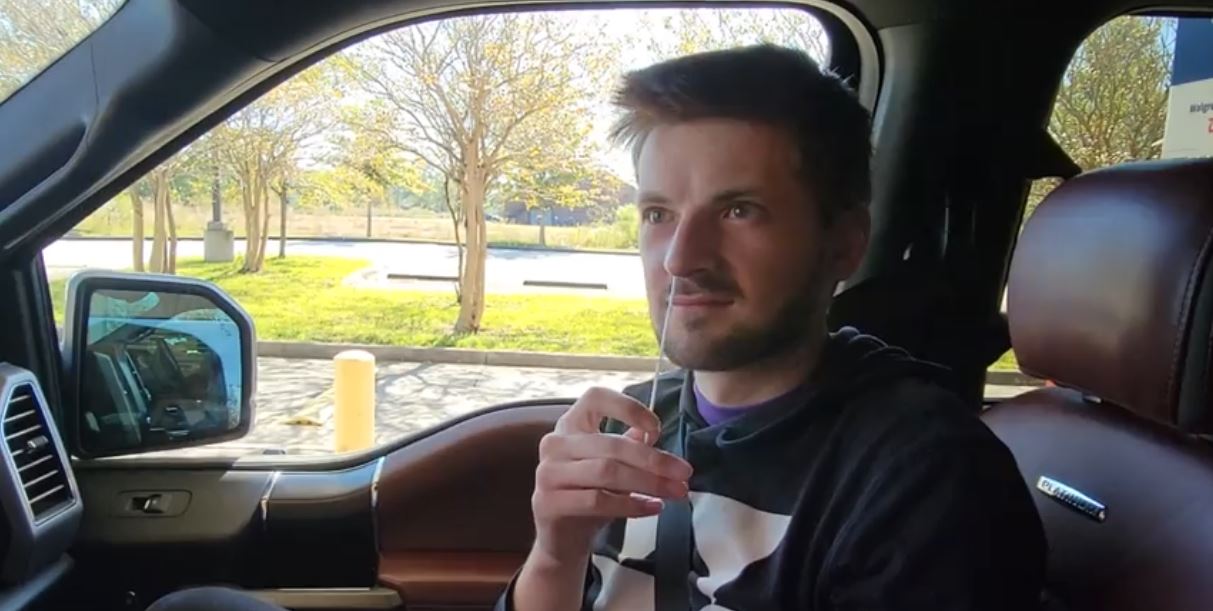 But lots of people still ask the same questions, so I'm going to try a new approach to be clearer so I can help you.
Let's get into it.
Basics
Free tests are easy to find in every state.
They are free for everyone, even Canadians (and all nationalities).
Here's what's required:

Nothing (well, just any piece of ID to identify yourself)

Here is what is not required:

US citizenship
US residency
US ID
Insurance of any kind
It's that simple. It's been that simple for a long time. Nothing has changed. We'll tell you if it does. Our guide to free COVID-19 tests in the USA will be updated if it changes.
But US President Biden actually doubled down on free testing recently instead of arguably ineffective (and certainly damaging) extremist lockdowns… so it seems unlikely to change in the short term.
Test types
ON THE OTHER HAND, PCR tests give slower results, sometimes taking longer than the 72 hours allowed by Canada!
So you must choose another type of test, the NAAT (called "ID NOW" or "Rapid Diagnostic Test" at Walgreens) which gives results in a few hours tops. No risk with those, it's very fast. I got mine in 55 minutes yesterday!!!
Let me summarize:
Zero risk of not getting the results in time with the NAAT.
Some risk with PCRs since it is free and there is no guarantee.
NAATs are obviously accepted to enter Canada (as I was saying recently, nobody really understands the travel rules and many people think that only PCRs are accepted, but that's not true: The lesson is not to trust anyone and always look at the official rules, it's really that simple).
BUT beware that NAAT tests are NOT available in all states though. Only in 45 states (I'll have a post with the list and a map this week).
So just to be clear:
Tests are available for free in all states

PCRs are free in all states (50)

NAATs are free but not in all states (45)

In states where NAATs are available: Take this and it is exceedingly easy and simple!!!
In the 5 other states: Have a plan B, be flexible on your return date, or maybe do 2 different free PCRs if you want to increase your chances of one of them coming back on time.
Even though the comments section of our guide on free COVID-19 tests in the USA now has probably over a hundred testimonials of people who all got the NAAT and thank us… we still get a few comments of people who took the PCR in states where there are NAATs and then they wonder why the test results didn't come back quickly… you have to choose the NAAT, it's simple.
Booking the test
And finally: YOU MUST MAKE AN APPOINTMENT ONLINE IN ADVANCE. This is very important.
It's 100% certain that if you show up at Walgreens with no appointment, you won't get a test. Obviously.
For other test providers, there are 7 websites where you can book a free test in the USA in our guide on free COVID-19 tests in the USA and some of them may be available the same day (if you are not well prepared and did not plan your trip well and did not do your homework in advance).
But it's easier to just book your appointment online in advance! In advance = not just the day before, by the way.
(We'll help you with our new COVID-19 resource section coming soon, because being well prepared is the key to traveling well during a pandemic… and it's ALSO the key to traveling better and cheaper even without a pandemic, so just get in the habit of doing that to save literally thousands of dollars on your future travels😉)
More information
That's the simple summary.
Every imaginable detail is in our guide to free COVID-19 tests in the USA. Including how to book a test at Walgreens, step by step with screenshots.
This new upcoming section I just mentioned is going to make the info easier to find with an FAQ format, but in the meantime, just read and you'll have all your questions answered (like all of our articles, there is a table of contents at the beginning to help you navigate).
My experience at Walgreens on January 30, 2022
So here is the story of my tests.
I'll start with Miami, since Florida is the most popular destination for Canadians.
On my way back from my trip to Central America, I flew via Miami to save on the cost of the test required to enter Canada (I paid for the flights with my Aeroplan points so it was the same price with the stop… but if you pay for your flights in cash, you'll often even save on the cost of the flights too by flying through there).
So I had made an appointment online in advance for a Walgreens "ID NOW" test during my layover. I had chosen the location in the Brickell neighborhood near downtown Miami, a few Metrorail stops from the Miami Airport (MIA).
My appointment was at 3:15 PM. I had given myself a bit of a buffer in case of a delayed flight since my flight from San Salvador (SAL) landed at 12:20 PM… another good reason to book your test ahead of time is to have more choices of appointment slots (although with the speed of the results it doesn't really matter).
But as I explained in our guide to free COVID-19 test in the USA, they're not that strict about the scheduled time as long as you have your appointment confirmed that day: If they're able to give you your test when you go, they'll do it even if you go in advance (not guaranteed, of course, but it doesn't hurt to try). I would avoid going after my appointment time though, I'm talking about going before.
So I went to the Walgreens at 2:20 PM after having dinner in the lively Brickell neighborhood which is more vibrant than ever… it's a completely different planet compared to the gloomy sadness that Canada's extremist restrictions generate in our cities.
(Everywhere is livelier than Canada of course, but Miami specifically is experiencing an unprecedented boom since the start of the pandemic, in case you didn't know, becoming a new tech hub. And over 220,000 people moved to Florida — ranking #1 in the USA — in just one year after they eliminated all pandemic restrictions in 2020. Apparently, there are a lot of people who like a normal life, regardless of the one-sided discourse here in Canada.)
Anyway, I was wondering if I was going to have to reschedule my flight (I can do that for free, another benefit of booking with Aeroplan points… besides the obvious money-saving benefit haha) since I had never tested at Walgreens on a Sunday afternoon.
The 2 tests I had done at Walgreens in May and November were on weekends, so that's fine. I got the results in 1 hour and 3 hours.
But both times it was early in the morning. Not in the afternoon.
Officially it says that it can take 24 hours to get the results of this test, but 100% of the many testimonials we received from travelers who used this trick to save hundreds of dollars said that it came back in a few hours.
I thought… maybe in the afternoon, especially on a Sunday, it could be slower. That left them very little time to process it before the evening shift… and my Miami-Montreal flight was early the next morning, so I didn't have a buffer there.
But anyway, here's the verdict: in only 1 hour and 20 minutes, the result was in my inbox.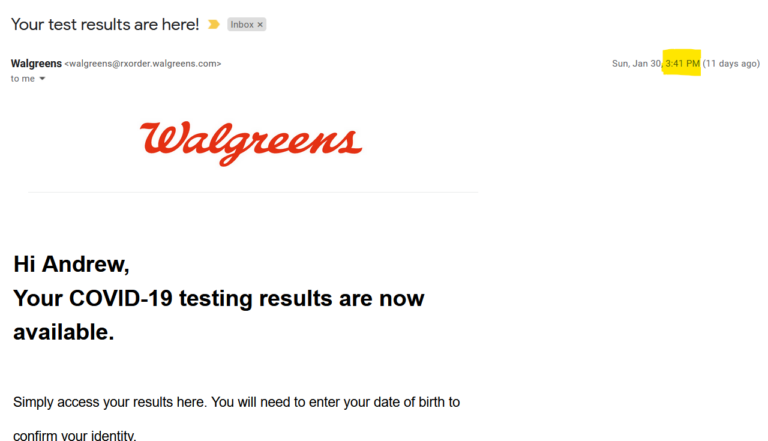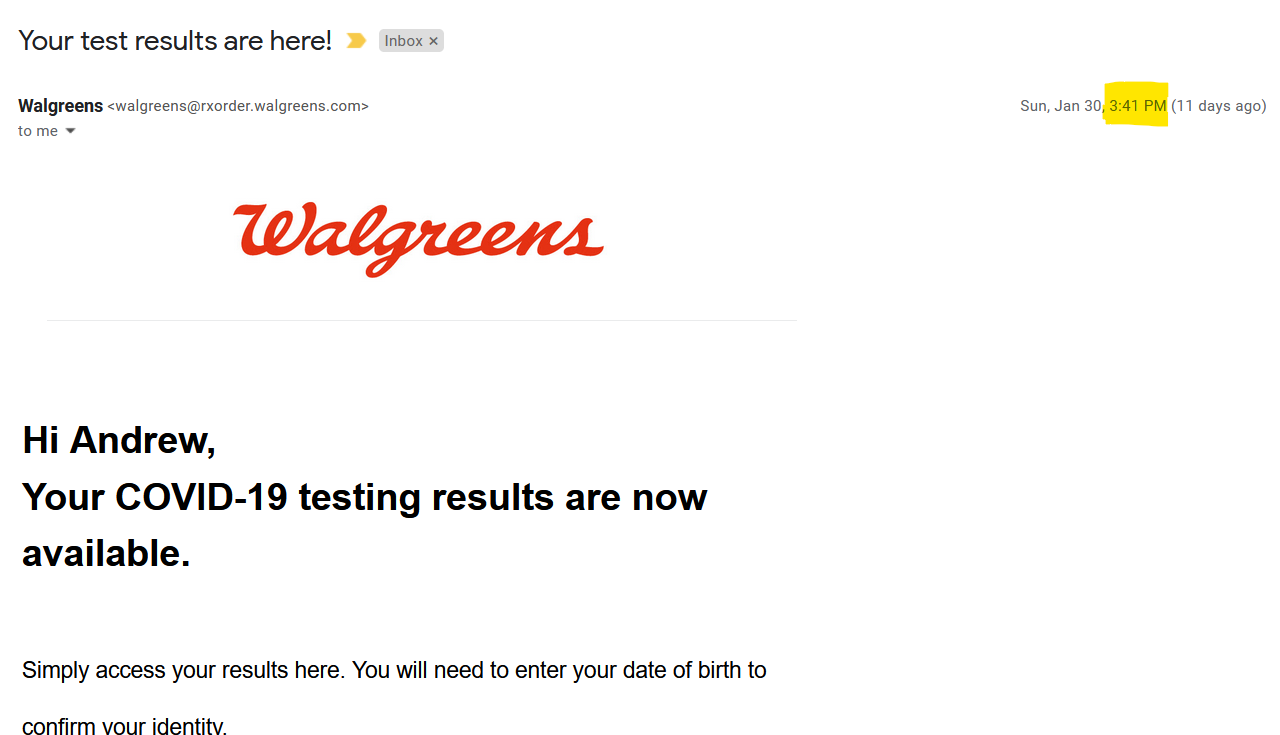 Still so simple and free of course.
But also still so fast… even on a Sunday afternoon (and a Saturday afternoon was even better…)
My experience at Walgreens on February 12, 2022
Well, I won't add much to this even more recent experience, this time in Louisiana.
But I just wanted to tell you that my confirmation that it still works, because I just did it again yesterday.
I did it on a Saturday afternoon at 3:45 PM this time to compare to Sunday.
The result came back in less than 55 minutes, a new record for me. That is really quick.
My perfect streak continues by the way, now negative on 25 tests in a row! Maybe that's a record too :P? Did anyone else get 25 tests without ever testing positive?
It's a bit funny because I feel like I did in school when I had such high grades without any effort.
I mean, during the first ones of my 10 pandemic trips, I was very careful because I was careful at home too. But now… yeah, anyway. This post is long enough already.
Anyway, if you want to travel to the USA, I strongly advise you to plan well with our guide on free COVID-19 tests in the USA if you want to save money!
New Walgreens rule
One last thing though, I just wanted to add a note, one of the rare things that wasn't in our guide on free COVID-19 tests in the USA because it's very "niche".
Someone had said that Walgreens wouldn't let you book more than one appointment in a 14-day period for the same person. I did NOT validate this info unlike the rest, but even though it's not stated anywhere on their site, I feel like that's still very plausible.
Since my last test was on January 30th and February 12th was not 14 days later, I didn't want to take any chances and simply made an appointment with a different email address. I didn't really have time to waste and I didn't want to be locked out of the system if I tried with the same account just to tell you if it's true or not, sorry!
But I think that people who return from the USA twice in 14 days because they travel a lot as I do are pretty rare (and if you are one of them, just use a different email address too).
Want to get more content to travel for less during the pandemic?
Summary
The very simple and easy trick of free COVID-19 tests in the USA still works great at Walgreens as of February 12, 2022. Stay tuned for a post about doing these tests without a car, the list of states with no NAATs, and the other interesting service.
What would you like to know about this tip? Tell us in the comments below.
See the deals we spot: Cheap flights
Explore awesome destinations: Travel inspiration
Learn pro tricks: Travel tips
Discover free travel: Travel rewards
Featured image: Walgreens' drive-through (photo credit: Andrew D'Amours/Flytrippers)
Advertiser Disclosure: In the interest of transparency, Flytrippers may receive a commission on links featured in this post, at no cost to you. Thank you for using our links to support us for free, we appreciate it! You allow us to keep finding the best travel deals for free and to keep offering interesting content for free. Since we care deeply about our mission to help travelers and our reputation and credibility prevail over everything, we will NEVER recommend a product or service that we do not believe in or that we do not use ourselves, and we will never give any third-party any control whatsoever on our content. For more information on our advertiser disclosure, click here.
Share this post to help us help more people travel more for less: