There are 2 clues in the post's title. First, and most importantly, there are no "new rules" in the US: only Canada has announced changes. It's a really simple concept, but many people seem to have trouble with it. The 2nd clue is the word "yesterday", because "The Science™" in Canada will only change on Saturday.
My flight home happens to be Saturday, so I can tell you about it in more detail then.
I'll still share my experience flying into the US yesterday to give you some pro travel tips and tell you the current US rules, but especially to remind you of the basics of traveling during the pandemic (because unfortunately, it's not over everywhere).
Very basics of traveling during the pandemic
Canada (finally) announced that it's lifting all of its travel requirements (as recommended more than 8 months ago by World Health Organization experts and as many countries have already done months ago, including almost all of Europe).
We could write several encyclopedias on the wrongs and incompetence of Justin Trudeau and his government, but still: he doesn't control other countries' rules.
They're different countries, so they all have their own entry rules.
Just like they have for decades. It has nothing to do with the pandemic. Each country makes its own rules. It's always been like that; it's always going to be like that. Very simple and logical.
So Canada's announcement obviously doesn't change the entry rules for other countries, including the US.
There are only 2 sets of rules for any trip during the pandemic, it's suuuuch a simple process (and it'll be even simpler Saturday morning when the 2nd set goes away completely, and it's already very simple if you're traveling to one of the 98 countries that have lifted all restrictions already):
1st set of rules: Entering your destination
2nd set of rules: Entering Canada
US entry rules
It's simple, Canada has changed its rules. The US hasn't. Not yet.
But:
President Biden recently declared that the pandemic was over (a true "conspiracy theorist")
The federal public health agency, the CDC, has stated what "conspiracy theorists" have been saying for a long time: having recommendations based on vaccination status makes no sense
But despite these 2 statements… the US still requires vaccination to enter. In keeping with the great logic of "The Science™" since the beginning…
That said, considering what Biden and the CDC have said, it shouldn't be long before that changes, if there's even an ounce of rational logic left in the world. We've covered this recently.
In the meantime, I won't repeat everything there is to say about the US rules.
We already have an ultimate guide on how to travel to the US. It's literally the only country other than Canada for which we have this detailed content with all the information you could want, so check it out. We'll make sure to keep it up to date, as we have for over a year.
In short, for foreigners 18 years and older, the US still requires vaccination (same completely outdated and anti-science definition as Canada, i.e. 2 doses or 1 dose of Johnson & Johnson).
This isn't really enforced (or rather checked) for entry by land, but it has always been for entry by air. This time, however, my experience was a little different.
My experience entering the US
I'm currently in New Orleans for the 7th time, a unique city that I love.
This time, it's for a credit card conference, to stay an expert on this wonderful world for travelers who want to save money.
My one-way flight, paid with Aeroplan points, was Montréal-Toronto-New Orleans (YUL-YYZ-MSY) for only 10,000 points (there are currently welcome bonuses offering you 60,000 points).
My itinerary was on Air Canada this time, at the same price as on partner airlines, which is really good considering I booked my flight only 1 week in advance. I already have 6 other trips planned until the end of the year, so even though I love NOLA (the city's nickname) and credit cards, I wasn't sure I was going to come.
Anyway, even without US rules being abolished, my entry experience was exactly the same as what it was pre-pandemic, except for one additional question to answer in the Air Canada app (without needing proof).
Before this morning, 7 of my 11 experiences entering the US during the pandemic were by air after the vaccination requirement was put in place. All 7 times, I had been asked to show my proof of vaccination before boarding the plane. No exceptions.
Either during the online check-in process (which obviously everyone should do) or at the gate, my only inevitable point of contact with employees as a very savvy traveler who never checks a bag.
The many testimonials we received said that this was pretty much always checked for air entry, unlike testimonials for land entry, which were the complete opposite (as I mentioned in my article about entering the US by land in late August).
Not yesterday.
I checked in online 24 hours prior to my flight. Obviously, the app asked me if I was vaccinated, I clicked "Yes" but no proof was requested.
At the Montréal airport, I went through security in 3 minutes thanks to being a savvy traveler with a NEXUS card.
(Who also puts their liquids and computer somewhere easy to reach, empties their pockets ahead of time, and is ready and efficient to go fast, but also not to slow down everyone else behind!)
So I had more time to enjoy the beautiful Air Canada Maple Leaf lounge in Montréal.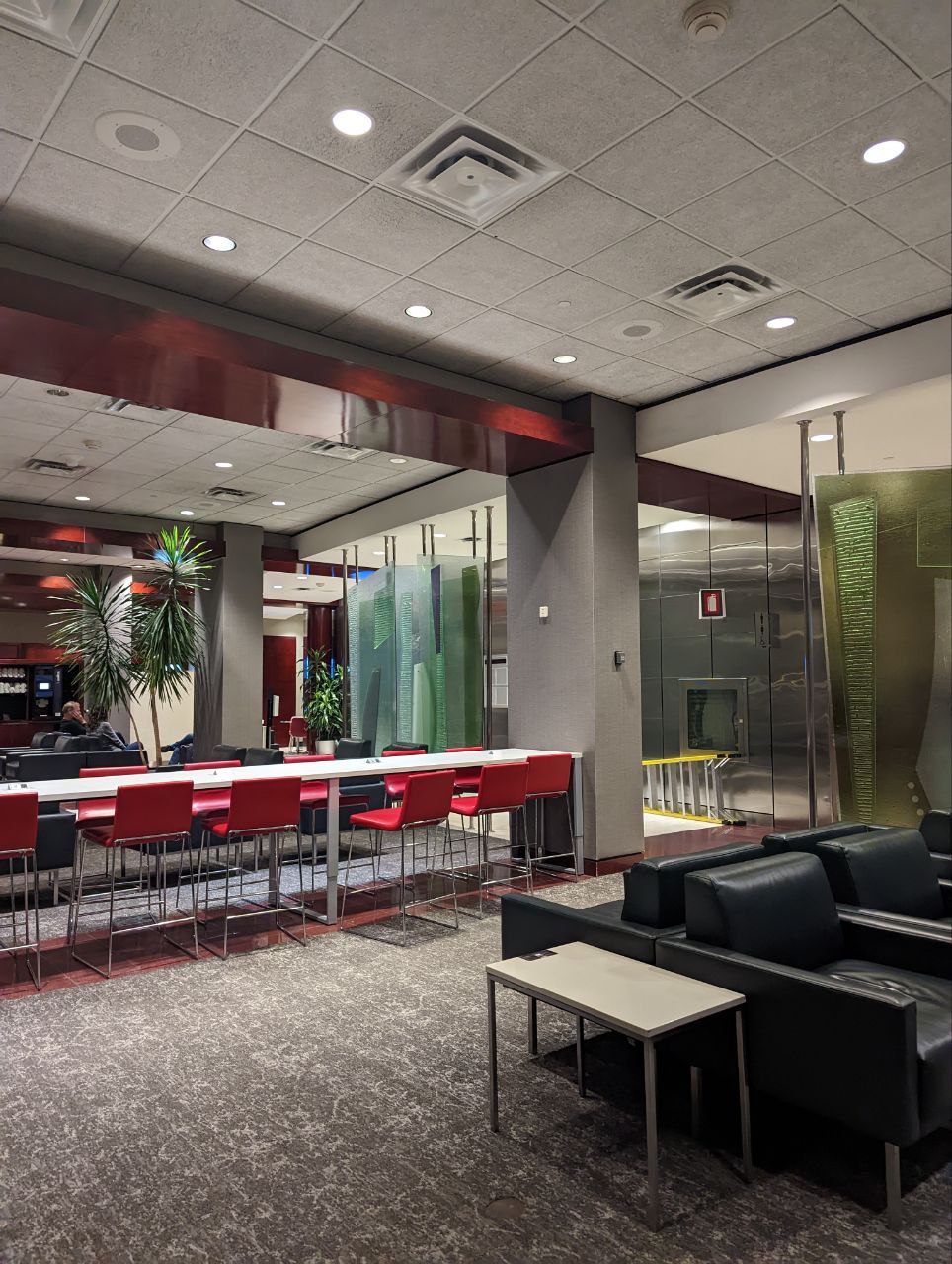 I have free access thanks to my American Express Aeroplan Reserve Card.
(In addition to lounge access, it currently offers the highest welcome bonus in Canada, but it's one of only a few premium cards — otherwise, there's the RBC Avion Visa Infinite Card giving you a net value of ≈ $780, which we'll cover in more detail very soon!)
American Express® Aeroplan®* Reserve Card

Flytrippers Valuation
of Welcome bonus (net value)




minimum income required: $0

spend $2000/mo for 6 months

Terms and conditions apply. Flytrippers editorial opinion only. Amex is not responsible for maintaining the content on this site. Please click "Apply Now" to see most up-to-date information.
American Express® Aeroplan®* Reserve Card

Flytrippers Valuation
of Welcome bonus (net value)

minimum income
required: $0



Rewards: ≈ $900*

Card fee: $599

spend $2000/mo for 6 months

Terms and conditions apply. Flytrippers editorial opinion only. Amex is not responsible for maintaining the content on this site. Please click "Apply Now" to see most up-to-date information.
After some good smoked meat sandwiches, Thai curry, pasta primavera, and a few beverages (which obviously didn't cost me a thing), I headed to my gate right next door.
I took advantage of priority boarding (also thanks to my American Express Aeroplan Reserve Card) and wasn't asked a single question about my proof of vaccination. People just had to show their passport and scan their boarding pass (at least from what I could see among the few elite members/business class travelers who boarded before me).
Plus, in the airport (where masks aren't mandatory despite the lack of powerful HEPA filters that planes have), seeing such a low number of people wearing masks confirmed that the prediction the Minister of Health made when announcing the end of masks on planes — that most people would continue to wear masks — might be very wrong.
(On all my mask-free flights in the US since April and even in France in May, never more than 25% of people wore masks. But hey, that's the beauty of free choice: everyone who's more comfortable with a mask on can keep it on! Until 2026 if they want, that's fine! I'll report back on my flights home on Saturday!)
In any case, when I got to Toronto, I went through US customs pre-clearance in literally less than 2 minutes, again thanks to the fact that I'm a savvy traveler who has a NEXUS card.
By the way, US customs officers have never checked vaccination for flights since the beginning of the pandemic, since the airlines are in charge of doing that, according to US rules.
I went to the Maple Leaf Lounge, but also to the Plaza Premium Lounge (that's the one you can more easily get free access to in Toronto — or rather get paid to access — with lots of good cards like the amazing Scotiabank Platinum Card with 10 passes).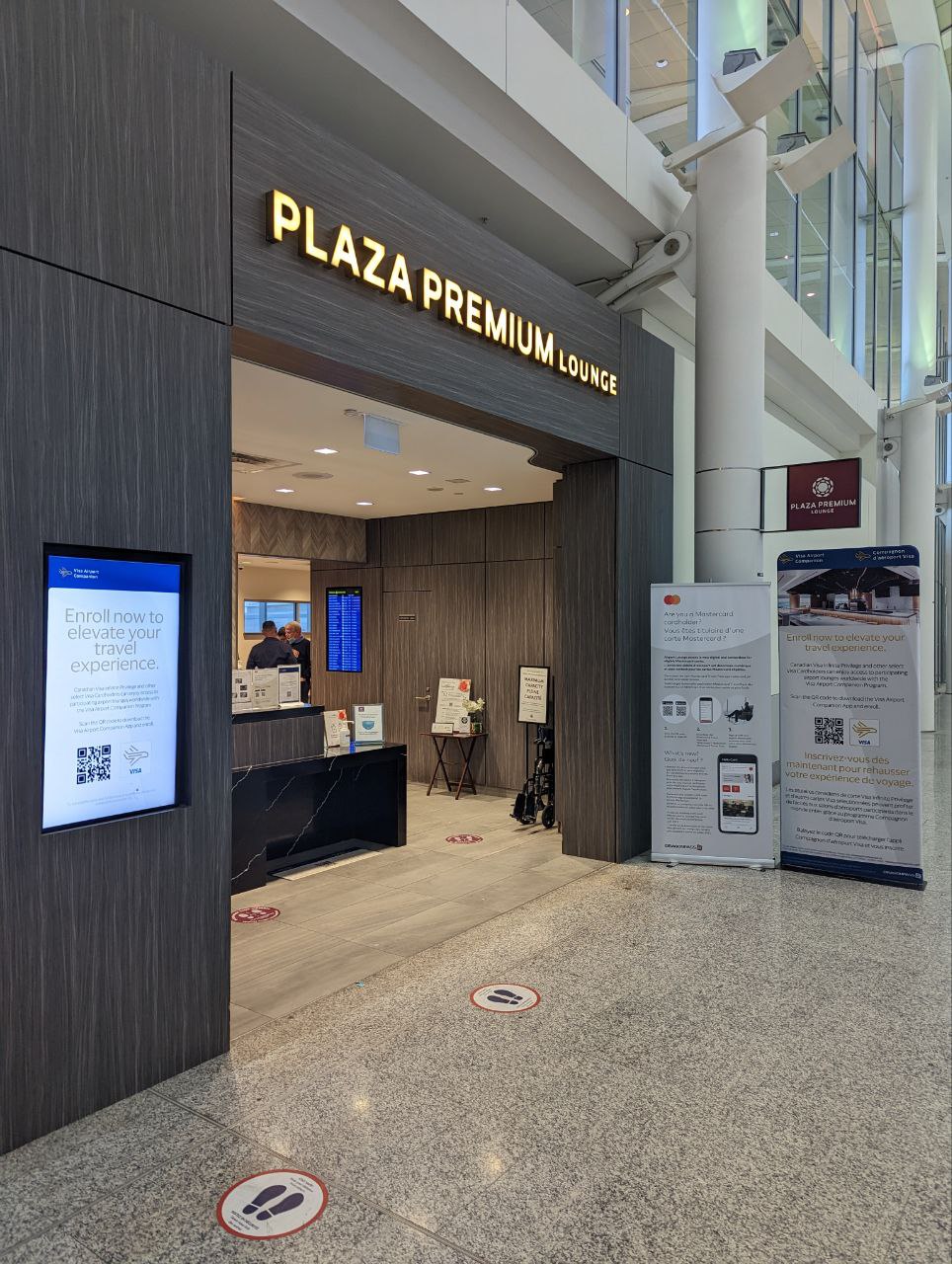 So the last opportunity to check my vaccination status was at the gate for my flight to New Orleans (as you probably know, the way pre-clearance works is that as soon as you get through, it's as if you were already in the US, so there's absolutely no other control upon your physical arrival in the country).
No vaccine questions again.
Of course, I've flown with Air Canada several times before, so it's not impossible that they saved my proof of vaccination and that it's somehow linked in their system, but I don't think so. Because all the other times, I'm pretty sure I had to show it or upload it into the app again.
Maybe other very savvy travelers who check in online and never check a bag can confirm if they've had to show their proof of vaccination to go to the US recently. If so, tell us about your experience in the comments.
But it would make sense that airlines don't check proof of vaccination as diligently anymore…
That said, entering by land and flying out of a US airport is still probably the strategy that's most likely to work for Canadians who are not vaccinated and want to travel to the US… until logic prevails on their side too.
Want to get all the updates for Canadian travelers?
Summary
As we remind it often, rules in different countries are not related. Therefore, even though rules in Canada will change on October 1st, rules in the US have been the same for a while. This means that it's still required to be vaccinated to travel to the US from Canada, especially by air.
What would you like to know on entry requirements to the United States? Tell us in the comments below.
See the deals we spot: Cheap flights
Explore awesome destinations: Travel inspiration
Learn pro tricks: Travel tips
Discover free travel: Travel rewards
Featured image: New Orleans (photo credit: Andrew D'Amours/Flytrippers)
Share this post to help us help more people travel more for less: