You probably saw the great news yesterday: if you want this to be over travel-wise, it's over! Many were waiting for the end of the quarantine to resume traveling… and so it will be possible starting in early July for anyone who wants to.
We made this infographic to summarize the situation in case you are more of the visual type.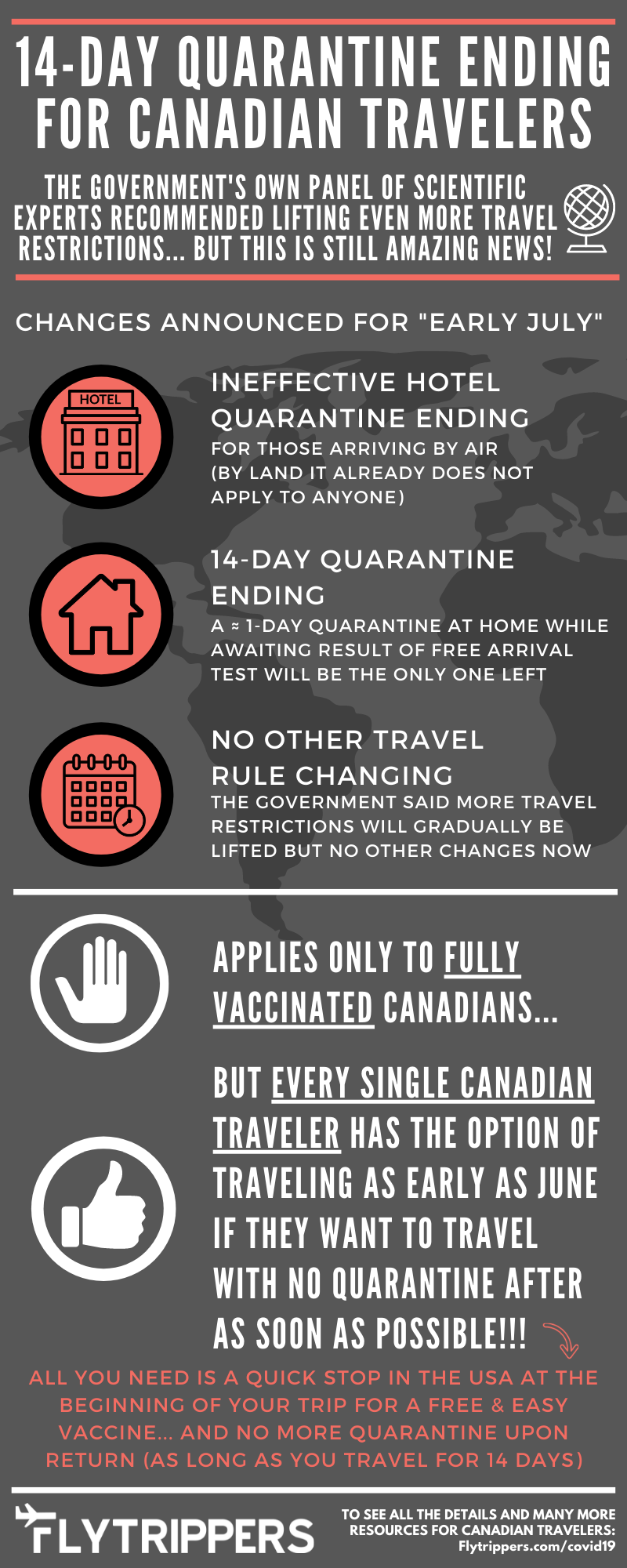 Here are 8 important clarifications since the publication of our detailed article yesterday that explains the changes and summarizes your 3 simple options for international travel possible as of June.
1. Children
MANY of you asked us about this. Like any good government travel announcement, it was a bit half-baked. Even today, Public Health does not know what the rules will be for children.
They didn't say anything at all about it yesterday, so it wasn't originally mentioned in our article.
The fact is that children under the age of 12 cannot be vaccinated. So, theoretically, they wouldn't be exempt from the quarantine: but that wouldn't make too much sense. The government has promised to give more details about this soon.
Today they specified that obviously children would not be sent to quarantine hotels alone. The rest is to be determined.
So this clarification is more to say that we're monitoring this and we'll update the article as soon as it's announced, but also to give you a good example from right here in Canada and maybe give you hope.
The Yukon Territory had its own 14-day quarantine. They are removing it next week for people who have been fully vaccinated. And their rules are clear: children under 12 will not have to quarantine if they are traveling with fully vaccinated parents.
The feds may emulate this rule… or not. To be continued. Sign up for our free newsletter!
2. Vaccination in the United States
Some people, possibly a little older (a nice perk these days!), were asking why we mention the option of getting vaccinated in the U.S. for free when the 2nd doses are starting here.
Pretty simple. Obviously, if you are close to getting it, that option is not for you. But many younger people will have to wait until August for a 2nd dose in Canada and, after 14 months of not traveling, are very anxious to leave. Very understandable! So why wait?
Tomorrow morning, they can go to the US to get the vaccine for free very easily, and as long as they come back to Canada after the beginning of July and at least 14 days after the last dose, they will be exempt from the quarantine.
No one thinks about this option, but it's out there and it's simple, so we're sharing the info for those who want to leave as soon as possible—and we know there are a lot of you 😉
3. Test requirement not eliminated
Some have complained that tests are still required… and yes, it's a shame they didn't follow the science.
But we'll still take the end of the 14-day quarantine! It's been 15 months that Canada has only added restrictions, at least now it's removing some… and it's the most restrictive one at that!
Of course the loosening of restrictions was going to be gradual: for 15 months the government has been treating travelers like terrorists or almost…
They are not going to remove everything at once, that would scare a lot of people and political science is very important in travel decisions… especially with a late summer election likely.
You might be shocked to hear this but—even if the thorough report by the committee of scientific experts assembled by the government itself recommended removing the tests for vaccinated people—the government that says it follows science and experts… doesn't really always do that.
So this clarification is more to remind you that this is only the beginning and especially to remind you that the rules are constantly changing. It's certainly going to get even less restrictive as more people get vaccinated here in Canada (and even elsewhere).
4. Leaving Canada during the 14-day quarantine
If you want to go back through Canada after a quick vaccination in the U.S., you can then leave for another country during your quarantine (if you don't have symptoms).
Some have mentioned that the government website says otherwise and we are well aware of that. But the government being true to its previous actions in the travel world, their site is simply wrong (or outright lying to Canadians, depending on your perspective).
I'm scooping a future article to be published very soon, but I can 100% guarantee you that it's allowed to leave Canada during your 14-day quarantine (even by plane) as long as you don't have any symptoms: Public Health Canada officially confirmed it to Flytrippers during a recent information request following our research.
To be continued, but yes… it is allowed! Those are the rules.
5. The exemptions
It was not clear in the initial announcement, but those who are not Canadian but have a special exemption to enter already are indeed entitled to be exempt from quarantine if they are fully vaccinated.
The government kept saying "Canadians", but in the end, as I mentioned yesterday, it must have been to reassure those who are soooooo afraid of evil foreigners entering the country (even if they are fully vaccinated… because rationality has gone out the window for many: vaccinated Canadians are fine, but not vaccinated non-Canadians for some reason) and to make it clear that the rules of entry did not change with yesterday's announcement.
6. Those who have been infected
Another quick and simple clarification: whether the exemption would apply to those who have been infected and therefore have the recommendation to only get one dose of vaccine was not clear yesterday.
Well, it is apparently confirmed that a proven infection plus one dose is going to be considered the same as a full vaccination and will allow you to be eligible for the quarantine exemption.
7. Proof of vaccination
I wrote this yesterday, but I am adding it to the clarification because it is important and because it generated a lot of questions.
Nothing has been determined about proof of vaccination, but stop worrying about minor logistical stuff like this 😛
If you are fully vaccinated, you don't have to worry. Fully vaccinated travelers will be exempt from quarantine. Amazing. The end.
It's just details after that, it shouldn't be too much of a hassle. Save your proof, stay tuned and watch out for the announcements… and instead think about everything else worth planning for.
If you have it, providing proof of immunization—no matter what they decide in terms of method—is likely going to be pretty easy!
I know a lot of people love to stress out about very simple things about the travel experience even pre-pandemic, but it's part of our mission to help you be a little more easygoing too 😉
8. Other countries' rules
As mentioned, we are currently compiling the most up-to-date list of countries that are open to Canadians, vaccinated or not, and we will publish this very soon.
But just to clarify because many are still having trouble with this complex subject even after more than a year: each country has its own rules. There is absolutely nothing standardized. Nothing. And it's going to stay that way too!
There must be at least 100 different combinations of restrictions and rules out of just ≈ 200 countries, or at least close to 100.
In short, there are countries that have always been open to all Canadians without quarantine and without even a test! Others are closed completely, even if you are fully vaccinated. And there are dozens of other levels of restrictions in between.
Oh… and it constantly changes too.
So, while it's always been true that being well-prepared and well-informed is the best way to have a great trip and to make your trip as cheap as possible (cheaper travel = more travel)…
Well, that's a thousand times more true with the pandemic.
We're going to help you figure it all out and leave as soon as you're ready… and for as little money as possible!
Want to get all coronavirus updates for Canadian travelers?
Summary
Here are some clarifications about the fact that the 14-day mandatory quarantine will be lifted for vaccinated travelers.
What would you like to know about traveling this summer? Tell us in the comments below.
Explore awesome destinations: travel inspiration
Learn pro tricks: travel tips
Discover free travel: travel rewards
Featured image: Dubrovnik, Croatia (photo credit: Spencer Davis)
Advertiser Disclosure: In the interest of transparency, Flytrippers may receive a commission on links featured in this post, at no cost to you. Thank you for using our links to support us for free, we appreciate it! You allow us to keep finding the best travel deals for free and to keep offering interesting content for free. Since we care deeply about our mission to help travelers and our reputation and credibility prevail over everything, we will NEVER recommend a product or service that we do not believe in or that we do not use ourselves, and we will never give any third-party any control whatsoever on our content. For more information on our advertiser disclosure, click here.
Share this post to help us help more people travel more for less: