I entered the US 8 times in 7 months between November 2021 and April 2022, but yesterday was the 1st time I redid it since. So I wanted to give you an update, even though it was an unsurprising experience (since absolutely nothing has changed in the US pandemic rules for a long time — it should definitely change "in the coming weeks" though).
There are plenty of great destinations that you can drive to, but my girlfriend and I entered the US specifically to fly out of Boston airport (BOS) tonight (and to take the opportunity to do a roadtrip and to revisit Boston, a city we love).
There are many good reasons to fly out of an American airport these days, but most importantly it's to be able to fly mask-free, for those who are not at risk and who prefer to have the choice to wear it or not.
There's a reason why almost all European countries have also removed their mask requirement for planes several months ago (it's not just a case of "evil Americans"): this requirement is anti-science and makes no sense.
It's worth repeating since so many people are so misinformed: it's just completely irrational to require a mask in the place that factually has the best air quality (an airplane cabin) when there is no longer a mask requirement in any other indoor location (places where the science clearly says the risk is higher than in a packed airplane cabin — contrary to what those suffering from Covidanxiety and/or those who really don't know the facts about air quality at all seem to think).
But anyway, here's what it was like to enter the US by land.
My experience entering the United States
We entered yesterday afternoon through the Derby Line border crossing (Québec Autoroute 55), where there is sadly no express lane for savvy travelers who have the NEXUS card (there isn't one everywhere by land, unlike by air). But we waited less than 5 minutes.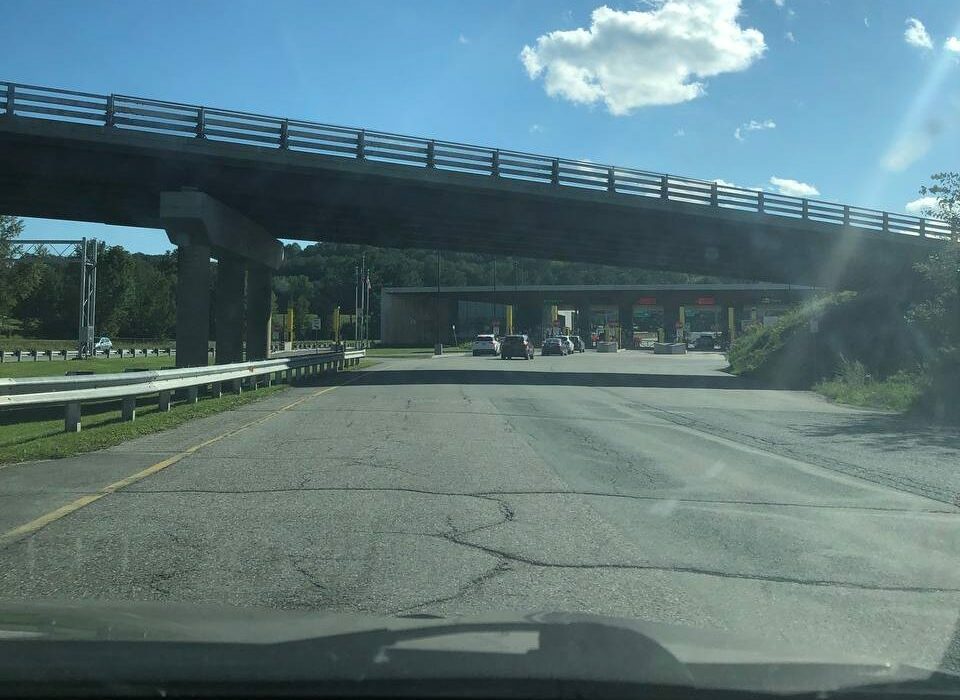 And going to the US by land is very very simple.
Here is a complete list of the pandemic-related requirements I was asked about:
In other words: nothing at all.
Exactly like the only other time I entered by land in April, despite the official US entry rules.
No, the US is NOT one of the 80+ countries that have finally gotten over this and eliminated ALL travel restrictions, as recommended by the World Health Organization experts over 7 months ago now.
But unsurprisingly, the customs officer didn't even ask about our vaccination status at all. For almost all travelers entering by land, the customs officers simply don't check vaccination (although sometimes they verbally ask to confirm that you are vaccinated without asking for proof, which is what I experienced the 1st time).
It's why for months now, many of the Canadian travelers who are not vaccinated have been entering the United States by land without any problem. It's quite well known, even though it's not officially allowed under the (current) US entry rules. With the news that came out recently, one that will lead to the US vaccine requirement being lifted, it's even more likely that the customs agents won't ask anything now.
By air, the airlines do apply the rules though (all 7 times I went and based on all the testimonials). But even that can obviously be circumvented by entering by land and then flying out of a US airport.
The current US entry rules
As a reminder, in terms of pandemic rules for travel to the United States, it's very simple:
No requirements for domestic flights (like every country in the world)
No test requirement for anyone (by land or by air)
No vaccination requirement for those under 18 (by land or by air)
Vaccination requirement for those 18 and over (not often enforced by land)
You can read all the details in our guide that is always up to date (and will be kept up to date).
The upcoming change to US entry rules
The US vaccine requirement will almost certainly be lifted "in the coming weeks."
Everyone always wants shorter posts, so I'll do a separate one about that. It will be published later this week.
Sign up for Flytrippers' free newsletter to get that post directly into your inbox (and also get all our updates and our deals and tips to travel more for less).
Want to get all travel updates for Canadian travelers?
Summary
Entering the US by land still gives the impression that the US has eliminated all pandemic-related travel rules, even though this is not yet officially the case. That will almost certainly change soon though.
What would you like to know about entry into the United States by land? Tell us in the comments below.
See the deals we spot: Cheap flights
Explore awesome destinations: Travel inspiration
Learn pro tricks: Travel tips
Discover free travel: Travel rewards
Featured image: Approaching Derby Line border crossing (photo credit: Andrew D'Amours/Flytrippers)
Share this post to help us help more people travel more for less: