We spent last December in South Africa. We loved our time there and we wanted to share some of our activities and experiences. Here's a list of the 10 best things to do in this amazing country!
After those of our guest-bloggers, it's now our turn to share some travel inspiration articles.
By the way, Andrew had already written about the 10 reasons to go to South Africa when we got the crazy $550 roundtrip deal on our cheap flight deals page.
It wasn't even that article that made me want to go there, but rather the fact that I needed to spend 41,000 special Avios Points that were expiring soon (long story, Travel Hacking Points do not usually expire, don't worry).
We were in Spain when we decided to head to South Africa, so going from Madrid to Johannesburg only cost me 75 Euros (CAD $112) plus 21,000 points for the one-way ticket.
Anyway, here's my list of the 10 best activities in South Africa.
1. Table Mountain
Table Mountain is an emblem of Cape Town. This mountain has recently been named one of the 7 New Natural Wonders of the World. You have the choice of going there by cable car or hiking in the many picturesque paths.
Cost of the cable car: 330R roundtrip in the morning, so about CAD $33 (more information on prices here)
Go early because there are always crowds of people and the queues can be long! If you want a guided tour, here's a Table Mountain tour including Robben Island and Castle of Good Hope that we liked. You will learn a lot about the city of Cape Town. That's what we did and it was very interesting.
Reminder: We have a complete page with the best sites to find activities and attractions in the top menu under the "Resources" tab.
2. Camps Bay
This bay has one of the most beautiful beaches in Cape Town, where you can admire the surfers in action, the "Twelve Apostles" (12 mountain peaks) and "Lion Head" mountain. These mountains behind the beach are so beautiful that they seem unreal! You can also see the most expensive houses in the area (a small loft has been sold 1.7 million US dollars recently).
Finally, restaurants and small shops are the perfect places to end the day in style. The Codfather Seafood & Sushi restaurant is very popular and you have to book in advance to get a table!
3. Cape Point Private Tour
We booked a guided tour of Cape Point with Cape Town Day Tours, and we enjoyed the scenic route to the Cape Point Lighthouse and the Cape of Good Hope. The view is indescribable!
Cost of entry to the National Park: 303R, approximately $30 CAD
Cost of the funicular lighthouse: 70R, about $7 CAD roundtrip, but it is possible (and worth it) to walk very easily to the top while admiring the view.
These costs are only the entries to these sites when you go visit them by yourself. You have to add an extra cost if you want to do this tour with a guide, but they'll usually include all those costs in their total price.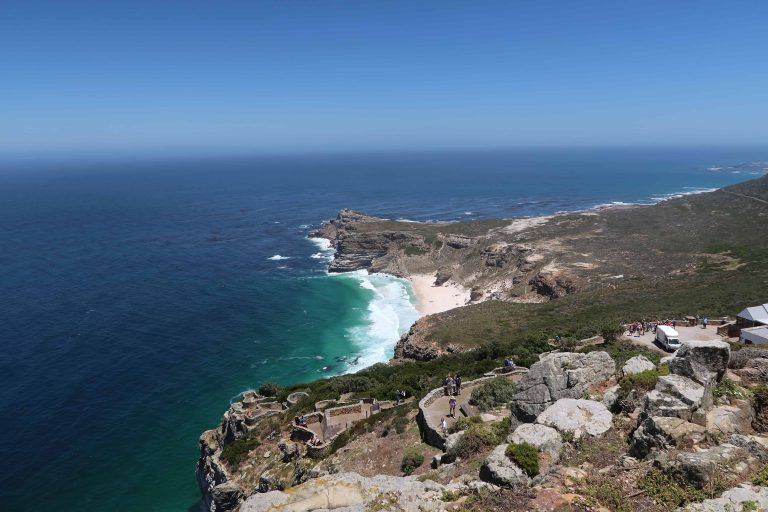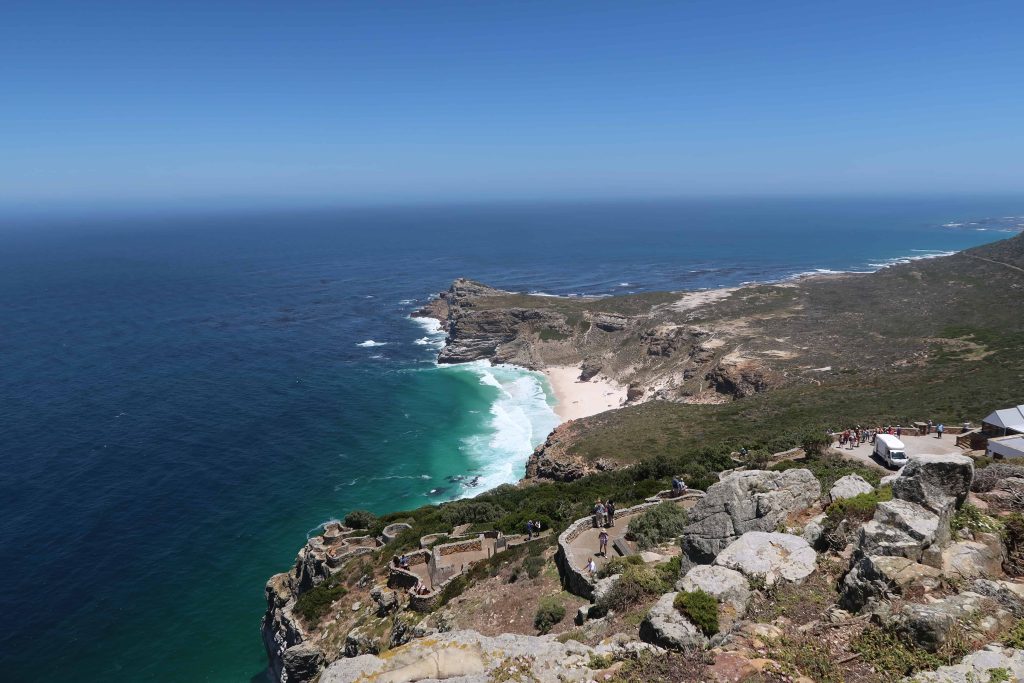 After the Cape of Good Hope, the tour went on to Boulder's Beach in Simon's Town to see the 4,000 penguins that settled there. Watch the video at #5 to see penguins on the beach!
Boulder's Beach entrance fee: 65R, which is approximately $6.50 CAD per person (this fee is for the conservation and maintenance of the site).
4. Safaris
When we think of South Africa, we often think of safaris! Here, we'll tell you the main nature reserves that we visited, but we are also preparing a detailed article on safaris in this country. We're also preparing 3 itineraries to do on 3 different budgets (no need to book with agencies at exorbitant prices!)
In several reserves, it is possible to self-drive to try to find the "Big 5" (lion, buffalo, rhinoceros, elephant, leopard). Renting a car and going on your own will lower your costs if you have a limited budget and you still can see as many animals as in a guided tour.
On the other hand, it is still interesting to do at least one or two guided safaris to have a little more information on the animals and to know how to look for them. Guided tour also operate in groups and if one spots a rare animal they'll share the information with your driver, that's how we found a pair of lions!
Kruger: classic safari
Let's start with the classic reachable from Johannesburg; Kruger National Park.
You can rent a car and go on your own and drive on the roads of the park. The entrance to the park is approximately $37 CAD per person per day.
We stayed at the Protea Hotel Kruger Gate, which is beautiful. This hotel is part of the Marriott chain and is a category 2 hotel, so it costs only 12,500 Marriott points per night.
This means that just by getting the Marriott Bonvoy American Express card, you get almost 5 completely free nights at this hotel (or even 6, because the 5th consecutive is always free with Marriott Points). You can learn more about how to earn points for free hotels.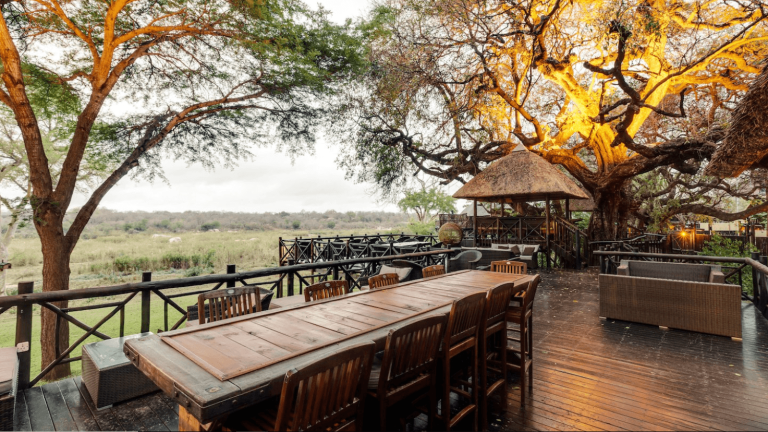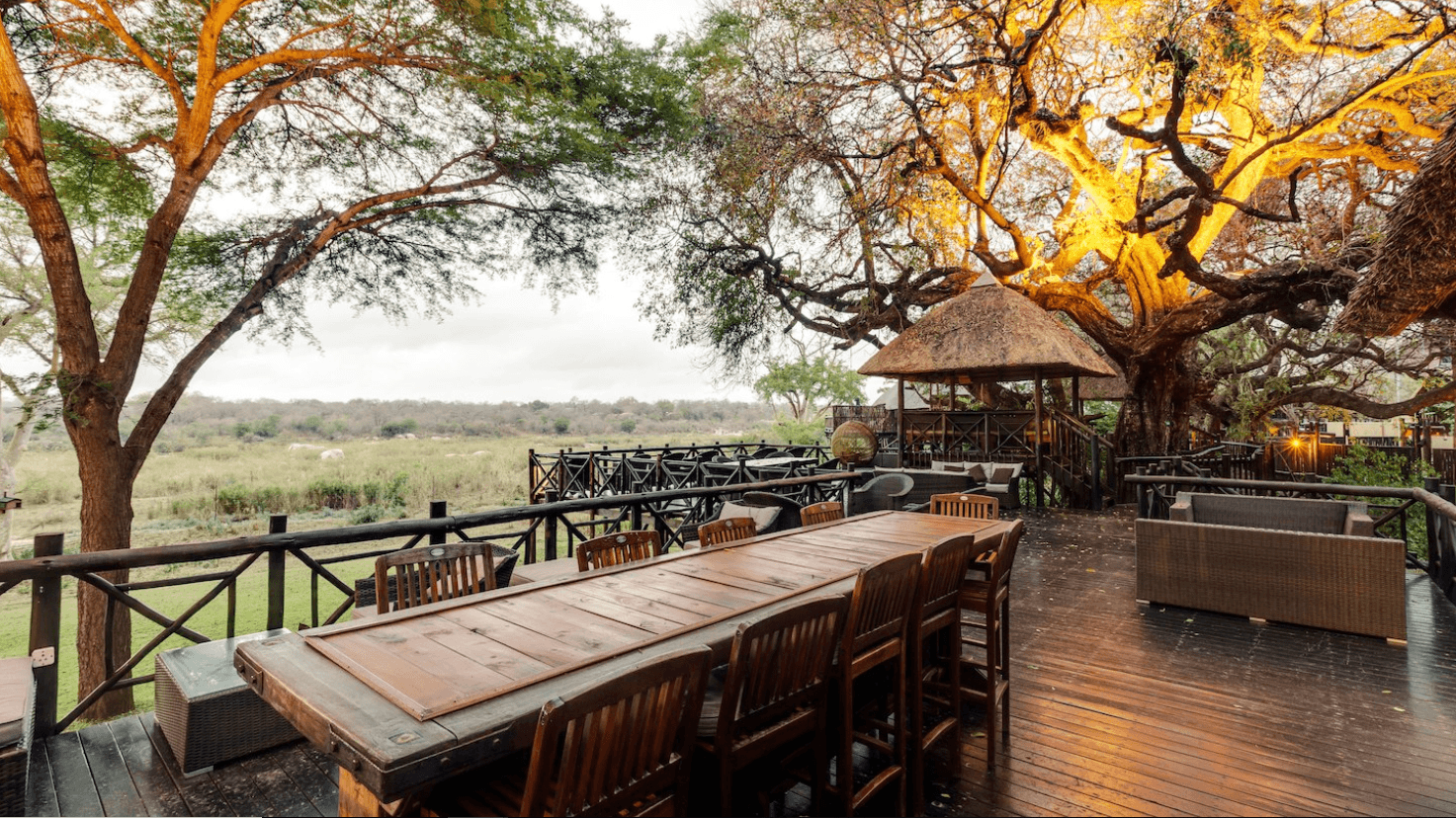 It's like a big resort hotel, but with a view of an African river full of animals! They even offer organized safaris from the hotel for only $45 per person, which is very reasonable (only $8 more than doing it on your own!)
It is also a perfect hotel for those who want to drive in the park by themselves since the park entrance is adjacent to the hotel.
Balule: another interesting stop nearby
During your roadtrip from Johannesburg to the Kruger National Park, you can also stop at the Balule Nature Reserve.
We did a 3-hour safari in the afternoon also for $45 per person with IsiLimela Game Lodge (the cheapest I've seen) in the Balule Nature Reserve. Our Airbnb (in the same reserve) host organized it for us (you can get a $45 credit on your first Airbnb here).
By the way, this Airbnb was a safari in itself: the Rio Dos Elefantes River Camp. In front of our bungalow (a cottage for only $91/night and it can be less than that depending on the season), we saw hippos swimming in the Olifants River, elephants fighting, impalas, warthogs, giraffes, antelopes and we even were waken up by dozens of baboons on our straw roof! Hard to beat in terms of authentic "safari"!
Cape Town: western safaris
Here are some safaris you can do departing from Cape Town:
Many other companies will offer safaris in these reserves and the prices will be approximately between $150 and $200 CAD per person for the day if you leave from Cape Town in the morning. If you want to book a tent/room on site, the prices will vary according to the level of luxury that you want.
Note: Don't forget that there is a fee for every entrance to a reserve! If you take a guided safari, make sure the entrance to the park is included!
In addition, most companies do not want to bring children aged 6 and under for security reasons. Ask before booking if you have children (many offer daycare while you go on safari).
5. Whales and Dolphins Observation
We did a Sea Safari with Cape Town Day Tours and Ivanhoe Sea Safari to watch whales. We saw 8 whales (mother and baby), more than 200 dolphins and even penguins!
Here's our little video of the whales and penguins we saw during our days.
6. Swimming with Sharks
The great white sharks are very present in South Africa so several companies offer "shark dive" cages. Once again, if you buy the "Unlimited Premium Pass", this safari can be included (in addition to the 70+ activities you get for free).
Note: After a great talk with professional divers in Thailand last January, we were told that this activity can be very unethical towards sharks since they are being fed to attract them around the boat, which is totally unnatural for the animal. Just be aware of that and choose wisely if you want to do this.
7. Robben Island
If you love culture and history, Robben Island is something you should see! This is the prison where Nelson Mandela was imprisoned for 27 years. This place is full of history and you will be guided by a former political prisoner!
8. Apartheid Museum
If you arrive by plane directly in Johannesburg, you should also see the Apartheid Museum, which explains in detail the era of segregation between blacks and whites in South Africa. We visited it and it was very interesting.
You can easily go from your hotel with the Uber app (click here to get $5 for your first ride).
9. Soweto Township
This activity is a one-day visit to the township of Soweto from Johannesburg. This city was created in 1930 by the government when they started to separate whites from blacks. It is also a place where several protests took place against the apartheid. Again, a lot of history to discover.
It is best to visit Soweto with a guide for security reasons. If you want a tour that also includes a guided tour of Johannesburg and the Apartheid Museum, click here.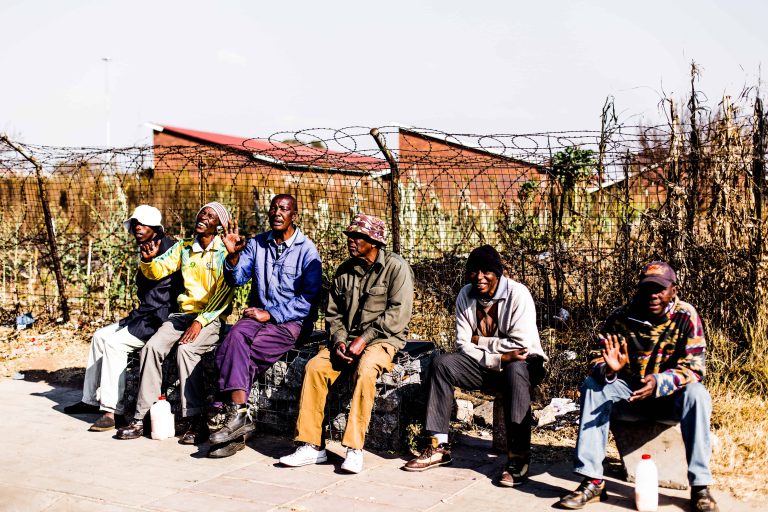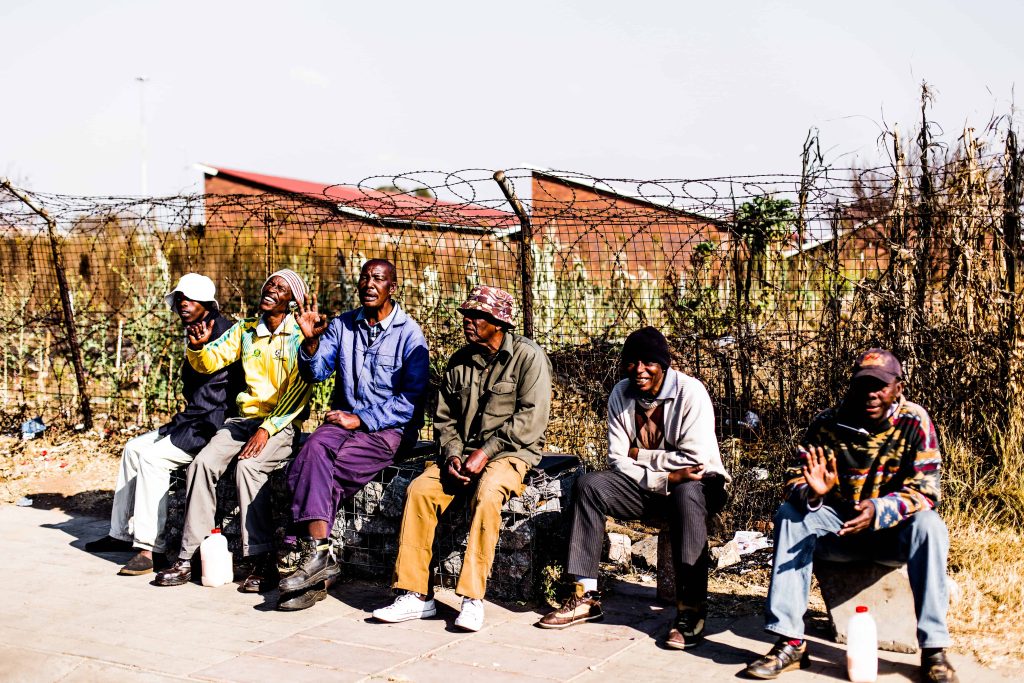 10. Gold Restaurant
The Gold Restaurant was recommended to us by our Cape Town Day Tours guide and we were not disappointed! We were able to get a taste of a marinated ostrich salad and an African chili. It is a restaurant where they serve a set menu of typically African tapas while an African music, dance, and singing show goes on around the restaurant.
The cost is CAD $36 per person. Alcohol is not included so even for 2 people, it's quite expensive, but it's worth it! And for a few extra bucks, you can reserve your place for a 30-minute African djembe class before dinner begins. To book, just do it online on their website or call ahead because it is very popular.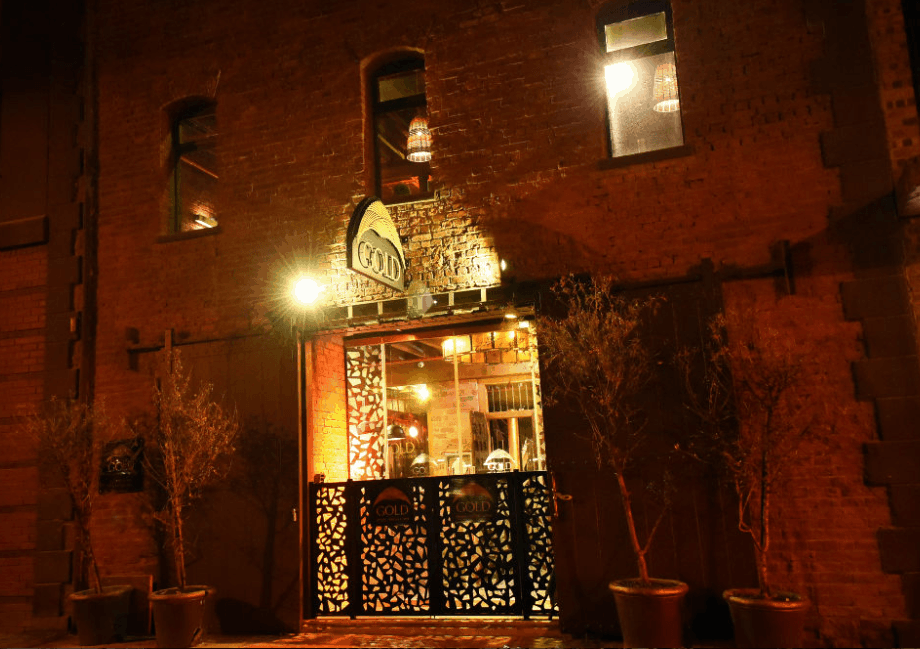 Bottom Line
Here are some ideas of interesting activities to do by yourself for a lot less than a package (with more tips coming soon).
To follow our one-year journey around the world, subscribe on Instagram to my account @kevin.flytrippers and my girlfriend's @la_paq . Also make sure to follow @flytrippers and @andrew.flytrippers!
Do you have questions or recommendations about South Africa? Share them in the comments!
Help us spread the word about our flight deals and travel tips by sharing this article and most importantly bookmark Flytrippers so we can help you navigate the world of low-cost travel!
Advertiser Disclosure: Flytrippers receives a commission on links featured in this blog post. We appreciate if you use them, especially given it never costs you anything more to do so, and we thank you for supporting the site and making it possible for us to keep finding the best travel deals and content for you. In the interest of transparency, know that we will NEVER recommend a product or service we do not believe in or that we do not use ourselves, as our reputation and credibility is worth far more than any commission. This principle is an essential and non-negotiable part of all our partnerships: we will never give any third-party any control whatsoever on our content. For more information on our advertiser disclosure, click here.
Editorial Disclosure: Flytrippers has received sponsored tours for some of these activities. In these situations, it is always indicated here for the sake of transparency. Above all, this will NEVER affect our editorial independence or our unbiased and unedited reviews. This principle is an essential and non-negotiable part of all our partnerships: we never give control over our content to a third party. For more details on our editorial policy, click here.
Share this post to help us help more people travel more for less: