Most hotels a
re pretty much the same and aren't very original. That's why alternatives like Airbnb have grown so fast, and that's why more and more unique hotel properties are being built to offer something different than just cookie-cutter hotels.

Everyone has different priorities when traveling, and we want every type of traveler to be able to take advantage of the great prices on our cheap flight deals page and the many travel articles we post every week.
But since many often ask about our lodging tips that allow us to travel to 15+ countries every year:
when traveling solo we usually prioritize hostels

when not traveling solo, we choose the cheapest (clean) hotels

when it makes sense, we use hotel points for free nights in destinations where there are sweet spots that require few points
(our new travel hacking section will teach you all about getting free nights, it's really easy)
Anyway, it still baffles me how much importance some travelers give to the hotel when the point of traveling is to explore a city and country, not stay shackled inside.
That said, I know many are more interested in vacationing than traveling; in that case, it makes a little bit more sense.
And there are also many who only travel once or twice a year but who don't want to travel more, it makes a little bit more sense to not want to save money in that case too.

But for the many of you who say they wish they had more money to travel more, I recommend saving money (to travel more) and choosing whatever option is the cheapest, as all hotel rooms look the same when you're sleeping.

We'll share a lot more of our tips for accommodations in the coming weeks, so you can save money on that aspect too, not just on flights. We will also share our cheat sheet with our Top 5 Ways Everyone Can Travel More Often, be sure to be the first to get it: join 50,000+ Canadian travelers and sign up for our free newsletter to get all our content!

All this to say that at least if you choose a very unique hotel, then it's worth it for the experience. And if you want to spice things up and not stay at boring hotels, there are so many creative and unconventional hotels out there.

Here are 5 unusual hotels around the world (we'll share more in the future too).
1. The Guitar-Shaped Hard Rock Hotel
This fall, the Hard Rock chain of hotels and casinos will open the first guitar-shaped hotel in the world. Well, the hotel is already open… they're just adding a brand new tower. It is located in Hollywood, in South Florida (the Miami metropolitan area).
If you've landed at Fort Lauderdale Airport recently, you'll have noticed the huge guitar during final approach. I was there in May, and it's pretty impressive and quite unique in terms of architecture.

This oddly-shaped hotel is not only meant as a place to stay but as an entertainment destination.
With more than 3,000 slot machines, 193 table games, 30 restaurants and bars, a 10-acre pool and more than 100 live music shows per year, the Hard Rock brand is taking the game to a whole new level. The new hotel's grand opening is set for October 24, and Maroon 5 will headline the big opening show.

I plan on going to Miami for Art Basel Festival once again this year (to enjoy a VIP experience at AMEX's Platinum House, more info on that in an upcoming article), and I definitely want to at least visit the hotel's public spaces, as I prefer staying in cheap $25 hostels in Miami Beach for a very affordable budget trip! That's what I did last year; my entire 5-day trip cost me $385 (yes, including flights). I'll share a detailed article about that soon.
Booking: Seminole Hard Rock Hollywood – Prices start at C$238 per night
Flights: We frequently spot deals to South Florida around $200-$300 roundtrip, or you can use our search tools if you aren't flexible on dates
2. InterContinental Shanghai Wonderland
The subterranean InterContinental Shanghai Wonderland hotel, also known as the "earth-scraper," is a unique project which took a decade of construction and a couple of masterminds to complete. Built into the sidewall of a former quarry, this luxury hotel that is part of the IHG chain is truly unique.

While the idea of semi-underwater accommodation isn't something unheard-of, there's nothing else in the world that compares to the concept of the InterContinental Shanghai Wonderland hotel.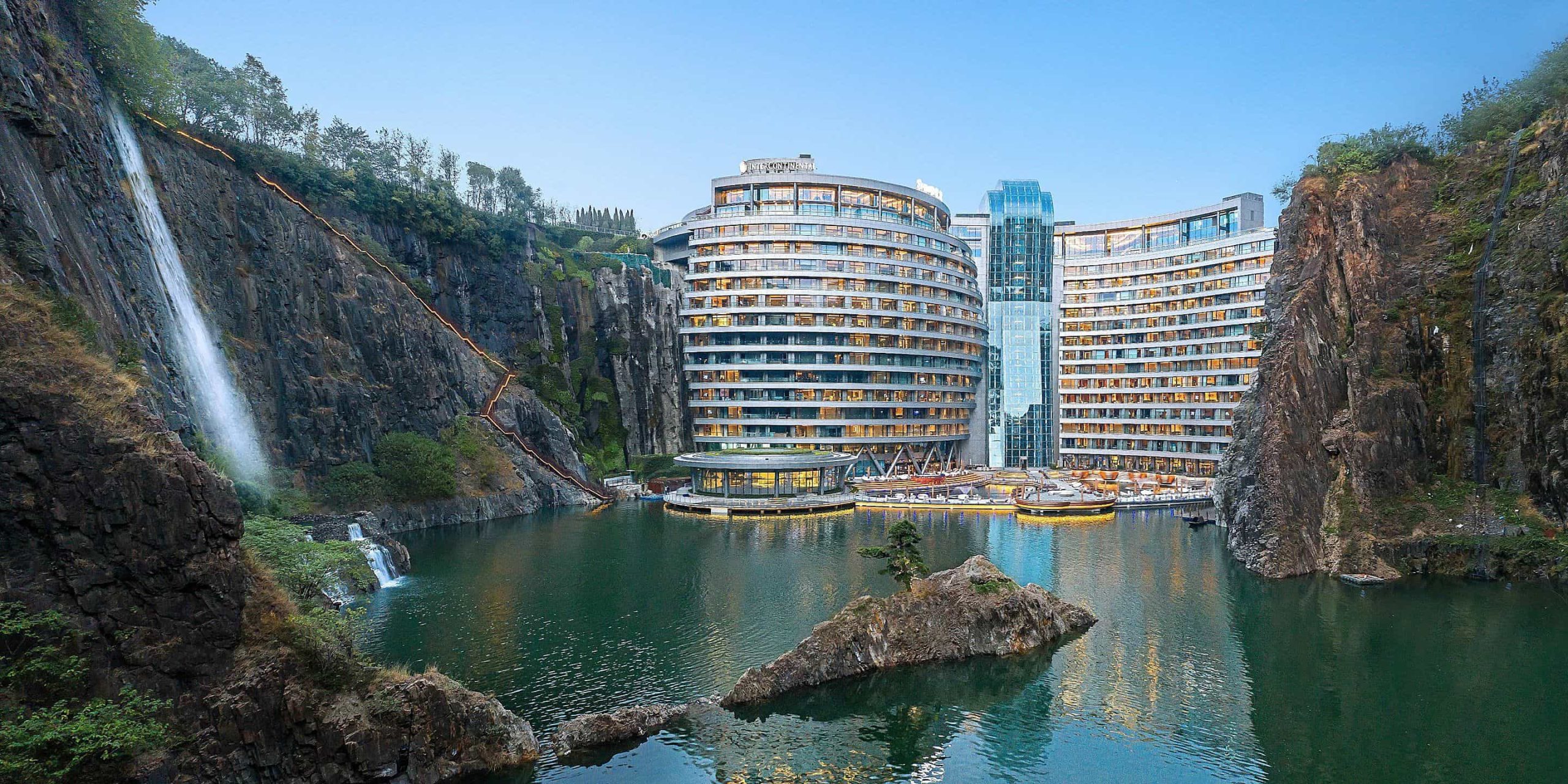 The hotel has 336 rooms and 18 floors – 16 of them below the cliff and 2 underwater. It is located near the Sheshan Mountain Range and Sheshan National Forest Park, just about an hour drive from Shanghai's center.
"It's a project that's completely new, a project we have never encountered before. There were no references, cases or experience we could learn from to solve all the difficulties" said the chief engineer to AFP.
If you stay in one of the rooms submerged inside the aquarium, you'll have 24/7 personal butler service and breathtaking views of different fish. You can also indulge in rock climbing while staying there.

Booking: InterContinental Shanghai Wonderland – Prices start at ~ C$600 per night
Flights: We spot deals to Shanghai for $500-$600 roundtrip, or you can use our search tools if you aren't flexible on dates
3. Skylodge Adventure Suite
This one is definitely for the adventurous, as it names suggests.

Accessible only after climbing 1,300 feet or hiking a daring trail, the Skylodge Suites consist of transparent capsules hanging over the Sacred Valley of the Incas amid the Peruvian Andes. I saw the capsules myself on the drive from Cusco towards Machu Picchu, it looked absolutely insane, I would've loved to stay in those (my girlfriend; not so much). But then I saw the price.

The capsules are constructed from aerospace aluminum and are weather-resistant, so there's absolutely no need to worry about safety. Once you settle down, you're in for a treat with some of the most incredible views of the Sacred Valley below and the Milky Way above.
The inspiration behind these stunning lodges was to offer "a unique experience that reconnects guests with nature or make them realize what really luxury can be," – the manager told CNN Travel.
You can have this once-in-a-lifetime experience if you have a big budget. Thankfully, the price includes transportation, accommodation, guides, equipment, a gourmet dinner, and breakfast. In case you don't want to spend the night, they offer a lunch-only experience (for the same price as 30 nights in my Bali accommodation, but okay).

Booking: Skylodge Aventure Suites – Prices start at C$543 per person per night
Flights: We spot deals to Peru for $400-$500 roundtrip, or you can use our search tools if you aren't flexible on dates
4. Palacio de Sal
Let's stay in South America. The Palacio de Sal is located in Bolivia, on the world's largest, glimmering salt flat, the Salar de Uyuni. This seemingly inhospitable region where the materials are scarce didn't discourage the people behind this extravagant project.
The Palacio de Sal is a hotel made entirely out of salt blocks. Everything from the furniture, the walls, the ceilings, the floors are made of salt. The hotel was built in 2007, and there are 32 rooms.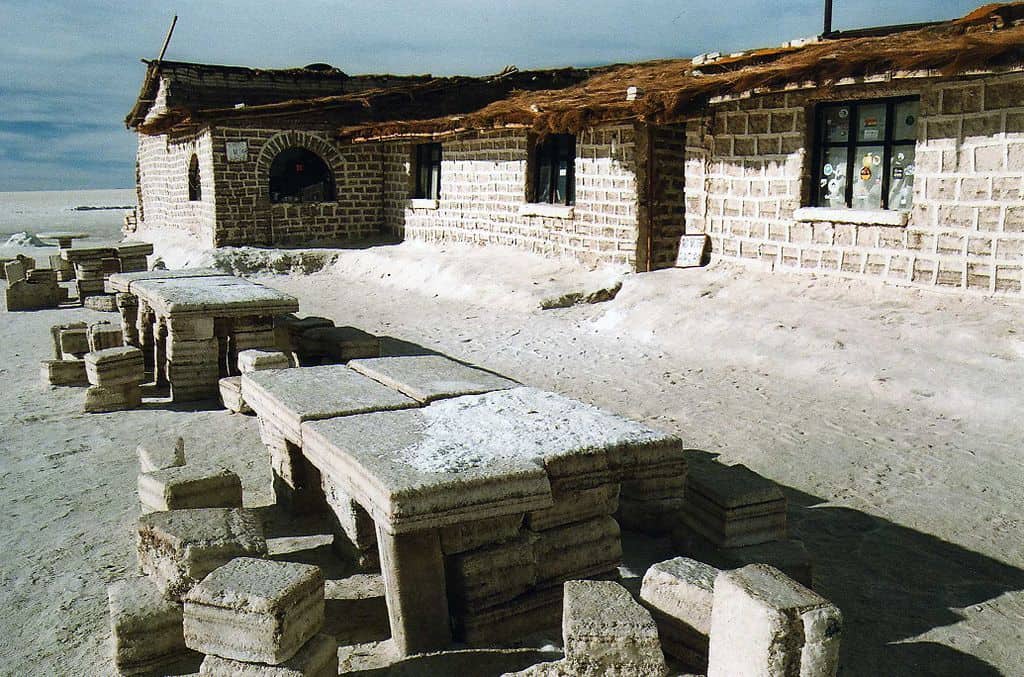 Apart from exploring the salt flats, you can pamper yourself with an aromatherapy jacuzzi and spa experience, or a full-body salt treatment. There are also steam-rooms, sauna, and saltwater pools.
Booking: Palacio de Sal – Prices start at C$229 per night
Flights: We spot deals to Bolivia for $500-$600 roundtrip, or you can use our search tools if you aren't flexible on dates
5. Jumbo Stay
I know. Sleeping on a plane doesn't seem very appealing. But let me change your mind with this one.
Created inside a decommissioned jetliner, just outside of Stockholm Arlanda Airport, the Jumbo Stay is a hostel that offers a unique overnight experience. This completely converted Boeing 747 Jumbo Jet opened its doors in 2009.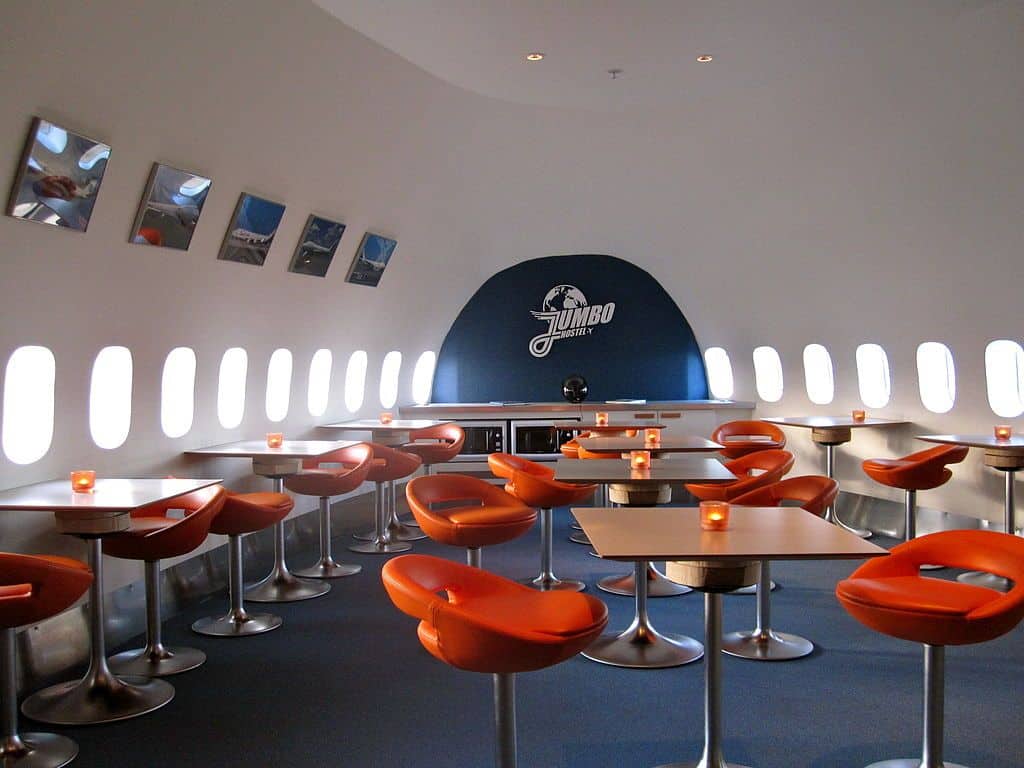 It has 27 rooms, a 24-hour open bar, and a lookout deck over the plane's wing which is perfect for plane spotting. For aviation enthusiasts, the Jumbo Stay offers accommodation inside the plane's cockpit, which features a gorgeous panoramic view.

Booking: STF Jumbo Stay Hostel Stockholm – Prices start at C$60 per night
Flights: We don't spot deals to Sweden often, but we do spot deals to Paris for ~$500 roundtrip, and it can be cheaper to fly from there… or you can use our search tools if you aren't flexible on dates
By the way, another similarly charming accommodation can be found in the Costa Rican rainforest. The Costa Verde Hotel is a fully refurbished, former Boeing 727. Ideally located on the edge of the Manuel Antonio National Park, this quirky hotel also provides some fantastic views over the Pacific Ocean.
Bonus. TWA Hotel JFK

Flytrippers loves to give you more for your money, so we add bonus points to our lists.
The Aviation Geek in me couldn't resist mentioning this new one, a recently opened hotel inside a former airport terminal. The entire hotel has an aviation theme.
Тhe TWA Hotel is located at New York City's JFK International Airport, inside the iconic, midcentury former Terminal 5 of the now-defunct TWA (Trans World Airlines), emblem of the golden era of aviation. This long-awaited hotel is a result of a $265 million worth of renovation and several years of back-and-forth negotiations about construction and permits.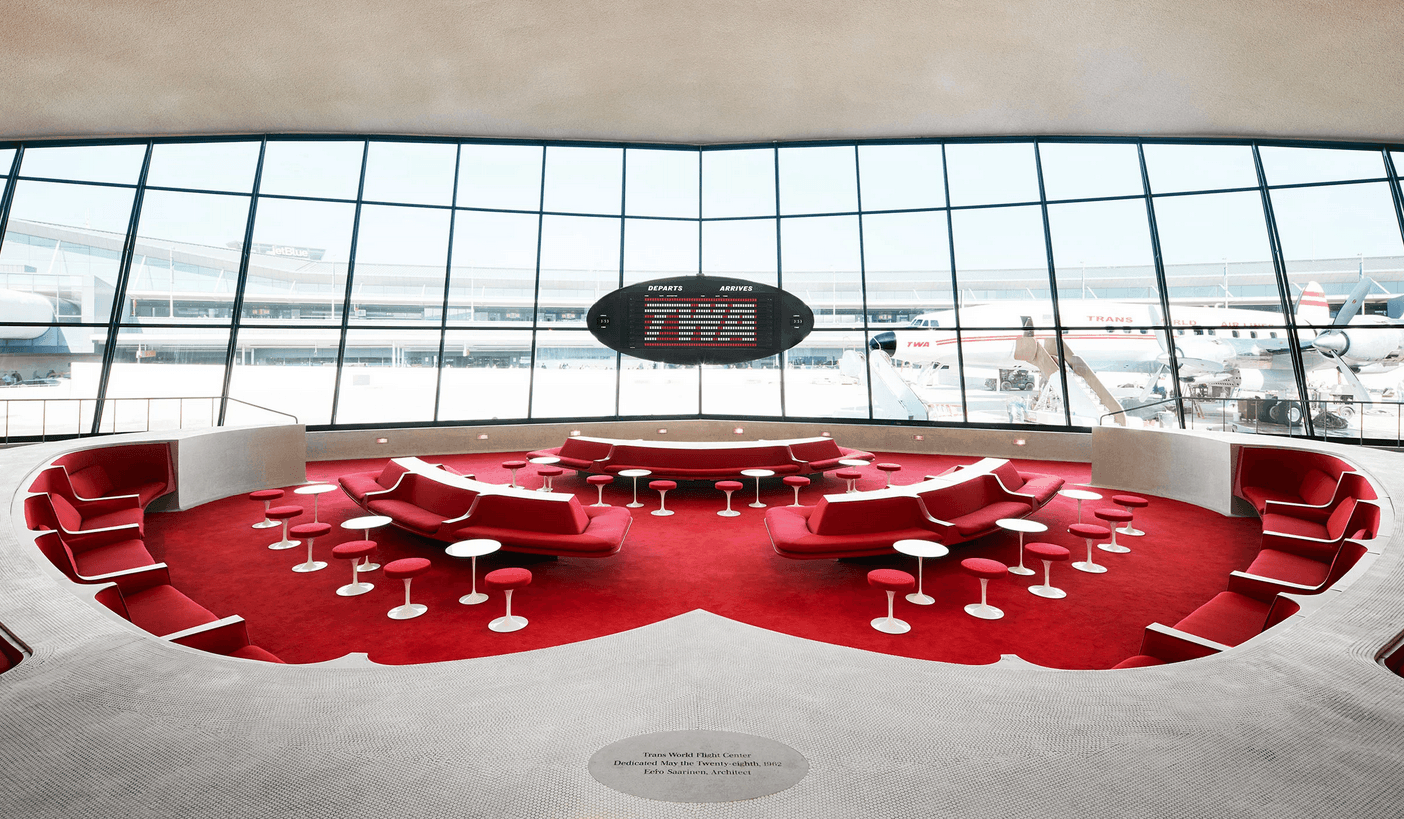 The TWA Hotel is huge. It has 512 guest rooms, 8 restaurants, and a 10,000 square feet rooftop observation deck providing remarkable views of the runway.
That's the highlight. It even includes a pool with a great view of the airport. You can also access it without being a guest at the hotel, by purchasing a US$25 day pass (US$50 on weekends) or with a US$50 minimum order at the observation deck's restaurant.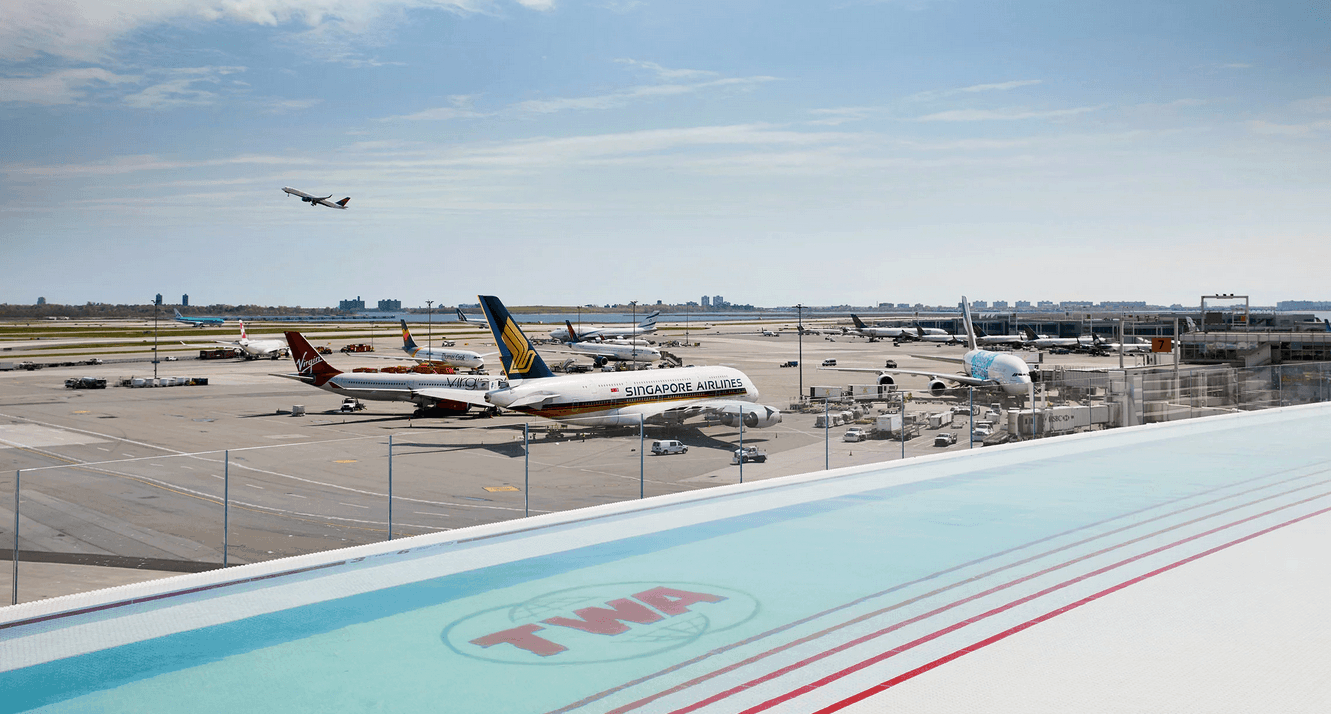 The walls are sound-proof, the design is retro-chic and vintage, and the attention to details is impeccable. If you love planes as much as I do, this is the ultimate place to be!

Booking: TWA Hotel JFK – Prices start at C$298 per night
Flights: We spot deals to NYC for $200-$300 roundtrip, or you can use our search tools if you aren't flexible on dates
Summary
The world is full of unusual hotels. Spending the night at such a place can make your trip even more unforgettable.
What are your thoughts? Have you ever stayed in an atypical hotel? What was your experience like? We would love to hear from you!
Help us spread the word about our flight deals and travel tips by sharing this article and most importantly bookmark Flytrippers so we can help you navigate the world of low-cost travel!
Featured image: New Hard Rock Seminole Tower (photo credit: Seminole Hard Rock Hotel & Casino)
Advertiser Disclosure: Flytrippers receives a commission on links featured in this blog post. We appreciate if you use them, especially given it never costs you anything more to do so, and we thank you for supporting the site and making it possible for us to keep finding the best travel deals and content for you. In the interest of transparency, know that we will NEVER recommend a product or service we do not believe in or that we do not use ourselves, as our reputation and credibility is worth far more than any commission. This principle is an essential and non-negotiable part of all our partnerships: we will never give any third-party any control whatsoever on our content. For more information on our advertiser disclosure, click here.
Share this post to help us help more people travel more for less: