Oh, Lisbon – the City of the Light, with gorgeous architecture, charismatic old neighborhoods, and a lively atmosphere! As a trendy European destination with so much to offer, it can be overwhelming to choose what to visit and where to go in the city.

With its amazing old city, charming, colorful buildings, delicious food, and rich history, Lisbon is a city I can't wait to go back to. It doesn't matter whether you're there for the first time or not – the capital of Portugal offers something for every taste possible.
Since it is often featured on our cheap flights deal page (it's frequently the cheapest place to fly to in Europe for Canadians), and it is one of the world's trendiest destinations, we want to help you plan your trip.

Here are 10 must-see places in Lisbon.
1. São Jorge Castle
One of the most emblematic landmarks of Lisbon, the Sao Jorge Castle is an absolute must-see when visiting the city.
Resting on the highest hill of Lisbon, the Sao Jorge castle used to protect the city from the Moors. What remains of it are the outer walls, 11 towers and the ruins of the Royal Palace of the Alcáçova. Today, it offers an excellent overview of Portugal's history and lays out some of the best views of the city.
The entrance fee is €7,50 and the opening hours are:
9AM-9PM (March-October)

9AM-6PM (November-February)
[instagram url=https://www.instagram.com/p/Bz54MTUg_Zg/ hidecaption=true]
2. Torre de Belem
Built in the 16th Century during the Portuguese Renaissance, the Belem Tower is without a doubt the most distinctive building in Lisbon.
It is located on the bank of Targus River, and throughout the years it has served as a fortress guarding the entrance and a ceremonial gateway to the city.
For many Portuguese explorers like Bartholomeu Dias and Vasco de Gama, the tower was the farewell point of their voyages.
The tower's outstanding architectural and historical significance for Portugal's Age of Discovery was recognized by UNESCO in 1983 when it got classified as a cultural World Heritage Site.
The entrance fee is €6. If you combine it with the entrance for Jerónimos Monastery, it costs €12.
The opening hours are:
10AM-6PM (May-September)

10AM-5:30PM (October-April)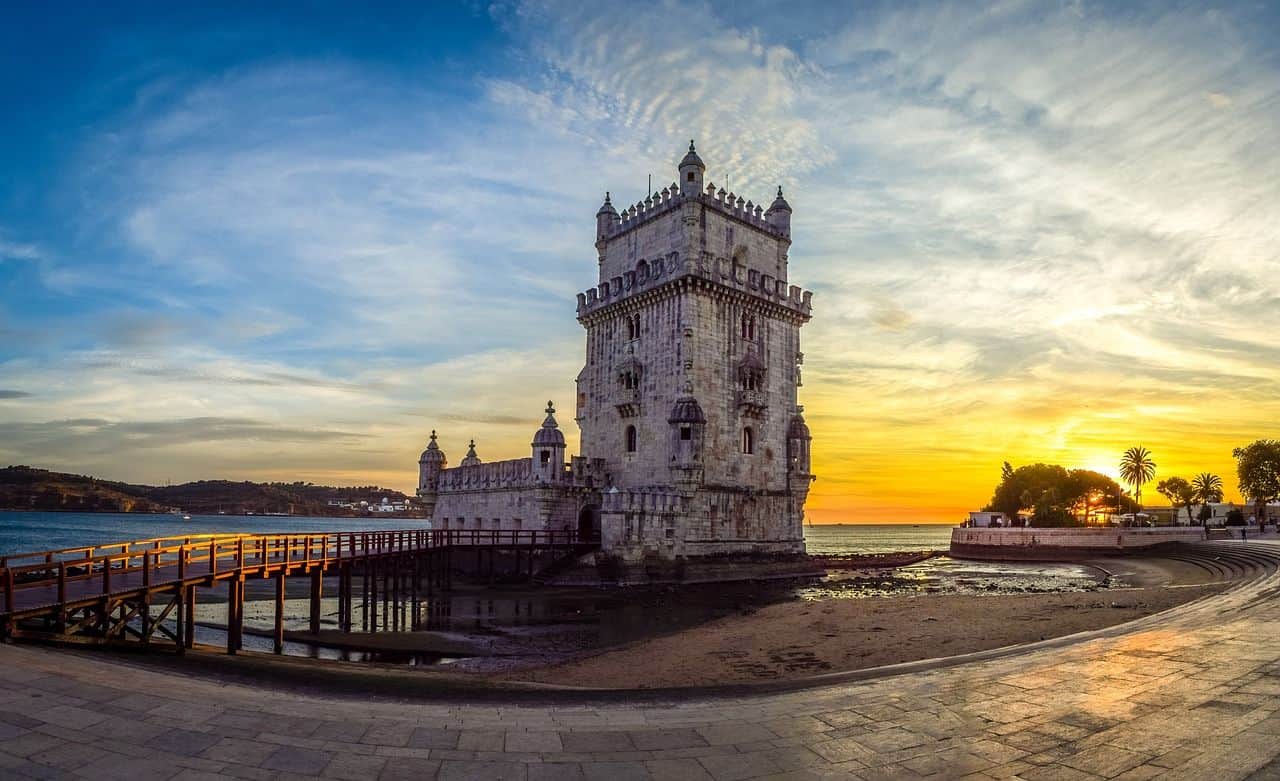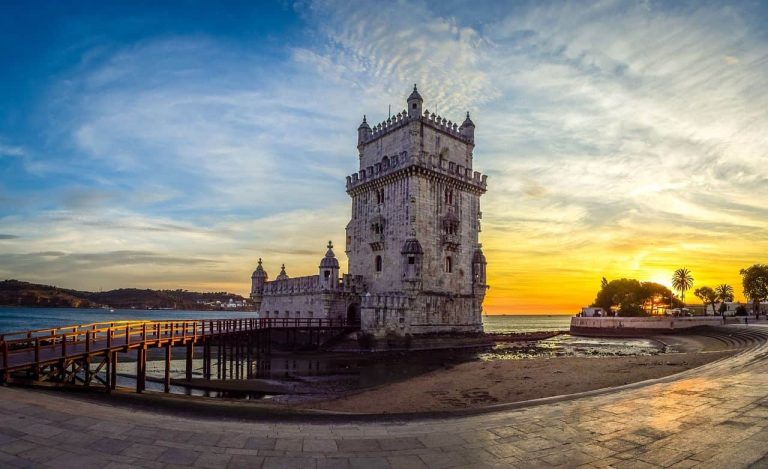 3. Jerónimos Monastery
Another World Heritage Site hugely significant for the Age of Discovery – the Jeronimos Monastery is something you don't want to miss. It was built in 1502 by King Manuel I, and it is located in the Belem district, near the Belem Tower.
This elaborately ornamented religious building is highly associated with the early Portuguese explorers. It is said that Vasco de Gama spent his last night there before leaving for the Far East.
Today, Vasco's tomb is placed inside the monastery, by the very entrance alongside the graves of many other prominent figures.
The entrance is free for the main chapel, and the monastery's entrance fee is €10. You can visit it every day of the week, and the opening hours are:
10AM-6:30PM (May-September)

10AM-5:30PM (October-April)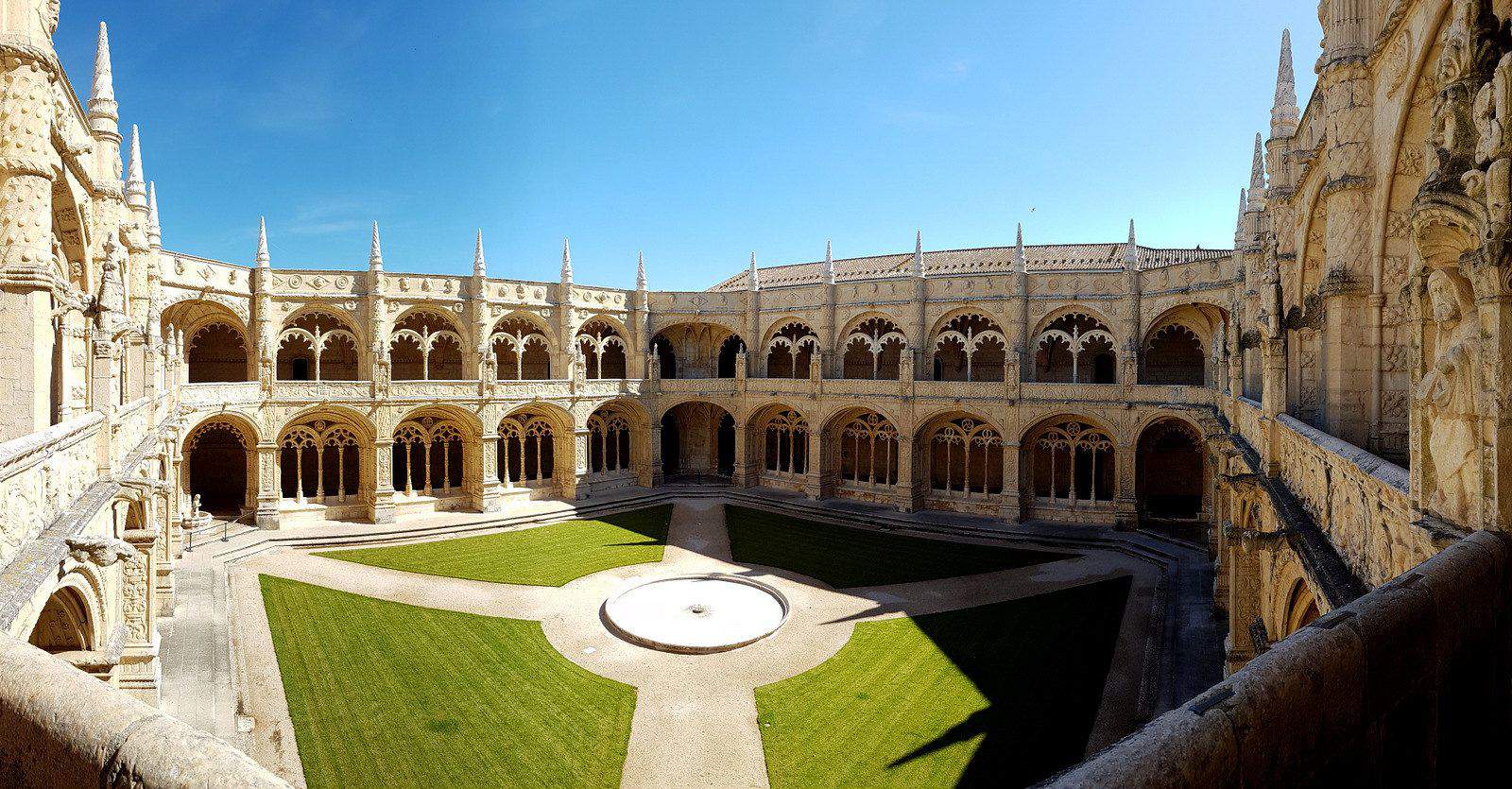 4. The Alfama Neighbourhood
The Alfama is the oldest district of Lisbon and the perfect area to wander around. Spread between the São Jorge Castle and the Tejo river, Alfama is best experienced by simply getting lost within its disorienting alleys, and soaking up the beauty of the ancient houses.
In Alfama, you can find some of the most significant historical landmarks of Lisbon such as the Sao Jorge Castle, Se Cathedral, Panteão Nacional and the Igreja de Santo António.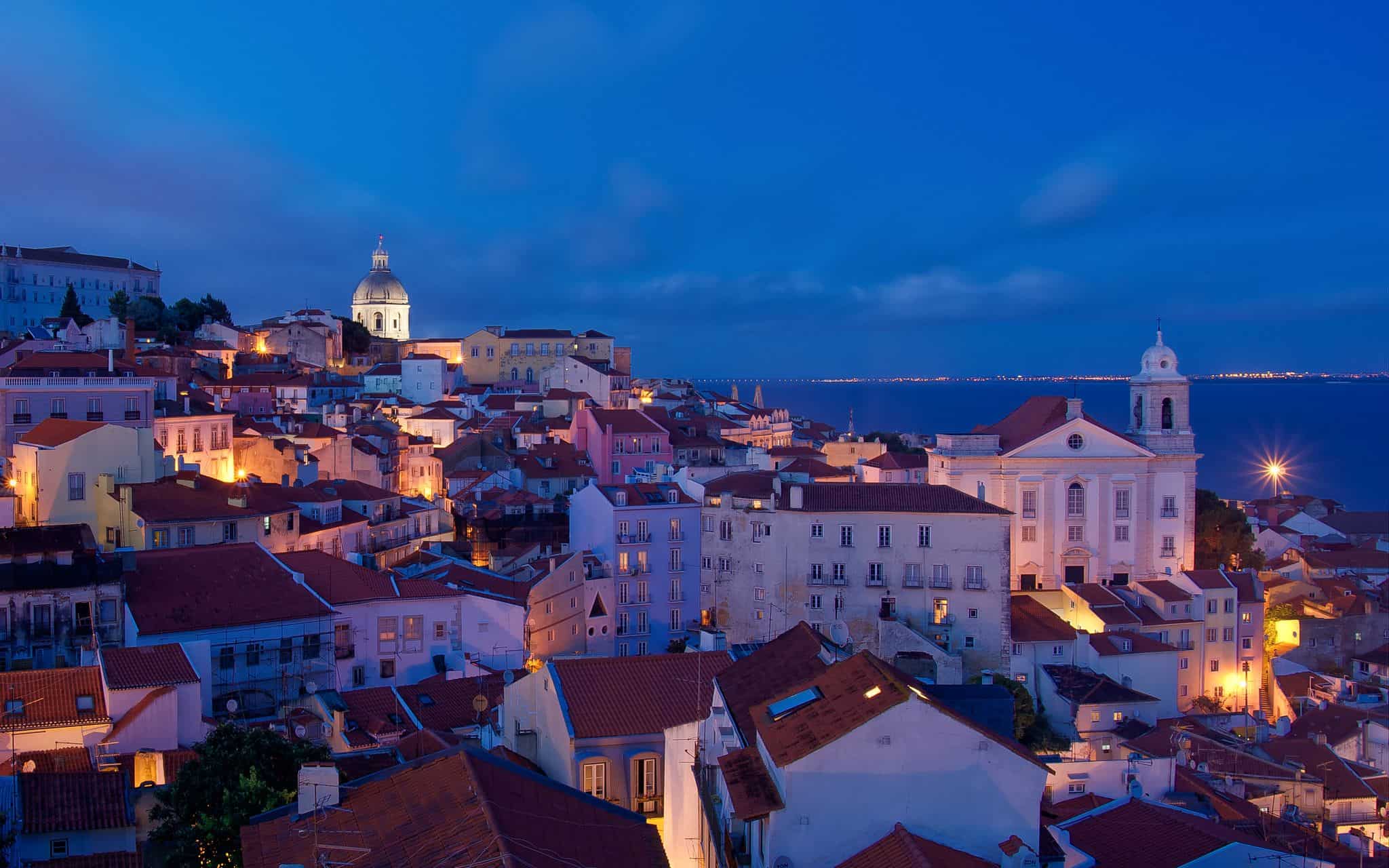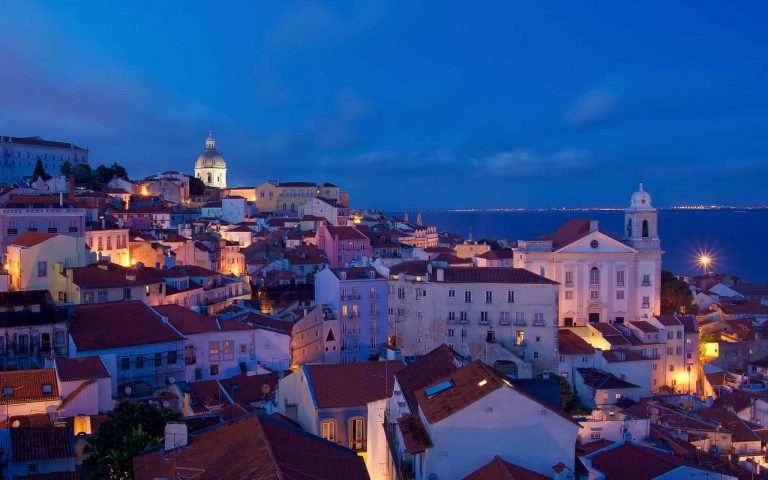 5. Time Out Market
There's no other place like a local market in a foreign land. You can have a small chat with the locals, experience the local life, and gain a better understanding of the cuisine.
In Lisbon, there are many markets you can visit, but Time Out stands out of the crowd.
Located in the old-school Mercado de Ribeira, the Time Out market is the first curated market in the world. That means everything there has been individually and carefully chosen, tested, and approved by a panel of city experts.
The concept has been so popular that it has been replicated elsewhere in the world. In Lisbon's Time Out Market, you can choose between dozens of restaurants and market vendors – all offering exceptionally unique dining and cultural experience.
The market is open every day of the week:
10AM-12AM (Sunday-Wednesday)

10AM-2AM (Thursday-Saturday)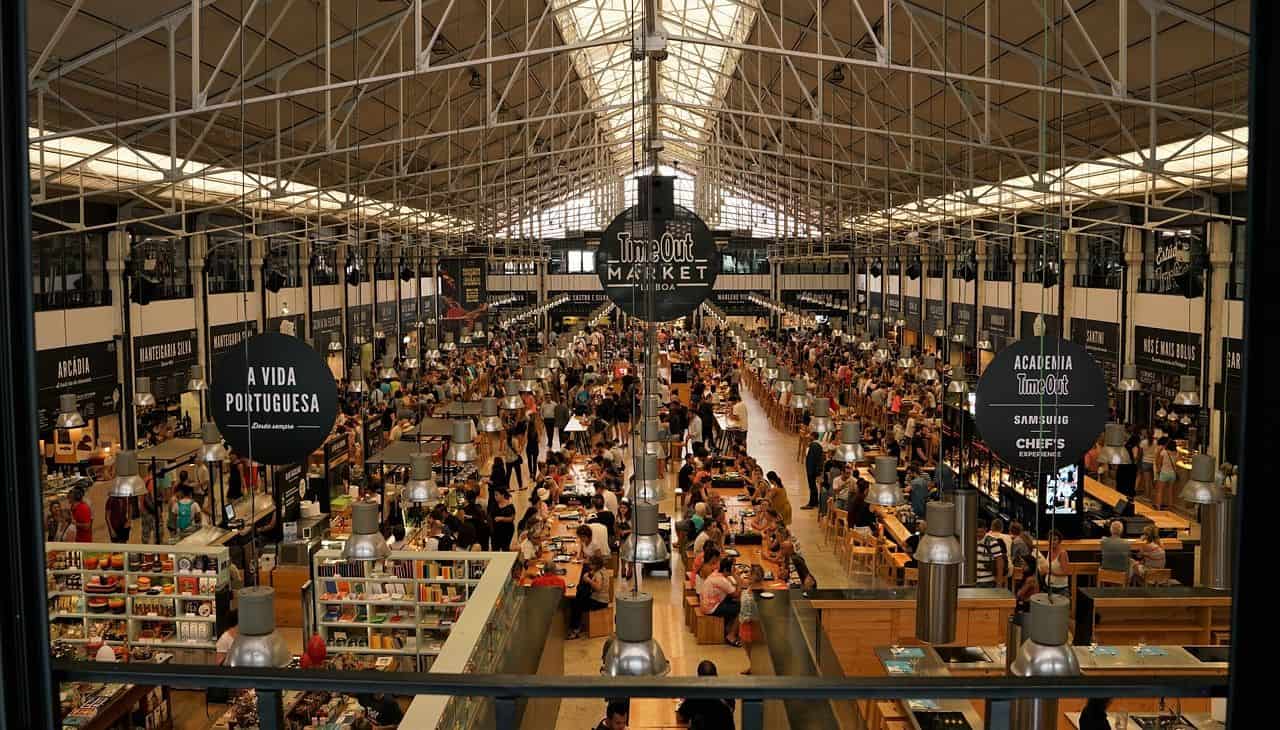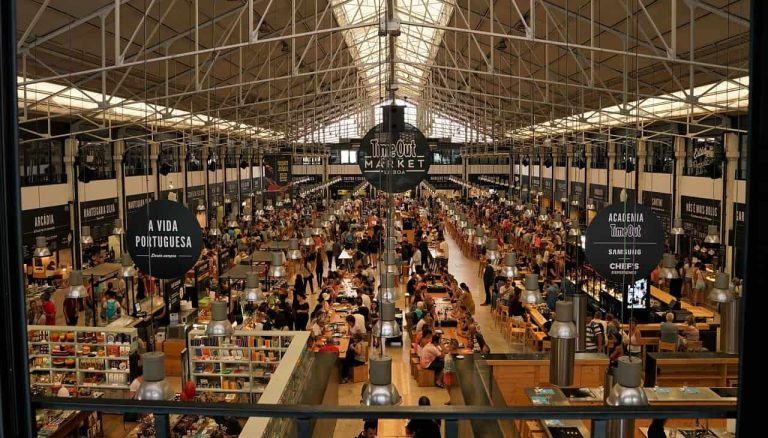 6. Calouste Gulbenkian Museum
The Calouste Gulbenkian Museum has one of the finest private collections of classical art in the world. It consists of two permanent collections, and unique, temporary exhibitions.
The Founder's Collection includes more than 6,000 works ranging from ancient times to the early 20th Century. The Modern Collection, with its 10,000 pieces, on the other hand, takes you on a complete journey through Portuguese modern and contemporary art.
You can find works by great masters like Rubens, Rembrandt, Degas, Vieira da Silva, Paula Rego, Almada Negreiror and many others.
The entrance fee is €10 for the permanent collections and €14 including the temporary exhibitions. But on Sundays after 2PM, admission is free.
Opening hours:
10AM-6PM (Wednesday-Monday)

Closed (Tuesday)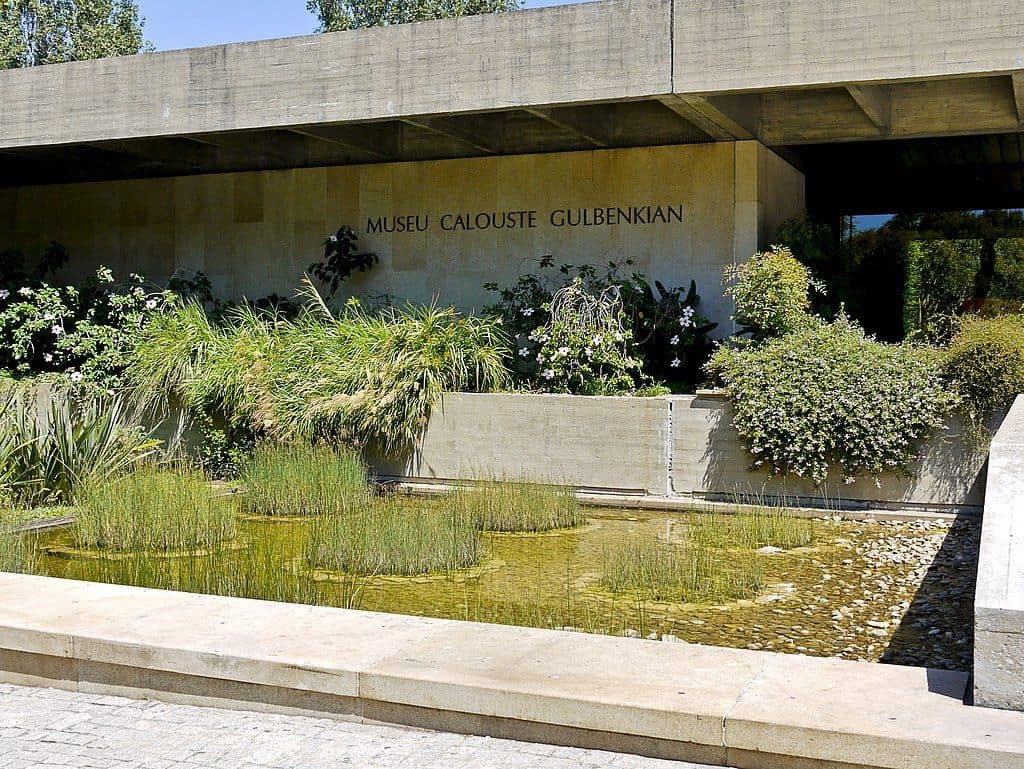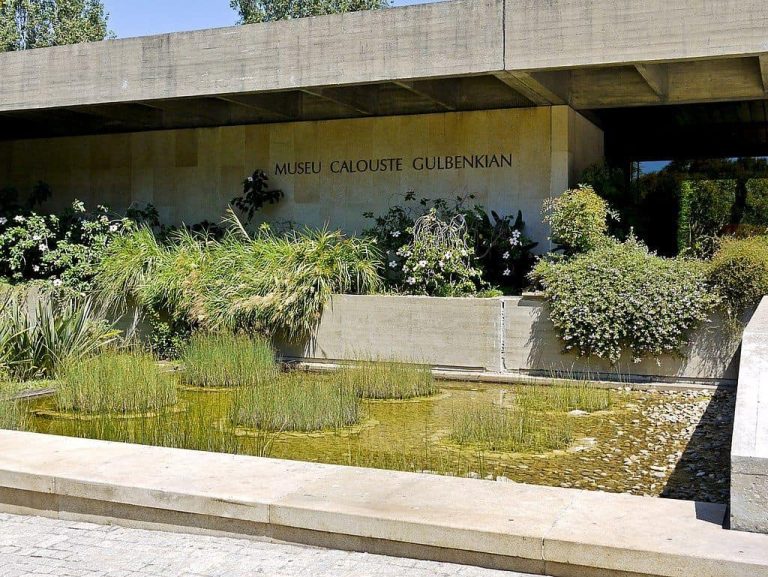 7. Open Air Concerts
One thing's for sure – Lisbon knows how to throw a party. Every weekend during the summer, there are open-air concerts and festivals at different locations around the city. Lisbon prides itself on having the most exquisite concerts and summer festivals, and that's not far from the truth.
If you are a jazz fan, you have to check out the Out Jazz Festival. For more information on concerts and other events, you can check out Lisbon's official tourism website.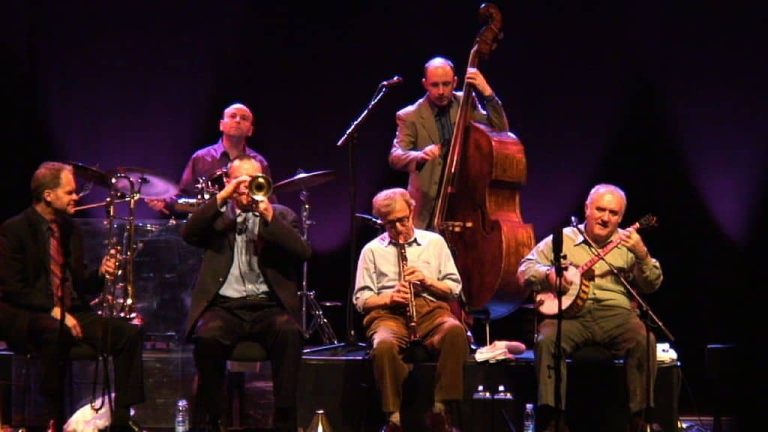 8. Sintra
Just 30 minutes away from Lisbon's center, stepping into Sintra feels like crossing into a whole another world. It is a delightful small town, situated within the hills of the Serra de Sintra and the perfect place for a day trip from Lisbon.
Sintra is full of UNESCO World Heritage sites, extravagant palaces, and lavish mansions.
The Pena Palace is Sintra's crown jewel. This colorful and flashy structure, also known as one of Portugal's "Seven Wonders," is an exceptional expression of 19th-century romanticism in Portugal.
I also recommend visiting Quinta de Regaleira, Cruz Alta, Queluz, Praia de Ursa, and the old center of Sintra.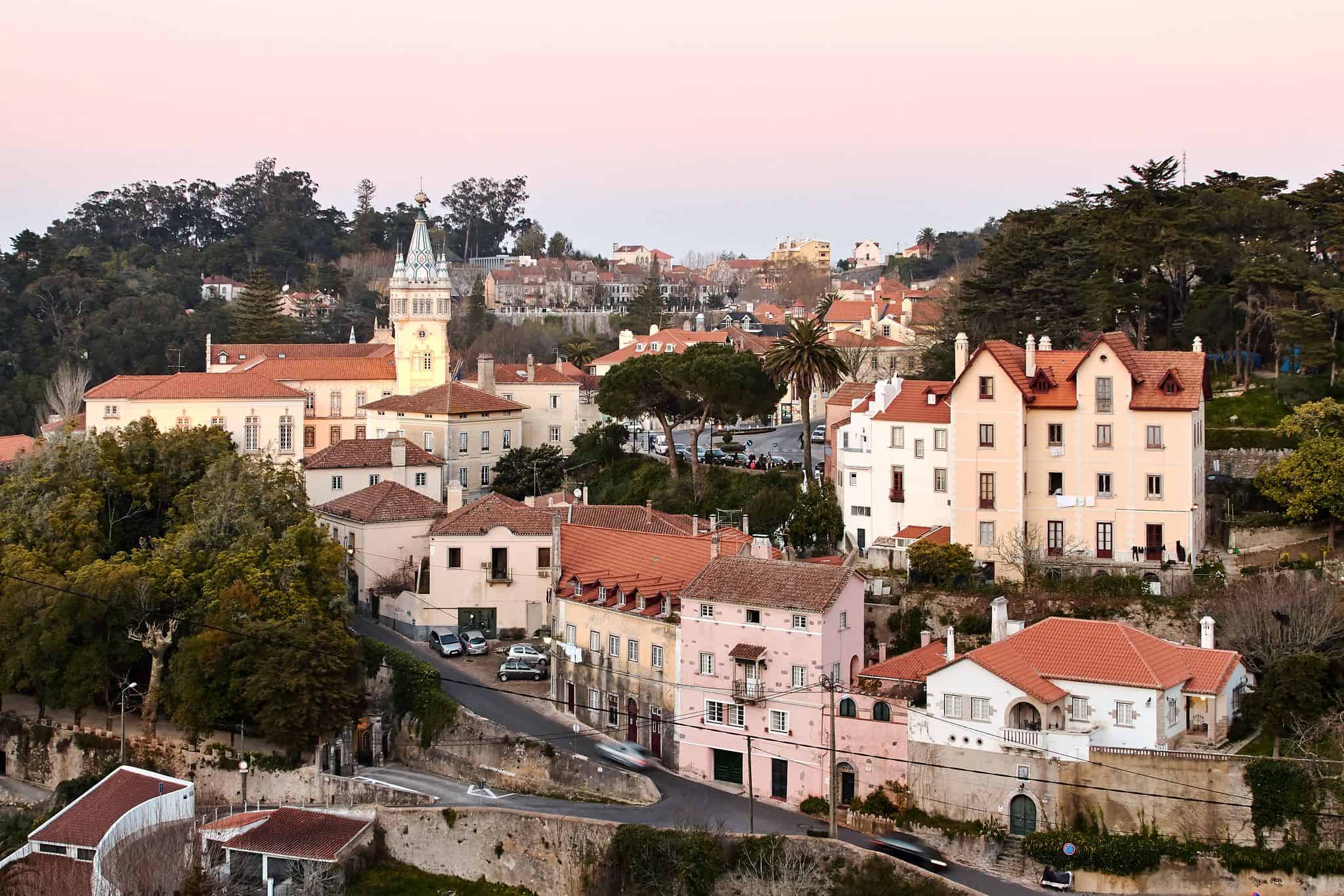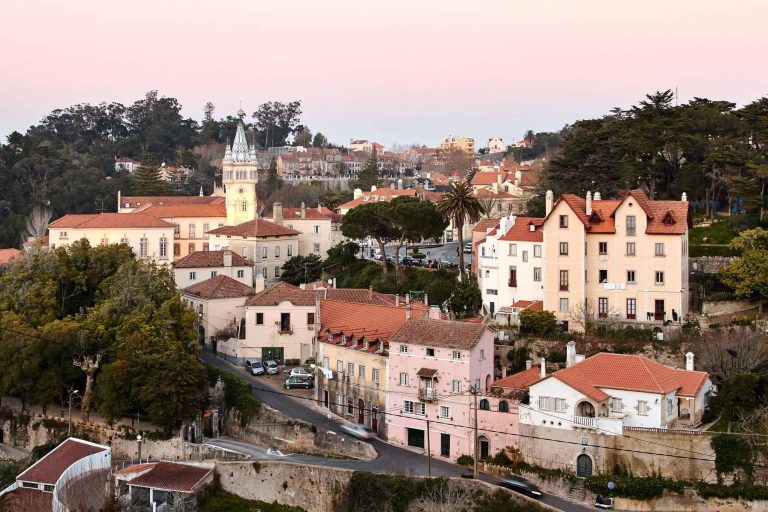 9. Cascais
Cascais is one of the closest beach towns to Lisbon and another great place for a day trip from the capital.
It is only 20 minutes west from Lisbon, and the best way to get there is by driving down the scenic Marginal de Cascais. This way, while driving, you'll be able to enjoy the incredible coastline. Another option to get there is by taking the train from Cais do Sodré Station.
Cascais is famous for its delightful city center, pastel-colored buildings, and its beautiful coastline. You can go shopping, sailing, surfing, golfing, or head to some of the restaurants along the Atlantic coast.
If you are among the many savvy travelers like us who've had the Marriott Bonvoy Card for over a year, you now have an annual free night certificate (if you just got the card, you'll get it on your account anniversary and can plan a future Portugal trip and neighbouring Spain where you can get 17 free nights as a couple).
I highly recommend using this certificate at the Ritz-Carlton Penha Longa Resort, a 5-star luxury hotel between Cascais and Sintra. The hotel is in an ancient 14th century monastery and looks wonderful, and it often costs €400 per night (C$600) but since it is only a Category 5 hotel, you can use your certificate for a completely free night.
And to think many are so adamant about not paying annual fees, which makes no sense at all mathematically when you know how to count! The $120 is more than justified the 1st year with the Welcome Bonus worth $400 to $1,000 and it is more than justified the following years with this annual free night certificate, especially if you maximize it for a night in a fantastic hotel like the Ritz-Carlton in Portugal.
This is only one of the many very easy tricks to get a lot of free travel thanks to travel hacking: sign up to our new special travel hacking newsletter, you'll be the first to get free access to our new beginner's course!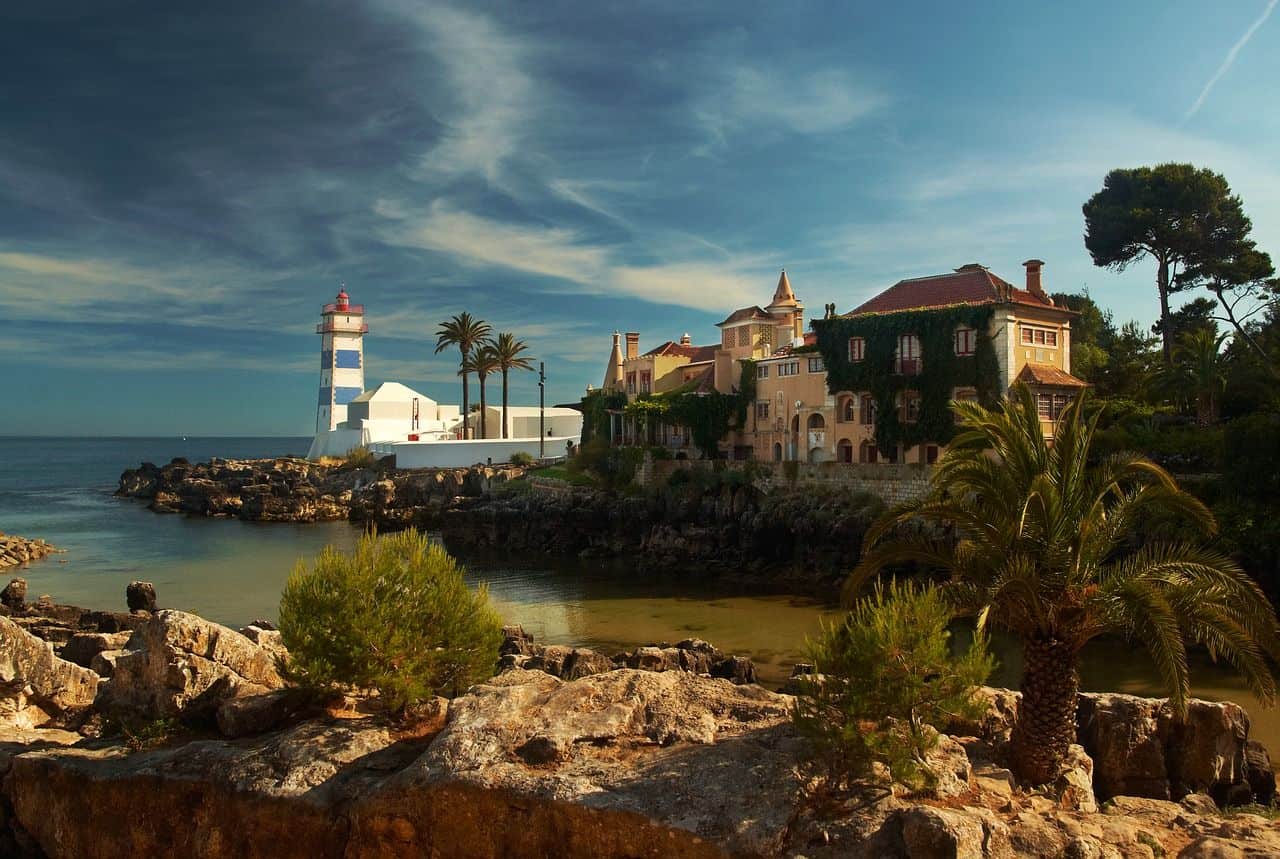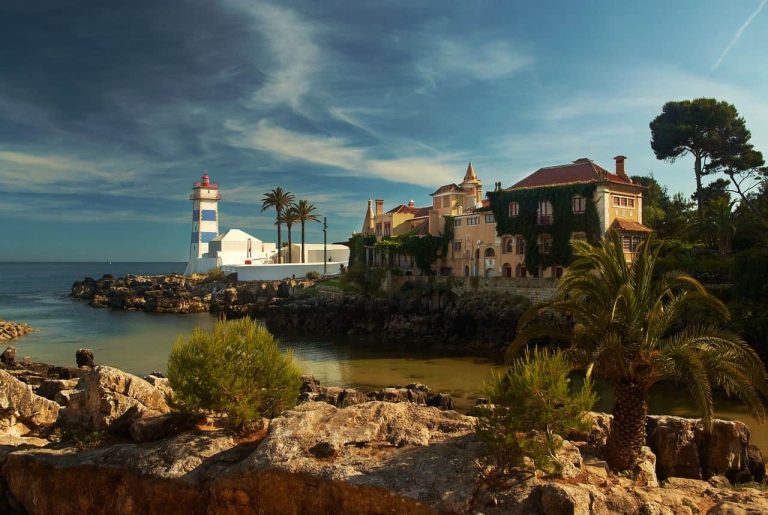 10. Cabo da Roca
Cabo da Roca, also known as the "end of the world", is the most western point of Europe's mainland.
The best thing you can do in Cabo de Roca is watch the sunset and take in the endless magnificent shades of pink and orange.
It is 40 minutes away from Lisbon, and I suggest combining it with a day trip to Sintra or Cascais.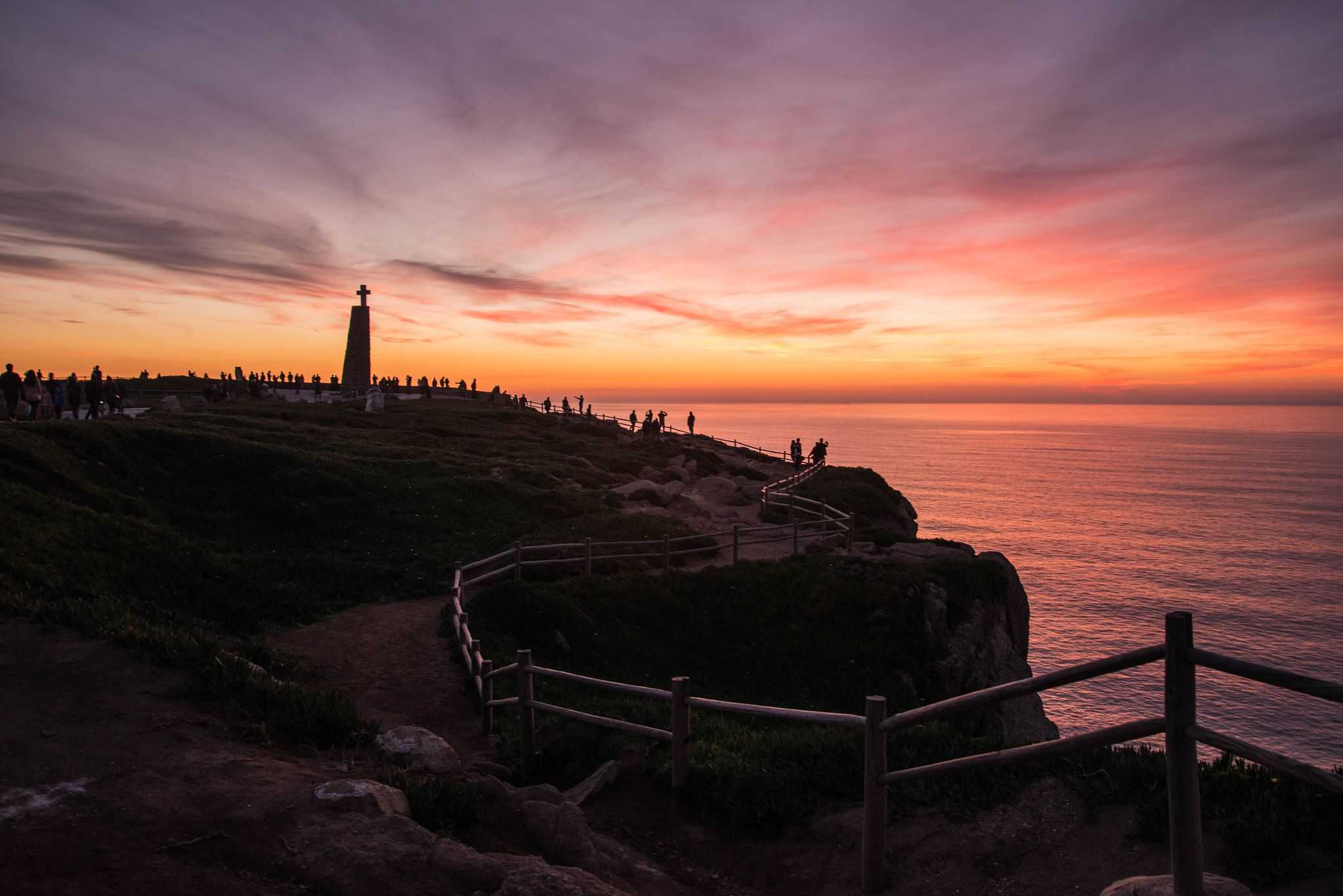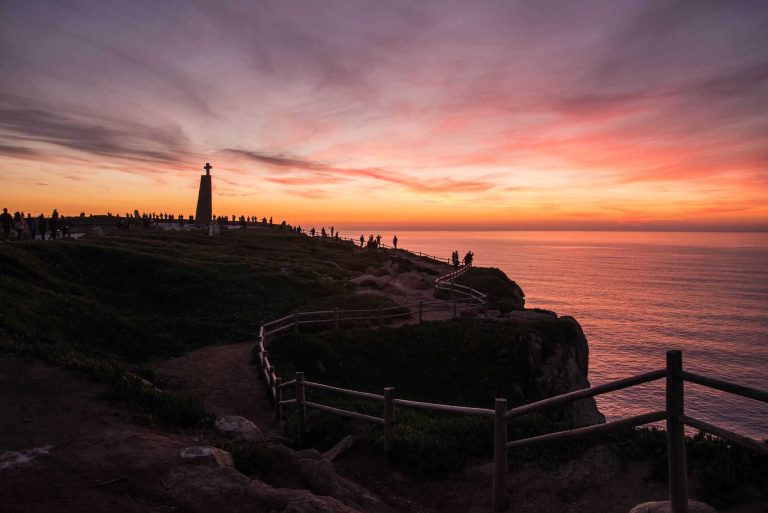 Summary
There are so many things to do in Lisbon and Portugal's capital should be at the top of everyone's travel bucket list. Is it on yours?

You can also read our guest-blogger's post about his visit to Lisbon.
If you've already visited Lisbon, what are your favorite places and activities? Share them with us in the comments below!
Help us spread the word about our flight deals and travel tips by sharing this article and most importantly bookmark Flytrippers so we can help you navigate the world of low-cost travel!
Featured image: Lisbon (photo credit: Liam McKay)
Advertiser Disclosure: Flytrippers receives a commission on links featured in this blog post. We appreciate if you use them, especially given it never costs you anything more to do so, and we thank you for supporting the site and making it possible for us to keep finding the best travel deals and content for you. In the interest of transparency, know that we will NEVER recommend a product or service we do not believe in or that we do not use ourselves, as our reputation and credibility is worth far more than any commission. This principle is an essential and non-negotiable part of all our partnerships: we will never give any third-party any control whatsoever on our content. For more information on our advertiser disclosure, click here.