If you're anything like me, you can't wait to get back on a plane and explore the world. Hopefully, this will be sooner rather than later, but while that timing is highly uncertain, one thing is for sure: aviation will definitely change. Is this new seat concept an indication of what's to come?
Our current priority is still to develop more content on how to get refunds instead of travel credits for your canceled trips (we're considering launching a risk-free assistance service, you can sign up if you might be interested).
But soon we'll also cover a lot more about the longer-term impacts of the coronavirus for travelers, and of course, we'll keep posting content about great destinations to help you travel virtually during this forced break.
So let's take a look at these new seat concepts for air travel in a post-coronavirus world.
The Janus Seat Concept
Thousands of Canadians are still flying every day, as we told you about a week ago (the next part of that series is coming soon).
And while it's easy now for airlines to keep passengers physically apart since planes are almost empty, once borders re-open, there will obviously be a lot more people traveling.
One thing we've heard is that airlines will look into blocking out all middle seats (which means a massive loss of capacity and higher airfares).
But this seat concept aims to find a longer-term solution.
It's crazy how things change quickly… just weeks ago, new seat concepts were all to try and cram more people into planes, and the airline industry had a hard time keeping up with growth rates!
This very company, Avio Interiors, is the one whose new seat concepts were widely-mocked when we shared their launch.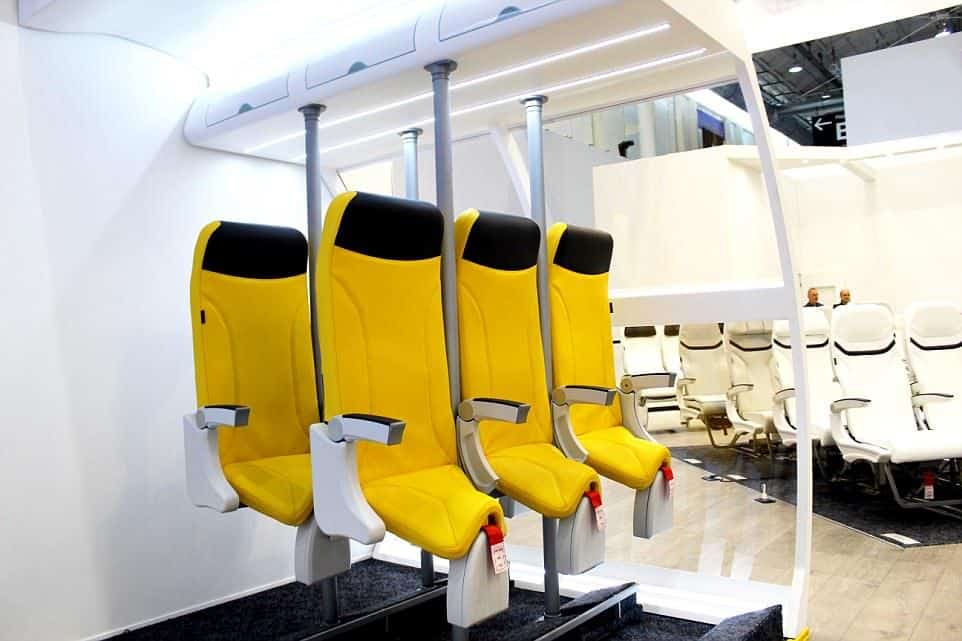 No airline ordered those seats, not even Ultra Low-Cost Carriers (ULCCs).
Will their new seat model for post-coronavirus air travel be more popular?
The new Avio Interiors' Janus concept has middle seats facing the back of the plane, and there are glass panels around each seat in an S-shape.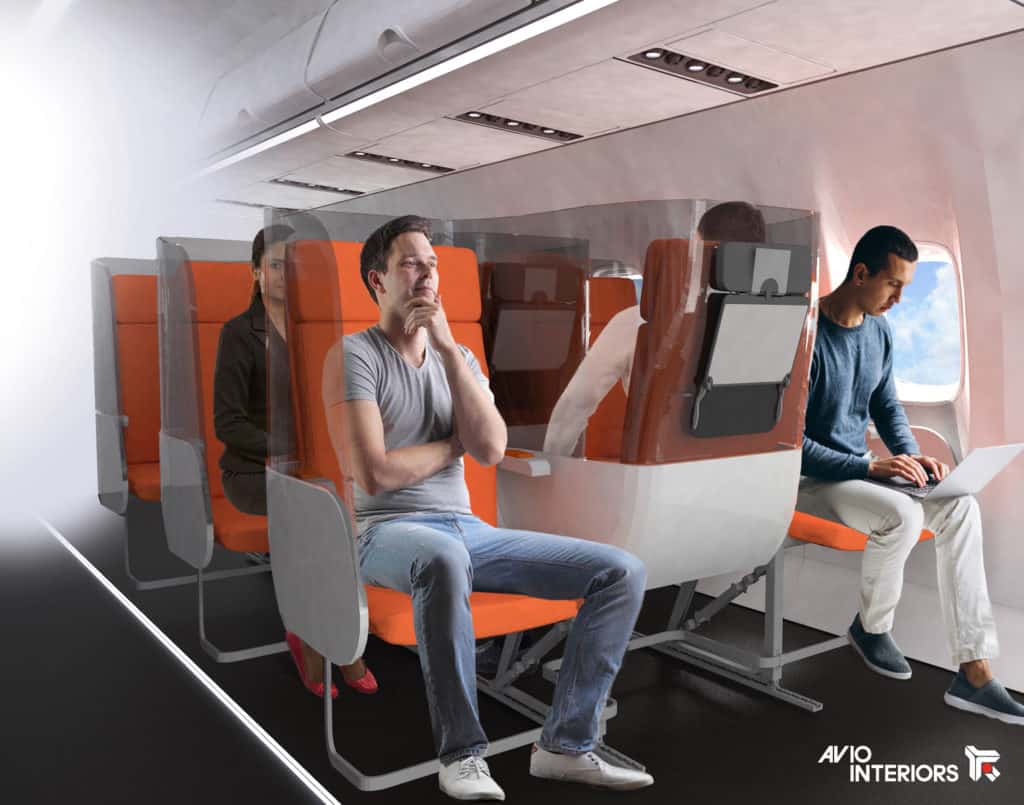 This view from above shows the concept very well.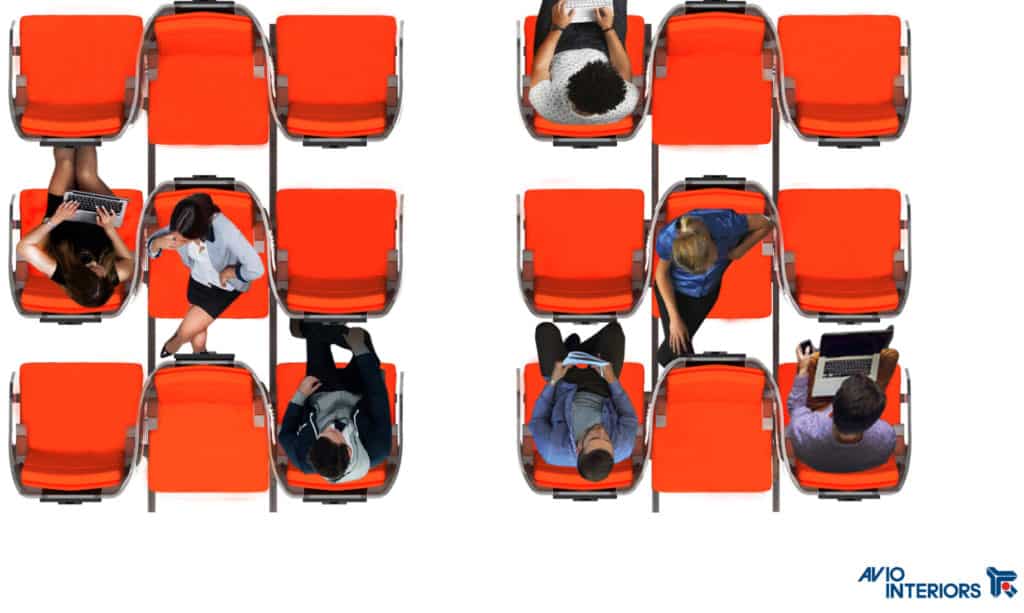 For mythology fans, the Janus name comes from the Roman god of beginnings, transitions, duality, and endings. He is always depicted as having two faces: one towards the past, and the other towards the future. That's why the month of January is named after him, and you can surely see the link with the backward-facing seats too.
There's no proof that this would help prevent the transmission of a virus, by the way.
To be honest, this seat concept seems a bit extreme to me.
I'd be surprised if any airline installs such a radically-different seating layout. In fact, it could even seem like this seat manufacturer just likes controversial concepts to get free publicity (and it sure is working).
While there has been a lot of innovation in first class and business class seats, in economy class it is not very frequent.
The Glassafe Seat Concept
However, they also presented their Glassafe concept, which can be added to any seat without the need to alter the cabin entirely.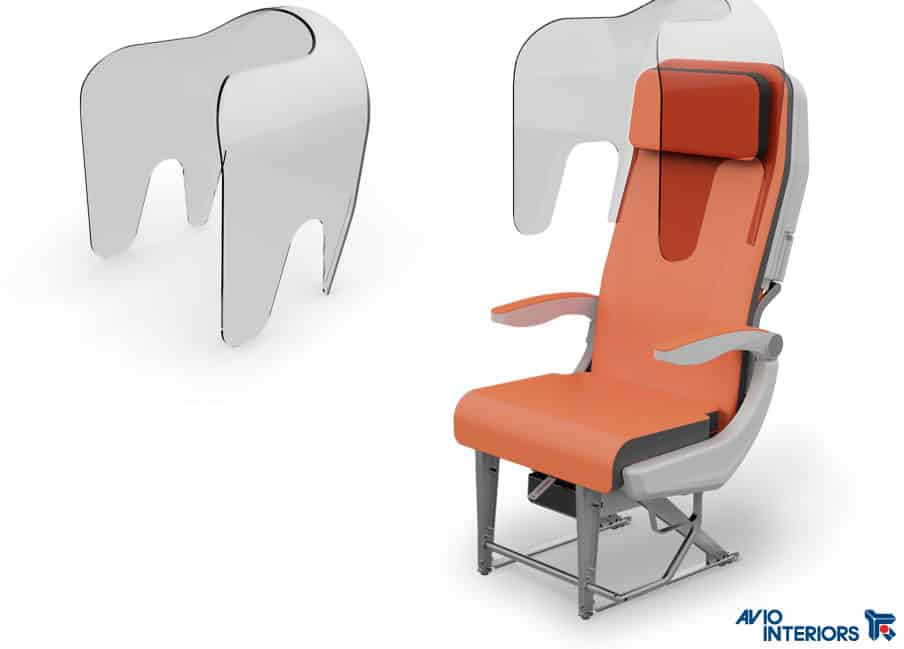 It's not unlike what we've seen being installed in grocery stores, to have a barrier between customers and cashiers.
READ ALSO: 3 best cards in Canada to maximize travel rewards on groceries
Here's a view of what a regular plane cabin would look like with the Glassafe product.
This seems like a more realistic option, but I'd still rate it as unlikely for now at least.
And finally, a view from above.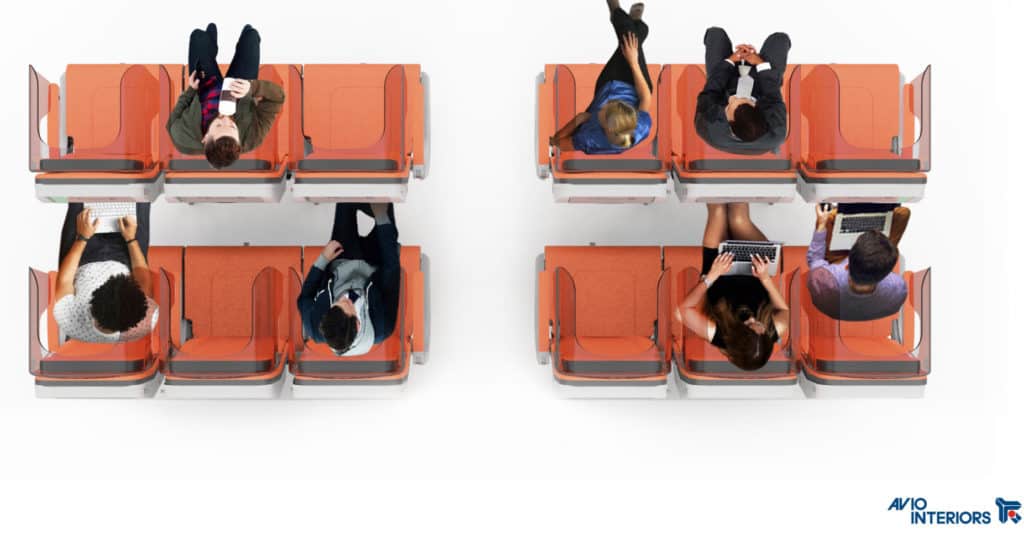 What do you think? Will an airline go ahead with glass dividers? Would you prefer to fly with these installed?
Do you want to receive all of our content on the impact of the coronavirus on Canadian travelers?
Summary
Avio Interiors has once again released an innovative seat concept, this time to have a glass divider between passengers. It could be added to existing seats or in its more radical version, it could be a completely different cabin layout with middle seats facing backward.
What are your thoughts on these seat concepts? Tell us in the comments below.
Help us spread the word about our flight deals and travel tips by sharing this article and most importantly bookmark Flytrippers so we can help you navigate the world of low-cost travel!
Cover image: new seat concept (photo credit: Avio Interiors)

Advertiser Disclosure: Flytrippers receives a commission on links featured in this blog post. We appreciate if you use them, especially given it never costs you anything more to do so, and we thank you for supporting the site and making it possible for us to keep finding the best travel deals and content for you. In the interest of transparency, know that we will NEVER recommend a product or service we do not believe in or that we do not use ourselves, as our reputation and credibility is worth far more than any commission. This principle is an essential and non-negotiable part of all our partnerships: we will never give any third-party any control whatsoever on our content. For more information on our advertiser disclosure, click here.
Share this post to help us help more people travel more for less: