Today I'm sharing a pretty basic tip that just saved me $111 very easily, and saved my travel buddies several hundred dollars on my July trip to India: always double-check the prices of your booked hotels, and often. So simple, yet so overlooked.
This is another of the (very) many examples of travel tips that are so simple but that many travelers unfortunately don't even know exist!
I recently shared with you a teaser of the 31 tips to save money on plane tickets, and I'll be doing a similar one for accommodation very soon, but I want to tell you about this tip right away.
Here are the details.
Overview of the hotel price rechecking tip
I had shared this tip in the roundup article with 23 basic tips too many people don't know, but since I've once again just applied it concretely and it so easily saved me enough cash to pay all my travel expenses for 4 full days, I'll give you more details.
Here are the basics:
Most hotels are fully refundable

Up to a certain deadline (e.g. up to 1 day before)
It's not like flights (which almost always have change fees)

Hotel prices often vary

Not as much as flights, but still

Always double-check the prices of your booked hotels

This will often save you money
But not always, of course (like all tips)
Sometimes prices go up too
Just double-check as often as possible

So always book a refundable hotel early

So you always have a risk-free backup

Cancel and rebook if the price drops

Or if you simply find a better option
Or if you change your destination completely

In my case in July, I saved $111 easily

My travel buddies saved even more
My concrete example from Delhi in July
I landed in Delhi (DEL) for my first time in South Asia after visiting the other 4 regions of Asia.
(As I shared with you last month, I splurged for a 12-hour flight in the best business class in the world — a $3856 flight that I paid $161 for. But it was just that flight and the rest of the way was in economy class like usual!)
I was invited to be part of the Canadian delegation to the G20 Young Entrepreneur Alliance (G20 YEA) Summit and I stayed afterwards too (it's really because it's a good reason, if not I wouldn't break my sacred rule of avoiding travel in July/August).
I'll share some very very interesting stuff about the hotels on this trip below, including possibly my best redemption of Marriott points ever!
But here's the example of the hotel price rechecking tip.
My initial hotel reservation for the convention portion was made several weeks before.
I don't normally book my hotels in advance, but since the convention is taking place in the hotel across the street (at a very specific location) and on very specific dates, I don't have any flexibility. Having flexibility is THE most important thing to save money, it's such a simple concept (and it's still simple for everyone to be flexible on just about every aspect too, everything except dates essentially).
I stayed at one of Delhi's most luxurious hotels, and it was great. It's the ITC Maurya, a Luxury Collection Hotel, Delhi. The Luxury Collection brand is among the most upscale of Marriott's 30+ hotel brands.
The hotel had cost me 66,292 INR taxes included from the 11th to the 16th, or C$1065.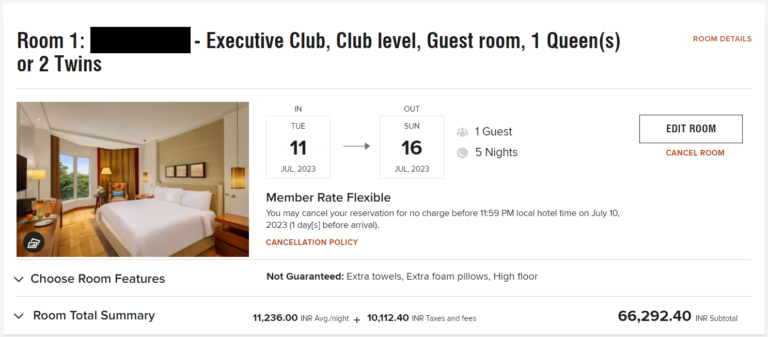 I don't normally book such expensive hotels (it's even more expensive when you compare it to the options at literally $9 a night in Delhi 😂), but I am entitled to an amount to reimburse my accommodation as a member of the delegation, so I might as well earn lots of Marriott points!
Once I've booked a hotel, I always double-check all my hotel reservations regularly!
Prices change often! Both my reservations with cash and my more common reservations with Marriott points, because the price mechanism with points is now more variable and can change!
So when I last checked, a few days before the deadline for a free refund, it had gone down!
The same dates were 59,389 INR including taxes, or C$954 (it's exactly the same dates, the same room type, and the same conditions)!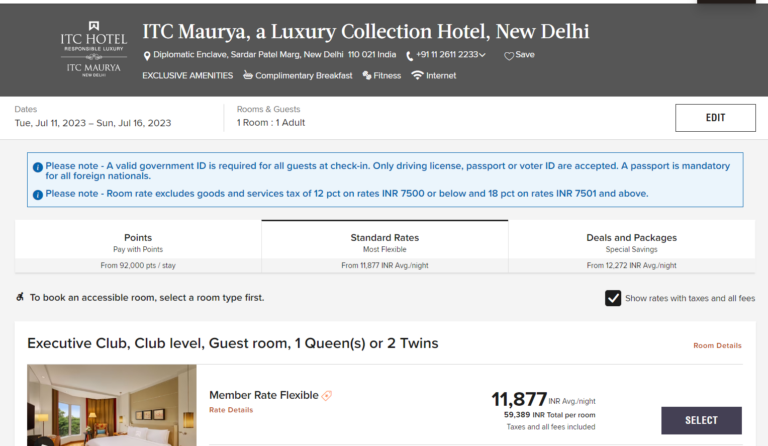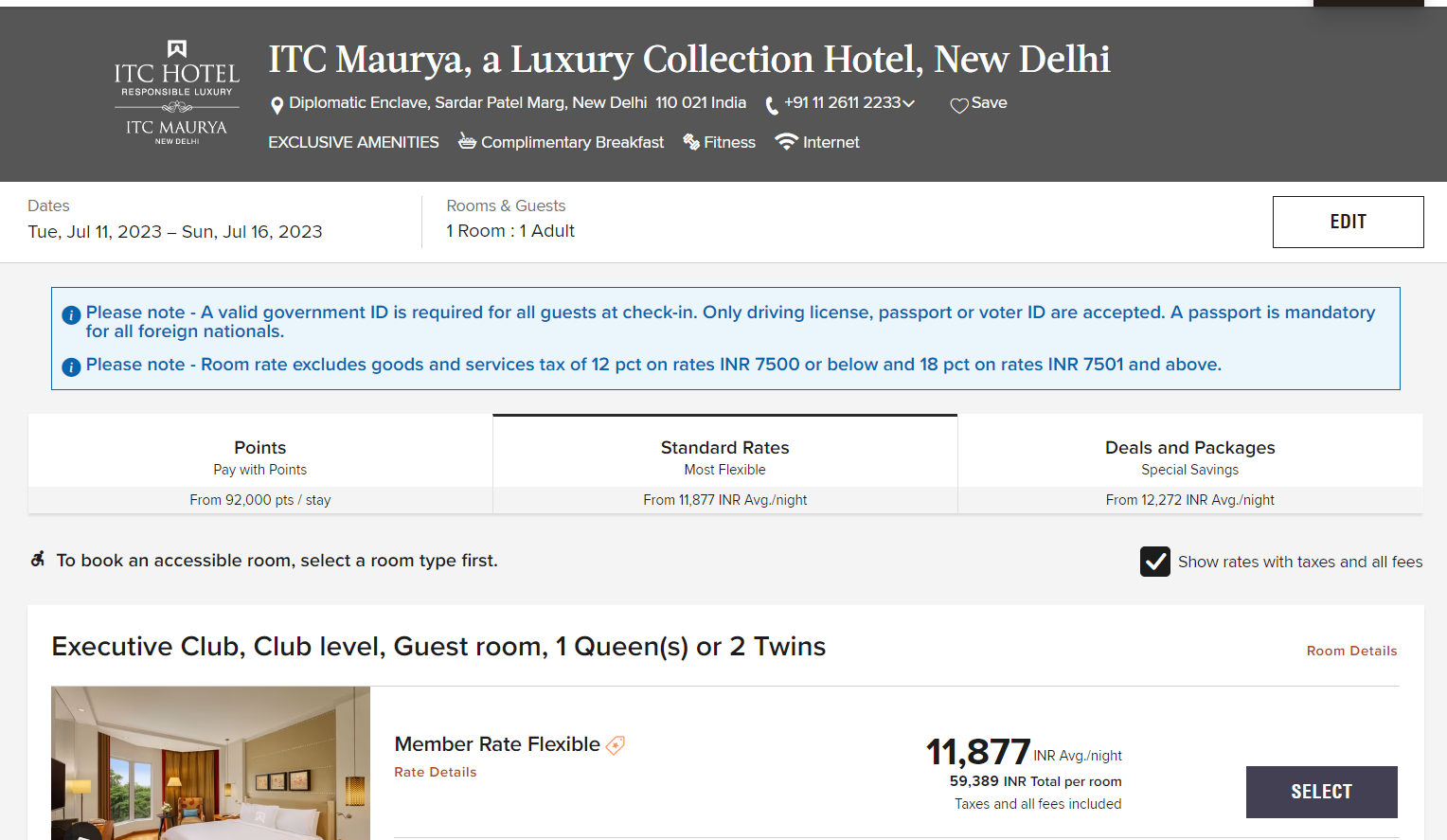 So I saved $111 very very easily.
It's only taken me 5 minutes in total! And $111 is literally the total cost for 4 full days of travel in India (it's a very affordable country). More than 4 days in fact, given that almost all my other hotel nights are free with my Marriott points and the budget of $30/day in India for budget-travelers obviously includes accommodation (that's what an affordable country is, as I said in the 23 tips).
Concretely, I made a new reservation first (before canceling the other one, in case it didn't work for some reason) and then canceled the old reservation. Simple as that.
I then shared the tip with my colleagues in the delegation who were staying in this hotel because they want to earn Marriott points.
(Most of them preferred the convention hotel directly, which isn't part of a chain and doesn't give rewards except the easy 10% that the Hotels.com Rewards program gives for all hotels regardless of chain; updated article to come on this excellent tip!)
One said I saved him hundreds of dollars.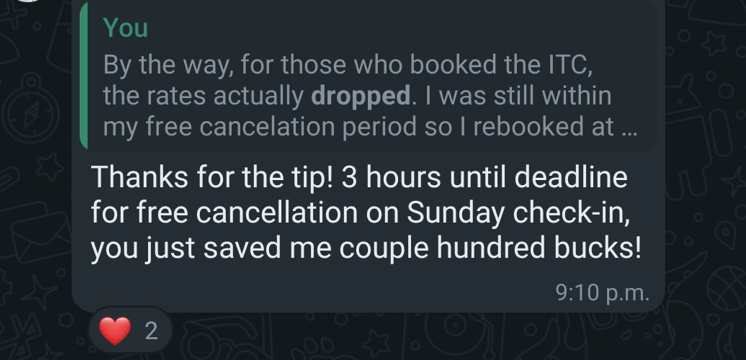 And another wanted to buy me a beer (I declined as I'm happy to help travelers for free, as you know very well).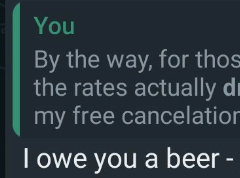 In short, very very simple and something to do for all your hotel bookings!
While it obviously won't work every time (like literally all travel tips), it does take 2 minutes to try and see if it works. And the more often you check, the more likely it is that the price has gone down.
It also works for rental cars, by the way, which are almost always fully refundable. In fact, prices drop even more often with rental cars. We've got lots of tips on this subject coming up after the accommodation guide.
Preview of the hotels on my trip to India
Completely different topic: I wanted to share a teaser of my trip, with some interesting tidbits on the hotels for the 6 parts of my trip.
Because many people ask us for more content about our own trips, and because many savvy travelers are interested in the Marriott Bonvoy program. By the way, India is a great place to get lots of free nights with points.
Part 1 (Middle East): Luxury at very low prices
First, I took the opportunity to spend a few days in the Middle East after my 12-hour flight in the world's best business class.
One of the simplest and most important tips to save money on flights is to use the self-transfer tip (separate tickets). And it's a real win-win: I saved money AND got to visit an extra destination (which I love to do, since discovering destinations is literally the definition of travel).
I tried 2 Marriott hotels. The first was the Le Méridien City Center, Doha, a 5-star hotel in the downtown area of Qatar's capital (just 12,400 points per night or 9,920 per night if you stay 5 nights).
For context, the welcome bonus you get from the Marriott Bonvoy Amex Card (and for those who already have it, the welcome bonus from the Marriott Bonvoy Business Amex Card because it doesn't require you to have a business) gives you a minimum of 53,000 points!
So if you're not interested in getting around 8 free nights in certain destinations (like Bali), there are plenty of other destinations like that where you still get around 5 free nights with just 1 welcome bonus! Amazing.
And I also briefly tried the Aloft Abu Dhabi hotel for C$77 including taxes (when it's that cheap, it's not a good deal with points, it's the basic thing with this type of more valuable rewards). There were cheaper hotels, but I have to do my nights to requalify as a Titanium Elite member with Marriott Bonvoy.
If you've ever traveled to the Middle East (or anywhere other than the Western world, really), you know that the standards of hospitality are incredibly higher.
So those were excellent stays, as they often are for me thanks to my Titanium Elite status. It gives me great VIP treatment and upgraded rooms, among many other benefits.
Part 2 (Delhi airport): A little variety
I spent 1 night at the Aloft New Delhi Aerocity to give you a review of at least 1 other hotel in the Indian capital (and one that's more affordable than the ultimate luxury I experienced next).
The Aloft brand is one of my favorites from Marriott. It's one of the brands that is young and hip and is among the most affordable in the midscale segment.
I've been told by people who know Delhi well that the Aerocity area at the airport is one of the most popular spots surprisingly, which is a bit strange given that it's near the airport. But it really was nice, and it was great to see another neighborhood.
After a few busy days of travel and sightseeing, it's handy to be straight at the airport and get some quick work done in my room before my congress.
Part 3 (Convention in Delhi): Ultimate luxury
Next up, the ITC Maurya, a Luxury Collection Hotel, Delhi mentioned in the great tip in the section above is extremely luxurious.
It's the hotel of choice for heads of state visiting Delhi. Its restaurant is rated among the 50 best in the world. It's the first hotel in the world to achieve LEED Platinum certification. Etc.
I can't wait to show you this in a full review here, if you missed it in the stories on my personal Instagram account.
I decided to do 7 nights instead of 5 at the ITC Maurya, a Luxury Collection Hotel, Delhi after all, so the whole duration of the summit I was attending.
At first I wanted to do just 5 nights there and stay 2 more nights at the Aloft New Delhi Aerocity to save money (Ubers are very affordable in Delhi to get around).
But if you've ever been to a convention or conference, you know how convenient it is to stay directly where it's being held (and I'm getting a reimbursement for the hotel anyway, so it's a good time to stop being the cheap traveler I always am).
I've also earned over 23,000 Marriott points with this stay, enough for 3 completely free nights in Bali (or a few other places that are good for maximizing the number of nights with Marriott points)!
Not bad, 3 free nights earned on a stay of just 7 nights!
(And to think that some people don't take 2 minutes to set up a free account and earn the points… it's normal to think it's not worth it when you've just experienced the terrible retail rewards programs, but in the world of travel, it's something else entirely and it's definitely worth it!)
It's that the 7 nights cost me $1307 (I'll get almost fully refunded too) and I personally always earn at least 18 points per $C at Marriott (≈ 16% discount):
(You would earn a still-great 13 points per $C with the Marriott Bonvoy Amex Card, which gives you automatic Silver Elite status and therefore 1 bonus point per $US instead of my 7.5 bonus points!)
Fun fact: as one of Marriott's most luxurious brands, I don't stay in Luxury Collection hotels that often and the 3 I've tried in the last 5 years… have all left the Marriott chain. I seem to jinx this brand, I hope the ITC Maurya, a Luxury Collection Hotel, Delhi doesn't do the same.
But it's normal for there to be more turnover in this brand: it's what we call a soft brand, or a collection. It's not a standardized chain. These are local independent hotels that decide to join collections like this, to offer the best of 2 worlds: a unique hotel AND the benefits of rewards programs. I love soft brands like this (Marriott has 3 others; the Autograph Collection, the Tribute Portfolio and Design Hotels).
Part 4 (Jaipur): Completing the Golden Triangle
After the formal part of the summit, our Indian hosts invited us to a special visit of a few days in certain cities.
I've chosen Jaipur, to complete the classic Golden Triangle of northern India (along with Delhi and Agra, where we went to see the Taj Mahal with the full delegation just before the convention).
I hesitated between the Fairfield by Marriott Jaipur and the Four Points by Sheraton Jaipur, City Square. The 2 are similarly priced but one is downtown and the other is closer to the hotel where everyone in the group is staying.
I had made a reservation for both… it's fully refundable of course as I said in the tip above. I just canceled the one that I didn't need as a result of my decision.
Part 5 (Awesome destination): Best redemption of Marriott points ever
Finally, to conclude the India part of my trip, I went to another awesome and unique region.
More importantly, I got one of the best Marriott hotel deals ever, at least in terms of value.
(And I get a lot of them: the last full normal travel year pre-pandemic, in 2019, I got 53 free hotel nights with my Marriott points, for example!)
It's pretty much one of the best deals you can get (excluding excessively expensive hotels worth thousands of dollars, which are obviously the best in terms of monetary value with points… but give you very few nights).
The more valuable type of rewards that have unlimited value (like most airline and hotel points) always give you this choice if you want to maximize them:
Get more free travel
Get more savings in dollars
For hotels, it's the same as for flights, as you saw with my business class flight. I obviously saved a lot more money that way, but I only had 1 flight when I would have had 2 in economy.
I almost always choose more nights because I want to travel more, but this deal was too good to pass up, for a hotel that was too luxurious and too well located in a destination I wanted to visit.
Anyway, I'm not going to tell you the name of the hotel that has this great deal right now, because I'm preparing an article just on that.
All I'll say is that it was awesome.
I paid 60,000 points for 5 nights worth $2925 (yes, $585 a night… in India). A value of 4.9¢ per point!!!! Incredible!
That means with the 53,000 points from the Marriott Bonvoy Amex Card (or Marriott Bonvoy Business Amex Card) welcome bonus, you'd have $2,500 in value! Crazy. With just one card!
If you want, you can plan a trip around this deal at this brand-new hotel in India that I'm going to introduce to you soon… or you can get 8 hotel nights in Bali. It gives you the choice of having more nights or saving more money.
You don't have to decide right away, there's obviously no time limit for using the points (as with 95% of cards) and it's completely flexible.
What's more pressing is to apply for the Marriott Bonvoy Amex Card (or the Marriott Bonvoy Business Amex Card) because the more you waste your spending on old cards (instead of on minimum spend requirements to unlock welcome bonuses), the more money you're throwing away.
It's also the ONLY card we recommend to ALL travellers, without exception! Literally the only one! And the only one everyone should keep too, because it comes with an annual certificate for a free night that's worth ≈ $315 every year after!
I'll tell you all about the hotel in question soon. In the meantime, if you want a hint, when I went to a convention in Ottawa 2 weeks before my trip, someone told me that it was the "whitest" destination possible in India (she said she had the right to say that because she's Indian). I thought that was funny (although it did make me second guess my choice)!
Part 6 (Sri Lanka?): Another new country
Before coming back to Canada, I had about 5 days left. I don't think I've ever hesitated so much in my choice of itinerary, seriously.
I haven't traveled much this year to work on the site, so I wanted to discover at least 1 new country to break the 70-country barrier. I almost ended up going to all of India's neighboring countries (and I even almost stayed longer in India too).
At first I was very determined to go to Nepal (the Fairfield by Marriott Kathmandu is so well located right in the Thamel district, where everything happens in Kathmandu, and it doesn't cost many points). But it's the rainy season and it probably looks too much like northern India, where I'll have spent almost 3 weeks (another hint for my secret Marriott hotel) and I want variety.
Then I thought about going to Bangladesh, because I thought it was the kind of country where 5 days would be enough and I wouldn't need to go back. But what a mistake! The more I researched and read, the more it made me want to go for longer in this other ultra-affordable, little-visited country (the 8th most populous in the world, no less). But no cheap Marriott hotels with cash or points.
I looked at the Maldives, to use my Marriott free night certificates in very luxurious hotels, but flights were very expensive for my dates because it's peak summer.
I looked at Pakistan, but the political situation between India and its neighbor means that there are no direct flights between the countries, and I would have had to go back via the Middle East (which would have been expensive).
Finally, I decided to go to Sri Lanka because Flytrippers' other co-founder said it was one of his favorite countries in the world. It's also different from northern India to give me a bit of variety.
The flight was relatively affordable and it's excessively affordable once you're there too. It's just that I felt like 5 days was very short for this amazing country and I knew I'd have to go back, but well, that was the case for all the other countries nearby so it was irrelevant because of that.
I booked my Colombo-Montreal return flight with Avios points too (it was just a US$25 penalty if I wanted to change my mind, giving me that flexibility). Thanks to an Avios-specific tip I'll share in the trip report later.
Want to get more content to learn how to earn free travel?
Summary
Always double-check your hotel reservations, as often as possible. If the price has dropped (as it sometimes does), rebook at the lower price and cancel the original refundable reservation to save money. Such a simple and little-known tip.
What would you like to know about this hotel tip? Tell us in the comments below.
See the deals we spot: Cheap flights
Explore awesome destinations: Travel inspiration
Learn pro tricks: Travel tips
Discover free travel: Travel rewards
Featured image: My hotel in Delhi (photo credit: ITC Maurya, a Luxury Collection Hotel, Delhi)
Share this post to help us help more people travel more for less: