You may be familiar with the main details on your boarding pass: your name, seat number, departure and destination. But there's also a 3-letter acronym that goes with the destination and departure city: the all-important 3-letter airport code. Ever wondered where it comes from?

Our funny image about the new airport codes you need to learn during the coronavirus crisis was pretty popular. So it's a great time to learn more about the topic.
Even if you are an experienced traveler, you might not know much about these 3-letter geocodes, but they are vital in the world of air travel. Airport codes refer to a particular airport and whether it's a big or a small one, almost all commercial airports have a code assigned to them.
And it's quite interesting, even for those who aren't Aviation Geeks like me, if you are intellectually curious in general. Many airport codes' origins are straightforward, but others have interesting explanations that I find fun to discover myself.
Here are the details (Edit: for those who want the pillow pictured, it's available here).
Airport Code Basics
The 3-letter code is the location identifier that is attributed by the International Air Transport Association (IATA), which is based in Canada by the way.
The code is always unique to each airport. They are important to quickly distinguish specific airports instead of having unstandardized long-form identifiers, which is especially useful when a city has multiple different airports, which is the case in most major cities.
For example, flying to "New York City" would be too vague, and having to specify flying to "New York City – LaGuardia" each time would be unpractical. Also, many cities around the world share the same name, not to mention even within the same country. In the US, flying to "Portland" could mean Oregon's largest city or Maine's largest city… having to specify flying to "Portland, Oregon" each time is also unpractical.
That's why airport codes are so useful. They always have 3 letters and there's no ambiguity (if you know what they are).
For those interested in the origin of airport codes, in the 1930s, airports in the US would use the 2-letter city codes from the National Weather Service (NWS). However, as air travel became more popular, there was an increasing number of airports, including in cities with no NWS code, so 3-letter codes were introduced. After the 1960s, the IATA took steps to add a standardized process to prevent any confusion.
8 Ways Airports Codes Are Chosen
There are a couple of explanations for how airports ended up with their 3-letter codes. As I said, some are very logical, but there are a couple of much harder ones. Some codes also use a combination of different practices from these 8.
In the next article about codes (sign up for free), I'll talk specifically about Canadian airport codes (well, more than I will in #8 below) and share a useful tool to know more about any airport code. I personally love this, and the reason I know pretty much every major airport code in the world is that when I see one I don't recognize, I use that tool instead of Googling it like I would for any question I ever ask myself.
1. City name directly
Often, cities choose codes based on the first three letters of their name, for example, AMS for Amsterdam, SYD for Sydney, and MEX for Mexico City. Those are the easiest.
2. City name abbreviation
The airport code can also reflect a combination of letters that make it relatively obvious that the code refers to the city, like HKG for Hong Kong, JNB for Johannesburg, or SFO for San Francisco. Pretty straightforward as well.

3. Airport name
The first two seem logical, right? But what about when there is more than one airport in a city?
In that case, the code sometimes reflects other identifiers such as the name of the airport itself, like in New York City, where JFK stands for the John F. Kennedy Airport and LGA for LaGuardia. Of course, some codes come from the airport name instead of the city name, even if the city doesn't have multiple airports.
And in some cities with multiple airports, the older one kept the most obvious code, while the newer one gets one based on the airport name. This is the case for HOU and IAH, Houston Airport and the newer Houston Intercontinental Airport (with the order of letters reversed).

In other cases, the most obvious code moves to the newer airport when it opens, like in Istanbul. And also, sometimes when there is a clearly bigger/more important airport, it gets the most obvious code, like IST for Istanbul, while the secondary airport gets another code, like SAW for Istanbul-Sabiha Gökçen Airport.

Where does the W come from in that example? Welcome to "filler letters."
4. Filler letters
Many airports around the world use filler letters to complete their 3-letter code, for a variety of reasons. A great example is LAX. Since airport codes used to have only 2 letters, the airport in Los Angeles was LA. When the 3-letter code was implemented, it was simpler to add the filler letter X at the end.
Another great example: DUB was taken by Dublin in Ireland (based on method #1), so Dubai opted for DXB with that same "X" filler letter, one of the most popular ones. The beautiful Croatian city of Dubrovnik had the same problem and they chose DBV for a logical abbreviation of the city's name (based on method #2).
5. Historical names
Some codes have just stuck around from old names a long time ago. This is one that explains many codes that seem random at first glance. Those with less knowledge of a country's history can then have a hard time understanding the origin.
For example, the city of Mumbai in India used to be called Bombay. That's why its airport code is still BOM, which has nothing to do with the word Mumbai. Guangzhou in China has the CAN code since the city used to be called Canton. Same thing in Russia for Saint Petersburg and its LED code; the city was once called Leningrad.
Just like some codes come from the airport name (#3) and not the city name (#1 & 2), there are also codes that come from historical airport names instead of historical city names. Those are almost impossible to decipher, unlike the ones from historical city names… they are among the hardest codes.
One of the busiest airports in the world is Chicago O'Hare, whose ORD code has nothing to do with those names: the airport used to be called Orchard Field, and that's where the code comes from. Another very busy airport, in Orlando, carries the MCO code because it used to be McCoy Air Force Base. Finally, New Orleans' code is MSY because it was once the Moisant Stock Yards.
6. Airport location names
Some codes come from the name of the suburb or municipality where an airport is located, instead of from the name of the city it serves. I already told you how I feel about imaginary lines in "cities," so you can guess how stupid I think these codes are (except maybe in the case of multiple airports).
The codes for Tokyo's two main airports, HND and NRT, come from the names of the cities where they were built, Haneda and Narita. It can also be a combination of city and suburb names, like LHR for London-Heathrow Airport.
But Bucharest's only airport carries the OTP code, which stands for Otopeni, the tiny city where the airport is located. Another example is CVG, which is Cincinnati's airport code because it is located in the municipality of Covington.
7. Multiple cities
Some airports serve multiple cities and have simply chosen to have a code that reflects that.
For example, MSP for Minneapolis-Saint Paul Airport, DFW for Dallas-Fort Worth Airport, or LBA for Leeds-Bradford Airport. Some are named for entire regions, like RSW in Fort Myers, Florida, for Southwest Florida Regional (order reversed).
8. Others & Exceptions
Those 7 practices explain a vast majority of airport codes around the world.
But then there's Canada, where there is just no rational explanation for codes. Most of the airport codes in Canada start with the same letter: Y. No other country in the world owns an entire letter of the alphabet in terms of airport codes. And if a country should own an entire letter (and therefore nearly 4% of the airport codes), it shouldn't be Canada, with all of 0.48% of the world population.
But why? Well, it goes back to the 1930s when some of the codes were used for weather reporting stations or radio transmitters. As mentioned above, codes used to be 2 letters, so Vancouver was VR.
The letter Y was added as a filler letter in front of each, so in a way all of Canada uses the filler letter method. But some sources say it was meant to indicate "Yes," that a particular weather reporting station was also an airport, thus YVR.
At least that one is somewhat related to the city name. Most others aren't at all: YYZ for Toronto, YUL for Montreal, YYT for St. John's… way to make everything complicated, Canada. There are a few exceptions, all small airports, like ZBF in Bathurst. A few codes starting with Y aren't in Canada as well, but there aren't many of them.
On the other hand, some places actually care about their airport codes. In Malaga, Spain, because they didn't want to use MAL (which means "bad" in Spanish), they went with AGP (with a filler letter).
Speaking of language-related quirks, some codes, like NAN for Nadi, reflect the pronunciation of the city name instead of the spelling (it's pronounced Nahn-di in Fijian).
Similarly, many airports followed the easy #1 or #2 methods of choosing a code based on the city name… but used the English spelling of the name instead of the local spelling. Because English is the universal language that is the most practical for travel!
For example, it's VCE for Venice even though it's Venezia in Italian (no "C"), it's PRG for Prague even though it's Praha in Czech (no "G"), and it's VIE for Vienna even though it's Wien in German (no "V").
The USA has its own peculiarity: the US Navy reserved all codes starting with "N" so it's EWR for Newark, BNA for Nashville, or ORF for Norfolk.
The Federal Communications Commission also reserved the letters "K" and "W", so it's EYW for Key West. Internationally, the letter "Q" is often used as the first letter for radio transmissions, which is why it's code UIO for Quito in Ecuador.
A bizarre one is in Panama City, Florida. The ECP code was chosen because the area is one of the most popular Spring Break destinations for college students… where Everyone Can Party. This is not a joke. Others weren't intentionally chosen to be funny, but still make many people laugh, like FUK in Fukuoka or SUX in Sioux City.
North Carolina has a plane and the "First in Flight" motto on their license plates, but it also has 2 strange airport codes worth sharing. The airport in Kill Devil Hills has code FFA for First Flight Airport, since it is where the Wright Brothers succeeded at the first-ever flight in history. The airport is only used by private planes and is owned by the National Park Service.
And the other is the small airport in Concord, which chose code USA to be patriotic when ultra low-cost carrier Allegiant decided to start service there in 2013. It's a popular airport for many NASCAR teams based nearby and there's nothing more "MURICA!" than NASCAR.
A last USA one that is unique is MCI in Kansas City, once called Mid-Continent International Airport. There is debate as to whether the airport was named for an airline whose hub was located there (Mid-Continent Airlines), which would make it the only airport code based on an airline name, or named for Kansas City's geographic position in the middle of the continent, which is also an unusual code origin.
Finally, there is a unique exception in the world: EuroAirport Basel Mulhouse in France has 3 airport codes since it is one of the only airports in the world administered by 2 countries. MLH is the French code (Mulhouse), and BSL is the Swiss code (Basel). Then there is EAP (EuroAirport), which is the neutral code, kind of like the ones below for entire cities.
Bonus: City codes & ICAO codes
Not to confuse you, but there is one last thing you need to know about airport codes. Some codes exist to identify an entire city and all of its airports. Just to be clear, these aren't airports: it's just a code to group different airports together.
For example, when you search for flights, you can enter NYC, as this is the code for the entire New York City metropolitan area. NYC isn't an airport, and you'll never be able to buy a ticket to NYC airport, but it makes searching for more than one airport easier.
But it's no longer necessary, since most good flight search tools (like our favorites on that resource page) will search for all airports automatically if you type in "New York" and don't click on a specific airport.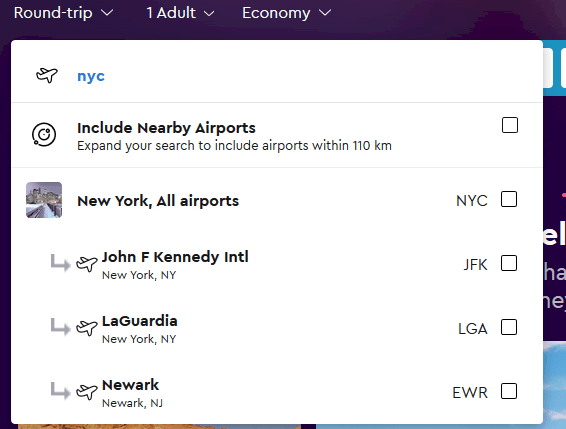 Those codes are rarely used, but at least now you know about them.
Similarly, each airport has another code, this one with 4 letters. It is the ICAO code, as opposed to the IATA code we're talking about, and that everyone uses. Again, the ICAO is almost never used, so don't worry about those at all. Those 4-letter ICAO codes are important on the technical side, but you absolutely do not need to know these as a traveler.
Why it's important to know airport codes
Many airport codes have even become synonymous with a city as a whole, as you can see from a large amount of merchandise with airport codes printed on them.
You don't necessarily need to know an airport code to buy a ticket, but as you travel more, you'll start to recognize airport codes and become more of a pro flier.

Additionally, when 2 cities have the same name, airport codes come in handy. One Dutch traveler learned this the hard way. He had booked a ticket to Sydney, Australia—or so he thought. Ultimately, he landed in Sydney, Nova Scotia, a small town that is nothing like Australia and definitely has a different vibe.
That's one reason why codes exist: choosing YQY or SYD will ensure you go to the right place. We'll soon share another article with a list of codes and cities that are often confused, in addition to those about Canadian codes and the tool where you can learn about code origins.
Want more content to become a pro flier?
In the meantime, you can read about 10 airports that stand out around the world (and that travelers should know).
Summary
Now you're more familiar with airport codes, what they mean, and how they are helpful to better plan your trips, either by comparing prices during your flight search or by ensuring that your destination is, in fact, the one you want!
Do you like informative posts like this one? Have any questions about airport codes? Let us know what you think in the comments!
Want to see our current discounted plane tickets?
Click here to see our flight deals
Want more travel tips and inspiration?
Click here to see the blog homepage
You'll probably enjoy this article:
Travel Hacking: Free Travel (really)
Help us spread the word about our flight deals and travel tips by sharing this article and, most importantly, bookmark Flytrippers so we can help you navigate the world of low-cost travel!
Featured image: Airport Codes (Photo Credit: Nick Fewings)
Advertiser Disclosure: Flytrippers receives a commission on links featured in this blog post. We appreciate it if you use them, especially given it never costs you anything more to do so, and we thank you for supporting the site and making it possible for us to keep finding the best travel deals and content for you. In the interest of transparency, know that we will NEVER recommend a product or service we do not believe in or that we do not use ourselves, as our reputation and credibility is worth far more than any commission. This principle is an essential and non-negotiable part of all our partnerships: we will never give any third-party any control whatsoever on our content. For more information on our advertiser disclosure, click here.
Share this post to help us help more people travel more for less: