Not only have the final data on the world's busiest airports in 2021 just come out, but busy airports are also all over the news. Factually, airports aren't even close to being as busy as they were before the pandemic. But the government-mandated travel restrictions in place for too long (according to us, the WHO, and anyone else who knows anything about the topic) have obviously caused labor shortages that make them more chaotic.
Traveling is like everything in life — it's all about the journey. That's why here at Flytrippers, we encourage you to enjoy every part of it, including time spent at the airport.

If you're anything like me, airports don't bother you in the least. You might actually like (or in my case, love) them.
(Of course, it sure helps when you know the pro tip to get free airport lounge access — better than free, actually; you can get ≈ $1211 in free travel on top of free lounge access!)
If you're at an airport, it means you're traveling, and traveling is amazing! A busy airport means lots of people have the chance to explore our beautiful world.
So let's explore the latest rankings of the 10 busiest airports in the world, according to 2021 data. (TL;DR — skip to the bullet-point list at the end.)
Basics of the busiest airports ranking
In 2021, the list of the world's busiest airports looks quite different. And a lot less interesting and diverse. That's because the US dominates, with the first 7 positions and 8 in total in the top 10!
(Many people liked to criticize the fact that the US had gotten over the pandemic… but despite having more hospitalizations now than pretty much at any time in 2021, Canada now almost has the same approach as the evil US had in 2021, just 1 year late…)
Anyway, we had done an article on the 10 airports that stand out around the world, unique places that travel pros should definitely know about. It's a bit more interesting than this year's ranking.
As an avid traveler who loves all parts of travel and an AvGeek (aviation geek), I was pleasantly surprised by the popularity of that post and the one explaining the 3-letter airport codes. So I decided to share with you the busiest airports in the world, too!
By the way, the busiest airports are always measured by the total passenger count. Aircraft movements (number of landings and takeoffs) are another metric that's sometimes used, but experts prefer the passenger count — and with good reason.
1. ATL: Atlanta (US)
Passenger count:
2021: 76 million (#1)

2020: 43 million (#2)

2019: 111 million

(#1)

2018: 107 million

(#1)
Biggest airline:
Why is the Atlanta airport one of the busiest?
Atlanta isn't even in the top 5 largest metropolitan areas in the US (it's at #8), and yet, it has ranked as the busiest airport in the entire world uninterrupted for over 2 decades, since 1998 in fact (2020 was the only exception).
The reason for this is Delta Air Lines: it's the largest airline in the world (by revenue) and the 2nd-largest airline in the world (by passenger count).

The airline is based in Atlanta, making this airport their biggest hub, as well as the most prominent airline hub in the world.
I've only been there once, and it's one of the best examples in the US to show that airports don't have to be boring, shallow, and dull. The US is really not known for its passenger-friendly airports.
Joe Biden, when he was vice-president at 71 years old, once said NYC's LaGuardia Airport felt like "some third-world country," which is very insulting — many so-called "third-world" countries I've been to have much better airports than LaGuardia. (At least the old LaGuardia; they've just renovated it, finally!)
Anyway, the Atlanta airport offers a pretty decor, and also has 10 permanent art exhibits.

2. DFW: Dallas/Fort Worth (US)
Passenger count:
2021: 62 million (#2)

2020: 39 million (#4)

2019: 75 million

(#10)

2018: 69 million

(#15)
Biggest airline:
Why is the Dallas/Fort Worth airport one of the busiest?
Many people know that NYC, LA, and Chicago are the US's top 3 metro areas in terms of population. But not many know that Dallas is the 4th largest (and along with the other Texas metropolis of Houston — at #5 — it's growing much faster than the rest of the top 20 metro areas).
DFW also happens to be the biggest hub for American Airlines, which is the world's largest airline (by passenger count) and the 2nd-largest airline (by revenue). AA is also headquartered in the Dallas area, like its rival Delta is in Atlanta.
DFW's position in the center of the United States makes it an ideal airport for connections from all over the country. They're considering adding a 6th terminal in the future, although the uncertain fate of Dallas' other airport (DAL) and its very unique federally regulated gate limit looms large.
I've been to DFW a few times and I can attest to the fact that it's better than many US airports, but nothing like the glitzy airports in other parts of the world. It's often ranked slightly above average among US airports.
3. DEN: Denver (US)
Passenger count:
2021: 59 million (#3)

2020: 34 million (#8)

2019: 69 million (#16)
2018: 64 million (#20)
Biggest airline:
Why is the Denver airport one of the busiest?
Denver is only the 19th largest metro area in the US, but it's the only major city in a huge radius of the Western US. That always gives a city a little more prominence than what you'd expect for its population if there was more competition around.
The airport is also a major hub for United Airlines, the other one of the "Big 3" legacy airlines in the US. Opened in 1995, it's one of the newer major airports (they closed the old airport one night, organized a convoy of 2,000+ tugs, snow removal trucks, rental cars, and the like overnight, and opened this one the next morning).
Its construction was quite a project (and a fiasco, like many government projects). It's the 2nd largest airport in the world in terms of size, and it's really huge: at 136 square kilometers, the airport takes up more space than the whole municipality of Vancouver!
Each of the few times I've been there, I've always thought the airport was beautiful. Especially outside: the terminal's architecture is absolutely stunning. It's made so that you remember the snowy peaks of the Rocky Mountains nearby (the other special building in the picture above that's supposed to look like a bird in flight is a nice Marriott hotel: the Westin Denver Airport).
Fun fact: the airport is at the center of several conspiracy theories. Some people think it belongs to the New World Order or some other nonsense. The runway layout apparently forms a swastika. Murals predict an upcoming apocalypse. Lizard people roam secret tunnels. The horse statue in front (which fell and killed its maker while he was working on it) is said to be satanic. Anyway!
4. ORD: Chicago–O'Hare (US)
Passenger count:
2021: 54 million (#4)

2020: 31 million (#13)

2019: 84 million

(#6)

2018: 83 million

(#6)
Biggest airline:
Why is the Chicago–
O'Hare airport
one of the busiest?
First of all, Chicago is the US's 3rd-largest metropolitan area and is a very important city economically speaking. But most importantly, Chicago–O'Hare is an essential hub for the central US for both United Airlines AND American Airlines.
In fact, United has its headquarters in Chicago, and ORD is its largest hub. ORD was the world's busiest airport for over 2 decades (from 1963 to 1998), despite Chicago having another pretty busy airport (MDW).
ORD was the 1st major airport planned after World War II, and it pioneered many concepts that are now standard in airports, but were innovative and original at the time: concourses, jetbridges, underground refueling systems, direct highway access, etc.

Having been there 5 times, it's true that it isn't the most modern airport out there. But officials have unveiled a massive US$8.5-billion (≈ C$10-billion) redevelopment plan: O'Hare 21.
It's one of the biggest airport projects in the US: a new terminal will be built, and ORD will also become the 1st airport in the country with terminal allocations designed around airline alliances, to facilitate connections.
5. LAX: Los Angeles (US)
Passenger count:
2021: 48 million (#5)

2020: 29 million (#15)

2019: 88 million

(#3)

2018: 88 million

(#4)
Biggest airline:
Why is the
Los Angeles airport
one of the busiest?
LAX is the busiest origin and destination airport in the world, which means with the most passengers who are not there for just a connection. The LA metro area, with 13 million people (that's twice more than the Greater Toronto Area), is huge!

LAX is so busy for 2 main reasons. First, most large cities have at least 2 major airports (New York has JFK, EWR, and LGA; Chicago has ORD and MDW; etc.), but it isn't the case in Los Angeles (even if there are smaller ones, they aren't major).
Secondly, usually, an airport is only a hub for 1 airline (or 2 sometimes). But LAX is a hub for all Big 3 legacy airlines in the US (American, Delta, and United) as well as for Alaska Airlines (a 4th legacy airline): no other airport is a hub for 4 airlines.
If you've ever been to LAX, you probably expected it to be on this list. Many passengers describe this airport as overcrowded, stressful, and inefficient. It's also pretty ugly, at least in some terminals. The airport has 9 of them, and while some have been renovated recently, others haven't been in decades.
I can't say since I haven't been there since I was 9 years old (I already loved airports and flying back then, but I can't remember each airport from so far back). Good news, though: LAX is currently undergoing a multi-billion transformation to alleviate the many traffic and congestion issues, among other things.
6. CLT: Charlotte (US)
Passenger count:
2021: 43 million (#6)

2020: 27 million (#18)

2019: 50

million

(#34)
2018: 46

million

(#37)
Biggest airline:
Why is the
Charlotte airport one of the busiest?
Charlotte is far from being a large, well-known American city (it's the 22nd largest metro area). It's the metropolis of the Carolinas (it's in North Carolina, but right on the border with South Carolina).
Mostly, it's American Airlines' main hub on the East Coast. While Charlotte looks interesting as a city (I've been to the Carolinas, just not Charlotte), it's not really a popular destination: from all the airports on this list, it's the one that relies the most on connections.
I transited there myself for the 1st time in April and it's honestly a very decent airport. Having access to Amex's beautiful Centurion Lounge certainly helps though.
7. MCO: Orlando (US)
Passenger count:
2021: 40 million (#7)

2020: 22 million (#27)

2019: 51

million

(#31)
2018: 48

million

(#34)
Biggest airline:
Why is the
Orlando airport one of the busiest?
Orlando is the 23rd largest metropolitan area in the US, but it's one of the most visited cities in the world because of theme parks like Disney World and because of the many conventions that take place there as well.
Normally this isn't enough to be among the busiest airports in the world, of course, but nobody reopened faster than Florida during this pandemic, and people voted with their wallets and with their feet: Florida broke all the records for tourism recovery worldwide… and even for internal migration.
In short, many people moved there to be able to live a normal life, but mostly, many people traveled there to take advantage of the lack of government restrictions.
I've been to the Orlando airport a few times and it's not great, but it's not terrible either. A brand new terminal is going to open in September, so at least a portion of it will be very nice.
8. CAN: Guangzhou (China)
Passenger count:
2021: 40 million (#8)

2020: 44 million (#1)

2019: 73

million

(#11)
2018: 70

million

(#13)
Biggest airline:
China Southern Airlines (CZ)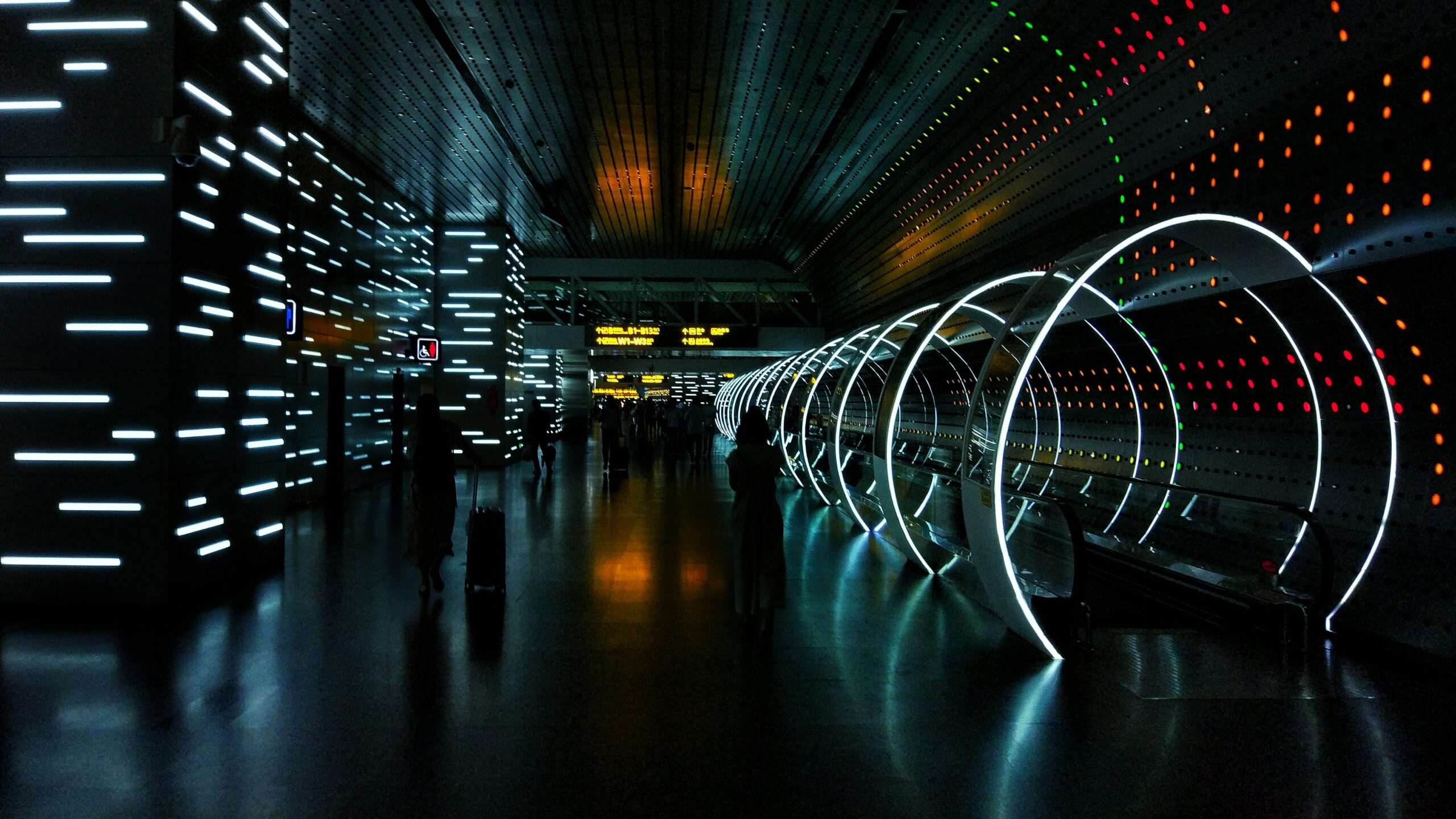 Why is the
Guangzhou airport
one of the busiest?
Guangzhou, formerly translated as Canton (hence its 3-letter airport code) is a lesser-known city, but it's huge! Over 21 million people live in its metro area, so half the population of Canada in one city.
(But worse than that, it's the center of a megaregion — the Pearl River Delta megalopolis — that has a whopping 78 million people: twice the population of Canada, in a region that spans roughly from Vancouver to Whistler! It's now the most populated urban area in the world!)
China Southern, Asia's largest airline, has its main hub in Guangzhou and is based in the city too. That, and the fact that Beijing and Shanghai each have 2 major airports instead of just 1 (and were more dependent on international flights than Guangzhou), is what explains Guangzhou's ranking.
Domestic travel in China — which was not really restricted for most of 2020 — allowed the airport to cause a surprise and rank as the world's busiest in the 1st year of the pandemic. In fact, it was the 1st time in history that it wasn't an American airport!
The first flight to Asia I ever bought was Montreal-Guangzhou for $499 roundtrip. Oh, how I love the good deals that we find! The airport is very recent (it opened in 2004) and I found it was great.
9. CTU: Chengdu–Shuangliu (China)
Passenger count:
2021: 40 million (#9)

2020: 41 million (#3)

2019: 56

million

(#24)
2018: 53

million

(#26)
Biggest airline: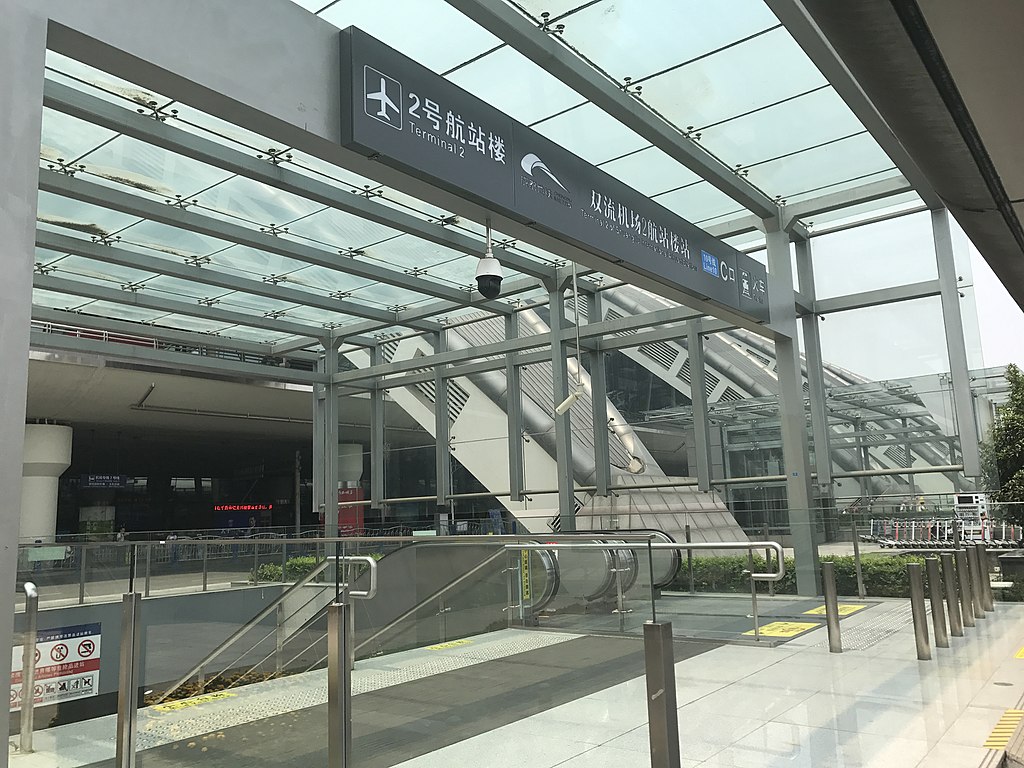 Why is the
Chengdu–Shuangliu airport one of the busiest
?
Another city most people probably don't even know about. Chengdu is the capital of the Sichuan region and the largest metropolitan area in western China (the population is heavily concentrated on the coast in this country). Its population is 11 million — almost twice that of the GTA — but it's just the 7th largest in China.
It's Sichuan Airlines's hub, but also a secondary Air China hub.
I'm just speculating here, but I imagine visiting the west of the country is something the Chinese did during the pandemic just like Canadians did, to avoid government restrictions on international travel. Anyway, it was the 2nd busiest airport in the country in 2021 (and #3 in the entire world in 2020)!
I loved my trip to China, but I didn't have time to visit Chengdu unfortunately. It's home to giant pandas and famous food, so I'll definitely go there one day. The airport is very old, but it was renovated pretty recently.
A brand new airport (TFU) just opened in 2021 to meet the demand in Chengdu, so CTU might never return to this ranking. By the way, like Guangzhou, CTU's 3-letter airport code comes from the alternative spelling of Chengdu, which is Chengtu!
10. LAS: Las Vegas (US)
Passenger count:
2021: 40 million (#10)

2020: 22 million (#22)

2019: 52

million

(#30)
2018: 50

million

(#29)
Biggest airline:
Why is the Las Vegas airport one of the busiest?
Las Vegas is only the 29th largest metropolitan area in the United States… but it's also one of the most visited cities in the world! The entertainment capital of the world, Vegas draws people from all over for its casinos, shows, and now sports events (Golden Knights in the NHL, Raiders in the NFL, and Formula 1 is coming in 2023).
The city also hosts major conventions, so even without being a hub for legacy airlines, like Orlando, the Las Vegas airport has taken advantage of the fact that travel has picked up much faster in the US than anywhere else to sneak into the ranking.
I've only been to Vegas once but I'm going back in October for a festival, so I'll be able to tell you how nice the airport is. My previous visit was with Kevin, Flytrippers' co-founder. It was one of our first trips together, but it was long before we launched our website and I didn't really notice how nice the airport was!
Bullet point list of the world's 10 busiest airports in 2021
ATL: Atlanta (US)
DFW: Dallas/Fort Worth (US)
DEN: Denver (US)
ORD: Chicago–O'Hare(US)
LAX: Los Angeles (US)
CLT: Charlotte (US)
MCO: Orlando (US)
CAN: Guangzhou (China)
CTU: Chengdu–Shuangliu (China)
LAS: Las Vegas (US)
Want to get more content to learn about the world of travel?
Summary
The busiest airports in the world are places you'll eventually end up passing through if you travel at all, even if it's just for a connection. The 2021 list is very American, but for 2022, it should be back to normal.
What would you like to know about the world's busiest airports? Tell us in the comments below.
See the deals we spot: Cheap flights
Explore awesome destinations: Travel inspiration
Learn pro tricks: Travel tips
Discover free travel: Travel rewards
Featured image: The Atlanta airport (photo credit: Wikimedia Commons)
Advertiser disclosure: In the interest of transparency, Flytrippers may receive a commission on links featured in this post, at no cost to you. Thank you for using our links to support us for free, we appreciate it! You allow us to keep finding the best travel deals for free and to keep offering interesting content for free. Since we care deeply about our mission to help travelers and our reputation and credibility prevail over everything, we will NEVER recommend a product or service that we do not believe in or that we do not use ourselves, and we will never give any third-party any control whatsoever on our content. For more information on our advertiser disclosure, click here.
Share this post to help us help more people travel more for less: