The coronavirus crisis is having a terrible impact on airlines around the world, and in addition to many employees unfortunately losing their jobs due to nonexistent demand, there are now thousands of planes that are no longer being used and need to be parked somewhere.
In fact, Cirium, an aviation data firm, notes that there are now more planes in storage than in use, with over 17,000 aircraft being simply grounded around the world. It's no surprise many airlines are losing millions of dollars per hour.
Some of them are retiring older aircraft in their fleet prematurely (bye-bye to Air Transat's A310s, the only ones operated outside of the Middle East, which I sadly never got the chance to fly on), and we'll have a post on aircraft retirements.
But a vast majority of planes that are usually flying all over the globe now need to be parked somewhere to wait out this crisis, and it's impressive. Especially if you love symmetry and planes as I do.
I was glad to see that my post about the weird-looking Airbus Beluga and Boeing Dreamlifter planes was so popular, so here's another one for you other aviation geeks (or aspiring aviation geeks).
Coronavirus Plane Storage
In many cases, major airports have had to shut down some of their runways… just to park planes there, since most major airports don't have space for all these planes to be on the ground at the same time. But smaller airports that have room to spare are also being used for plane storage.
Plane storage was actually at its highest point already even before the coronavirus, because of the 737 MAX planes being grounded for safety reasons. We'll talk about this in an upcoming follow-up post, as we'll also talk about aircraft boneyards that are also welcoming planes all over the world.
But first here are the 21 striking pictures.
1. Delta planes in Victorville (VCV)
This is the cover pic taken at the renowned California aircraft boneyard, in full size.
Delta airlines grounded fleet parked near Victorville CA pic.twitter.com/uD2lAKHkT4

— Jim Cook (@JimCook546) April 5, 2020
Delta is the world's largest airline (by revenue) and its major hub is Atlanta International Airport (ATL), which is the busiest airport in the world. ATL has actually shut down runways to park Delta planes there too.
2-3. Delta planes close-up
Here is another impressive view of those parked planes on one of Victorville Airport's runways, courtesy of AirTeamImages (you can click to enlarge each).
With many of the worlds airlines grounding their fleet of planes due to Coronavirus, here are two amazing photos of some the many Delta Air Lines aircraft which are now in storage at Victorville.https://t.co/zrLu1EHYKy pic.twitter.com/pvsNZKrUXB

— AirTeamImages (@AirTeamImages) April 2, 2020
For AvGeeks: in that first picture, to the untrained eye it just looks like two rows of Delta planes, and they look quite similar. But it's actually very easy to see that the row of planes on the left are all Boeing planes, while the row on the right are all Airbus planes. We'll tell you more about "planespotting 101" in a separate article if you are interested.
4-5-6-7. American Airlines planes in Tulsa (TUL)
Now, let's go from the #1 airline by revenue to the #1 airline in terms of passengers: American Airlines. Here are 4 pictures taken at their main maintenance base.
American Airlines parked planes at Tulsa airport effect of Coronavirus

Photos by Nick Oxford pic.twitter.com/4pXXMg4lFE

— Aviation24™ (@aviation24glb) March 25, 2020
AA's maintenance base is located in Oklahoma, at Tulsa Airport (TUL), because it's a short flight from their biggest hub in Dallas-Fort Worth International Airport (DFW). They took over a runway there to temporarily park a few dozen planes.
8-9-10-11-12-13-14-15-16-17. Various planes in the US
A photographer named Andy Luten has gone around the US to photograph a variety of aircraft and the shots are simply incredible. You can toggle the 10 pictures with the arrow in the middle of the image, on the right.
View this post on Instagram
Apart from completely full runways and taxiways, you can notice the bright yellow Spirit planes, and the variety of different tail designs that are the signature for jetBlue—a US airline that does not fly to Canada, except for maintenance in my hometown's small airport (details in next article).
18. United planes in Denver (DEN)
We know that due to the coronavirus, Air Canada has planes parked in Kansas City (MCI), but we did not find any footage (well, not for the coronavirus—see next article), so let's look at the last of the Big 3 US airlines that we didn't see yet: United Airlines. This is a video, but there's nothing happening so let's pretend it's a picture.
View this post on Instagram
Those many planes are lined up at Denver International Airport (DEN), the largest airport (by land area) in North America. The airport is 66 times larger than the (albeit tiny) country of Monaco, or 2 times the size of the island of Manhattan if you prefer.
19. Lufthansa planes in Frankfurt (FRA)
European airlines are just as affected, with Frankfurt Airport (FRA) closing down a runway to park Lufthansa planes, as you can easily see from above.
20. Planes at Paris-Charles de Gaulle (CDG)
For those who want to learn a bit, the paths that lead to a runway are called taxiways, and that's another place where airports can store aircraft, like in this satellite picture from Paris (CDG).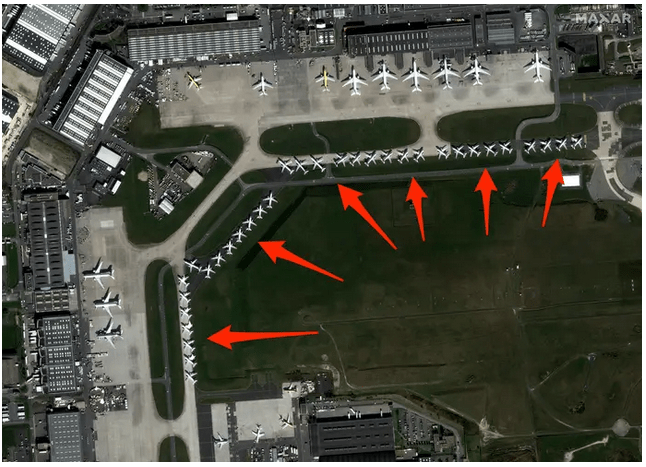 21. Planes at Hong Kong (HKG)
It's been a tough stretch for one of my favorite cities in the world, Hong Kong. The 2019 protests affected tourism, and when the coronavirus started, the region was one of the first to be shut down, leading to many parked planes.
Cathay Pacific and Cathay Dragon planes parked at Hong Kong airport with nowhere to fly to. With China such a key part of Cathy's business, it could be weeks before passenger travel recovers enough to get everything back in the air pic.twitter.com/7yQttAm7At

— Greg Knowler (@greg_knowler) February 12, 2020
The unique Hong Kong Airport (HKG) on a man-made island is now full of planes in storage, mainly those from Cathay Pacific, Cathay Dragon, and HK Express.
Bonus: video
We love giving you more for your money at Flytrippers, so here is a video of Prague Airport (PRG) in Czechia, with many planes being parked there too.
At 0:16 of that video, you can even notice a plane with an Air Transat tail (but no lettering) parked very far from Canada.

Want to get more content to learn more about planes and traveling?
Summary
Most of the world's aircraft are currently in storage due to the coronavirus lockdown. These pictures show how airports and airlines have had to collaborate to park this unprecedented amount of planes while they aren't flying.
What would you like to know about the world of aviation? Tell us in the comments below.
Explore awesome destinations: travel inspiration
Learn pro tricks: travel tips
Discover free travel: travel rewards
Featured image: Delta planes (photo credit: Jim Cook on Twitter)

Advertiser Disclosure: In the interest of transparency, Flytrippers may receive a commission on links featured in this post, at no cost to you. Thank you for using our links to support us for free, we appreciate it! You allow us to keep finding the best travel deals for free and to keep offering interesting content for free. Since we care deeply about our mission to help travelers and our reputation and credibility prevails over everything, we will NEVER recommend a product or service that we do not believe in or that we do not use ourselves, and we will never give any third-party any control whatsoever on our content. For more information on our advertiser disclosure, click here.
Share this post to help us help more people travel more for less: