Eventually, more and more people will start traveling again; that's just a fact. The aviation industry, like almost every other, will adapt to our current coronavirus reality. Another new seat concept (or more specifically, a new plane seat divider concept) is in development to maybe make the situation a bit better, or at least to give travelers the impression that it is. And it's much more realistic than the seat concept we shared two weeks ago.
By now you probably know that airplanes have HEPA filters that capture more particles than the N95 masks that medical personnel use, and that the coronavirus can not spread through airplane ventilation systems. It's a common myth that makes sense at first glance, but has no factual basis: it's "fake news".
But even if airplane ventilation systems are better than those in almost all buildings on the ground, as we said in that article, of course, there is still the issue of proximity in airplanes. That is definitely something to consider (but the recirculated air is not).
So that's where this new seat divider concept comes in. Its manufacturer hopes to see airlines embrace for air travel to resume faster.
Factorydesign Seat Dividers
If you missed the first controversial coronavirus seat concept, I've included a picture and the link below.
But now, another seat designer has released a concept: the Isolate Screen Kit. The company is called factorydesign, based in the UK.
The idea is to block middle seats with a divider to increase physical distancing in each row.
It's a lightweight tabletop that holds a vertical screen. It is supported by the armrests.
This is what it looks like from above.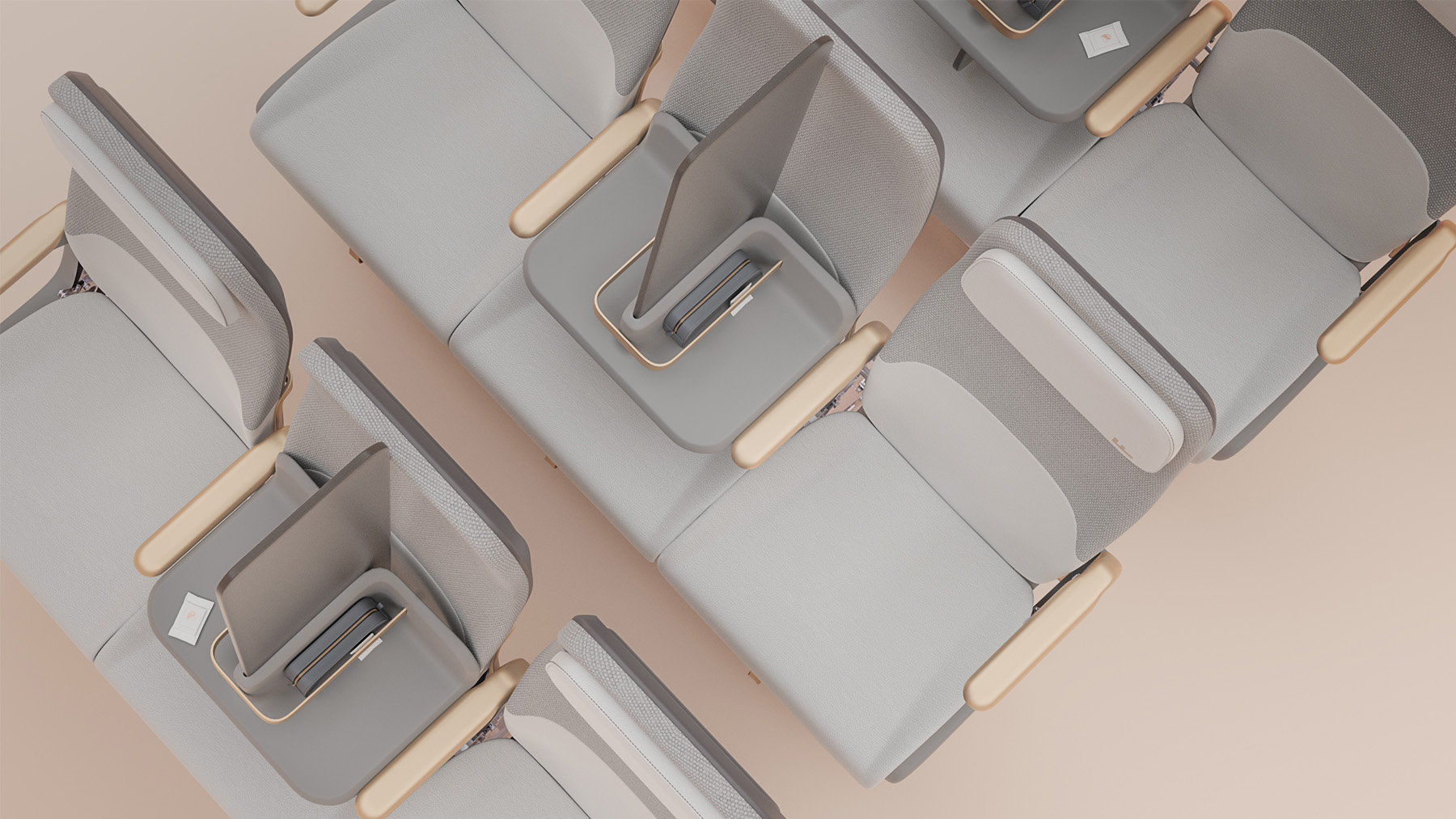 It also provides a bit more space for each passenger for comfort or storage.
One common complaint of the previous seat concept was that it made traveling as a couple or a family more complicated. I hadn't even thought of that myself as most of my 12 international trips in 2019 were solo as usual, but it's true that that seat is clearly not ideal for that.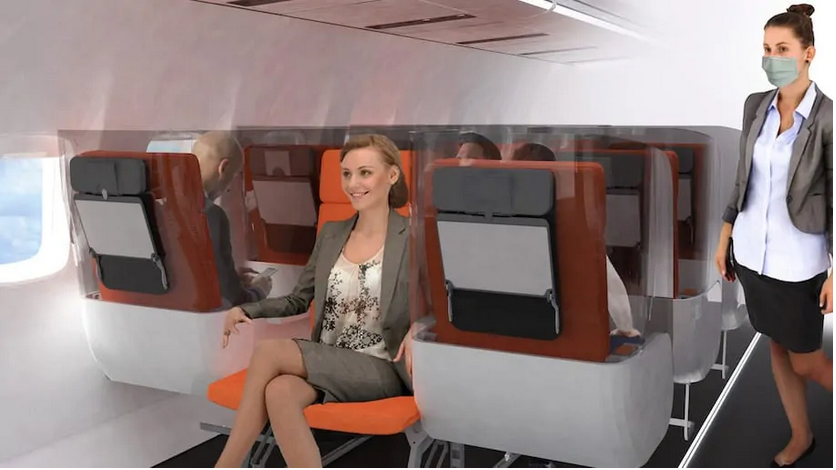 Not that it really mattered, since it was more of a publicity stunt than an actual credible proposal (I told you in that article about the proposed new seat concept that it was highly unlikely that an airline would implement that, due to the complexity involved).
Anyway, this factorydesign divider concept actually has considered couples, and the kit can easily be moved to the aisle seat to isolate from others and to let those traveling together not be separated.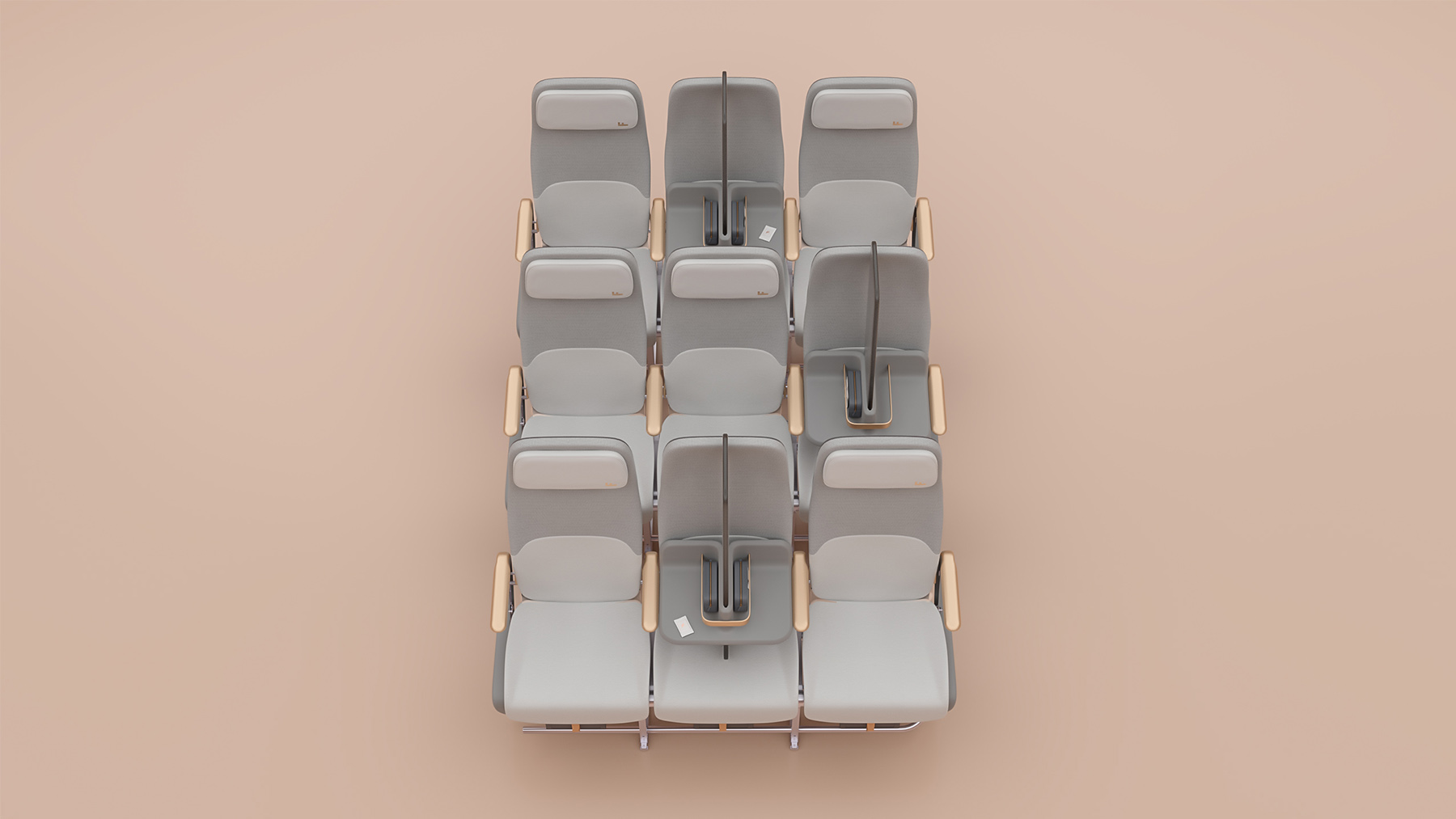 They can be added to any existing seat, meaning that it would theoretically be pretty simple for any airline to install these. Also, they could easily be reused after the coronavirus crisis, as an optional upgrade option to purchase for those who want a bit more privacy for example.
The basic concept calls for a translucent divider to allow light to pass through, but an alternative is one with a leather-trim (and both are designed to avoid dirt traps and be easy to clean).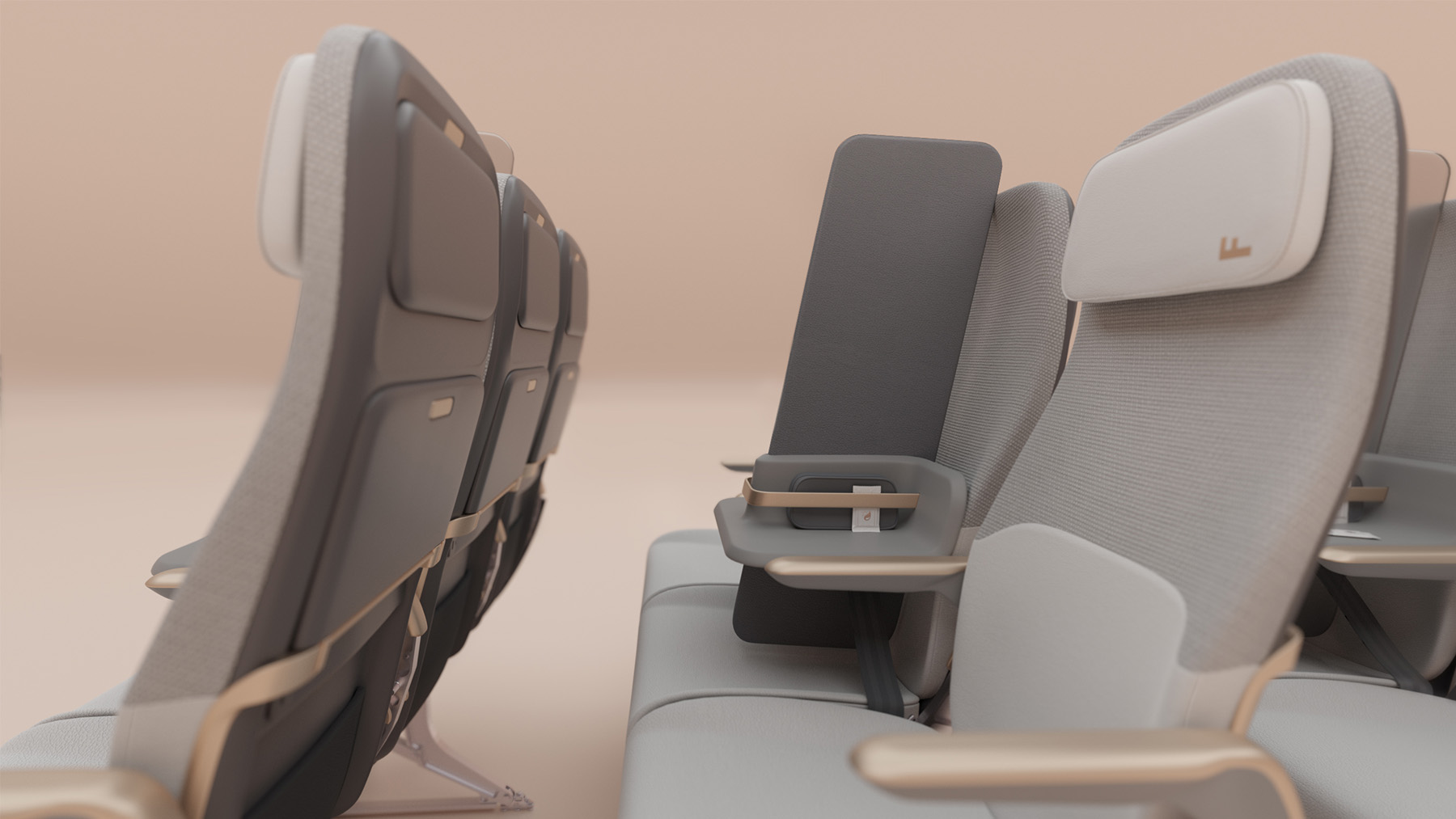 This is clearly not enough distancing to really be considered a safe distance, but it's probably better than if there is no divider at least.
Although I am not sure it's really necessary or that it would actually change something compared to simply requiring everyone to wear a mask on board and leaving the middle seats empty for example.
As expected, the designer makes absolutely no claims about this being safer. They say it's really more about giving passengers the impression that it is safer.
Many will understandably be slower to get back on a plane. But as with many things in life, it's not even just about the actual risk involved, since unfortunately many people aren't necessarily rational about evaluating these. For many, they will need to "feel" safe whether or not flying is actually more dangerous than other activities at that point.
There will be so many factors to consider and keep in mind when travel can resume, airlines could very well be tempted to try this divider to put some travelers more at ease. But many airlines are already considering no longer selling middle seats without a divider to do that anyway, and maybe that will have the same effect.
In upcoming articles, we'll soon cover that measure, the mandatory masks, and other ways airlines will make it safer to travel (sign up for free now).
Because while obviously it's not yet time to start traveling again and we haven't yet seen an increase in fliers in Canada, in the US air traffic has increased a bit in the past weeks.
And with many countries talking about reopening to tourists to some degree this summer, it's still too early to be optimistic, but the very least we can do as travelers is to be prepared for the possibility.
Want to get more content to discover awesome destinations?
Summary
This new plane seat divider concept aims to reassure travelers first and foremost and create somewhat of a physical barrier between passengers.
Do you think airlines will install these? Should they? Tell us in the comments below.
Explore awesome destinations: travel inspiration
Learn pro tricks: travel tips
Discover free travel: travel rewards
Featured image: isolate screen kit plane seat divider concept (photo credit: factorydesign)
Advertiser Disclosure: In the interest of transparency, Flytrippers may receive a commission on links featured in this post, at no cost to you. Thank you for using our links to support us for free, we appreciate it! You allow us to keep finding the best travel deals for free and to keep offering interesting content for free. Since we care deeply about our mission to help travelers and our reputation and credibility prevail over everything, we will NEVER recommend a product or service that we do not believe in or that we do not use ourselves, and we will never give any third-party any control whatsoever on our content. For more information on our advertiser disclosure, click here.
Share this post to help us help more people travel more for less: