Here's an amazing deal for those who qualify and have a bit of patience. You can get free flights if you are willing to give their website a try this week: Qatar Airways is giving out 100,000 complimentary tickets to healthcare workers around the world. This means you can fly anywhere in the world for just the taxes (a $0 base fare) from Montreal (it's worth buying a separate flight in order to go to Australia for free!).
This is not a joke! To me, this is definitely worth a bit of an effort, but as always we'll let you decide what you want by sharing the deals and letting you choose which ones suit your situation.
Free flights to anywhere in the world is an amazing promo, much better than the 50%-off deals we usually spot. But since it's better, there are a few more hoops to jump through in this case.
The "catch" is not that the amount of tickets is limited (all flight deals—even "regular" flight deals—always expire quickly and are always limited). It's that this uncommon deal is being released in waves for the next few days, with no specific indication about when they are available. Meaning you have to give it a try randomly.
By the way, with the travel industry being decimated, it's likely that many other promotions will be launched to attract travelers once we're past the coronavirus crisis (like the free flights and hotels offered by Sicily) and you'll always need to act fast, so subscribe to our free newsletter to be among the first to take advantage of deals!
The Qatar Airways Promo
First, here are the basics:
the deal is for healthcare workers (list below)
healthcare worker is also allowed one free guest
medical identification will be required at the airport
the base fare is $0, only taxes to pay (detail below)
fully flexible tickets that can be changed with no fee
roundtrip flights
to anywhere Qatar Airways flies (list below)
in Canada, Qatar serves Montreal (YUL)
How it works:
limited quantities released randomly on the promotion page
you register and then receive a promo code to use for free flights
no need to book flights now, the registration is what is urgent
And finally, in terms of timing:
registration is now until May 18
booking must be made before November 28
flights must take place before December 10
I'll repeat: the key will be to try often! The first wave of promo codes was snapped up very quickly, and there has been no indication by Qatar Airways about when the others will be released other than saying that there will be new ones "daily". They don't give any warning or notice whatsoever.
So you should check out the promotion page regularly and make as many attempts as possible! Unfortunately, you need to fill out the entire form to see if the free promo code request is accepted once you click "submit".
Update: we've received feedback from readers who were able to get vouchers. So it does work, it's worth a try until the end of the promo!
If you love to travel, it should be worth a bit of effort for a completely free international flight (especially for two people). At least if you can make your way to Montreal relatively cheaply. Even if you are out West, with a $500 flight to Montreal added, you are still saving at least half the price for a faraway destination!
To summarize, here's what you need to do if you are eligible:
go on the site and try to register
try again as often as possible
if it works, you can worry about booking later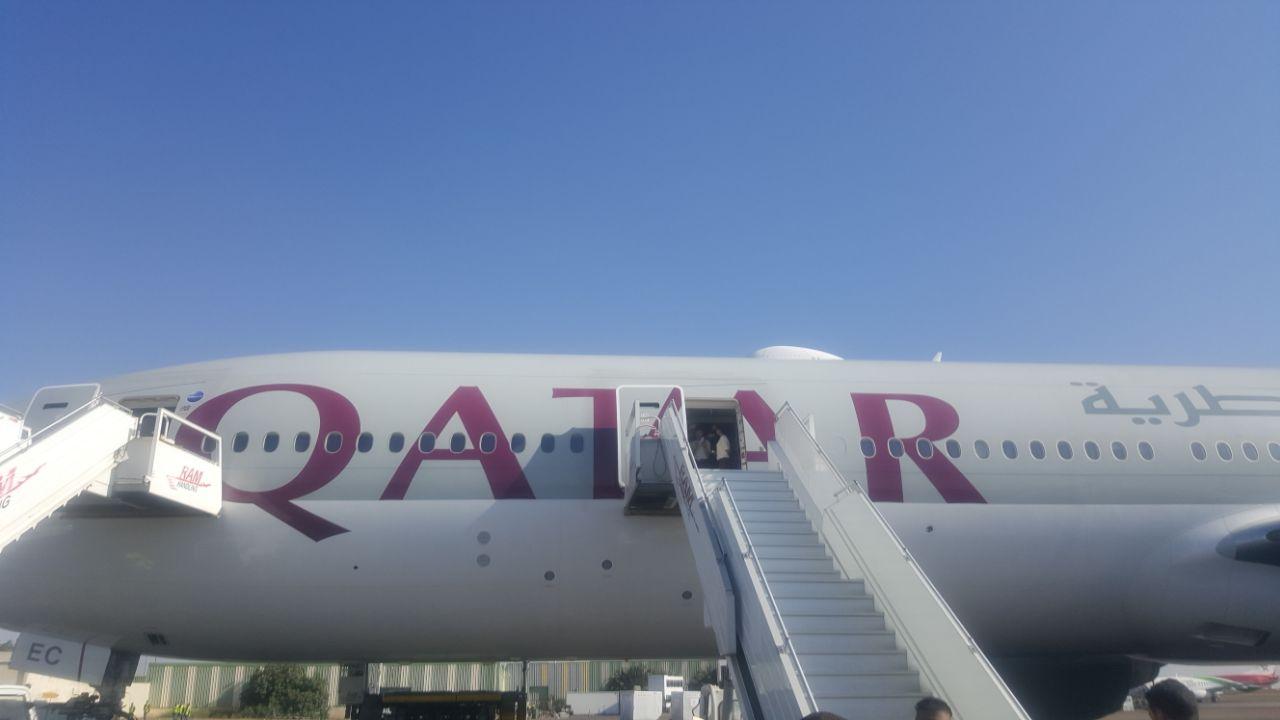 Eligible Healthcare Workers
Here is the list provided by Qatar Airways:
Doctor
Medical practitioner
Nurse
Paramedic
Lab Technician
Clinical Researcher
Hospital Pharmacist
They require official medical identification and fraudulent tickets will be canceled, so I wouldn't try anything shady.
However, what I would definitely try is reaching out to your friends in healthcare to let them know about the deal and offer to take care of registering in exchange for being the companion they bring along (in case they aren't interested in taking the steps to get the codes themselves)!
Tax Details
Hopefully, you are able to realize how amazing this deal is despite the taxes you have to pay… but to make sure, I did the math for you.
You only pay the taxes: no fare and no carrier-imposed surcharge.
So for example, it would only cost you $142 per passenger for a roundtrip to Bali (DPS) from Montreal (YUL).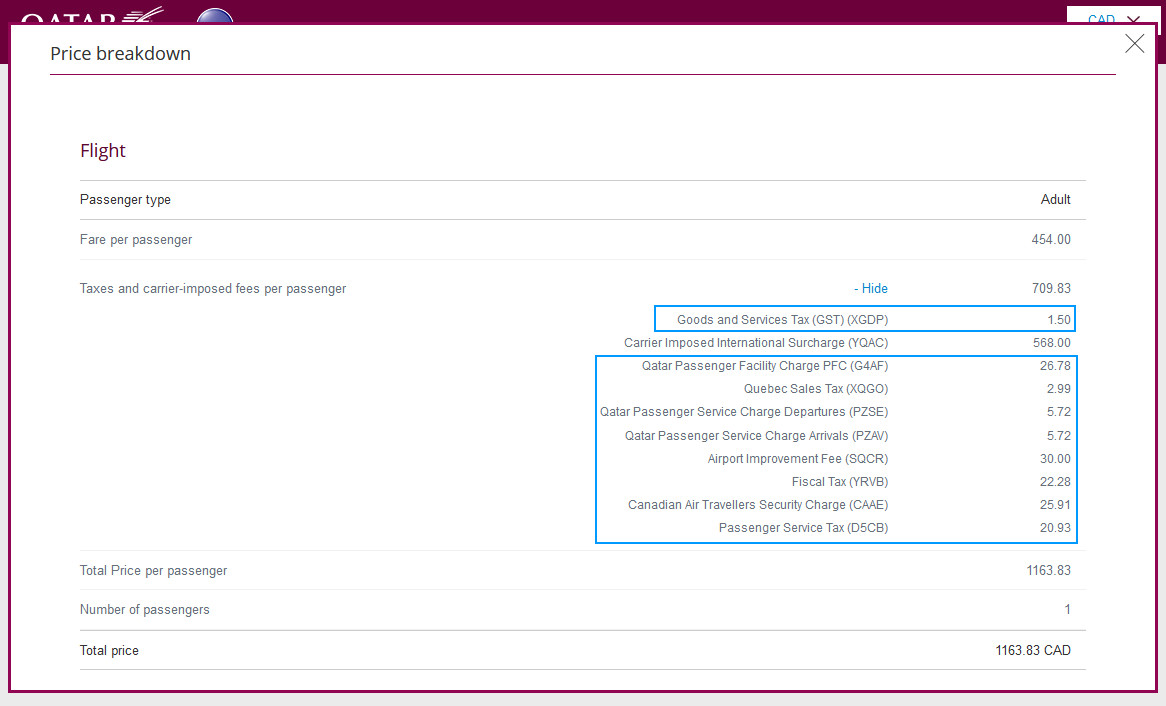 That is an amazing deal. It's usually around $1,000 if you're good at finding deals, and a lot more for most travelers.
And the tax amount should be pretty similar for most destinations.
It always amazes me that so many people don't want to earn thousands of dollars in free travel with credit cards (in other words: thousands of dollars in savings on travel) just because sometimes you need to pay taxes, so I'll repeat that message here: how much you pay out of pocket is not really relevant, what matters is how much you save in total! At least for those who now have not lost any income due to the coronavirus, which certainly applies to healthcare workers.
Paying $142 to fly roundtrip to anywhere in the world is an absolutely incredible price!
I took two Qatar Airways-operated long-haul flights this summer and the onboard experience was flawless; befitting the reputation the Big 3 Gulf carriers have built in recent years.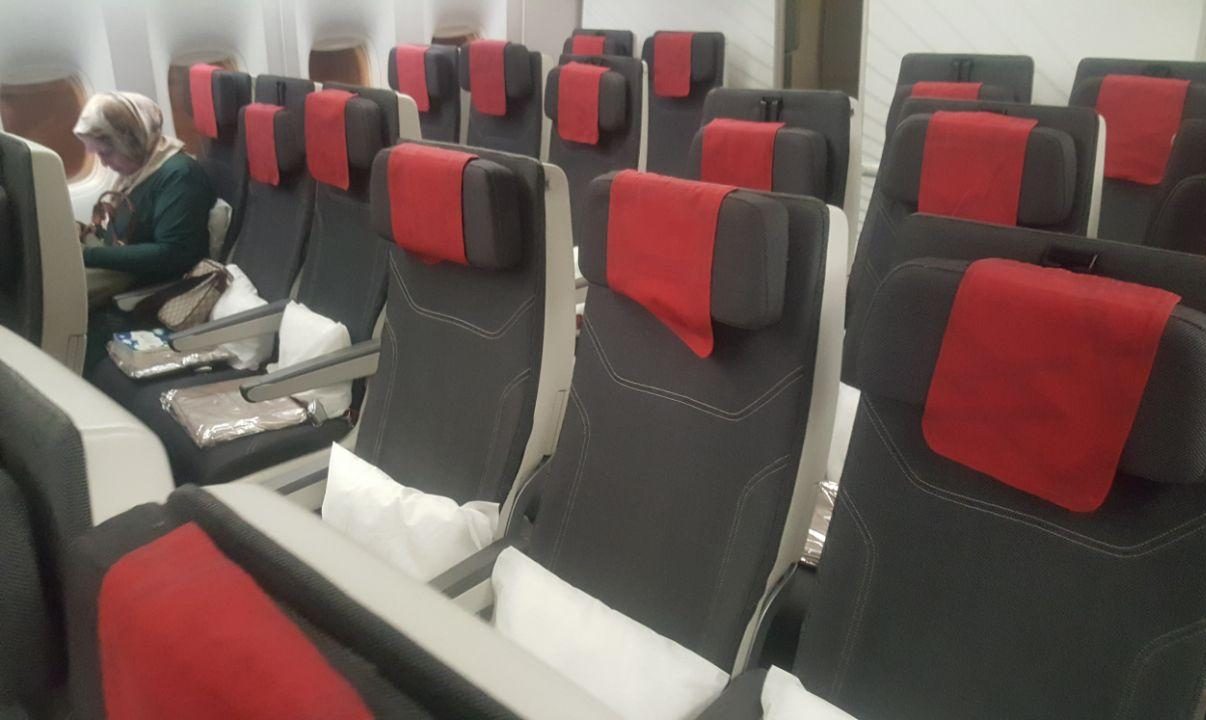 Destinations
Qatar Airways is not only one of the world's best airlines in terms of service and experience, they also have a vast network. To be clear: you don't have to choose a destination now. No rush. What is urgent is being able to register to get one of the limited promo codes.
That said, Qatar flies to many major international destinations in the world. I would recommend choosing somewhere that is normally extremely expensive to fly to, to maximize the value of this free ticket. I mean… you could always use it to fly to Europe, but that wouldn't be really wise since we often spot deals to Europe in the $500s roundtrip and almost everywhere else on the planet is more expensive than that.
For example, you could fly to Australia if you're a casual traveler, since deals are rare and it's usually pretty costly. But if you are a budget-traveler, fly to Southeast Asia and the cost of living over there will be minimal, making it a very affordable trip overall. Finally, if you like off-the-beaten-path destinations like me, it's the best time to fly to less-popular countries that are usually very expensive to fly to, like for example to Nepal.
And while currently, Qatar's destination list is more limited due to the coronavirus, you will be able to book for late 2020. Things should be much better then, in fact, Qatar Airways already announced 52 new destinations in May, and 80 new destinations for June. So it's safe to say they'll be flying to more places in the fall (you can see their full list of regular destinations), and since you can change your destination for free anyway, there is minimal risk and a huge upside with tickets being free!
By the way, we'll soon start covering how to start thinking about future travel, because while it's too early to travel, it's not too early to get a headstart on preparations! And there are a lot of new never-before-seen factors to consider in this coronavirus era, so if anything, it's even more important to plan in advance. And planning well was already the #1 best way to travel for less before the coronavirus.
Want to get our content to plan future trips like a pro?
Summary
Qatar Airways is giving out 100,000 free tickets to healthcare workers around the world this week, with new ones released randomly every day. If you are one of the eligible professionals (or know someone who is), it's an amazing deal to fly from Montreal to anywhere in the world later in 2020 for just the taxes.
What do you think of this promo? Will you take advantage? Tell us in the comments below.
Explore awesome destinations: travel inspiration
Learn pro tricks: travel tips
Discover free travel: travel rewards
Featured image: Australian sunset (photo credit: Graham Holtshausen)
Advertiser Disclosure: In the interest of transparency, Flytrippers may receive a commission on links featured in this post, at no cost to you. Thank you for using our links to support us for free, we appreciate it! You allow us to keep finding the best travel deals for free and to keep offering interesting content for free. Since we care deeply about our mission to help travelers and our reputation and credibility prevail over everything, we will NEVER recommend a product or service that we do not believe in or that we do not use ourselves, and we will never give any third-party any control whatsoever on our content. For more information on our advertiser disclosure, click here.
Share this post to help us help more people travel more for less: