Update: Canada and the US have now grounded the 737 MAX
Since air travel is so remarkably safe, a lot of attention is given to tragedies when they occur (and understandably so). Especially when two eerily similar crashes occur just a few months apart. Here's what you need to know about the crashes involving 2 Boeing 737 MAX aircraft.
Given the both crashes involve brand new Boeing 737 MAX planes in perfect weather, many concerns have been raised about whether the aircraft could be the cause.
And while it is way too early to have any definitive answers, preliminary data does seem to show possible parallels (both planes crashing minutes after takeoff and seemingly experiencing vertical speed issues).
Even though flying is exponentially safer that any other type of transportation, and that even the least safe way of flying is still likely significantly safer than driving for example, as you can imagine many are worried about these events.
Brand new planes don't crash like this, not twice in 5 months. There is so much safety testing and regulatory approval before launching a new aircraft model like the 737 MAX… this just doesn't happen.
That's what is worrisome, that and the fact that we still don't know much about the most recent crash… and that we are in the midst of a historically great era for aviation safety. Meaning that based on the data, air travel has literally never been safer than in the past few years.
The current media and public pressure for a complete indefinite grounding of the 737 MAX fleets is extremely strong, even though it is an excessively rare and major move.
It honestly seems almost untenable for airlines like Air Canada, the world's second-largest operator of 737 MAX aircraft, as well as countries like Canada, who have up to now refused to ground the planes. Especially in these times were companies and governments seem so sensitive to pretty much any and all form of public pressure.
Even more so since it is in sharp contrast with a long list of countries and airlines that have taken this step (and a list that is quite literally growing by the hour… case in point, as I was hitting "publish" it was just announced that the entire European Union would ground the 737 MAX).
So here's what we know about the situation, in 5 questions (plus an important bonus one).
1. What is the Boeing 737 MAX?
To those who aren't aviation geeks like me, plane model names probably don't mean much.
So first of all, let's be clear about one important thing: the Boeing 737 MAX is a completely different aircraft than the regular 737. That's why it's called the 737 MAX and not just the 737.
The Boeing 737 is the best-selling aircraft in aviation history. There are over 10,000 currently in operation around the world and it is widely seen as one of the most reliable airliners ever built. There's definitely nothing wrong with these.
Two years ago, Boeing launched the 737 MAX, a next generation aircraft that is more fuel-efficient and allowed airlines to operate longer flights than ever before with narrowbody (single-aisle) airliners.
There are Boeing 737 MAX 8 and Boeing 737 MAX 9 aircraft but the majority of those flying are 737 MAX 8s (including both who crashed and all those belonging to Canadian airlines). The main difference is that the MAX 9 is a lengthened version.
While it is based on the 737, shares its name and even looks similar, it is a completely different flight system and therefore if indeed there is an issue, it is with thee 737 MAX only, not the regular 737.
It's an important distinction because I've seen articles (including in reliable and trustworthy media outlets) that are very misleading that talk about the "Boeing 737" or that have certain airlines in their lists of who operates the affected model despite those airlines absolutely not owning any 737 MAX aircraft, just the regular 737. These are two entirely distinct product lines.
There's even a Facebook Group called "Is this a Boeing 737 MAX?" so that us aviation fans can make fun of the hundreds of examples of journalists who think that every plane in the world is a Boeing 737 MAX (and the group rarely runs out of content sadly).
2. Who operates the Boeing 737 MAX?
As mentioned, Air Canada is the world's 2nd largest operator of the 737 MAX in the world, with 24 aircraft in service (tied with 2 other airlines). WestJet also has 13, while leisure airline Sunwing has 4 (Sunwing just announced they're grounding theirs).
However, there is no database of any kind to see which specific routes are served by the 737 MAX. You'll need to check each route individually to see. We'll share an article on how to know if a flight is operated by a 737 MAX and how to spot the difference between a 737 and a 737 MAX Friday, so subscribe to our free newsletter to get all our content.
We know that for example Air Canada uses it on some of these routes (and obviously more): Toronto-Miami, Toronto-Vancouver, Calgary-Vancouver, Vancouver-Maui, Vancouver-Honolulu, Vancouver-Montreal, Montreal-San Francisco, Montreal-Los Angeles, Montreal-Bordeaux and Vancouver-Toronto.
WestJet operates it on some flights on the following routes (again, partial list): Toronto-Vancouver, Toronto-Cancun, Calgary-Vancouver, Calgary-Las Vegas, Calgary-Puerto Vallarta and Calgary-Cabo.
We also know that Icelandair plans on using 737 MAX aircraft on its routes from Reykjavík to Montreal, Toronto and Halifax (with Iceland just joining the list of countries grounding the plane, that shouldn't be an issue, although expect potential scheduling chaos).
So keep in mind that apart from Canadian airlines, some international ones who fly to Canada also have 737 MAX aircraft in their fleets. Among those who do are Icelandair, Copa, Aeromexico, Norwegian, American and United.
3. What happened?
On Sunday, Ethiopian Airlines flight #302 crashed shortly after taking off from Addis Ababa (ADD) while en route to Nairobi (NBO), killing 157 passengers and crew, including 18 Canadians.
The flight was operated by a Boeing 737 MAX 8 aircraft that had just been delivered to Ethiopian in November 2018. Data recorded by Flightradar24 showed problems with vertical speed (which is the rate of climb) despite having only 3 minutes worth of transmissions.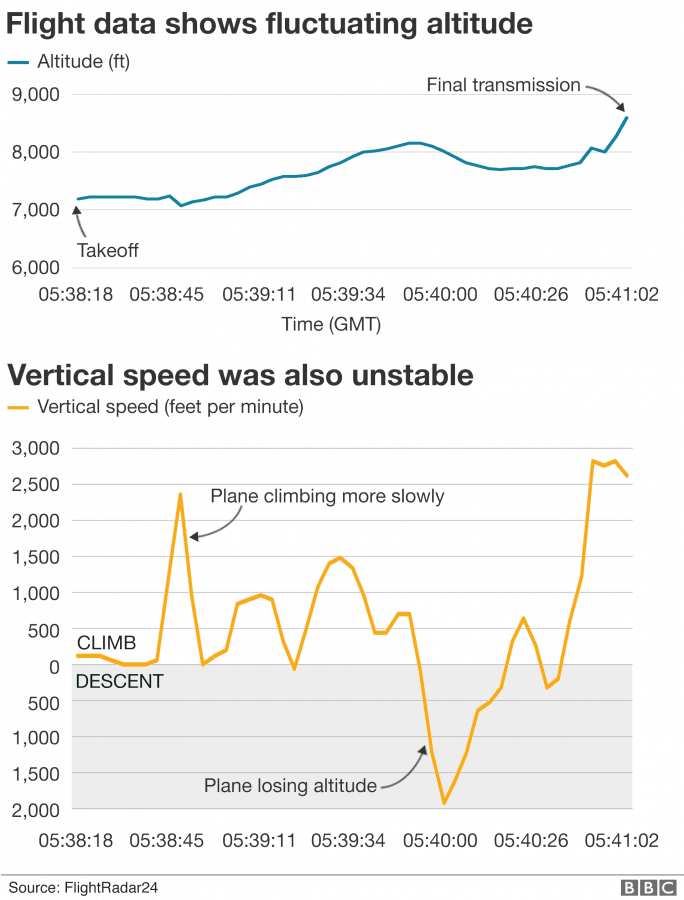 At first glance, this is extremely similar to what happened to Lion Air Flight #610, another flight operated by a recently delivered Boeing 737 MAX 8 that crashed in Indonesia in late October.
And by the way, Ethiopian might sound like an unknown carrier to those who don't follow the aviation world too closely, but it really isn't. It is Africa's largest airline, it has been growing profitably at a very rapid pace and in fact is generally regarded as the best-managed airline on the continent.
They have a huge fleet of 112 aircraft and are members of the world's largest airline alliance (Star Alliance). I had 2 free flights with them this summer thanks to my Aeroplan Miles and it really is a top-notch airline. This isn't a bush plane airline. In a way, that kind of makes what happened even more worrisome.
4. What is the issue?
Investigations into crashes usually take months, if not years. A few preliminary findings have been reported regarding the Lion Air crash from October, but with Sunday's accident, some experts are now even more nervous about the Boeing 737 MAX.
It's quite a complex issue, so I'll try to summarize the main points.
After the Lion Air tragedy, it was found that a new automatic system called Maneuvering Characteristics Augmentation System (MCAS) had engaged. What the MCAS is designed to do is lower the plane's nose automatically to prevent a stall.
The reason the MCAS might have engaged multiple times is possibly a faulty sensor that was detecting that the plane's angle of attack wasn't appropriate. The MCAS could have been countering the pilots' manual maneuvers by overriding them automatically.
The MCAS had engaged without the pilot's knowledge because, well, apparently absolutely no 737 MAX pilots around the world even knew of its existence.
Yes, what was the most surprising and shocking in the aftermath of the first crash were the reports that Boeing had simply never communicated the addition of the MCAS to the 737 MAX to pilots and airlines, despite this being a major difference compared to previous 737 models.
While I am not an aviation technical expert by any means, let's just say that that seems like a very bad idea. This is the kind of story that is almost unheard of in the modern aviation industry.
Boeing denies this, but multiple airlines and pilots unions are on the record about not being aware of the functionalities of the new anti-stall system. Including Lion Air's CEO who declared he wanted to cancel all Boeing orders after the crash, and Incluant le PDG de Lion Air (qui suite à l'écrasement a annoncé he wanted to cancel all Boeing orders) and the President of Southwest Pilots Association, which is the world's largest 737 MAX operator (who said that the airline and pilots were kept in the dark by Boeing).
Shortly after the first crash, Boeing issued a bulletin to all operators explaining the MCAS's presence and how it works. So in theory, it was thought that all pilots were now aware, including Sunday's Ethiopian's crew (which was an experienced one, by the way).
Basically, the new MCAS system and a faulty sensor seem to be at least partly to blame for the first crash, and most signs are pointing to very similar vertical speed issues with the second crash.
So that's where we're at today, even though we won't know much more about the Ethiopian crash for what is likely to be a few weeks at least.
5. What actions have been taken?
The first major move was taken by China, who grounded all Boeing 737 MAX aircraft. As this is one of the world's largest aviation markets, this sent a shockwave across the industry.
A growing list of countries have since followed suit: the United Kingdom, France, Germany, Italy, the Netherlands, Ireland, Turkey, Austria, Poland, Australia, Iceland, South Korea, Singapore, Indonesia and Mongolia. And this just in: the entire European Union just banned 737 MAX planes indefinitely.
Some airlines even decided to ground their entire 737 MAX fleets of their own iniative, including AeroMexico, Royal Air Maroc, Ethiopian, Gol, Aerolineas Argentinas, TUI, Comair and Cayman Airways.
This is definitely a rarity in the aviation industry.
In Canada however, regulators are deferring to the US FAA (Federal Aviation Administration), who has released a message reaffirming the "airworthiness" of the Boeing 737 MAX, saying there is no tangible evidence of any danger and that they would reevaluate when investigations provide more details. Although at the same time, they are requiring Boeing to implement design changes by April.
Air Canada and WestJet have both reaffirmed their confidence in the aircraft and seem to have no intention of taking any further action.
There aren't any special travel waivers issued either, meaning you couldn't avoid the change fees if you wanted to avoid a specific flight booked on a 737 MAX.
In the last few minutes, one of the largest flight attendants associations in the US came out publicly to ask for a complete grounding of the 737 MAX, so this is shaping up to be a movement with almost no precedent in recent history.
Bonus Question: Is it safe to fly?
At Flytrippers, we love to give you more for your money, so we like to add bonus points to all our list articles.
This one is the burning question. First of all, there are 350 Boeing 737 MAX aircraft operating currently and they've flown thousands of flights every week and accumulated millions of miles in the air overall in the past 2 years or so.
And it is true that there are absolutely no data or proof that there is any danger at this point, at least not until the investigations can be completed.
So the definitive answer is highly-dependent on how you view aviation safety in general. It's entirely irrational to be scared of flying as a whole (unless you're just as scared of driving, because that is about 10X less safe) but the thing is many do not look at this particular subject rationally.
As for this specific plane type, yes it is extremely worrisome that two brand new planes crashed in what seems like very similar ways, especially given that there still really isn't much information on the causes.
For some, this should be reason enough to ground all planes while we learn more (or at least reason enough to choose a different flight), while others look at the overall picture and think that would be an overreaction given that there is no factual evidence of any kind yet and that would mean making decisions based on emotional response alone.
In case you want his opinion, yesterday Canadian Transport Minister Marc Garneau was asked by the press if he would personally fly on the Boeing 737 MAX, and his answer was that yes, he would. On the other hand, a US Senator on the committee overseeing aviation safety said he'd prefer not to.
So in the end it is quite a personal decision that each flier will have to make on their own.
Finally, here are a few other things that may or may not be relevant that have been brought up by various experts as possibly being part of the equation (we'll let you make up your own mind):
Even though there are only 350 Boeing 737 MAX airplanes in the air, grounding them all would be an absolute nightmare for airline scheduling logistics.
The transatlantic flights market has been deeply transformed by this plane model in the past years, opening up so many new direct routes and driving prices down to never-before-seen levels (often around US$300 roundtrip, not on ultra low-cost carriers)
Given that the US is the world's largest aviation market, the US authorities are very influential globally, especially since the Boeing 737 MAX is an American plane and has therefore been certified in the US
Boeing currently has nearly 5,000 orders for this plane and it's their fastest-selling plane ever (and one of the plane types with the most orders, all manufacturers considered) and Boeing's stock price just reached its record high this month
Boeing is the among the Top 10 lobbyists to the US Government, across all industries
Bottom Line
Here is the overview of what you need to know about this rapidly-evolving situation, with more and more countries and airlines grounding their 737 MAX aircraft (but none here in Canada). So don't miss our article about how to know if your flight is operated by a 737 MAX Friday (unless they're all grounded before then).
Will the pressure be too strong on our Canadian airlines? What do you think of all this?
Help us spread the word about our flight deals and travel tips by sharing this article and most importantly bookmark Flytrippers so we can help you navigate the world of low-cost travel!
Advertiser Disclosure: Flytrippers receives a commission on links featured in this blog post. We appreciate if you use them, especially given it never costs you anything more to do so, and we thank you for supporting the site and making it possible for us to keep finding the best travel deals and content for you. In the interest of transparency, know that we will NEVER recommend a product or service we do not believe in or that we do not use ourselves, as our reputation and credibility is worth far more than any commission. This principle is an essential and non-negotiable part of all our partnerships: we will never give any third-party any control whatsoever on our content. For more information on our advertiser disclosure, click here.
Featured cover photo credit: WikiCommons
Share this post to help us help more people travel more for less: