You probably landed on this page (pun intended) after seeing our latest attempt at humor, our tweet that was inspired by the now-infamous Donald Trump Nuclear Button tweet to Kim Jong-un.
It's true, we too have something bigger than everyone else's (and no it's not our hands), it's our incredible deals on plane tickets. Every single day, we spot numerous amazing flight deals departing from 9 major Canadian cities.
So yeah, our tweet was about something that flies too, but in our case it's to explore, not explode: cheap plane tickets.
.@AirCanada Leader just stated that their "Sale has great deals" Will someone from their MapleLeaf adorned planes please inform them that we too have Deals, but they are much bigger & more powerful deals than theirs, and our Deals are daily! #NuclearButton https://t.co/heJ13RYG5s pic.twitter.com/8zyPFbhJHj

— Flytrippers (@Flytrippers) January 9, 2018

By the way, quick disclaimer: we're really not being political, but we definitely want to try being inspired by current events to make you all laugh and attract your attention to things that are very important to many of you, like how to travel more for less?.
In this particular case, what we'll talk about is Air Canada's BIG sale (it ends tomorrow) and in fact, all sales that airlines advertise and publicize in general. Almost every airline does it. WestJet had a big sale in late December. Porter seems to have one every other day. Prices for flights change every hour, so it is a bit confusing that they organize a formal sale and give it a name right? But they do.
READ ALSO: Air Canada or WestJet? Which airline is the best?
So are these really any good? Can you find a great deal in these sales? What's the difference between these formal sales and the deals Flytrippers curates on its deals page?
Air Canada's Big Sale
It's not the first time I write this sentence, but plane ticket pricing mechanisms are extremely complex, much more than almost any other product or service in the market. There a lot of articles coming soon about how it all works, but let's start with these airline "sales".
You probably figured out by reading our tweet that Air Canada's sale (and all other airline sales for that matter) are much less interesting than the flight deals published on our website daily. Why?
Essentially because what airlines in Canada include in their formal sales are often small discounts, not huge deals. There are dozens of different airlines that operate hundreds of different routes (and serve even more destinations with connections) and it's simply not realistic for one airline to have a sale where they'll undercut every single competitor with a lower price. The exception is Ultra Low-Cost Carriers, as these airlines have a completely different operating model and have basically nothing in common with regular airlines in terms of pricing.
READ ALSO: How Ultra Low-Cost Carriers Work (ULCCs)
But that doesn't mean these sales are completely useless. There are obviously some interesting deals in Air Canada's Big Sale, and there is one major upside to these sales. Since the prices aren't marked down as much, there are usually more dates available than in our Flytrippers deals (our deals are often 50% off the regular price, so there are very limited dates). So if you happen to need to buy a ticket to one of the destinations in Air Canada's sale, you might find something interesting. You might find something cheaper than the regular price, just not cheaper than our deals. But for those who don't have the flexibility required to wait for a deal, it can often be useful.
The major downside though is that basically none of the prices we've seen in the Big Sale would even meet the threshold to be featured on out deals page, it's simply not enough of a discount.
But like I said, it's quite normal, no airline can put dozens of destinations at a steep discount simultaneously. That's what you need to understand about airline sales in Canada, it's mostly just a marketing initiative. It's a very small discount available for a large number of destinations and dates, instead of a huge discount on a few destinations. Given how flight deals always expire quickly, and given how many people must check out the airline's website during an advertised sale, if there were huge deals, they would expire right away and people would be mad, because a large percentage of travelers don't understand how flight deals work at all.
At Flytrippers, the deals we curate for you every day are incredibly low prices. Each airline will only have a few of these, where they drastically lower the price to liquidate seats on specific flights. Airlines will almost never advertise the deals we find: it's so cheap that they know they will sell those tickets without having to spend money on advertising to promote them, which isn't the case with their sales.
Basically, airline sales are excellent if you were already planning to go to one of those destinations and had to buy a ticket anyway. But you'll never decide to go somewhere because of the prices you find there (it's just not discounted enough for that).
At Flytrippers, it's the opposite. Our deals are often so cheap that you'll buy a ticket to go somewhere even if you had absolutely no intention of going there, because the price is so low. That's the biggest difference. For example, both Flytrippers cofounders are heading to Europe in two weeks because of the crazy sale we shared recently, flights to Europe from Toronto and Montreal for only $247 roundtrip. We just got back from Europe less than a month ago, but that price was just too cheap, we had to buy them.
So formal airline sales are definitely better than paying regular price. Yes, there are savings. But most of the time, it can absolutely not be described as huge savings either, especially sales by airlines whose airfares are generally more expensive than others. The sales have a lot of small discounts, not many huge discounts, if any. That's the opposite of how it usually works.
READ ALSO: Why Plane Tickets Are So Expensive In Canada
That's also why we recommend you subscribe to our free newsletter, you follow us on Facebook and most importantly you check out our website every day: incredible deals will come from dozens of different airlines and it's simply unthinkable for you to search every website for all the possible destinations individually. That's why we do it for you, so you can find all the best flight deals in one place.
Including Air Canada deals. Just this past weekend, there was a crazy deal on Air Canada's Montreal-Shanghai flights for $498 roundtrip. That's incredibly low. But it had nothing to do with their Big Sale.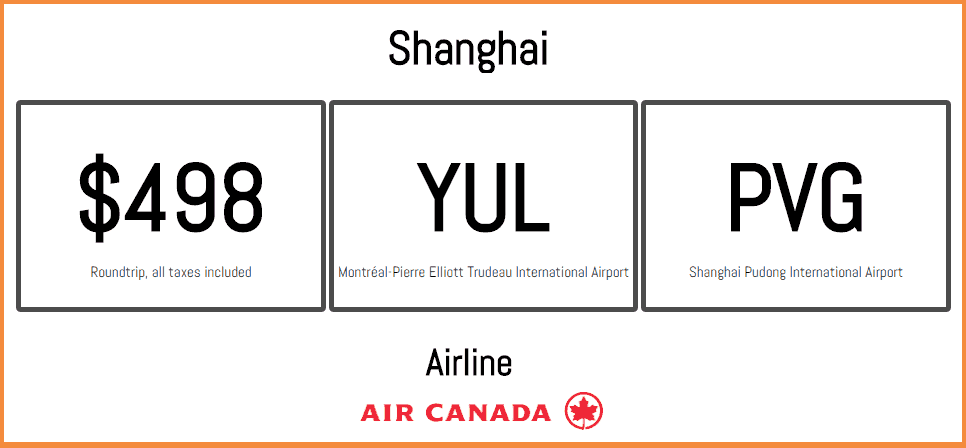 That's really cheap to fly to Asia from Montreal, Shanghai is pretty far away. Just to give you a point of comparison, in Air Canada's Big Sale, they advertise a Montreal-Ottawa flight for $308 one-way. Yeah, that's 24% more to go to Ottawa instead of Asia.

And by the way, the point is not to criticize that specific price. I'm simply illustrating what I've been saying for the past 10 paragraphs. Some deals in the sales that airlines advertise can be okay, but most aren't any good. And it's essentially just a marketing event. You won't find THE deal of the year in those sales.
Really good deals will come up on their own, organically, for a variety of reasons, but they'll rarely be advertised or promoted. Airlines basically don't make any money on the flights we spot at very low prices on our deals page, the price is just too low. What we publish is the very best price and flights at those prices are there to be cleared out and airlines won't spend money on advertising for tickets that cheap. They spend money on advertising for Big Sales, because with those discounts, they still make decent profit.
What's unfortunate though, especially given how hard Air Canada works to make its onboard experience a cut above, price-sensitive travelers aren't really the airline's target anyway. Price is not how Air Canada differentiates, as they are clearly positioned in the premium segment. It's quite rare that they will have the lowest price, it happens, but it's just not frequent. And that's fine, that's exactly their value proposition, they are absolutely coherent. And a lot of people are willing to pay more to fly Air Canada, so that's their model. That means even their sales won't always be priced lower than the competition.
And that too is somewhat normal. For example, foreign airlines have to offer a lower price in Canada, or else who would fly with them? Most travelers would choose their national hometown airline over a foreign airline every single time if the price is the same. So foreign airlines have no choice but to price cheaper than Air Canada. As a matter of fact, Air Canada itself sells its own flights cheaper in the USA than they do here for the same reasons, it's the way the industry works.
In summary, if you must book a flight for a specific date and destination, these kinds of sales can be useful, because it might beat the regular price. But you should be able to find an even cheaper option by simply using our flight search tool that compares all airlines and all booking websites.
You can check out Air Canada's sale on their website by clicking here. It ends tomorrow, January 10th.
Bottom Line
So here's what you need to know about airline sales. They're better than nothing, but they most likely won't get you a deal as good as what we find every day.
Do you have any questions? Ask them in the comments below.
Help us spread the word about our flight deals and travel tips by sharing this article and most importantly bookmark Flytrippers so we can help you navigate the world of low-cost travel!
Advertiser Disclosure: Flytrippers receives a commission on links featured in this blog post. We appreciate if you use them, especially given it never costs you anything more to do so, and we thank you for supporting the site and making it possible for us to keep finding the best travel deals and content for you. In the interest of transparency, know that we will NEVER recommend a product or service we do not believe in or that we do not use ourselves, as our reputation and credibility is worth far more than any commission. This principle is an essential and non-negotiable part of all our partnerships: we will never give any third-party any control whatsoever on our content. For more information on our advertiser disclosure, click here.
Share this post to help us help more people travel more for less: