As we always say, the easiest way to save on plane tickets is to be flexible. Sometimes this isn't possible, but that doesn't mean that you always have to pay more in these situations.
Let's say you need to buy a plane ticket, but your destination or dates aren't in the deals we post every day on our deal page (don't forget, those deals change every single day, so come back often… and check out how they work by clicking here).
Many people don't know this yet, but in addition to our great deals, we also have a flight search tool.
Because on top of the great deals, the tips and inspirational articles on the blog every day (and our online store), we also want you to save money when you need to find any flight at the best price available at the moment. We will soon share an Ultimate Guide with many many tips on finding a cheap flight.
Here is how this tool works and some important rules to know about. By the way, this tool is great for when you know your dates and destinations, since it finds the best price. But we have one that's useful for situations when you're looking for the cheapest dates or when you have specific dates and want to know where you can go. Don't miss that article next week.
How to Save and Find Cheap Flights
First, go to the flight search tool page. If you want to put it in your favorites, we appreciate if you put our page (not the link once opened), because it contains our referral code which allows us to get a commission (without costing you a penny more!) and that enables you to support us so that we can continue to find deals and to help you to travel at the lowest price! Thank you in advance, we really appreciate it! If you like what we do, don't miss, in the coming days, our article on other ways to support us for free!
So, it supports Flytrippers, and it finds you the best price. Isn't this tool wonderful!
CLICK HERE TO ACCESS THE SEARCH TOOL
This tool is great because it compares the price with dozens of different booking sites, to find the best price available. Here is what the interface of our partner's search tool looks like.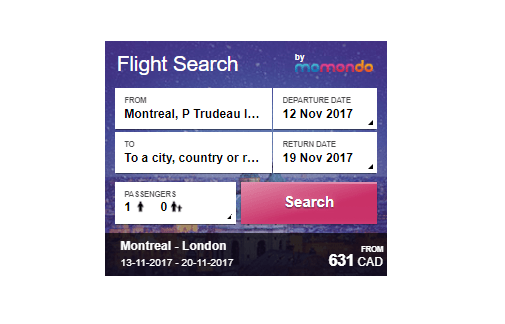 It's pretty simple. You input where you're leaving from, your destination, your dates and the number of tickets. For one-way flights, simply leave the return blank.
The tool should appear by default in English and in $CAD, but depending on your personal settings, you may have to change it manually (top right) once you're on the results page.

You'll see the results in the center of the page, sorted by price. It is therefore the perfect tool to see the price of any flight, as it compares the price of the ticket on dozens of different booking sites, which usually have different prices. This is why we should not look only at a particular booking site, but use our tool, because it compares all the options and refers you to the cheapest site. Which booking site is the cheapest? It changes constantly, depending on the destination, the date, etc.
Here is what it will look like, for a flight from Toronto to Hong Kong: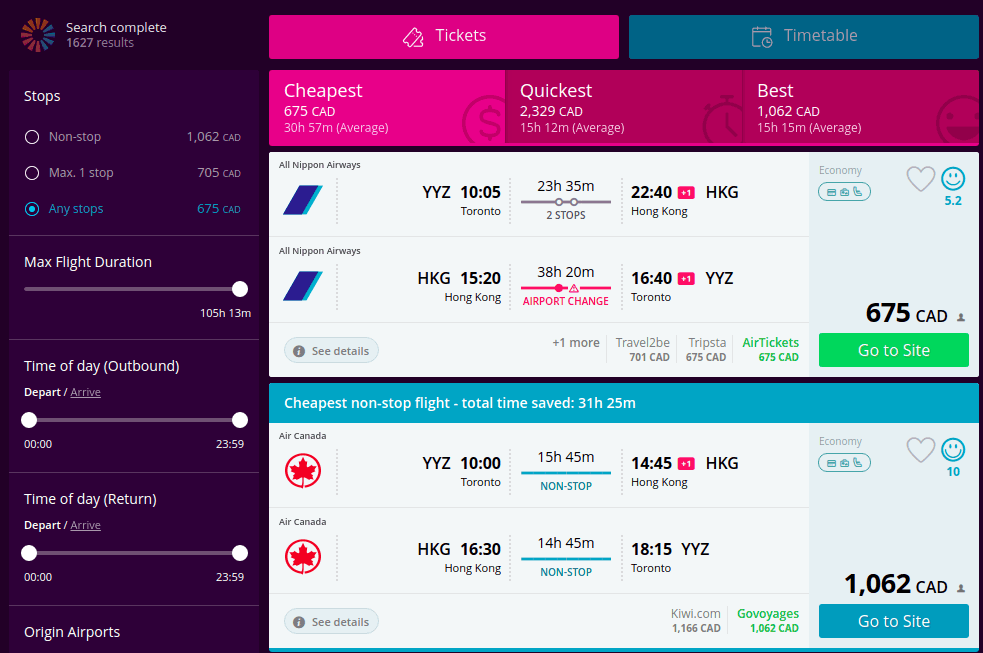 This tool is the best for quick searches, if you already know your dates and your destination because as mentioned, you should always compare multiple booking sites and it does it for you. It's easy to use and very simple.
Important: this tool will not necessarily find the cheapest price. Only the cheapest price available at the time of the search. Even though it's the best price today, tomorrow it could be 50% off on our great deals page. That's why we recommend investing a little time to track the evolution of the price for your destination, look at our deal page regularly, and educate yourself about how prices work. And, of course, read our many tips, there are many more on the way on this blog.
And you should take the time to play around with the tool, it could pay off.
For example, don't forget to look for secondary airports that can save you hundreds of dollars in many cities. Fort Lauderdale (FLL) is often cheaper than Miami (MIA), London-Gatwick (LGW) is often cheaper than London-Heathrow (LHR), and several other cities have more than one airport. Sometimes the tool automatically looks for you, sometimes it doesn't. Do your research. A detailed article on the subject will soon be available.
And never pay $1000 or more to go to Europe. If you want to save money, split your itinerary into two separate tickets, as explained here. You could save as much as $900 per ticket as I did last winter.
If your tickets are way too expensive for your dates, check to see if leaving from an American hub (New York, Boston, Chicago, Seattle…) would save you more than the amount to fly (or drive) there, as they often have crazy prices from the US to many destinations.
If you plan to go somewhere in North America and it is very expensive, you should consider starting Travel Hacking and especially with this card that gives you 25,000 Aeroplan Miles, for an annual fee of $120. This equates to a free flight anywhere in North America (minus the $100 – $200 in taxes from Canadian cities or $10 – $20 in taxes from border airports in American cities like Seattle, Buffalo, Detroit or Burlington).
What You Need to Know
It's important to understand some points about this tool:
– It will redirect you to booking sites, that's normal. The tool is an aggregator that compares prices on all the different booking sites (the trustworthy ones at least)
– It's to find the cheapest price, but you will not find any deals. The deals are all on our deal pages, this tool will not find 50% discounts like those on our deal pages.
– It's to find the best price available today … that does not mean it's the lowest price that will ever be available, just the best price at the time of the search. Take the time to do frequent searches to follow the evolution of the price
– It's not ideal to find the best dates or find a destination for your dates, it's great when you have a specific date and a specific destination. The tool for more advanced searches will be explained in a blog post next week
Bottom Line
So here's something for when you can't find a deal for your dates or the place you want to go, at least it finds you the best price available right now. The best way to save is to take the time and look often to see what the price level is and to look at the alternatives.
Do you have any questions? Ask them in the comments below.
Help us spread the word about our flight deals and travel tips by sharing this article and most importantly bookmark Flytrippers so we can help you navigate the world of low-cost travel!
Advertiser Disclosure: Flytrippers receives a commission on links featured in this blog post. We appreciate if you use them, especially given it never costs you anything more to do so, and we thank you for supporting the site and making it possible for us to keep finding the best travel deals and content for you. In the interest of transparency, know that we will NEVER recommend a product or service we do not believe in or that we do not use ourselves, as our reputation and credibility is worth far more than any commission. This principle is an essential and non-negotiable part of all our partnerships: we will never give any third party any control whatsoever on our content. For more information on our advertiser disclosure, click here.
Share this post to help us help more people travel more for less: