The Top 3 tips that we can give you to save money on plane tickets are: be flexible, be flexible and be flexible. And that sometimes means flying out of a different airport.
Do not miss our next article in this series, our explanations on when it's worth going elsewhere to save hundreds of dollars, whether it's from Buffalo, Niagara Falls, Ogdensburg, Detroit, Syracuse, Rochester, Plattsburgh, Niagara, Bellingham, Burlington, New York, Boston, Toronto, Newburgh, Providence or any other nearby airports.
Just to give you one example, Guadeloupe and Martinique are often available for $250 roundtrip from Providence which is less than a 6-hour drive from Montreal. The same flight is more than $1,000 directly from Montreal. Let's say there are two of you, that gives you a saving of $1,500. Not bad, isn't it? The savings are more than enough to pay for a hotel night that includes parking! More details about these roadtrips are coming next week.
In the meantime, we've been talking about this trick regarding airport parking for a while, so here are the details of a very useful tool, it's called ParkSleepFly (and also our other tips for parking at the airport).
ParkSleepFly is convenient when you want to leave from another airport to save money, or if you usually park your car at your own airport for a lenghty time. Because sometimes, if you save hundreds of dollars on the ticket, it's worth the drive, even counting the cost of parking. It's often the case, in fact. But it is also useful for those who live a little further away from their own airport, instead of paying for expensive parking at the airport.
Here's how to save on airport parking in these cases.
The ParkSleepFly Tool
I have been using the ParkSleepFly website myself for many years. Essentially, instead of paying for parking at the airport, you pay for a hotel night, and the hotel will keep your car in its parking lot during your trip. They will also take you to the airport (and back to the hotel) for free.
ACCESS THE TOOL BY CLICKING HERE
It's pretty wonderful. It costs you about the same price as parking at the airport, but also gives you a bonus night at the hotel. Convenient if you return on a late flight and want to get a night's rest before going back home, or if you want to arrive in town the day before your flight to be sure not to miss it and start your trip early with an extra night at a hotel. It's often basically a free night if you compare the price of a ParkSleepFly package to parking at the airport for a two-week trip.
You can actually decide if you want to sleep at the hotel the night before departure or once you return. The price of the night is a little more expensive than if you would book the hotel alone (to pay for the parking), but it is very far from being unreasonable.
As I said, always compare with the price of parking alone to see if it's worth it. It's usually worth it if you leave for 7 to 14 days. For trips shorter than a week, parking directly at the airport is usually cheaper than including a night at the hotel. For trips longer than 14 days, some ParkSleepFly packages charge an extra cost, although some places offer parking for up to 21 or 30 days. Again, compared to parking at the airport, it's often worth it.
Like any of the dozens of tips we shared in this blog, there is no absolute truth: that simply does not exist in the world of travel. It all depends on your specific dates, the airport, and the specific situation. Always compare the options to see, it could save you a lot of money.
Here is an example of the prices if you decide to leave from Burlington (where your flight to anywhere in North America will only cost you $14 when signing on to this Travel Hacking credit card, same goes for flights from Buffalo or Seattle).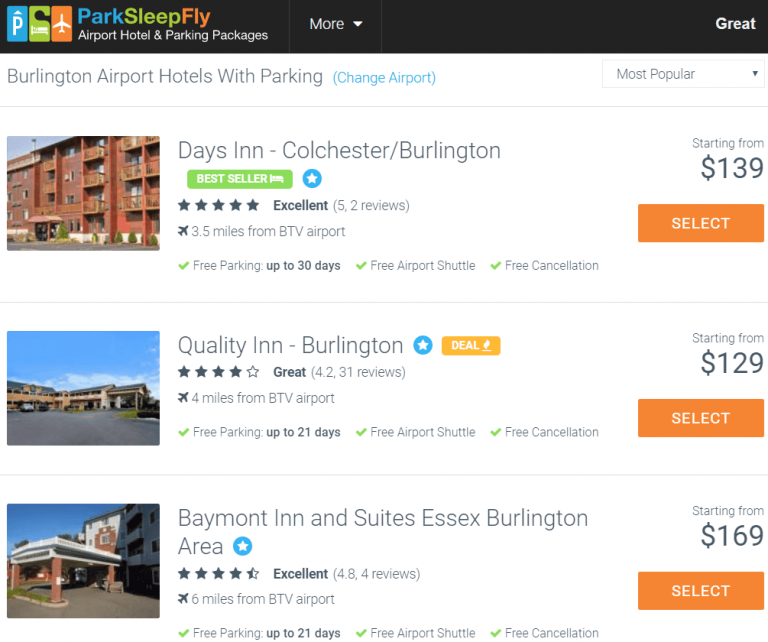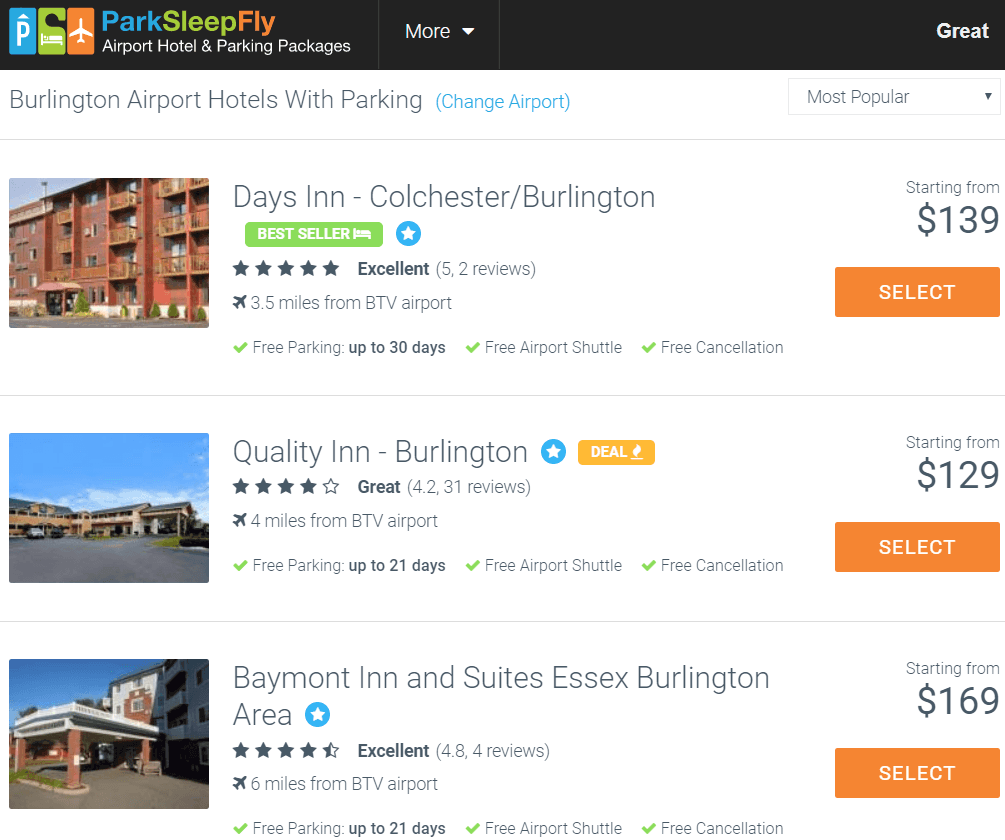 You see that these are reasonable prices, and those include 21 or 30 days of free parking and the free shuttle to the airport. It's in US dollars of course, but even $139 US, especially if you divide by two, it's not that expensive. Cheaper than parking alone in most cases.
If you are going on a group trip, if you are 4, the cost of this hotel/parking is less than $50 per person. Let's also add $20 worth of gas per person. So even with all those expenses you could save hundreds. Why? Leaving from New York City or Detroit or other airports can sometimes save you up to $500 per ticket!
It's well worth the little roadtrip! Again, more details on all this next week.
Let's say you do not live directly on the Montreal Island and that you're flying out of Montreal.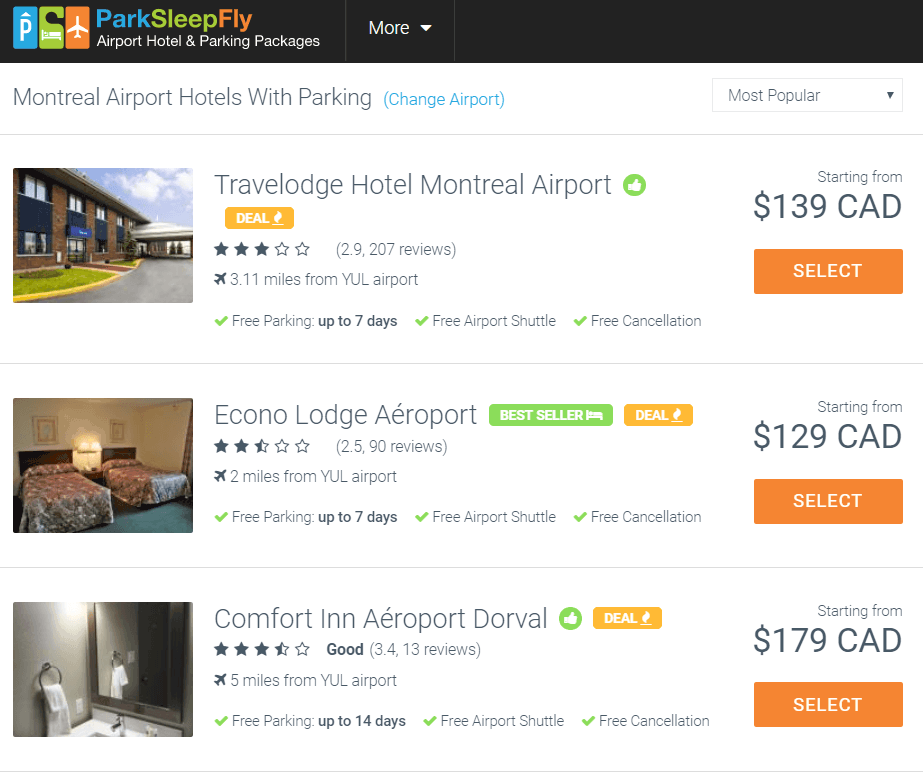 Even here, if you usually pay for parking at the airport, it may be worth it to take the night at about the same price … and enjoy an extra night at the hotel for free. No, they are not luxury hotels (even for the low standards of airport hotels) but it is ok if it comes at the same price as parking alone.
You can also use the tool to search for regular airport parking, without hotel nights.
We also recommend another tool for the parking search alone, Airport Parking Reservations.
If you are like me, you have to park at the airport sometimes. Personally, I hate bothering people, so in almost 200 flights to date, I never asked family or friends to drive me to the airport, not once. But that's just me, I do not like to depend on others, and that's maybe your case too. Or maybe there are other factors that make the ParkSleepFly not that useful in certain cases. Like if your trip is shorter and it's just cheaper to pay for parking alone.
In these cases, as much as possible, avoid parking at the airport directly, it's always more expensive (the exception is at Plattsburgh airport because it's so small, $8US per day and you'll be a few steps from the door). The tools mentioned above will help you find alternatives that are a little further but that are not managed by the airports themselves, reducing your bill drastically!
Bottom Line
In short, it's a great tip for anytime you need to park at the airport for a longer trip or if you're roadtripping to a city away from home.
What do you think? Tell us in the comments below!
Help us spread the word about our flight deals and travel tips by sharing this article and most importantly bookmark Flytrippers so we can help you navigate the world of low-cost travel!
Advertiser Disclosure: Flytrippers receives a commission on links featured in this blog post. We appreciate if you use them, especially given it never costs you anything more to do so, and we thank you for supporting the site and making it possible for us to keep finding the best travel deals and content for you. In the interest of transparency, know that we will NEVER recommend a product or service we do not believe in or that we do not use ourselves, as our reputation and credibility is worth far more than any commission. This principle is an essential and non-negotiable part of all our partnerships: we will never give any third-party any control whatsoever on our content. For more information on our advertiser disclosure, click here.
Share this post to help us help more people travel more for less: