On almost every continent in the world, there are countries where Portuguese is an official language! Can you believe that? From the obvious countries (Portugal and Brazil) to countries in Africa and Asia (you might never have heard of #3 and #5), you can feel the influence of Portugal in so many cultures, despite the country's small size and population.
Many people were surprised when I told them about the two Portuguese-speaking countries I discovered during my two trips to Africa this summer, so I think you might be interested in learning about this surprisingly global language.
There are 10 countries you can visit in the world where the inhabitants speak Portuguese and/or it's recognized as an official language, I'll cover the 5 most common ones today and the 5 more exotic ones in part 2 of this article soon.
These Portuguese-speaking countries, or more specifically the people in them, are known as lusophones. Specifically, they are an ethnolinguistic group of people and nations that speak the Portuguese language.
Since finding cheap flights is our specialty, I'll also tell you the best ways to get to these countries on a budget (including with rewards points if sweet spots exist, to tease our upcoming revamped travel rewards section).
Let's dive into the list of 5 Portuguese-speaking countries to visit (TL;DR the bullet-point top 5 list is at the end of the article).
1. Portugal (Europe)
First and foremost, we have the Portuguese Republic, of course.
Bordering Spain on the east and the Atlantic Ocean on the west, on the Westernmost tip of Europe, Portugal has had a long history with many regimes ruling over its lands. Today, it's the oldest nation on the Iberian Peninsula.
If you're looking for an authentic Portuguese experience, stop here first.
Why visit Portugal?
Those with a limited budget who want a taste of Western Europe should visit Portugal, as it is the most budget-friendly country in this excessively expensive part of the world.

Portugal has three famous regions for travelers: Porto, Lisbon, and the Algarve.
If you're a self-titled wine expert, I'd suggest going to Porto for the vineyard experiences. If you've already heard of Port wine or Porto wine, it's time to discover the lands that produce it. To take full advantage, book a wine tasting and riverboat tour down the River Douro.
If you love diving into culture, food, and nightlife, then hit up Lisbon. The country's capital and the cradle of the lusophone world is the place to go for more energy and amazing neighborhoods to explore. Visits to Jeronimos Monastery and Tower of Belem are sure to enhance your awareness of the local culture.
It's an excellent spot to capture the rail cars on camera and eat your way through a city—so don't miss out! You can read our article about 10 Must-See Places In Lisbon or our guest-blogger's story about Lisbon.
Portugal is a lovely country to visit for ocean-lovers. I just spent a few days in the Algarve on my Spain trip (thanks to the 17 free hotel nights deal), and I can't wait to go back. The southern part of the country is wonderful, with amazing coastal landscapes.
Finally, as we've mentioned in previous articles, the Camino de Santiago runs through all of Portugal, south to north. You have two options: a coastal or more inland hike. Either way, you'll enjoy every step knowing that you're hiking through one of the 10 safest countries in the world (the second part of that popular ranking is coming soon).

How to get to Portugal for cheap
Lisbon is often the cheapest European city to fly to; we often spot deals in the $500s–600s roundtrip on our cheap flight deals page. If you can't wait for a deal, use our favorite flight search tools to find the cheapest dates to fly to Lisbon (LIS), Porto (OPO), or Faro (FAO). Or consider first flying into Spain or even France if it is cheaper for your dates.
1b. The Azores & Madeira
These are part of Portugal but deserve their own subsection because these are two separate groups of islands far away from the mainland and, therefore, separate destinations to visit.
And it just made me remember that Azores Airlines offers a free stopover and we forgot it on our list of airlines that offer free stopovers, so we'll have to add that one in (they only fly to Boston and Toronto, though).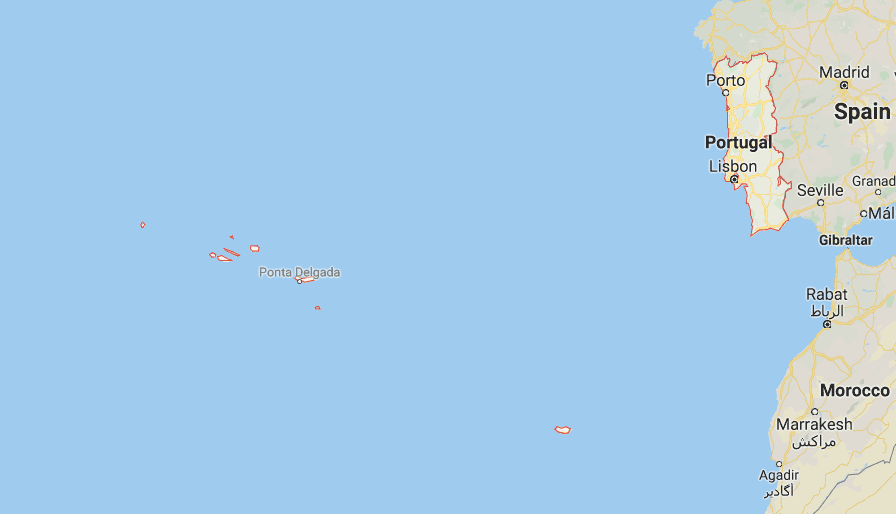 The Azores is the largest archipelago, further out into the Atlantic.
It has amazing landscapes.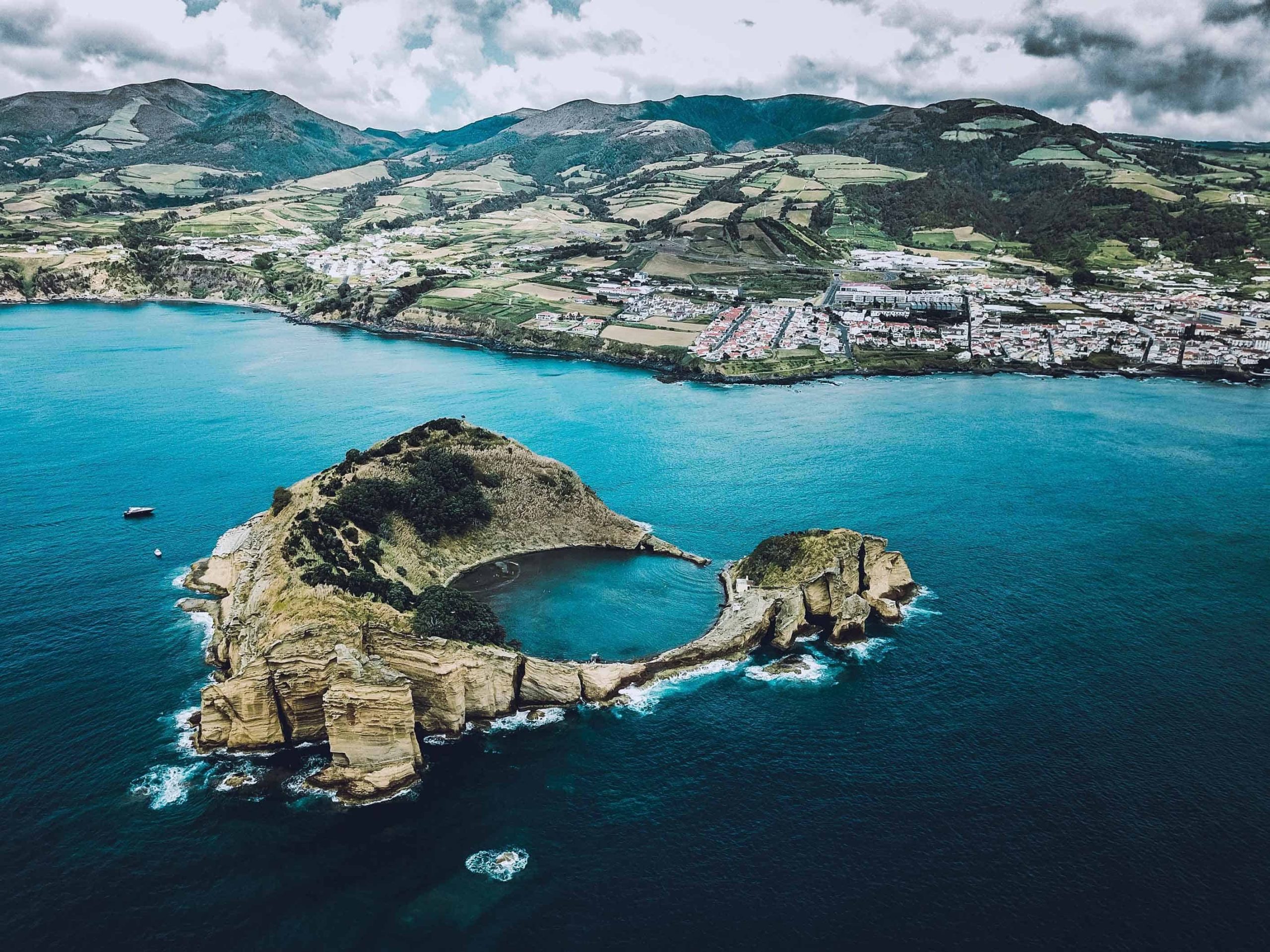 Then there's Madeira, a little closer to the African coast. It also looks stunning.
It reminds me a lot of our trip to the (relatively) closeby Canary Islands, which was an amazing journey.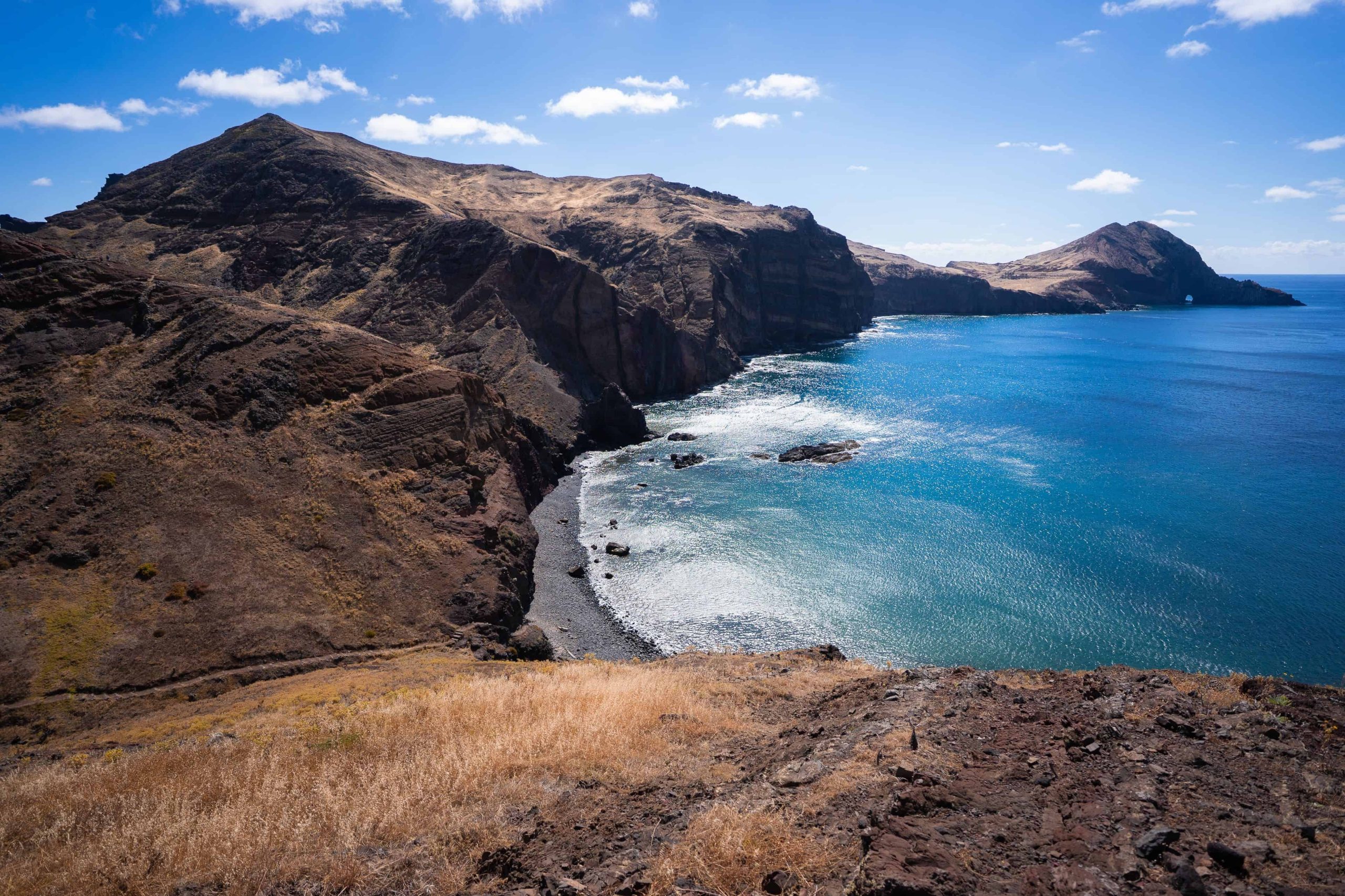 Since our article about the best islands to visit in the Mediterranean Sea was very popular, we're going to share another one about the best islands in the Atlantic Ocean.
It will include both of these destinations, so we'll share more details on why to visit and how to get there for cheap at that time, to keep this current article a bit shorter.
2. Brazil (South America)
Brazil, covering almost half of South America, was claimed for the nation of Portugal in April 1500 and has since been influenced by its culture, traditions, and language. They declared independence in 1822 and formed today's republic in 1889.
Brazil is now the largest country in the world with Portuguese as its official language, with over 200 million inhabitants compared to only 10 million in Portugal. Of course, the accent and dialect are different from those in Portugal.
Did you know Brazil is, in fact, the largest contiguous territory in the Americas?
Yes, Canada is the largest in total area, the US is the largest in total land area (excluding water), but Brazil is the largest contiguous territory because it doesn't have large islands and all of its area is adjacent.
That's a scoop for one of our next geography quizzes, to pump up the number of right answers; yesterday's was a record low!
Speaking of quizzes, a reminder that Brazil is the country with whom France (!!!) shares its longest border.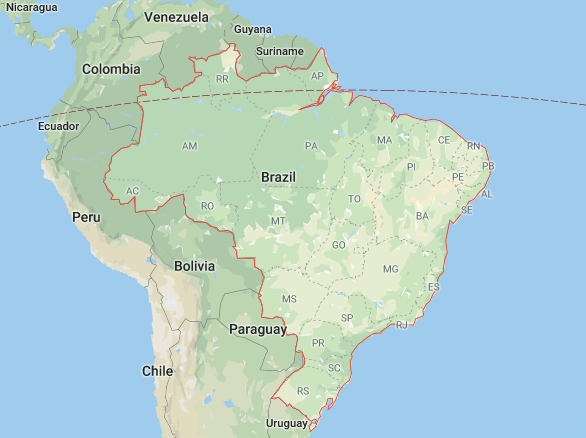 Why visit Brazil?
The Carnival in Rio de Janeiro is an absolute stunner. While the rest of the country begins to calm down, Rio reenergizes. You'll see grand processions of floats and people adorned in gowns and jewelry in Sambodromo.
Rio de Janeiro is also where you can visit the Christ the Redeemer statue at the summit of Corcovado Mountain. This also offers a spectacular view of Rio below. Then, if you're up for it, go hang-gliding!
Brazil is a huge country and has much more for travelers to see, for example, the Amazon. Explore the wild jungle hidden deep inland from Brazil's coastal cities and meet local people who live a quainter life. To get around, there are lots of riverboat tours, and cruises are available to choose from.
You can also visit Iguazu Falls, one of the best waterfalls in the world and the widest in the world. You can also discover our guest-blogger's hidden gems in Brazil.
How to get to Brazil for cheap
Brazil is often the cheapest South American country to fly to; we often spot prices in the $500s–$600s roundtrip on our cheap flight deals page. If you can't wait for a deal, use our favorite flight search tools to find the cheapest dates to fly to Rio (GIG and SDU), São Paulo (GRU and CGH), Belo Horizonte (CNF), Brasília (BSB), and Porto Alegre (POA) among others.
3. Timor-Leste (Asia)
Here's a country you might not have heard of before, so one I am most excited about visiting one day.
It's one of the newest countries in the world. In Southeast Asia lies the tiny nation of Timor-Leste, also known as East Timor, which shares the island of Timor with Indonesia (and occupies a few smaller islands).
It was once ruled by Portugal for over 200 years, from 1769 to 1975, then by Indonesia until 2002. It has been a long road to independence, but now it's a chance to experience a blend of Portuguese and Southeast Asian influences, so close to Australia.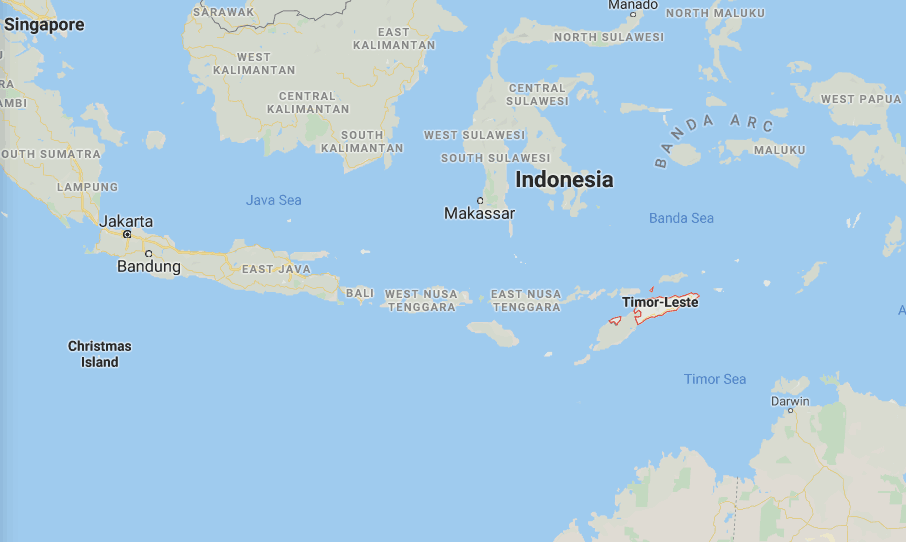 Why visit Timor-Leste?
The capital of Dili is a great place to begin. Its calm and relaxing atmosphere will show you just how slow island life is there.
Check out the oldest Catholic Church in the country, Motael Church. It was built in 1955 during Portugal's rule in the corresponding style.
In town, you can support local artisans and visit Tais Market, a lovely place to shop for artisanal crafts and textiles: handmade rugs, jewelry, and clothing.
Lastly, take a stroll down Dolok Oan Beach and admire the calm sea, and desert-like sand.
How to get to Timor-Leste for cheap
As you would expect from a country so unpopular with tourists, we never spot deals to Timor-Leste. It will probably be cheaper to buy a deal to Southeast Asia and then combine that with a flight from there to this remote country by using our favorite flight search tools. The country's main airport is in Dili (DIL).
4. Macau (Asia)
Macau (or Macao) is not a country, but we're including it anyway. It's an autonomous territory that is part of China but has its own administrative system (like Hong Kong), as we explained in our post about the different regions of Greater China.
It is a tiny city to the west of Hong Kong across the mouth of the Pearl River in the South China Sea. So, then why do they speak Portuguese there? Well, this is because Ming China leased the city to Portugal to use as a trading post in 1557. Portugal continued governing the area until 1999. That's well over 400 years!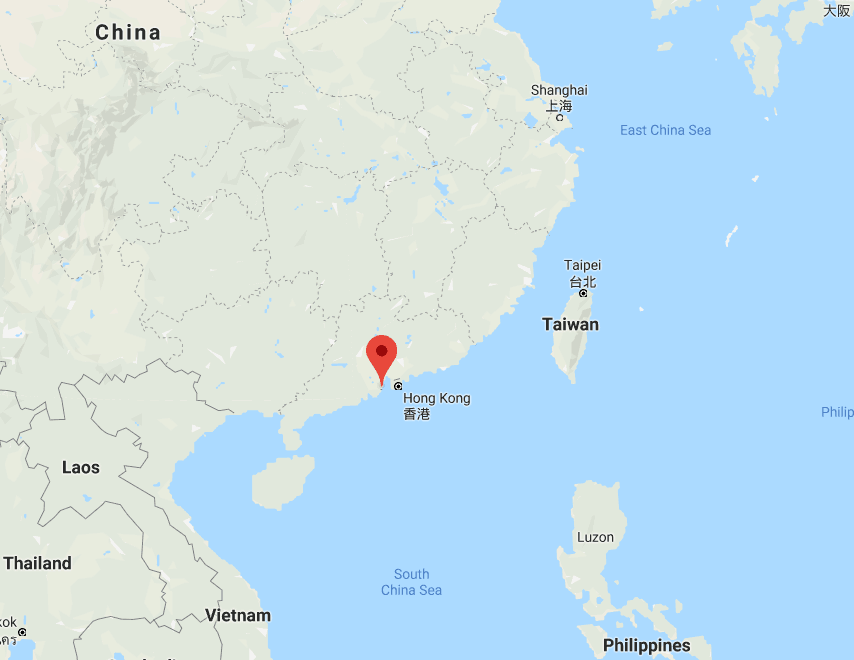 Why visit Macau?
Macau is a very tiny place, so you won't need to stay long to see most of it. I stayed for just a day then headed to Hong Kong on the ferry (there is now an insane bridge too, one of the longest in the world).
Some highlights are the Ruins of Saint-Paul Cathedral and casinos: the Venetian, and the Macau Tower. Macau generates 7 times more gaming revenue than Las Vegas—it is very much a casino town!
Since the cathedral's original construction in 1568, it suffered from 2 fires (many years apart) that have left only the façade. It's really uncommon to see this type of European architecture in Asia.
The Venetian is a luxury hotel that offers duty-free shopping, sensational entertainment, and the most divine spa treatments. If you have the extra spending room in your budget, consider staying here if you like luxury!
Lastly, the Macau Tower gives you more than what you expect: bungee-jumping, shopping malls, theaters, hotels, restaurants, and a skywalk. You could easily spend the whole day here if this is your type of thing!
How to get to Macau for cheap
Macau is not often on sale from North America, and there aren't many deals since it has only a tiny airport. You can input the city's only airport, Macau (MFM), into our favorite flight search tool, but it is probably cheaper to fly to nearby Hong Kong (HKG) and take the ferry between both cities. If you don't mind going to China, Shenzhen Airport (SZX) and Guangzhou (CAN) are also options here. You can search for all of these at once with the radius feature on our favorite tool for advanced searches.
5. Cabo Verde (Africa)
This island country of Cabo Verde, which is the official Portuguese name that should be used in all languages even though Cape Verde is sometimes erroneously used in English, consists of 10 volcanic islands and is located in the central Atlantic Ocean, off the west coast of Africa.
Portugal colonized the area in 1460, and it remained under their control until 1975. Cape Verde has since adopted a multi-party government system and is recognized as one of the most developed and democratic countries in Africa.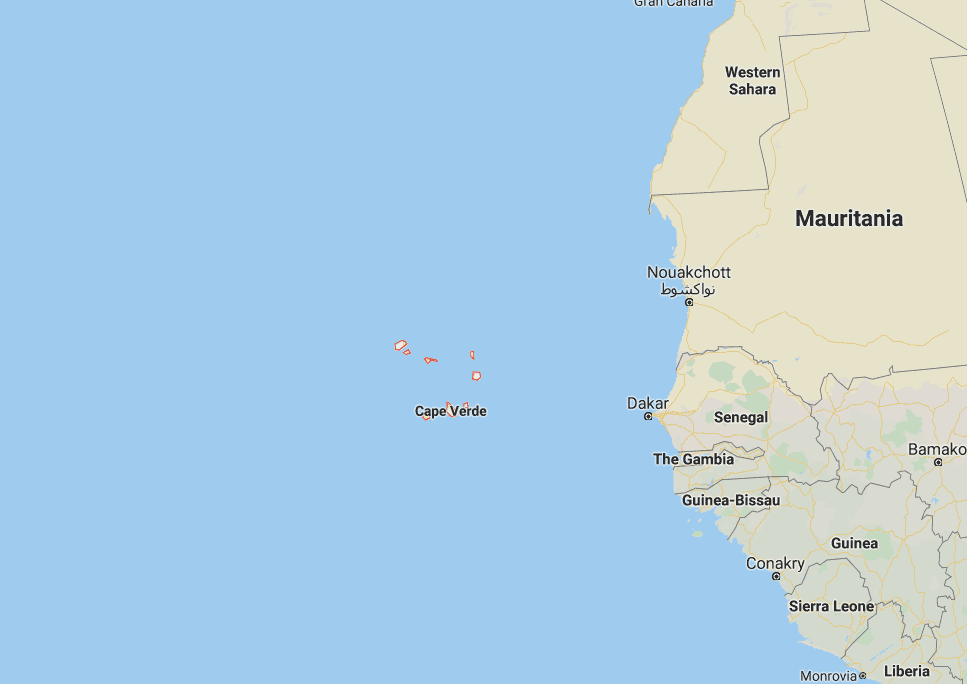 Why visit Cabo Verde?
First of all, Cabo Verde's coastlines are quite dramatic and perfect for photography hobbyists and professionals alike.
The islands don't offer lush greenery that many expect from any island. Rather, they are desert-like, offering varied tones. The island of Sal is a great opportunity to see rocky coastlines and a calm seafront.
São Vicente and Praia are two larger cities in the island nation. They are perfect locations to view colonial-style architecture and listen to traditional Cabo Verde music. In São Vicente, make sure to check out Monte Verde Natural Park for its beautiful mountain peaks, rocky coastlines, and greenery.
How to get to Cabo Verde for cheap
Again, there are rarely any deals to Cabo Verde, but sometimes if there's a good deal to Europe it could be worth combining that with a separate flight to Sal (SID), Praia (RAI), Boa Vista (BVC) or São Vicente (VXE) by playing around with our favorite flight search tools. You can search for all of these at once with the radius feature on our favorite tool for advanced searches.
Do you want to make sure to get the 2nd part of this post (and many other great ones)?
5 Countries Bullet-Point List
Here are the 5 first Portuguese-speaking countries to visit:
Portugal (Europe)
Brazil (South America)
Timor-Leste (Asia)
Macao (Asia)
Cabo Verde (Africa)
Summary
If you want to discover the lusophone culture, or maybe if you're an aspiring Portuguese speaker, then these destinations are perfect for you. So, the only thing left to do is to pick one of the Portuguese-speaking countries from this list, book the ticket, pack up, and go!
Have you already been to one of these lusophone countries? Leave us a comment below to tell your story. We'd love to hear about it!
Want to see our current discounted plane tickets?
Click here to see our flight deals
Want more travel tips and inspiration?
Click here to see the blog homepage
You'll probably enjoy this article:
Travel Hacking: Free Travel (really)
Help us spread the word about our flight deals and travel tips by sharing this article and, most importantly, bookmark Flytrippers so we can help you navigate the world of low-cost travel!
Featured image: Portugal (Photo Credit: Ricardo Resende)
Advertiser Disclosure: Flytrippers receives a commission on links featured in this blog post. We appreciate it if you use them, especially given it never costs you anything more to do so, and we thank you for supporting the site and making it possible for us to keep finding the best travel deals and content for you. In the interest of transparency, know that we will NEVER recommend a product or service we do not believe in or that we do not use ourselves, as our reputation and credibility is worth far more than any commission. This principle is an essential and non-negotiable part of all our partnerships: we will never give any third-party any control whatsoever on our content. For more information on our advertiser disclosure, click here.
Share this post to help us help more people travel more for less: