If you were planning on going to Europe, this is the BEST time to book! WOW air is currently running a Christmas promotion until tonight 7PM with flights at only $247 roundtrip from Toronto (and Montreal)!!! Now, that is crazy cheap to fly to another continent!
As you now know, every day we spot the best flight deals to go to Europe on our flight deal page. Those are usually around $440 roundtrip from Toronto. This week we even had quite a few dates at $399, which was already awesome!
But today, with this incredible Christmas promotion, the prices have dropped even lower! It's definitely the best time to book a flight to Europe, and by the way, it's a wonderful place to visit even in winter or spring (especially at this price). The flights are not only cheaper during this time of year, but the accommodations and activities tend to be as well.
Yes, it's colder than during the summer vacations, but there are also much fewer tourists, that alone can make your Eurotrip much more pleasant. At $247, even if it's only for a week, it's still worth going on a European getaway. Europe is closer than you think, and at the end of this article, we'll show you how you can even use this deal to go to Spain, Greece or any other European country where the weather is a bit better… at a very low price.
And before giving you all the details, we want to remind you that Flytrippers also has a great Christmas gift for you, a free $50 with our promo code if you haven't already used it. And if you're a bit late with your Christmas gifts this year… here are our 25 gift ideas around $25 that travelers will love!
Promo Code 50% Off WOW air: Europe for Only $247
As you probably know by now, we really appreciate it when you use our links to book (not only our flight deals but also any flights, hotels, car rentals, or even any online purchase on Amazon or Walmart or credit card application). It's always free for you and it's the best way to support us and enable us to keep finding the best flight deals for you, so once again, thank you!
It this particular case, the only way to get the promotion is by using the WOW air website directly, but we wanted to share it with you anyway (even if we don't get any commission) because it's really a wonderful deal for you! Our first priority and our mission is to make it possible for everyone to travel more, for less and that will never change!
So, almost every WOW air flight is 50% off with the promo code "WOWXMAS" until 7PM (Eastern) tonight, for flights between December 27th and May 15th (roundtrips only).
As usual, the airline can only discount the portion of the flights before taxes, so it's 50% off the cost of the flight before taxes. The final price of many flights comes out as low as $247 roundtrip… which is ridiculously cheap!! Many people pay more than that to go to Florida, and today for the same price you can fly to Europe. Iceland is only $171 roundtrip, cheaper than a Toronto-Montreal flight… Israel, usually more than $700… has a few dates for $275 roundtrip. Completely insane!
We were in Europe last month and flew on WOW air, so we can tell you from experience that even if it is an ultra low-cost carrier, the on-board experience is great and the planes are brand-new! Yes you need to travel light, but the service is excellent and you will appreciate it, we definitely recommend them. You won't see much of a difference compared to a regular airline… other than the fact you'll save hundreds of dollars of course!!! You'll be able to read our complete review with many pictures here very soon.
Step 1
Use our usual deal pages below to find the cheapest dates that fit your schedule (the 50% off isn't applied there)
We will be looking for more dates throughout the day, but you can find even more by playing around with the dates on WOW's site directly.
Brussels $399 now $257
Amsterdam $399 now $264
Berlin $399 now $280
Tel Aviv 439$ now $275
Copenhagen 419$ now $264
Stockholm 459$ now $278
Frankfurt 461$ now $363
Dublin 469$ now $247
and
Iceland $259 now 171$
There are other WOW air destinations at similar prices directly on WOW's website, like Barcelona.
And don't forget that there are more than 300 destinations in Europe where you could fly under $500 roundtrip if you use our trick below!
Step 2
Go to WOW air website directly and enter the cheap dates that we found for you (as we do every day ?) then enter the promo code "WOWXMAS". Before 7PM tonight.
You'll see the price change automatically to go down as low as $247 roundtrip, which is ridiculously low for a flight to Europe.
It's not as turn-key as our usual deals where we give you the link to book directly, but for this price, it's well worth the extra effort !!! Because of the promo code, we can't find all the dates, but there are a lot more available if you search.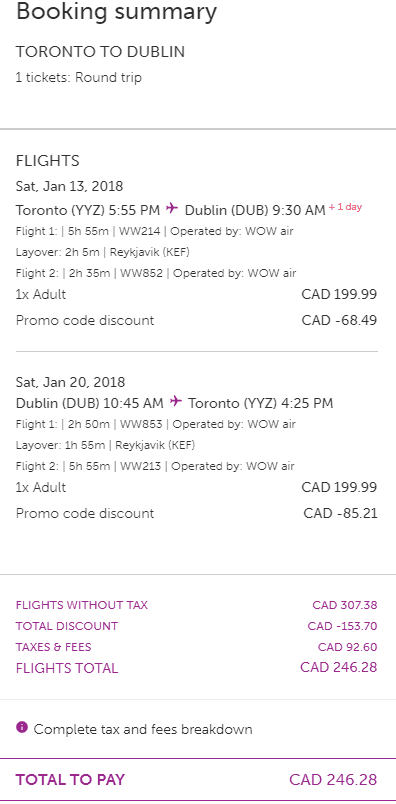 More Destinations in Europe?
Don't forget that from almost any city in Europe you can catch a flight to many more destinations for less than $100 roundtrip if you want to go to a destination that is not in our deals. As an example, from Paris, Venice is only $40 roundtrip, Bologna $40, Milan $40, Barcelona $40, Portugal $48, Poland $60 and many many more!
Play around with the dates and search on our advanced search tool to find the best price! We covered that technique in detail in this blog post.
We also have a deal page for Paris specifically if you want an idea of the prices from there.
Bottom Line
This promo is only valid only until tonight and it's the best price we've seen for Europe. Treat yourself to this great Christmas gift! If you were looking for a cheap place to go to in the next months, this option is really hard to beat!
Any questions? Ask them in the comments below.
Help us spread the word about our flight deals and travel tips by sharing this article and most importantly bookmark Flytrippers so we can help you navigate the world of low-cost travel!
Advertiser Disclosure: Flytrippers receives a commission on links featured in this blog post. We appreciate if you use them, especially given it never costs you anything more to do so, and we thank you for supporting the site and making it possible for us to keep finding the best travel deals and content for you. In the interest of transparency, know that we will NEVER recommend a product or service we do not believe in or that we do not use ourselves, as our reputation and credibility is worth far more than any commission. This principle is an essential and non-negotiable part of all our partnerships: we will never give any third-party any control whatsoever on our content. For more information on our advertiser disclosure, click here.
Travel Hacking Disclaimer: Flytrippers does not give financial advice. You should ensure travel hacking fits your personal situation and obtain professional advice if you so desire. Flytrippers may receive a commission for referrals, however our policy is to only recommend products or services we really believe in (and have ourselves). To read more on our disclaimer, click here.
Share this post to help us help more people travel more for less: