One of the rare annoying things about traveling internationally is the need to get a travel visa to enter certain countries. For a long while it hasn't been necessary for Canadians visiting Europe, but that is about to change somewhat in 2021. Here's what we know.
Travel visas. It's such an antiquated concept, especially the expensive ones that can easily cost over a hundred dollars. The worst part is that often the countries who require you to get visas are the ones whose economies would benefit the most from attracting more tourists.
Case in point, Uzbekistan abolished its visa requirement in 2018 and tourism immediately increased by 226%. Quite logical isn't it? For budget-travelers like us, it's a consideration. It's frustrating to have to pay for the privilege of going to spend our money in their country.
Well, Europe is moving in another direction, by strengthening its entry requirements. If you love to go to Europe like we do, especially when we spot roundtrips for $250, $300, $350 or $400 (well, from Toronto and Montreal) on our cheap flight deals page, there will soon be an extra step involved.
While it's not a visa per se, Europe will be implementing the "Europe Travel Information and Authorisation System" (or ETIAS) starting on January 1, 2021. It's really nothing dramatic, but since literally no one is aware of this change, we want to share the info because you will still have an extra step to complete compared to now.
The ETIAS
First of all, a disclaimer. I can't seem to find any Canadian news outlet covering this news, while it is quite a hot subject in the US right now. But even CNN and all other US media outlets link to a page they describe as "official" but that is clearly marked as "not being affiliated with any European government".
So I wish we could have found an absolutely 100% clear official source, but we think it's worth sharing now nonetheless, as our quick research seems to show that this is in fact applicable to Canadians too unfortunately (and all other currently visa-exempt countries). Unless they change their mind before 2021, which we are hoping for!
So right now, Canadians traveling to Europe don't need to do anything at all, and are allowed to stay for 90 days without a visa.
In 2021, you will need to have an approved ETIAS before arriving in Europe. This will require that Canadians go through a process (online thankfully, it's the 21st century after all) to get authorization to enter Europe, but rest assured it is not a difficult one.
A vast majority of applicants will apparently be approved instantly by the automated IT system (an estimated 95%), so it's not too much of a hassle. The process is supposed to take around 10 minutes to complete and should be done at least 3 days before departure. The cost will be 7 €.
The good news is that it would be valid for 3 years with multiple visits allowed, so if you are like us and go to Europe multiple times a year because of the aforementioned great deals, at least you won't need to start over each time. The 90-day limit will continue to apply and obviously you can move freely within the different countries.
You will need a passport, a credit or debit card (we obviously recommend credit unless you don't like free travel) and an email account to complete the process. And as I said, it's not a visa (those require a more thorough vetting process) it is a "travel authorization".
And some have commented that Europeans already need to do the same thing to enter Canada and the US and that is true and we are well aware as we work in the travel industry, but the fact is the President of the European Commission doesn't mention reciprocity as a factor in these new rules at all (section Why ETIAS Authorization on this page).
All the reasons given (at least officially) for these new rules are regarding security. Given that there are 22 countries in the Schengen Zone where people can move freely, the European Union wants a better way to track who will be in Europe.
Schengen what?
Not all European Union member countries are part of the Schengen Zone that allows visa-free movement. These are the countries where you'll now need to get an ETIAS before traveling to.
Here is a map of the Schengen countries in blue: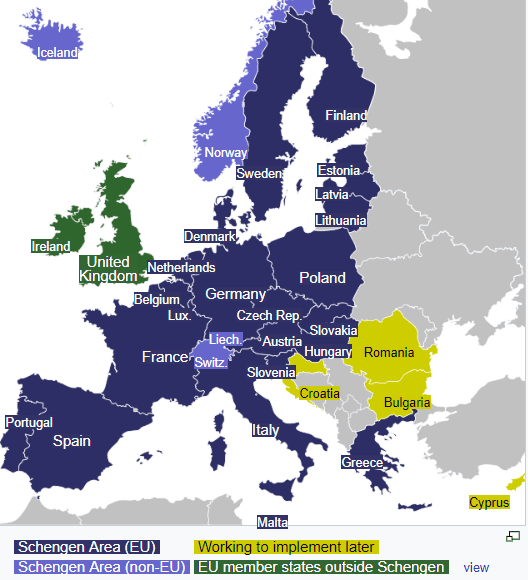 Those are the essentials, if you want more information you can check out this ETIAS website that as I mentioned is not an official website but contains many details.
If you are interested, don't miss our upcoming article with the map of all visa requirements for Canadians by country. You can subscribe to our free newsletter to get all our travel content (including the great flight deals from your city).
Bottom Line
This is a major change for Canadians used to going to Europe, although the requirements aren't that complicated, the issue is more with people not remembering that they know need to go through this extra step before leaving. But overall, it's definitely not a reason to not visit one of the beautiful European destinations.
Have any questions? What do you make of these changes?
Help us spread the word about our flight deals and travel tips by sharing this article and most importantly bookmark Flytrippers so we can help you navigate the world of low-cost travel!
Advertiser Disclosure: Flytrippers receives a commission on links featured in this blog post. We appreciate if you use them, especially given it never costs you anything more to do so, and we thank you for supporting the site and making it possible for us to keep finding the best travel deals and content for you. In the interest of transparency, know that we will NEVER recommend a product or service we do not believe in or that we do not use ourselves, as our reputation and credibility is worth far more than any commission. This principle is an essential and non-negotiable part of all our partnerships: we will never give any third-party any control whatsoever on our content. For more information on our advertiser disclosure, click here.
Share this post to help us help more people travel more for less: