If you want to travel cheaply, a new seat presented at the recent Aircraft Interiors Expo in Germany will certainly please you: one seat manufacturer believes this is the right time to introduce stand-up seats on commercial aircraft.
To be honest, "stand-up seat" is a bit misleading, it is more of an upright seat. It's still a seat, but it is a seat where the passengers would be supported by what looks a lot like a horse saddle, instead of being fully seated as we are accustomed to, as you can see below (and there are plenty of other pictures later in the article).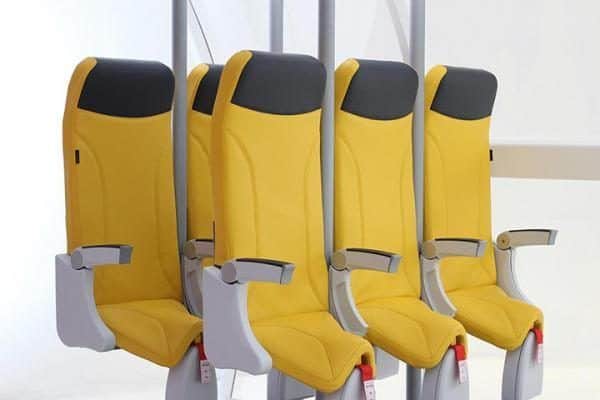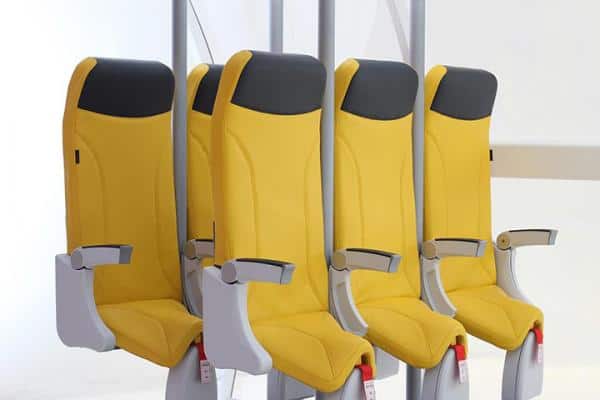 These new "ultra high-density" seats would allow airlines to fill even more people into planes (meaning cheaper flights) and this would only be for short flights. And do not worry, it would not be less safe: there would be just less comfort and less space. Everyone agrees that there is too much legroom in Economy class these days anyway (that's a joke, by the way).
But what is not a joke is that I love these seats and I hope they'll really be implemented in the future. As you know, here at Flytrippers, our mission is to help you travel more (thanks to the cheap flight deals we spot every day on our website).
The cheaper the plane tickets, the more you can travel … the equation is very simple. These seats will reduce prices (which have already reached the lowest level in commercial aviation history by the way).
We just published a prank article about an airline offering flights that would look like subway cars, with no seats and everyone standing up, holding handles, with the following image.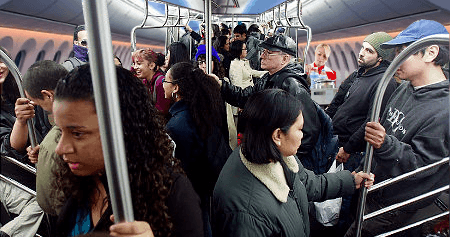 Obviously, it was an April Fool's joke. Security-wise, standing like that would never be allowed.
But semi-upright seats such as those presented at the Aviation Interiors Expo in Hamburg last month could be really promising, if you want to travel cheap. Especially since the company states that the comfort level is adequate for short flights and that the experience is a reasonable compromise.
Here are the details.
Having Options
Before going into the details and showing you the pictures… I can already hear people complaining about these seats. Please, keep an open mind and keep reading if it is your case.
Apart from low prices (in fact it is intrinsically correlated), the other thing we love here at Flytrippers is having options.
I do not want to pay for customer service that I do not use, I do not want to pay to print tickets when I can do it at home, I do not want to pay for a meal that I do not want, I do not want to pay to choose a seat when I can sit anywhere, I do not want to pay for more space when I'm willing to be less comfortable, I do not want to pay for baggage when I do not need it … I want the option of paying for the bare minimum, so that the ticket is the cheapest price possible, that's all.
Those who want these services should have the option to pay for them, and those who want to travel cheaply should have the option not to pay them and travel more often. Pretty simple isn't it?
That's why we love Ultra Low-Cost Carriers (ULCCs), which have allowed us to travel on flights for $10 in Europe, $20 in the United States, $20 in Asia, $20 in Peru … in short, these airlines give you the opportunity to choose the services you want, instead of forcing you to pay for all those services you do not use. It keeps you from paying for what others are using.
This seat manufacturer is specifically targeting ULCCs with this new type of plane seats.
Personally, I find it really great. For short flights of less than 3 hours (which represent a very large proportion of all air passengers at the moment), why not? If it's cheaper, I can not be against people having that option, and I'll definitely try it. How about you?
Not tempted? No problem, nobody will ever force you to use them. But let's at least give the option to those who are willing to make sacrifices that allow them to travel more often, for example to visit 18 different countries as I did last year.
And it's not just to travel more: the Ultra Low-Cost model (as well as these seats if they ever see the light of day) helps to democratize air transport and give a chance to less fortunate people to travel too…
The seats
For those who want more technical details, here they are. Italian manufacturer Avio Interiors has introduced its new seat, the SkyRider 2.0, which is thought to increase passenger capacity by 20% for the same space. The seat itself will be 50 percent lighter than standard seats and will be less costly in terms of maintenance, two other factors that would lower costs even more.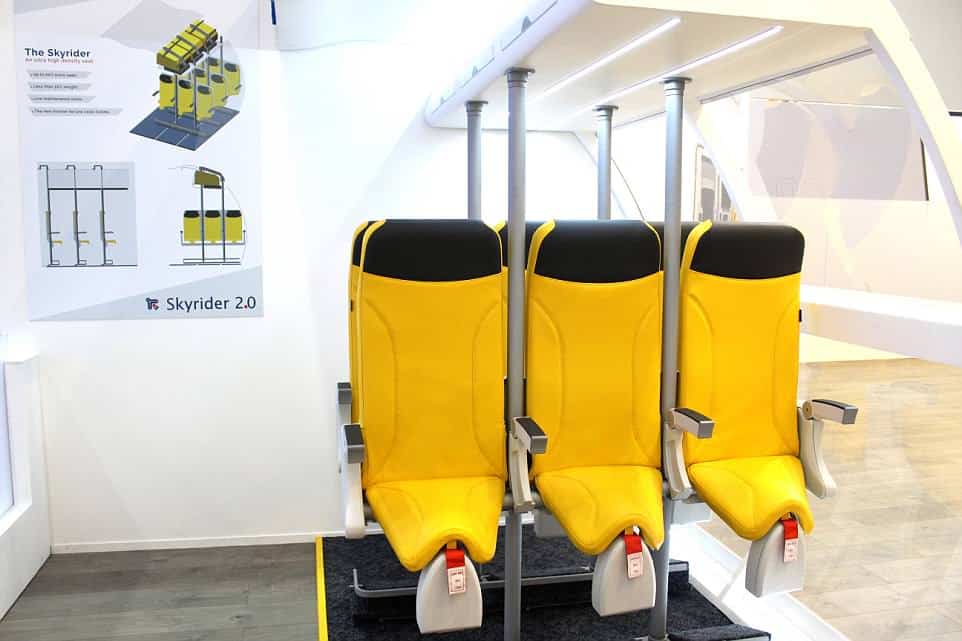 As you can see in the pictures, it doesn't look that bad: the support seems decent, and again keep in mind that these would only be for very short flights.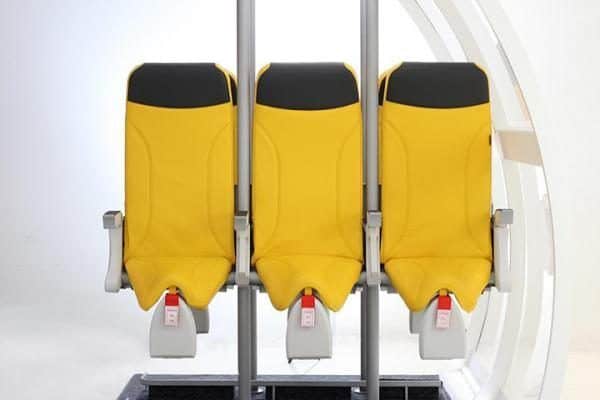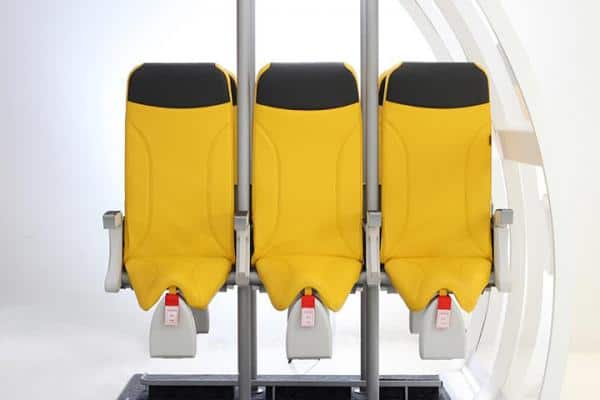 Having people seated upright would significantly reduce the space required between the rows of seats (no bent legs = less space) and of course, if there are more passengers on the plane, airlines can lower prices.
This is already one of the ways Ultra Low-Cost Carriers are able to offer reduced prices, as the tightest of them have only 28 inches of pitch (the space between the seat rows). For comparison, regular airlines have between 29 and 31 inches of pitch in Economy class, so the difference today is really not the end of the world. Having been on dozens of Ultra Low-Cost flights and dozens of flights on regular airlines in the last few months, honestly I do not see a huge difference. And I'm taller than average.
These standing seats would allow airlines to reduce the pitch to 23 inches, which translates into considerable space savings.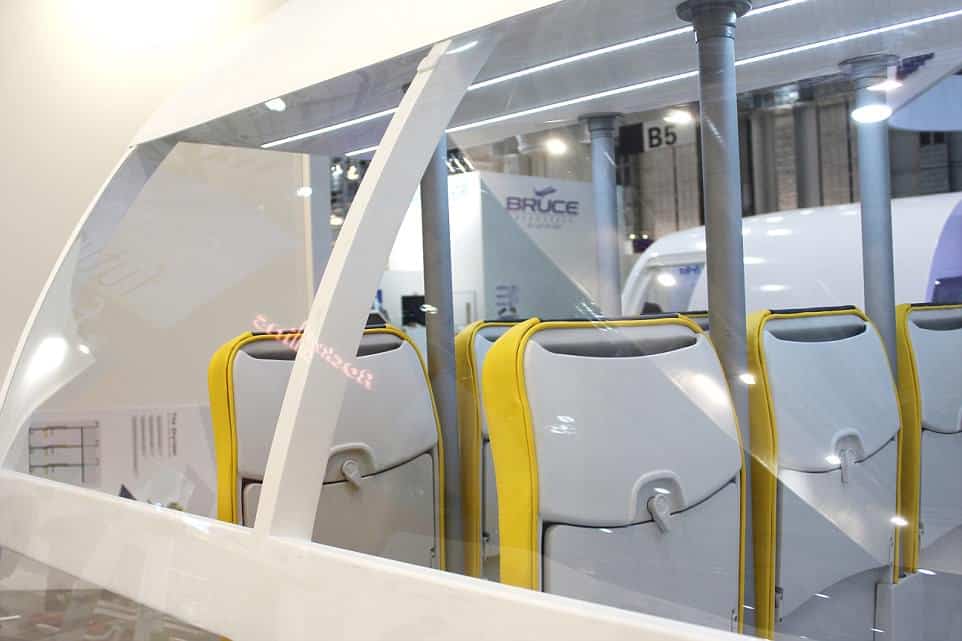 What you need to know is that because of the limitations to the total number of passengers allowed per aircraft type according to safety standards, there couldn't be an aircraft with only this type of seats.
It would be a new section, only a set number of cheaper rows with these seats. Essentially, it would be one more way (admittedly the most extreme to date) for airlines to further segment different customer categories by having a separate section at the back of the plane for those who want to pay even less.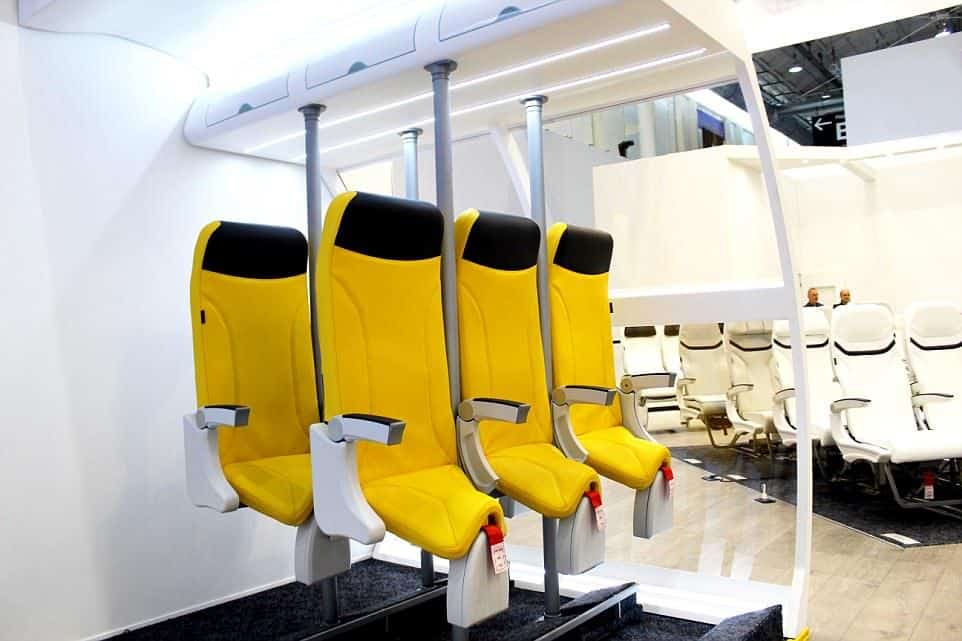 For those who are afraid of these seats (again, no one will force you to buy these seats, I guarantee you, you will always have the choice…), if it can reassure you, no airline has placed an order yet. It's actually a very preliminary proposition. Innovations are still very rare in this industry due to the very high level of regulations, and it takes time before major changes like this occur.
But the manufacturer told the media that there has been a lot of attention from airlines this time. The same company had proposed a similar concept in 2010, but it was before the era of Basic Economy and the incredible growth of Ultra Low-Cost Carriers, so the idea was obviously way ahead of its time 8 years ago… no one ordered any.
According to the DailyMail, European ULCC Ryanair had polled more than 120,000 travelers about this type of seats at the time and 42% of travelers were interested if the price was half the price of regular seats.
It remains to be seen if this time is going to be the right one for these stand-up seats.
A great innovation that would lower ticket prices and as an added bonus, only the travelers that would want to use them would use them, no one would force anyone! What's not to love?
Help us spread the word about our flight deals and travel tips by sharing this article and most importantly bookmark Flytrippers so we can help you navigate the world of low-cost travel!
Advertiser Disclosure: Flytrippers receives a commission on links featured in this blog post. We appreciate if you use them, especially given it never costs you anything more to do so, and we thank you for supporting the site and making it possible for us to keep finding the best travel deals and content for you. In the interest of transparency, know that we will NEVER recommend a product or service we do not believe in or that we do not use ourselves, as our reputation and credibility is worth far more than any commission. This principle is an essential and non-negotiable part of all our partnerships: we will never give any third-party any control whatsoever on our content. For more information on our advertiser disclosure, click here.
Share this post to help us help more people travel more for less: