Flying has never been cheaper in the history of commercial aviation, that's a fact. This can largely be attributed to the rise of Ultra Low-Cost Carriers, who are constantly striving for ways to lower airfares.
Indeed, these airlines have a completely different business model, most notably one where their airplanes are much more densely packed than what used to be the norm. That means fitting in more passengers by eliminating first class seats and slightly decreasing legroom.
When it allows you to fly from Montreal to Europe for only $250 roundtrip like we did in January, or fly to Florida for under $100 roundtrip as I often have from US border airports or even flying for only $13 as is pretty frequent in Europe (there was even a sale with tickets for 50 cents this week, and yes as always that includes all taxes and mandatory fees), it's worth having a bit less space (especially given regular airlines are also decreasing legroom as well to compete).
The point is, here at Flytrippers we love to travel, so we love to travel cheap. Which means we love Ultra Low-Cost Carriers (ULCCs). That's why we often feature them on our flight deals page, at least for the few destinations which are available with ULCCs from Canada at the moment, as they are fairly limited.
And since we love these airlines, we are very excited by today's big news. It might actually revolutionize air travel: the launch of new, even denser planes. More passengers on-board means even lower prices!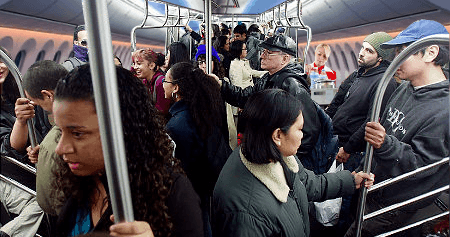 Yes, an Ultra Low-Cost Carrier announced this disruptive innovation: standing-room only airplanes without any seats. Passengers will stand up to take up less space and make plane tickets even cheaper than they currently are!
It's quite controversial, but they promise that this new model, with handles and bars for passengers to hold onto, will allow you to travel by plane for the same price as taking the subway.
This airline is no stranger to surprising moves, as they've previously offered passes for unlimited flights at ridiculously low prices. That was exactly one year ago, to the day.
Even their corporate branding and airline name, APRIL FOOLS' AIR, is far from being conventional.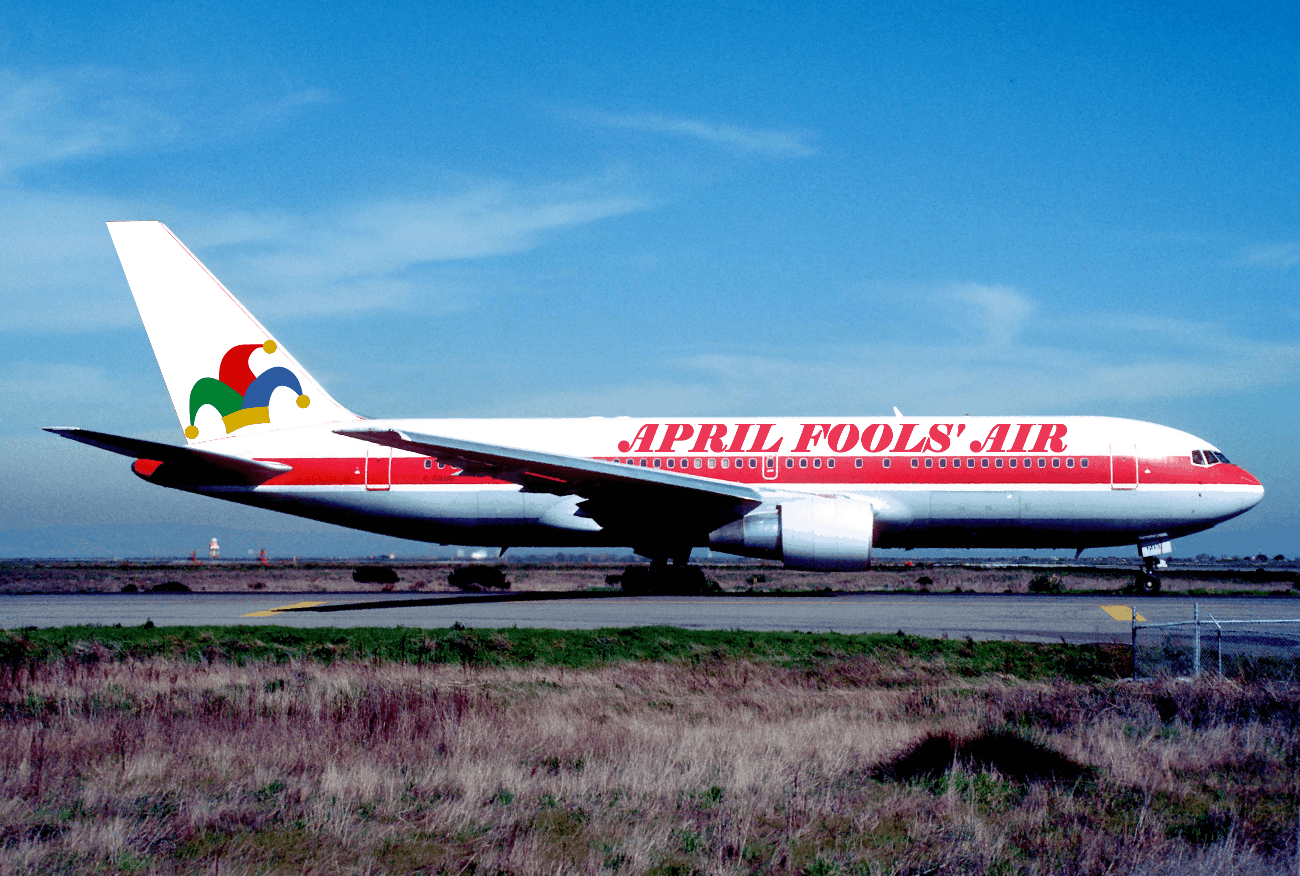 Yes, you might have figured it out by now, this is nothing but an elaborate April Fools' prank to entertain you on this sleepy Sunday morning. You know, April Fools' is like… the original "Fake News", the authentic version. Anyway, we apologize for misleading you, but our readers really enjoyed last year's April Fools' article about the unlimited flights (and it was very relevant, VIA Rail had just announced a real unlimited train pass a few days before).
BUT, it's really true that something similar might actually be launched, but it's a bit less extreme. We're talking planes with semi-standup seats, similar to how you're seated on many amusement park rides. It would come with support and a seat belt but would still save up a lot of space in planes. Colombian airline Viva announced last year that they were actually studying this concept seriously.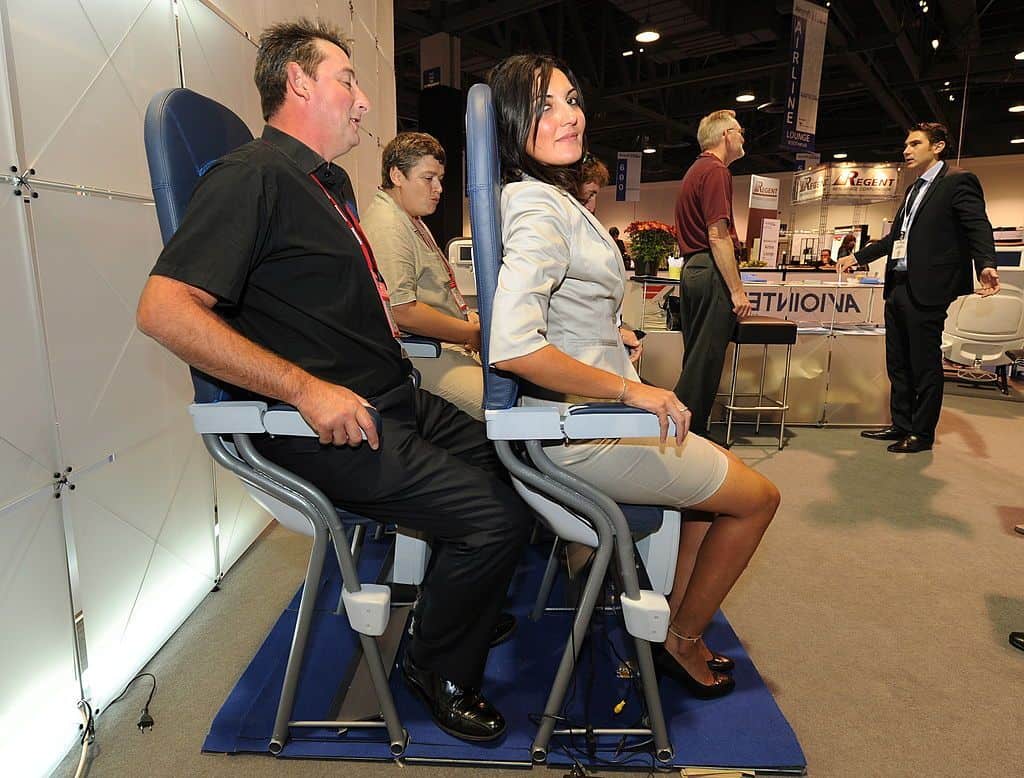 And no, that was not announced on April 1st, it was actually true. Since it's not that different from current seats, it's not entirely unthinkable that one day these make their way onto planes. But before, they will need to be thoroughly tested for security reasons because in the aviation world, security always comes first.
And I'm not joking either when I say that personally, I'd be glad to fly in those seats if it meant cheaper flights, since they would obviously be only for short-haul flights. Lower prices are my only criteria, that's what has allowed me to take 65 flights in 2017 and visit 18 different countries.
By the way, everything else in the article is true. Yes, Ultra Low-Cost Carriers are great, even if they might have a bit less legroom. We really did fly to Europe and back, with 8 additional flights within Europe, for a grand total of $450 roundtrip.
That's how low prices are with ULCCs, they're truly great! Even the flights for 49 cents, that wasn't an April Fools' prank, it was really bookable earlier this week in Europe.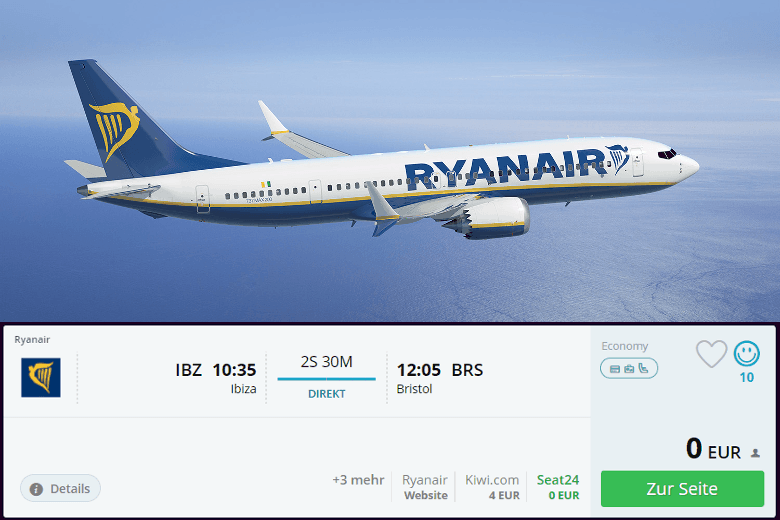 We love when actual airplane ticket prices are rounded down to $0. So yes, ULCCs are really affordable, thanks to the increased number of passengers in the planes, among other things. But while we might not yet see standing-room only planes, it's not for comfort reasons but rather for safety reasons, as mentioned.
It's important to remind you of one thing, the fact that Ultra Low-Cost Carriers are just as safe as regular airlines. Yes, safety regulations are extremely strict in all areas of the aviation industry… and they're exactly the same for all airlines, regardless of the price they sell their tickets. That was one of the main points in our article on the most common myths about Ultra Low-Cost Carriers.
Also, Ultra Low-Cost Carriers happen to have planes that are much more recent than legacy carriers, contrary to popular belief (unsurprisingly, as is the case with many popular beliefs about any topic, it's based on emotions and irrational reactions, not facts).
That being said, Flytrippers wishes you a Happy Easter and please forgive us for the April Fools' prank… it was just too easy.
Bottom line
This was our 2018 April Fools' prank, we hope it made you laugh!
Have you ever flown on ULCCs?
Help us spread the word about our flight deals and travel tips by sharing this article and most importantly bookmark Flytrippers so we can help you navigate the world of low-cost travel!
Advertiser Disclosure: Flytrippers receives a commission on links featured in this blog post. We appreciate if you use them, especially given it never costs you anything more to do so, and we thank you for supporting the site and making it possible for us to keep finding the best travel deals and content for you. In the interest of transparency, know that we will NEVER recommend a product or service we do not believe in or that we do not use ourselves, as our reputation and credibility is worth far more than any commission. This principle is an essential and non-negotiable part of all our partnerships: we will never give any third-party any control whatsoever on our content. For more information on our advertiser disclosure, click here.
Share this post to help us help more people travel more for less: