Yes, flights for just $1 + mandatory government fees and taxes, here in Canada. For example, the best deal is from the Vancouver area (Abbotsford) to the Toronto area (Hamilton) for just C$12 total. That's why Ultra Low-Cost Carriers (ULCCs) are amazing. We love them because their goal is to bring down their prices as low as possible—and you should too if you want to travel more.
Swoop just launched its "Loonie Seat Sale" and is offering 100,000 seats on 51 different routes for just $1 + mandatory government fees and taxes.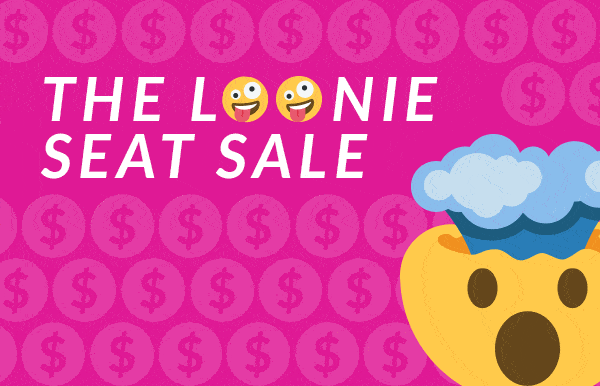 This is not unusual: this is what ULCCs do, and why we need them to grow in Canada. We told you about the 5€ sale in Europe before. In fact, both of us Flytrippers co-founders even went on an epic Eurotrip with 8 flights for C$200 total (a $25 per flight average, with the restrictions of having to do that all in 2 weeks and set foot in at least 10 countries, therefore no flexibility.) So flying is cheap with ULCCs.
Even in the US, I've taken a few flights for just 1¢ + taxes on ULCC Frontier and those came out to just US$14 total, which is fantastic. But that's because airport fees and taxes are much lower in the US, as I explained in my post with the list of airport fees for Canadian airports.
The Loonie Seat Sale
So because of those higher mandatory fees and taxes, apart from the above mentioned Abbotsford airport, flights here in Canada will come out a bit more expensive than those sub-$20 fares. But still, this is the cheapest you will ever be able to get here in Canada, since the variable part of the ticket (the base fare—what the airline charges) is just $1.
With that $12 total one-way flight from Abbotsford-Vancouver to Hamilton-Toronto, your roundtrip will still come out to less than $55, which is incredibly low to fly across almost the entire country. You would normally pay at least five times that amount for such a flight before ULCCs came to Canada.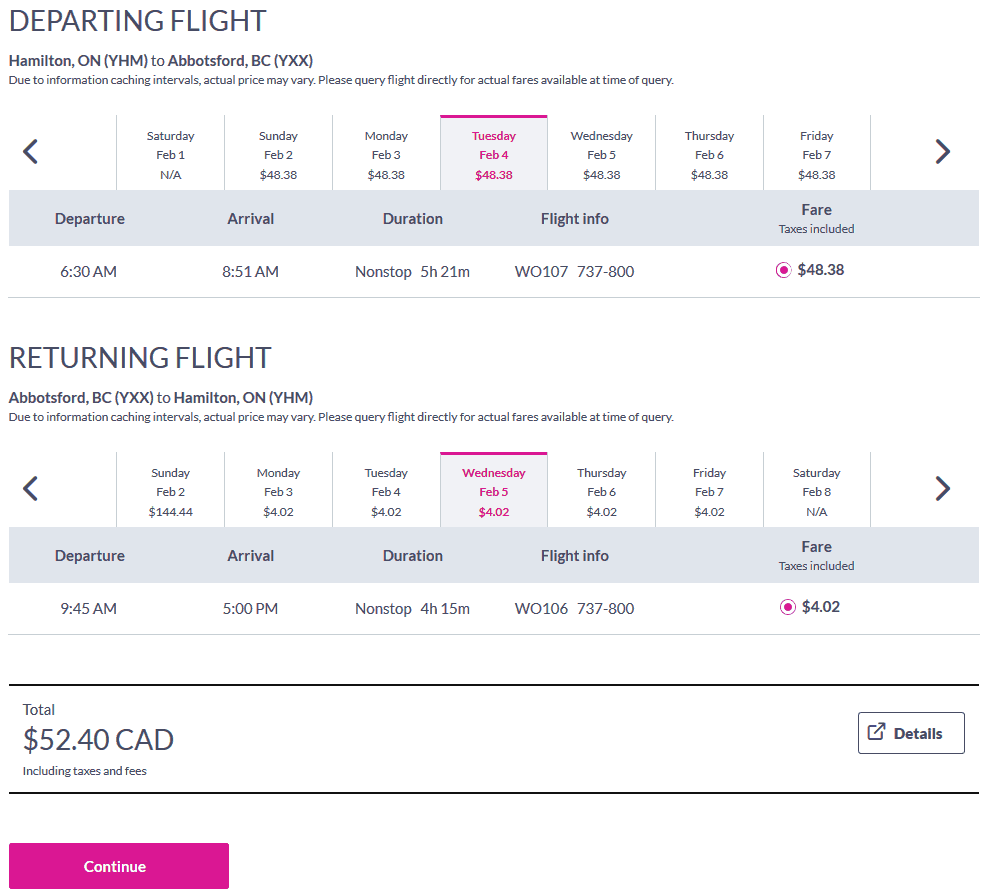 You'll find many other shorter routes domestically under $100 roundtrip. Those are the best deals available today, so why not explore our beautiful country? Swoop flies to every province except Saskatchewan and Québec. Hamilton-Halifax is $85 roundtrip, as is Winnipeg-Edmonton (and vice-versa.)
They don't just fly within Canada, though. They have flights to top leisure destinations in the Southern US, as well as a few destinations in Mexico & the Caribbean. Those also have a $1 base fare, but international flights have higher government fees.
A flight from Winnipeg to Los Cabos, Mexico, is just $95 one-way, or around $300 roundtrip. With a $25/night Airbnb split with a travel buddy, that's a whole 5-day long weekend trip for under $400 total if you want to travel for less. You can ignore the food and other costs, you would have bought food here in Canada too (and here's $45 free if you are new to Airbnb.)
Unlike we usually do for the dozens of flight deals we spot from your city every day, we can't provide all the dates available in a turnkey manner. There are just too many and we want you to be the first to know about this deal.
Because like any deal we normally spot, the best dates will obviously be bought quickly by those who are savvy travelers and followed our tips to be prepared to snag a flight deal. Preparation is the key if you want to travel for less.
In this case, since this qualifies as a very good deal, the best dates will probably be sold out within hours. So act fast and start searching (that's why the tips in that link in the previous paragraph are so important.)
I'll repost the full map of Swoop's route network that I shared Saturday when they announced 3 new destinations (where you can also find more details about Swoop and ULCCs.) And the link to your city's detailed list of flights is just below the map too: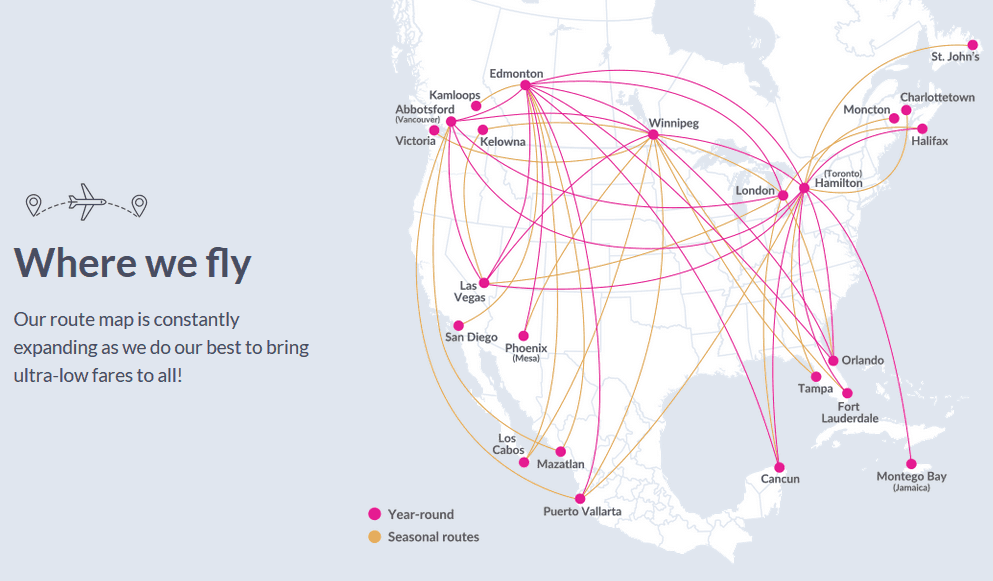 Full list of ULCC routes from your city:
So, once again: traveling doesn't have to be expensive if you don't want it to be.
Want to learn our absolute best tips to travel for less?
Summary
Swoop has an amazing sale. Take advantage of those prices before they're gone.
Have any questions about Ultra Low-Cost Carriers? We are the experts; ask away in the comments below!
Share this post to help us help more people travel more for less: