Good news for those who love cheap flights: Swoop, one of two Canadian Ultra Low-Cost Carriers (ULCCs), is continuing to expand and is adding flights to 3 new provinces. They are now present in 8 of the 10 Canadian provinces, just a year and a half since launching.
Flytrippers was on that inaugural flight, in case you want to see what it's like to fly Swoop. I've been on over 100 ULCC flights on 15 different ULCCs all around the world, and I love them: they allow me to fly for less (you can read about how Ultra Low-Cost Carries work).
This week, Swoop announced 3 new destinations in 3 new provinces, which is great news. All 3 of the new routes are from its main base in the GTA, at Hamilton Airport (YHM), so it's especially great for Torontonians and those who live in those 3 provinces. But for most of you, it might still be possible to connect there on cheap flights—well, relatively cheap flights… after all, this is Canada, with insanely high airport fees.
The 3 New Destinations
By the way, you can see all ULCC routes from your city (not just Swoop's) in our teaser pages, to get you hyped up about our upcoming Ultimate Guide To Ultra Low-Cost Carriers. Check out the lists for Toronto, Montreal, Ottawa, Vancouver, Calgary, Edmonton, Winnipeg, and Halifax (page soon to come for St. John's, Quebec City, Saskatchewan, and New Brunswick).
Swoop is expanding to Atlantic Canada. Up until now, east of Hamilton, their only destination was Halifax. And Halifax was also the only city east of the GTA with ULCC flights of any kind (apart from the US border airports accessible to Ottawa and Montreal travelers).
Now, 3 new seasonal Swoop flights from Hamilton will be launched to:
St. John's, Newfoundland (YYT)
Charlottetown, Prince Edward Island (YYG)
Moncton, New Brunswick (YQM)
So Swoop now serves all provinces except Québec and Saskatchewan. As for everywhere else, we'll be on the lookout for deals to these 3 new destinations—and all other destinations around the world, as usual. Check out our deals page regularly or sign up for free to get our best deals in your inbox instead.
When a new ULCC route is launched, prices go down, so ULCCs are good for everyone—even those who prefer convenience over cheap flights because their flights might cost them a little bit less, too, even on other airlines.
Here's what Swoop's route map now looks like: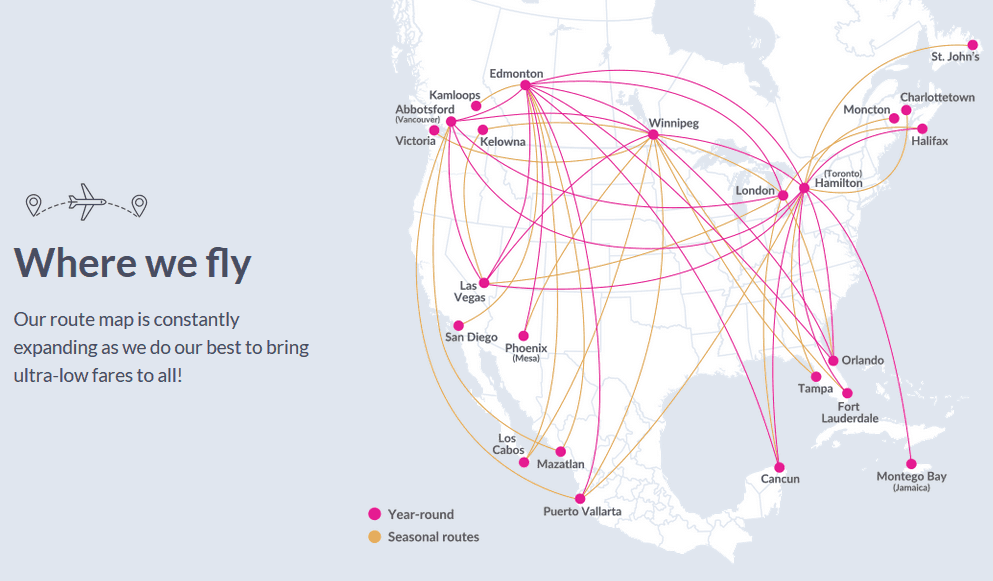 The 3 new seasonal routes will operate from late June to late October, with varying frequencies: 7x/week for YYT; 3x/week for YYG; and 4x/week for YQM. They are made possible by the addition of a 10th aircraft to Swoop's fleet.
This is positive news for travelers, since more destinations, more options, and lower prices are always a good thing. And these destinations can be fantastic to visit, especially for long weekends when you can't go somewhere international that is more exotic or has a much lower cost of living than Canada (I personally hope to return to Newfoundland soon!).
We also hope that more destinations will come, most notably to fill the huge gap in the country's second-most populous province. It would be great both for Québec travelers who want to explore the rest of Canada and travelers all across the country who want to discover Montreal, Quebec City, and everything else in the vicinity.
Neither Swoop or Canada's other ULCC Flair, serve the province—the language barrier is possibly a factor. The other ULCC, Jetlines, who has been "launching soon" for 5 years, had announced flights to Quebec, but we told you at the time to not get your hopes up. And what was bound to happen, happened: Jetlines once again "delayed" its inaugural flights.
To be the first to know when new routes are launched, sign up for free.
Want to get more pro tips about traveling for less with ULCCs?
Summary
Swoop is expanding its route network in Atlantic Canada, with 3 new seasonal routes from Hamilton to St. John's, Charlottetown, and Moncton. This will be the first time these 3 provinces get Ultra Low-Cost Carrier flights, which is great news for those who love to travel for less.
Have any questions about Ultra Low-Cost Carriers? We are the experts; ask away in the comments below!
Share this post to help us help more people travel more for less: