It's not often that new plane models are introduced to the market, so having the chance to get the first look at one — especially one designed and built here in Canada — was a unique opportunity. Attending Air Canada's unveiling of the plane sure was interesting for an aviation geek like me.
Airlines don't often get a "new" model, and usually when they do it is:
Not new to the market, it's just new to the airline
New to the market, but just a variation of an existing model
But, this is not one of those cases. It is a brand new (and innovative) aircraft that almost no one here has had the chance to fly on yet: the A220.
Here are all the details about Air Canada's A220 and the unveiling, with my many (blurry) photos of the plane.
A220 launch event
Wednesday, I had the chance to attend Air Canada's event introducing its very first Airbus A220 in a hangar at its Montreal headquarters. It was a pretty big deal for both the airline and the Canadian aerospace industry, as this plane is the former Bombardier CSeries.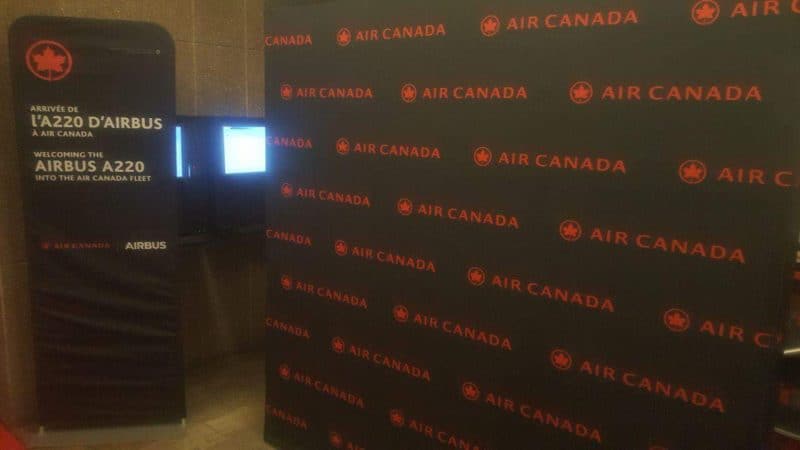 More importantly for me, as a travel rewards enthusiast, was that I was able to have a great discussion with Air Canada's Vice President — Loyalty, Mark Nasr, about the upcoming total revamp of Air Canada's rewards program.
I got a lot of great insights, but I'll share those in a separate post soon to keep this one shorter. (Sign up for free to make sure you get all our content.)
I'll just say this today: I wasn't overly optimistic when the future overhaul was first announced, because unlike many who were happy to learn that Aeroplan Miles will transfer 1-to-1 to the new program, I understand that that means nothing until we know what "1 point" is actually worth in the new program.
(If you don't get that, how about we exchange dollars 1-to-1: I'll send you my 10,000 leftover dollars from my Zimbabwe trip and you can give me 10,000 Canadian dollars—we'll see how you feel about 1-to-1 transfers then!?)
The key takeaway, if you are new to travel rewards, is that all currencies have different valuations. And the valuation of the most valuable currencies (variable-value points like Aeroplan Miles) is entirely determined by the program rules, which we don't know yet.
But after that talk, I'm a bit more hopeful at least!
Back to the A220: during the media event, I was able to tour the brand-new plane extensively (it even had that "new car smell"). I didn't get to actually fly in it, unlike when we were invited to Canadian ULCC Swoop's inaugural flight in 2018, but it was still very cool: I got to sit down for a while and see every part of the plane.
By the way, one of my 2020 resolutions is to get better image resolution by buying a new camera, as many of you have told us you want to see more about our (many) trips.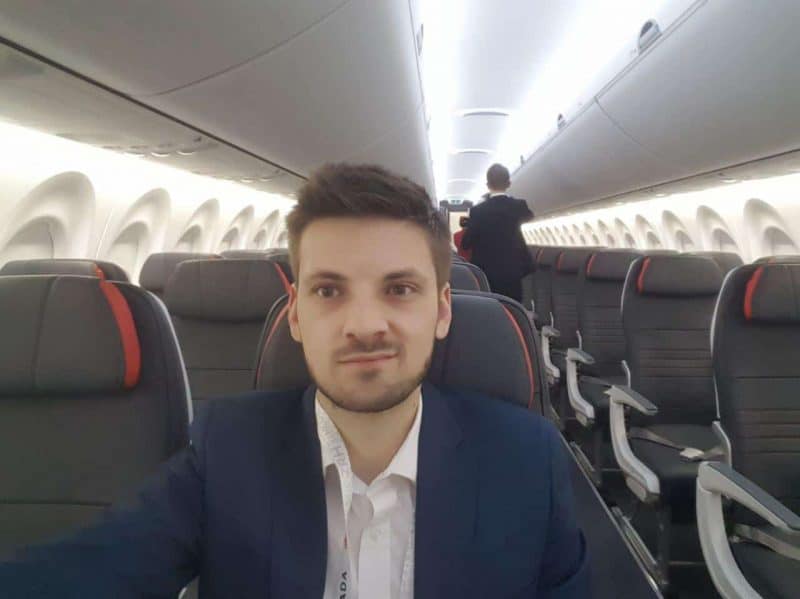 They really went all out for this milestone, as Air Canada is the first Canadian operator of the A220 and the first North American operator of the –300 variant. And most importantly, they played a pivotal role in the development of the aircraft as I'll explain at the end if you want to learn more.
A promotional video was presented (with a portion projected onto the plane itself) and we heard from the CEO of Air Canada, executives with Airbus & Bombardier, and the Minister of Transport of Quebec.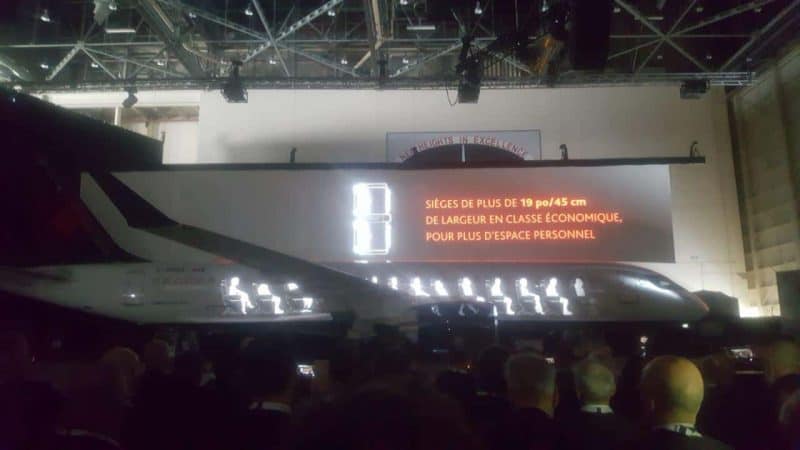 Onboard The A220
The A220 is quite an innovative plane. Because it offers the level of comfort found on wide-body planes (the biggest ones with two aisles, usually used on long-haul routes) on a smaller-sized plane.
Even its size is unique, as it is larger than what we call small regional planes (those with rows that have less than 6 seats each, usually under 100 seats total), but smaller than the narrow-body planes that make up the bulk of fleets worldwide (the single-aisle, 3-seats-each-side standard planes you've certainly flown before—Airbus A320s and Boeing 737s).
This makes it possible to open up new routes that aren't possible with regional jets (not enough range) or aren't viable with narrow-body planes (not enough demand).
But despite being smaller, it very well might offer a better flying experience.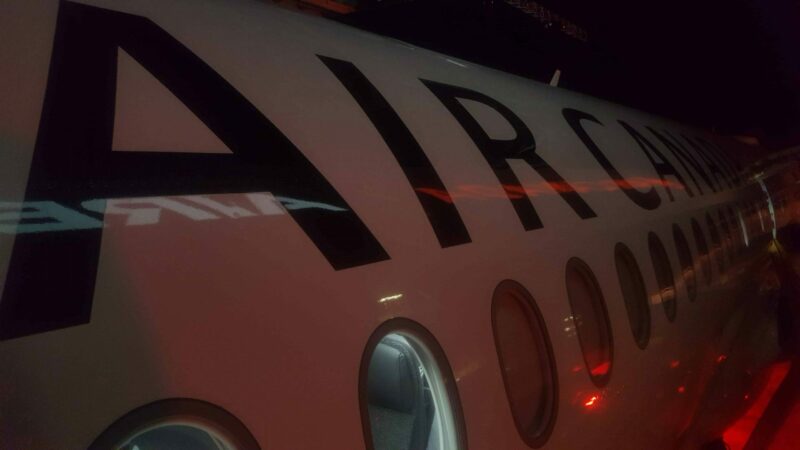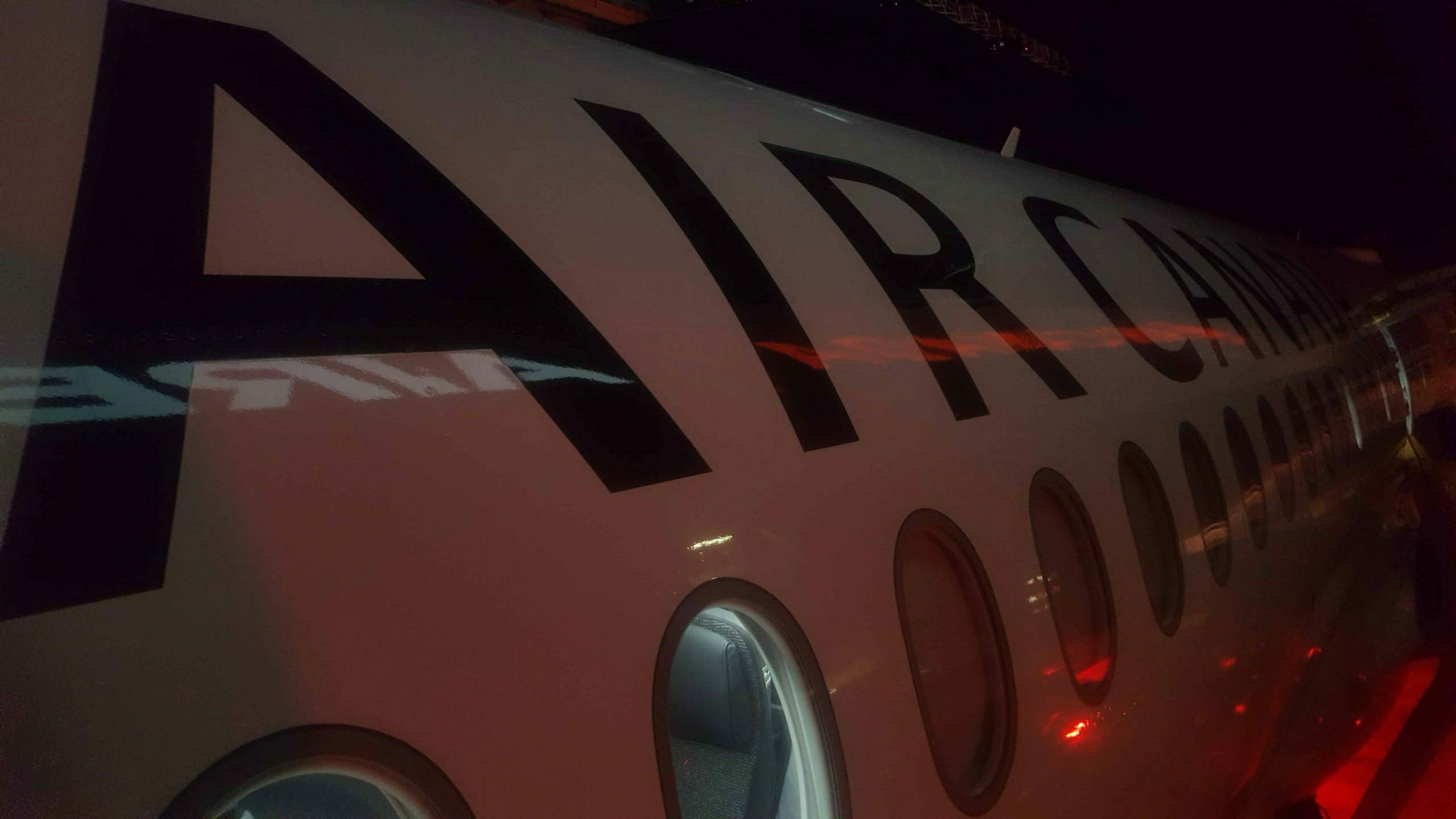 Air Canada has ordered 45 of these (with 30 more options), specifically the A220-300 variant, the bigger of the two. It is configured with 137 seats and can fly anywhere in North America, and then some (see next section).
It also has state-of-the-art technology that makes it one of the most environmentally-friendly aircraft. Newer planes are in general much greener than old ones, which is just one of the reasons why ULCCs are greener than legacy carriers and their older fleets (that's why Air Canada has been renewing their fleet quite aggressively).
But this plane takes it even further, and it is marketed as producing 20% fewer emissions per seat, which is a significant saving.
There are many other features that make this plane very interesting.
A220 Passenger Benefits
One thing that fliers will definitely care about is comfort.
As personal space on planes keeps shrinking (which in my opinion is a good thing, as it gives you the option to pay less if you want—flying has never been cheaper in history, and if you're like me you want to save so you can travel more), the A220 offers the widest economy seats in all of Air Canada's fleet.
That's partly because of its 2-3 configuration, which gives each seat 19 inches of width (compared to 17 or 18 on most other planes). That also means only 20% of the seats are middle seats, compared to about 33% on narrow-body planes.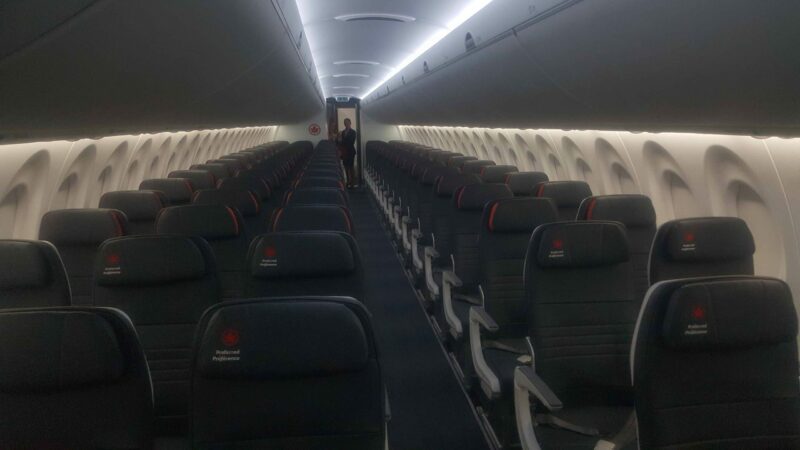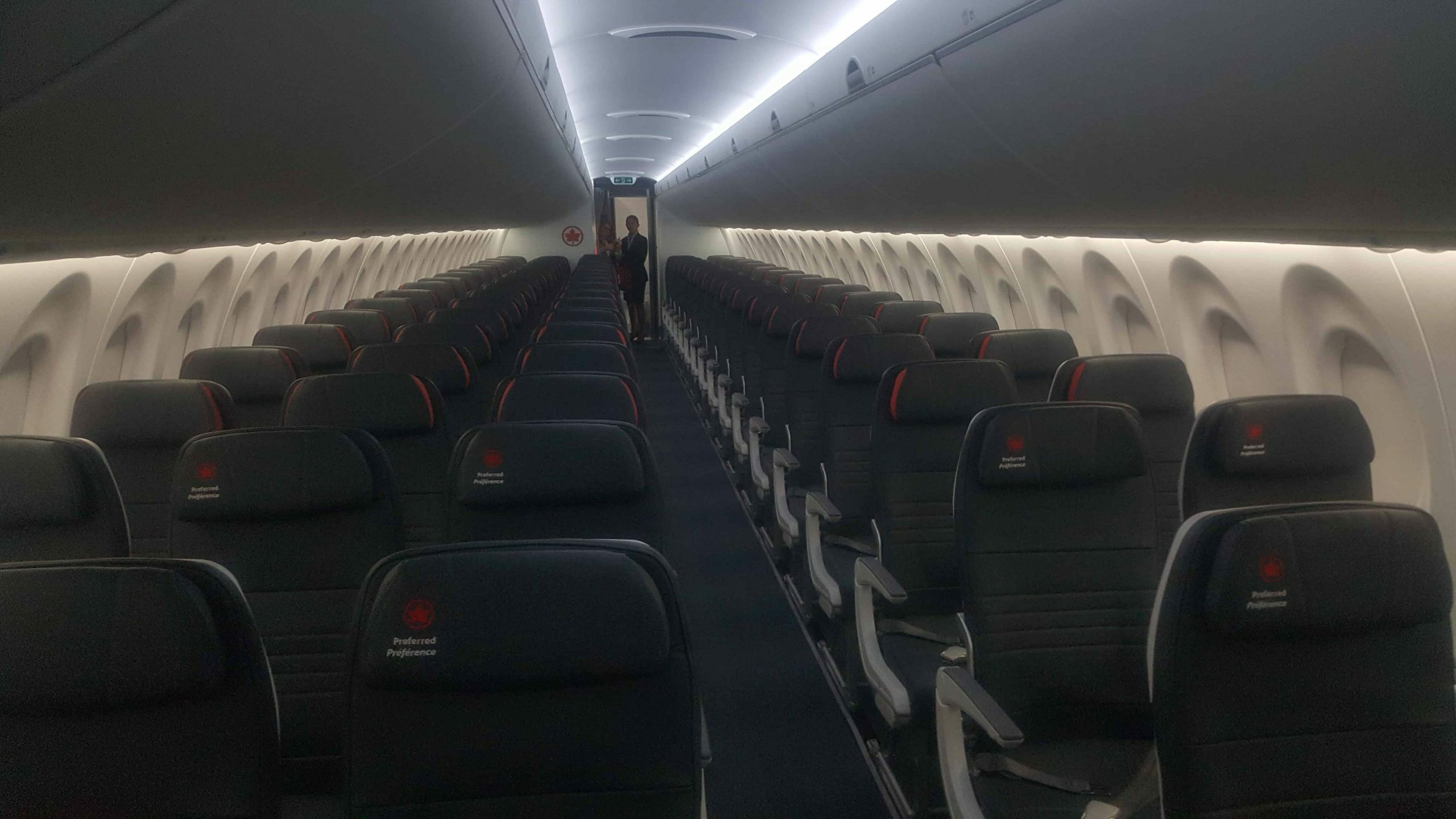 You might not notice this (I didn't), but the plane even offers more shoulder space, as the walls are slightly more vertical.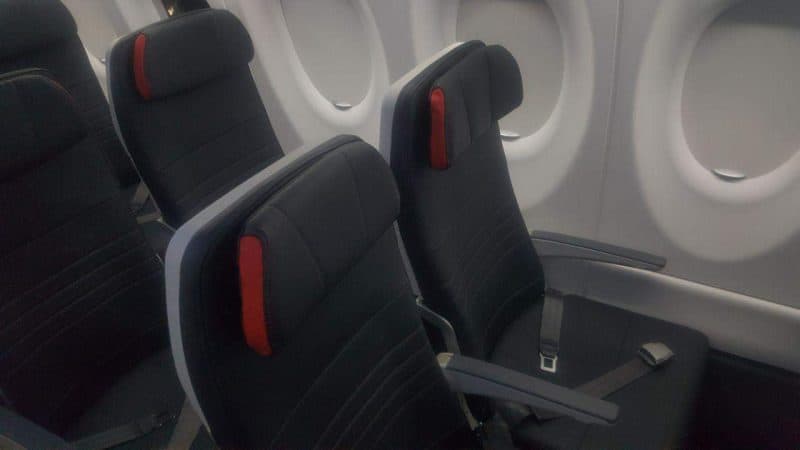 That was the width, now: legroom. I felt that it seemed pretty similar to other aircraft. So I looked it up, and indeed it is 30 inches of pitch, which is in the average (I'll share an article about how to see each aircraft's legroom soon). The 20 Economy Preferred seats have 32 inches; the 12 business class seats that I'll show you later have 37.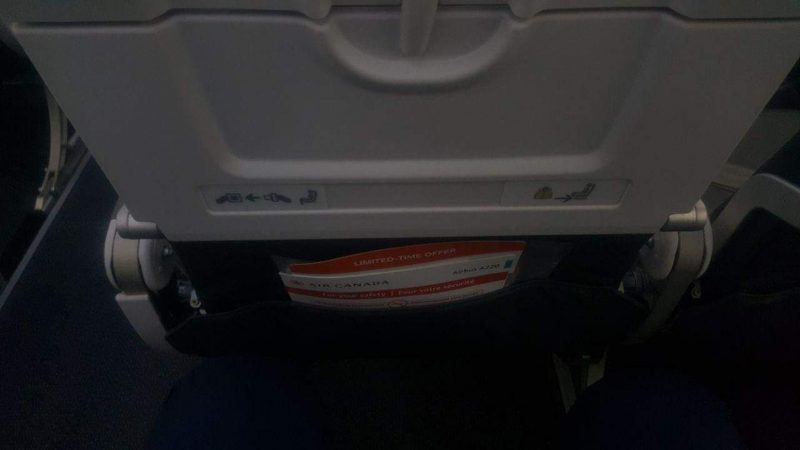 But at least I really noticed the width, and not just because I had no seatmates.
Speaking of seatmates, this is totally unrelated but on my flight to Montreal for the event, sitting behind me was probably the most unique passenger I've seen in all of my 300+ flights, and I know how everyone loves dogs so here's the pic.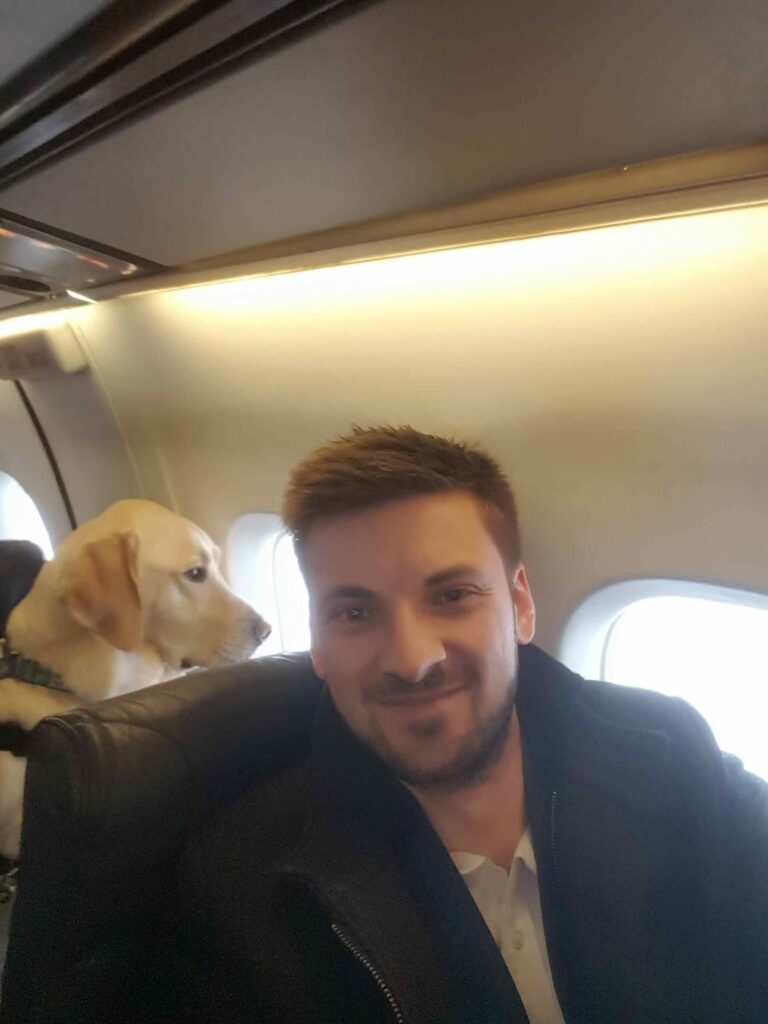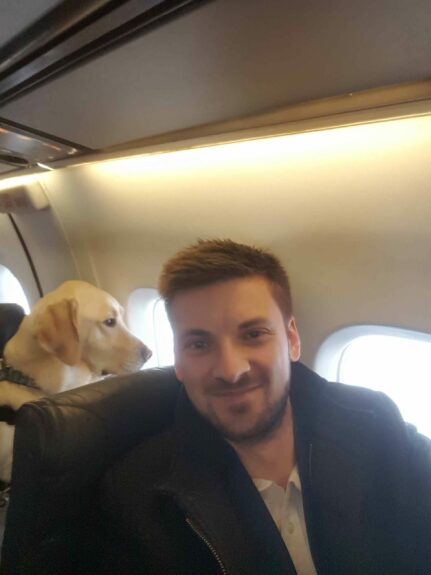 The higher ceiling of the A220 will apparently make it seem a little less crowded than smaller jets too.
And the aisle is slightly larger than standard ones at 20 inches, but that one is very subtle.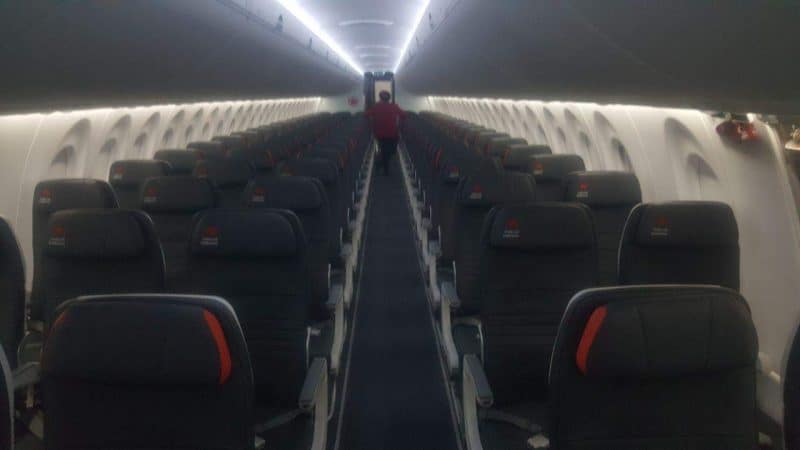 As you would expect from a brand new plane, it has the new classy and modern look Air Canada has rolled out on its new planes. It looks very good.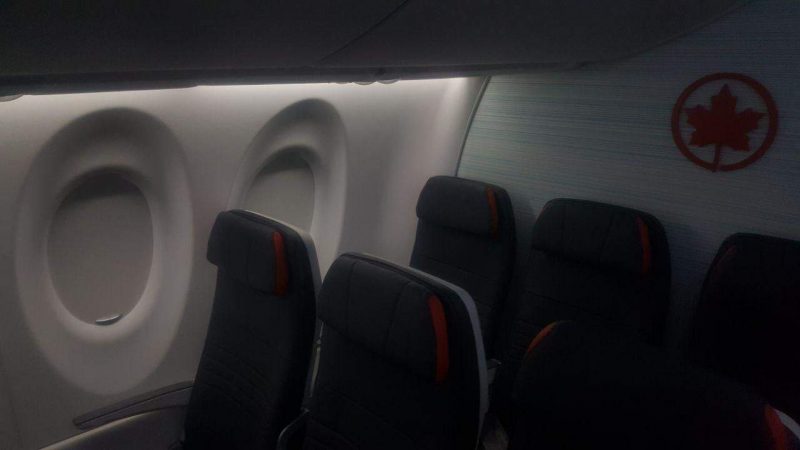 Another tangible benefit for passengers is that the A220 is 50% quieter (!!!) than previous generation aircraft, which is very nice if you don't travel often enough to justify getting my beloved BOSE QuietComfort headphones.
This is thanks to quieter engines but also better insulation. A far cry from the noisy turboprops that operate many AC Express routes.
I fly regional jets pretty often (25 of my 72 flights in 2019, or over one-third—by the way, we'll soon share our annual travel year in review post if you're interested). And an issue that often comes up is the lack of overhead bin space.
Well the A220 was designed with the fact that more and more people are discovering the joy of being #teamcarryononly, and it has overhead bins that are even larger than on the A320s, which are way bigger planes.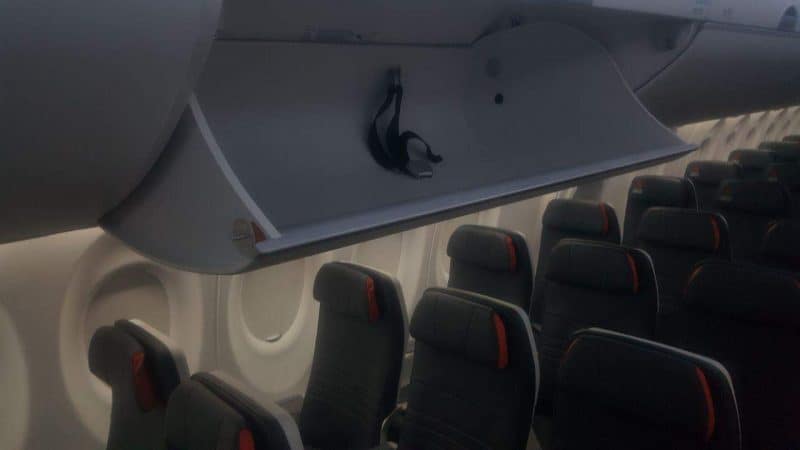 For those who can't entertain themselves for a few hours—great news: the planes have in-flight entertainment. Regional planes never have this, and not all narrow-body planes do.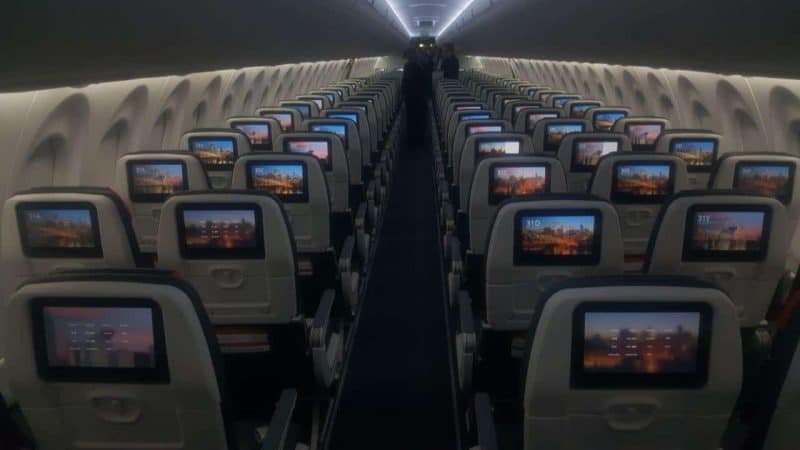 Each seat has power outlets and USB ports, something I've never seen on regional planes and isn't even a given on narrow-body jets. The A220 also has Wi-Fi capability for those willing to pay.
And each seat has individual air vents.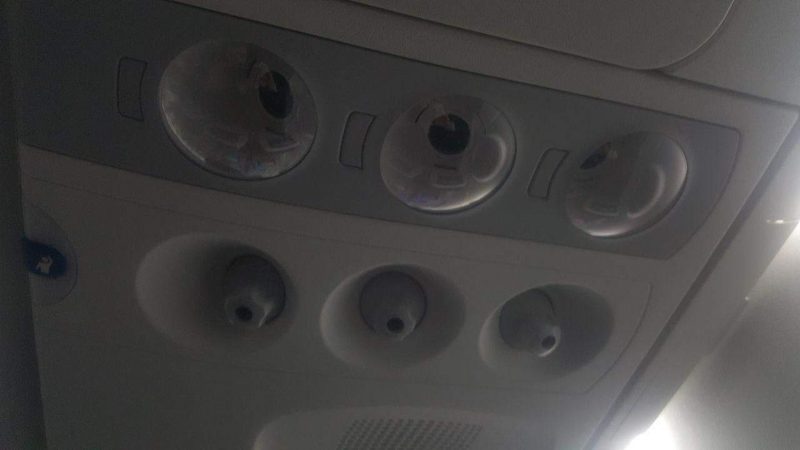 The A220 also has extra-large panoramic windows (50% larger than the A320). It also has the famed full-color LED ambient and customizable mood lighting that has been all the rage recently. This is proven to reduce fatigue while traveling.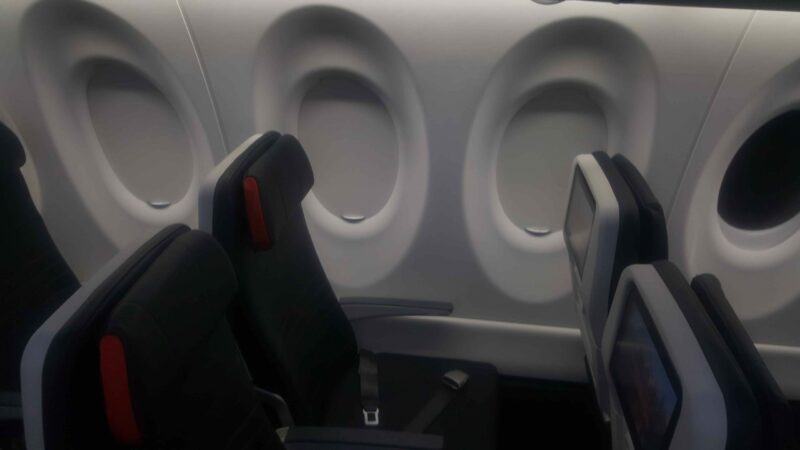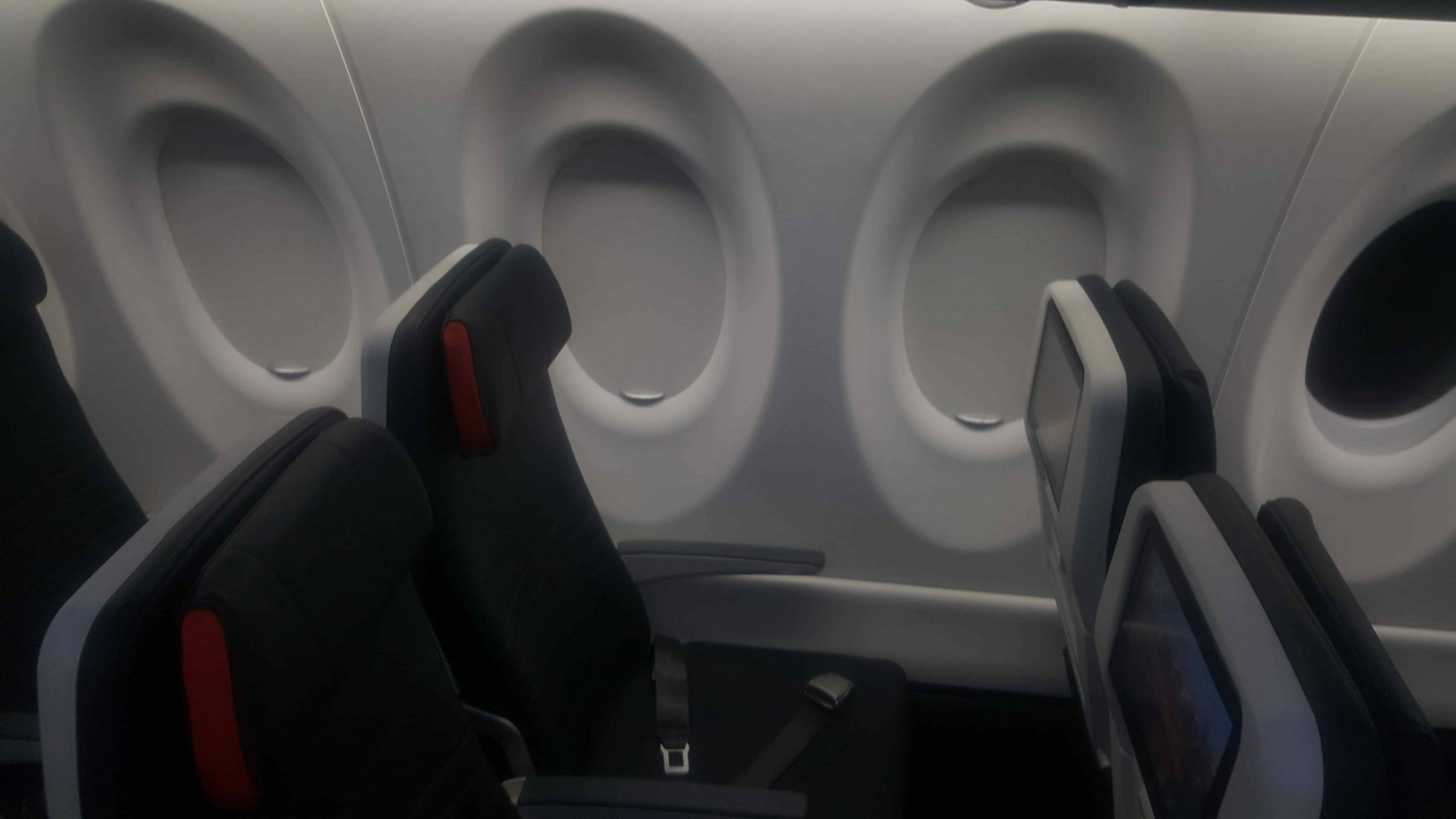 The Boeing 787 Dreamliner brought those innovations to the wide-body market. And having been on a few very long 787 flights, I did feel even less jetlagged than I usually do (although I'm not ruling out the placebo effect), so maybe you'll feel a difference on the longer A220 routes.
If you like to fly in business class (hopefully you are a travel rewards enthusiast and don't pay cash), the A220 is a vast improvement over what you would usually get on smaller aircraft. There are 3 rows in a 2-2 configuration, with ample legroom, storage space, and even footrests.
Then, there is this, which is not a feature that will be used very often given how rare aviation incidents are, but I've been on over 30 aircraft types and I don't think I've seen an emergency exit like this one.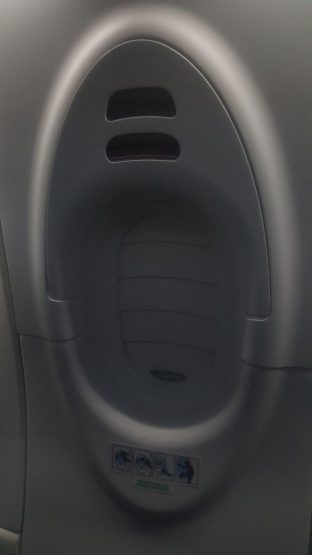 Finally, the best for last. Here's what the lavatories at the back of the plane look like.
Drum roll… many were eagerly awaiting the answer to the question: window, or no window?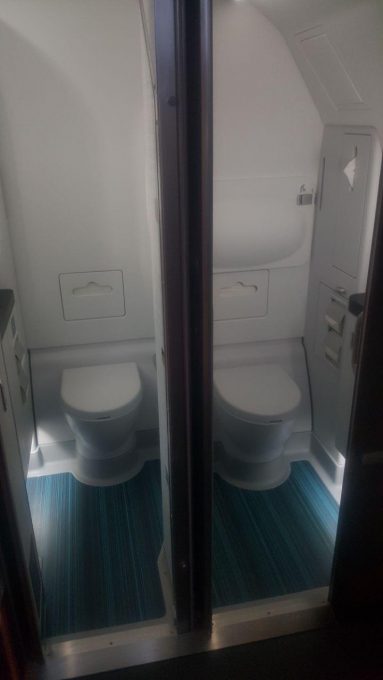 No, sorry. Many people who clearly get too excited about weird things will be disappointed to read that Air Canada's A220 do not have lavatory windows.
Since Delta (the airline, not the faucet company; it seems relevant to clarify that, given this particular topic) got its A220s, the windows that offer a great view of the sky while doing your business have been an absolute viral hit! Air Canada apparently didn't think this feature was required.
A220 Airline Benefits
In the cockpit, all the latest technologies like fly-by-wire are obviously embedded. It's cutting edge.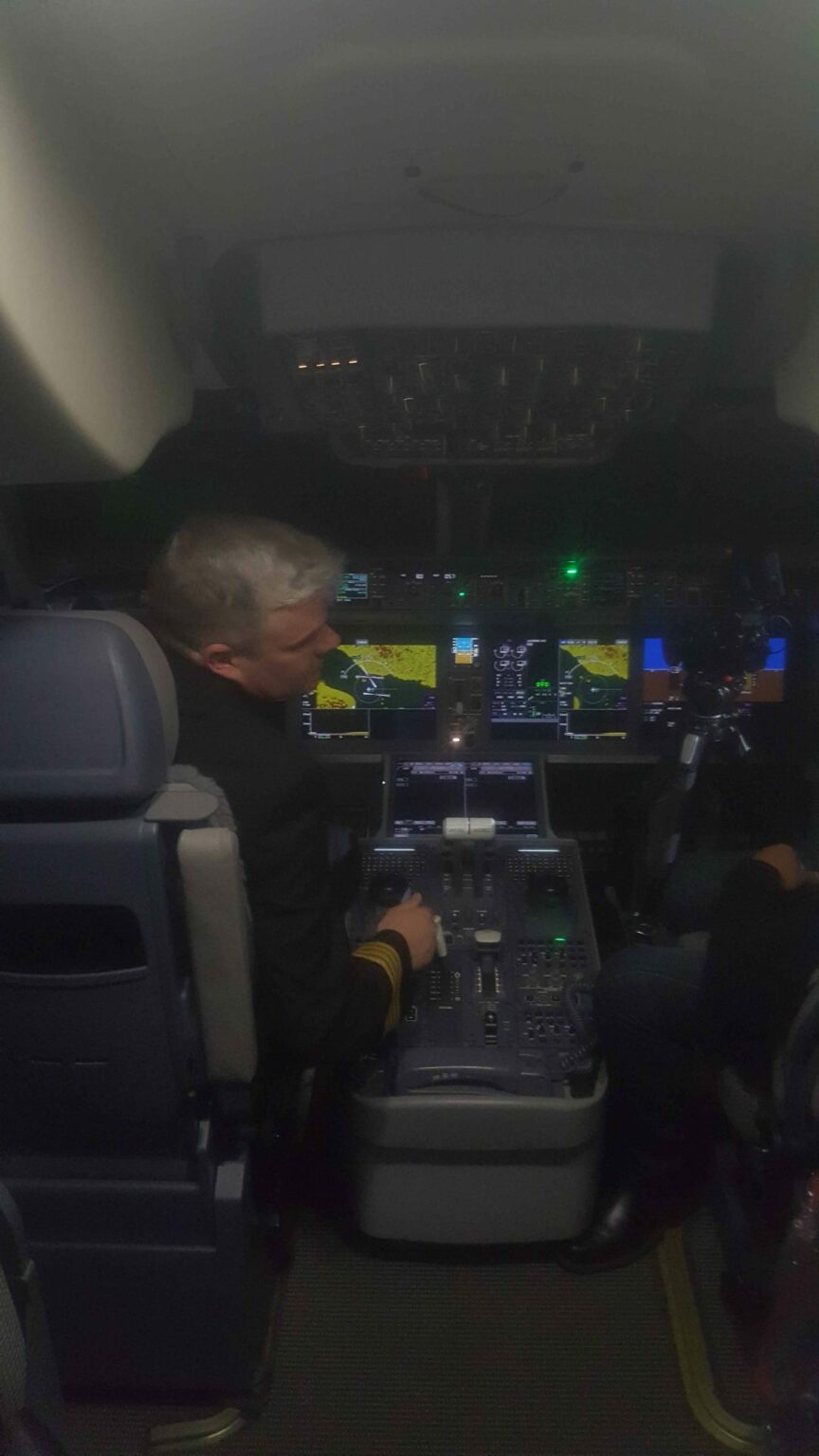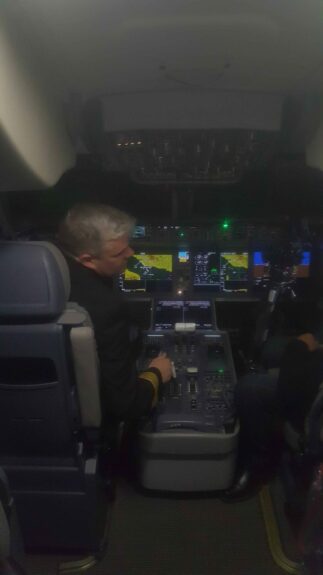 For the airlines, there are other advantages (in addition to the lower emissions and higher customer satisfaction that comes with a more comfortable plane).
First is the flexibility of the route network. But I'll talk about that in the next section about how to fly on the A220.
So the other benefit left is the cost. Sure, airlines want to be conscious about the environment, but 20% fewer emissions means 20% less fuel burn too. Overall, Air Canada states that their cost per seat is 13% lower than the E190, its current largest regional jet. There is also a cost advantage on the maintenance side, with 25% in savings.
However, it's doubtful that these cost savings will lead to lower fares given the competitive landscape in Canada and Air Canada's positioning as a premium airline.
But there's no doubt about one thing: it's a beautiful plane that should make traveling a lot more comfortable if you're lucky enough to fly on an A220 route.
How To Fly On The A220
I noticed that many of you do not know how to decode which type of aircraft will be operating your flight and it is very simple to do. Most people who aren't aviation geeks don't really care, but I suspect this will change when the 737 MAX eventually returns to service with Air Canada and other airlines, and unfounded fears take over.
So I'll soon share an article about how to see this, and that way you can discover A220 routes to try this brand new plane. I certainly hope to be able to soon myself.
Flying The A220 In Canada
Air Canada will be taking delivery of these new planes over the next few years (until 2022), so more and more of them will join the fleet.
They are so versatile that you might end up on one in a variety of situations. For example, the inaugural flight took place the day after the event from Montreal (YUL) to Calgary (YYC). The press release teases flights from Montreal and Toronto to destinations like Ottawa, Winnipeg, Calgary, Edmonton, and New York–LaGuardia.
But there are already 2 dedicated routes announced, which have been launched specifically to be operated by the A220 starting May 4th:
Montreal, QC (YUL) – Seattle, WA (SEA)
Toronto, ON (YYZ) – San Jose, CA (SJC)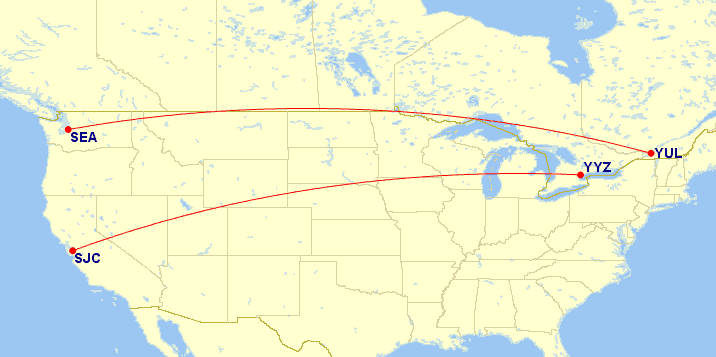 In fact, from any of its hubs, AC's A220s can reach anywhere in North America as mentioned above. Maybe in the future, they could even be used for Latin America or Caribbean destinations, on routes that require less capacity. From Montreal and Toronto, even Iceland is within the range, as are most of the British Isles from Montreal.

Air Canada has developed an extensive US network and has very aptly grown it to offer flights even to mid-sized cities. This aircraft will allow them to go even further, as the new route to San Jose indicates.
Therefore, the A220 can possibly also enable AC to continue increasing its load factor (capacity utilization) by selling transatlantic and transpacific flights to Americans, via Canadian hubs, at very low prices, even lower than we pay ourselves. This is a normal practice and allows them to offer more nonstop options, which many people want, both to the US and overseas.
Flying The A220 Around The World
Over 600 A220s have been ordered worldwide so at some point you might step onboard. Over 100 are already in service.
In the US, Delta Air Lines has already taken delivery of its A220s, but it is the smaller A220-100 variant.
In Europe, SWISS was the first to take delivery, and airBaltic has some as well.
Elsewhere, Korean Air has a few in Asia, as do Air Tanzania and EgyptAir in Africa.
The A220's History
The Bombardier C Series was a bold program because outside of the regional jet market, there are literally no other players than Boeing or Airbus. Those two simply dominate.
The bigger the plane, the more barriers to entry and so the Canadian manufacturer had always stuck to regional jets, the biggest of which is the CRJ1000, with 104 seats.
I'll share an educational post about the different aircraft in the world, but as mentioned, there are 3 main categories of planes:
Wide-body planes (twin-aisle)
Narrow-body planes (single-aisle)
Regional planes (single-aisle, narrower)
So building an entirely new model was a massive undertaking. So much so that without the help of the Quebec government, the program wouldn't have survived.
But that financial aid was considered illegal by the US, and they imposed sanctions, once again putting the C Series program in jeopardy. That's why Airbus stepped in and took over (without paying a dime), and why the plane is now the A220 rather than the C Series.
This way, US orders will be able to be fulfilled by Airbus' Alabama plant, instead of Bombardier's located on the grounds of the huge white elephant that is Montreal's Mirabel Airport. Air Canada's planes will be manufactured in Canada, of course.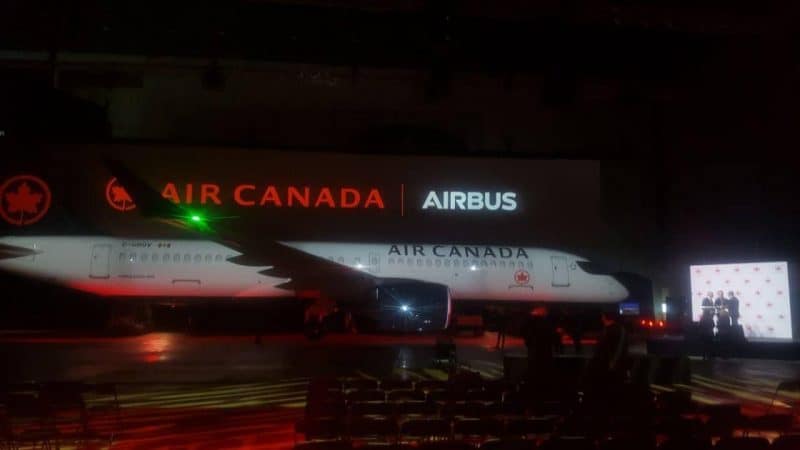 But before all that, in 2016, Air Canada also saved the program by being the first North American carrier to place an order "when the future of this aircraft program was in doubt". It was a US$3.8 billion order at list price, although it is well-known that no airline ever pays full list price (even less so when the order is so vital to the manufacturer like this one clearly was).
In all cases, the Canadian aerospace industry now seems to be on more solid ground and it is something unique to have a Canadian-designed and Canadian-built major aircraft flying all over the world.
Want to get the 6 follow-up articles listed below (and all our content)?
Our 6 upcoming follow-up articles:
News about Air Canada's new loyalty program
Introduction to airplane types and models
How to check which aircraft operates any flight
How to check legroom on any flight
Flytrippers' detailed travel year in review post
Our plan for your New Year's resolution to travel more
Summary
The addition of the A220 to Air Canada's fleet means you're likely to have a more comfortable flight, while producing fewer emissions. And it will give them more flexibility for their route strategy; hopefully, you'll be able to fly the brand-new plane soon on one of those. Being invited to Air Canada's unveiling was very interesting, and it's exciting for us Canadians that a state of the art aircraft was designed and built here in Canada.