This is an absolutely incredible video, scary to watch. Last year, an Air Canada flight from Toronto to San Francisco barely avoided what an aviation expert has called "the worst disaster in aviation history". We now have a video.
As you know, apart from our curated flight deals (obviously our main focus), we also have great travel tips and travel inspiration on this blog. We do want to share relevant travel news as well, to be the reference for all things travel in Canada.
We think this story deserves an article because it is simply incredible to think that such a disaster almost happened (a reallyyyyyyyyyy close call), especially given how safe commercial aviation is. In fact, don't let this video scare you: flying is actually safer than ever.
Before last month's deadly incident when a passenger was partially sucked out of a plane window near Philadelphia, it had been 9 years since the last casualty on a North American carrier. That was the longest streak in history in fact. I'll tell you more about that mind-blowing stat after the incredible video, but just keep in mind that there are over 87,000 flights every single day in the US alone… flying is still infinitely safer than all others modes of transportation, especially the automobile.
That said, you really won't believe this video.
The Air Canada SFO Incident
We already knew about the very close-call last July at San Francisco International Airport, but yesterday the investigators released a crazy video.
Let me give you the basics if you hadn't heard about this: an Air Canada flight lined up to land on a taxiway (parallel to the actual runway) instead of the runway.
Thing is: 4 fully loaded planes were lined up there, waiting for takeoff. 3 of those planes were wide-body planes with many many passengers and a whole lot of fuel for long flights.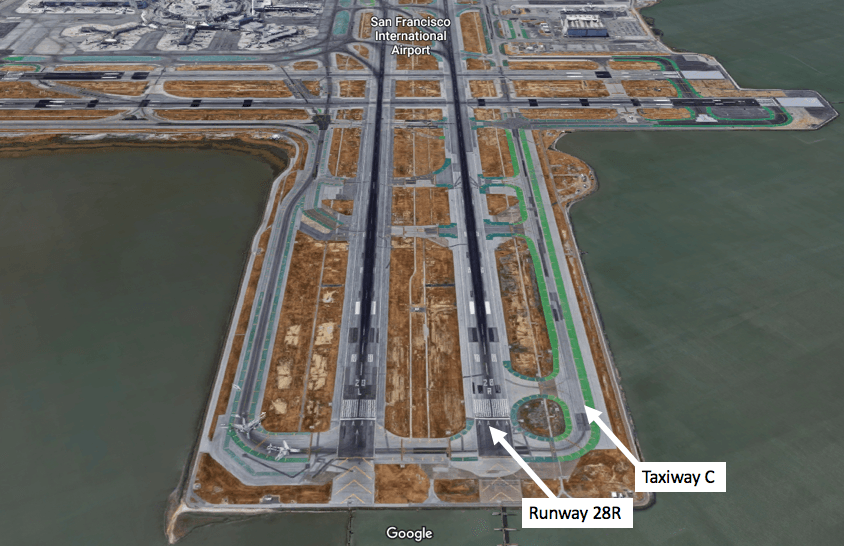 But the very worrisome part is how close the Air Canada plane came to landing on the taxiway.
We already knew that the plane had come within 15 meters of one of those planes. That is so incredibly close! Do you know how little 15 meters is? Especially at the speed a commercial airplane is going (even when landing).
The initial reports said the plane was literally "a second away" from crashing into one of the aircraft on the ground, pulling up just in time.
So we already knew it had been close. But still. This video released yesterday shows how close, for the first time. And it's even worse than you could imagine. It will definitely give you some perspective about how close 15 meters is.
Let's go ahead and watch the video and then we'll go into how this could happen, the just as shocking audio recordings and the investigation results.
To help you out: the taxiway is in the top left corner, at approximately a 15 degree angle. You can see the planes parked there waiting (look for the intermittent flashing light on each). The bright light in the sky at the top of the screen, about in the middle (well a bit to the right at the beginning), is the Air Canada plane approaching the taxiway (you'll see it move closer). Just past the 1:00 mark, you'll see the plane just barely miss the idle aircraft and pull up.
No doubt about it, that was a close call. An aviation expert interviewed in the US media said it would've been the "worst disaster in aviation history" and as you can see, it really came close to happening.
Visibility was good and according to some experts online, the fact it was nighttime is supposed to make it easier for pilots to know where the runway, because you can't really miss the different colors of the runway lights compared to a taxiway (compared to daytime, where they are harder to tell apart apparently). Oh and let's forget about the sophisticated instruments and all (!!!)
Someone found a video showing that very same approach in nearly identical conditions. I am by no means an expert, but the runway (red) does look pretty different than the dark path on the right (green lights).
That said, the plane was arriving from Toronto and it was past 3AM in Toronto time… but there's still no explanation provided at this point.
The audio recording is also bone-chilling: you can hear the pilot of one of the planes on the ground asking Air Traffic Control: "Where's this guy going? He's on the taxiway".
Before that, the Air Canada pilots saw the plane lights and double-checked with ATC, but didn't realize they were headed for a taxiway: "We see some lights on the runaway there, across the runway. Can you confirm we are clear to land?"
The ATC responded: "Confirmed to land 28 Right, there is no one on 28R but you" (not yet noticing that the plane wasn't aligned with the runway).
Thankfully they did notice (well, actually the United pilot on the ground alerted them) and the second plane also flashed its landing lights, whatever caught the attention of the Air Canada pilots most likely saved a couple hundred lives.
The current worst disaster happened in the Canary Island, at Tenerife North Airport, when two planes collided and 583 people died. We happened to visit that beautiful island last fall, blog post to come soon.
As for the causes of the incident, we still don't know many details as the investigation by the NTSB (National Transportation Safety Board) is just starting. We'll follow this and keep you posted.
Bottom Line
What a crazy video. Thankfully the situation turned out okay, it was really the textbook definition of a near-miss.
What do you think?
Help us spread the word about our flight deals and travel tips by sharing this article and most importantly bookmark Flytrippers so we can help you navigate the world of low-cost travel!
Advertiser Disclosure: Flytrippers receives a commission on links featured in this blog post. We appreciate if you use them, especially given it never costs you anything more to do so, and we thank you for supporting the site and making it possible for us to keep finding the best travel deals and content for you. In the interest of transparency, know that we will NEVER recommend a product or service we do not believe in or that we do not use ourselves, as our reputation and credibility is worth far more than any commission. This principle is an essential and non-negotiable part of all our partnerships: we will never give any third-party any control whatsoever on our content. For more information on our advertiser disclosure, click here.
Share this post to help us help more people travel more for less: