On our way back from the Galápagos Islands, we stopped in Ecuador's largest city: Guayaquil. We wanted to be a bit out of the main city to relax and be close to the airport.
We chose to spend two nights at the Boutique Hotel Orilla Del Rio. Here's the review of our experience at this place. If you find a great flight deal to Guayaquil, this place is a great option.
Location
Located just 15 minutes from the airport, it was still a bit hard to find. We had to show the map location to our taxi driver since he had never heard about the hotel; luckily I had internet on my phone (read about the cheapest way to use your cell phone (Internet) while abroad here). This boutique hotel is situated in a gated secure neighborhood. Once we made it to the gate, we left the taxi to go through the security guards and walked 5 minutes until we found the hotel. Guayaquil can be a dangerous town if you're in the wrong places, so having a hotel situated in a gated neighborhood is always a sure bet when you don't know the place.
Nearby, there is the Historical Park, a huge indoor mall and some restaurants. We took the bus instead of a taxi to visit downtown Guayaquil, which was very easy, straightforward and cheap.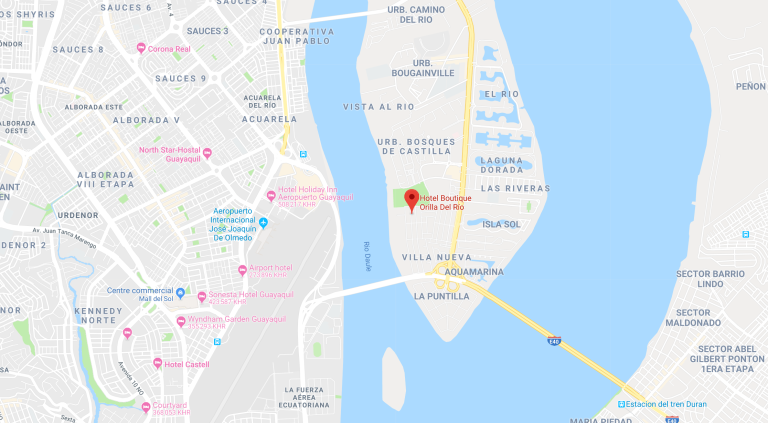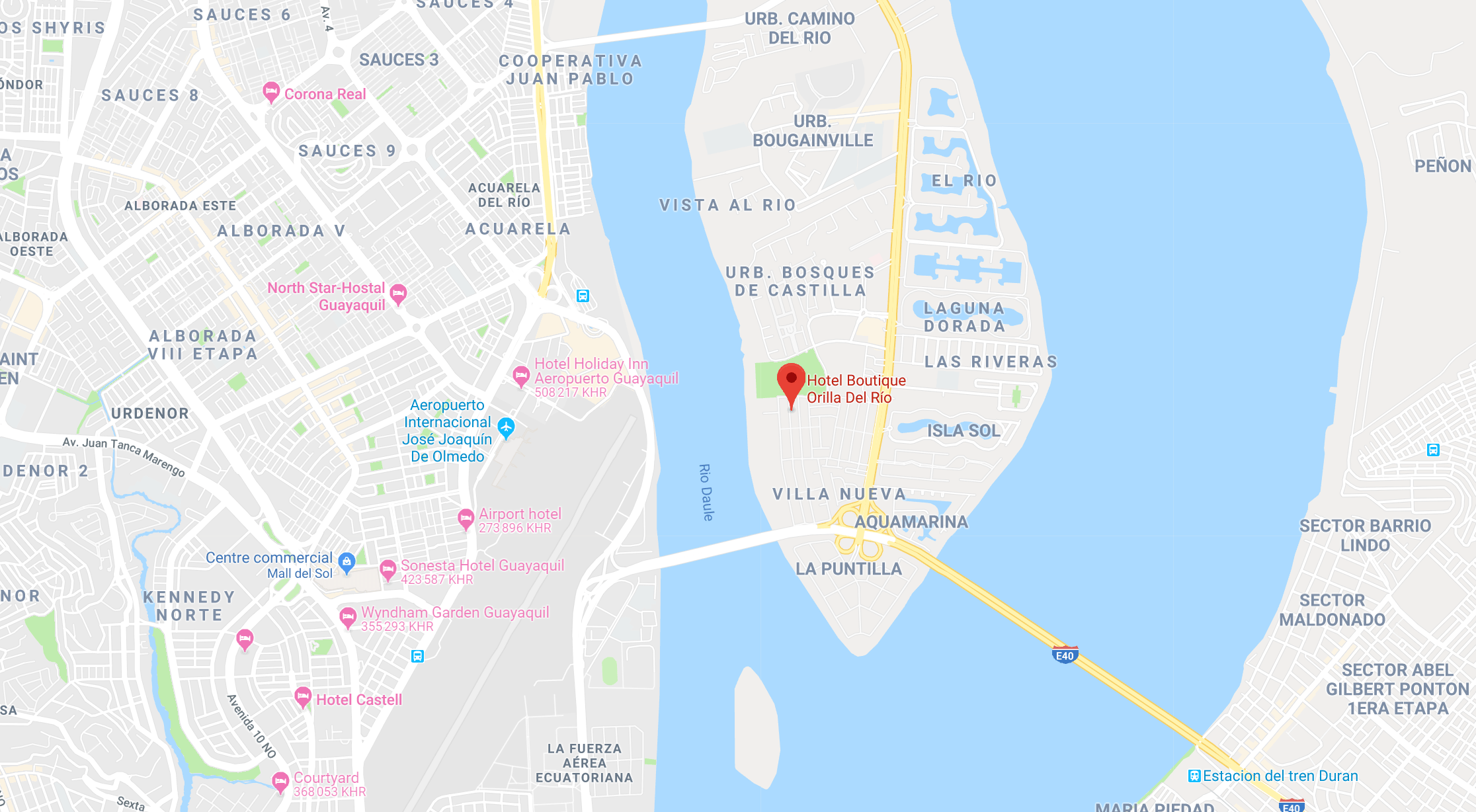 Arrival and check-in
We felt very welcome since the desk staff go out of their way to provide excellent service. Everybody was extremely friendly, helpful and caring. The manager spoke good English and Spanish.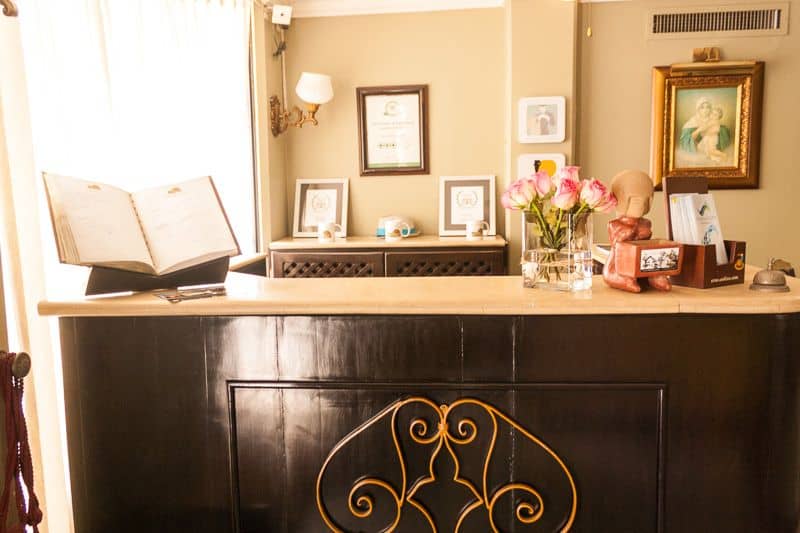 Rooms
The rooms were clean, spacious and elegantly decorated. Our bed was very comfortable and the air conditioning worked just perfectly. They offer different rooms where some have a balcony. All the rooms are upstairs and there is no elevator. If you're someone who needs an elevator, this hotel is not recommended unfortunately.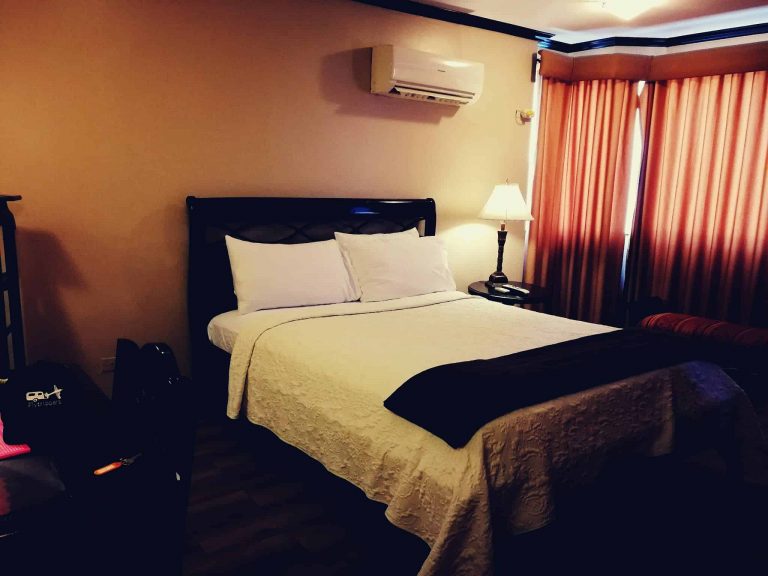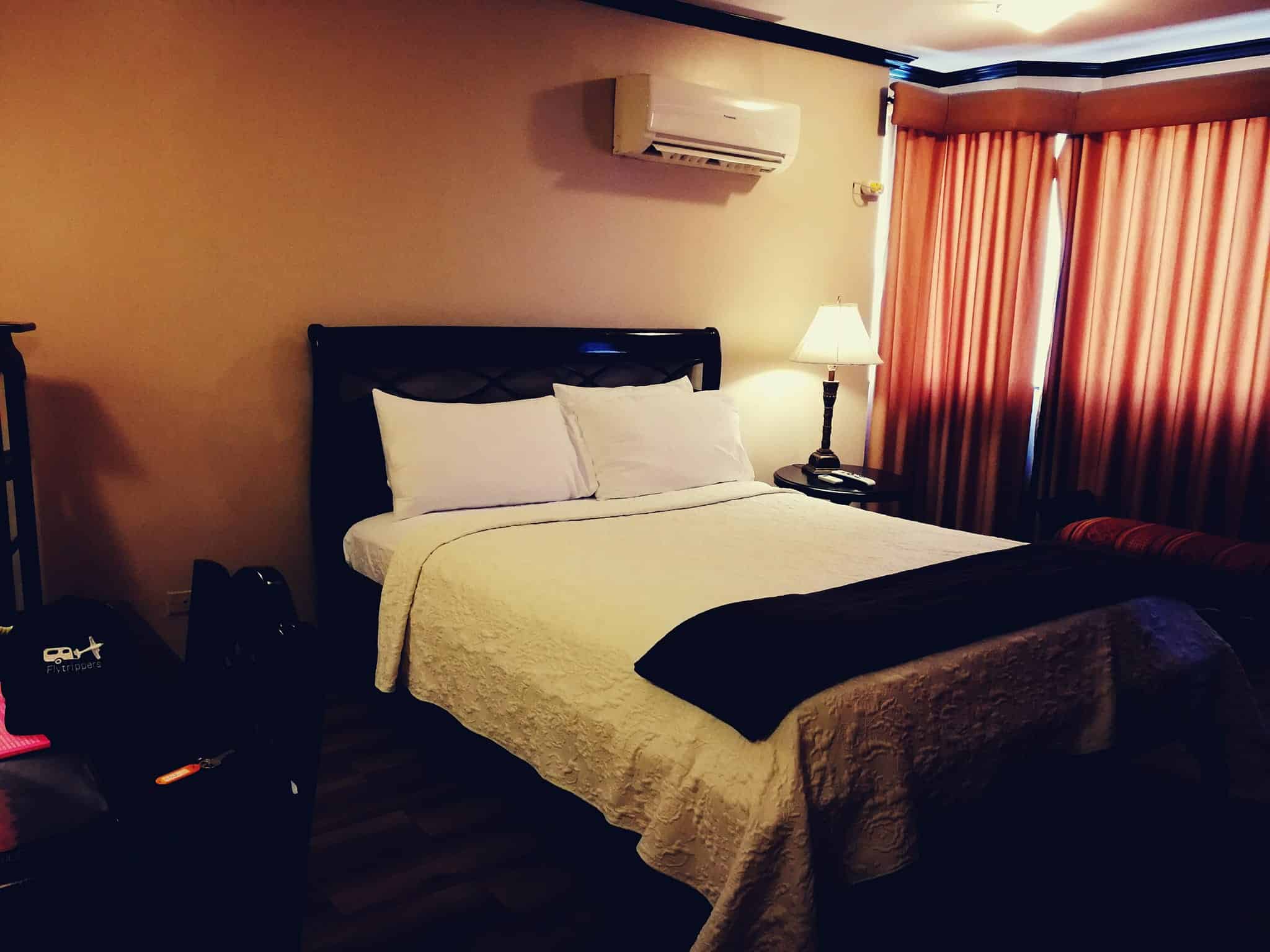 They provide good toiletries in the bathroom and bath towels were of good quality.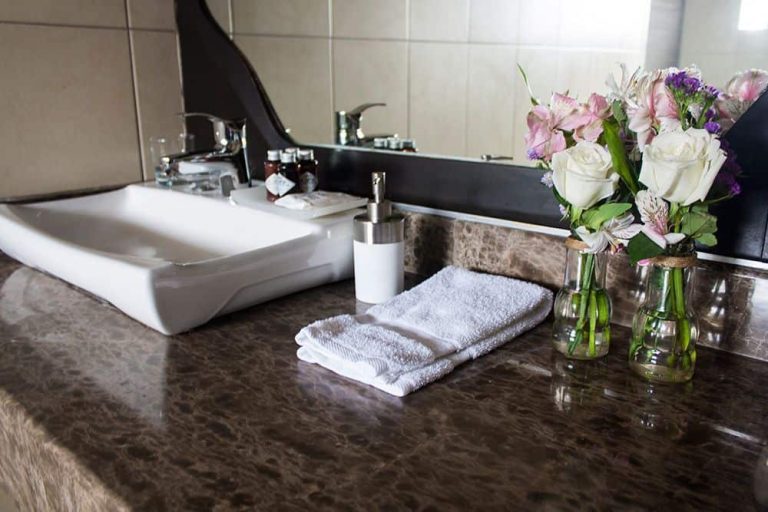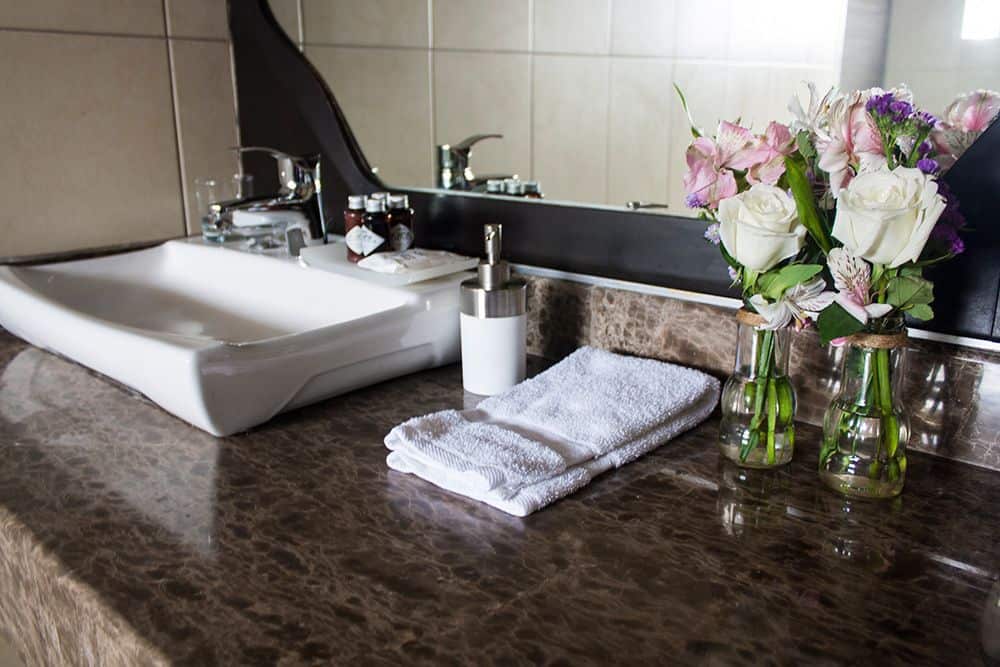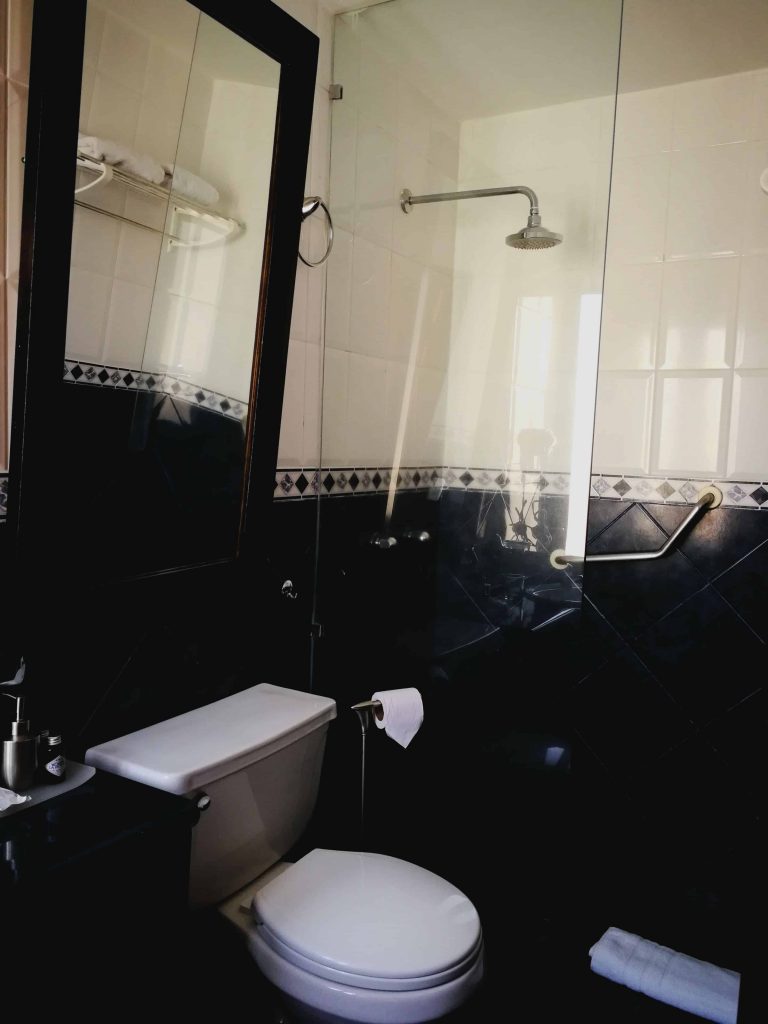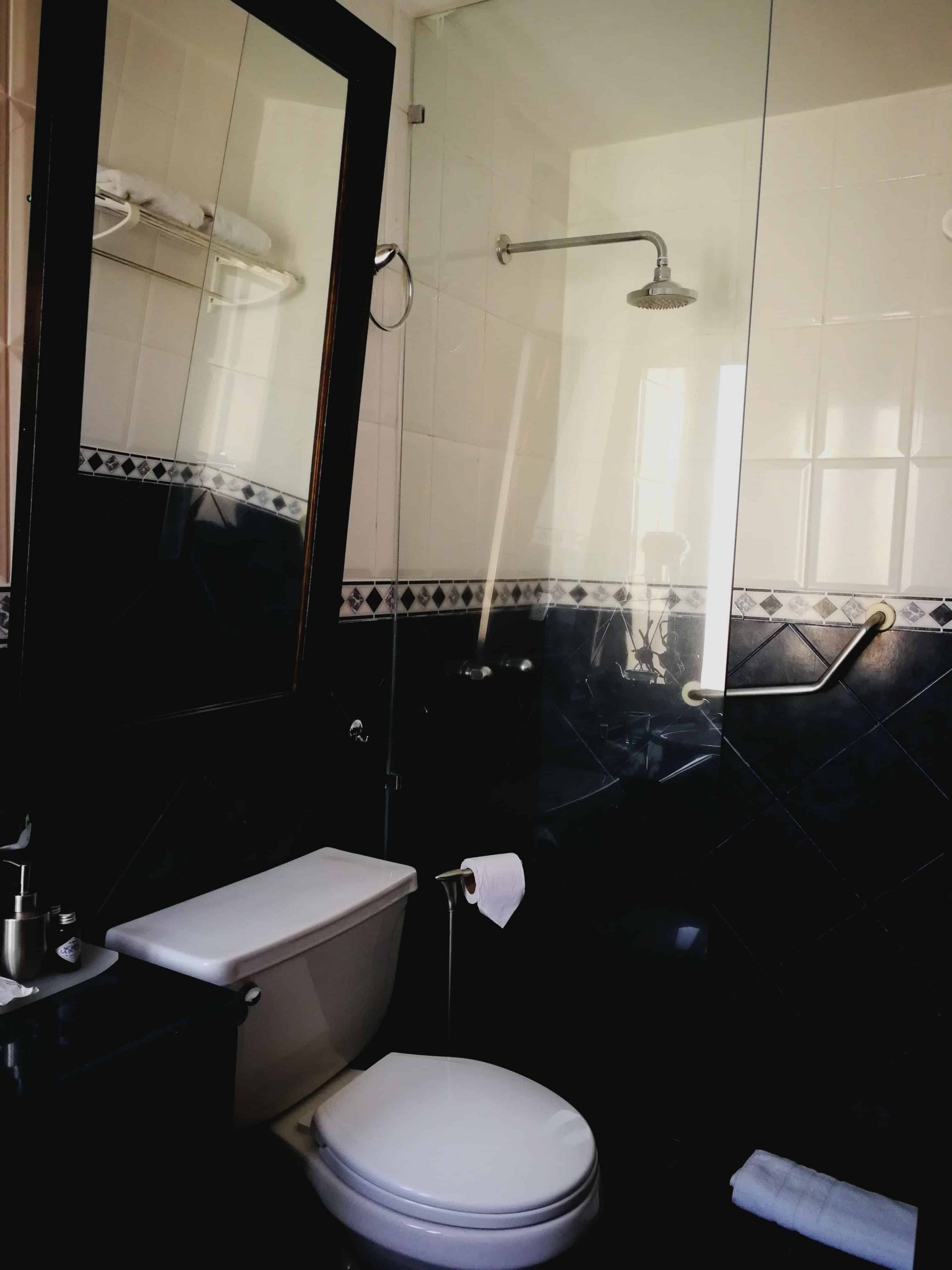 It was also equipped with a big closet and a small safe to store our valuables. The room also has free WiFi access and cable TV with more than 100 channels.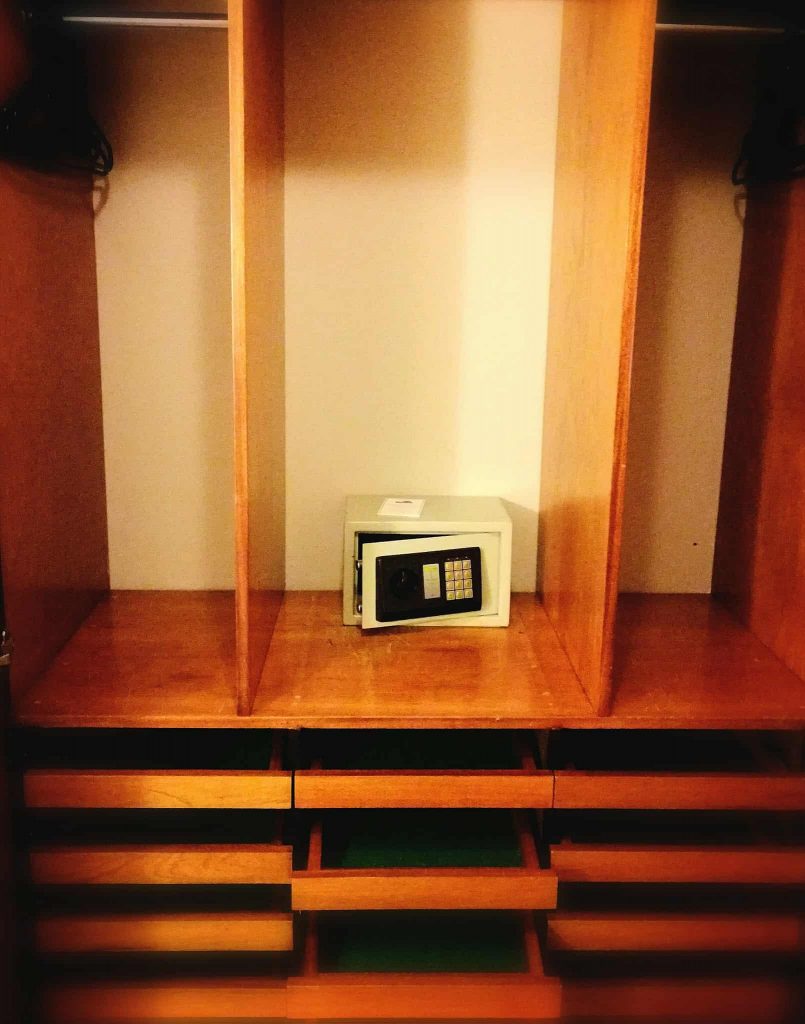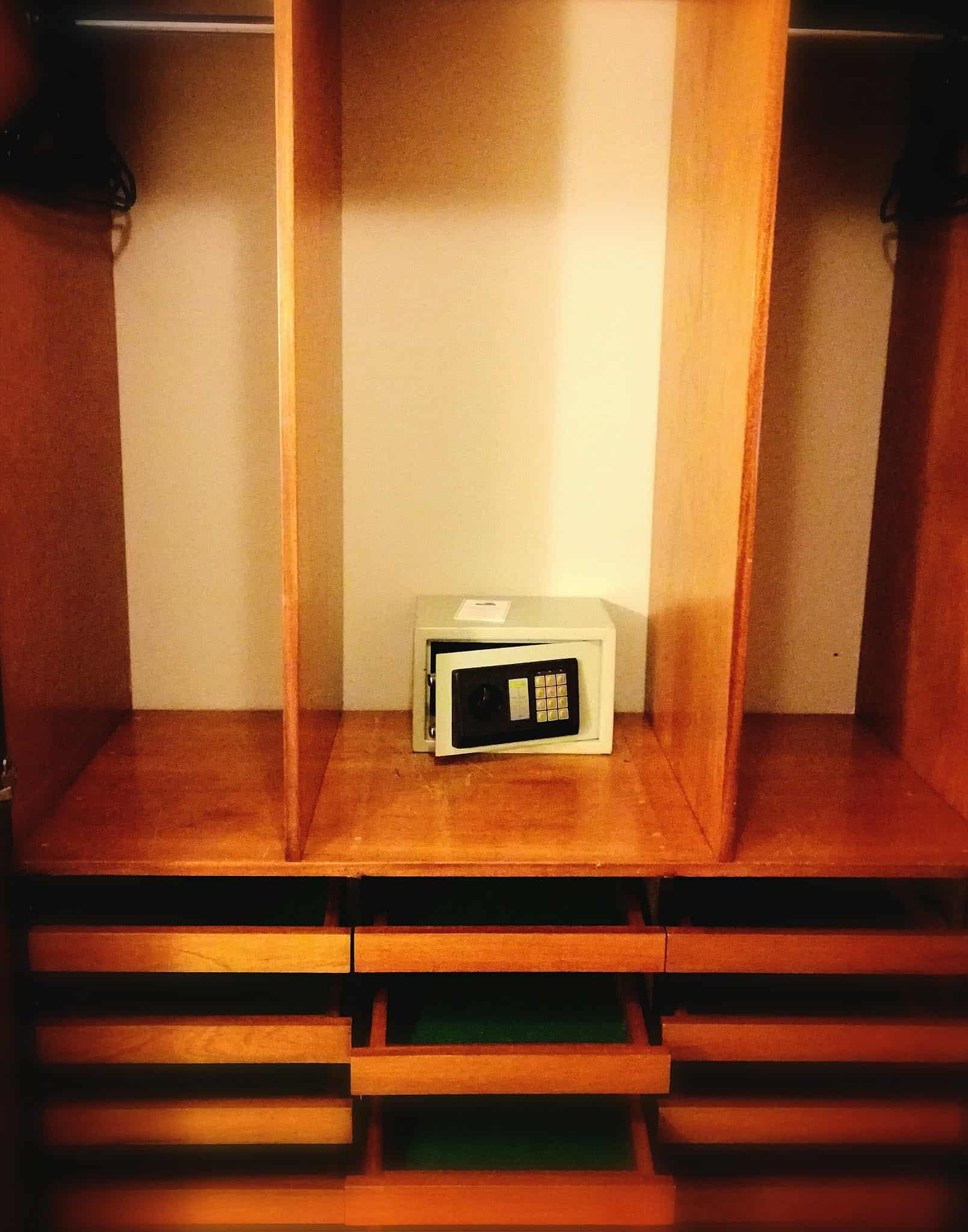 Common Areas
The courtyard is probably one of the best features of this boutique hotel. There is a small pool, a bar and a fountain. They created a good ambiance where you can sit and listen to music while eating.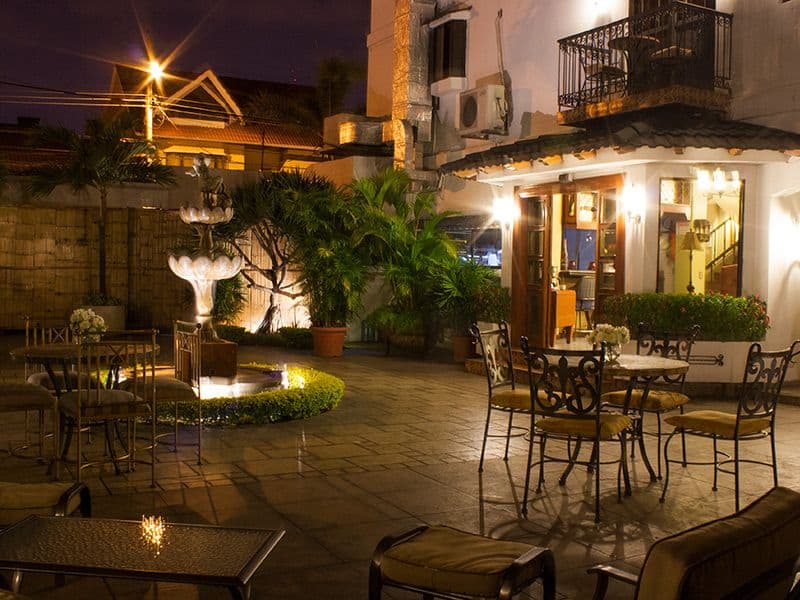 The interior gives us the feeling of an ancient house transformed into a hotel. It has a chic style including couches and tables where you can sit. There are also beautiful paintings hanging on the walls as well as a piano that you can use.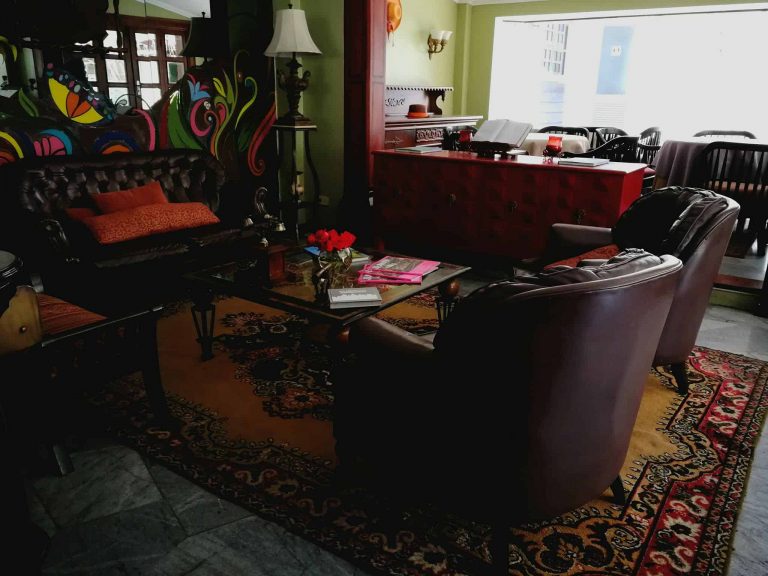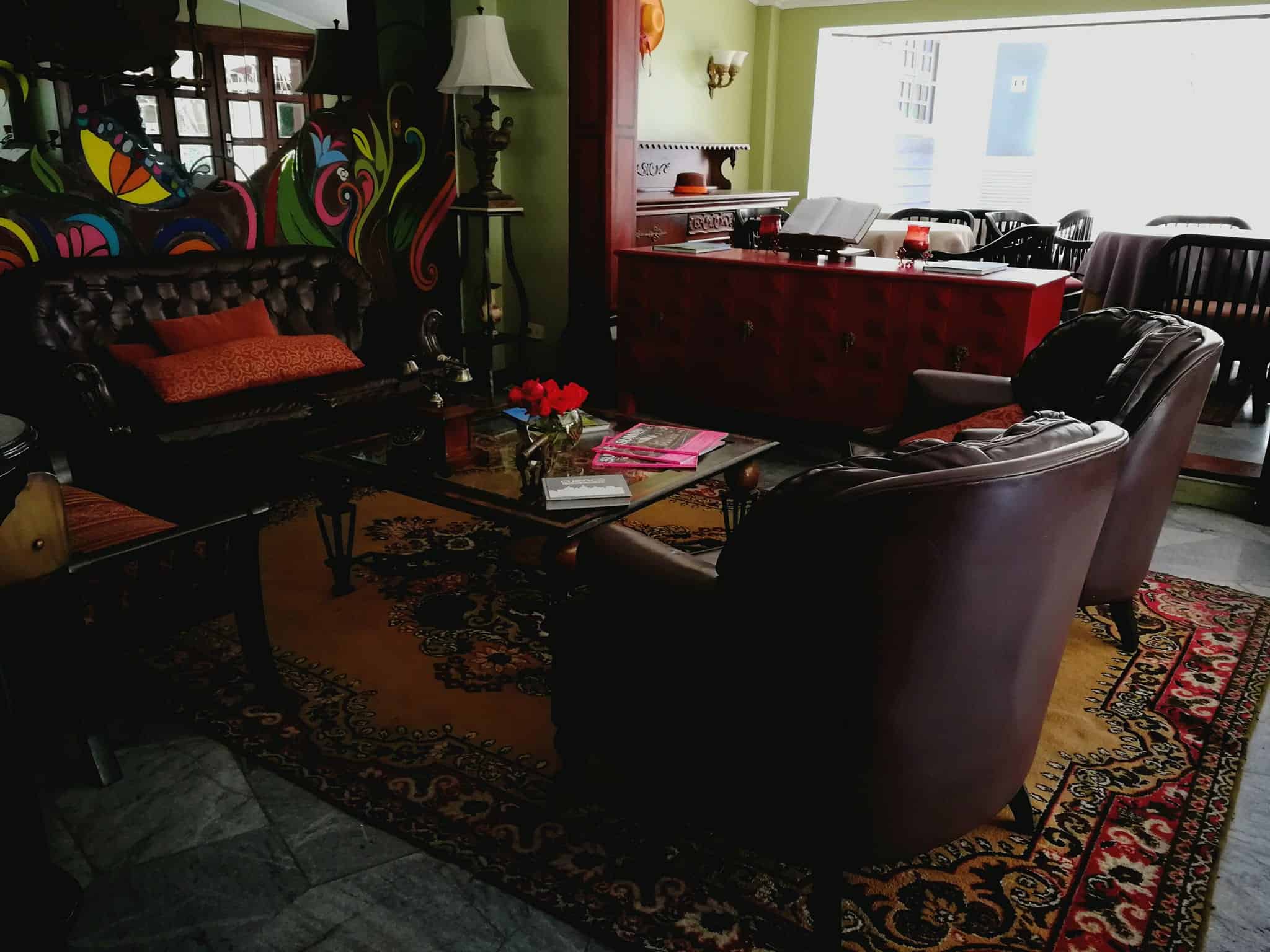 Services
Another good feature of this hotel is the restaurant. The menu offers a good variety of fine dishes and wines. In the next morning, breakfast was excellent. We had an American breakfast with eggs and fresh juice. Every time we asked for something, we got immediate personalized and helpful service. We didn't book any tours they offer, but they called a taxi for us at the end of our stay.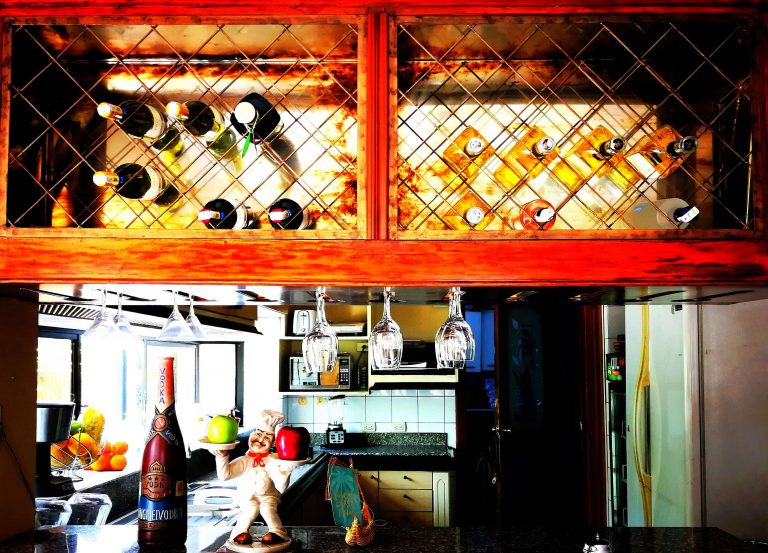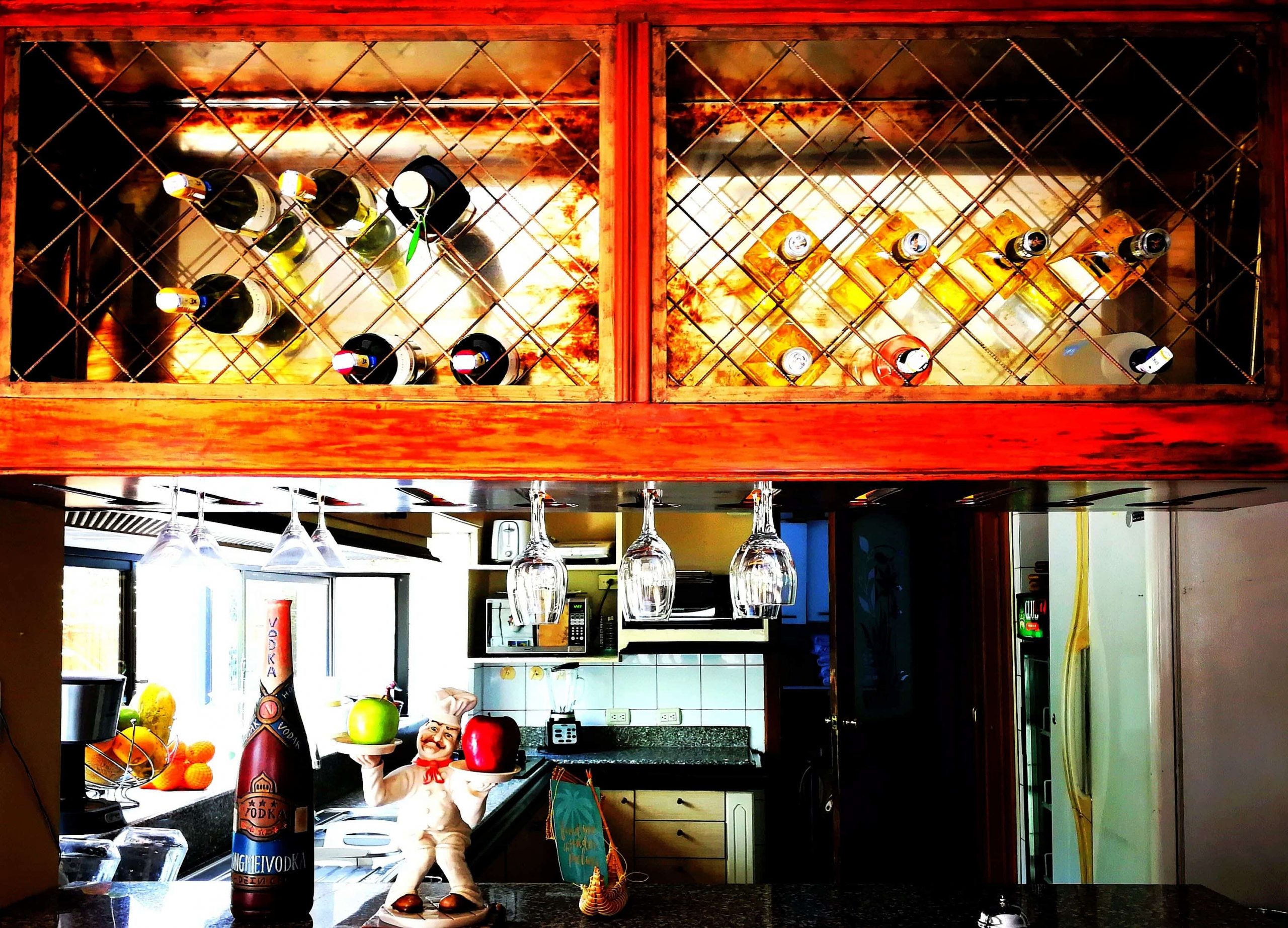 Prices
If you are looking for a safe, personalized and intimate stay, this is the right hotel to stay in Guayaquil. The prices are reasonable for every little touch they put for every client during their stay. You can rely on the constant great service from all the staff.
Bottom Line
Overall, we loved our stay at the Boutique Hotel Orilla Del Rio. The location was perfect to explore the city of Guayaquil in a calm environment. The hotel offered us a unique experience! We recommend this hotel if you're planning on going to Guayaquil.
Help us spread the word about our flight deals and travel tips by sharing this article and most importantly bookmark Flytrippers so we can help you navigate the world of low-cost travel!
Advertiser Disclosure: Flytrippers receives a commission on links featured in this blog post. We appreciate if you use them, especially given it never costs you anything more to do so, and we thank you for supporting the site and making it possible for us to keep finding the best travel deals and content for you. In the interest of transparency, know that we will NEVER recommend a product or service we do not believe in or that we do not use ourselves, as our reputation and credibility is worth far more than any commission. This principle is an essential and non-negotiable part of all our partnerships: we will never give any third-party any control whatsoever on our content. For more information on our advertiser disclosure, click here.
Editorial Disclosure: Flytrippers received a complimentary stay at this hotel. When this is the case, it will always be indicated clearly here for the sake of transparency. Most importantly, it will NEVER affect our editorial independence as all our reviews are authentic and unaltered. This principle is an essential and non-negotiable part of all our partnerships: we will never give any third-party any control whatsoever on our content. For more information on our editorial disclosure, click here.
Share this post to help us help more people travel more for less: