Arizona is one of the most visited States in the USA, and for good reason. Anyone who loves natural wonders and the outdoors will find something to discover in this beautiful State.
Even though it's quite easy to get to Phoenix and Las Vegas at a low price, as both are regularly featured on Flytrippers' cheap flight deals page, I had only been to Arizona once before (and not long enough to see much of it).
My Flytrippers co-founder Kevin and I actually took one of our first trips together in Arizona. We went to Las Vegas, with one of our good friends, on Ultra Low-Cost Carrier Allegiant Airlines a few years back. From there, we rented a car and took a little roadtrip to the Grand Canyon, which is definitely a part of Arizona you should see, for obvious reasons.
That being said, apart from the Grand Canyon, I hadn't seen any other part of that state. As one of my goals is to visit all 50 of them (current count is 46), I hadn't had the opportunity to go back, instead focusing on visiting new States.
But in May 2017, I spotted a great fare on United, for less than $75US roundtrip between Miami and Phoenix. As I can always count on finding cheap flights to South Florida from Plattsburgh (near Montreal), I jumped on the opportunity, booked my positioning flights on Spirit Airlines to get to Miami, and off I was to Arizona for around $250CAD. Not bad.
Here are the highlights of my trip to Arizona.
Phoenix, The State Capital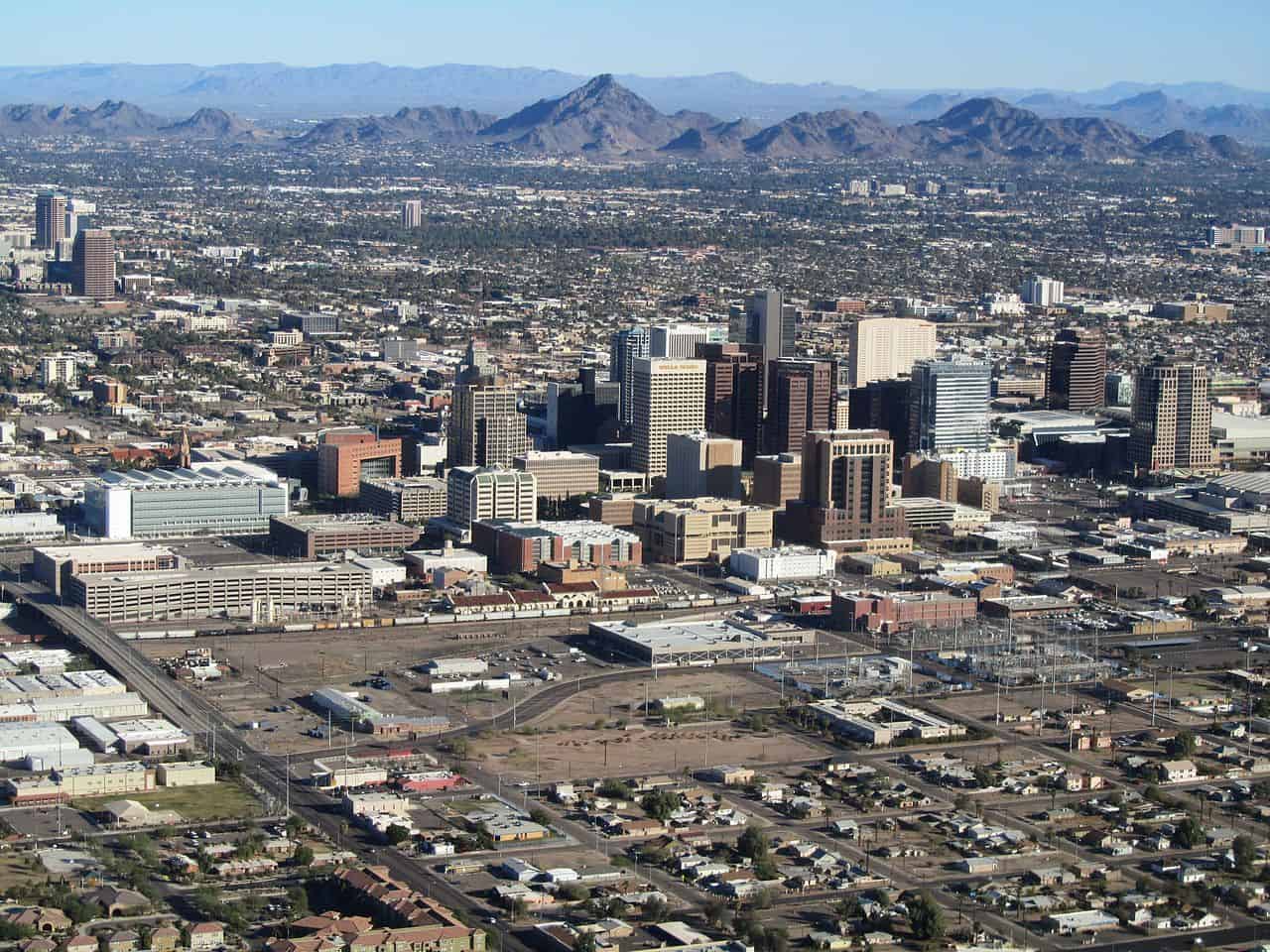 Phoenix doesn't get that much attention, but it is a huge city… and a very cool one at that. With almost 5 million people in the metro area, it's also one of the largest in the USA. Also, it is the hottest. Yeah, especially in summer: it's really hot. Like never-experienced-anything-quite-like-it hot.
Apart from the sunny warm weather, Phoenix has a lot to offer, which I'll cover soon in a more detailed post. Its downtown area is getting more and more vibrant, it has the largest university campus in the US (in nearby suburb Tempe) and also has teams in all four major professional sports (not for long I hope, go Nordiques!).
You can go hiking on a mountain in the middle of the city and get great views of the skyline. The zoo and botanical gardens are also awesome. There are world-class museums. Obviously, a lot of golf courses. And if you just want to relax, there are also several resorts and hotels in the area… and they are pretty cheap in the summer because it's too hot for some people. Not me. I love the heat.
The Desert
Phoenix is quite literally in the middle of a desert. Hence the heat.
But head out south and then towards Tucson, the second-largest city in the state, and experience the Sonoran Desert landscapes that are just marvelous, see the giant cacti (or cactuses if you prefer) at Saguaro National Park, and finally why not see a historic old Western town in Tombstone, the site of the famous OK Corral shootout during the Old West era if you are a history buff.
A Complete Change Of Scenery
By driving just a couple of hours north, you'll end up at Petrified Forest National Park and in an area that feels so much different than where you just came from. You'll be in the Arizona Badlands and in an area with a lot of Native American history.
If you want something kind of unique, you can even drive up to the Four Corners Monument and stand in 4 different States at the same time: Arizona, New Mexico, Colorado and Utah (only place in the US where you can be in 4 States).
Flagstaff And Humphreys Peak
You'll then find your way to Flagstaff, a city of 100,000 people in a forest of Ponderosa Pine Trees, and you'd never guess you were so close to the desert landscapes, a mere hour and a half drive away.
In fact, you are in the middle of a very green area and can go up Arizona's tallest mountain, Humphreys Peak, where you'll definitely start to understand the great variety of landscapes in this state.
Grand Canyon
I just can't write a travel blog story about Arizona, the Grand Canyon State as its state motto reminds us, without talking about the Grand Canyon. It's really hard to describe. You think you know what to expect, having seen pictures and all. But it's simply breathtaking. The magnitude of it all.
Just remember to bring winter clothes if you go in the winter. Desert ≠ Hot. That's a story for another post, one about our roadtrip to the Grand Canyon a while back. Check the blog for new content regularly.
Finally, The Best For Last… Sedona
Sedona is honestly one of the most beautiful places I've seen in the US. And like I said, I've been to 46 states, so I've seen quite a bit. The red rocks, the mountains, everything is just so out of this world.
You really must drive on Route 89A, the scenic byway that gives you the best views of the rocks, Oak Creek Canyon and into Sedona, a small quirky city completely surrounded by red rocks on all sides. You'll enjoy the ride, guaranteed, even if it is longer than taking the Interstate 17 highway.
Back To Phoenix
You should then head back to Phoenix only an hour and a half away, and catch a flight back home, as PHX is one of the nation's busiest airports and by far the easiest gateway to Arizona.
We often find great deals for under $400 from Montreal and Toronto, so check out our deals page if you want to go. Another option is to fly into Las Vegas, rent a car there to drive around Arizona, and enjoy some time in Vegas as well. That is the best option for the Grand Canyon.
Bottom Line
Arizona is an amazing destination for anyone who is a fan of the Western US: stunning landscapes, the outdoors and scenic roadtrips. You should definitely add it to your bucket-list and head to Arizona as soon as you get a chance!
Have you ever been? Tell us in the comments below!
Help us spread the word about our flight deals and travel tips by sharing this article and most importantly bookmark Flytrippers so we can help you navigate the world of low-cost travel!
Photo cover: typical Arizona landscape
Advertiser Disclosure: Flytrippers receives a commission on links featured in this blog post. We appreciate if you use them, especially given it never costs you anything more to do so, and we thank you for supporting the site and making it possible for us to keep finding the best travel deals and content for you. In the interest of transparency, know that we will NEVER recommend a product or service we do not believe in or that we do not use ourselves, as our reputation and credibility is worth far more than any commission. This principle is an essential and non-negotiable part of all our partnerships: we will never give any third party any control whatsoever on our content. For more information on our advertiser disclosure, click here.
Share this post to help us help more people travel more for less: