The Inca city of Cusco, in Peru, is a beautiful city well worth the visit. But my trip there last year was made even better by the amazing hotels I stayed at. Here is a review of the El Balcón Cusco.
If you've been following us for a while, you know that we don't only offer great flight deals, but also a hotel booking tool, since accommodations are a huge part of travel planning. To become your favourite destination for all things travel, we now feature a Hotel Reviews section to share our experiences in the various hotels we try ourselves.
For my first trip to South America, I visited Peru last year thanks to a great deal found on our cheap flight deals page. Usually, my trips combine both working on the website and exploring new places, but this trip was my annual summer vacation with my girlfriend, so we had a busy itinerary in many beautiful regions of Peru, including the beautiful historic city of Cusco.
I visited many different hotels since I like variety and I also like to experience different neighborhoods: you can see all the hotel reviews in my Peru trip report.
So here's what it's like to stay at the El Balcón Cusco.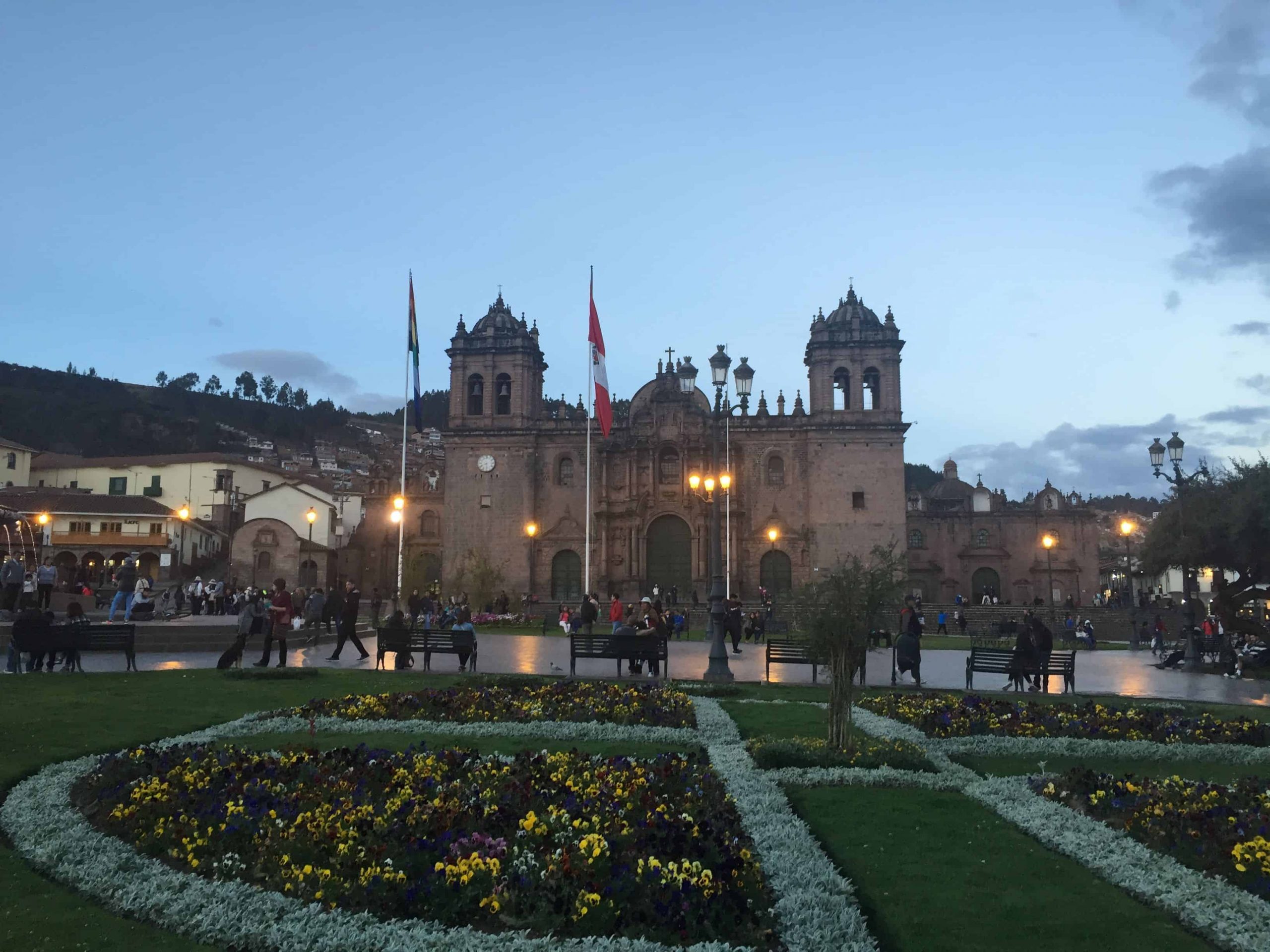 The Hotel
The hotel El Balcón Cusco has a unique architectural style and every building looked so pretty and authentic. We were immediately charmed by this typically Peruvian hotel.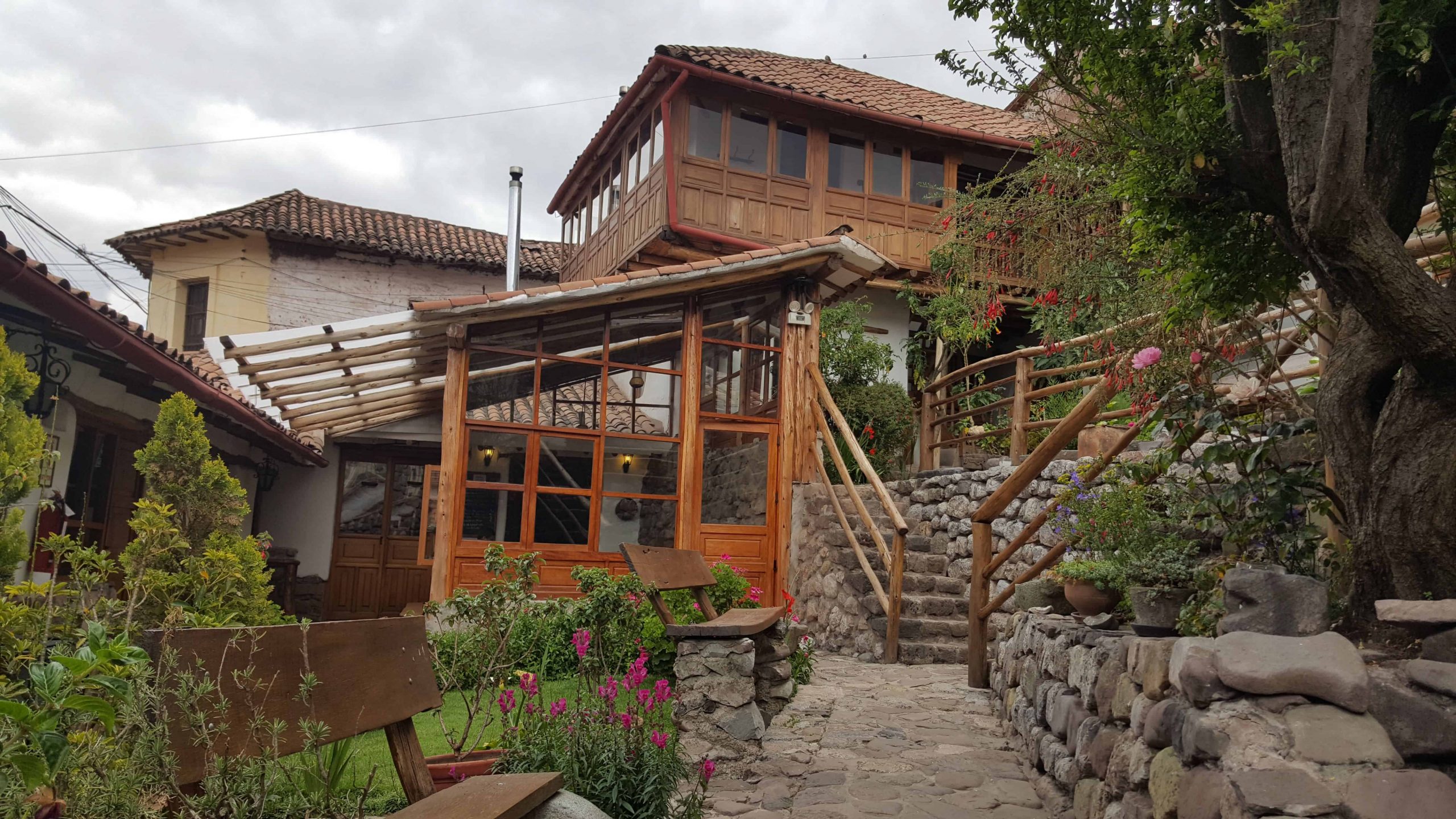 Location
The El Balcón Cusco is located in central Cusco, within walking distance of the historical district. The hotel itself is in a quiet area, on a residential street. The beautiful city of Cusco, the ancient capital of the Incas, is charming with its historical buildings and unique vibe that you won't find anywhere else in Peru.
Be aware that you can feel a little bit sick when you arrive in Cusco. It is due to altitude sickness. You can try drinking coca tea, as it can ease the pain you're going through. The symptoms vary from one person to another: some people may feel a shortness of breath, headaches, and it can even make you very sick. For us, the symptoms were very minor so we were able to really enjoy our stay in this unique city, but it is recommended to keep your agenda light on your first day in the mountains.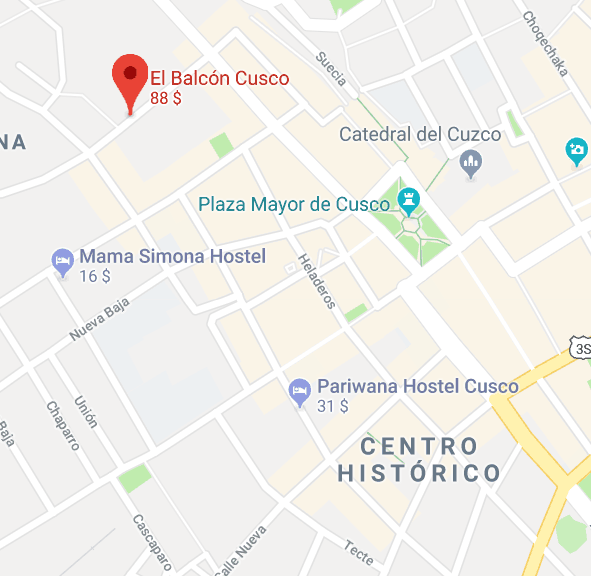 To reach the El Balcón Cusco from the Cusco airport, we used Uber, a very affordable means of transportation in Peru. It took us approximately 20 minutes. If traveling solo, public transportation is an even more affordable option and will drop you at the plaza, within walking distance of the hotel.
Arrival & Check-in
When we arrived, we appreciated the fact that the doors were locked and the hotel felt very secure.
When they let us in, we immediately noticed the great atmosphere, with the fireplace burning in the lobby. The employee at the front desk was very nice and gave us some advice on what to visit and where to eat.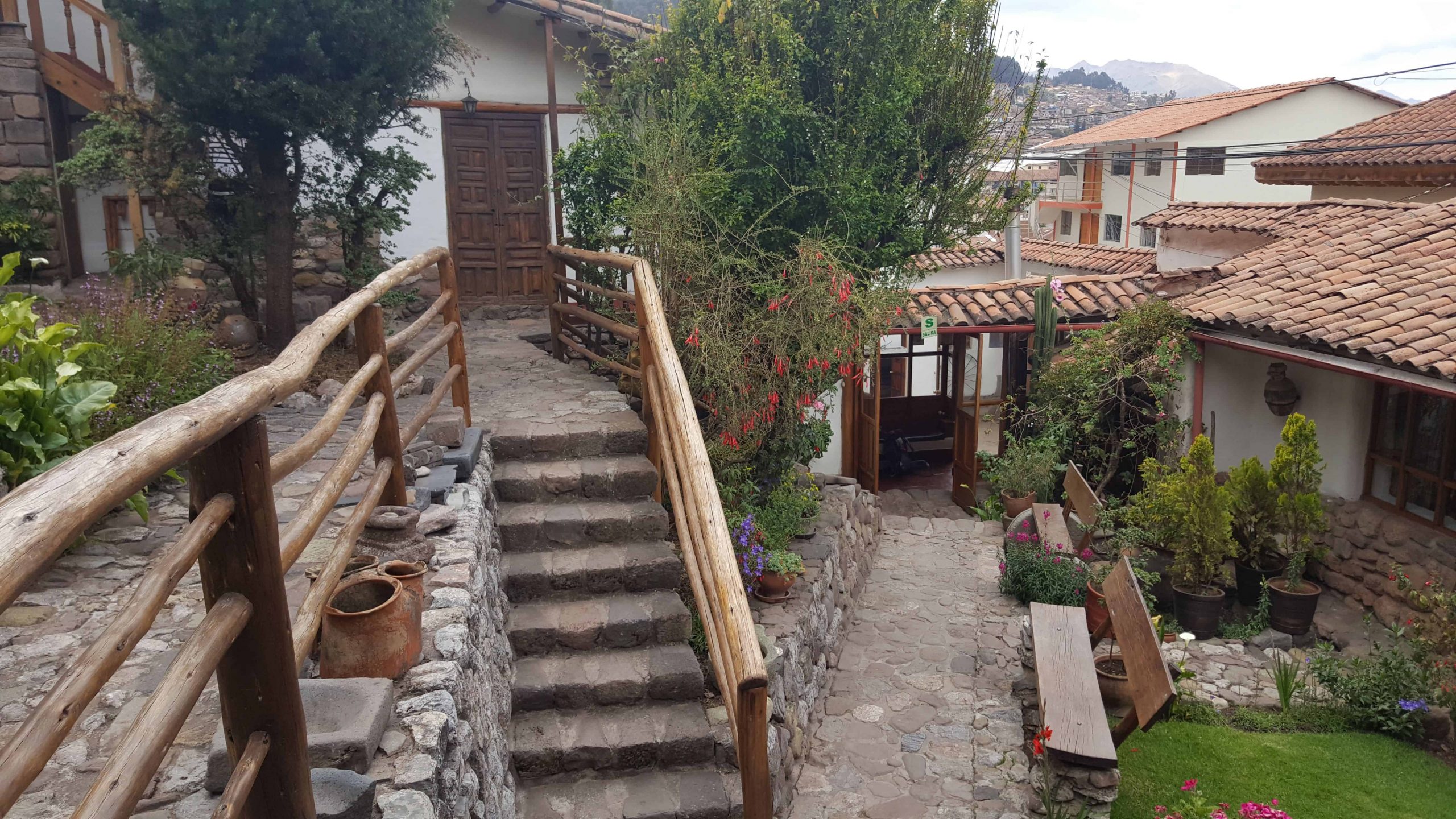 Courtyard of El Balcon Cuzco
Lobby And Common Area
The lobby of the hotel was small but charming.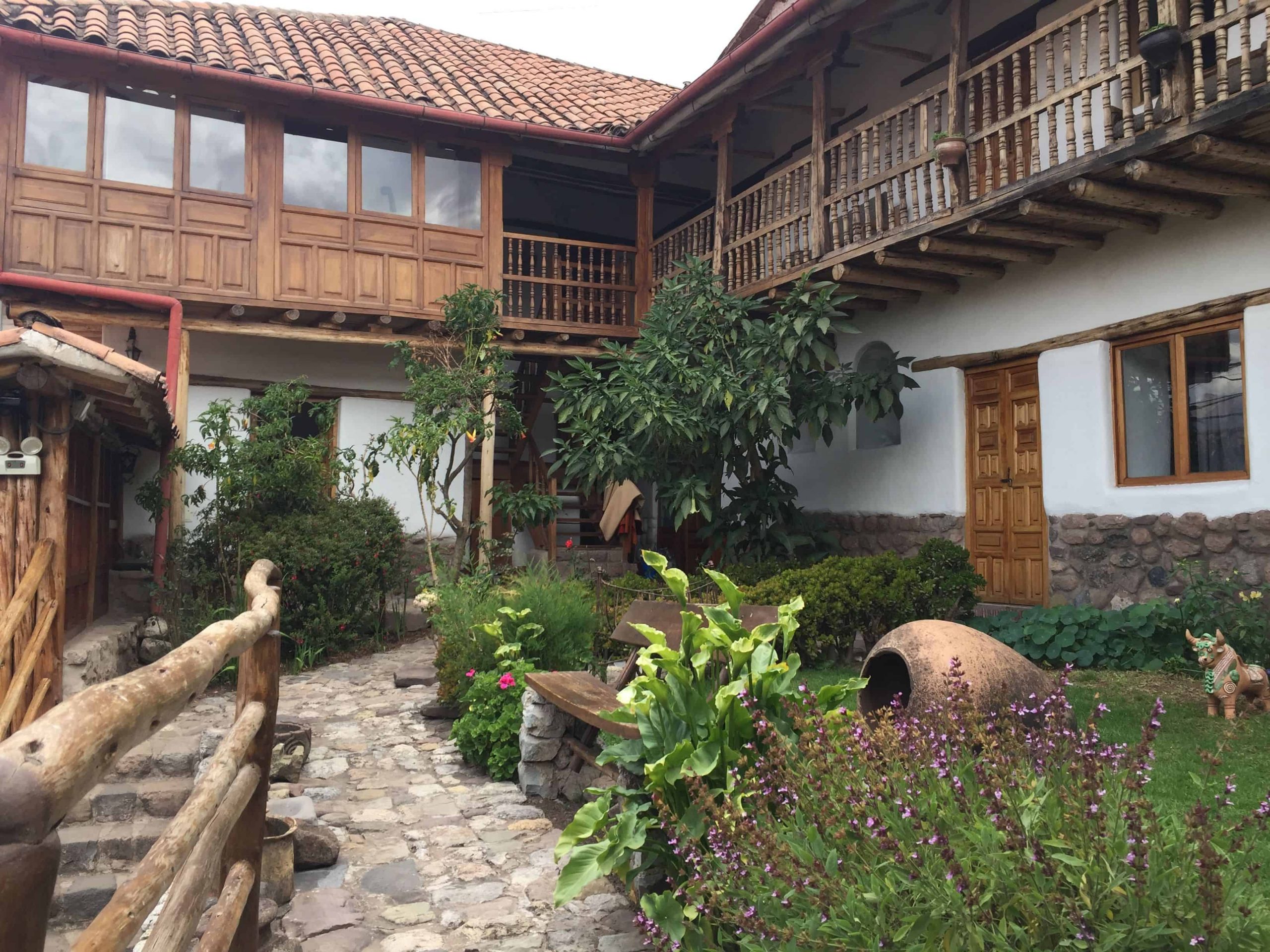 But the best place to relax and wander was the hotel's magnificent courtyard. This common area took our breath away, as you can see it was beautiful with lots of greenery. The flowers and the plants made us feel at home.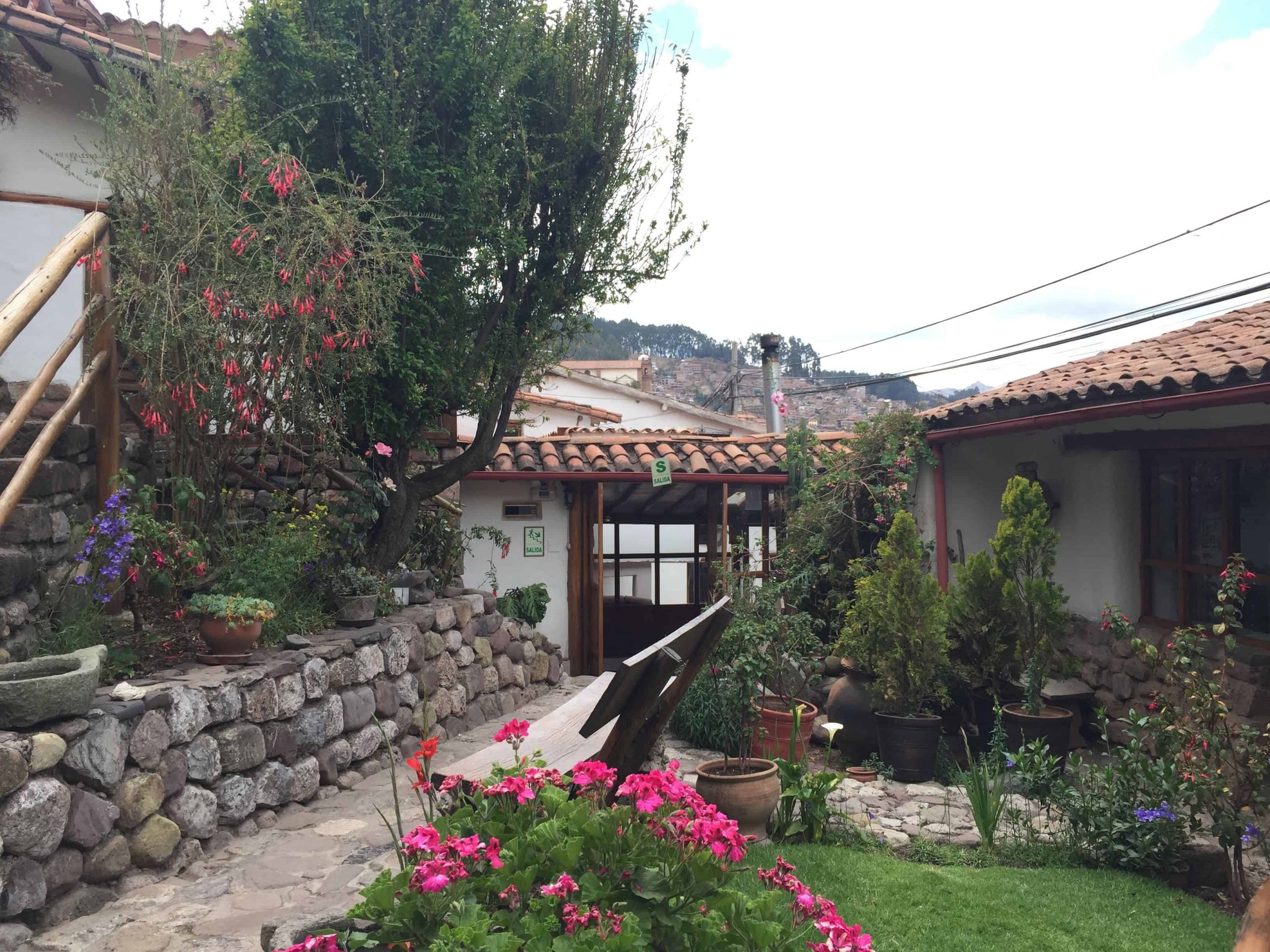 Room
What a beautiful surprise it was when we entered the room. It felt like we would be in a real Peruvian home, complete with authentic double doors.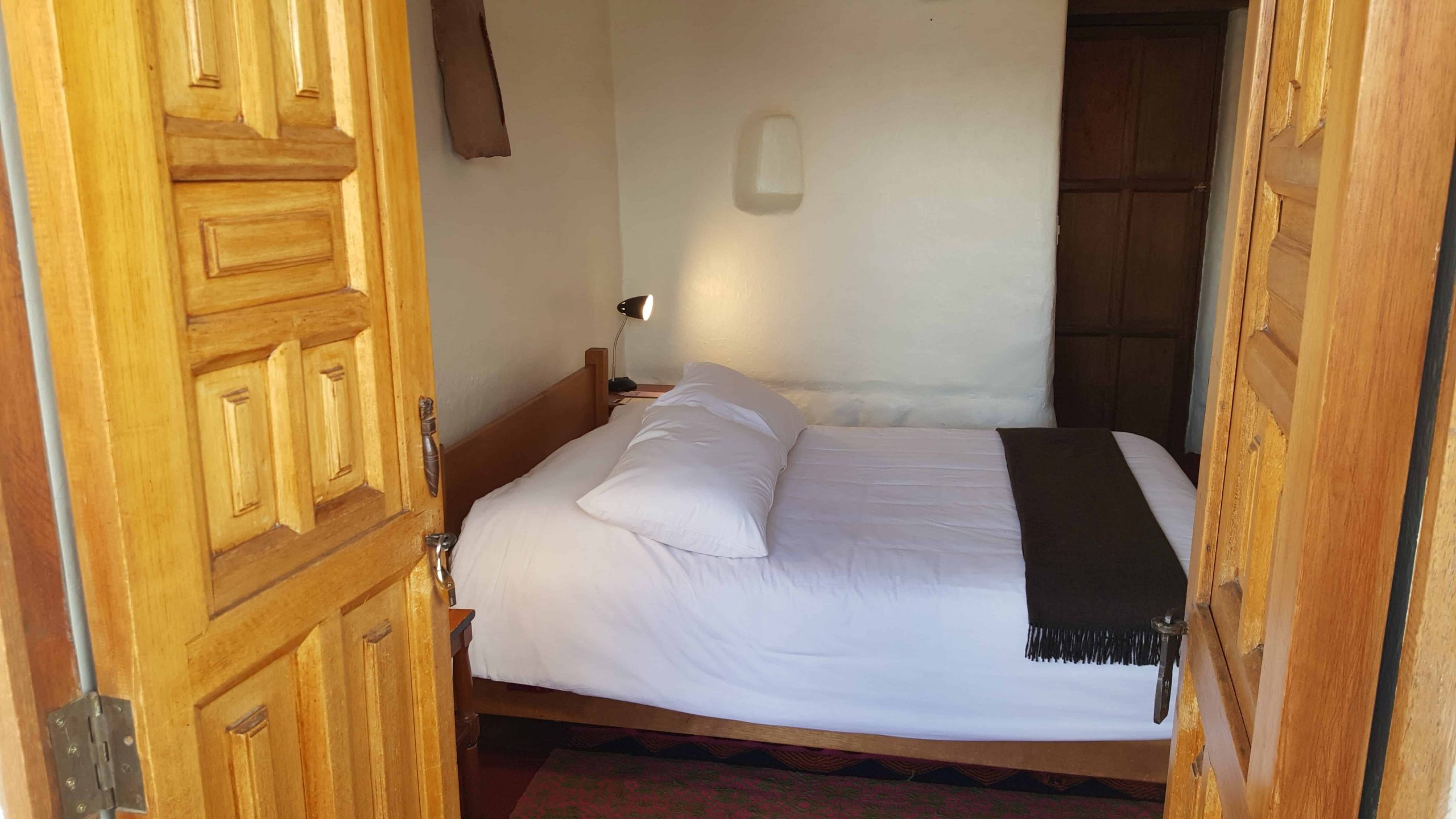 The room was very pretty, with beautiful walls and a very authentic feel. The bed was comfortable and the room was clean.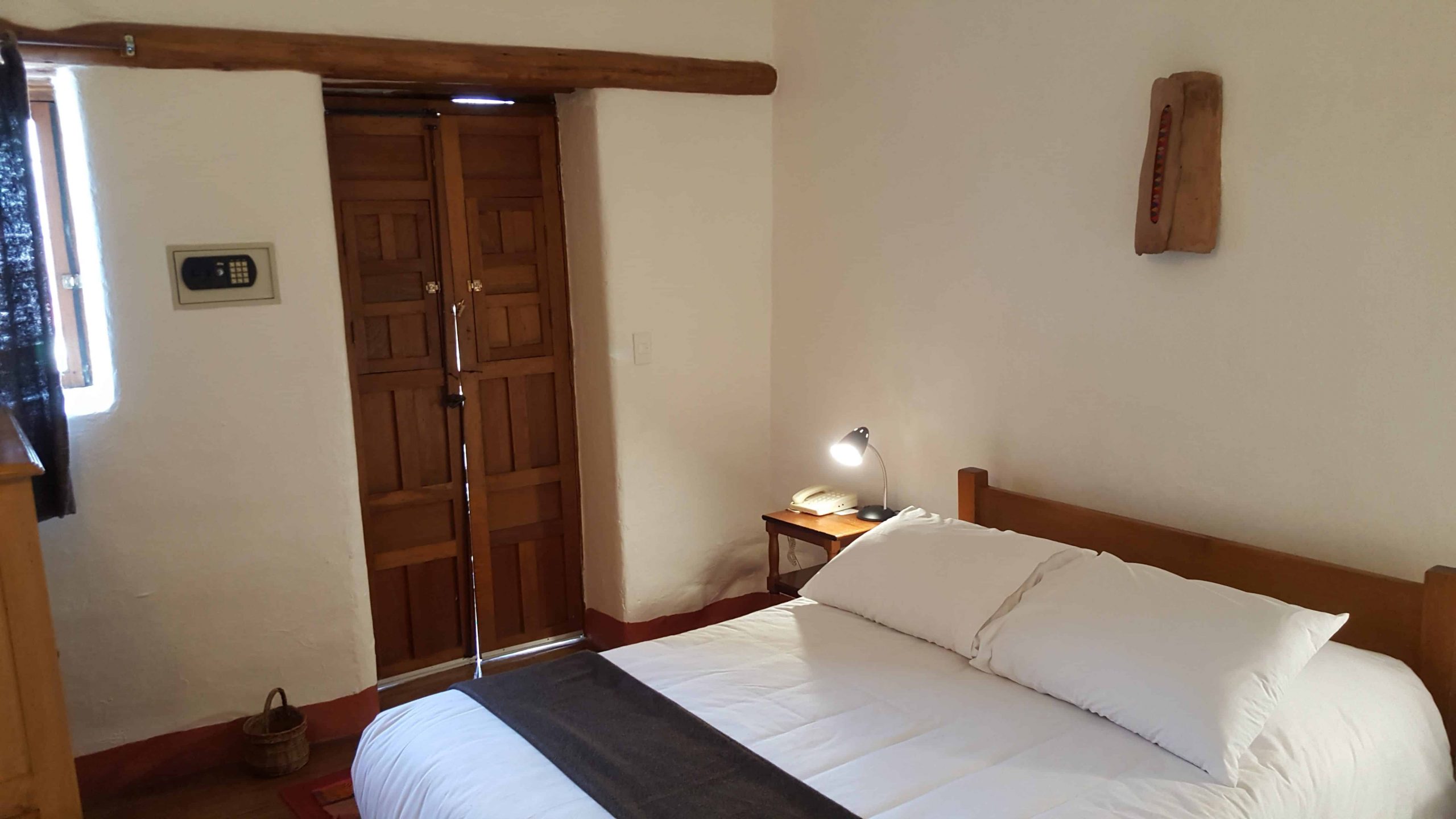 We also enjoyed the view from the window panels built into the door, looking down on the town and the mountains that surround it.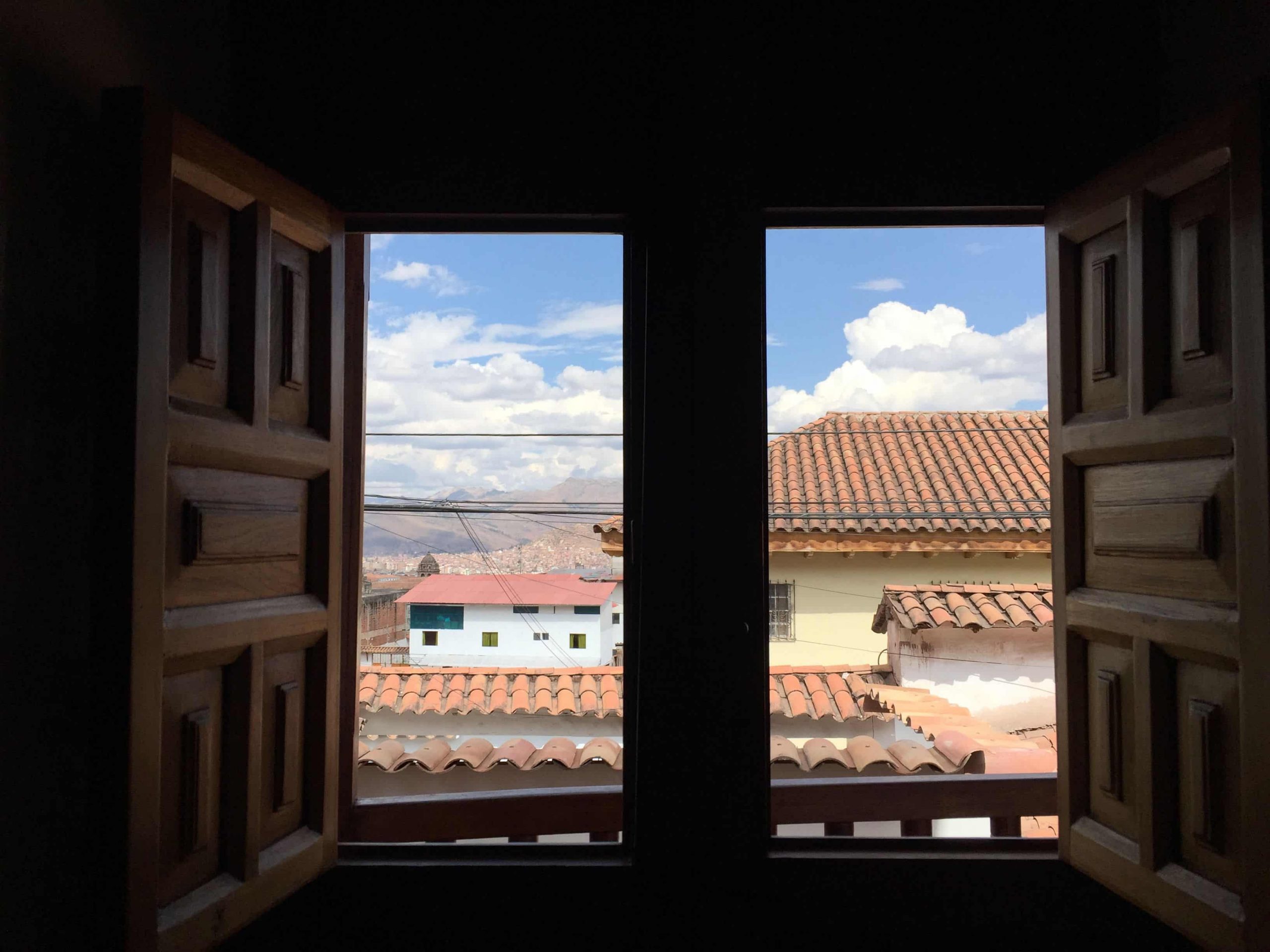 The bathroom had a basic decor and a bit on the small side, but that is expected with patrimonial buildings like this one. The layout was practical nonetheless and it was very clean.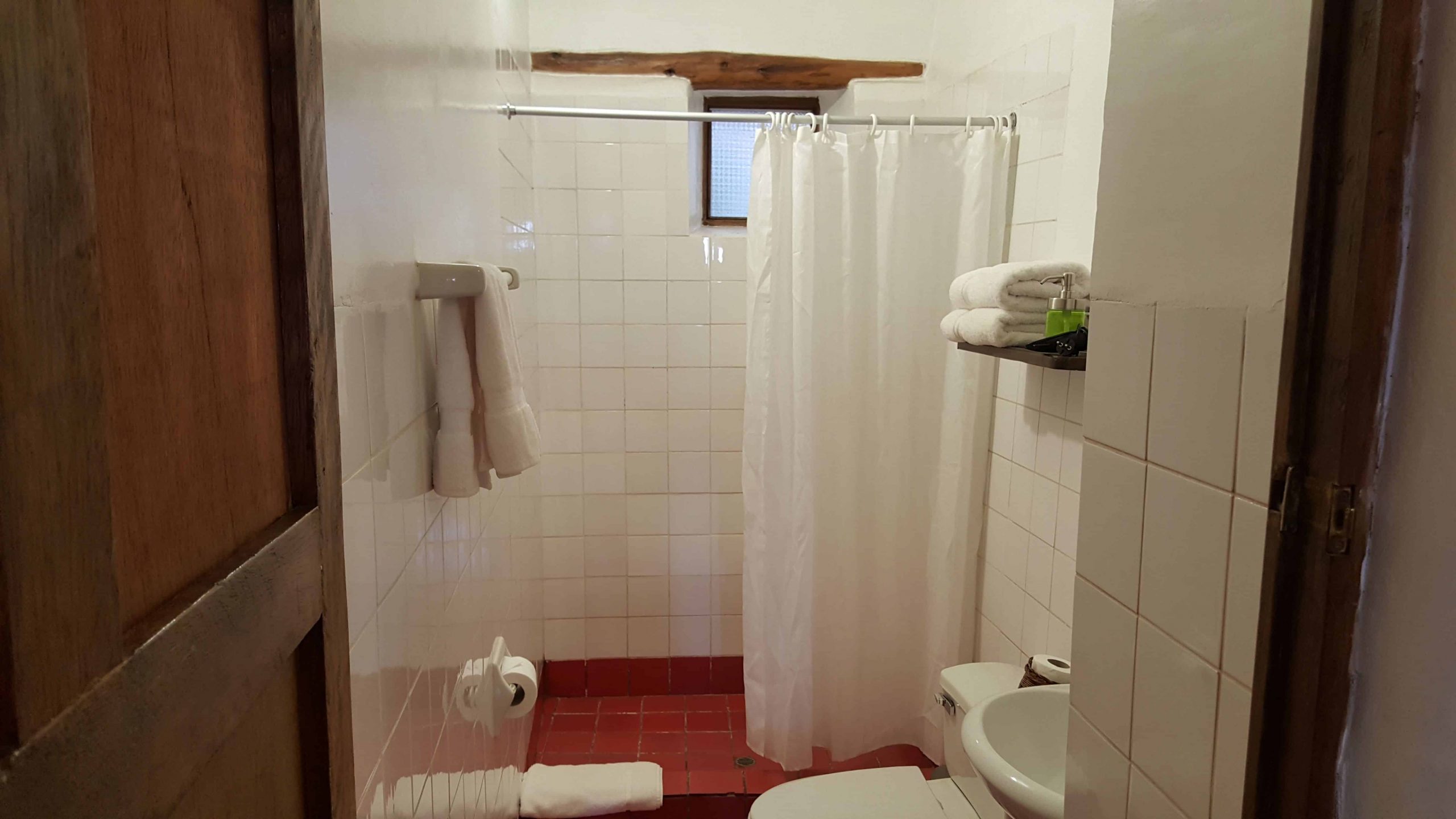 Bathroom robes were available to us, which made the stay a little more cozy.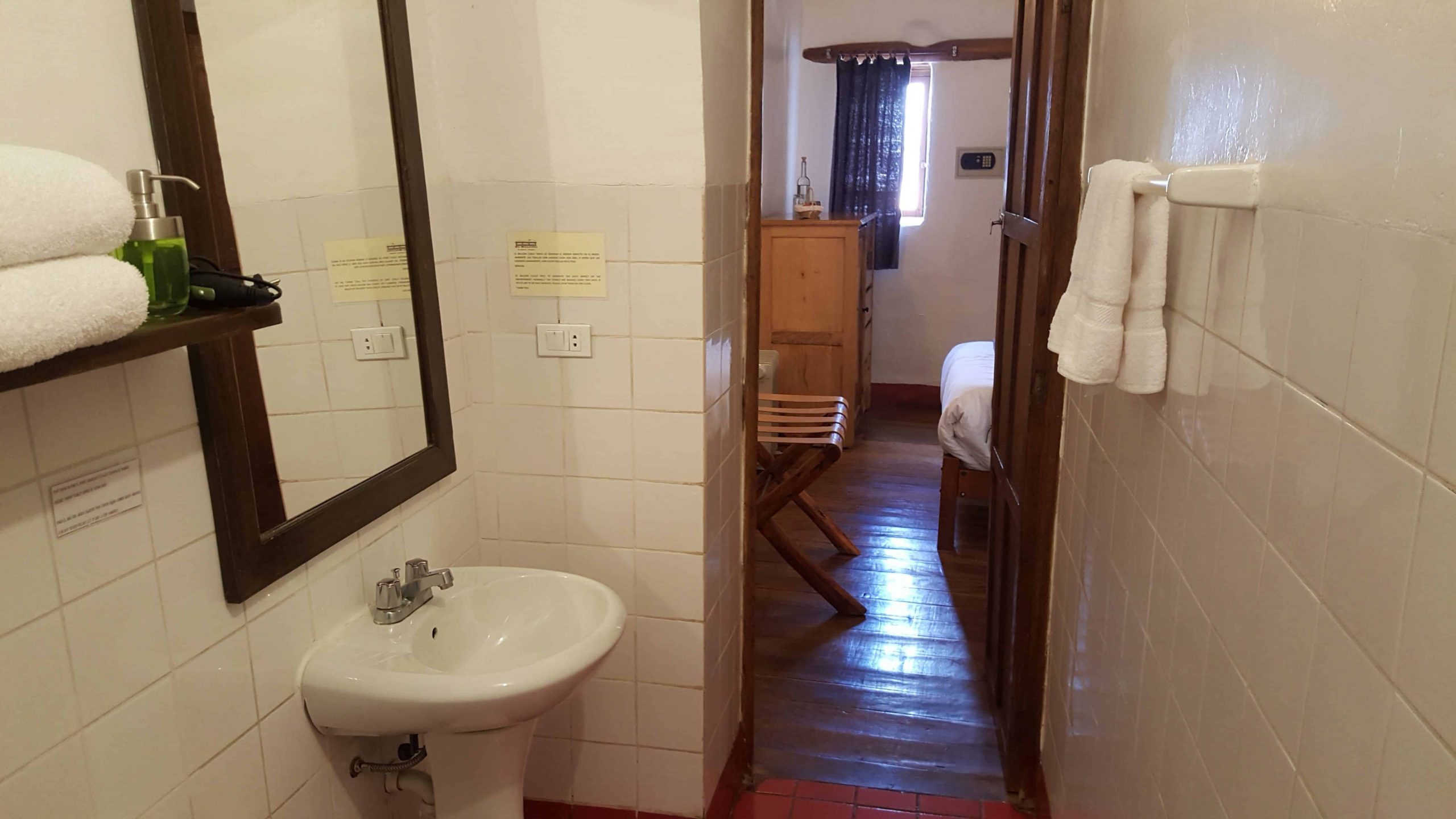 On the downside, the room didn't have AC, although it was winter in Peru and we did have a portable heater to warm us if it got cold at night.
El Balcón Cusco offered a beautiful dining room where you can go at any hour of the day to relax and enjoy complimentary fresh coca tea, a great natural antidote to altitude sickness as mentioned earlier.
Share this post to help us help more people travel more for less: