Sometimes, I tend to forget that most people just aren't very experienced at buying their own plane tickets online. Maybe it's because I've been doing it since I was 14. So we'll have a lot more "basic" content to help you out soon, but I wanted to talk about one particular comment we got yesterday.
If you missed our webinar last Sunday, you can still get the free guide with the 100+ travel tips we talked about when it's ready soon, if you sign up for our free newsletter today.
And many of those tips are about finding cheap flights, our utmost specialty. Those tips will also be published here in the coming weeks, with a lot more info so that you too can become a pro.
In the meantime, let's start with this example and since most of you probably already know this very basic thing, I added 6 bonus tips so you too can get value out of the post while you wait.
Comment on our deal to Hawaii in the $400s roundtrip
Flytrippers spotted deals to Hawaii in the $400s roundtrip yesterday, as we regularly do from many Canadian cities (all our deals are always on our cheap flights page, just bookmark Flytrippers.com).
And one comment on that deal was that "not all dates are at that price."
No, they aren't.
This is like the very very very most basic thing to know about plane ticket prices: they vary a ton! From one day to another, prices are very different!
So when we spot a good deal, obviously not all dates are at that same low price!
That's why we go through all the trouble of pulling the cheap dates for you and listing them on our deal page. Sometimes, there are more at that low price than just the ones we list, you can search around. But please don't complain that Christmas dates are not included in the deal, of course they're not.
To illustrate this, yesterday some flights from Montréal (YUL) to Maui, Hawaii (OGG) were $489 roundtrip.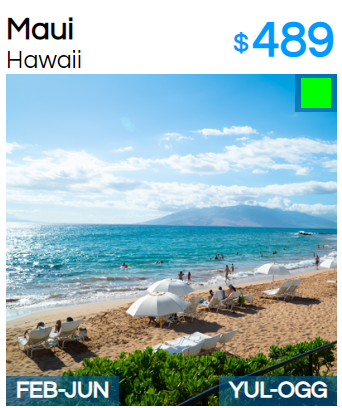 That's for the dates we spotted. Of course, if you change the dates, the price may change!
On other dates, the exact same itinerary with 2 stops can be $1,777 roundtrip.

That's how plane ticket prices work. Over 3 times more for the same thing. Prices vary.
That's why it's so important to take advantage of deals and even better, to know how to find cheap flights on your own. That's what we'll help you do with a ton of upcoming content.
I mean, plane ticket prices sure can seem complicated, just like any topic you don't know much about or don't take time to learn about. But really, it's much simpler than it looks if you invest a bit of time to gain knowledge about this.
We'll help you with a ton of content about that, including a few pro tips to circumvent the price mechanisms (those who follow me on Instagram got a tease about one of those tips) because it's literally our mission to help you travel more for less, and knowing how to find cheap flights is obviously a huge part of that.
Until then, at the very least you should know that plane ticket prices are very different depending on the date, even just from one day to the next.
I'll share another real-life example of plane ticket price variation from helping my friend book a flight yesterday.
Another real-life example of plane ticket prices variation
As I do every year, I'm headed to Miami Beach for Art Basel festival weekend soon. It's such a fun time to be in town (and any excuse to go to Miami and its 25°+ weather is a good one).
I used my Aeroplan points to get there with rewards flights, I have so many points with all the crazy deals we've been seeing. And the value was decent.
But this year, Flytrippers' other co-founder Kevin is joining me. He's using points too, and he's flying straight there from Australia; it was a little last-minute. So one of our friends who lives near Ottawa also decided to join us.
Our friend doesn't care about points and we sadly haven't yet gotten him to finally become a savvy traveler, so I helped him find his flights with cash (they were pretty cheap too).
So here's a great example of how obviously, not all dates will be the same price when you buy plane tickets. It's not rocket science: you have to be flexible to find cheaper flights.
I'm not saying it's easy for everyone to be flexible on their dates, I'm saying the principle itself is extremely easy to understand: if you're flexible, you'll find cheaper flights and if you're not, it'll almost always be more expensive. Simple.
So a direct flight from Miami (MIA) to Montréal was $385 one-way on the 5th…

The exact same 7AM direct flight the very next day is $127 one-way instead.

Just one day later. Leaving on the 5th costs you 203% more than leaving on the 6th.
The exact same direct Air Canada 7AM flight.
That's normal. That's how airplane ticket prices work! They vary a lot.
So be flexible!
6 bonus tips
To tease that free guide with 100+ tips and our future content, I want to share 6 other bonus tips related to that very same example from our friend's plane tickets for Miami.
Look at alternative departure airports
If you're one of the seemingly rare people who read things carefully in general, you saw that I said our friend lives near Ottawa but my example is for a Miami-Montréal flight.
That's because, especially at the last-minute like this, flights from Ottawa (YOW) can be terribly expensive. So he'll drive ≈ 1 hour to save hundreds of dollars.
It's always good to compare alternative departure airports if you want to save money on flights.
Like any flight tip, it obviously won't work 100% of the time (because plane ticket prices vary all the time as hopefully you know now).
But it's worth comparing, especially when flights from your airport are expensive on a particular occasion (we wrote about flying out of US airports near the border recently, that post has plenty of tips and we'll have more soon too).
So again… be flexible! Look at alternative departure airports.
Look at alternative arrival airports
The same thing is true for your arrival airport.
Our friend will land in Fort Lauderdale (FLL) for his outbound flight because, in this particular case, flying to Miami last-minute was hundreds of dollars more just for a one-way to South Florida.
There's a convenient and frequent train connecting both airports directly in ≈ 40 minutes for just US$3.75!
Again, not rocket science: be flexible if you want to save money!
It won't always save you money — in fact, I've been to Miami multiple times in the past 3 years and almost always was able to land in Miami — but sometimes it's worth it (prices vary a lot, it depends, always).
Consider separate one-way tickets
You also might have noticed I'm talking about one-ways. Probably 99% of people buy a roundtrip all the time, it's as if they seem to think you have to book a roundtrip. But it's a free country, you can do what you want.
I think this, like many things, stems from a very common issue: back in the day, something was true. And most people are frankly pretty terrible at adapting to change and understanding that something might not be true anymore!
Back in the day, buying one-ways was more expensive (it's still true for longer flights, but definitely not for shorter ones). Now, for most short flights, the price of a roundtrip is just the sum of 2 one-way ticket prices.
Travel pros often buy 2 separate one-ways instead of a roundtrip! For my North American flights, I often buy separate one-ways instead of roundtrips myself.
Why?
Because if Air Canada is the cheapest for the outbound flight, it doesn't mean Air Canada is the cheapest one for the inbound flight! (Plane ticket prices VARY all the time!) No airline can be the cheapest all the time.
Roundtrip prices are often just the total of 2 one-way prices… but 2 one-ways on the same airline.
So if you buy a roundtrip, you're often paying a bit more, because you're limiting yourself to getting both flights on the same airline.
If you buy 2 one-ways, you get the cheapest airline for the outbound, and the cheapest airline for the inbound.
Sometimes, it won't change a thing (prices always vary) but for our friend, it meant some easy savings!
It's not just about prices either: you get more schedule options by not restricting yourself to having to fly the same airline both ways.
You're more flexible on your airline, and being more flexible means finding cheaper flights!
There are some downsides to booking separate one-ways, but they're pretty minor and/or only apply to very few travelers. I'll cover them in the post coming soon about this particular tip.
Always use aggregators… for your search
The worst thing you can do is search for flights on a specific airline's website, but also on a specific booking website too.
As I said, no airline can be the cheapest all the time. Well, a specific booking site won't be the cheapest all the time either. Prices vary!
Always search on an aggregator (also called a metasearch engine/website) like Skyscanner; it compares all airlines and all booking sites.
But so many travelers tend to mix so many things together all the time: searching and booking are 2 completely separate and unrelated things.
Once you've used Skyscanner to search and have found the cheapest flight or the one you want, check if booking with the airline directly is the same price.
For flights, unlike hotels or car rentals or everything else really, you should absolutely not book with third parties if there's no price difference.
Unless it's a great flight deal like the ones we spot, airlines will often have the same price. Our friend's flights to/from Miami definitely weren't a deal, so they were the same price directly on the airlines' website.
So we told him to book there of course. But I did the search on Skyscanner.
Remember that prices vary based on when you book too
So, I keep repeating it to make sure you understand that the price of a flight can be much cheaper on a particular day compared to another one of course. Prices vary.
But obviously, the price for flights on the very same day can vary even more depending on when you book!
In my friend's case, he initially preferred returning home on the 5th. When I looked on Monday night, the direct flight I spotted for him was $195 on the 5th. Then on Tuesday when he was ready to book, it was now $385.
Same flight, almost double the price a few hours later.
Plane ticket prices vary a lot, that's just how it is. As the flight date gets closer, prices almost always go up.
Stop believing in myths
And finally, given that last tip, it's worth mentioning that the price certainly did not go up just "because we had checked before."
It's wild how many people believe (and how many "experts" peddle that nonsense and make people believe it) that using incognito mode (private browsing) will help you find lower prices.
It won't. Completely false.
Of course, you might have seen prices go up after going back to check the same flight!
Plane ticket prices vary a lot, like I said!
Just because it went up doesn't mean the airline is using your browsing history to increase prices. It means the price increased. That's it.
Prices always go up. Or down. They can change every single day. Nothing to do with tracking or browsing history.
Prices generally tend to go up as the flight date approaches, contrary to another widespread myth about last-minute flights being cheap (they're not, except for very rare exceptions in purely leisure destinations, and even then, it's extremely rare).
So yes, you might see that the price has gone up when you go back, but no need to use incognito mode, that's just a myth too.
So stop believing myths, and just check plane ticket prices early and often to know what the pricing level is.
And be as flexible as you can, on every aspect you can, if you want to find cheaper flights.
As mentioned, we'll have a lot more tips to help you do that, stay tuned.
Want to receive all of our tips to travel more for less?
Summary
One of the most basic knowledge in the world of travel is that plane ticket prices vary. A LOT. But there are a few tips you can use to get cheaper flights, including looking at other nearby airports, considering one-way tickets, and — most importantly — being as flexible as you can.
What would you like to know about plane ticket prices? Tell us in the comments below.
See the deals we spot: Cheap flights
Explore awesome destinations: Travel inspiration
Learn pro tricks: Travel tips
Discover free travel: Travel rewards
Featured image: Hawaii, US (photo credit: Ganapathy Kumar)
Share this post to help us help more people travel more for less: