Here is a great deal for Canadians who want to add to their travel fund to be ready to travel as soon as it makes sense in their situation—or for those who just want to get $200 free. It's thanks to the free accounts offered by Tangerine (a bank we've been doing business with for years ourselves) that also give you free ATM access when traveling in over 40 countries!
Yes, you can really get $200 very easily (but… only until October 14th).
The $200 Tangerine Raptors/NBA promo
Tangerine is an online Canadian bank that belongs to Scotiabank. Their accounts are such a great deal that we told you about them when the bonus was just $50…
So imagine how great a deal it is now that it's $200 that you can get completely free (it's only for new customers though).
But it does require a bit more effort than normal bonuses you can get with travel rewards points (it's important to mention that, for example, all Canadian travelers will be able to get likely ≈ $400 free with no effort in November when the new Aeroplan program launches—it'll be the best time to get started in this wonderful and lucrative world).
How to take advantage of this deal
Anyway, here's what you need to do to get the Tangerine Raptors promo (the first 3 bolded points are the ones you need to do before 9pm tonight):
Enter the RAPTORSWIN promo code today

Open a no-fee savings account online today

Open a no-fee chequing account online within 30 days
Set up your payroll direct deposit within 60 days
Keep your payroll deposit for 3 consecutive months
(See below for the step-by-step screenshots if you need assistance.)
And that's it; it's really that easy. Yes, it's slightly more time-consuming than just getting a credit card…
But it's still a pretty minimal effort for $200! That's a full 7 days of total travel expenses in an affordable country if you learn to become a budget-traveler!
If you can't add your direct deposit, you can still earn 2.5% interest (and get the ATM benefit) by simply following all the other steps with the same promo code!
So do those few steps and:
you'll get $200 free
you'll earn 2.5% interest for 5 months
you'll get free access to 44,000 ATMs in 40 countries
After 3 months, worst-case scenario, you switch back your payroll if you prefer. You keep your $200. Just like with credit card bonuses, after that initial 3-month requirement, you have absolutely no other obligation and the bonus is yours. But as you'll see below, the international ATM feature is pretty great for travelers.
Pretty neat deal.
So join us in becoming a Tangerine client before October 14th to get $200 towards your next trip!
The increased bonus amount is valid today only since it's a Toronto Raptors promo. The bonus is valid for 24 hours after their win (they won last night). Don't worry, if you missed it, the promo is still pretty good: $200 free! But you still need to enter the RAPTORSWIN promo code when creating your account.

Now if you are interested, here is a brief overview of the main benefits of the Tangerine promo (or skip directly to the step-by-step sign-up screenshots).
$250 free
There's really not much to add. Like with credit cards, getting your business is worth a lot to financial institutions… so they give out free money. For them, giving you $250 is much cheaper than advertising and it's much more convincing (plus, banks have so much money, don't worry about them).
If you follow those easy steps, you'll get your $250 from Tangerine. It's very straightforward. There's no scam, and I don't want to bore everyone with my management consultant analysis here, but if you want to learn the details about how this all works, you can read myths #1 and #2 in our article for those who are getting started in this world. I've been earning $1,000 every year for a decade by maximizing promos like this one.
In short, Tangerine hopes most of you will keep the account as your main one, but you don't have to. This marketing acquisition cost remains very profitable for them overall, so you do what is best for your own situation after the 3 months. That should definitely include at least keeping the account, based on the 2 following benefits especially—and maybe even making it your main account if you want to.
Special 2.5% interest rate
This is a pretty good deal as well. Not everyone is into hands-on investing and not everyone has the same financial strategy…
But in all cases, the fact is that getting 2.5% interest in a free savings account is not bad at all. You'll get that for 5 months thanks to this Tangerine promo.
No ATM fees
Finally, this is obviously the best benefit for us travelers. It's the reason both of us Flytrippers co-founders have a Tangerine account ourselves. We just used our Tangerine card to withdraw money for free on our August trip to Turkey, since that is one of more than 40 countries where you'll pay $0 ATM fees with Tangerine.
Anyway, it's really a great way to save money on every trip and get easy access to money on the go. Those fees really add up.
Scotiabank's Global ATM Alliance includes 44,000 ATMs. Many countries in Europe are covered, as is the USA through Bank of America ATMs. And in the other countries, the fee on Tangerine's side will always be capped to $3, instead of $5 or more with many other banks. In Canada, the cap is $1.50… but the free Scotiabank ATMs are pretty widespread.
Other benefits
Here are some other benefits with Tangerine:
No fees for all your daily chequing transactions
No monthly fees or service fees

No minimum account balance required
Easy and free Interac e-transfers
Deposit cheques with your smartphone
Order your first 50 cheques for free
Step-by-step sign-up instructions
As an online bank, the Tangerine experience is pretty intuitive and user-friendly.
But here's a guide just in case you want us to help you along.
1. Go to the Tangerine website
Here is the secure Tangerine application link.
2. Click "Sign Me Up"
It's the orange button.


3. Click "No, sign me up"
It's the white button.


4. Click "Get Started"
On the right, the 2nd orange button.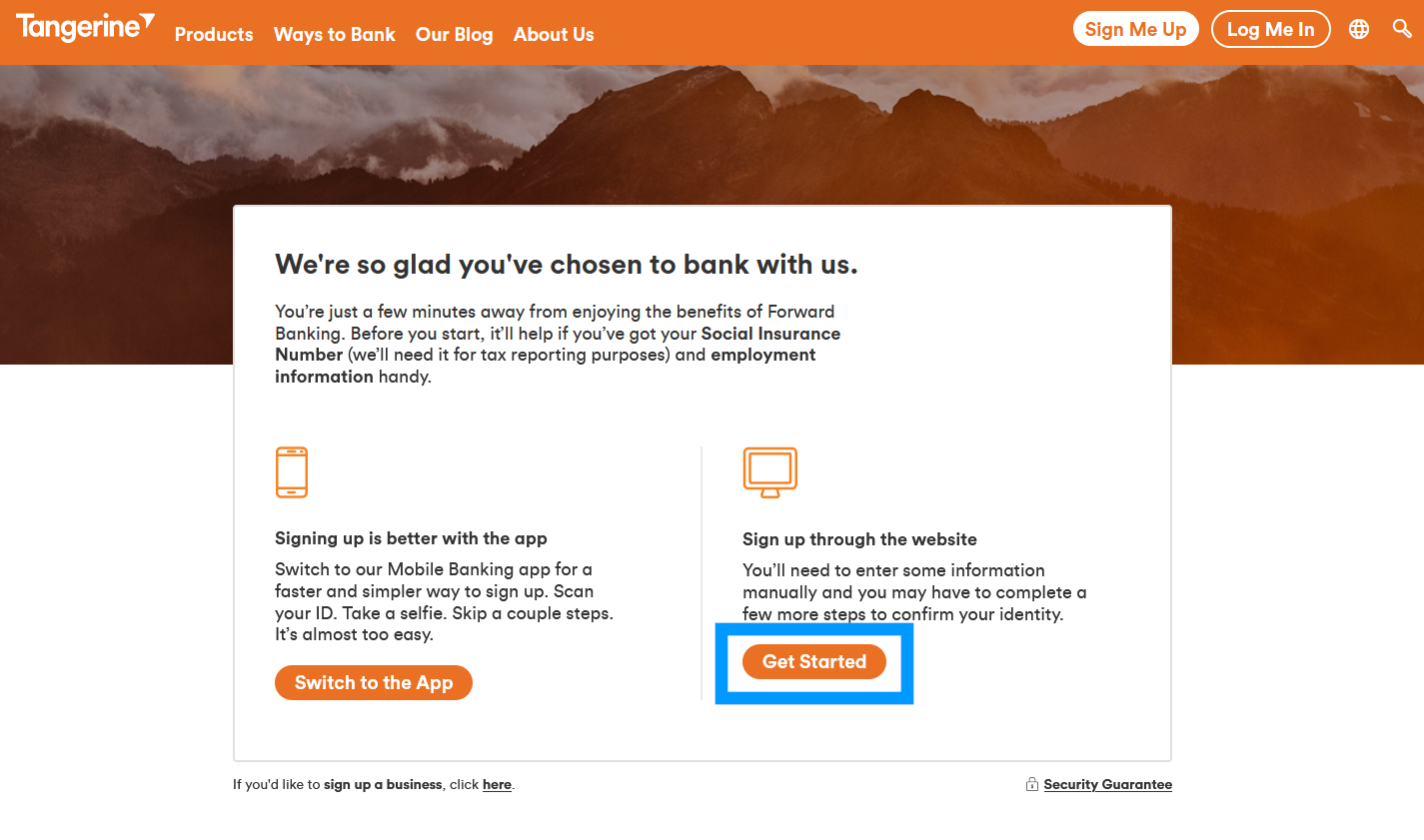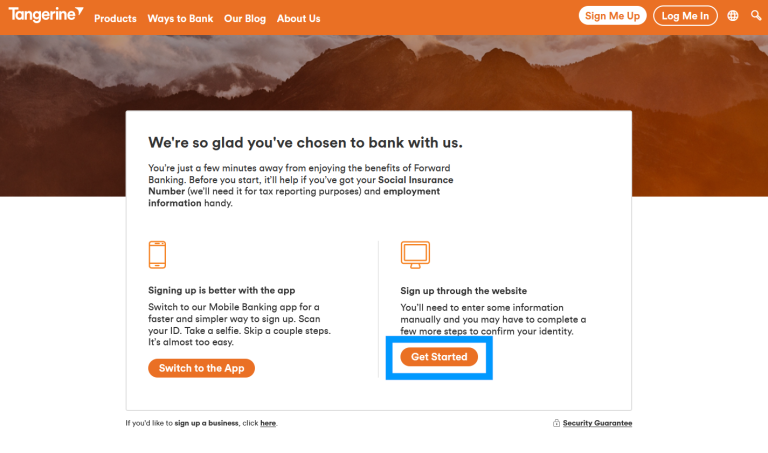 5. Enter your email and create a PIN
We strongly recommend LastPass, a free password manager to secure your accounts (here's why, in one graph).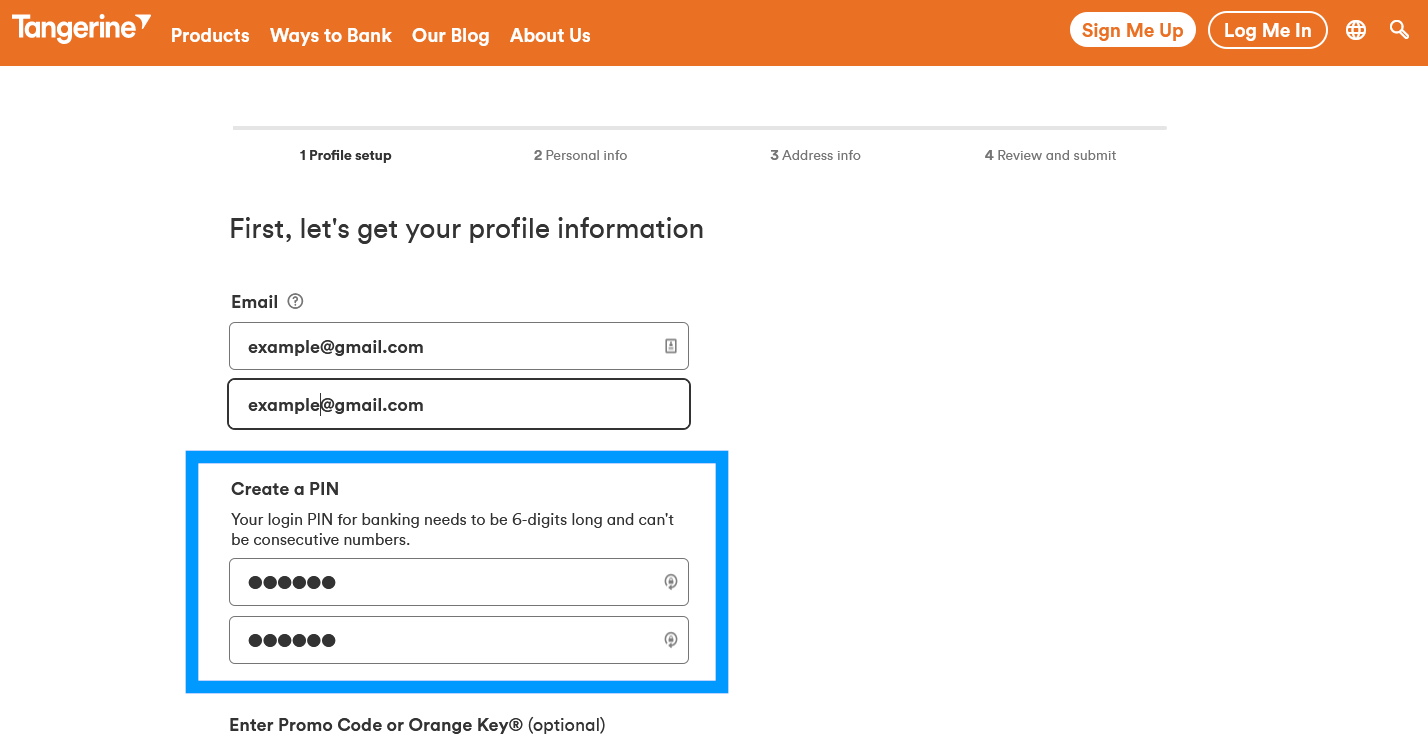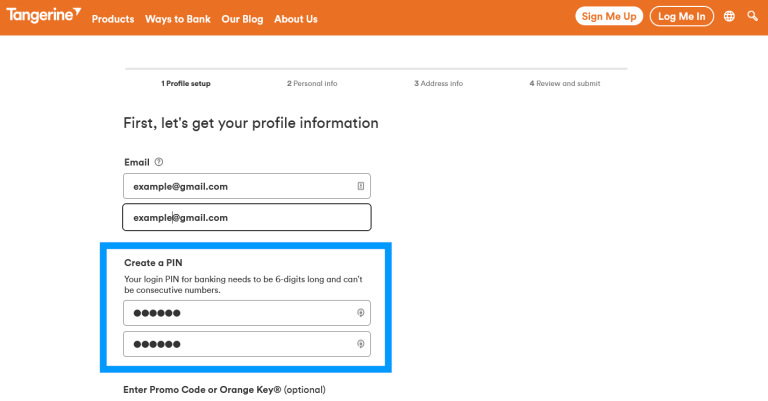 6. Enter RAPTORSWIN promo code
This is the vital part to get the deal for 2.5% interest and the free $250 (or $200 after 9pm tonight).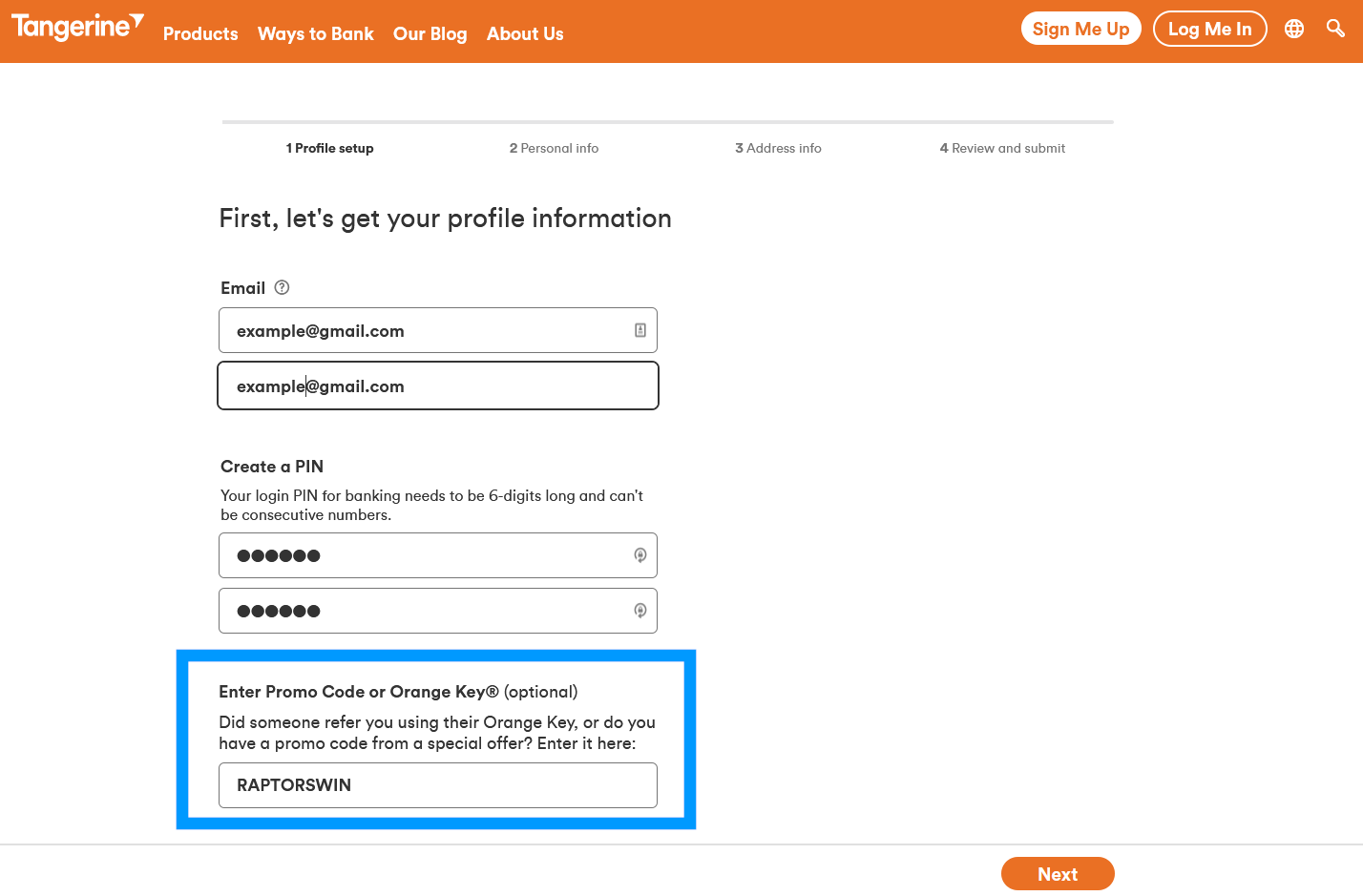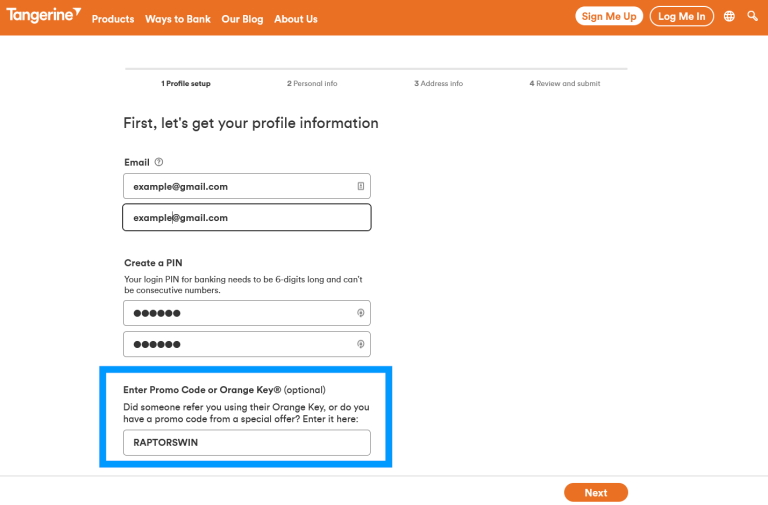 7. Fill out the rest of your personal info
At this point, it's pretty standard. Just fill out your own personal info. And if you have any questions, as always, just comment below.
Want to get more tips to earn lots of free travel?
Sign up for our travel rewards newsletter
Summary
The Tangerine Raptors promo is pretty great: $250 free and a 2.5% interest rate for 5 months. But most importantly for us travelers, Tangerine gives you free access to 44,000 ATMs in over 40 countries to easily save money while traveling. And the Tangerine savings account is free!
What do you have any questions about Tangerine? Tell us in the comments below.
Explore awesome destinations: travel inspiration
Learn pro tricks: travel tips
Discover free travel: travel rewards
Featured image: view in Torres del Paine National Park in Chile (photo credit: Olga Stalska)
Advertiser Disclosure: In the interest of transparency, Flytrippers may receive a commission on links featured in this post, at no cost to you. Thank you for using our links to support us for free, we appreciate it! You allow us to keep finding the best travel deals for free and to keep offering interesting content for free. Since we care deeply about our mission to help travelers and our reputation and credibility prevail over everything, we will NEVER recommend a product or service that we do not believe in or that we do not use ourselves, and we will never give any third-party any control whatsoever on our content.

The views and opinions expressed in this blog are purely our own. Redemption values evoked are also Flytrippers' own and solely based on our own points valuation estimates as described. All offers described on the Flytrippers website are subject to the financial institutions' latest terms and conditions that can be found on their website.
Offers from financial institutions change quickly; it is your responsibility to ensure the accuracy of these offers on their website when applying for a card. Flytrippers will not accept any responsibility for the accuracy of the offers or the result of your actions.
American Express is not responsible for maintaining or monitoring the accuracy of information on this website. For full details and current product information click on the provided links to proceed to product website. All the information was independently collected by Flytrippers and not provided by financial institutions.
Flytrippers' website does not contain all available credit card offers or all available credit card companies on the market. Flytrippers never shares an offer if it is not considered advantageous for certain travelers, at its sole discretion.
No author on Flytrippers' website is a financial advisor, a financial planner, a legal professional, or a tax professional and no author on Flytrippers' website can in any way be considered as such.
All articles and pages on Flytrippers' website are merely personal opinions of a general nature and are for informational purposes only and should not be considered as advice for specific situations. It is your responsibility to perform your own personal research to make sure that travel rewards points are appropriate for your own situation.
The opinions expressed on Flytrippers' website are those of the authors only and have not been provided, approved, endorsed, or ratified by any third party mentioned on the site.
You can learn more about our terms of use here.
Share this post to help us help more people travel more for less: