Apart from easily getting thousands of points with credit card welcome bonuses, this weekend's Black Friday promo from Aeroplan is one of the easiest ways to unlock bonus points you'll ever find. So I want to reiterate how great a deal it is and summarize how simple it can be. As a reminder, just 4 small purchases can get you 5,000 points, which is often enough for a one-way short-distance flight in the new Aeroplan program.
We've already posted a detailed breakdown of how the Aeroplan Black Friday promo works, including how that 5,000 points give you a free flight to Washington for example, a great weekend getaway destination (or New York City, or other cool cities a bit closer if you are out West).
So here's a follow-up post with how you can get the bonus as easily as possible, with a concrete example.
Overview
The promo ends on November 29th.
It is really great, as one way to get the 5,000 point bonus is to simply:
make 3 purchases via the Aeroplan eStore
buy a $25 Air Canada gift card
That should be achievable by almost everybody, but by making it even cheaper to reach, we want to help you double that (or more) thanks to the great new Aeroplan Family Sharing feature.
With up to 8 family members (or consenting friends) in the same account, your next free flight will be reached even quicker. Especially since you could get up to 40,000 bonus Aeroplan points with this promo pretty easily if you want to put in a bit of effort—recruiting & shopping 😉 !
And if you take a strong liking to the idea of earning free travel, you should also take a look at the 7 best current card offers, which all offer hundreds of dollars in free travel with the welcome bonus alone, up to ≈ $790 for the best one.
Best credit card offers - December 2020
Part 1: the 3 Aeroplan eStore purchases
So first, the eStore.
There are 46 Aeroplan eStore partners participating in the Black Friday promo (you can see the full list and the detailed post about how online shopping portals work if you're new to this).
That gives you plenty of options just by making regular purchases that you need to make—which you should always do via online shopping portals anyway of course.
But there are a few sweet spots that make reaching the 3 required offers as budget-friendly as possible for those who aren't big spenders.
That's because there is surprisingly no minimum spending requirement in this promo—but beware, you still need to at least spend $1 per purchase because that's the minimum threshold to earn 1 Aeroplan point via the portal at any time.
Here are the ones I used (and here's the infographic summary once again).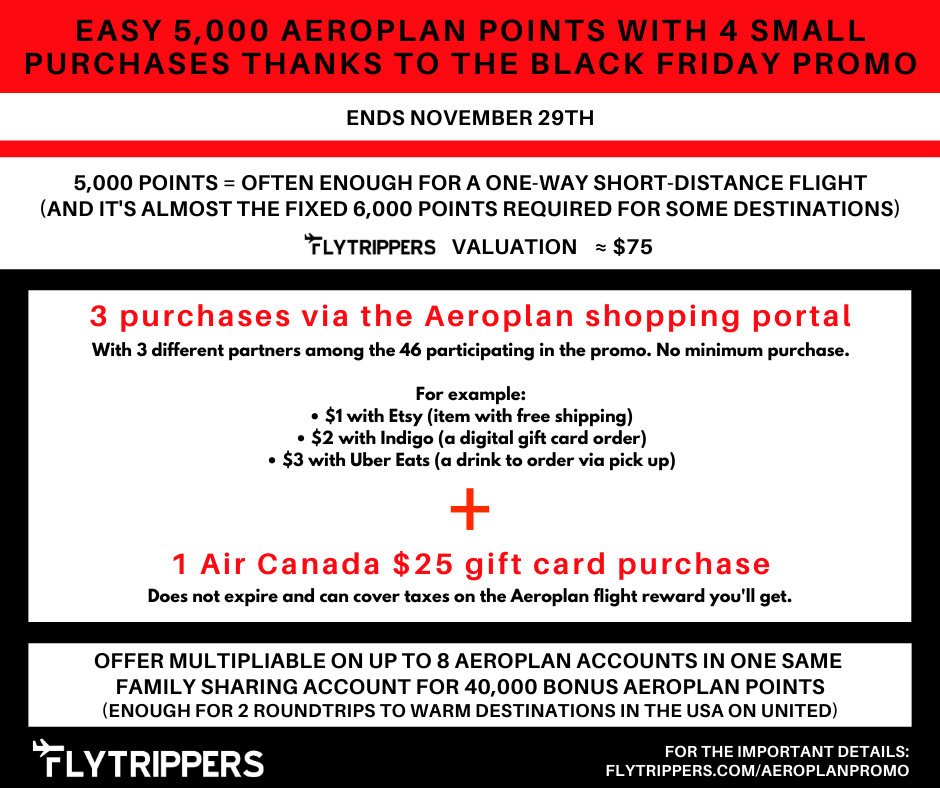 Etsy
Etsy was the one that stood out at first, since I knew you can find extremely affordable items made by individual creators.
But I had never ordered anything before though, so I was curious to see whether items with free shipping were easy to find. And sure enough, they are.
I used 2 search filters: a $2 maximum price and free delivery. And there were plenty of items in a variety of categories.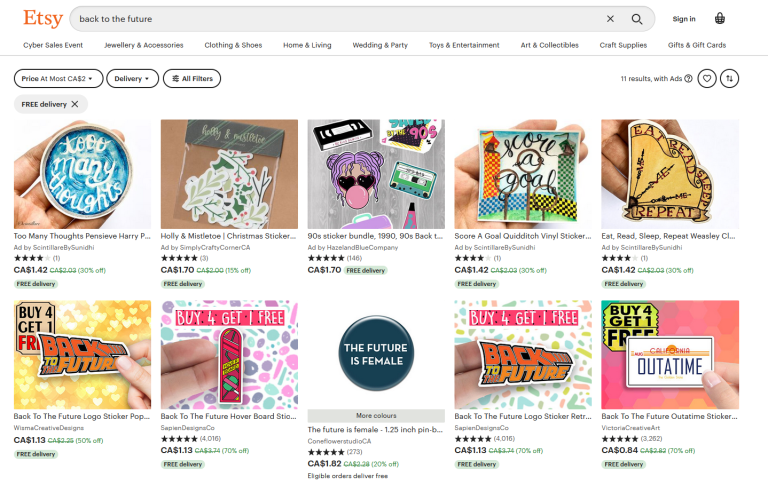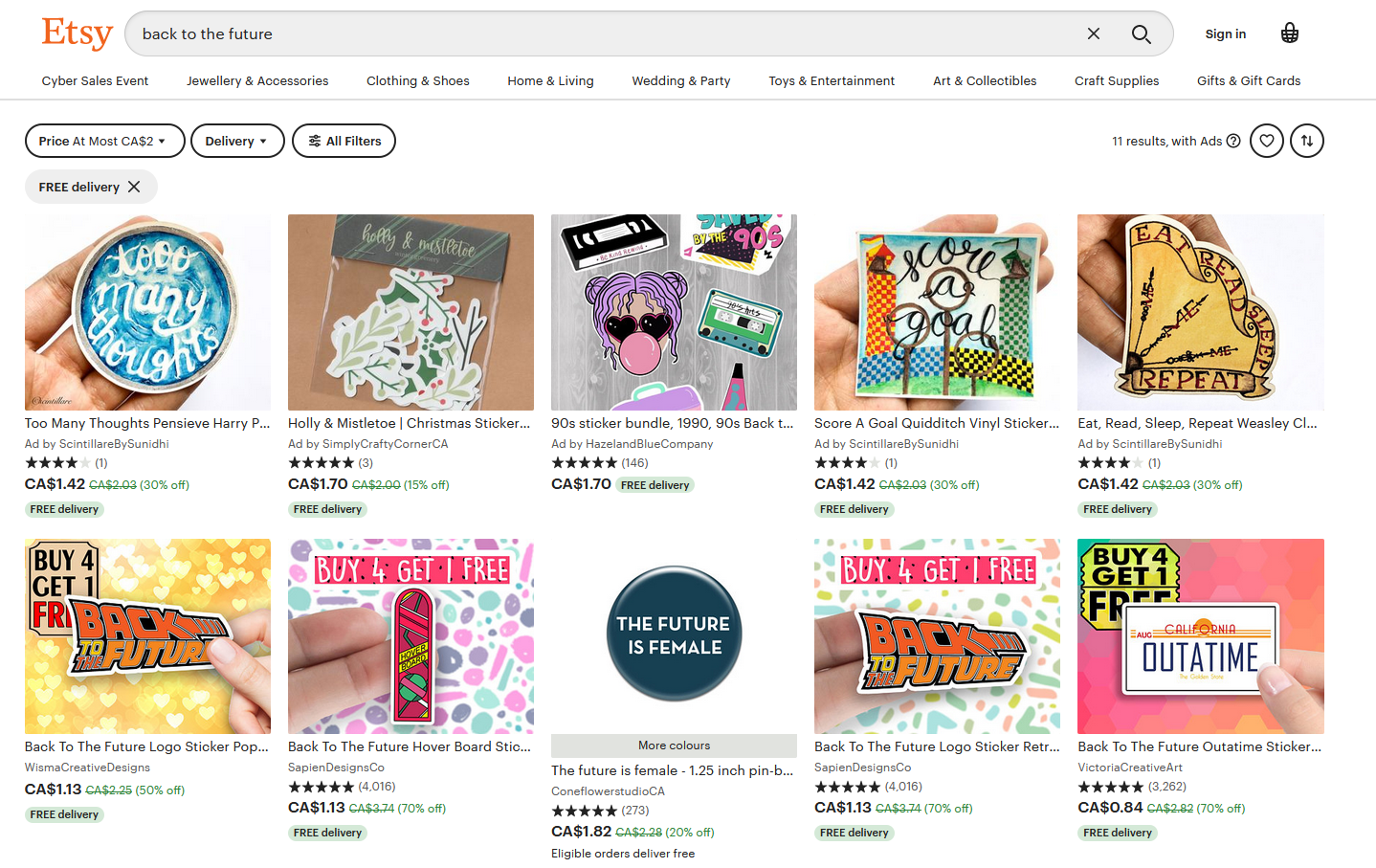 My girlfriend is a big Back to the Future fan, so I ordered her a simple sticker for $1.12, and voila.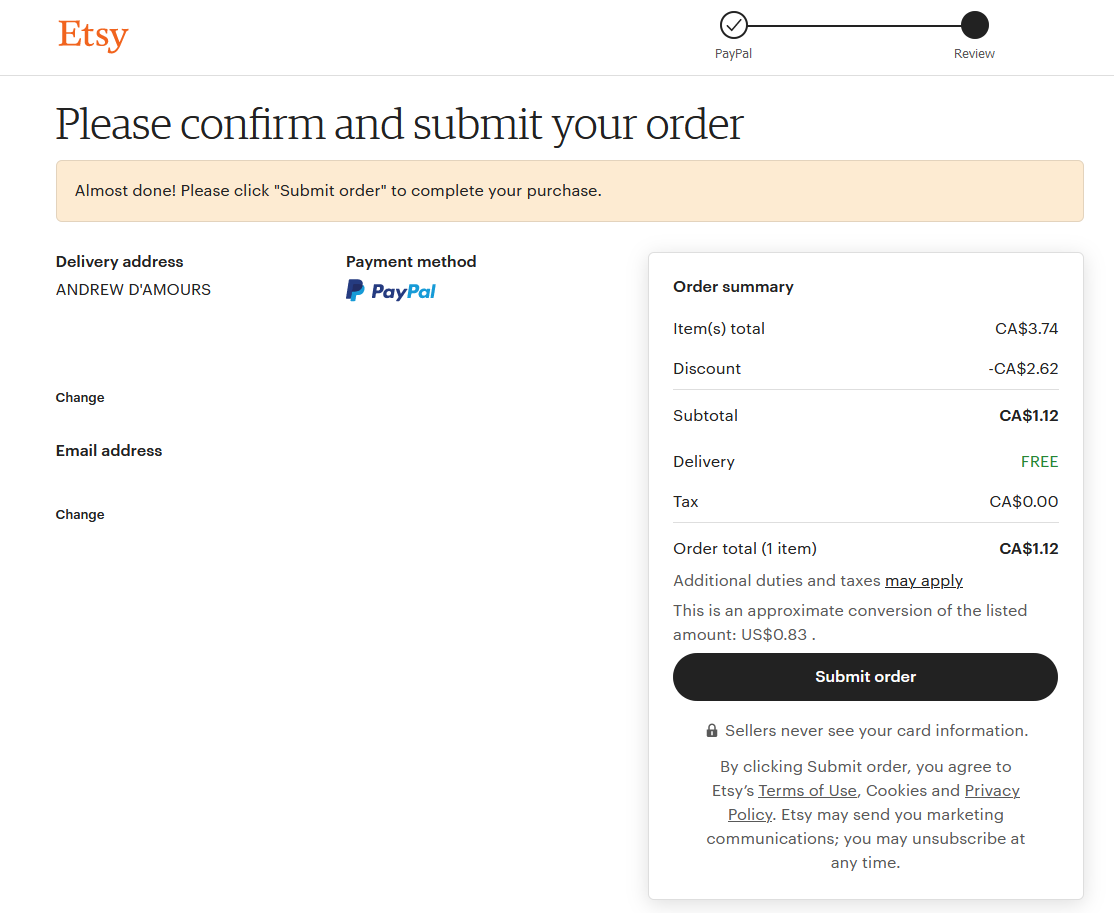 Keep in mind that not only must you order at least for $1 as mentioned, it also has to be before taxes (if any).
So just like that, one of the 3 offers is done!
Uber Eats
Uber Eats was the most obvious and easy way to be able to do a small purchase, as it's the one I use the most often on the eStore already.
But you can do even better than order a cheap meal: you could make an order via the "Pickup" option and therefore avoid all delivery fees!
For example, you can order a $3 coffee and go grab it, and voila.

However, unlike on the app, the online version of Uber Eats (which you must use if you want to buy via the Aeroplan eStore) does not make it easy to see which restaurants offer the pickup option (many only offer delivery).
So here's a pro tip: first go to the app, and click on "Pickup" at the top of the home screen. Now you'll easily see which restaurants near you offer the pickup option.
Then go to the Aeroplan eStore, click out to the Uber Eats website and go find the restaurant.
During checkout, you'll see the option to switch from delivery to pickup on the left under "Edit".


If you're at an eligible restaurant, the "Pickup" option will appear, and after clicking "Save & Continue"… you'll be all set.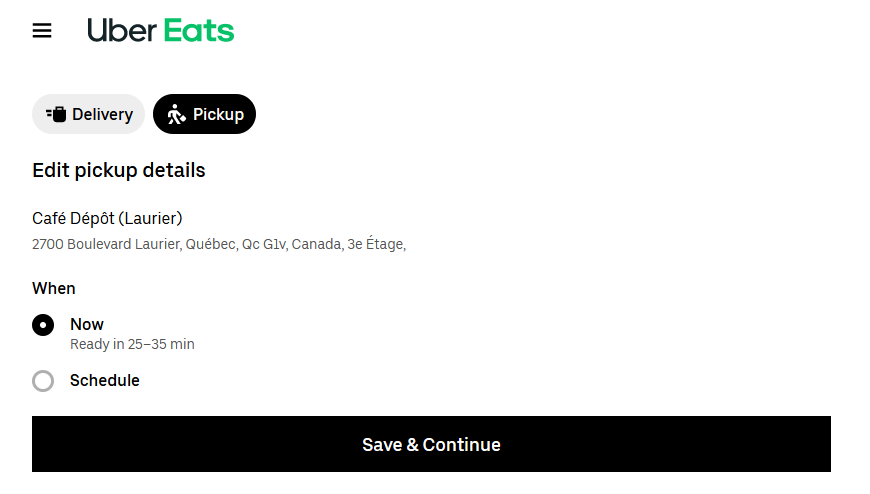 By the way, you can get $45 in free food with Uber Eats competitor DoorDash with our referral links if you like free food as much as you like free travel.
Best credit cards for grocery spending
Indigo
As mentioned in the post about online shopping portals, gift card purchases are often excluded from online shopping portals. Either that, or the minimum amount you need to load onto the card is closer to the $25 amount Air Canada requires for the 2nd part of the promo below.
Not ideal if you're not sure you really need it or if you want to minimize the cost of unlocking this promo.
So I was going to use the next option because I didn't feel like looking for a loophole, but a fellow travel-rewards-enthusiast friend texted me that Indigo was offering eligible $2 gift cards… that makes things a bit simpler.
I had checked a few partners that I order regularly with to see if I could buy a gift card to pre-pay future purchases, for example with Clearly. But as with many of them, it clearly says that gift cards are excluded (pun intended).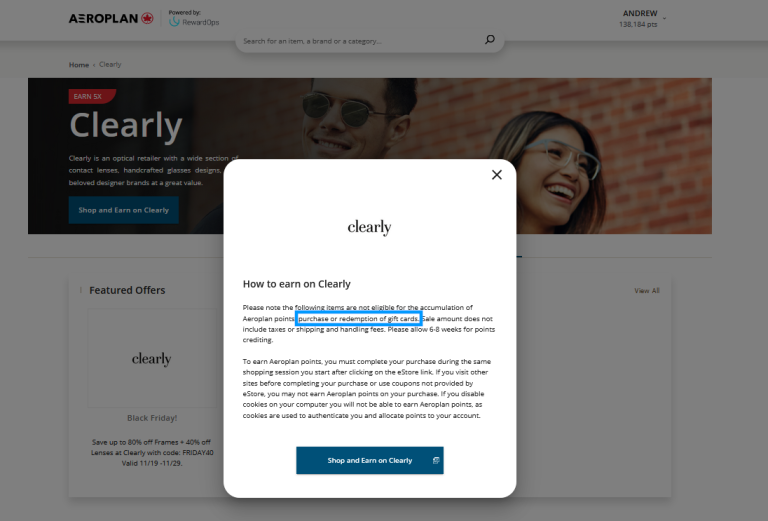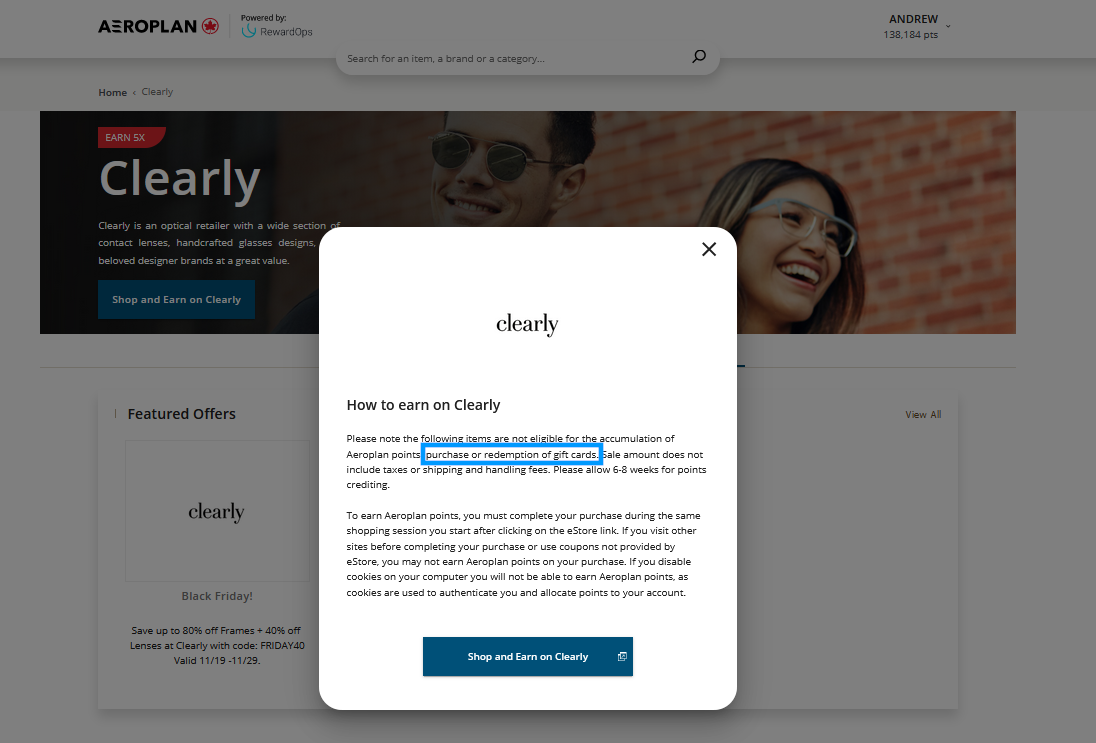 But sure enough: Indigo does not have that exclusion (at least not yet, so I would hurry if I were you…).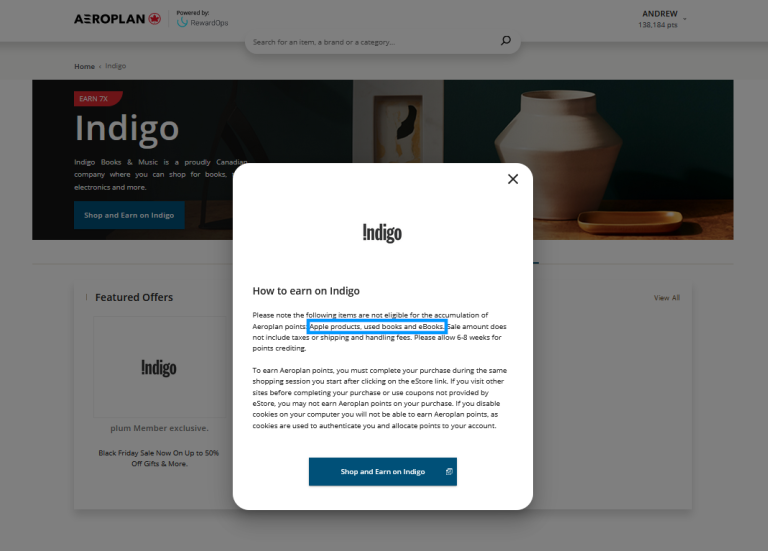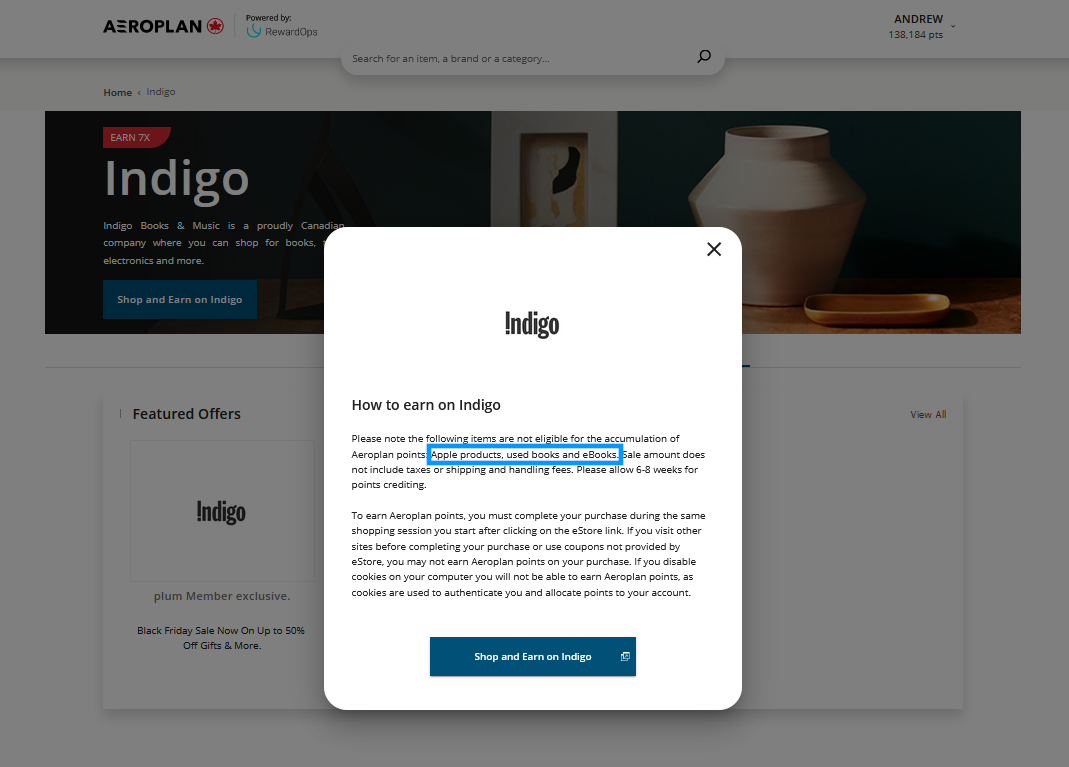 On the gift card, you'll need to select "Other" in the amount dropdown menu and manually enter $2.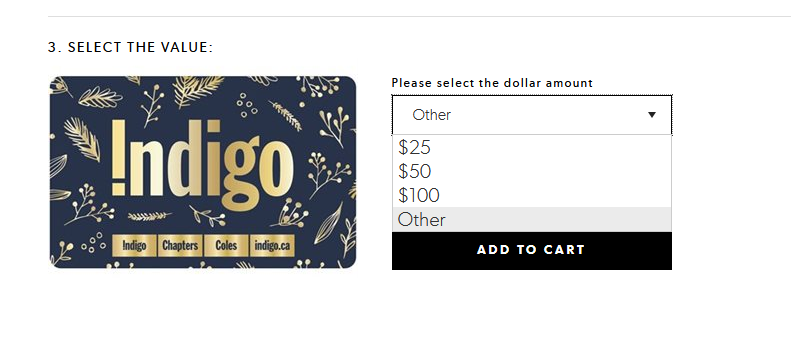 And that's it!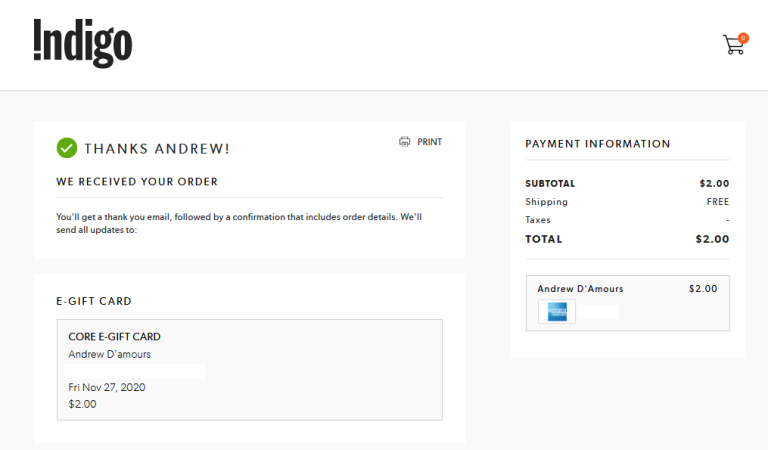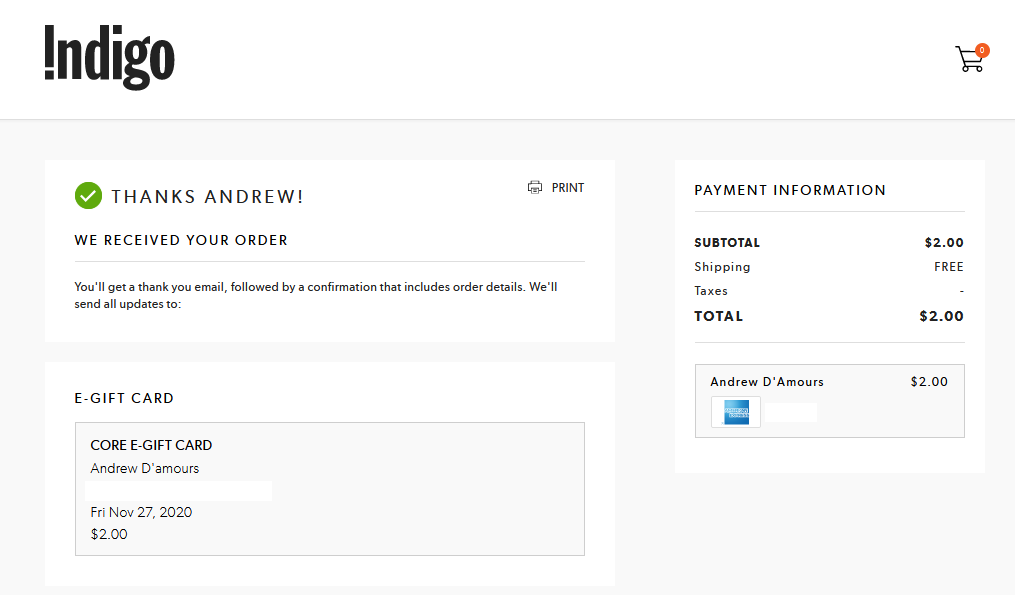 So for a simple $2 (and just $6 total), that completes the eStore portion of the promo!
Other options
If Uber Eats isn't available where you live or you prefer buying things you actually need even if it ends up costing you a bit more, many retailers also offer:
free shipping with no minimum purchase amount (or a low one)
free pickup in-store with no minimum purchase amount
For example, Simons allows you to buy anything and ship it in-store for free, even for if it's just $2.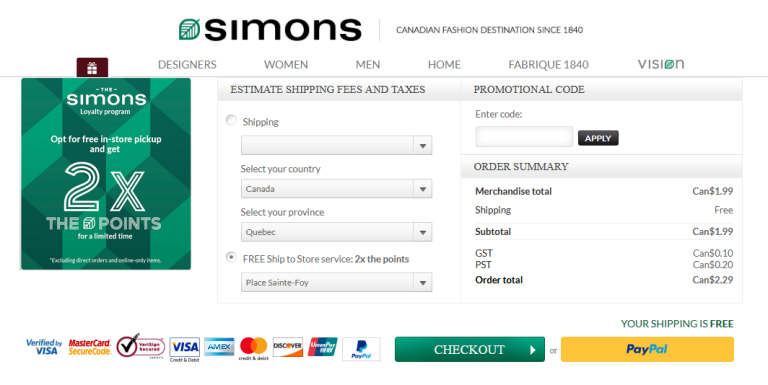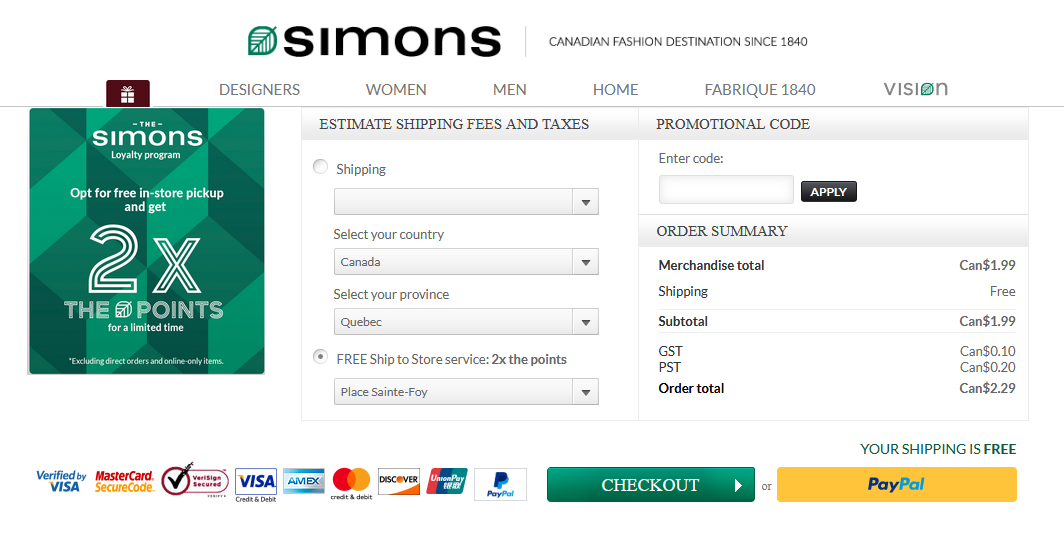 And many others in the list of 46 also offer that, like Sephora.
You get the idea.
That way, you can still make smaller purchases and unlock the 3 offers required for the Aeroplan promo… maybe on a few different accounts!
Part 2: the Air Canada gift card
There really isn't much info to add about the Air Canada gift card purchase. After doing it yesterday, it's very easy and intuitive.
You need to manually enter $25, which is the minimum amount. And that's pretty much it.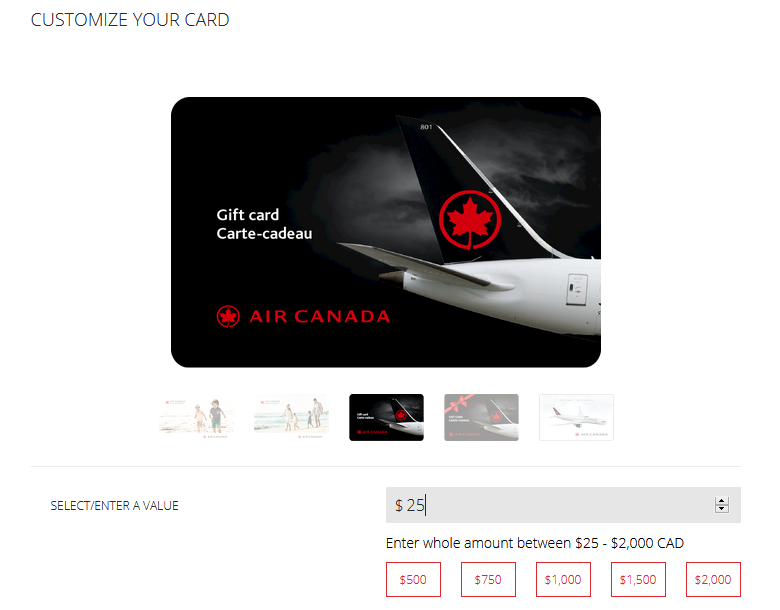 Just make sure to add the appropriate Aeroplan account number on the 2nd page (don't use the same number for all your transactions if you're doing the promo in multiple accounts for example) and that's it.


You'll receive the eGift card instantly and be able to use it to pay for the taxes on the free flight you'll have earned with this great promo! It never expires either.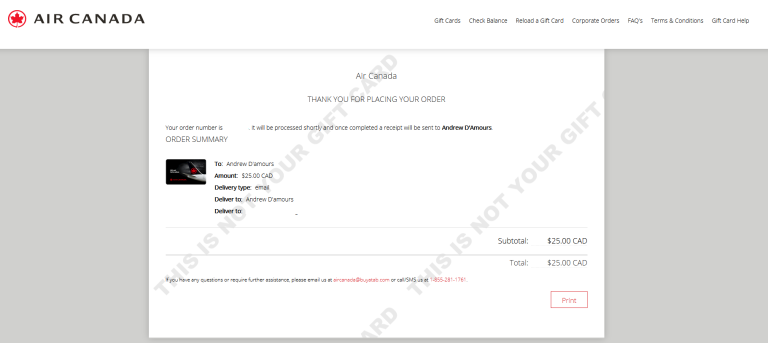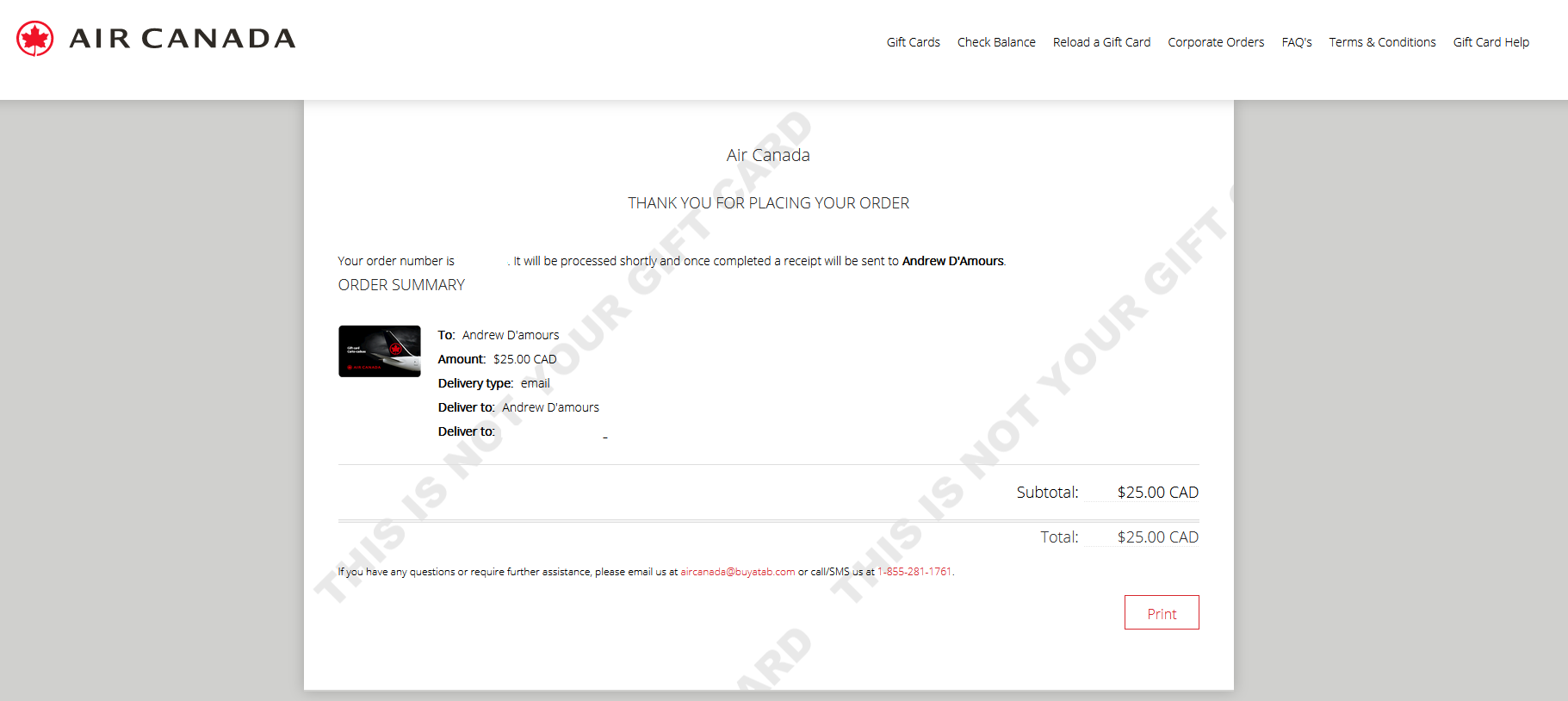 Want to get more content to learn how to earn more free travel?
Summary
The Aeroplan Black Friday promo is an extremely easy way to earn 5,000 points with just 4 small purchases. That is often enough for a short-distance flight in North America, or can add to your balance to go even further.
Have any questions about the promo? Tell us in the comments below.
Explore awesome destinations: travel inspiration
Learn pro tricks: travel tips
Discover free travel: travel rewards
Featured image: Central Park (photo credit: Jermaine Ee)

Advertiser Disclosure: In the interest of transparency, Flytrippers may receive a commission on links featured in this post, at no cost to you. Thank you for using our links to support us for free, we appreciate it! You allow us to keep finding the best travel deals for free and to keep offering interesting content for free. Since we care deeply about our mission to help travelers and our reputation and credibility prevail over everything, we will NEVER recommend a product or service that we do not believe in or that we do not use ourselves, and we will never give any third-party any control whatsoever on our content. For more information on our advertiser disclosure, click here.
Share this post to help us help more people travel more for less: