Earning travel rewards is easy and it's one of the best ways for Canadians to travel more (and/or travel for less). And online shopping portals are a great way to double, triple, or quadruple (or even more) the rewards you earn for purchases you have to make anyway… all with just 1 click.
Even though it's absolutely not the quickest way to earn rewards (not even close), it's still an easy way to get more free rewards. Even if it's a minimal amount compared to the rest, you still have to take them: it's free!
Here's everything you need to know about online shopping portals in Canada.
Online shopping portals basics
Here's an infographic to summarize.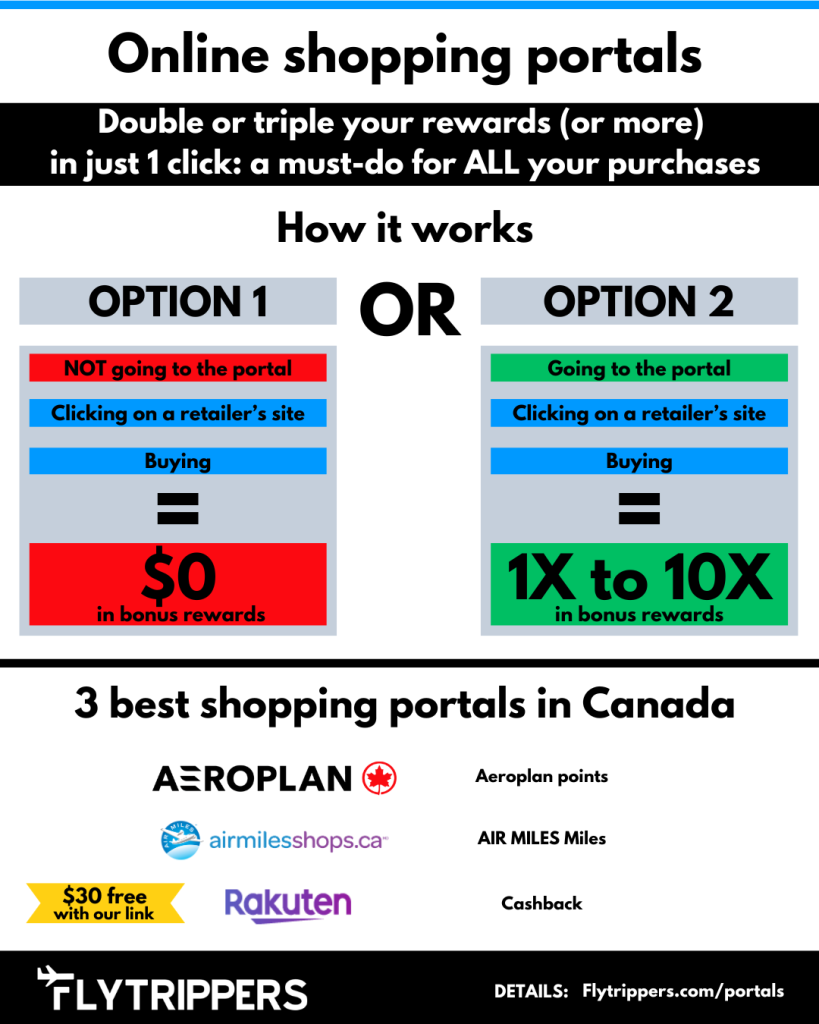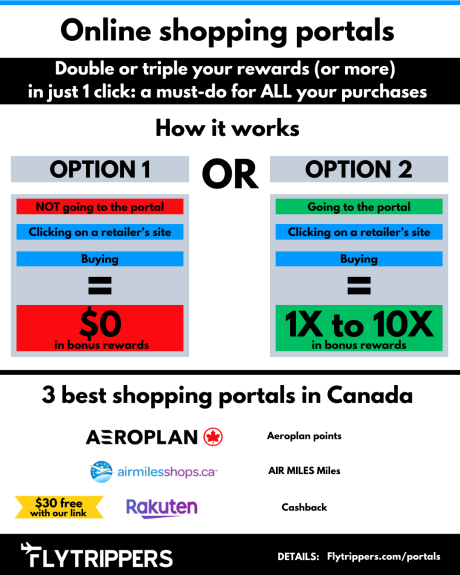 Basics of the 2 current promos
Here are the details of the current amazing offer for those who like the most valuable type of points:
During the Aeroplan eStore Black Friday promotion, the Aeroplan eStore is offering up to 20 points per $ at many retailers until November 27.
The exact bonus and earn rate is clearly shown for each retailer on the site and the details of the promo are in that post. I'll do a detailed post specifically about the Aeroplan eStore soon. Aeroplan points are the most valuable in Canada.
Here are the details of the best bonus offer ever seen on a shopping portal:
With its free $30 bonus promotion, the Rakuten portal is offering a free $30 welcome bonus (in addition to their cash back bonuses on all your purchases).
You just have to create a new account through our Rakuten link and spend $30 at any of the 750+ well-known retailers, and you'll get a $30 bonus in cash back!
Basics of online shopping portals
Now, here are the basics of online shopping portals.
In short, online shopping portals give you extra rewards pretty effortlessly for purchases you would have made anyway at hundreds of major retailers.
The rewards can be:
more valuable points (less simple)

more simple cashback (less valuable)
So, here's how online shopping portals work.
Instead of:
going to a retailer's website directly (or shopping in-store)
… and getting 0% (zero) back
You instead:
go to the online shopping portal first
simply click on the retailer's website from there
… and you'll get infinitely more rewards (could be up to 18% back)
It's really as simple as that.
Just one extra step.
(If you need it, the last section below is a detailed step-by-step guide to how it works, with screenshots!)
Earning rewards is the same thing as getting a discount, and it can be a huge discount.
I'll show you 5 scenarios below, and most importantly how you can even get 18% back instead of 0% (or instead of ≈ 1% as most people at least get).
That's a simply massive difference! You'll almost always earn 100% more for the same purchase thanks to online shopping portals, but potentially even 1700% more (going from 1% back to 18% back is 1700% more rewards).
For the same purchase.
Just to be very clear, all the rewards you earn with shopping portals are in addition to the rewards you earn by paying with a credit card.
As a reminder for beginners, it's important to understand that the points you earn by traveling or the points you earn on your purchases with your card is not the best or fastest way to earn travel rewards, contrary to the common myth: card welcome bonuses are really the key to travel rewards.
(The best current welcome bonuses all offer hundreds of dollars in free travel just as a welcome bonus, up to ≈ $780 for the best one!)
And of course, if you want to travel more, you should make traveling more a priority… by spending less on things other than travel first and foremost.
But in all cases, it's still important to maximize the rewards you get on what you do purchase.
List of online shopping portals in Canada
So since you should absolutely use a portal for any purchase, let's start with a table with the list of online shopping portals in Canada.
The most important factor in deciding which portal to use is really what your level of ambition is for your rewards strategy. If you want to maximize the value you get, the first one is the main one to focus on. But if you prefer simplicity, at least get easy cashback instead of getting nothing.
Here are a few notes about online shopping portals:
The rewards earn rates for a specific retailer vary from one online shopping portal to the other
The rewards earn rates can also vary during the year: there are often special promos with increased earn rates (time your big purchases with these)
It's good to have free accounts with different online shopping portals and compare before a purchase (like you should compare anything you buy)
In some very limited exceptions, specifically very large diversified retailers (like Amazon or Walmart), some shopping categories don't count for bonus rewards
Those exclusions are usually clearly marked, but you aren't losing anything by using the portal anyway if indeed some categories are excluded
Gift card purchases are often excluded as well, always read the details on the page before clicking out if you want to be sure
Here's a brief breakdown of each of the online shopping portals in Canada.
Aeroplan eStore online shopping portal

By using the Aeroplan eStore online shopping portal, you'll get points that can bring you a lot closer to the next free flight and are worth more than the equivalent amount in cashback (our Flytrippers Valuation of Aeroplan points is ≈ 1.5¢/pt). Aeroplan points are extremely valuable: points of the more valuable type, like Aeroplan, are the only ones that can offer outsized value and unlimited value.
It is the indispensable program for Canadian travelers (and is one of the 5 in our free cheat sheet of essential programs for Canadians). With the revamped program, it's never been easier to earn a free flight: some short-distance flights start at just 6,000 points one-way, and cash surcharges have been completely eliminated!
Don't forget that the TD Aeroplan Visa Infinite Card has the highest welcome bonus in Canada right now and it's ending soon. If your income is under $60,000 (and under $100,000 as a household), there is the American Express Aeroplan Card and the TD Aeroplan Visa Platinum Card.
Don't miss our ultimate Aeroplan guide (including lots of videos) coming very soon.
AIR MILES Shops online shopping portal

By using the AIR MILES shops online shopping portal, you will get AIR MILES miles that are not nearly as interesting as they used to be since the program has been devalued and does not allow you to get outsized value and unlimited value like before.
Don't miss our article on the AIR MILES program too, because it can still be more interesting than the cashback portals at least. The value of an AIR MILES mile is ≈ 10.5¢ per point and sometimes their portal has higher multipliers at some retailers, especially during their special promos. But it's really rare that it's better.
Rakuten online shopping portal

Link: Rakuten
Earn: cashback
Retailers: 750+
By using the Rakuten online shopping portal (formerly called EBATES.ca), you'll get simple cashback. You should sign-up even if you prefer more valuable points, as you'll get $30 free after a $30 purchase with our referral link and it has many retailers that aren't found on the other portals anyway.
It is the main cashback site in Canada, and it's the biggest, with over 750 stores. It's very straightforward cashback, so it is perfect for those of you who want it simpler.
Hopefully, with our upcoming free webinar about travel rewards, you'll want to invest a bit of time to learn about how much more valuable the other type of rewards are when you understand them… but at least get cashback instead of getting nothing at all!
How rewarding online shopping portals can be
Here are 5 very common scenarios for the same purchase, from travel rewards level zero to travel rewards expert:
Buying in-store and paying with debit or cash = 0% back (and no free insurance coverage)
No free extended warranty and theft/loss/damage protection is bad… not to mention literally throwing away money
Buying in-store with a card that gives you basic rewards = 1% or 2% back
Better, but you still have to go to the store like it's 2009
Buying online with a card that gives you basic rewards = 1% or 2% back
At least no time wasted in stores, but still a very paltry return on your spending
Buying online on shopping portals with a card that gives you basic rewards = 2% or up to 10% back
Now we're talking… see how insanely more lucrative it can be and how this can add up over a year
Buying online on shopping portals with a card that gives you more valuable rewards = 2% or up to 18% and even a lot more back
Extremely conservative, but by learning how to maximize the most lucrative type of points, you can reach so much higher
So for the same $1,000 purchase, you can either earn $0 back... or $180 back.
Even compared to those who at least earn 1% with a basic card and get just $10 back, $180 is 18 times more. A whopping 18% back instead of 1%.
See how you might have thought rewards aren't worth it if you only had $10 instead of $180? For the very same purchase.
Some think that travel rewards are not really worth it, but of course, it might not be for 1%… but for 18%? That makes it a bit more interesting. Especially since this is not even how to earn the most rewards.
Online shopping portals are one of the tools I use to never earn just 1% so I can get a lot more free travel (I've earned easily over $1,000 in free travel per year for the last decade thanks to travel rewards, and travel rewards helped me go on 12 international trips last year alone).
In short, it's super simple to get more rewards with online shopping portals and variable-value points. You won't get 1,700% more rewards like that all year, of course. The 10x bonus points offers are rare, but even just getting 2x bonus points on everything on top of your credit card rewards really adds up over a year, as it's 200% more.
This is for a big-ticket purchase, but the percentage is the same and it's just as lucrative for smaller purchases… and over a full year, it'll add up to huge amounts of bonus rewards if you triple your earnings each time.
Example of an online shopping portal purchase
Here's just one concrete example.
As mentioned, personally, I never earn just 1% on anything, never.
One of the ways I do that is I always go through the Aeroplan eStore to earn bonus Aeroplan points whenever I buy anything online (and I try to buy everything online, so I can save time uselessly wasted in stores and then invest that time into choosing travel options that are more time-consuming and less convenient—scoop: that's the easiest way to travel for less).
So let's use the Aeroplan eStore for the example, but the cashback one works the same and is still better than getting nothing even if it's not as high.
Portal vs. no portal
In short, from the Aeroplan eStore, I'll click to the Amazon website, the Lenovo website, the Apple website, the GAP website, the Old Navy website, the Nike website… you get the point: there are 150+ major retailers.
I'll earn a bonus that ranges from 1x bonus Aeroplan points to 10x bonus Aeroplan points during special promos like for Black Friday this weekend, so it's definitely worth it. The earn rate depends on the retailer, and is clearly indicated when you click out to the retailer's website.
So instead of getting nothing but credit card rewards, I still get those but get up to 10X bonus Aeroplan points per dollar, which is huge.
Here's how huge:
For example, if you are buying a $1,000 Lenovo laptop, by buying it in-store or on the Lenovo website you'll only get about $10 worth of rewards with a 1% back card… lame.
If you use the Aeroplan eStore during a promo, you'll get 10X bonus Aeroplan points. So I'll also get that basic $10 worth of rewards… but I'll also get 10,000 Aeroplan points! Those are worth ≈ $150 based on our Flytrippers Valuation (≈ 1.5¢/pt).
Same purchase. But instead of getting $10 in rewards…. you get $160 in rewards. 16 times more. A whopping 16% back instead of 1%.
Even higher return
So this was a 16% example, so why did I mention 18% return earlier? Well, since the beginning, I'm only talking about the portal because that's the topic. But it's important to note that the card choice matters too (but that's a topic for another post).
In short, with points of the more valuable type, you can easily get even more value and more return on your spend. A higher discount on your purchases in other words.
Like me, many of you have taken advantage of the insane Marriott Bonvoy American Express Card deal (and if not, it's still a good offer) and have read how you can maximize it for 8 free hotel nights in specific hotels with the welcome bonus alone (or 17 nights if your spouse or travel buddy also gets a card).
By using those points right, using that credit card is very lucrative: with that same $1,000 Lenovo purchase through the Aeroplan eStore, in addition to the 10,000 Bonus Aeroplan points I would get 2,000 Marriott Bonvoy points on my credit card. That is one-third of a free night when maximizing them, so if an average hotel costs $100, that's worth $33.
Instead of the basic 1% card rewards many people are content with that I used conservatively for the 16% return calculation, that $33 worth of Marriott Points and the $150 worth of Aeroplan points mean my total return would be over 18%.
An 18% discount is huge! Just by using the portal, I would get 18% back while some people will walk into a store and pay by debit and get absolutely 0%. Or just 1% or 2% with basic cards.
Crazy improvement right?
How to use online shopping portals
Online shopping portals are very easy to use, but for those who would like to see the process step-by-step with screenshots, here it is.
I used Aeroplan (the old orange version) for the step-by-step, but the principle is the same with the others (and the new Aeroplan).
You first log in to the desired online shopping portal (we use 1Password as a free password manager—here's why, in one graph—and it has also simplified our life).

Then you choose the retailer you want to shop at, and you click.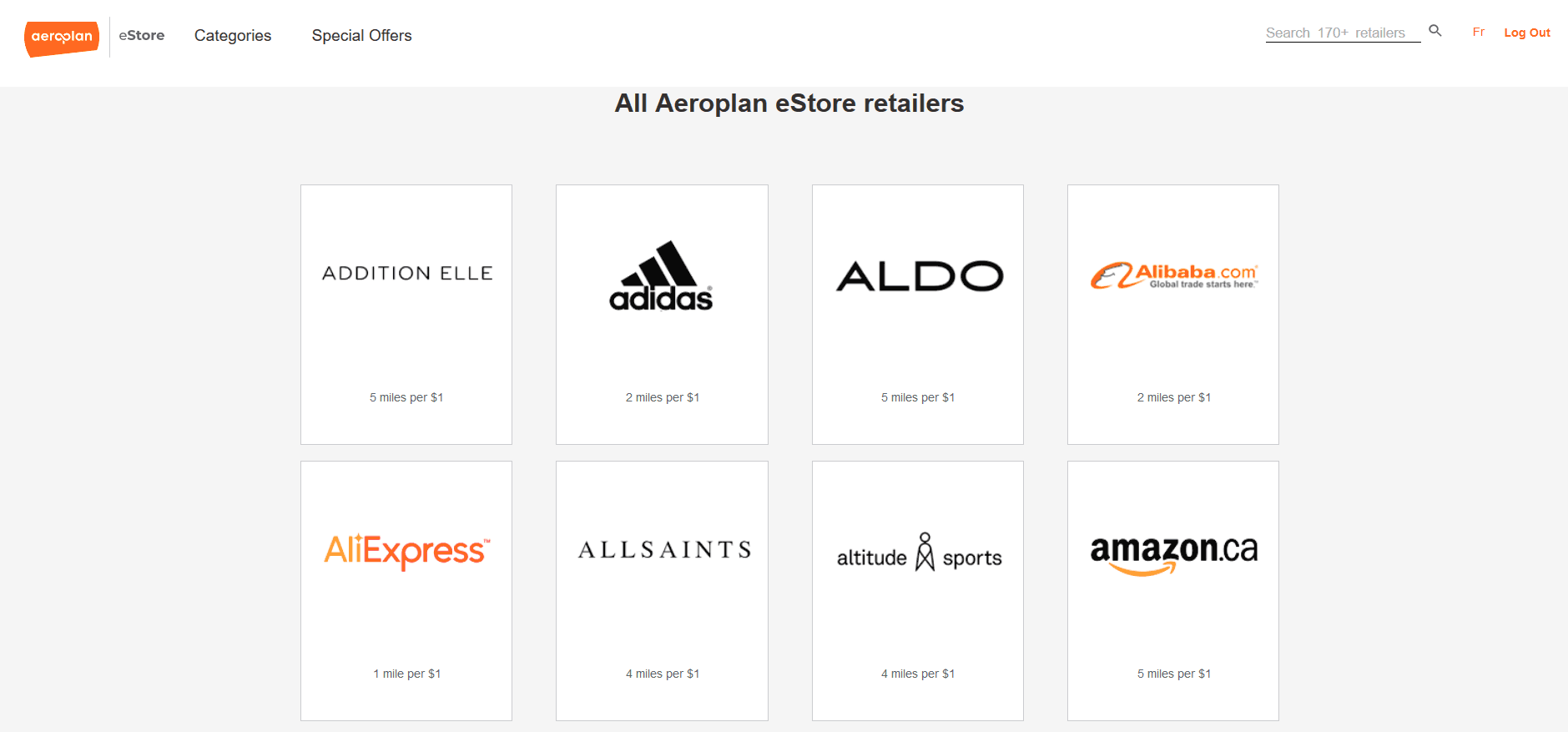 I use Amazon a lot, so let's do that.
It'll tell me how many Aeroplan points per dollar I'll earn with the link, in this case, 5 per dollar.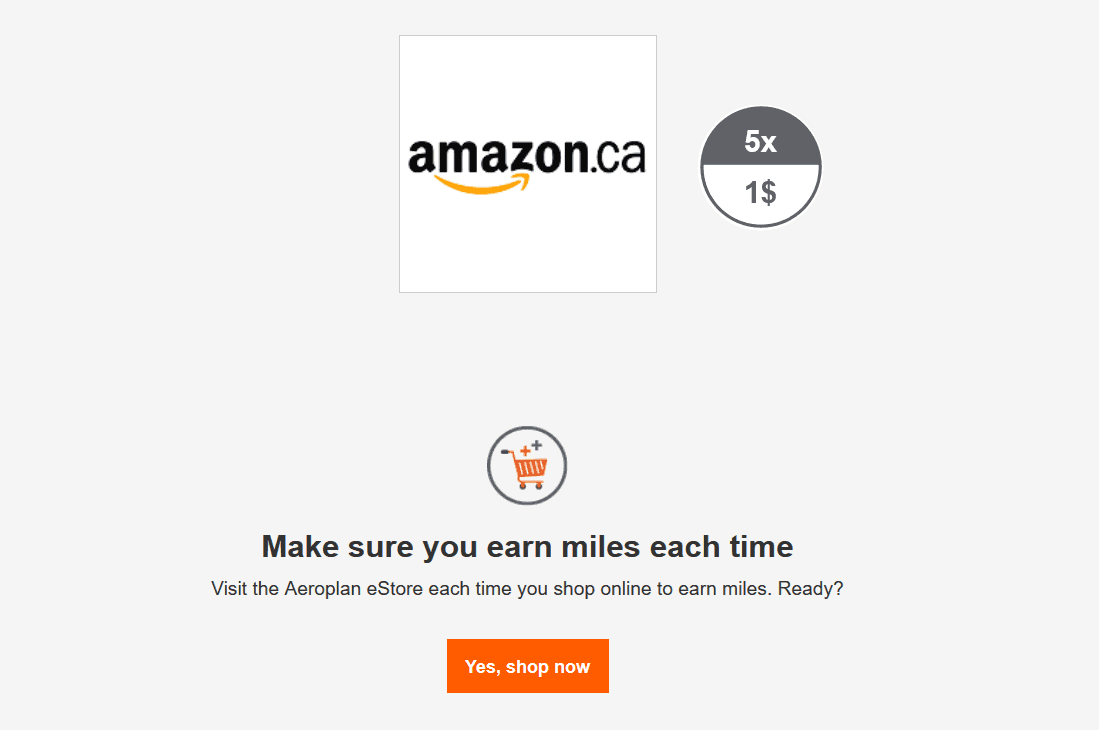 I click and voila, it's telling me that I will be redirected.

It's really that simple.
You'll now be on the retailer's website and you can shop as you would normally, exactly as you've probably done many times before (while unfortunately not getting any extra rewards).

That won't happen anymore though! Get your rewards. It's super easy!
Make sure you do not close your shopping session (or if you do, start the process from the beginning to make sure your purchase is tracked correctly and make sure you get your rewards).
In the weeks after your purchase, you will see the bonus points posted to your Aeroplan account, with the Aeroplan eStore logo.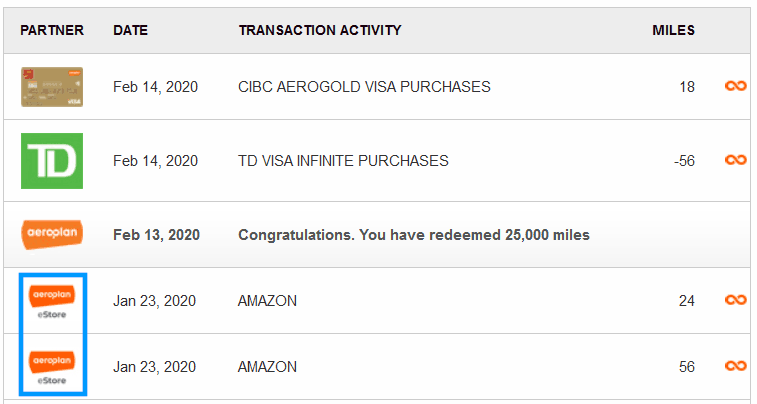 If you want to spot your bonus points more quickly, you can even use the filters on your transactions page and select "Aeroplan eStore".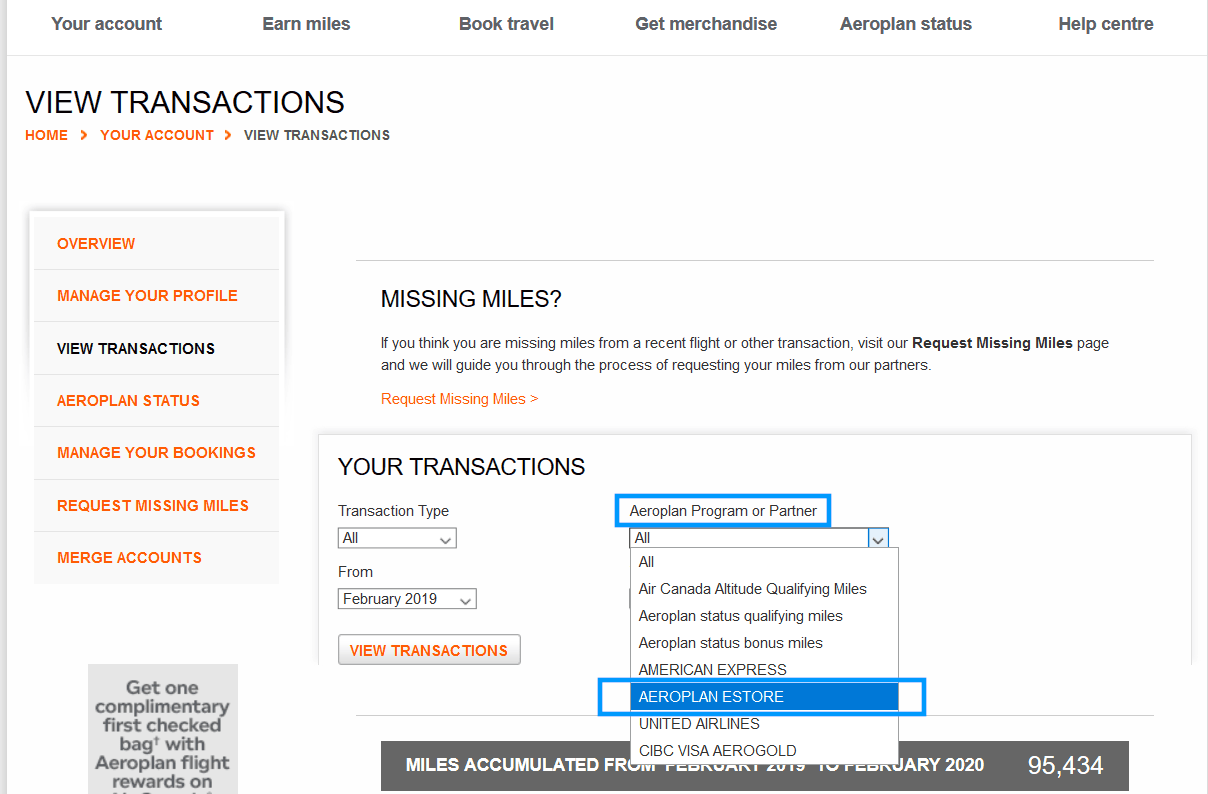 Want to get more content to learn how to earn free travel?
Summary
Using online shopping portals is both extremely easy and extremely rewarding. Not using them is unfortunately like throwing money away. Earning rewards on your purchases is not the fastest way to earn rewards, but you should at least double what you earn thanks to online shopping portals.
What would you like to know about online shopping portals? Tell us in the comments below.
See the deals we spot: Cheap flights
Explore awesome destinations: Travel inspiration
Learn pro tricks: Travel tips
Discover free travel: Travel rewards
Featured image: Online shopper (photo credit: Humphrey Muleba)
Share this post to help us help more people travel more for less: