If you have any purchases to make (for the holidays… or not), make sure you do them this weekend: you can get up to 20 Aeroplan points per dollar spent thanks to the best Aeroplan eStore promo ever offered… but there's a condition. Everyone else can get a still-great bonus of up to 10 points per dollar.
Aeroplan is not only the best airline rewards program in Canada, according to most other experts and us, it's also one of the best in the world!
(And it's getting better: they recently unveiled the 2nd of the 2 new airline partners that the VPs promised me at the event we were speaking at!)
So, here's an awesome Aeroplan promo that you should take advantage of (with lots of handy basics inserted throughout the post to help you learn, as I did in the last post about 22 travel rewards updates earlier this month).
By the way, for Black Friday, Aeroplan also has a separate promo for flights (you can read all airline deals and see our list of all promos).
eStore promo (part 1): up to 10 bonus points per dollar
I'll explain the promos briefly and then, for beginners, I'll give more generic details on some important concepts that are useful for all travelers (online shopping portals, promos, planning, stacking, Aeroplan program, Aeroplan elite status)!
The first part of this promo is available for everyone.
The Aeroplan eStore, the Aeroplan program's online shopping portal, is having one of its best points promos of the year. It's offering up to 10 bonus points per dollar spent.


As always, the earn rate varies for each retailer (it's always clearly marked), and these are obviously bonus points in addition to what you'll earn with your credit card.
They do these promos throughout the year, and savvy travelers always time their big purchases with these, to get so much more free travel so easily. Good planning is always key for everything in the world of travel!
Our Flytrippers Valuation of Aeroplan points is ≈ 1.5¢ per point, so that's up to an extra ≈ 15% back. That's huge!
(And Aeroplan points have a literally unlimited value, so it can even be the equivalent of 20% or 25% if you use your points really, really well!)
eStore promo (part 2): 10 guaranteed bonus points per dollar
The best part of this promo, which makes it the best ever, is in addition to the eStore-specific bonuses.
But this specific promo is only for Aeroplan credit card holders (like the American Express Aeroplan Card, the American Express Aeroplan Reserve Card, and the American Express Aeroplan Business Reserve Card which had record deals this summer, but the 6 others that have the Aeroplan name on them work too).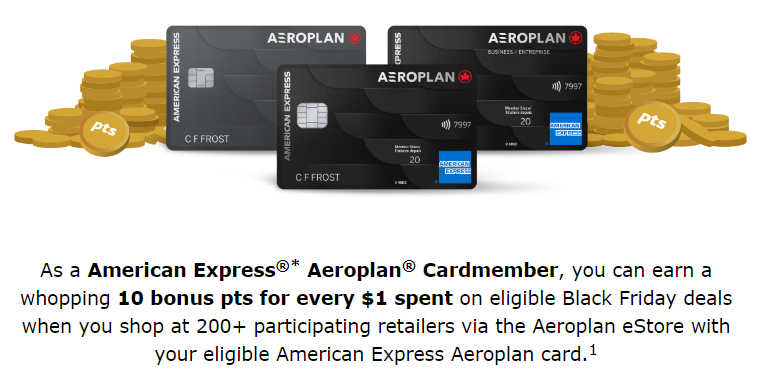 It gives you an incredible 10 bonus points per dollar as an Aeroplan credit card holder.


The 10 bonus points per dollar are ON TOP OF the regular eStore promos, giving you a total of up to 20 points per dollar (≈ 30% back).
This is called "stacking" the promos or "double-dipping" (or even "triple-dipping" in this case since all websites have their own discounts this weekend).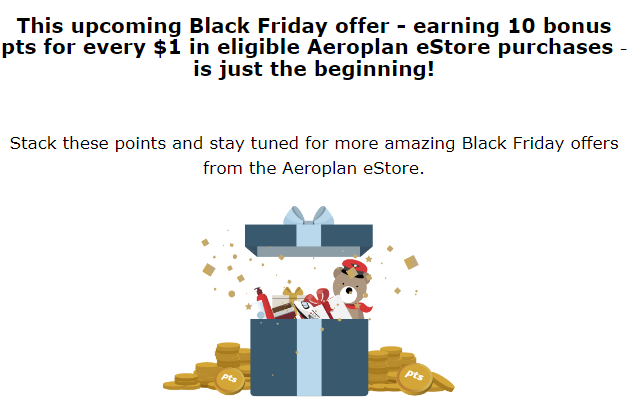 (It's rare for programs to tease the stacking component this directly and explicitly. That's the great thing about Aeroplan, which is run by travel rewards enthusiasts who love the gamification aspect themselves, just like the rest of us: they really want to make Aeroplan the program they would like it to be as users!)
The 2nd part of the promo requires you to register (for free of course) in a few clicks to take advantage of it.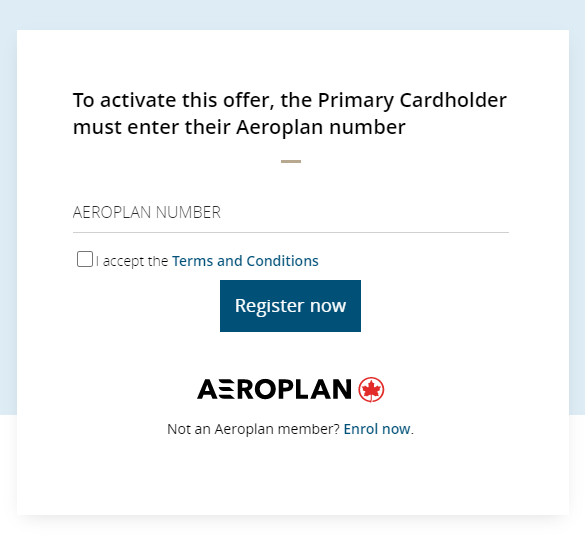 You got an email from Aeroplan with a direct link too, if you don't want to have to enter your account number (but use LastPass to manage your passwords easily and keep your accounts safe).
Usually, eStore bonuses are automatic, but as I said, this is a separate promo for Aeroplan credit card holders only. And not an eStore promo directly!
So you have to pay with your Aeroplan credit card to be entitled to it (whereas, to be clear, you can use the Aeroplan eStore with any credit card of course).
Plus, Aeroplan eStore or other online shopping portals promos are often for targeted retailers only: the incredible 10 bonus points per dollar promo applies to all 200+ retailers!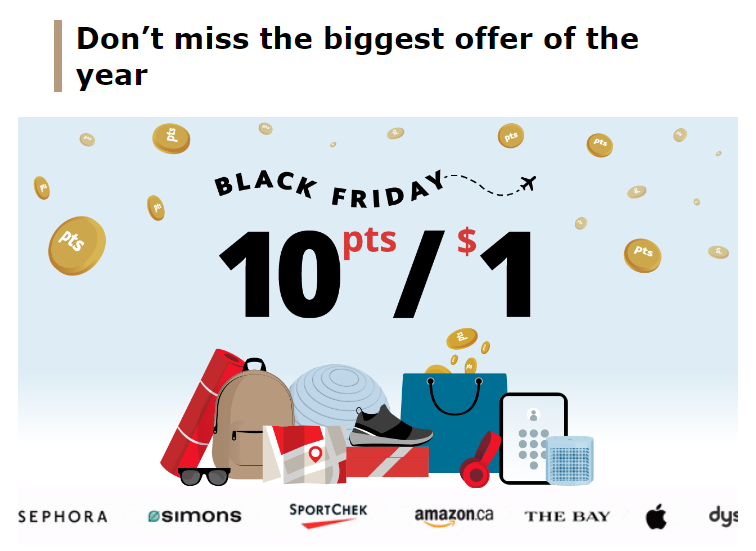 The promo runs from November 24 to 29.
If you ever want an Aeroplan elite status — which is a lot more expensive and complicated than hotel elite status — the 10 points per dollar count towards the total of 100,000 points you must earn with the purchase-based qualification method (EDQ). It's still very expensive to achieve, but it's definitely more accessible than the method that involves flying a lot.
Some useful basics
I'll have a separate post on how to maximize your holiday shopping soon with lots more tips, but I want to give you an overview right away.
Basics of shopping portals
Using online shopping portals, such as the Aeroplan eStore, is a must!
You get free points with just a few clicks, but unfortunately, many people still shop without going through these portals, which makes no sense (except when you don't know they exist — as with many other tips out there). But thankfully, now you know.
In short, for example, instead of going to the Best Buy website directly to buy something…
You simply click on the Best Buy link from the Aeroplan eStore (or other online shopping portals such as Rakuten, if you prefer cash back which is obviously worth less because it's less complicated).
It gives you bonus points for free and you still buy from the official site where you were going to shop from anyway.
There's literally no reason not to use online shopping portals. Unless you want to earn less rewards… but then why would you be reading this post?
And obviously, it's 2022, so buying (almost) everything online is much easier and more efficient!
(People often complain that travel tips involve sacrificing a little time for planning to save a lot of money, but then they waste a lot of time going to the store instead of just buying online…)
Anyway, shopping portals give you at least 1% back, or 1 point (≈ 1.5%), or even up to 4-5 points or more per dollar spent! Completely free!
Basics about promos
In the world of travel rewards, such promos are essential to earn even more points beyond the huge credit card welcome bonuses.
Promos on shopping, on travel, and on other things; as mentioned in last week's update, we'll start sharing these with you more regularly if you sign up for our free travel rewards newsletter.
It gives you extra points, often twice the amount, just by registering for the promo.
Again, promos often require 1 or 2 clicks to register. Basically, they don't want to give discounts or bonuses to people who don't know about the promo, but only to those who are savvy and keep up with the promos (which makes sense, by the way). That's why they require you to register. It allows them to give more lucrative promotions to those who really take advantage of them!
Usually, online shopping portal promotions don't even require you to register as I mentioned.
But for the current Marriott seasonal global promo for hotel stays paid in cash for example, which gave me ≈ 41% back, you need to register in a few clicks beforehand.
It's often the case: always register preemptively, it only takes 2 seconds.
Basics of planning
Savvy travelers really benefit from good planning — once again!
I'm spoiling the most important of the 50+ travel tips we're going to share with you in our first-ever free webinar on how to travel for less (not to be confused with the next edition of our popular free webinar for travel rewards beginners)…
But traveling for less is not rocket science: you just have to plan well! That's the basic of it. The most important thing.
This also applies to maximizing your travel rewards: by planning your big purchases well, you can significantly increase what you get back!
For example, let's say you need a new $1,000 laptop.
The average traveler who never plans ahead, doesn't invest time to save money, and isn't on their game will just go to Best Buy directly and pay with a lousy card that gives 1% back (or maybe 2%, which is still pathetic honestly).
(And let's not talk about people who pay with debit cards, which gives you 0% back and doesn't even have the free purchase protection and extended warranty offered with all credit cards! 🤦)
A savvy traveler who plans ahead (obviously, we're not talking about a situation where your computer suddenly dies, we're talking about any predictable purchase here) knows that on Black Friday, Boxing Day, Valentine's Day, Labor Day, and other times of the year, shopping portals often run promos giving you 2 to 10 bonus points for free.
If you buy your new $1,000 laptop with a bonus of say 5 Aeroplan points per dollar, you get 5,000 bonus points on top of your regular credit card earnings.
That's ≈ 8.5% total right there! Same purchase, 8 times more rewards than just 1%…
But that's not even the most important.
Above all, savvy travelers plan their big purchases to coincide with a new credit card application to unlock a huge welcome bonus!
Let's say you apply for the CIBC Aventura® Visa Infinite* Card (income of $60,000 or more) or the CIBC Aventura® Gold Visa* Card (almost identical, but income of $15,000 or more).
The new $1,000 laptop alone unlocks the $492 free welcome bonus (these cards don't charge fees the 1st year with this new increased offer).
This is one of the best offers ever on these cards and they also give 4 passes for free airport lounge access and a credit to pay for you NEXUS membership, so we'll talk about them in detail soon!
So instead of earning just 1%, you'd earn 57% back on the same purchase!!!!!
Yes, 57%:
1% as regular earnings
7.5% bonus on the shopping portal
48% bonus via the welcome bonus
So the exact same laptop purchase gives you either 1% back or 57% back.
If this example doesn't help you understand why welcome bonuses are key, I really don't know how else to explain it!
(I sincerely want to help you, so drop me a line if it doesn't make you understand the travel rewards basics: it's the welcome bonus that counts!)
Don't forget that having more credit cards is also better for your credit score, contrary to popular belief, as long as you always pay off everything on time (if you don't do that, don't get a new card until you get that sorted out) and as long as you don't close your old cards (the ones you had BEFORE you started in the world of travel rewards).
It's never about spending more! It's about maximizing the rewards on what you'd be spending anyway. It's pretty sad to get 1% when you can get 57% PLUS improve your credit score and get 4 airport lounge passes!
In short, plan your big purchases and coordinate your credit card applications around them to easily unlock more welcome bonuses throughout the year.
It's really that simple to earn $1,000+ per year in travel rewards as I've been doing for the past 10 years.
(And as many of our Flytrippers readers have discovered as well, since they've now earned over 1 million dollars in travel rewards just with welcome bonuses from deals we share!)
Basics of stacking
I won't say too much about this, but the last section did a good job of illustrating what stacking is — meaning stacking different types of rewards earnings.
That's the key!
As I said, I earn $1,000 and usually over $2,000 a year in travel rewards. This is obviously mainly thanks to the many, many welcome bonuses I get throughout the year (which give me a nice 800+ credit score, because that's how it works).
But also, I make sure to almost NEVER earn only 1% or 2% on anything.
I always try to maximize everything and stack as many promos as possible.
When I shop on Amazon, I buy an Amazon gift card at the grocery store with my American Express Cobalt Card to get 5 points per dollar (≈ 7.5% back) instead of just 1 point per dollar (≈ 1.5% back) if I had used the same card directly on Amazon like 99% of people do!
(The gift card trick literally gives me 5 times more rewards on almost everything, with so little effort: I'm at the grocery store anyway!)
So don't miss our post on how to always maximize everything coming soon.
Aeroplan program basics
Our ultimate guide to the Aeroplan program is going to be extremely comprehensive, so make sure to sign up for our free travel rewards newsletter (if you haven't already) so you don't miss it.
We'll for sure do another webinar on Aeroplan for beginners after the 2 other webinars that are already scheduled in the coming weeks, and we'll announce it in the newsletter of course.
But in the meantime, I recently shared with you 6 important concepts to understand the basics of Aeroplan.
That will tell you what you need to know!
Aeroplan elite status basics
Our ultimate guide to the Aeroplan program will also cover Aeroplan elite status, but since we haven't talked about it much yet, here's how to qualify without flying a lot.
Everyday Status Qualification gives you Aeroplan 25K Elite Status (the lowest level) if you earn 100,000 Aeroplan points in a calendar year.
Of course, welcome bonuses don't count (that would be too easy) and transfers of American Express points or Marriott Bonvoy points don't count either (that would be even easier).
What counts are the points you earn via:
purchases with your Aeroplan credit cards
the Aeroplan eStore
Aeroplan partners such as Starbucks or LCBO
Aeroplan travel partners such as car rentals
Yes, 100,000 points is still a lot. But the other option is to spend $3,000 on Air Canada (and taxes don't count) AND reach EITHER 25,000 flight miles OR 25 different flights.
It's not nearly as affordable as hotel elite status, which is offered for free with the right credit cards.
Want to receive the latest news in the world of travel rewards?
Summary
Like any good travel rewards enthusiast, get ready for Aeroplan eStore's amazing 10 bonus points per dollar promo, running November 24 to 29, to earn even more free travel for the future. If you have an Aeroplan credit card and have got some big purchases coming up, now's the time to plan for them.
What would you like to know about this promotion? Tell us in the comments below.
See the deals we spot: Cheap flights
Explore awesome destinations: Travel inspiration
Learn pro tricks: Travel tips
Discover free travel: Travel rewards
Featured image: Isla Franklin, Panama (photo credit: Chema Photo)
Share this post to help us help more people travel more for less: