There is a very interesting new airline partner with whom you can use your Aeroplan Miles: Etihad Airways. And I'll take this opportunity to give you an example that perfectly illustrates the difference between the two types of travel rewards points (fixed-value points and variable-value points).
Here are the details about the great Aeroplan development for those who want more international long-haul options to get more value out of your Aeroplan Miles (even if you don't end up saving $10,000 on a single one-way flight like with the Etihad First Class Apartments).
Etihad is now an Aeroplan partner
First of all, the Aeroplan program will be revamped completely in the fall. There are important things to do if you want to maximize it before that, we'll cover it all in great detail soon. Sign up to our new (and free) travel rewards newsletter to get our upcoming Aeroplan guide and pro tips cheat sheet.
Now here's an overview of what the new Etihad partnership means, including for the world-famous Etihad First Class Apartments if you want to dream a bit. At the very least it'll show you how valuable variable-value points like Aeroplan can be.
Aeroplan-Etihad basics
If you know a little about Aeroplan Miles, you know that using them on Air Canada flights is usually the worst way to maximize the value of these variable-value points. That's because flying Air Canada means paying huge surcharges, while flights on many of the 25 Star Alliance partner airlines do not have surcharges.
Aeroplan is now adding another non-alliance partner: Etihad. And the good news is that no surcharges are imposed for Etihad flights. This is awesome: a new surcharge-free partner means many more routing possibilities for long-haul travel, and more seat availability as well.
One of the world's best airlines, Etihad is based in Abu Dhabi (AUH) and is one of the upscale Big 3 Persian Gulf carriers that have grown tremendously in the past decades (Emirates and Qatar are the two others). The Aeroplan-Etihad partnership was leaked by mistake (a typical Aeroplan technical glitch maybe?) all the way back in April 2019, but now over a year later, it's official.
That means you can now use your Aeroplan Miles on Etihad. You can also earn Aeroplan Miles on Etihad flights, but the basics of where and how to credit your flights are something I'll keep for a separate post for our free travel rewards newsletter subscribers.
Etihad redemption possibilities
I'll show you a few tangible examples, but first, a look at the basics for beginners. As we explained in our introduction to Aeroplan Miles, using Aeroplan Miles is only usually a good deal for flights that are expensive in cash.
For example:
if you are not flexible on dates
if you are flying during peak travel periods
if you are flying to an expensive destination
if you are flying one-way internationally
if you don't bother searching for low prices
if you buy last-minute flights
if you are flying to an expensive smaller/more remote airport
if you want more than one destination on the same trip
if you can leave from a US airport
if you are flying in premium cabins (business/first class)
The airline you choose does not affect that principle. Whether it's with Etihad or others, you will get a good value of your Miles if your flight is expensive in cash. The Aeroplan award chart applies to all airline partners and the pricing levels are fixed and stay the same year-round, as long as you find seat availability.
For example, flying to Asia 1 region (Japan, South Korea, etc.) will cost you 75,000 Miles roundtrip on any Aeroplan partner airline. The only thing that will vary is the amount of surcharges, which is why having Etihad as an additional surcharge-free option is great news to build an itinerary that avoids all surcharges.
Etihad only flies to Toronto (YYZ) in Canada, but like all other Aeroplan partners, Etihad flights can be mixed and matched with other airlines on an itinerary, ideally with other airlines that don't have surcharges (not Air Canada).
For example, Etihad has 4 US gateways, so you could fly on United from all over Canada to Chicago (ORD) and fly Etihad from there. New York (JFK), Washington (IAD), and Los Angeles (LAX) are the other North American gateways.
But for a long journey, you can also connect in Europe easily. For example, you could fly YUL, YYZ, or YVR to Istanbul (IST) on Turkish Airlines and then fly Etihad from IST to anywhere in the world via Abu Dhabi (AUH). You could then have two long-haul segments on two great airlines.
One of the best Aeroplan features is that you get a free stopover of any length when using Aeroplan Miles, giving you 2 destinations for the price of one.
Abu Dhabi looks great for a stopover, and I can most certainly vouch for Istanbul. I've been twice and I'm supposed to go back in August if travel resumes by then. Eventually, Aeroplan will resume offering 2 free stopovers on each roundtrip, which means you get an amazing 3-city trip for the same price (which is know as the "mini-round-the-world").
Etihad Apartments… and variable-value vs. fixed-value example
Our travel rewards content is unique in Canada because we'll focus on how you can travel more for less thanks to rewards points, instead of how to travel in luxury.
But I will use the Etihad First Class Apartments as the first example. Just because it's a great way to show beginners why variable-value points are better than fixed-value points even if they are way more complicated (they're better if you want to maximize the value you get).
It's the most extreme example so it very clearly shows the basics of how different the two types of rewards points are.
That said, it's not just true for luxury, it's just even more true. I'll show you a non-luxury example right after.
Etihad is especially known for these ultra-luxurious Etihad First Class Apartments.
As the name suggests, it's an "apartment" in a plane: you have an enclosed suite with a wide seat, a separate couch that converts into a full-size bed, a table, a minibar, a closet, etc. It gives you access to a nice lounge on the ground, but also a lounge/bar area inside the plane too, and also a shower to refresh before landing.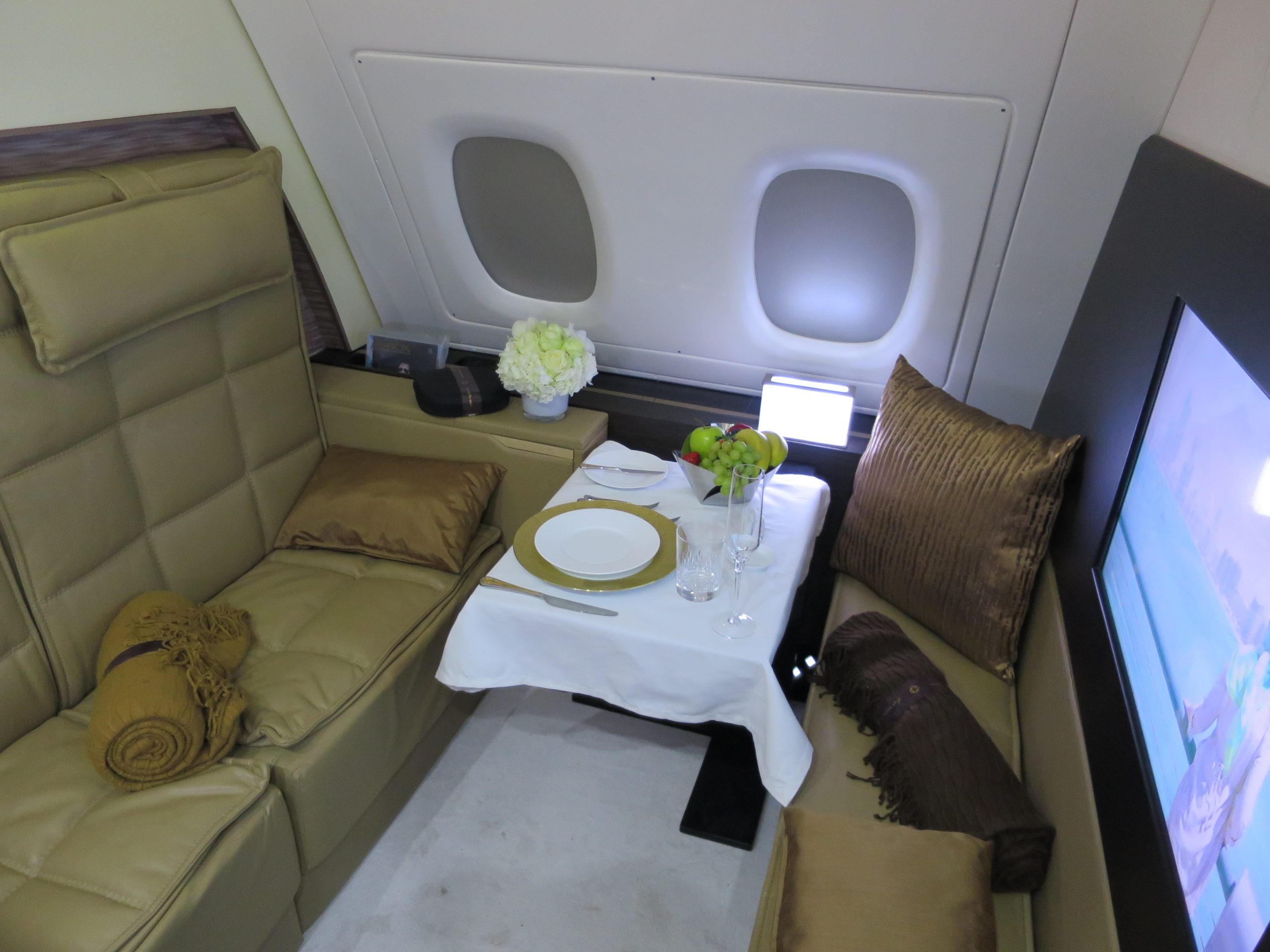 There are a lot of other luxurious benefits as you would expect for a flight that often costs $10,000 for a one-way.
This is first class, which is not the same thing as business class (many usually confuse the two or always use the two terms interchangeably).
Here's a typical Abu Dhabi-New York Etihad First Class Apartment one-way flight in cash: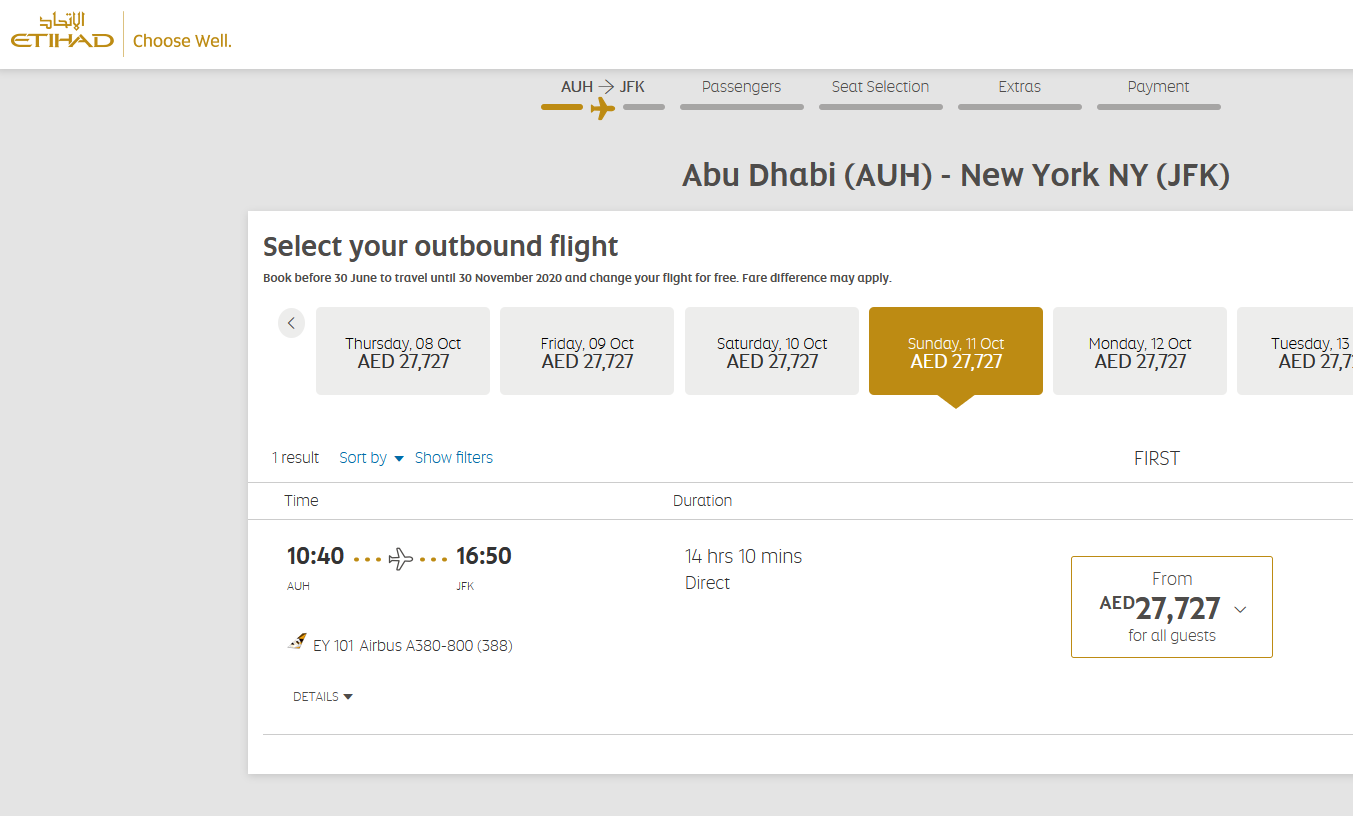 That's C$10,280 for a one-way flight.
Of course, no one would pay for that in cash hopefully. Well, some surely do, because even for business class many travelers pay with cash when rewards points are so insanely valuable for those flights specifically.
And as most international one-ways, with cash, the one-way is a bit more expensive than one half of a roundtrip. But anyway, you get the point: it's crazy expensive.
Now let's compare:
Price if paid in cash: $10,280
Price if paid with "cashback" points: $10,280 (you can never "save" money with cashback points)
Price if paid with fixed-value points: $10,280 (you can never "save" money with fixed-value points)
Price if paid with Aeroplan Miles: $1,791 (115,000 Miles @ 1.5¢ per point and $66 in taxes)
You use points "worth" $1,725 and pay $66 for the $10,280 flight. That's 83% less. That's over $8,000 in savings. On just one ticket.
The exact same flight.
Using standard fixed-value bank points worth 1¢ per point would require over 1 million points instead of just 115,000.
See how much more savings you can get with variable-value points like Aeroplan compared to cashback cards and fixed-value points? Those can never "save" you any money. What you get with those points will be the same price as with cash, you'll just be paying in points instead of money. It's better than paying with money, of course… but it's still the same price.
Variable-value points are the only ones that can offer outsized value: you can get something worth a lot more than what you are paying. For those who love to maximize and love deals as we do, that's why variable-value points are way better than fixed-value points.
And cashback is particularly bad since they usually don't even offer welcome bonuses, and welcome bonuses are the key to earning a lot of points. Earning a lousy 1% or 2% back on your purchases is NOT the way to earn a lot of travel rewards, as explained in our very thorough article about the 25 myths about travel rewards you need to stop believing.
As I'll show you in the next section, it's the same principle with non-luxury, by using your Aeroplan Miles well. Let's take peak summer flights to Europe for example: that same amount of Miles can give you 2 roundtrips in economy, instead of just one luxury one-way flight. Two roundtrips to Europe won't give you flights worth $10,000, but that can give you flights worth more than $1,000 each in the summer. And that's a $2,000 that you are actually "saving" because you really would've gone to Europe (but I doubt anyone is considering paying $10,000 cash for a one-way flight).
Earning over 100,000 Aeroplan Miles seems like a lot, but we'll show you how in fact it's not that hard.
If you are interested in these kinds of very valuable redemptions, there's actually a way to do this right now even if you don't have any Aeroplan Miles and even if you are not in a position to consider new credit cards at the moment. Sign up for our free travel rewards newsletter to get that pro tip very soon.
Non-luxury examples with Etihad
Now, if you're like me, you prefer to travel more often (instead of traveling in luxury but traveling less often), the addition of Etihad as a partner is great news.
Apart from those aforementioned Europe flights, you can also fly to anywhere in North America for 25,000 miles roundtrip (and you get 2 destinations for the same price). That can be a great deal for flights that are expensive, by flying United of course. Or even on Air Canada within Canada, where flight prices in cash are sometimes insane. Etihad won't help there though.
But internationally, for example if you were to fly to Thailand or Australia during peak travel periods with no flexibility on your dates, it will certainly cost you a lot more than the $600 roundtrip or $800 roundtrip we often spot on our flight deals page from most Canadian cities.
Those who are not flexible often pay $1,500 or more, and with Aeroplan, you could fly for 90,000 Miles roundtrip and pay minimal taxes as long as you avoid Air Canada and the partners that have surcharges.
Having Etihad as a partner adds another option that means you are more likely to find seat availability, and you can add a long weekend in Abu Dhabi to explore the desert for the same price. Prices for most regions on Aeroplan's award chart are reasonable compared to an expensive flight to that region.
We'll soon share a detailed guide on how to search for these cheaper itineraries with Aeroplan for those who are subscribed to our free travel rewards newsletter.
Air Canada's new voucher-to-Aeroplan option
Rewards points are great, but if you've learned one thing about variable-value points, it's hopefully this: their value depends on how you use them… so not all redemptions are good.
So even if rewards points are great, Air Canada's new option to turn your voucher into Aeroplan Miles isn't necessarily the best move.
I'll have a separate post on that topic, and we're working hard on our amazing tool to help you get the refunds you are entitled to for your canceled flights.
Want to get more content to maximize Aeroplan Miles?
Summary
Having Etihad as an Aeroplan partner is even better news long-term if you usually fly on expensive long-haul flights.
What else would you like to know about Aeroplan? Tell us in the comments below.
Explore awesome destinations: travel inspiration
Learn pro tricks: travel tips
Discover free travel: travel rewards
Featured image: Etihad A380 (photo credit: Wikimedia Commons)

Advertiser Disclosure: In the interest of transparency, Flytrippers may receive a commission on links featured in this post, at no cost to you. Thank you for using our links to support us for free, we appreciate it! You allow us to keep finding the best travel deals for free and to keep offering interesting content for free. Since we care deeply about our mission to help travelers and our reputation and credibility prevail over everything, we will NEVER recommend a product or service that we do not believe in or that we do not use ourselves, and we will never give any third-party any control whatsoever on our content. For more information on our advertiser disclosure, click here.
Share this post to help us help more people travel more for less: