It's undeniable, Air Canada Aeroplan is one of the most important rewards programs for Canadians in the world of travel rewards, if only because it is so easy to earn many many points. But there is also great value to be had with Aeroplan Miles.
This introduction guide will help you understand how Aeroplan Miles and the Aeroplan program work, as you await our upcoming ultimate guide.
Here's what we'll cover:
How This Guide Works
Aside from the easy accumulation, Aeroplan is the most important program in Canada to get (almost) free flights because these are points that can save you a lot of money and that offer a lot of potential value.
More potential value means they're more complicated. This article will attempt to explain everything as simple as possible. Therefore, we may cover some topics very briefly in here to keep it shorter… and we'll then be able to give more details about the different subjects in our upcoming ultimate guide to Aeroplan!
There will be a lot more content—sign up for our new free travel rewards points newsletter, so you don't miss out on anything!
By the way, for those who don't know, our priority at Flytrippers is spotting cheap flight deals. But if you like cheap flights, you probably like getting free travel, too. This is why we'll soon launch our new travel rewards points section.
Basics Of The Air Canada Aeroplan Miles Program

Like almost all airline rewards programs, Aeroplan Miles are variable-value points. This means that how you use them determines how much you'll get from your Miles. How to do this math is explained below.
This is the only type of point than can give you outsized value. And save you more than what the points are "worth". You can read an example of what outsized value means.
The most important thing to understand is that Aeroplan Miles are particularly useful for flights that are expensive in cash (see below). That's because the cost of a flight with Aeroplan Miles is fixed within a region, based on the Aeroplan award chart.
It can sometimes be hard to get good value from Aeroplan Miles in Canada, but it is definitely possible if you use them right. The more you travel, and the more flexible you are, the easier it will be to maximize the value of your Miles. Especially since you need to find seat availability (which shouldn't be too much of a problem in the coming months at least).
In short, that is why it's essential that we help you maximize your Miles! Let's start at the beginning.
Important Note About The Future Of Aeroplan

Aeroplan is Air Canada's rewards program but it didn't even belong to Air Canada for many years. It's complicated, but finally, in 2019 the airline purchased the program.
In short, what you need to know is that in Fall 2020, the program will change and could lose some value… but that leaves a lot of time to take advantage of Aeroplan's current benefits.
In September, before the changes, you'll be able to book flights all the way into August 2021 with the current rules if you're ready and have done your homework.
We've shared a separate guide with everything you need to know about the upcoming new Aeroplan program, including what I learned from my promising discussion with Air Canada's VP of Loyalty at an event in January. We'll keep following the situation to tell you everything you need to do to maximize the current program rules.
Where To Use Aeroplan Miles
Ironically, even if it's Air Canada's rewards program, one of the worst airlines to use Aeroplan Miles on is… Air Canada.
The problem is that they impose exorbitant surcharges on tickets purchased with points so it's difficult to get a good deal on Air Canada flights.
Thankfully, though, Miles are redeemable on all 27 airlines that are part of Star Alliance, the alliance Air Canada belongs to (and the largest of the 3 global alliances).
There are also 6 non-Star Alliance partners, for a total of 33 airlines you can use your Aeroplan Miles on.


You don't need to have flown Turkish Airlines or any other of those airlines, you don't need to have ever interacted with them, and you don't even need to have ever heard of them. Their availability can be found directly within the search engine on Aeroplan's site, quite simply. At least in most cases: we'll share more pro tips for searches in our ultimate guide.
Keep in mind, that some other airlines have surcharges as Air Canada does. It's best to avoid them too.
Here's a list of the airlines you can use Aeroplan Miles without surcharges:
United, Copa, Avianca, GOL, Azul, SWISS, Brussels, SAS, TAP Air Portugal, Turkish, Aegean, Croatia, Etihad, EVA Air, Singapore, Air India, Air New Zealand, Egyptair, Ethiopian, South African
Here's a list of all other airlines where you can use Aeroplan Miles with surcharges:
Air Canada, Air China, Cathay Pacific, Cathay Dragon, Lufthansa, Austrian, LOT Polish, ANA, Thai, Asiana
Our ultimate guide will feature a lot more details about each airline's hubs and Canadian routes.
Before I tell you about how the pricing and mile valuations work, I want to give you just one example so you can see how incredibly different the same routing can be. And why it's important to know how to use your Miles and how to avoid surcharges.
A roundtrip from Canada to Portugal costs 60,000 Miles + a staggering and insane $636 on Air Canada Rouge, which is an absolutely terrible use of Miles, probably as terrible as any you could ever find.


The same Toronto-Lisbon flight on TAP Air Portugal (no surcharges) costs the same 60,000 Miles but only $97 (just the mandatory taxes)..


Even that is not the greatest use (except maybe during peak season) since flights to Lisbon are often cheap in cash… but at least it's a lot better without the surcharges. A mere $500 in savings on one flight, which ironically is literally the price for a roundtrip flight to Lisbon from Toronto and Montreal when we spot good deals.
The Aeroplan Award Chart
All of these partnerships are great, but how do they work?
Aeroplan uses a region-based award chart, which makes the price of a flight fixed and very easy to understand.
Prices shown are for roundtrip flights, but you can buy one-way trips for half the number of Miles.
Here is the key part of the award chart:

I say "key part" because these are prices for flights departing from North America, which is what most of you will be looking for most of the time. Obviously, it's also possible to use Miles on flights departing from anywhere, based on the award chart (you can find the chart prices for all other departure countries here).
This is how to read the award chart: an economy flight from Canada to Australia costs 90,000 Aeroplan Miles roundtrip. It's pretty simple, it's a fixed price no matter the airline. The only thing that varies is whether there are surcharges to pay.
It's also a fixed price all year-round, no matter the price of that flight in cash. Which is why the points have a variable value.
Here's how the world's regions are defined: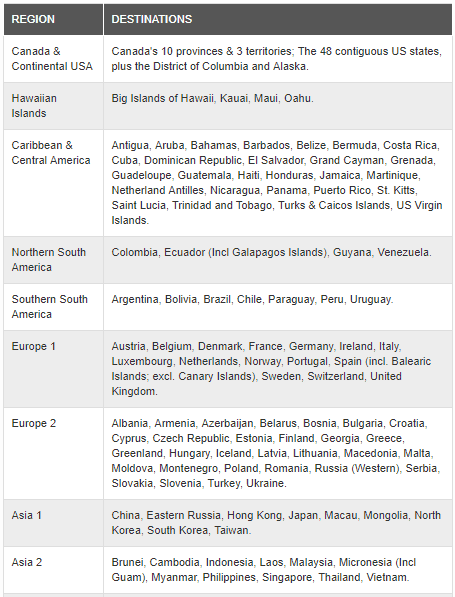 There is just one exception, and it's the "short-haul" and "long-haul" distinction for Canada and the US. For example, a flight from Montreal to a nearby region (short-haul) costs 15,000 Miles, and to anywhere else in North America would be 25,000 Miles.
But short-haul flights at 15,000 Miles are not often a good deal because of the surcharges: it's a price category that is only valid on Air Canada flights (therefore, surcharges are always applied). This is the only special category with this restriction of having to fly on Air Canada.
Provinces and States defined as short-haul depend on your province of origin: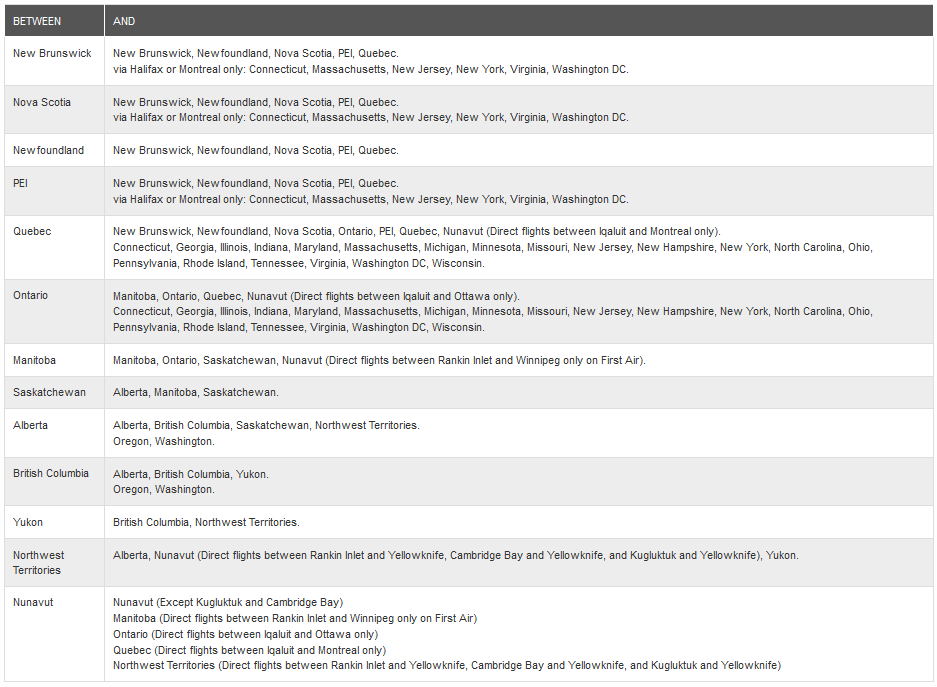 The Free Stopover
One of the best features of the Aeroplan program is the free stopover you get with any booking (on roundtrips only, not one-ways).
That means that for exactly the same price, you get two destinations of your choice instead of just one. That's great, because you can choose a stopover of any length and explore two places!
This rule was actually even more generous and allowed for 2 stopovers, which was sensational and gave you 3 destinations for the price of 1. It was known in the travel rewards space as the "Mini Round The World" or "Mini-RTW".
That 2-stopover rule is temporarily paused as Air Canada transitions to a new IT system. But Air Canada's VP of Loyalty confirmed to me that this feature would return with the new program.
If you love discovering new places like me, you can even maximize the rules and add in a few long layovers for the same price, as long as the routings are somewhat logical and that the layover is under 24 hours. I'll tell you more about how to do that in the ultimate guide.
For example, on a recent trip to the Middle East, instead of just getting one destination, I was able to visit 3 actual destinations (Oman, Bahrain, and Chamonix, France) AND also get a 23-hour layover in Ethiopia for my (then) first taste of sub-Saharan Africa, a 12-hour layover in Egypt to see the sunrise over the pyramids, and a 6-hour layover in Dubai to at least admire the world's tallest tower.
That was an epic 13-flight itinerary for the same price as just one destination (80,000 miles roundtrip).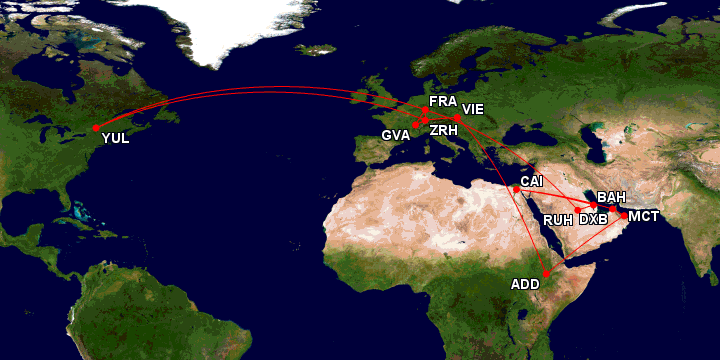 The Value Of A Mile And When To Use Them
It's possible to use your miles well and get $700 in free flights from the 25,000 Miles welcome bonus that cards sometimes offer… but it's also possible to get only $200 in free flights with those same 25,000 Miles.
We cover specific good uses of Aeroplan Miles below, but to know what is a good use, you need to calculate the value of any use. For that, you need to know what the value of a Mile is.
Our Flytrippers valuation of Aeroplan Miles is ≈1.5¢ per point. If you don't get at least 1.5¢ per point from a specific use, it's better to pay in cash and keep your miles for a better use.
Obviously, this is subjective. Someone who travels less frequently could value them lower (but you should never go below 1¢ per Mile). A luxury traveler will value them a lot higher. So, it depends. But, 1.5¢ is the average conservative valuation.
In other words, using 25,000 Miles is like spending $375 worth of Miles. You don't have to pay $375 (obviously), but you are using Miles worth $375.
When taking into account taxes (and sometimes surcharges) that you must also pay, this limits good uses. If the flight is cheaper in cash that the Miles' value + the taxes and surcharges, then it's not a good use at all.
In other words, you calculate the value of a point like this:
How much money you save
divided by
The number of points you use
If you save $375 on a flight (it was $475 in cash and you need to pay $100 in taxes) with 25,000 points, that gives you a value of 1.5¢ per point for that use ($375/25,000).
The Taxes
I've spoken about surcharges, which are avoidable. But you always have to pay the taxes, which are very low in almost all countries… except in Canada.
Here they are among the highest in the developed world.
So, as explained in the math above, sadly, the value of Miles is not all that you need to pay attention to. You need to look at the cash price that you need to pay on top of your Miles.
To go to Florida for example, it's $85 in addition to your Miles. Not a great deal, unless the flight is more than $460 in cash (because it's the equivalent of $375 in Miles and $85 in taxes). We often spot deals to Miami in the $300s roundtrip from most Canadian cities, but I guess it's common for many to pay $460.

In this case, Air Canada's surcharges are $71 more. It does sometimes mean a nonstop flight since Air Canada obviously has more than United from Canada, but choosing convenience over value adds up quickly and is why most people believe the myth that travel is expensive.

You could pay just $14 though. A good tip to know is leaving from US airports near the border (like Burlington or Plattsburgh, a 1-hour drive from Montreal). The taxes when using your Miles are only $14 roundtrip just because you are in the US and avoid Canadian taxes and fees.


Obviously, $14 is far better than $156. For two (or more) travelers, it can definitely be worth the drive (financially). Other similar airports for other Canadian cities include Buffalo (BUF), Detroit (DTW), Ogdensburg (OGS), Everett (PAE), and Kalispell (FCA).
It's a great trick for international itineraries too, since United has many long-haul destinations with absolutely no surcharges.
The takeaway with taxes is that the important thing is to look at how much you save overall: how much the tax itself isn't really relevant on its own. If your savings are higher than the value of the miles, that's what matters. Not an arbitrary standalone amount of tax.
Let's take two scenarios where you pay the same $150 in taxes and the same 25,000 miles. If one saves you $400 overall, that is great. But if the other saves you just $200 overall, that is very bad. It's the same miles and same taxes, but it's very different. The net value is what is important, not just the tax. You always have to do the math: these are variable-value points!
Yes, Canadian taxes make things a bit harder, but there are many excellent ways to get great value with Aeroplan despite the taxes.
And even though Aeroplan will offer to pay your taxes and surcharges with Miles, do not do it. It's terrible value! In this example, you'd be using miles worth $207 (13,814 miles at 1.5¢ per point) to pay $97 in taxes.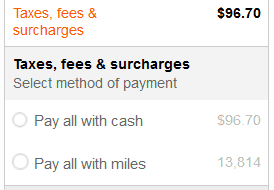 Speaking of bad value…
Market Fare Flights And Toasters
It's an odd title, but let me explain.
First, there's another option on Aeroplan's site—Market Fare flights—which is another way to use Miles other than with the award chart. These are flights that cost a varying amount of miles (instead of a fixed amount as you see on the chart). It's something completely different.
I don't want to dwell on it too much because you should avoid this. It's not at all worth it in 99% of cases. It's almost always a bad way to use Miles. It's important to calculate the value to verify, and then you'll see that it doesn't make much sense.
With everything that we've explained about the value, you should be able to figure out why—but if not, write us a question in the comments, and we'll answer.
As for toasters, I said that I didn't want to talk about the basic rules and wanted to focus only on the specifics of Aeroplan, but I couldn't resist!
It's so important; I have to repeat it: do not buy toasters or any other crap with your Miles because they give you a terrible value! Travel Hacking has the word "travel" in it for a reason: it should be used for travel only! Always.
There's also a reason Aeroplan always promotes these uses that aren't flights. They probably get a good laugh when people take the bait, which then allows Aeroplan to save hundreds of dollars every time.
Just don't do it. I'll talk more about this issue with more examples in the future.
The Best Aeroplan Miles Uses

There are many scenarios when you should probably use Aeroplan Miles and when you can get great value. We'll have a detailed article with the best ways to get the most out of your Aeroplan Miles coming soon too.
Here are the 10 top uses:
if you are not flexible on dates
if you are flying during peak travel periods
if you are flying to an expensive destination
if you are flying one-way internationally
if you don't bother searching for low prices
if you buy last-minute flights
if you are flying to an expensive smaller/more remote airport
if you want more than one destination on the same trip
if you can leave from a US airport
if you are flying in premium cabins (business/first class)
And here's why.
If you are not flexible on dates:
Flights can be expensive with no flexibility; Aeroplan's price is the same every day.
If you are flying during peak travel periods:
Flights can be expensive during Christmas, Spring Break, and July/August; Aeroplan's price is the same during peak dates.
If you are flying to an expensive destination:
Some destinations are always expensive and not often on sale; Aeroplan's price can be a good sweet spot.
If you are flying one-way internationally:
International one-ways are almost always significantly more expensive than just half of a roundtrip; Aeroplan's price is half of a roundtrip.
If you don't bother searching for low prices:
Again, with little effort put into it, many flights are expensive; Aeroplan's price can be a good sweet spot.
If you buy last-minute flights:
These are often very expensive; Aeroplan's price is the same no matter when you book it.
If you are flying to an expensive smaller/more remote airport:
Flights are often a lot more expensive than those to major hubs; Aeroplan's price is the same for an entire region.
If you want more than one destination on the same trip:
Multi-city itineraries can often cost more; Aeroplan's price includes a free stopover.
If you can leave from a US airport:
Taxes are lower; Aeroplan's value increases if you pay less tax.
If you are flying in premium cabins (business/first class):
These are craze expensive in cash; Aeroplan's prices are always better than cash for premium cabins.
How To Earn Aeroplan Miles
Details to come in our ultimate guide!
Want to get more content to learn about Aeroplan?
Summary
Here's a good intro to the Aeroplan program! Aeroplan Miles can be worth a lot of you use them well, namely by avoiding airlines that impose surcharges and using them for flights that are expensive in cash.
What do you want to know about Aeroplan Miles? Tell us in the comments below.
Explore awesome destinations: travel inspiration
Learn pro tricks: travel tips
Discover free travel: travel rewards
Featured image: beach (photo credit: unknown)
Advertiser Disclosure: In the interest of transparency, Flytrippers may receive a commission on links featured in this post, at no cost to you. Thank you for using our links to support us for free, we appreciate it! You allow us to keep finding the best travel deals for free and to keep offering interesting content for free. Since we care deeply about our mission to help travelers and our reputation and credibility prevail over everything, we will NEVER recommend a product or service that we do not believe in or that we do not use ourselves, and we will never give any third-party any control whatsoever on our content. For more information on our advertiser disclosure, click here.
Share this post to help us help more people travel more for less: