An easy 5,000 points, enough for a reward flight… by simply making 4 easy purchases? Yes! This year, for the first major promo of the new Aeroplan program's existence, Air Canada is taking a page from the AIR MILES playbook and offering a great promo. This is in conjunction with the good Aeroplan shopping portal bonuses we are used to seeing for Black Friday.
It's for a very limited time (from now until November 29th), so here are all the details.
By the way, the similar AIR MILES promotion is now running, but it lasts until late December so we'll cover it next week. Just know that if you see a good deal in their own portal's Black Friday promo (10x sitewide), a $100 purchase there will help you towards the big promo.
Reminder for travel rewards beginners
As a reminder, it's important to understand that the points you earn by traveling or the points you earn on your purchases with your card is not the best or fastest way to earn travel rewards, contrary to the common myth: card welcome bonuses are really the key to travel rewards.
(The 7 best current welcome bonuses all offer hundreds of dollars in free travel just as a welcome bonus, up to ≈ $790 for the best one).
But it's still important to maximize the rewards you get on what you spend. Taking advantage of promos like this one is a great way.
Online shopping portals like the Aeroplan eStore shopping portal are also a big part of that.
The relaunched Aeroplan eStore is the central element in the Aeroplan Black Friday promo (as a shopping portal, not to buy merchandise at a terrible value for your points).
In short, instead of going to a retailer's website directly, you go to the Aeroplan eStore first, then you simply click on the retailer's website from there… and you'll instantly double your rewards (or even earn up to a 10X bonus in addition to your card rewards).
We have a detailed post about all online shopping portals in Canada to learn more, which includes cashback portals.
Aeroplan's 5,000 point bonus
Aeroplan has come out with a few different Black Friday offers, and we'll cover each briefly below.
But first, just like AIR MILES does every holiday season, you can get a valuable bonus if you use multiple separate offers.
That's the easy 5,000 point bonus with just 4 purchases. And if you have a bit more shopping to do for the holidays (or have upcoming travel to book), you could actually double or triple that with the great new Aeroplan Family Sharing feature; I'll explain that below.
What you can get with 5,000 Aeroplan points
Our Flytrippers Valuation of 5,000 Aeroplan points is ≈ $75, so it's a pretty decent bonus given how easy it can be reached. It's often enough for short one-way flights in North America, so it's an easy way to get a free flight.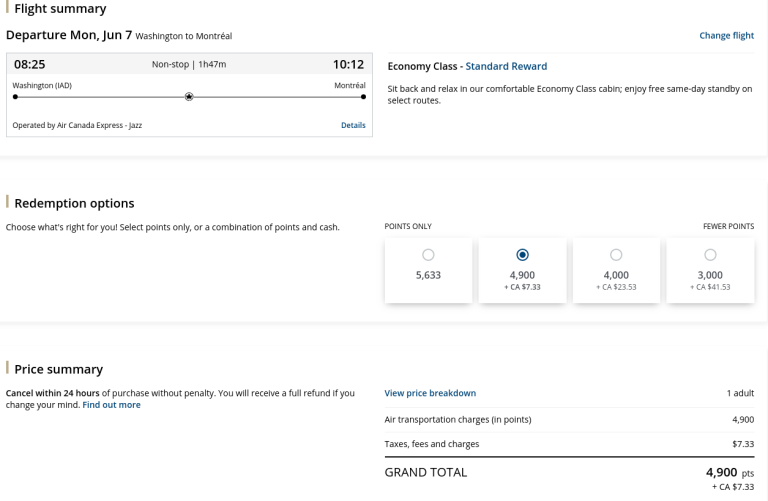 Prices aren't always at this level in the new Aeroplan program that has variable prices for Air Canada flights, but flights on the 30+ airline partners still have fixed prices (often the best use of points to maximize value).
In the case of this specific Washington-Montreal nonstop flight, the price is always 6,000 points on United, which is almost what you get with this promo. There's an extra $39 fee with partners, but this remains a pretty good saving compared to the cash price. And Washington is a great city for a weekend getaway.
And of course, with a whopping 17 different credit cards that earn Aeroplan points in Canada, you can extremely easily add to that balance and keep your points to go even further, especially with some cards offering welcome bonuses that can be earned every year if you take a strong liking to free travel 😉
How the Aeroplan multiple offer promo works
In short, if you use 4 different offers, you'll get a bonus of 5,000 points. Not all offers can be used more than once, so it's a bit more complicated, but almost anyone can reach at least one combo if you have purchases to make for Black Friday.
Here are the available offers:
Shopping on the Aeroplan eStore
Applying for an Aeroplan credit card
Buying an Air Canada gift card
Buying Aeroplan points
Buying an Air Canada flight (with cash or points)
Using an Aeroplan credit card for flights
Buying an Air Canada package vacation
Using points for hotel/car rental/merchandise
Renting a car with AVIS (with cash)
The easiest way to unlock the promo
Here's a summary of the multiple offer promo.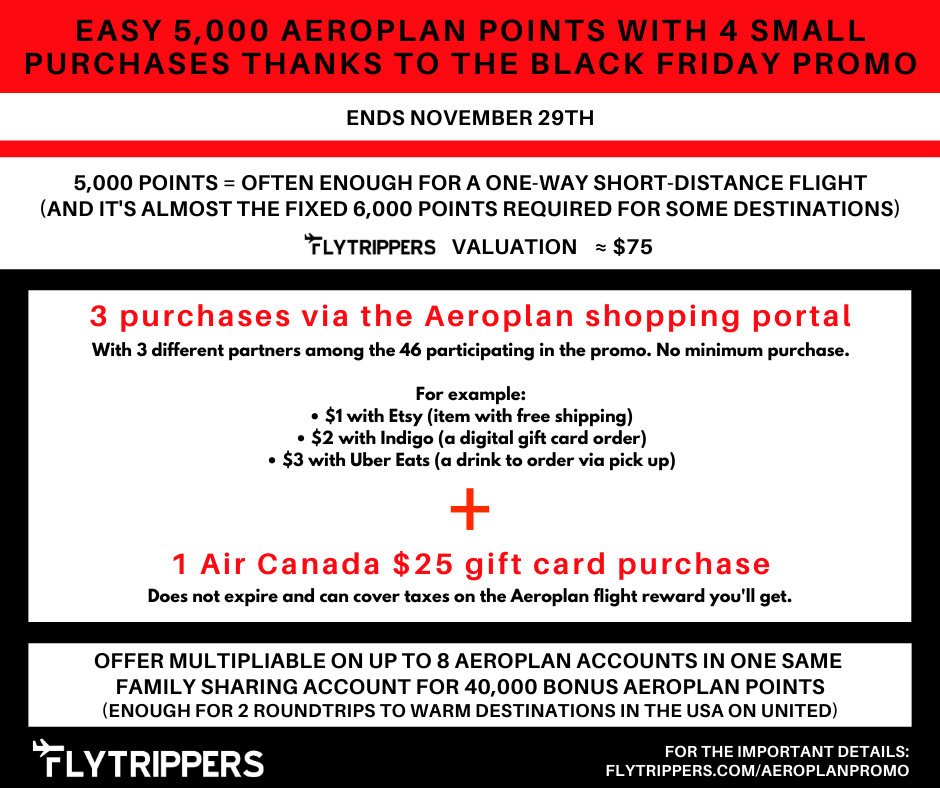 With 3 shopping portal purchases and a $25 gift card purchase, you'd get your 5,000 points.
This route is the easiest one, especially now that few people are traveling.
You could make 3 purchases online to get 3 offers covered, but that's the maximum per account (you can't do just 4 eStore purchases). And each eStore partner can only count once: you couldn't do 3 Uber Eats orders, it has to be 3 different partners… but there are over 40 different eligible partners out of the 150 on the portal.
UPDATE: it seemed that purchases with any partners qualified for the offer based on the terms and conditions and what others were reporting, but we double-checked by contacting Aeroplan and it turns out only partners that have special earn rates for Black Friday count towards the promo.
There are still 46 of them, so it should still be doable. To see them, you need to click the "Black Friday Event" filter in the list of brands on the portal (or we've included the list at the end of this post if you prefer).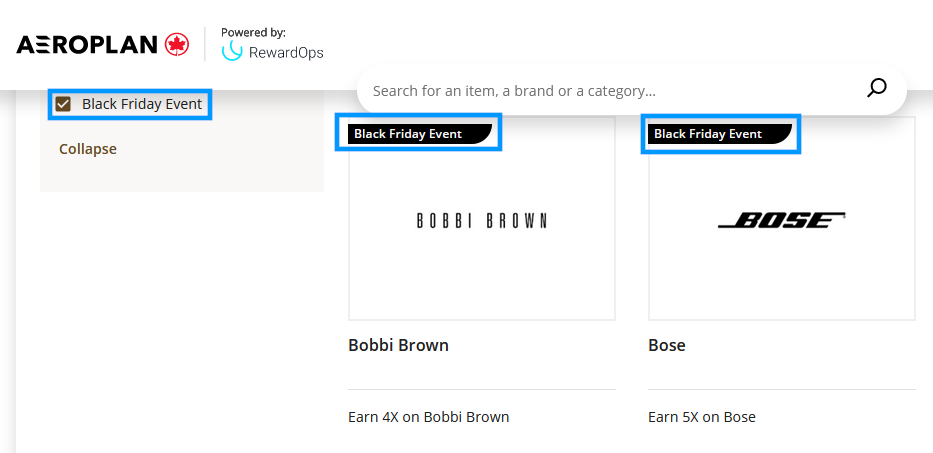 Apart from ordering on Uber Eats via the eStore for a very small amount, you should be able to find 2 retailers where you need something to get the 2nd and 3rd offers. Many are popular retailers with reasonably-priced and necessary items, along with a low enough threshold for free shipping. For example, there's Etsy, Old Navy, GAP, Simons, Decathlon, The Body Shop, Clearly, etc.
Then, assuming you're not traveling right now, you could simply buy a $25 Air Canada gift card that will count as the 4th offer and get you your 5,000 point bonus. Air Canada gift cards never expire and can be used to pay the taxes on that free flight you'll get with the bonus.
So that's how you get a free flight with 4 very simple purchases.
Instead of the Aeroplan gift card or a 3rd shopping portal purchase, applying for an American Express Aeroplan Card would count as a 4th offer, not to mention give you a welcome bonus worth ≈ $433 based on our Flytrippers Valuation, as it includes a great 2-for-1 ticket deal which is very valuable. TD and CIBC have even better offers, but unlike the Amex version, they require a $60,000 minimum income and have a history of better offers than the current one (that you would potentially be missing out on in January by applying now).
And even though that is a great welcome bonus, consider the other available non-Aeroplan offers that might be better for you, as there are pretty amazing ones right now.
The even easier way if you have travel to book
If you do have travel to book, it's even easier to reach the 4 offers threshold, as you have multiple ways to take advantage of it.
If you buy an Air Canada flight, you should certainly book it as 2 separate one-ways instead of 1 roundtrip to cover 2 offers, as it's the same price anyway (except on some long-distance flights). There are currently 1 million seats on sale for Black Friday, which I'll cover below.
And if you already have an Aeroplan Card, using it to pay for your flights will count as a 3rd offer (but not as the 4th, as that one can only count once).
The AVIS car rental offer can be easy if you need a car rental.
But just make sure not to use points for car rental or hotel bookings: airline points are almost always worth more when used for flights, just like hotel points are almost always worth more when used for hotels (for example, those who don't want to take advantage of the 8 free nights that the Marriott Bonvoy Card's 50,000-point welcome bonus gives you can instead transfer it to Aeroplan, but it will give only ≈ 25,000 Aeroplan points).
But most importantly, please do not redeem for merchandise, which is just the absolute worst thing you can do with your points. It's a common mistake, but if you want to maximize the value of your points, always use them for travel.
The full promo details
If you prefer, this Aeroplan table shows which offers can be used how many times to reach the 4 offers.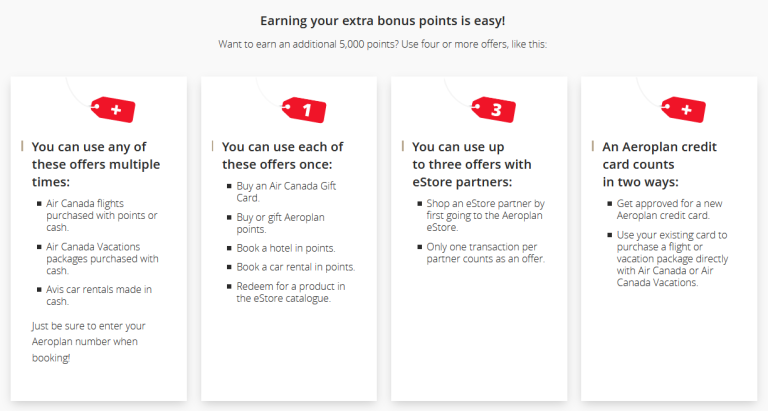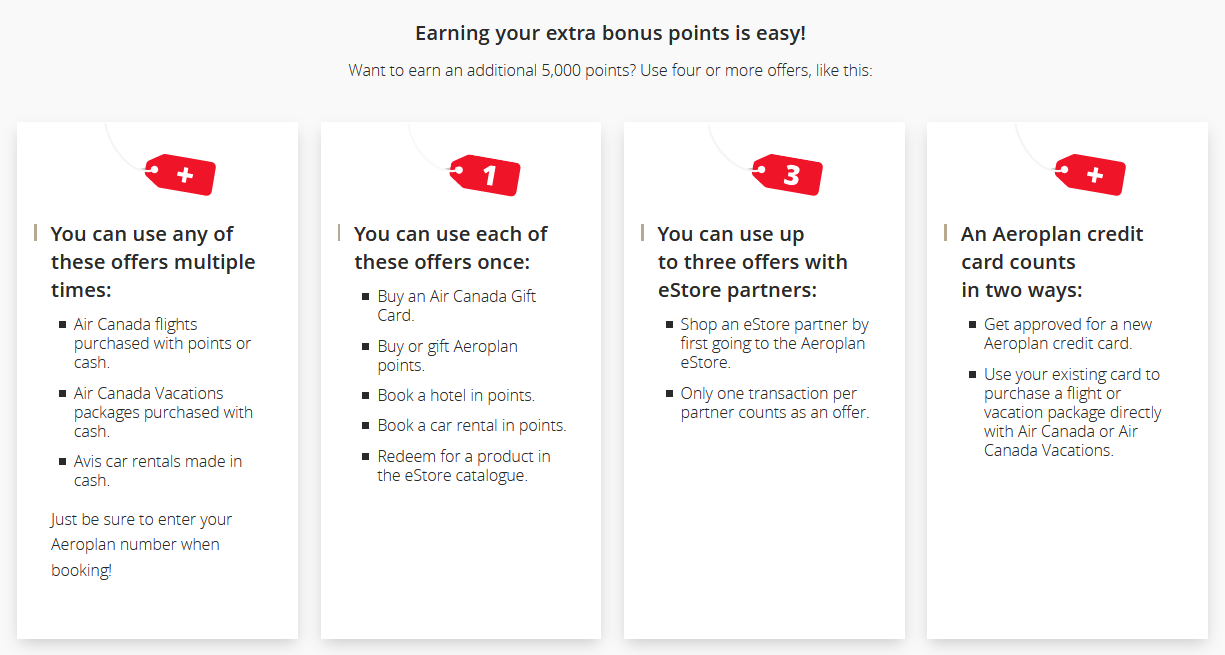 The promo for 2 or 3 offers
Finally, just taking advantage of 3 offers instead of 4 (for example just 3 eStore purchases) would give you a 1,000-point bonus (worth ≈ $15).
It's better than nothing, sure… but it's 5 times less than the full bonus that you should really strive to reach, like by simply adding the Air Canada gift card. Using 2 offers would give you 500 points (worth ≈ $8).
As is often the case with these promos, the top level is really where it's worth it.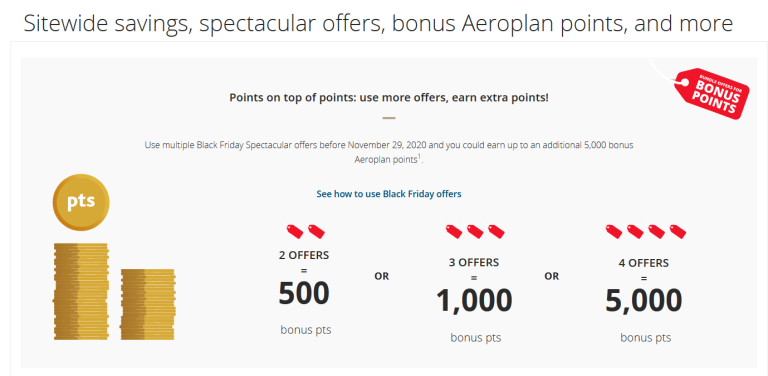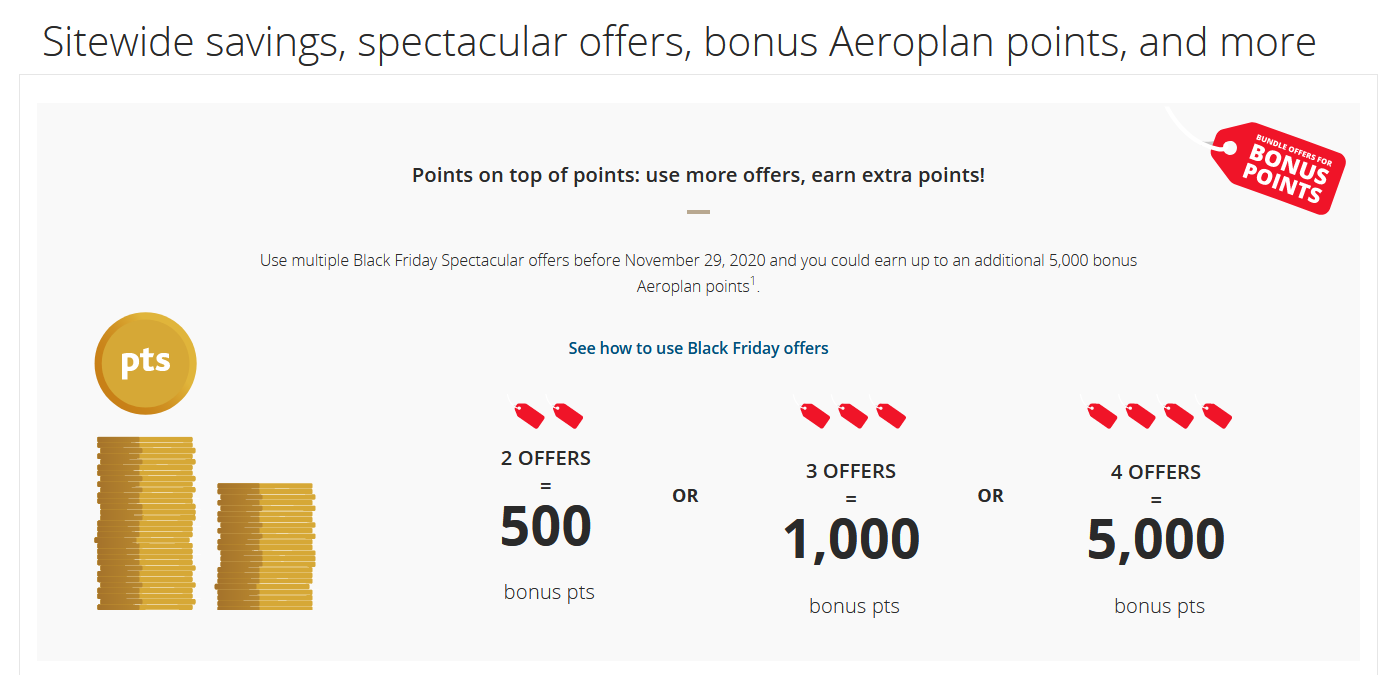 The Aeroplan family share opportunity
So while the above route is a pretty easy way to get 5,000 Aeroplan points for most travelers, if you do plan on making more purchases or booking some travel, the potential is even greater.
At the very minimum, your significant other (if you have one), should also have their own free Aeroplan account and then you could repeat the same steps. And you could even reorder with the same retailers, since it's a separate account (so split up larger orders into 2 different ones).
If you have kids, they should also have accounts. You could then do the same thing. If you can do it 4 times, that's 20,000 points: a free roundtrip from Eastern Canada to Florida for example. Not a bad deal for a few purchases.
The new Aeroplan Family Sharing feature will let you easily pool all these points together, a very interesting feature.
And if you happen to have many purchases to make this week and can find friends who aren't travelers, aren't interested in earning free travel, and give you their consent to earn points on their behalf… you could maximize your Family account with 8 total members (no need for members to be related or anything).
That admittedly would require a lot more effort, a lot more purchases on the eStore (24 separate ones), and a lot more gift cards (8 separate ones), or a combination of all the other options.
But it would also give you 40,000 points, which is a free one-way to anywhere in South America or anywhere in Europe (almost anywhere in Europe if you're in Vancouver because of the distance-based chart)… or 2 roundtrips from Eastern Canada to Florida, or from Western Canada to California/Nevada/Arizona.
Detailed individual offers
Here are more details about each of the available offers.
Aeroplan eStore 10x promo
Once again, the Aeroplan eStore is offering increased earn rates for the Black Friday event.


This year, there are only 4 retailers at 10x:
Sephora
Indochino
Lenovo
Dyson
But many others are at 2x to 7x, which is still a lot better than going in-store and getting a bonus of nothing (0%) back. Getting 10x bonus Aeroplan points by using the portal is the equivalent of getting ≈ 15% back. Quite a difference!
The eStore offers alone aren't the deal of the century, as these are small amounts compared to welcome bonuses. But the 5,000 bonus makes it okay, especially for those who don't want to seriously get into welcome bonuses (either because they wrongly believe it hurts their credit score or maybe simply don't have a good one right now).
I almost never earn just 1 point per dollar on anything I buy, and even when there's no promo, it's a good practice to always use the shopping portals even at the basic rates. It adds up.
Only one of our 2 personal favorites is sadly included for Black Friday: Uber Eats (5X). On an unrelated note, don't forget to take advantage of $50+ in free food with our codes.
Amazon is not included in the promo, so if you have the American Express Cobalt Card, you can't double-dip and take advantage of the Amazon Amex Offer this weekend and earn 5x on your Amazon purchases in addition to a bonus on the eStore, unlike previous years.
Anyway, here are some of the bonus rates until November 29th (once again, you can see the full list):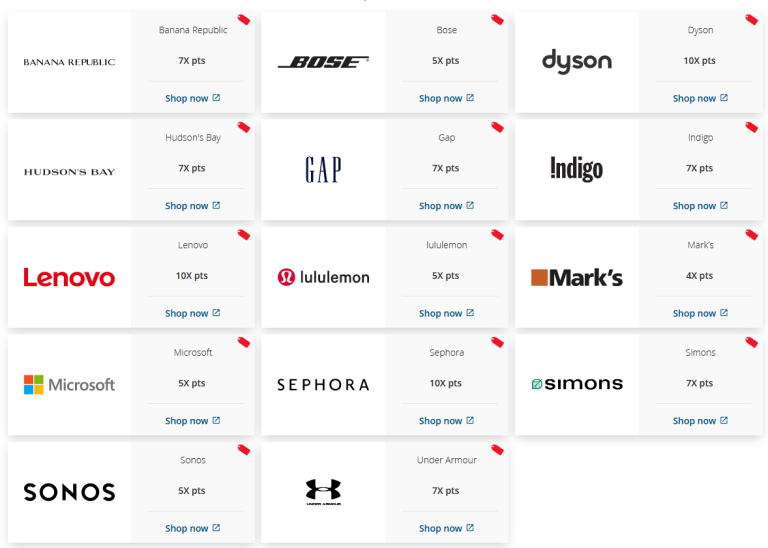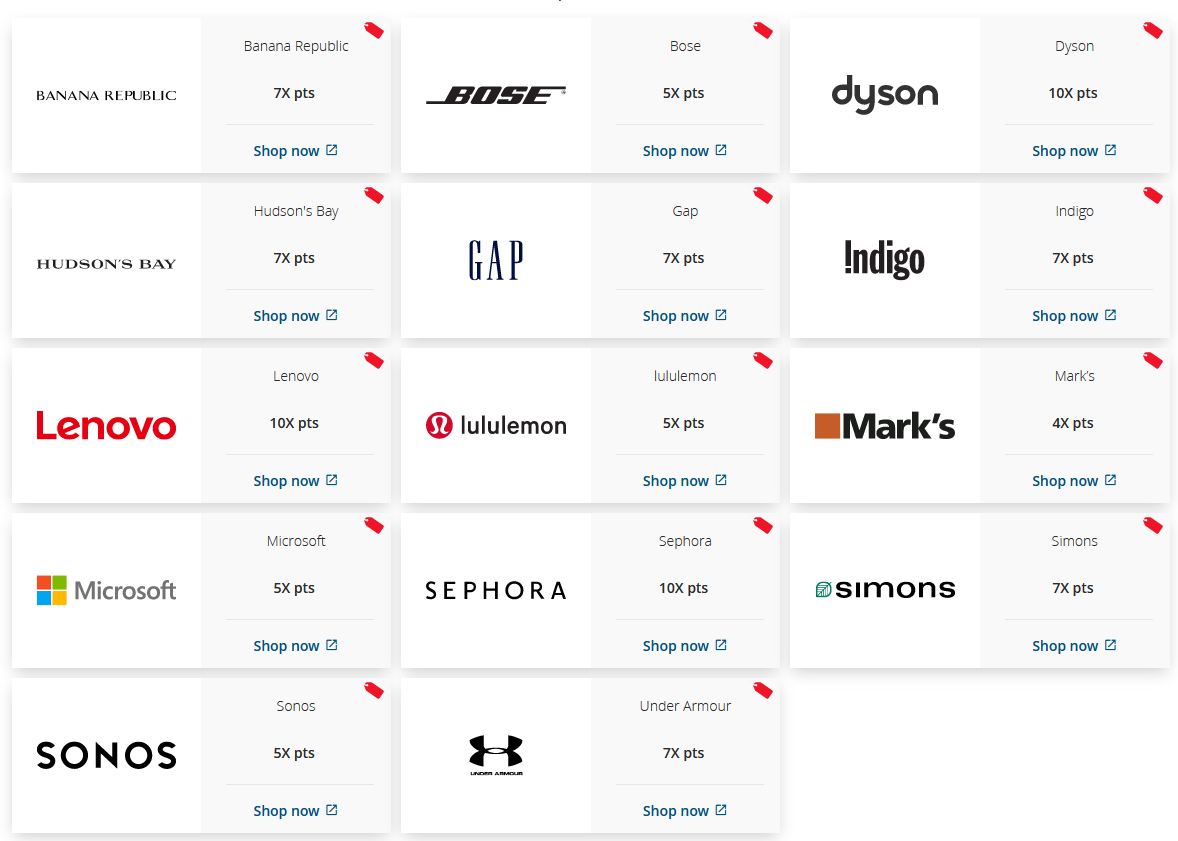 Air Canada gift cards
Another offer is that you'll earn a special 2x Aeroplan points on gift card purchases (or even 5x if you buy $750, which almost certainly isn't the best idea though).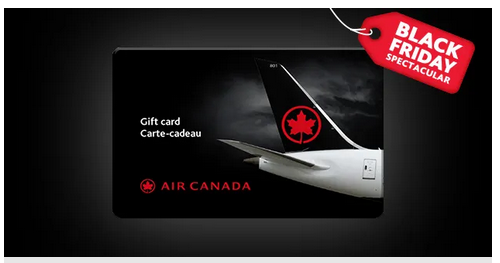 Note that gift card sales are processed by a third-party provider, so the purchase won't code as an Air Canada purchase in case you have one of the Aeroplan credit cards that earn 2x per dollar spent with Air Canada.
Speaking of credit card category bonuses (or category multipliers), usually gift cards are a travel rewards enthusiast's best friend: you should always use your credit cards that have good category bonuses at grocery stores to buy gift cards for many retailers and accelerate your earnings.
Best credit cards for grocery spending
For example, my American Express Cobalt Card earns 6 Marriott points per dollar (or 5% for a simpler less-valuable travel credit) at grocery stores. But I also buy all kinds of gift cards at my grocery store, so I also get 6x on my purchases at IKEA/Netflix/Uber/etc. via that gift card trick.
The only thing to keep in mind with that trick is that paying for things with a gift card means you won't get the standard purchase protection (loss or theft) and extended warranties that credit cards offer. For most purchases, that's not so important.
But the travel insurance coverage is important, so that's the only thing to keep in mind with the Air Canada trick: you won't get flight delay insurance or trip cancelation/interruption insurance if you pay with a gift card.
But if you just use it for taxes on Aeroplan bookings, those of you who don't have a TD or CIBC core card, any premium Aeroplan card (or BMO cards that cover tickets paid with points) didn't have any insurance protection on rewards flights anyway.
Air Canada flights
If you looking at future travel, the Black Friday offers include 1 million seats that are discounted.
Airline sales aren't really that great, at least compared to the actual good deals Flytrippers spots at 50% off. The 20% off only applies to the base fare in this case, so it's not even 20%.
But as we said this weekend in our post about our current trip, the reality is that many flight prices are now extremely low, so it can be interesting to pre-book future travel given the flexible booking policies in place (Air Canada offers a free change; aka the change fee is waived).
I actually just postponed my flight I got with my amazing Aeroplan deal that I told you about and decided to book a one-way cash fare from Istanbul to Canada today, for a variety of reasons. In part because that purchase, and paying for it with my Aeroplan Card, will count as 2 offers, which will make it possible for me to unlock the 4 for both me and my girlfriend and get 10,000 free points.
Alternatively, any Air Canada flight booked with points also counts as an offer. Those are all completely refundable until December 31st, but the terms and conditions of the promo state that you will lose the 5,000 bonus if you refund the flight.
Other Air Canada Black Friday offers
The only other offer that could be really valuable is the AVIS car rental. That could be a cheap way to get an offer if you need a car anyway, as daily rates can be pretty low on weekends, since you can obviously decline the extra insurance.
You'll earn an additional 1,500 point bonus per rental, which is not bad (set your AVIS account to earn Aeroplan points in your profile). But if you are not renting an airport location, the bonus is only 750 points.
As mentioned, the other offers aren't as appealing for most travelers.
Buying points is not the best value most of the time (and certainly not at the rate in this promo since there is currently another trick to buy them for less), especially when so many Aeroplan cards offer those points much more easily with welcome bonuses.
Next, using points for hotels, car rentals, or merchandise is just not a great use of the Aeroplan program.
And finally, about the package vacation deal, we're not the biggest fans of all-inclusive vacations so we prefer to recommend instead booking your own trip and traveling in a slightly more authentic way, which can still be affordable and relaxing but also give you the chance to experience the local culture a bit more than only staying in a resort the whole time.
List of 46 participating Black Friday eStore partners
Here is the complete list alphabetically.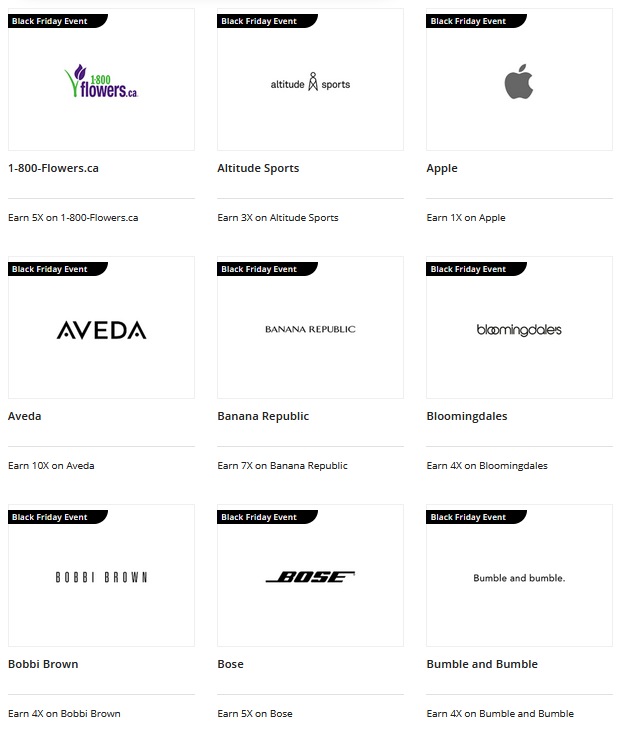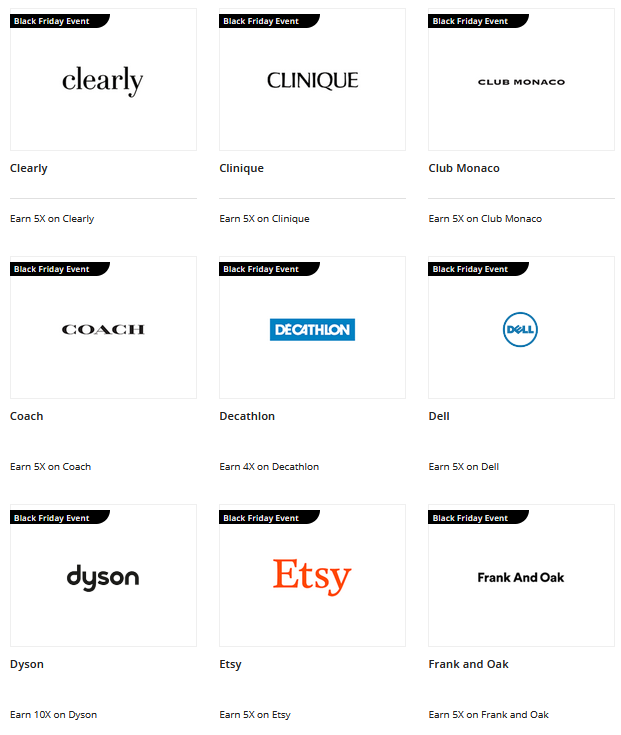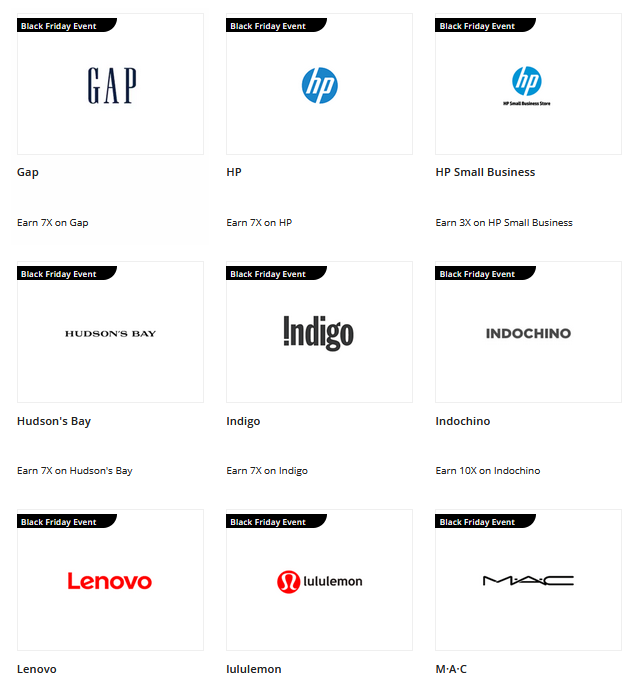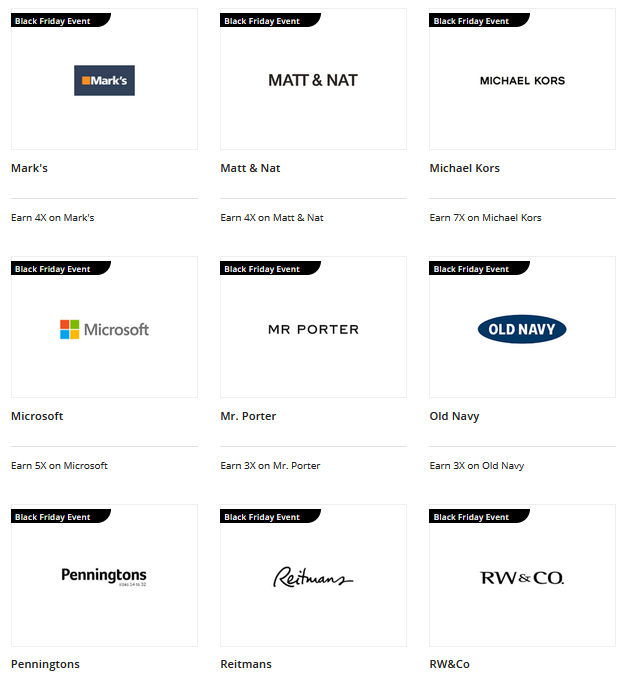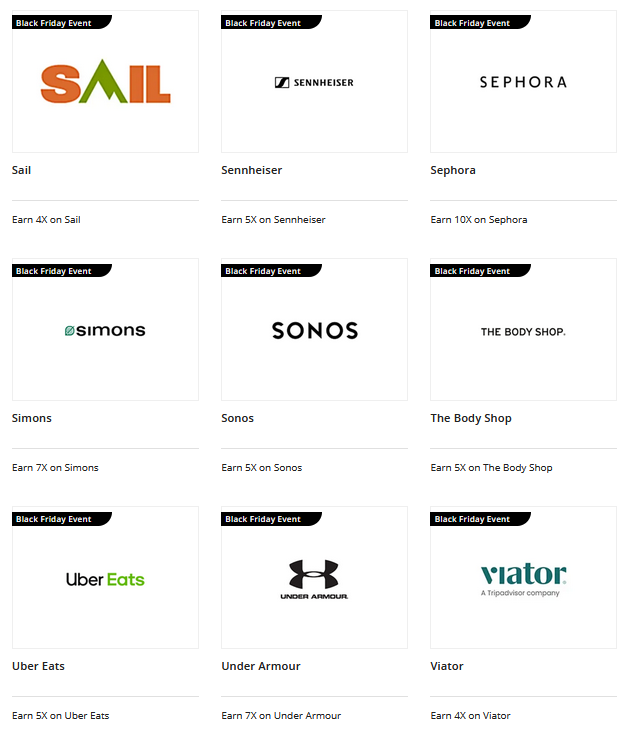 Want to get more content to learn how to earn more free travel?
Summary
The Aeroplan Black Friday promo is an extremely easy way to earn 5,000 points with just 4 small purchases. That is often enough for a short-distance flight in North America, or can add to your balance to go even further.
Have any questions about the promo? Tell us in the comments below.
Explore awesome destinations: travel inspiration
Learn pro tricks: travel tips
Discover free travel: travel rewards
Featured image: Washington, DC (photo credit: Ridwan Meah)

Advertiser Disclosure: In the interest of transparency, Flytrippers may receive a commission on links featured in this post, at no cost to you. Thank you for using our links to support us for free, we appreciate it! You allow us to keep finding the best travel deals for free and to keep offering interesting content for free. Since we care deeply about our mission to help travelers and our reputation and credibility prevail over everything, we will NEVER recommend a product or service that we do not believe in or that we do not use ourselves, and we will never give any third-party any control whatsoever on our content. For more information on our advertiser disclosure, click here.
Share this post to help us help more people travel more for less: