Going to spend a few days in Miami is one of the best ways to travel more for those who don't have as many days off… especially since it's so easy thanks to travel rewards. That's why I'm currently there again since Friday (in addition to my upcoming holiday trip).
To get you excited about attending our free travel rewards webinar in January (and to join the Flytrippers readers who have now earned over ONE MILLION DOLLARS in travel rewards with our tips)…
I'm sharing a real-life example of my own rewards redemptions for my 2 trips to Miami in December, including my current impromptu trip (which you may have seen if you follow me on Instagram).
7 days in Miami for $88 total during the holidays
My upcoming week-long trip to Miami over the holidays cost me a grand total of $176 for flights and hotels for me and my girlfriend. Just $88 per person.
Not bad for the most expensive time of the year!
Travel rewards are amazing. You could easily do this next year too (or even earlier if you prefer)… if you take action of course.
The month when you want to go on a trip is not the time to wake up! You have to prepare before!
That's why we're hosting the free webinar.
I'll explain the details, or you can skip to the summary version if you just want to know how to do this quickly.
The basics to understand
The holiday season is the worst time to travel. Prices are expensive. There are crowds of tourists everywhere.
But some people don't really have a choice, sometimes because they have kids with limited time off school.
And for almost everyone, the "automatic" vacation days given by employers during the holidays can't be moved and make for an extra travel opportunity, and you want to take advantage of all of those when you have only a few weeks off in the year.
This is the case with my girlfriend, who is not a digital semi-nomad like me. So we often go to Miami to escape the cold during the holidays.
Florida and its return to near-normal life is even more appealing this year I must say…
So we just used the travel rewards that are so easy to earn when you know how (that's what I'm going to teach you in detail during the free webinar).
Travel rewards, especially the most valuable ones (the rewards with outsized value and unlimited value, i.e. variable-value rewards like points from Marriott, Aeroplan, Avios, etc.) are just great for those times when flights and hotels are expensive.
This is the most basic thing to understand. Sometimes redemptions are good, sometimes not so much.
Druing the holidays, it's often good.
But note that there are also much simpler points if you want to make it easier, we'll explain that during the webinar too.
To be clear, you can still get hundreds and hundreds of dollars every year easily with simple points…
For example:
A simple $540 travel credit that you get for $0, applicable on any trip… if you earn $80,000 a year
A simple $875 travel credit that you get for $156 with no minimum income, like most good cards
But it's just that you can get EVEN MORE free travel with the better types of points.
Especially with the current record deals, which is why this is a great time to start.
My flights for 24,700 points and $88
The Montreal-Miami roundtrip flight (both are direct as well; I know that many people are allergic to layovers) cost me just 24,700 points per person (and it requires fewer points the rest of the year, as you'll see in the section about my current trip).
Not bad at all for December 28 to January 3, when flights sell for $930 for those who sadly don't take the time to learn about travel rewards.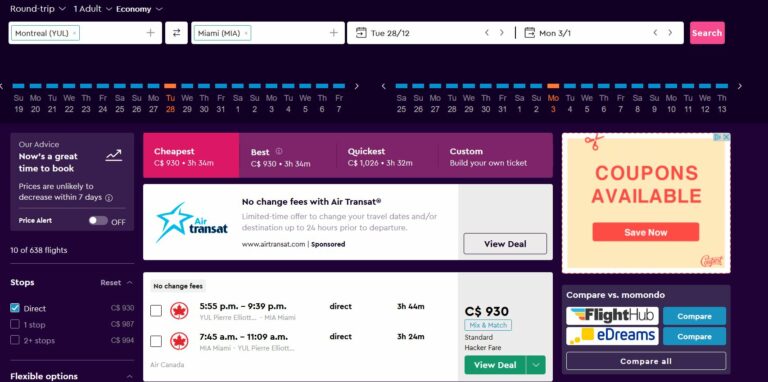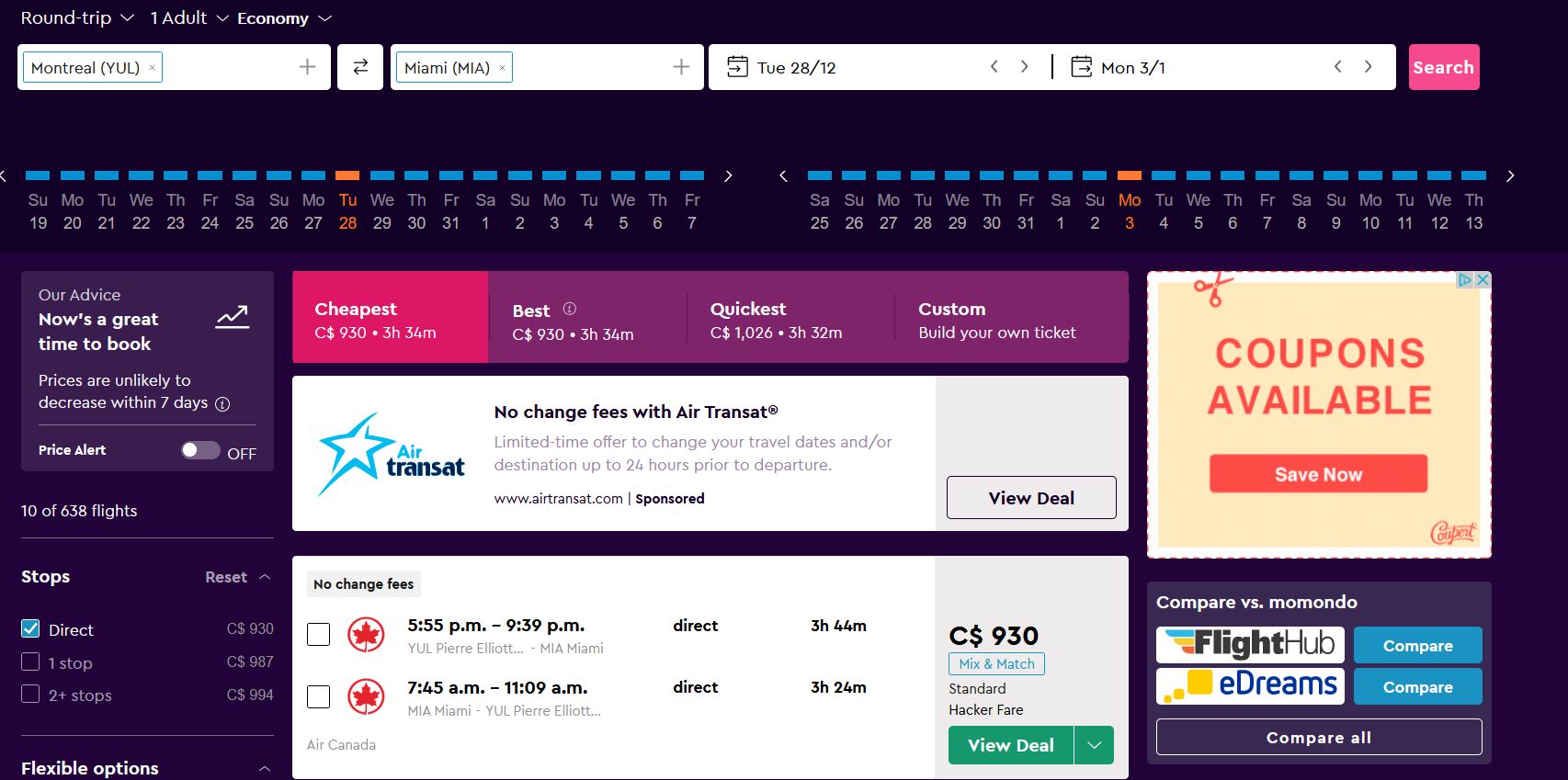 Just 24,700 points… and there's a card that gives you 87,500 points as a welcome bonus, that gives you an idea! That's a net value of ≈ $1157 with one welcome bonus; a lot of free travel.
That would be 4 roundtrips to Miami with one welcome bonus the rest of the year or by booking earlier in advance, or 3 roundtrips during peak travel periods: It's just 20,000 points roundtrip the rest of the year, at least from Montreal.
(Or the welcome bonus alone gives you 7 roundtrips to closer destinations if you prefer, like New York City.)
This is the best (highest) travel rewards offer ever seen in Canada on a non-premium card and it happens to be on the best card, one that gives you 5X the points on lots of purchases.
It has no minimum income, but the amount you have to spend to unlock the welcome bonus is a bit higher than the others (it's easy with our 5 tips), so it's actually perfect for beginners who won't want to get too many cards the first year.
My American Express Cobalt Card is really my favorite among my many many cards.
Anyway, the reward flights with Aeroplan cost me just $88 in taxes per person.

You need to understand that it doesn't make sense to refuse to take advantage of points like Aeroplan just because there are taxes to pay. Who cares about the taxes alone: It's the TOTAL SAVINGS that count.
This is exactly the same principle as the absurd refusal to pay a $156 fee to get a welcome bonus that literally gives you ≈ $1313 in value! Makes zero sense!
You have to know how to do math if you want to get into travel rewards.
A fee for a $0 welcome bonus sure sucks. But a fee for lots of free travel, that's good. Same thing with taxes. It depends on how much you save in TOTAL.
Always look at both sides of an equation, otherwise it means nothing!
Anyway, with variable-value rewards, the amount you save depends on how you use the points. If you save a lot it's good, if not it's bad. EVERYTHING depends on the cash price you save, not just the taxes you pay.
So using 24,700 points to save $250 would be terrible (and lots of people do it because they don't understand how to maximize travel rewards).
But using those same 24,700 points to save $850 as I did is great.
Get it? Who cares how much tax there is to pay? It's the same amount of tax in both examples. But one is bad and one is good.
IT'S HOW MUCH YOU SAVE THAT'S IMPORTANT. That's really important to understand. And having understood that, you already understand better than almost anyone else!
If you don't want to have to pay taxes, there are points that allow for that if you prefer. But you will almost certainly always SAVE LESS.
So it's the same as with anything travel-related: You can choose between more simplicity or more value.
I got a value of 3.4¢ per point, while our normal Flytrippers Valuation of Aeroplan points is 1.5¢ per point, so 127% more! And 240% more than most simple points which are worth the equivalent of just 1¢ per point.
That's why this type of point — and using them well — really drastically increases the free travel you get.
My 6 hotel nights for 95,000 points and $0
To be very clear, North America is usually a terrible place to use hotel points, at least to maximize the amount of free nights. Elsewhere you'll get more free nights, hotels in better locations, more luxurious hotels and an always higher level of service and hospitality.
But since I'm passionate about travel rewards, I'm racking up tons of them, including with these 4 pro tips you can apply right away to your holiday shopping.
To give you an example, instead of 6 nights in Miami, I could have gotten 19 free nights in Bali or other specific destinations for the same amount of points. That's crazy!
Just with the Marriott Bonvoy American Express Card's welcome bonus, you get 73,000 Marriott points, so 11 completely free nights in Bali.
If you'd rather have a lot more choice of destinations, you also get 6 free nights in Morocco, Cambodia, Colombia, and 50 other countries.
That's a phenomenal offer… and it's not even close to being the best right now! No, it only ranks at #6 according to our Flytrippers Valuation.
One of the benefits of hotel points is that you have absolutely nothing to pay, unlike with airline points. No taxes.
A free night is a free night.
But hopefully, you've figured out the basics of rewards, which is that just because you don't pay taxes doesn't necessarily mean it's better! It depends on how much you save in total.
The hotel we chose costs US$1686 (C$2154) for the 6 nights for those who sadly did not take the time to learn about travel rewards.


Great savings.
I got a value of 2.3¢ per Marriott point, while our Flytrippers Valuation is 0.9¢ per point.
We're not big fans of doing nothing on a beach, so we were able to choose a hotel that required a lot fewer points, in the heart of the city of Coral Gables (it's a separate municipality but it's right next to downtown Miami).
After 28 visits to Miami, I've never yet explored the upscale area that is Coral Gables (and Coconut Grove, the neighboring neighborhood). And lots of people love these areas, I've often heard good things about them.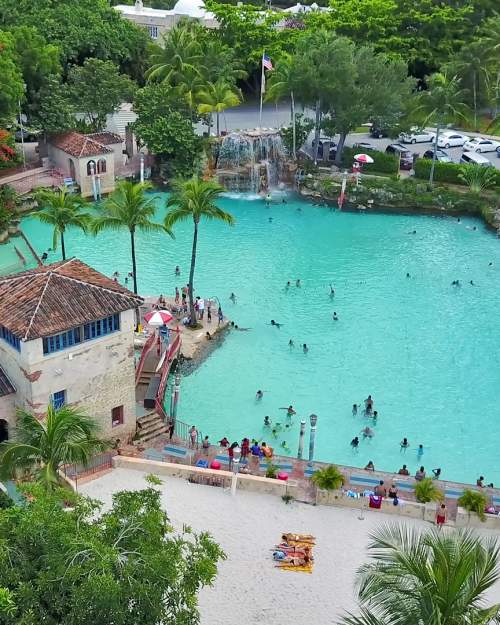 It's one of the few parts of the city I haven't been able to discover yet, so we'll do it. And also to go back to eat a delicious Cuban sandwich in Little Havana, it is also just a few blocks away.
Of course, we'll do a day in South Beach (25 minutes away by Uber — Miami is a great city to explore without a car, especially if your accommodation is in Miami Beach or downtown).
This will be mostly to spend the $175 in free restaurants that The Platinum Card from American Express gives me (that's a premium card for frequent travelers — but I'll do an article soon about the famous "Amex Offers" discounts that all Amex cardholders get, especially right now… Amex is giving me hundreds of dollars in bonus free stuff again).
And we'll do a day downtown and the Wynwood neighborhood next door which I like, but otherwise, there seems to be plenty to explore in the area where the hotel is located.
It's very new, it's the Four Points by Sheraton Coral Gables.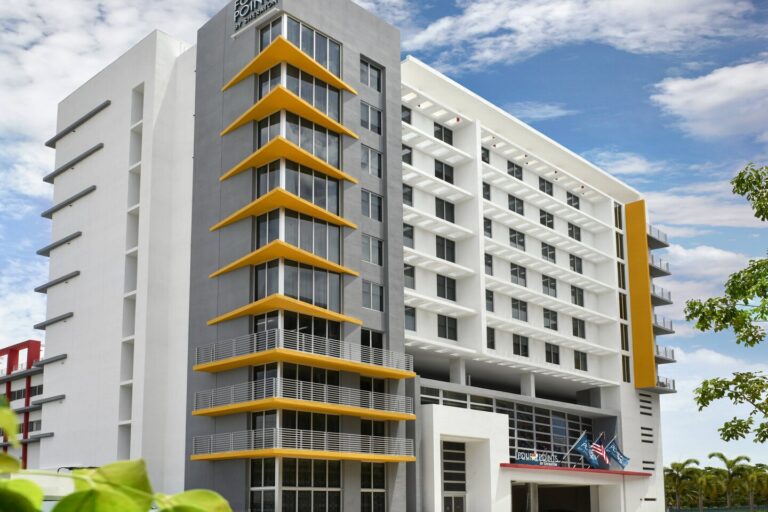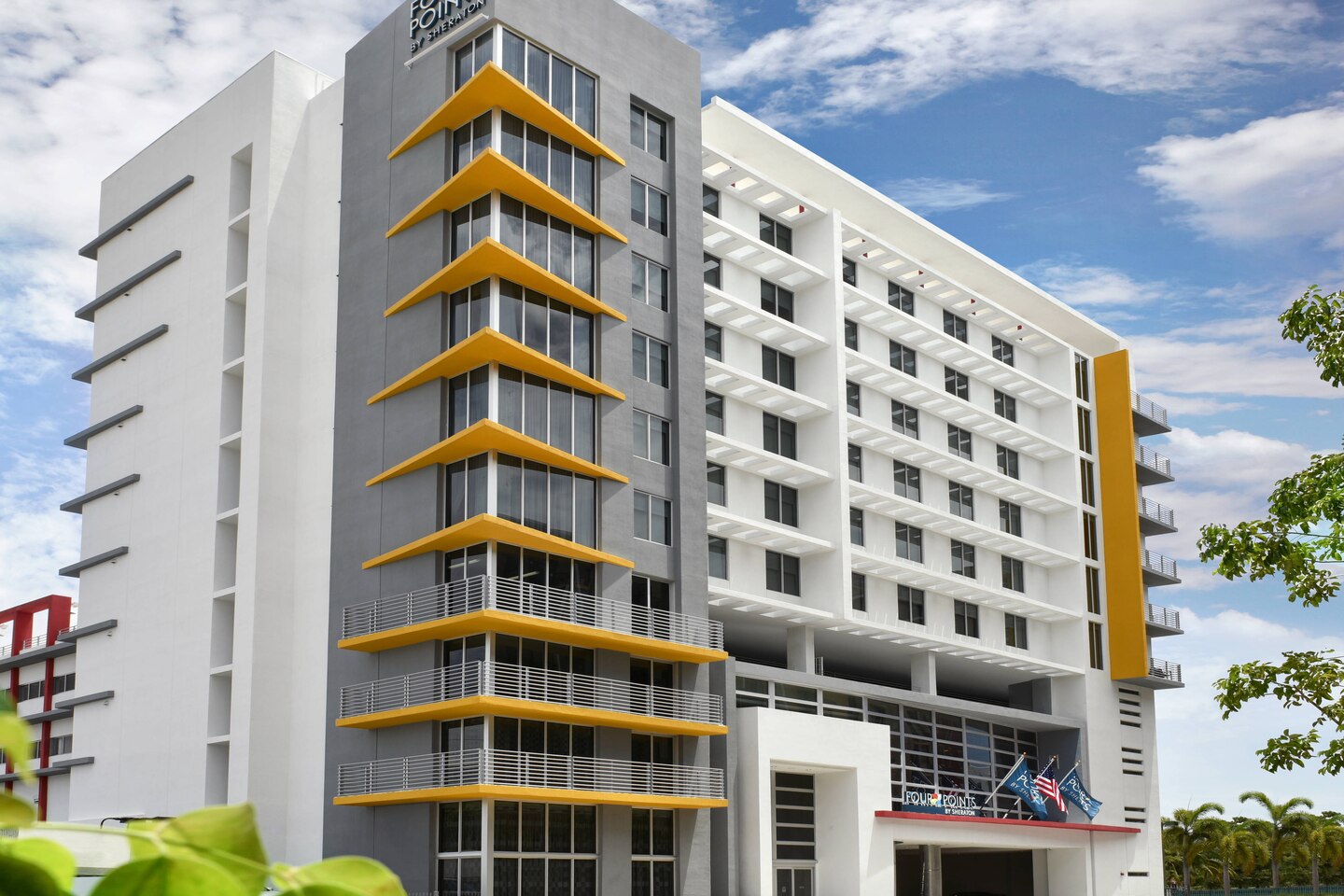 The rooftop pool with a view of the Miami skyline, one of the most beautiful in North America, looks good.
(Although as a traveler, I travel to travel, not to lock myself in a hotel personally).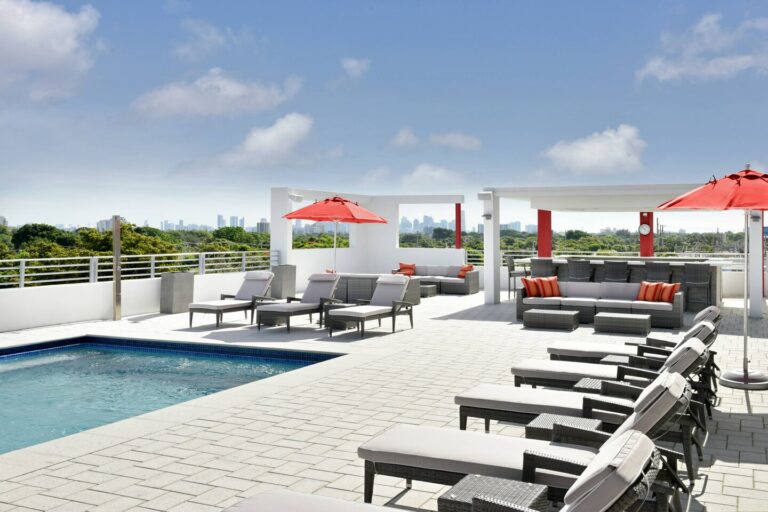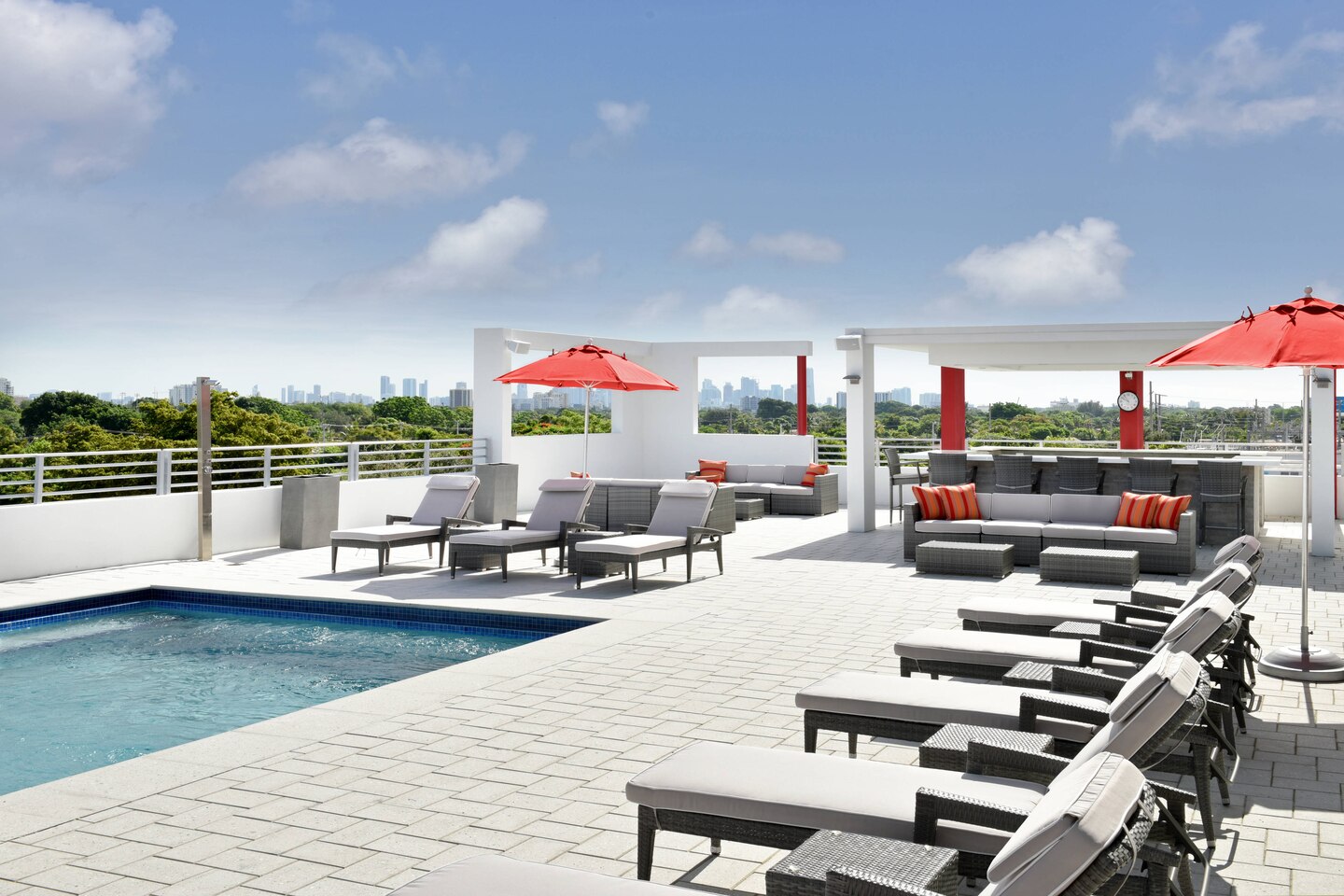 Obviously, just to clarify, hotels outside of North America are so much better and you should focus on them to maximize your points.
But since in my case I have hundreds of thousands of Marriott points and Miami is where we wanted to go, it's okay for us.
I'm going to compensate by going to Southeast Asia this winter for more free nights in nicer hotels for fewer points!
As a side note, if the cash prices for hotels had been cheaper, I wouldn't have used my points (which is why I didn't take any for my current trip — when traveling solo, I love cheap hostels in Miami Beach directly).
Using your points wisely is key if you're passionate about good deals and maximization like me!
My $81 round trip flight to Miami
I'm going to do a separate post to share the details of my current trip to Miami, one that was decided at the last minute to get away from the cold and the panic around the new variant…
But also because American Express and Marriott Bonvoy were hosting some very cool VIP events during the Art Basel festival.
Anyway, my direct one-way flight from Montreal to Miami Friday cost me 8,500 points and $67.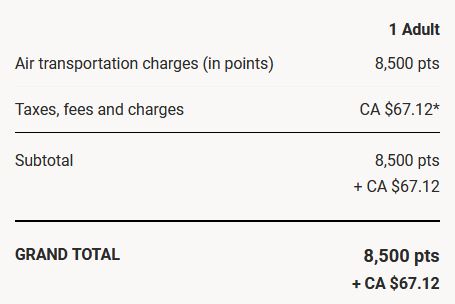 While the direct one-way Miami-Montreal flight for my return was even cheaper: 8,300 points and $14.
(But I might change it… Miami feels good right now.)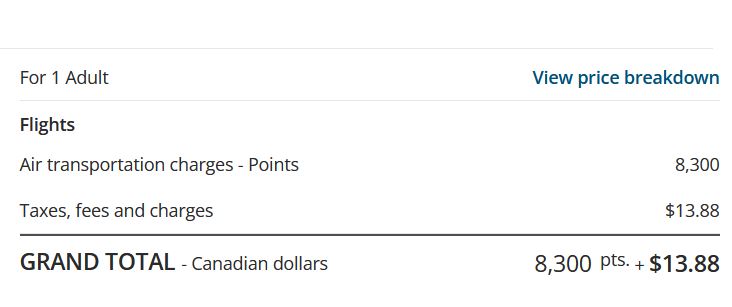 Not a bad price at all.
Especially when tens and tens of thousands of Aeroplan points are easy to get.
If you want to ask me any questions about travel rewards, you can attend our next free webinar (or our next Facebook Live Q&A for any other travel topics).
Details about the cool events but also about the required test I did in Canada (my 14th), my 4th experience with free COVID-19 tests in the USA, and lots of other content to come.
Simplified version of exactly how to do this trip
Apply for the Marriott Bonvoy American Express Card and spend $1,500 in 3 months to earn 73,000 Marriott points.
Apply for the American Express Cobalt Card and spend $500 a month at the grocery store (including gift cards to use at 100+ retailers too) for 12 months to earn 87,500 Amex points (transferable to Aeroplan at a 1 to 1 ratio).
You'll have enough for 6 free nights in a Miami hotel and 4 roundtrips to Miami. Your travel companion also gets the Marriott Bonvoy Card and then you have 2 of those 6-night stays and 2 roundtrip tickets each, so perfect for 2 trips. Or even better, to go somewhere else.
It literally couldn't be easier.
Just keep your old cards open and pay everything in full on time. It is that easy.
Download our free checklist for when you get a new card for more tips at least, but even better: Come to the free webinar.
Want to get more content to learn how to get free travel?
Summary
A 7-day trip to Miami during the peak Christmas and New Year's holiday period for just $88 total is pretty amazing, right? It's easy with travel rewards.
What would you like to know about travel rewards? Tell us in the comments below.
See the deals we spot: Cheap flights
Explore awesome destinations: Travel inspiration
Learn pro tricks: Travel tips
Discover free travel: Travel rewards
Featured image: Florida (photo credit: Andrew D'Amours/Flytrippers)
Advertiser Disclosure: In the interest of transparency, Flytrippers may receive a commission on links featured in this post, at no cost to you. Thank you for using our links to support us for free, we appreciate it! You allow us to keep finding the best travel deals for free and to keep offering interesting content for free. Since we care deeply about our mission to help travelers and our reputation and credibility prevail over everything, we will NEVER recommend a product or service that we do not believe in or that we do not use ourselves, and we will never give any third-party any control whatsoever on our content. For more information on our advertiser disclosure, click here.
Share this post to help us help more people travel more for less: