If you've already bought your transatlantic flights or want to go to Europe soon, now is a great time to book because Ryanair is holding an exceptional sale for domestic flights.
We've already explained that airline sales are never as good as the deals shown on our flight deal pages… unless the sale is held by ultra-low cost carriers!
And Ryanair, well, they invented the ultra-low cost carrier business model! At the moment, they have a mega sale with flights for as little as £4.99, or C$8.94. We apologize for repeating the same things so often, but we really want everyone to understand two things: first, ultra-low cost carriers are great!!! And secondly, domestic flights in Europe cost close to nothing!
No, $9 isn't the cheapest we've seen… but think about it, they're almost giving it away at this price. It's cheaper than a meal at McDonalds! That's why we love ultra-low cost airlines (ULCCs) so much and why they are so great, they allow more people to travel! As long as you travel light (and with Ryanair, you still get two free cabin bags so it's really not that hard) you can explore the world. We can't wait for more ULCCs to arrive in Canada.
The Ryanair sale includes more than 500,000 seats and it's for flights up until April 30th. From London alone, there are dozens and dozens of destinations in many countries, all for less than a pair of jeans! It may be worth looking at because there are often cheap dates for London from many cities in Canada that you can combine with this sale to go pretty much anywhere in Europe.
There is France, Spain, Germany, Greece, Italy, Switzerland, Scotland, Austria, Poland… many destinations that we will show you below with a detailed list and the links.
But before showing you all the destinations, let's re-explain that when you want to go somewhere in Europe that is not served by WOW air (or soon LEVEL / Primera) around $400 to $500 round trip from Toronto, or around $600 to $700 by WestJet from other Canadian cities, you should combine two tickets to save hundreds of dollars. If WOW air isn't in your city yet with those kinds of prices, you can still book the cheapest ticket you can find to Europe and then fly to your final destination as explain below.
We've detailed everything in the article on how to go anywhere in Europe cheap, but let's give a quick example. Let's say you want to go to Bremen in Germany. From Montreal, here are the cheapest price available for those months.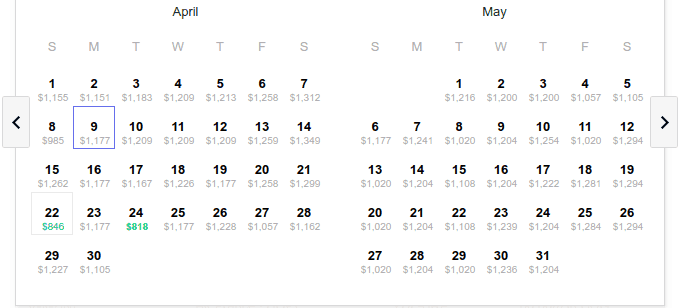 In short, it costs around $1000 round trip if you want to buy it in one piece. Take from April 9 to 22, for example.

The cheapest is over $900 for Montreal-Bremen.
If you simply buy Montreal-London on the same dates, it only costs you $446 round trip.

Then buy the one-way from London to Bremen that cost £4,99 ($9 CAD).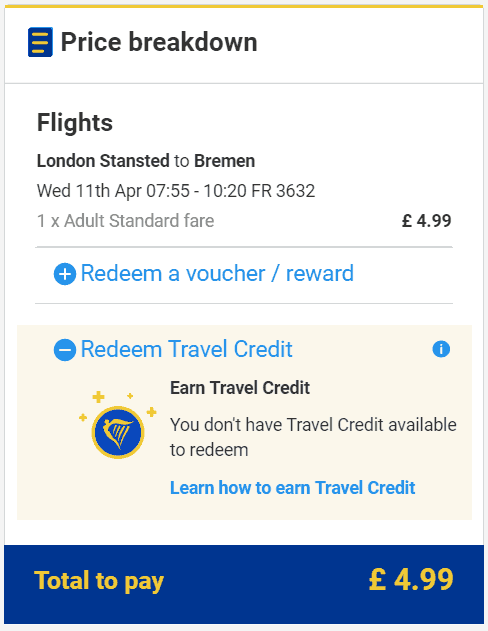 We're now at $455. And the return flight from Bremen to London is a bit more expensive, C$31.84 (£17,75).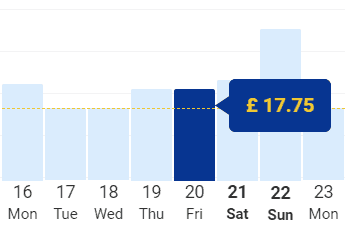 So instead of $900, the final cost is $487 ($446 + $9 + $32)… a saving of more than $400 savings on a single ticket just by buying it separately (it's almost the price of another flight to go back to Europe). And as a bonus, you'll have a few days to visit London, one of the most incredible cities in the world. There is worse as a sacrifice to be made don't you think?
You can read the detailed explanations for the multi-ticket technique for Europe here, and now hurry-up if you want to take advantage of the Ryanair sale.
You can access the Ryanair sale page here.
Here is a list of destinations under £14.99 from London, to give you an idea of the variety (there is even more on their website)! Often the price is the same when you book with our booking partner so we encourage you to do so in order to support this site when it's the same price (if it's more expensive, of course go with the cheapest) but sometimes because of special sales, it's not the case. We appreciate it a lot and it helps us continue to offer our deals and tips for free. Thank you!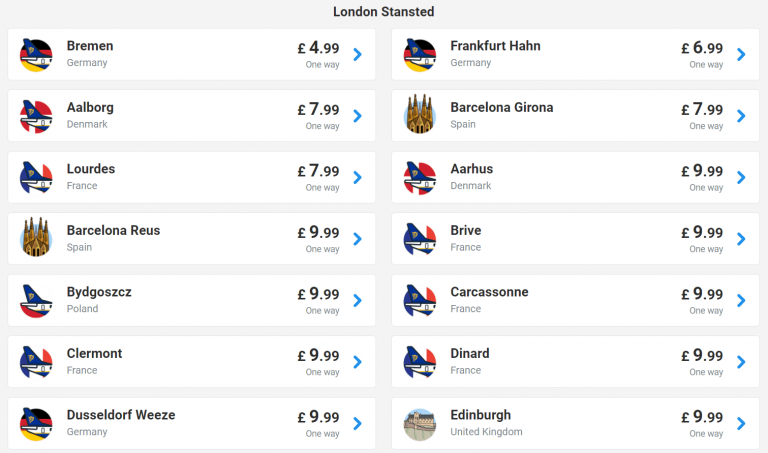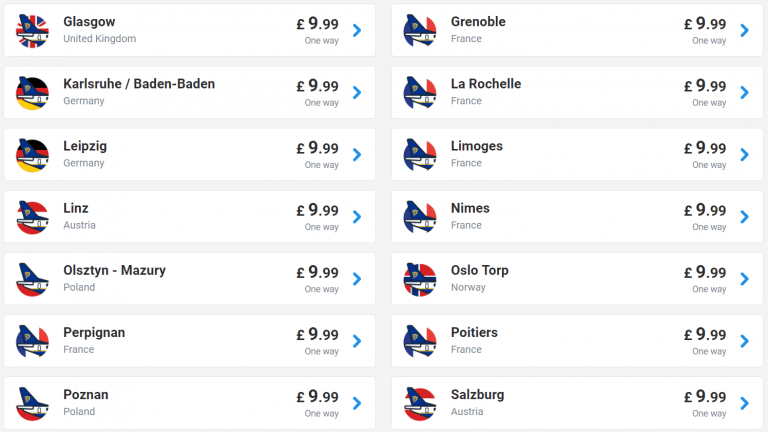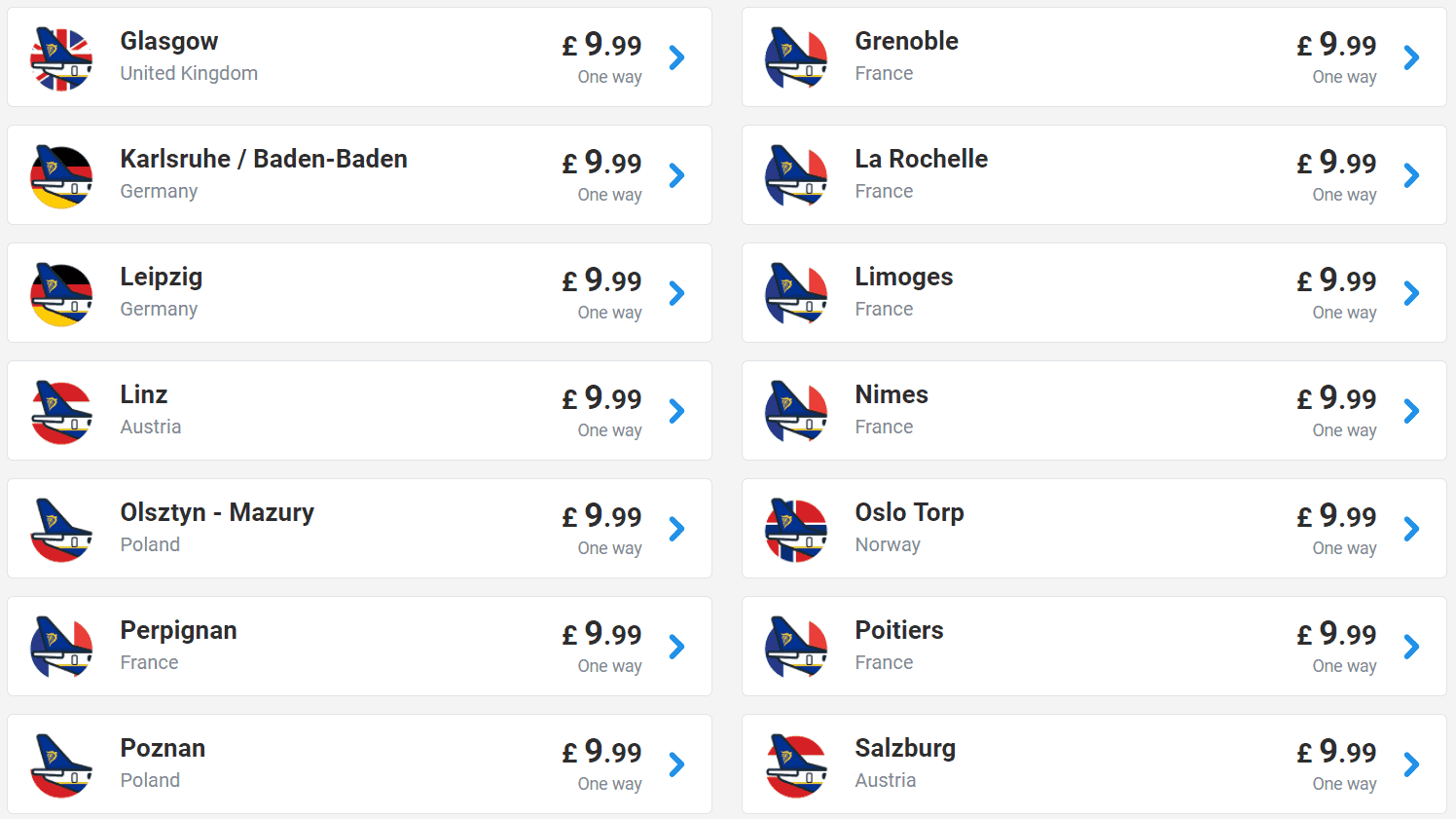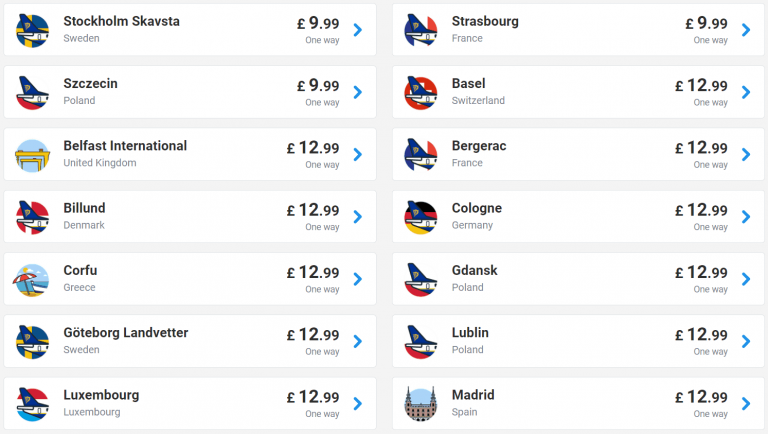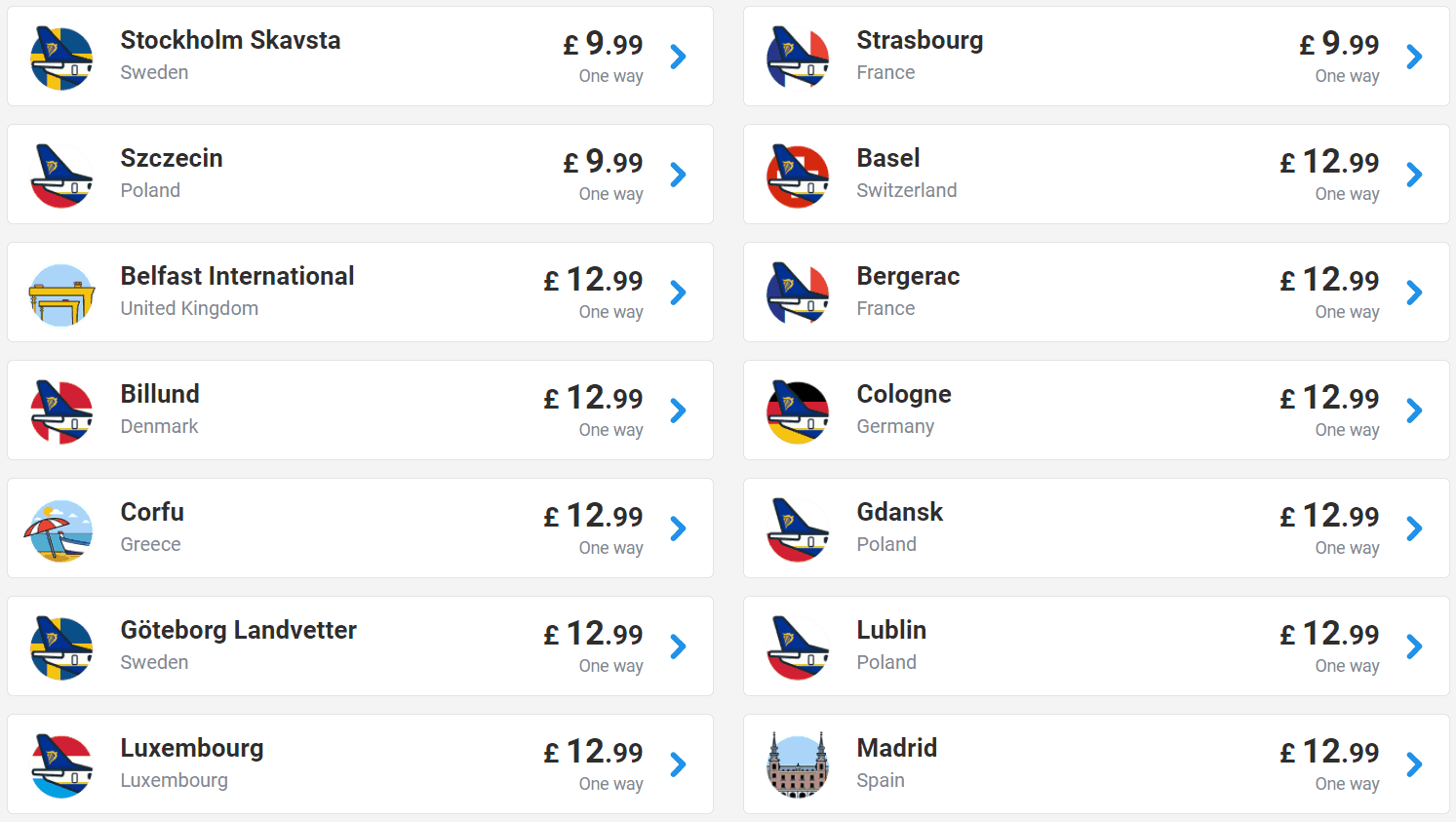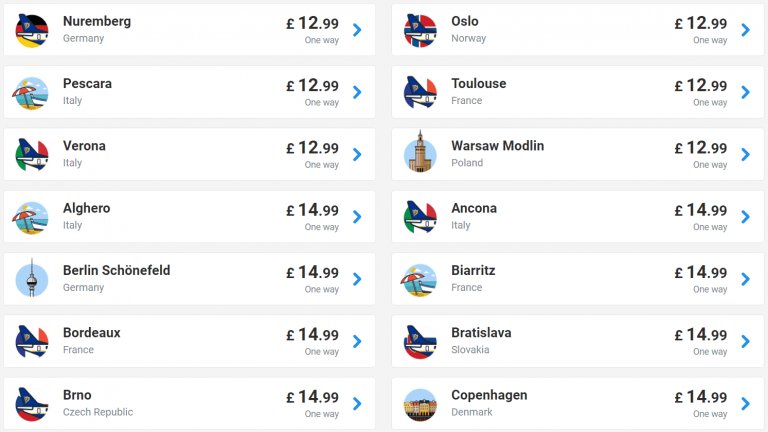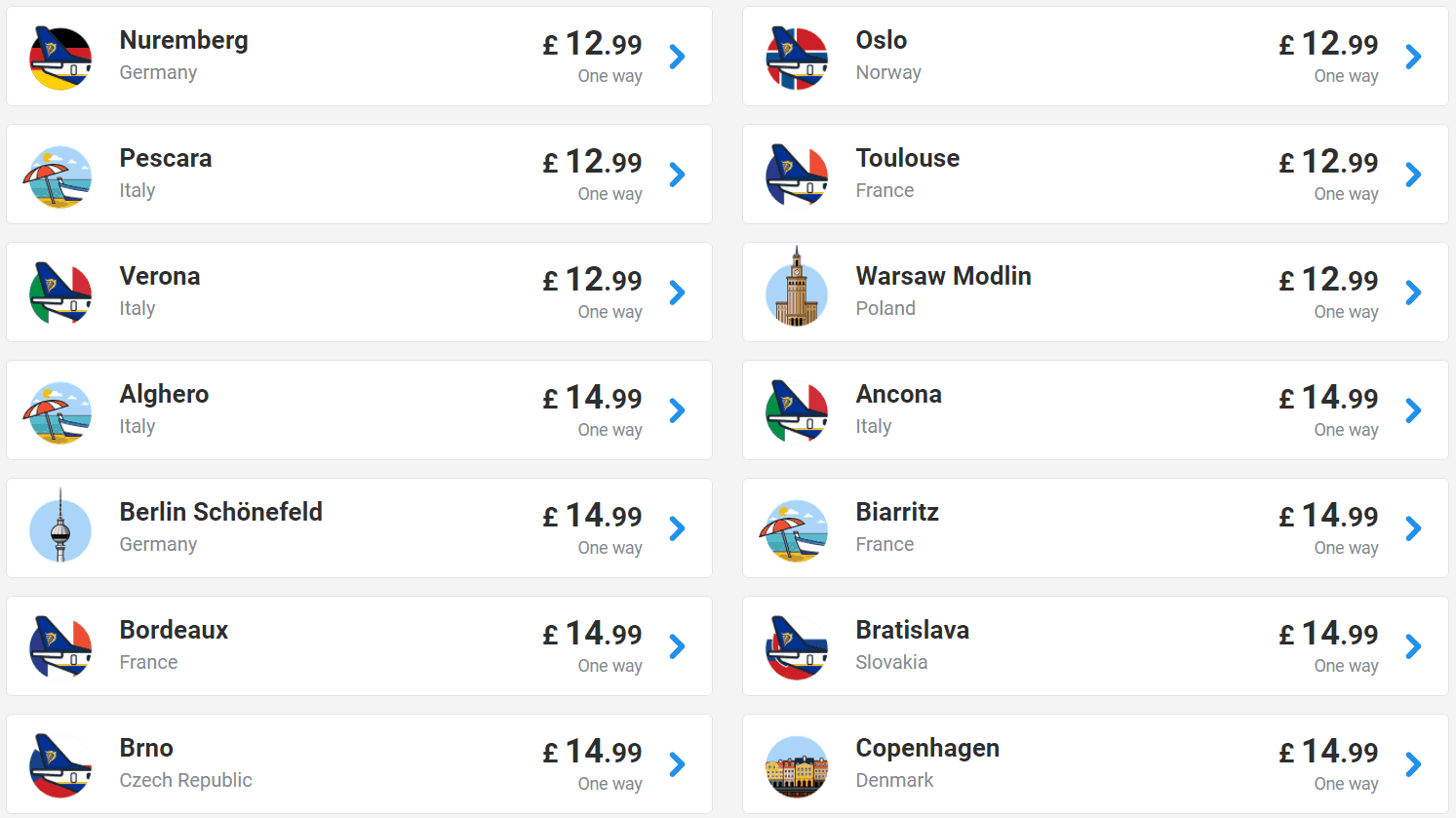 Bottom Line
If you need flights in Europe, now is the time to buy them! It's really cheap with Ryanair even at regular price, but with this sale, it's ridiculously cheap!
What do you think of this sale?
Help us spread the word about our flight deals and travel tips by sharing this article and most importantly bookmark Flytrippers so we can help you navigate the world of low-cost travel!
Advertiser Disclosure: Flytrippers receives a commission on links featured in this blog post. We appreciate if you use them, especially given it never costs you anything more to do so, and we thank you for supporting the site and making it possible for us to keep finding the best travel deals and content for you. In the interest of transparency, know that we will NEVER recommend a product or service we do not believe in or that we do not use ourselves, as our reputation and credibility is worth far more than any commission. This principle is an essential and non-negotiable part of all our partnerships: we will never give any third-party any control whatsoever on our content. For more information on our advertiser disclosure, click here.
Share this post to help us help more people travel more for less: