Did you know that there is a trick that will work pretty often and will give you an entire row on your flight? Whether you're traveling with a loved one or a friend, more room means a slightly more pleasant flight… for free!
You probably know by now that the amazing half-priced flights on our flight deals page make it much cheaper to go on a trip with a friend or loved one!
Wouldn't you like to have more space for free? We'll have a detailed post very soon on how to fly more comfortably, but in the meantime: having an empty seat next to you is pretty hard to beat in terms of extra comfort!
When I travel with another person, I'd say on average one time out of four I am able to get an entire row of seats, which is a pretty great success rate. Especially since it doesn't cost a thing with this tip. And you could too.
READ ALSO : How To Save On Your Next Rental Car
Now that I've surpassed my 200th flight flown, I am starting to know a few useful tricks. So here is another one, so you can try and get a full row of seats on your next trip with a travel buddy!
To get a lot more of these tips, you can always subscribe to our free newsletter, just like 50,000+ Canadian travel enthusiasts have done. You'll receive them in your inbox (along with our great flight deals from your city).
How To Get A Full Row Of Seats
Most airplane types have three adjacent seats in a row, and nobody wants to be in the middle. But when traveling as a duo, one of you has to be in the middle right? To be seated together right? Seems logical.
But in fact, no, you don't have too. There's a trick to avoid it.
And by the way, don't pay to select seats… and this trick won't work in 2 specific cases (see next section).
So, whether you are choosing a seat during the booking process or the online check-in (this trick does not work at the counter obviously, and anyway, why would you want to check-in in person and have to wait in line and talk to an employee, always check-in online), you will get a screen that looks something like this: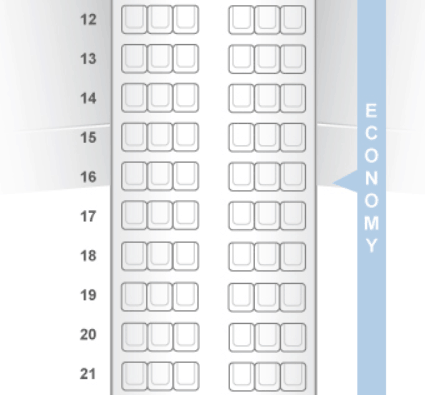 If you don't know this pro tip, you'll probably do just like everyone else does and select two adjacent seats. Either the window seat and the middle seat or the aisle and the middle.
That depends on your preference in the oldest debate of the aviation world, window or aisle. But what if you could have both?
You can, and that's how you get a full row of seats.
First part of the trick: choose the aisle seat AND the window seat. In the same row, obviously.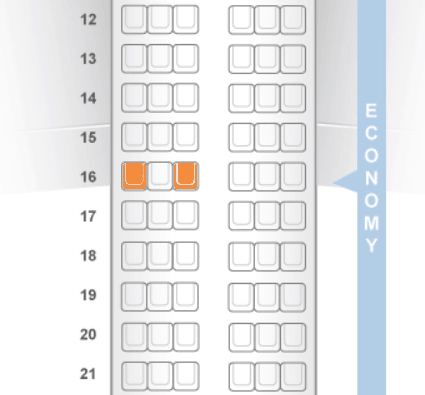 Why? Well unless the plane is absolutely full, who will choose a middle seat? Literally nobody. So, as long as the plane is flying at anything other than full capacity, your odds of getting a full row are pretty good, because no one will have selected that middle seat.
Like I said previously, I was able to secure a full row of seats that way many times, and of course it is more pleasant when you have three seats instead of two, and no stranger in the seat next to us. Especially when it's 100% free… all you need is to know the pro tips.
But you may be wondering, what happens if the plane is full and you're separated from your travel companion and stuck with a stranger in the middle seat? It will happen for sure on some occasions, as planes are flying fuller than ever.
Well, it's quite simple. Just offer the aisle or window seat to that stranger in the middle. Nobody in their right mind will choose to stay in a middle seat instead of an aisle or a window seat, it's simply unthinkable.
So even if the trick doesn't work, you have nothing to lose by trying, in the worst case you'll just end up sitting together as if you had chosen seats like everyone else does, with a middle seat. As you already do now.
And in the best case, you'll get an entire row of seats just for you and your travel companion, for free!
The second and last part of this trick: choose a row as far back as you can. The farther back you are, the better your odds of having a full row of seats for your flight.
Why? Some passengers are in a hurry. People that are in a hurry are much more unpredictable. They'll pay hundreds of dollars more to save a few hours on a layover, so they might take a dreaded middle seat in the front of the plane to get off the plane something like three and a half minutes before the passengers at the back of the plane. But nobody will voluntarily choose a middle seat in the back, unless the plane is 100% full.
You liked this tip (or our flight deals)? Sharing is caring, please tell your friends about us and share our page!
Seat Selection and Exceptions
And by the way, many airlines now charge you a fee to select a specific seat before your flight (and unbundling is great: it gives you the choice to either pay or not, instead of being forced to do it).
Do not pay for that, it's not necessary. Simply set an alarm for precisely 24 hours before your departure (sometimes 48 hours in Europe, it'll be written on your booking) and check-in online to choose the best seats for free. You can read the detailed article about that here.
If you're flying an Ultra Low-Cost Carrier (ULCC) that doesn't allow seat selections (worth it to fly for so much cheaper, when you buy a good deal obviously), this trick won't work but you usually will be seated together automatically (almost every time in my 100+ ULCC flights) if you check-in online when it opens (24 hours precisely, not 22…) and worst case, you'll be seated separately (you'll survive, guaranteed). But you can read our seat selection tips to try and make sure you're sitting with your travel companion.
The $50 you save on seat selection is literally the price of two flights in Europe very often or even 2 entire days of travel budget in affordable destinations, that's why we recommend budget-travelling so highly: everyone says they want to travel more, and it's very easy when you stop wanting for travel to always be convenient. That way you can save a lot of money, don't miss our article about the myth that travel is expensive (it's not: wanting travel to be convenient can be).
Finally, this tip won't always work on leisure airlines, which means Air Transat (for now at least, they might be acquired) and possibly Sunwing: these aren't typical airlines, they are package vacation sellers first and foremost (and not airlines first and foremost). So their systems block this trick because most people on their flights are traveling in pairs as part of packages.
It's worth repeating: most of our airline tips won't apply to leisure airlines' very different business model, even when it comes to finding low prices. These airlines have very little in common with "regular" airlines: they are tour companies more than airlines.
We'll have an article for the one-month mark of WOW air's bankruptcy and to talk about all the fake news in the media about ULCCs and the types of airlines specifically, don't miss it this week.
Summary
If you want to get an entire row of seats on your next flight, try this trick and select a window and an aisle seat, you've got nothing to lose! And potentially a full row to gain!
Did you know about this? Tell us in the comments below!
Help us spread the word about our flight deals and travel tips by sharing this article and most importantly bookmark Flytrippers so we can help you navigate the world of low-cost travel!
Advertiser Disclosure: Flytrippers receives a commission on links featured in this blog post. We appreciate if you use them, especially given it never costs you anything more to do so, and we thank you for supporting the site and making it possible for us to keep finding the best travel deals and content for you. In the interest of transparency, know that we will NEVER recommend a product or service we do not believe in or that we do not use ourselves, as our reputation and credibility is worth far more than any commission. This principle is an essential and non-negotiable part of all our partnerships: we will never give any third-party any control whatsoever on our content. For more information on our advertiser disclosure, click here.
Published June 12th 2018, updated May 4th 2019.
Share this post to help us help more people travel more for less: