This is for the around-the-world trip from MONTREAL. Click for itineraries leaving from Quebec City (and don't miss tomorrow those from Toronto, from Vancouver, from Calgary, from Edmonton, from Winnipeg, from Halifax, from Cincinnati or from Paris).
Want to experience the trip of a lifetime in May? Why not book an incredible around-the-world trip for C$ 1,259? Because yes, if you pack light, you can go all the way around our planet at a very low price.
At Flytrippers, every day we curate great flight deals from the Montreal area like flights to Florida for $150 roundtrip, to Europe for $247 roundtrip, to Asia for $499 roundtrip or to the Caribbean for $200 roundtrip. Usually, these deals are pretty straightforward: heavily discounted roundtrips to a specific destination (just one at a time). We also have great travel tips on this blog. Just as a reminder, you can see all of our best content by liking our Facebook page:
But today we have something special for you. Here is our flight deals mashup that gives you an itinerary to go all around the world for under C$1,259, which is about what some are apparently willing to pay for a new iPhone that will be obsolete in about a year. You will spend five weeks around the world and visit 6 cool destinations, that will give you something to look forward to during Montreal's pretty horrid winter climate.
You need to travel light though, which isn't that hard to do, we promise. We've done it for month-long trips… and it is not any harder to leave with a backpack for a month compared to leaving for a week. You just need to change your over-packing habit! Remember, doing some laundry abroad will cost you $5 while regular airlines will charge you hundreds of dollars more for bags… easy decision.
The funny thing (or the sad thing) is that a lot of people don't know about flight deals and pay that same price just to go to Asia. We help you see four continents for the same price, including Asia of course! But even worse, a lot of people will spend this same amount for a cell phone.
READ ALSO: Want to travel for free in 2018? Welcome to "Travel Hacking"
Travelling really doesn't have to be expensive if you don't want it to be (and know how to) and that's exactly what our mission is at Flytrippers: help Montrealers travel more, for less, thanks to our dozen daily flight deals from your city… and our tips on this blog!
And by the way, on an entirely unrelated note, if you haven't taken advantage of it yet, tomorrow is your last day to get $50 completely free thanks to our referral. That will pay for over a week of hostels in Asia!
How Does It Work?
Read on for all the details but essentially, we've combined great one-way deals from all over to help you accomplish what very few people can do: go all around the world in one exceptional trip!
The itinerary below is for those who have about five weeks to go and explore, so it is pretty intense. But we want to be the flight deal website for people like you, who (unfortunately) don't have an unlimited amount of time off.
However, if you want to stay longer, or even go quicker, it is quite possible by manually playing around with those dates. Often the price will be quite similar, if you act fast of course.
The bottom-line is that flight prices have never been lower in the history of air travel. All you need is to know how to find them. We spot the best deals every single day from Montreal and 8 other Canadian cities on our flight deals page, but we also have the best flight search tools if you need to search for specific dates or specific destinations.
READ ALSO: The 13 Best Money-Saving Travel Tips

So if you want to buy this trip, make sure you book very quickly because these deals won't last forever and flight segment prices will change. Like any flight deal, prices for specific dates always expire quickly so hurry up!
The basic rule for multi-ticket itineraries is to book the longest and most expensive segments first (ocean crossings usually), as those are the ones whose prices you want to lock in quickly. If the $33 flight changes to $43 in the meantime, well so be it.
Where This Around-The-World Trip Will Take You
You will fly to London (United Kingdom), Milan (Italy), Athens (Greece), Singapore (Singapore), Kuala Lumpur (Malaysia), Honolulu (Hawaii) and back to Canada. You will have visited four continents: Europe, Asia, Oceania and of course North America. You'll have set foot in two other countries as well, with short layovers in Reykjavik (Iceland) and Osaka (Japan). You can see a few pictures of these destinations at the end of the article.
Most of these flight segments are on Ultra Low-Cost Carriers (ULCCs), so pack light and instead bring back amazing memories of a unique trip that will make you part of the very select group of people to have gone all around the world in one trip! My Flytrippers co-founder Kevin recently left for many months on a (long) around-the-world trip with just a ULCC-sized bag, so you can definitely do it for a month.
READ ALSO: How Ultra Low-Cost Carriers (ULCCs) Work
Oh and by the way, the last time we posted an around-the-world deal, some people were mad because they thought it would include all 193 countries, which was their definition of "around-the-world". Our definition of the term is to go "around" "the" "world", hence the name "around-the-world". And this is what our itinerary does. Obviously, the cost of flying to all 193 countries would probably be closer to $100,000… not $1,000. So consider yourself warned.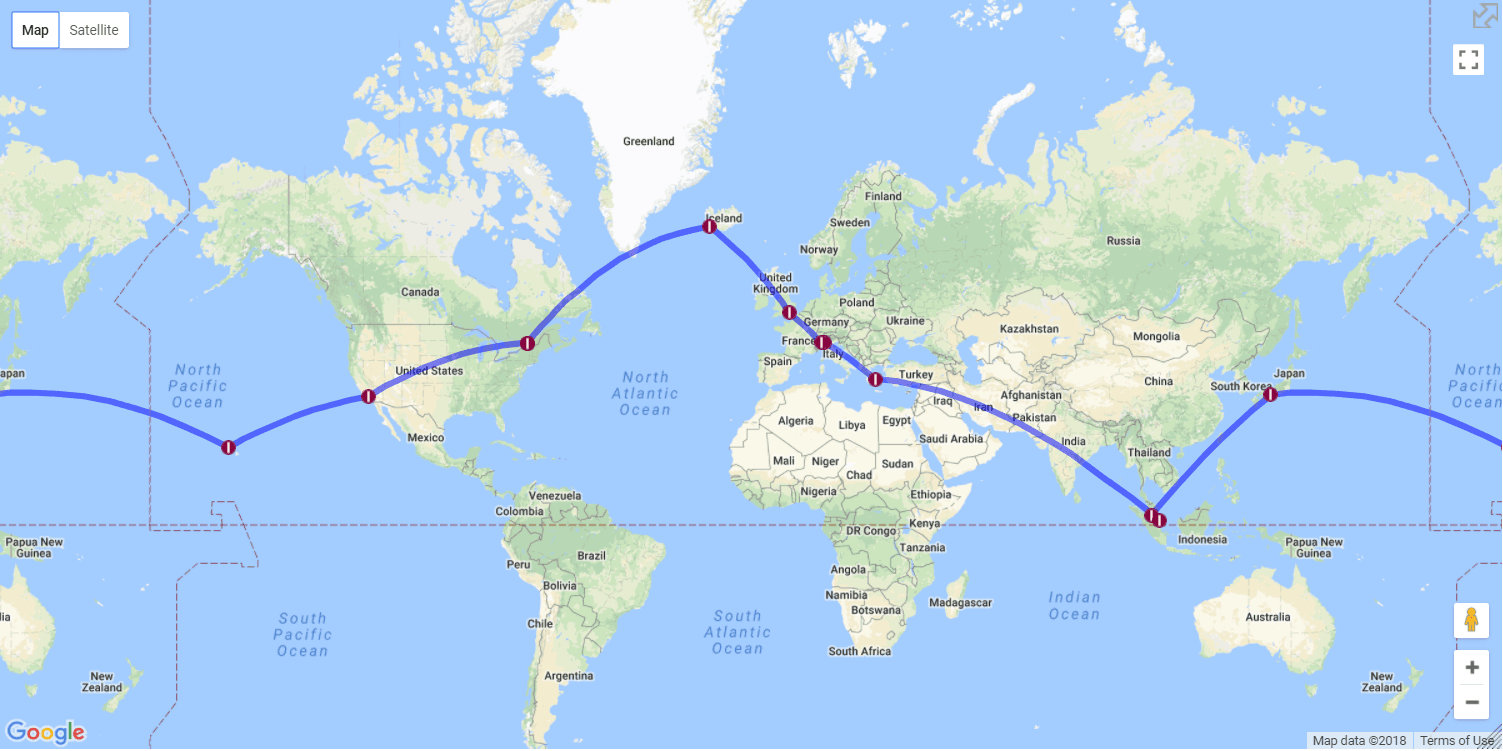 Know someone who would go on this epic trip with you? Share this article! Sharing buttons are at the bottom of the page (mobile) or on the left-hand side (desktop).
So here is how you can go all around the world for only $1,259:
FLIGHT 1: Montreal to London – May 16 – $220


Flight on WOW air, an Ultra Low-Cost Carrier (with a short layover in Reykjavik, Iceland)
You can read our review of this airline by clicking here
FLIGHT 2: London to Milan – May 19 – $39

Flight on Ryanair, an Ultra Low-Cost Carrier (non-stop)
You'll find our review of this airline soon
FLIGHT 3: Milan to Athens – May 23 – $61

Flight on Ryanair, an Ultra Low-Cost Carrier (non-stop)
You'll find our review of this airline soon
FLIGHT 4: Athens to Singapore – June 3 – $266

Flight on Scoot, an Ultra Low-Cost Carrier (non-stop)
You'll find our review of this airline in April
FLIGHT 5: Singapore to Kuala Lumpur – June 7 – $41

Flight on Air Asia, an Ultra Low-Cost Carrier (non-stop)
You'll find our review of this airline in April
FLIGHT 6: Kuala Lumpur to Honolulu – June 18 – $353
Flight on Air Asia, an Ultra Low-Cost Carrier (non-stop)
You'll find our review of this airline in April
FLIGHT 7: Honolulu to Montreal – June 25 – $277

Flight on United Airlines (with short layover in Los Angeles, California)
You'll find our review of this airline in April
TOTAL – $1,259 – May 16 to June 25
In about five weeks, you'll have been to 9 countries and all around the globe: Iceland, United Kingdom, Italy, Greece, Singapore, Malaysia, Japan, USA and Canada.
London
Milan
Athens
Singapore
Kuala Lumpur
Honolulu
What do you think of this itinerary? Tell us in the comments below!
Help us spread the word about our flight deals and travel tips by sharing this article and most importantly bookmark Flytrippers so we can help you navigate the world of low-cost travel!
Advertiser Disclosure: Flytrippers receives a commission on links featured in this blog post. We appreciate if you use them, especially given it never costs you anything more to do so, and we thank you for supporting the site and making it possible for us to keep finding the best travel deals and content for you. In the interest of transparency, know that we will NEVER recommend a product or service we do not believe in or that we do not use ourselves, as our reputation and credibility is worth far more than any commission. This principle is an essential and non-negotiable part of all our partnerships: we will never give any third-party any control whatsoever on our content. For more information on our advertiser disclosure, click here.
Travel Hacking Disclaimer: Flytrippers does not give financial advice. You should ensure travel hacking fits your personal situation and obtain professional advice if you so desire. Flytrippers may receive a commission for referrals, however our policy is to only recommend products or services we really believe in (and have ourselves). To read more on our disclaimer, click here.
Share this post to help us help more people travel more for less: