For anyone who has American Express cards — and ALL travelers should because they are often the best — the Amex Offers program (freebies and discounts) is another great benefit… in addition to the free travel and travel benefits of course.
Just to be clear, when I say Amex Offers, I'm not talking about the welcome bonus offers on the various Amex cards… Since there are excellent ones, I'm going to do a video comparison of the welcome bonuses on many of the Amex cards (and the non-Amex ones, too) in July.
(Welcome bonuses are the most important thing in the world of travel rewards, and it's how the pros regularly rack up hundreds of dollars in free travel — reserve your spot for our next free webinar if you want to learn the basics about this fabulous world.)
But the Amex Offers program is something else. I myself have earned hundreds of dollars through Amex Offers, which is very nice (even if that is not much compared to the $10,000+ I earned with my welcome bonuses).
First, I'll share the current Amex Offers (there are several new ones that are interesting).
But if you don't know anything about Amex Offers, start with the bottom section which explains all the details about how these freebies and discounts offered to Amex cardholders work.
Current Amex Offers
Check out our master sheet of Amex Offers in Canada, if you want to see the complete list of Amex Offers.
Here, I'll just put the most recent additions that seem the most appealing to us.
Here are some great travel discounts:
$250 off if you spend $500 on flights on United Airlines

$20 off if you spend $100 on Best Western hotels in Canada only

$50 off if you spend $250 at Marriott hotels in Canada only

$60 off if you spend $300 at Hyatt hotels in Canada only

$70 off if you spend $350 at Fairmont and/or Sofitel hotels in Canada

$250 off if you spend $1,000 on Air France and/or KLM flights
And here are some other offers that you can easily take advantage of elsewhere:
$25 off ($5 X5) if you spend $50 ($10 X5) at thousands of retailers (the famous Shop Small annual Amex Offer)

$40 (or $25) off if you spend $75 on groceries online at Voilà by Sobeys

$30 off if you spend $150 at Staples

$70 off if you spend $350 on Oxford mall gift cards (like Yorkdale in Toronto)

$20 off if you spend $70 on meal boxes at Hellofresh

$15 off if you spend $75 on furniture and decor at Wayfair
The Amex Offer on United is excellent. It's literally a 50% discount on flights! United is very competitive on prices for many destinations too. I'll definitely take advantage of this Amex Offer twice (my card and my girlfriend's card) because 50% off is pretty darn good.
We told you recently that we're going to have a lot more content to save on accommodations soon. But these Amex Offers are excellent because let me remind you that they can be combined with hotel chains' seasonal promotions, which are also often very interesting.
To give just 2 examples, Best Western is currently giving out a free night if you stay 2 nights. In addition to the $20 free (that you get ideally twice so once on each of the 2 nights, if you're a savvy travel rewards enthusiast who has an Amex card in your name and who travels with a companion who has one in their name as well), this is a nice discount. A $40 discount plus a free future night, for just 2 paid nights!
For Marriott, it's one of the rare times where there's no seasonal promotion, but by having the card that all Canadian travelers should have (the Marriott Bonvoy American Express Card), you already earn ≈ 12% back, and this gives you another 20% discount if you find one or more nights close to $250.
Then, Shop Small is back but it's not as interesting as last year. I only have it on 1 of my 5 Amex cards (and my girlfriend only on 1 of her 3) so it's not nearly as generous as it was (it was on every card). Plus you get the $5 just 5 times, instead of 10. But hey, it's a very easy $25 for free. We can also each get once more on our Scotiabank Gold Amex Card so that's $100 free in total between the both of us!
As for food, the discount to try Voilà by Sobeys is great (the amount varies if you have a premium card or not). If the offer is on your American Express Cobalt Card, you'll also earn 5X the points on the full amount. And if you've already used up our promo codes on meal kit delivery and want to try a new one, Hellofresh might be worth a look.
Finally, if you have an Oxford mall near you, that's also very easy as gift cards don't expire (these can actually be used for Porter flights by the way). And the $30 at Staples can be useful if you have something to buy there.
How to take advantage of Amex Offers
Here's how to take advantage of these Amex Offers with the 3 steps I mentioned in the intro:
You register the Amex Offer on your card
You make the required purchase with your card
You receive a credit on your card statement
1a. You register the Amex Offer on your card (computer)
You just have to "register" the Amex Offer on your card. It takes 2 clicks, you can do it on the Amex website or on the Amex app (next section). If you have an Amex card issued by Scotiabank, there is a special link to register for Amex Offers.
If you log into your Amex online account on the computer, the Amex Offers appear at the bottom of the account page for each Amex card you have.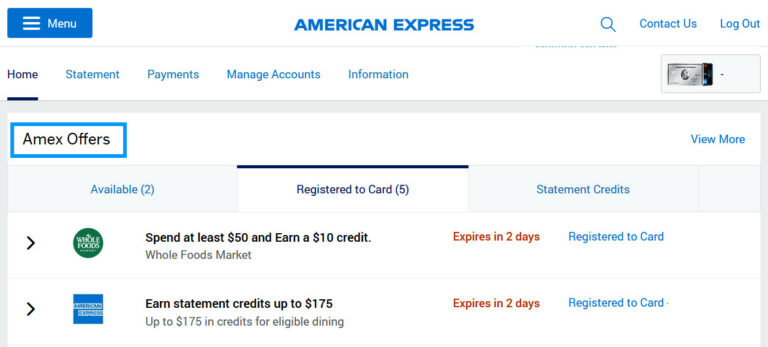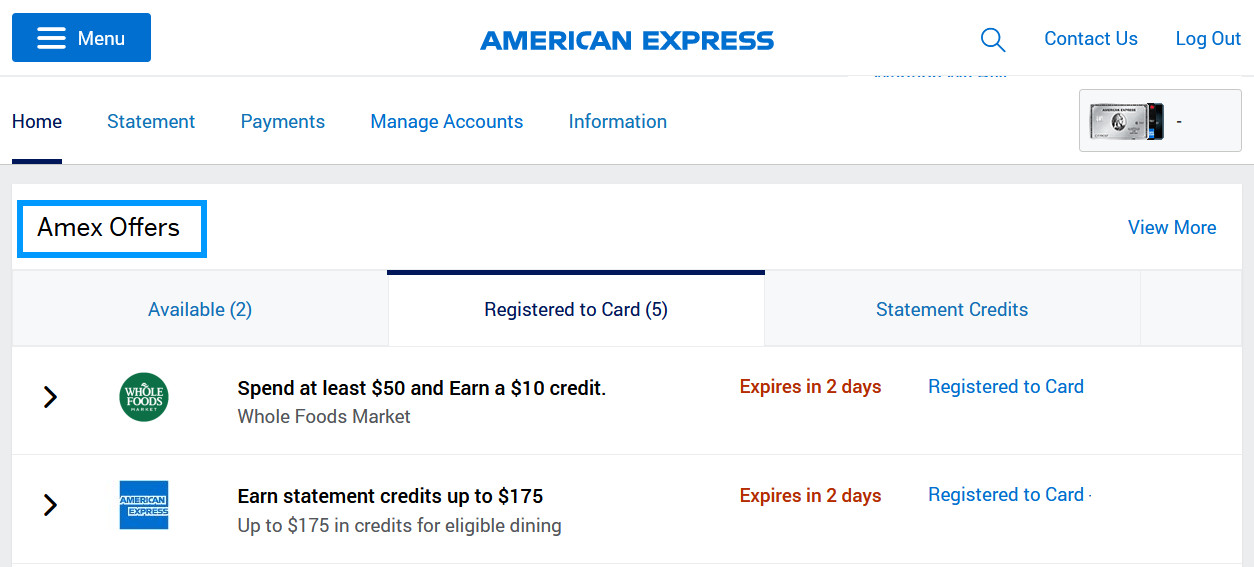 There are 3 tabs:
The Offers you haven't registered yet
The Offers you have registered to your card
The recap of the credits you've received with your Offers
To register an offer, you just need to click "Register your card" on the right.


That's it.
As mentioned, there are different Amex Offers on different cards.
For those who are new to the world of Amex, you can easily toggle between each of your cards in 2 steps starting at the top right of your account page on your computer and then by clicking on the desired card.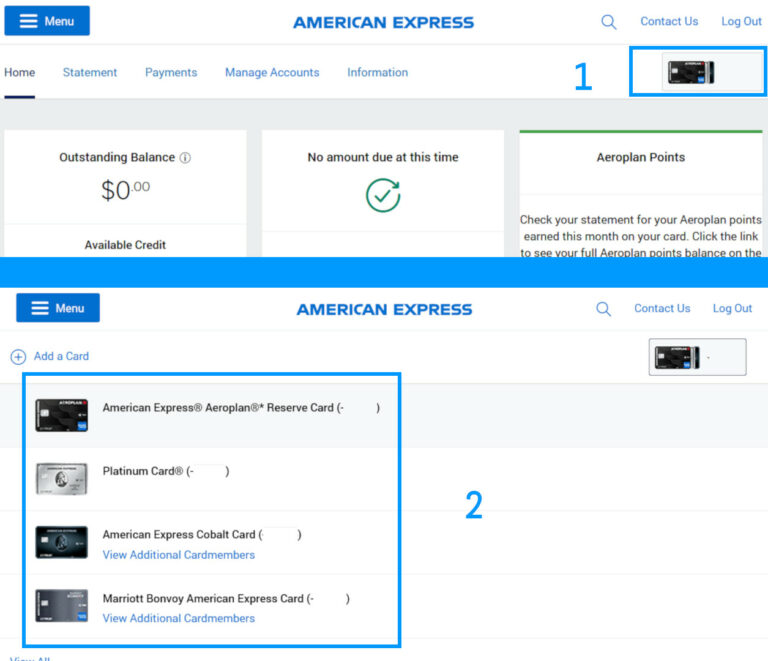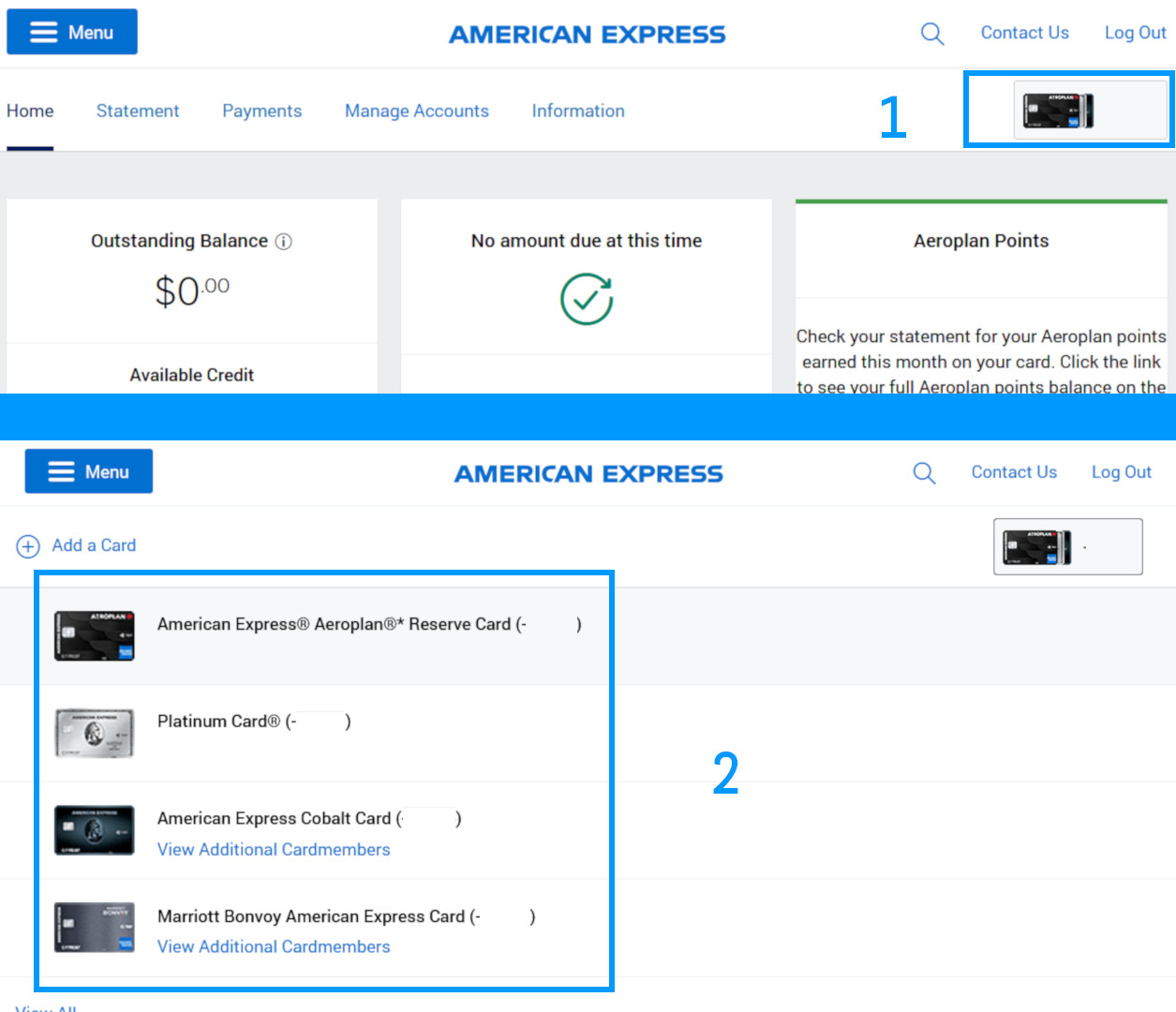 If you see that an Amex Offer on our mastersheet of all Amex Offers in Canada is on one specific card, you might still have that Offer on a different card if you don't have the same precise assortment as we do.
In short, Amex Offers aren't tied to only one card, so check your account.
Note that like most promotions in the travel rewards world, there are 2 types of Amex Offers: global offers and targeted offers. Global offers are available to everyone who has that specific card (almost all Amex Offers are global offers). Targeted offers are not available to everyone and you may not see it on your card (this is much rarer).
1b. You register the Amex Offer on your card (app)
Now, if you do it on the Amex app, the Amex Offers have their own tab at the bottom for each Amex card you have.
On the first screen, you see only the Offers you haven't registered and you have to click one more time on "My Offers" at the top to see the ones that are already registered to your card.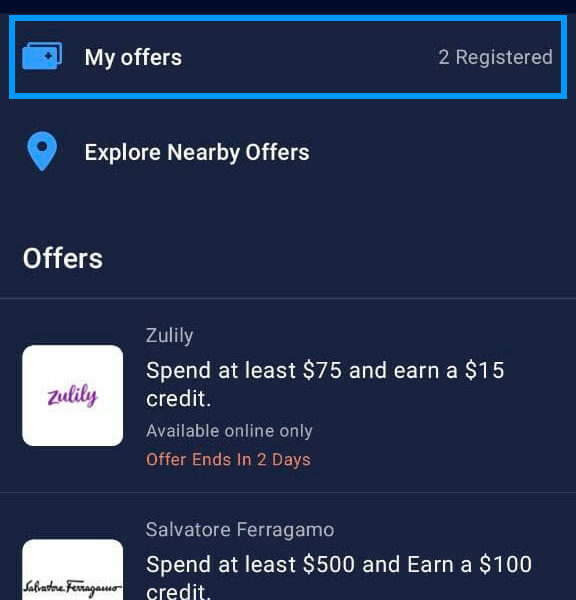 To register the offer, you need to click on a specific Amex Offer and then there is a blue button at the bottom to register it.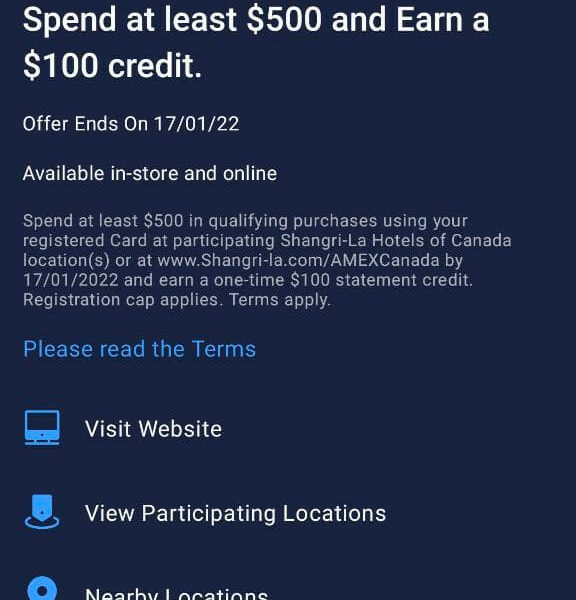 To toggle between cards, on the app, you simply choose the desired card on the homepage.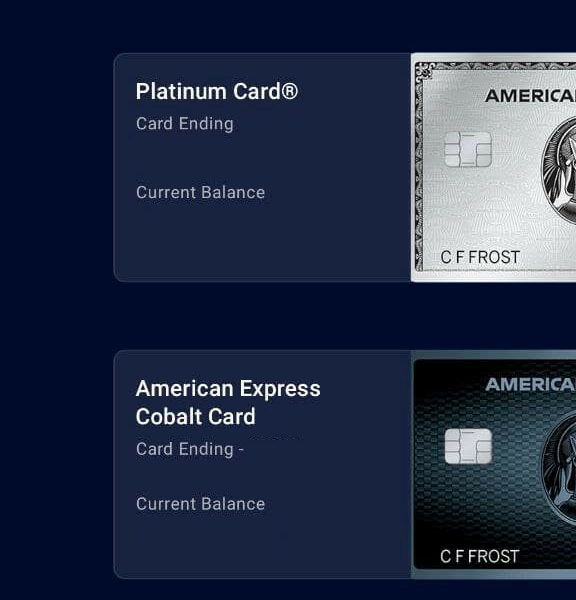 2. You make the required purchase with your card
Of course, you have to use the right card to make the required purchase.
You don't have to do anything special, you just need to make the purchase and meet all the conditions above.
For online purchases, we recommend LastPass to save your card info securely (and simplify your life by never having to remember a password).
3. You receive a credit on your card statement
Amex will issue you a credit for the promised amount directly to your statement, it's really very simple: It's automatic.

You will usually see it appear very quickly, but sometimes it can take a few weeks. If you've met all the requirements, there's nothing to worry about.
After several dozen Amex Offers over many years as an Amex cardholder, I have never had a single instance where I had to contact them for missing credit at all (which happens regularly with other programs).
As mentioned, there's also a tab to see the total amount of credits you've earned with each card, but I've noticed before that sometimes some credits don't show up in that total there even if I got them. But hey, it still gives you a good idea of what you earned.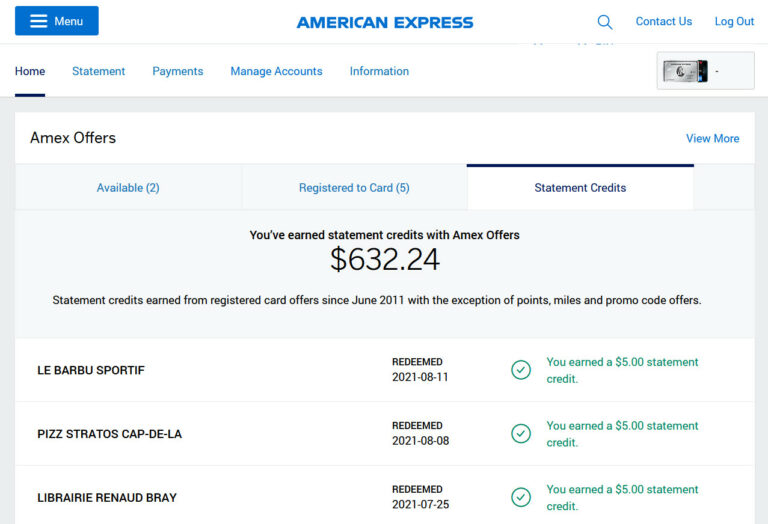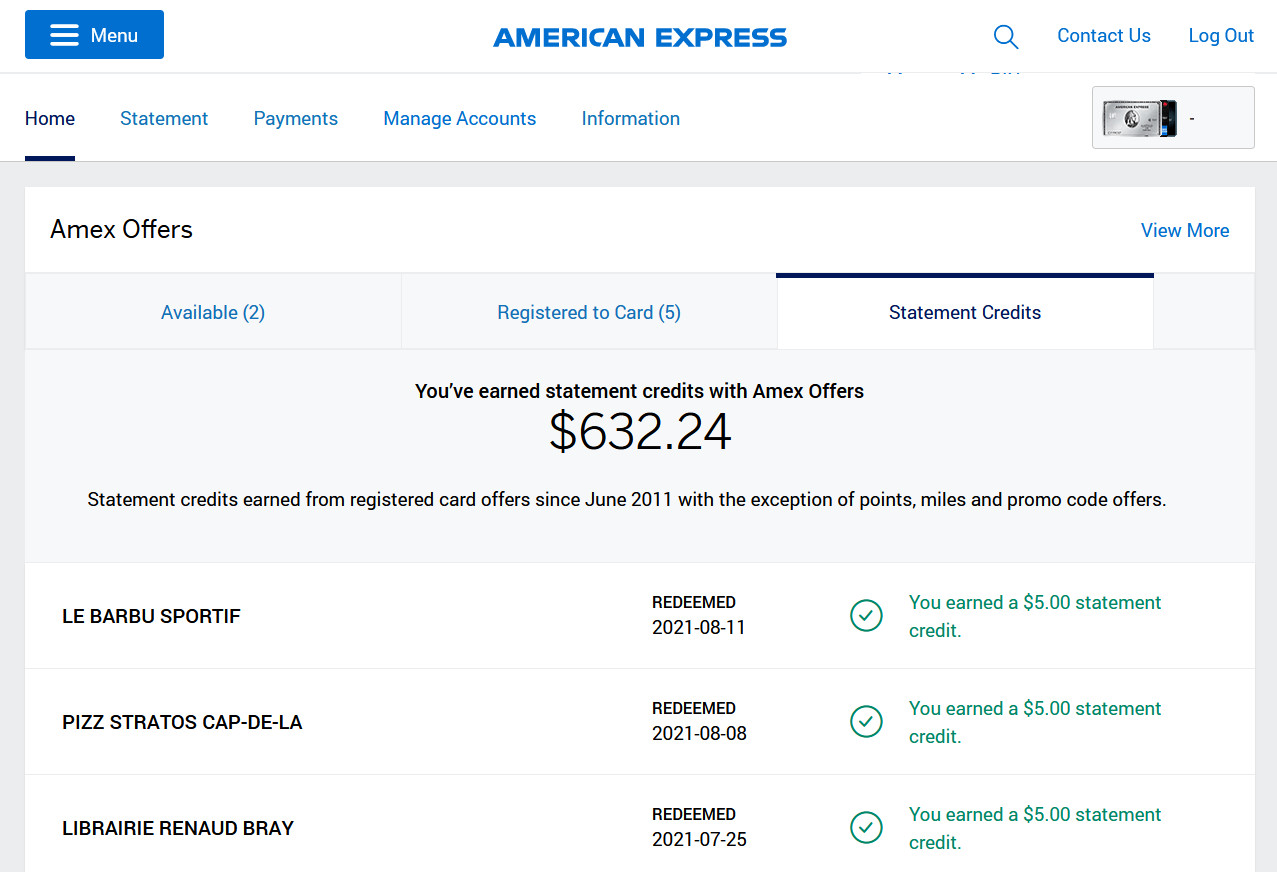 Basics of Amex Offers
Basically, to reward you even more than with just the points you earn on all your purchases, the Amex Offers program gives you targeted credits (freebies and discounts) all year long.
Some Amex Offers are really interesting! For example, there was recently a $100 credit if you spend $100 at any restaurant. When it's a freebie like that, it's wonderful.
You spend $100 at a restaurant with your card… and Amex gives you a $100 credit. Simple.
Most Amex Offers are not entirely free, but they can still be great. For example, there was recently a $20 credit if you spend $50 at Best Buy, Indigo, Simons, or The Bay. That's not a bad discount.
If you need something there, it gives you 40% off. And just like gift cards are amazing to earn 5 times more points, they can be handy here too to take advantage of Amex Offers and simply lock in the discount for later if you didn't have anything to buy at the exact time of the Amex Offer.
In short, your Amex cards give you credits very easily.
This can make your Amex cards worth a lot more than you might have thought. Consider this if you follow our free "checklist" for each of your cards (you should) and re-evaluate the value of each card before they are due to be renewed.
Not all Amex Offers are available on all different Amex cards. If you're like me (and like savvy travelers who want more travel rewards) and you have multiple Amex cards, some Amex Offers are going to be available on multiple cards at the same time, while others are not.
Here's how Amex Offers work, it's easy:
You register the Amex Offer on your card
You make the required purchase with your card
You receive a credit on your card statement
You can't take advantage of the Amex Offer if you don't register BEFORE you make the purchase, but it's super simple and fast.
Now, we'll look at the conditions that apply to each Amex Offer.
The 7 important conditions for Amex Offers
Here are 7 important conditions to check with regards to Amex Offers:
The eligible merchants
The required spending
The credit offered
The quantity limit
The deadline
The transaction rules (cumulative or not)
The method (in-store, online, or both)
It sounds complicated, but it really isn't. You just have to read the offer, but if you want, we now have a new tool to help you.
Our mastersheet of all Amex Offers in Canada is public and you can check it at any time to see a simpler summary of the current Amex Offers. You can also share information about your Amex Offers with us so that all travel rewards enthusiasts can benefit and so the mastersheet can be improved, since some Amex Offers appear on multiple cards based on the ones you have in your wallet.
This ultimate guide that you are currently reading also has the details of the best Amex Offers at the top and will be updated regularly, so you can bookmark it.
Here's the concrete example I'm going to use to really illustrate this.
The Amex Offer for $100 off dining on my American Express Aeroplan Reserve Card that I mentioned above was very interesting.


Let's look at each of the 7 conditions with this example.
The eligible merchants
Usually, it's a specific merchant that is eligible for the Amex Offer.
In this case, it's much broader: Any restaurant. And that includes food delivery apps too!


Actually, it's any restaurant in Canada. So that's why you have to read and see if there are any restrictions like that. In most cases, it's limited to Canada (but not always). Other times, it's a list of specific hotels that are included for example. The list is always provided in the conditions if there is one.
The required expense
This is obviously the most important element. You have to reach a certain amount to get the credit, that's what the main title contains.
In this case, it's $100. But I also have the same Amex Offer on my Marriott Bonvoy American Express Card that gives $50 if I spend $50. So it obviously depends on each Amex Offer.

It's important to understand that it's always the amount after taxes that matters, unlike just about every other promotion out there (another example of how counterintuitive the world of travel rewards is).
Because it's really Amex that is giving you a credit, not the merchant. So Amex just wants you to charge X amount to your card, they don't care if it's taxes or not. So in this example, I could have spent just $80 on actual food, as long as the taxes and tip add up to over $100 total since it's the total amount charged to my card that matters.
The credit offered
This is also in the title of the offer, as it is the other vital element. It can be 100% of the amount to be spent in the case of freebies or a smaller amount, depending on the Amex Offer.
In this case, it's $100. So that's essentially $100 that's being offered for free, which is great.

Note that sometimes, instead of a cashback-like credit like these, you can earn a bonus of valuable Amex points as part of an Amex Offer instead, but this is not as frequent in Canada.
The quantity limit
Most of the time, the Amex Offer applies only once, but in some cases, it is explicitly allowed to use it several times on the same card.
In this case, it's really just a $100 credit (that's how it is since it doesn't specifically say otherwise).
But another Amex Offer that everyone has right now gives $20 off a $50 purchase… up to 3 separate times. So you can get $60 off with the same Amex Offer.


The deadline
You have to use the Amex Offer before its deadline, which is clearly indicated.
In this case, it is December 31, like many others (when the date is not as close, the actual end date appears instead of a countdown, and when there is a countdown like this, the terms and conditions state the end in the full date format if you prefer).

We recommend that you always register Amex Offers to your cards if you think there is any chance that you will use them.
That's because some Amex Offers are limited and can be closed without prior notice even before the deadline (if you have already registered it doesn't change anything for you, they obviously won't ever take it away… but if you haven't registered it you won't be able to add it anymore).
The transaction rules (cumulative or not)
Another important element is whether you can make multiple cumulative purchases to reach the amount (almost always the case) or if you have to reach it in one transaction (rarer).
In this case, it's the less common option: It's clearly stated that the $100 must be spent in a single purchase.


This is the only flaw in this specific Amex Offer, at least for people like me who hate spending at restaurants (I'd rather save my money to travel more often and go on 12 international trips like in 2019). I have never spent $100 on a meal, except when my credit card flight delay insurance was paying of course.
But by buying restaurant gift cards, I was able to take advantage of the Amex Offer without spending a ridiculous amount of money on a single meal.
The method (in-store, online, or both)
Finally, another thing to look at is if there's a requirement about the method of spending. It happens.
In this case, it's in restaurants or online. It just has to code as a restaurant (merchant codes are important in the world of travel rewards, especially for the 5X category multiplier earn rates for example).

But going back to the other example I mentioned above, the $20 off after $50 spent in some stores, that is one that only applies to online purchases. That's why you have to look.
Want to get more content to learn how to earn free travel?
Summary
The Amex Offers program is a great way to get a little extra value out of each of your American Express cards. You won't take advantage of every Amex Offer, but there are several worthwhile ones throughout the year.
What would you like to know about Amex Offers? Tell us in the comments below.
See the deals we spot: Cheap flights
Explore awesome destinations: Travel inspiration
Learn pro tricks: Travel tips
Discover free travel: Travel rewards
Featured image: Restaurant (photo credit: Louis Hansel)
Advertiser Disclosure: In the interest of transparency, Flytrippers may receive a commission on links featured in this post, at no cost to you. Thank you for using our links to support us for free, we appreciate it! You allow us to keep finding the best travel deals for free and to keep offering interesting content for free. Since we care deeply about our mission to help travelers and our reputation and credibility prevail over everything, we will NEVER recommend a product or service that we do not believe in or that we do not use ourselves, and we will never give any third-party any control whatsoever on our content. For more information on our advertiser disclosure, click here.
Share this post to help us help more people travel more for less: