If you have been following Flytrippers for a while, you know how much we love cheap flights. And Canadians in 3 markets will soon have 7 new routes to travel to great US leisure destinations at a lower price!
You know we also love ultra low-cost carriers (ULCCs). This new (new to Canada that is) business model allows those who are willing to travel light to fly for less than ever before.
The cheapest prices on our flight deals page are often on ULCCs (but not always: it's clearly marked with "ULCC" in the bottom right corner when it is the case).
Swoop's Announcement
We now have 2 Canadian ULCCs but up until now they only served domestic flights: that will be changing this fall though, with Swoop announcing 7 new US routes this morning!
We've updated our guides with all the ULCC destinations from every Canadian city (except the route map, bear with us and look at the listing for now until we get around to updating the maps).
We've tried Swoop for you and can tell you that you won't be disappointed: if you understand how Ultra Low-Cost Carriers work that is. You can read our detailed review of the experience onboard Swoop's inaugural flight but in a few words: it was great, planes are almost brand new and service was very friendly.
Fares are advertised starting from $198 roundtrip, but almost all routes start at $219 roundtrip. Not bad.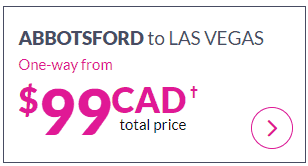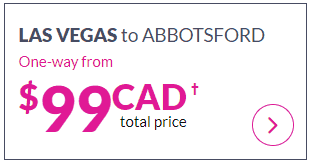 The prices aren't jaw-dropping like they are on ULCCs in the US (I just bought a US$28 roundtrip yesterday, yes $28 roundtrip) but it's definitely an improvement compared to current Canadian airlines! We'll always be watching for deeper discounts of course, you can make sure to see them all by doing this on Facebook to tell Zuckerberg you want to see our deals (even if you already follow us) or subscribe to our travel newsletter and deals alerts.
You can check out the 7 new routes below, with the launch price (check back here soon with example dates, this is breaking news).
And scroll down for a couple of pics of the 5 new exciting US destinations.
The Swoop Routes
Swoop is launching to 5 US destinations, from only 3 Canadian markets unfortunately (Vancouver, Edmonton and Toronto). For our friends in Winnipeg and Halifax, at least you still have domestic flights on ULCCs, hopefully Swoop expands with more US routes soon.
Hey, at least you don't live in Montreal, Ottawa or Quebec City, where there are no North American ULCC routes at all. Swoop has said before they will look to expand, let's all cross our fingers.
And finally folks in Calgary, you might not have Swoop but you do have Frontier Airlines, a US ULCC that flies to Denver and Las Vegas already, very cheap too (that's the airline I'm flying for $28 roundtrip). Vegas is often around $200 roundtrip for you too if you search using our tips.
Yes, in all cases, you can always find the cheapest dates for your destinations with our advanced search tool.
Here are the new routes.
From Abbotsford/Vancouver (YXX):
Las Vegas (LAS)
Starting October 11th
3 weekly flights
Starting at $199 roundtrip
From Edmonton (YEG):
Las Vegas (LAS)
Starting October 11th
11 weekly flights
Starting at $219 roundtrip
Mesa/Phoenix (AZA)
Starting October 27th
2 weekly flights
Starting at $219 roundtrip
From Hamilton/Toronto (YHM):
Las Vegas (LAS)
Starting October 26th
4 weekly flights
Starting at $219 roundtrip
Orlando (MCO)
Starting October 17th
3 weekly flights
Starting at $219 roundtrip
Fort Lauderdale/Miami (FLL)
Starting October 26th
2 weekly flights
Starting at $219 roundtrip
Tampa (TPA)
Starting October 20th
3 weekly flights
Starting at $219 roundtrip
The 5 Amazing Destinations
The 5 new destinations join Swoop's 5 current Canadian destinations (the 3 above plus Winnipeg and Halifax, both of whom won't have US flights for now it seems).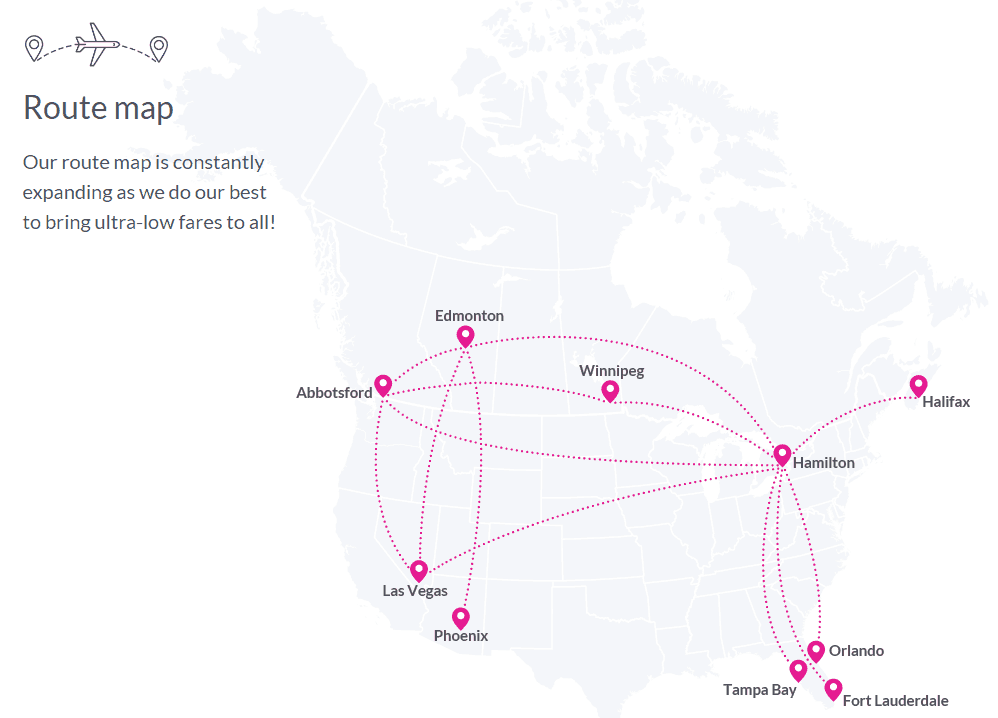 I've been to all 5 of these and they are all exciting places that are worth discovering, especially when the flights will be heavily discounted, although there's no way to know if these launch prices are as low as the prices will go.
Remember: finding deals is the best way to travel more often, and that's our main focus here at Flytrippers.
Las Vegas, Nevada
Vegas needs to introduction. Whether it is for gambling or just great entertainment, Sin City has something for everyone.The city's tourism sector actually relies less on gambling then ever before, there is so much more to the city.
Kevin, Flytrippers' other co-founder, and I spent a long weekend there with one of our friends and didn't spend more than an hour in the casinos… and still had quite a great time!
You can also daytrip to very cool spots like the Grand Canyon like we did, or Red Rock Canyon which is much closer.
Phoenix, Arizona
So Swoop will serve Phoenix's secondary airport in Mesa, keep that in mind when comparing prices with Phoenix airport.
If you love the desert heat, you'll love Phoenix – and the entire state of Arizona in fact. One of the most beautiful.
I rented a car and drove almost all around the state, with varied landscapes like the cacti, the Petrified Forest, the mountains and of course the typical desert scenes. My favorite spot was Sedona, such a beautiful city… maybe one of the most beautiful I've seen in the US (and I've been to 45/50 States).
You can check out my blog post about Arizona and start planning your desert getaway!
Orlando, Florida
This one will most likely be popular with families, because of Disney World of course. If you want to combine with beach days, both coasts are a relatively short drive away and rental cars are usually pretty cheap in Orlando, from my experience (as long as you decline the insurance if you meet these 2 additional conditions).
I found deals to Orlando for US$40 roundtrip in Fall 2016 from Plattsburgh Airport (about 1 hour south of Montreal) so I bought 3 trips for 3 weekends in a row, which made for a funny story. At $40, I didn't mind going just for 3 days.
I had been before as a kid and sure enjoyed Disney World at the time, but more recently I made my way to both coasts as I prefer the ocean than the swamps. Although if you want a short poolside stay, you can stay in Orlando and hotels are quite affordable for Floridian standards (if you stay away from Disney that is).
Miami, Florida
By far my favorite city in the US, one I've been to more times than I can count, Miami is such an iconic place. You'll land in Fort Lauderdale, which is actually great because it's a short (and very cheap) train ride from Miami itself, about $5 if I remember correctly. And if you just want a beach, you can stay in the area, it's cheaper than in Miami Beach.
South Beach for the action, or anywhere else along the ocean for a quiet time in the sun: Miami is definitely a great place to spend a few days, although it can be a bit expensive as I just mentioned.
I've been to many hotels, but when traveling solo I very much enjoyed the hostels directly in South Beach, they were quite affordable too and a great way to save money in South Florida.
Tampa, Florida
On the other side of Florida, you have the Tampa area. The city itself is inland, so you'll be better off going to Clearwater, St. Pete Beach or another beach town if you want to be near the ocean. If you prefer a more quiet atmosphere, the Gulf side of Florida is for you.
I've been a couple of times and Tampa is a surprisingly cool city itself. Ybor City is a nice neighborhood to explore downtown… and the beaches are very nice in the area.
This side of Florida has something Miami will never have: beach sunsets. Depending on what you are looking for, this could be a very nice vacation spot.
Bottom Line
Here are 7 new routes with Swoop, a Canadian Ultra Low-Cost Carrier now offering flights to leisure destinations in the US.
Have you ever visited these cities? Do you plan on taking advantage of Swoop's new routes?
Help us spread the word about our flight deals and travel tips by sharing this article and most importantly bookmark Flytrippers so we can help you navigate the world of low-cost travel!
Advertiser Disclosure: Flytrippers receives a commission on links featured in this blog post. We appreciate if you use them, especially given it never costs you anything more to do so, and we thank you for supporting the site and making it possible for us to keep finding the best travel deals and content for you. In the interest of transparency, know that we will NEVER recommend a product or service we do not believe in or that we do not use ourselves, as our reputation and credibility is worth far more than any commission. This principle is an essential and non-negotiable part of all our partnerships: we will never give any third-party any control whatsoever on our content. For more information on our advertiser disclosure, click here.
Share this post to help us help more people travel more for less: